If you've been following tech at all in recent years, it seems like all of the cool advancements have been in portable audio. Bluetooth speakers and headphones have come a long way, but that's not the only way you can experience audio. Sometimes you just want to come home, pour yourself a glass of your favorite drink (you know, like hot chocolate…) and sit back to truly enjoy your favorite tunes. Now whether you use a high-quality streaming service, your own personal digital library, or have a collection of vinyl you haven't dusted off in a while, you're going to need a good pair of speakers to really get the most out of the experience.
Don't get me wrong, there are some Bluetooth speakers that sound truly great, but for the most part, they're designed for portability. Bookshelf speakers don't have to be portable, and therefore they aren't limited by things like battery life or size. You can go as big or as small as you want, and in this article, we're going to go over a few of the best bookshelf speakers available.
Editor's note: this article was updated on March 23, 2020 to reflect changes in price.
Most people should get the Mackie CR4
If you don't want to do too much setup and just want a pair of bookshelf that is as close to plug and play as you can get, go with the Mackie CR4. These speakers are straightforward, easy to use, and most importantly sound really damn good. Chris Thomas actually uses their bigger brother, the Mackie CR5BT (admittedly with some home-made enhancements) as a control for some of the testing he does. Whether you're looking to mixdown your next podcast, watch a movie, or sit back and enjoy some music these are a versatile pair of speakers that basically anyone can benefit from having. If you need headphones too, you can try this bundle with the Sony MDR-V6.
The CR4 speakers stand about 30cm tall and feature a minimal all-black design with green accents. Around back you'll find RCA inputs along with the power button to power them on. The only visible controls is the volume knob on the front. A bass port also helps it push a little more air for a more control low end and if you don't mind spending another $20 you can get a pair that's Bluetooth compatible as well.
What you should know about bookshelf speakers
Active vs. Passive speakers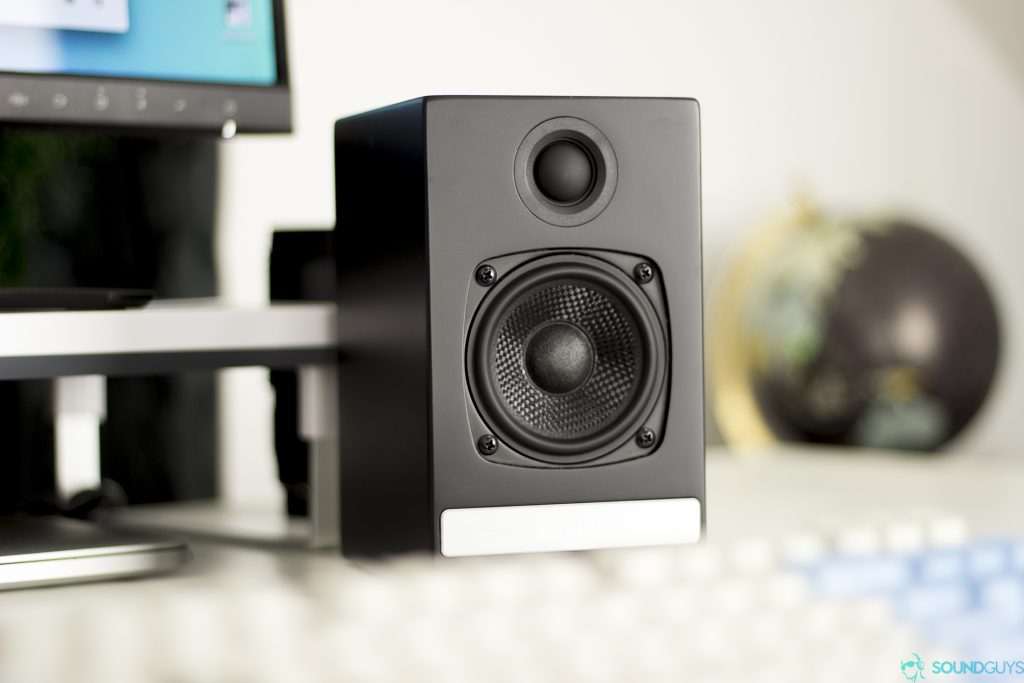 When you first start searching for bookshelf speakers you'll probably come across two terms fairly often: active and passive. So what does that even mean? It's simpler than it sounds, and all boils down to the method in which the speaker in questions gets its power. If you have to plug it into a wall, it's powered. If it doesn't have an AC plug and only connects via speaker wires to a receiver or amp, then it's passive. So if you have to connect passive speakers to an amplifier, does that mean that active speakers don't have amps? Nope.
Active speakers need amps as well, but they're usually built into the speaker enclosure which makes it easier to setup as all you have to do is plug it in. Of course, that makes replacing the amp inside fairly difficult. On the flipside, replacing or upgrading your amp on a pair of passive speakers is much simpler (though probably not cheap). That said, initial setup is a little more involved. It isn't exactly difficult so don't be turned off by it, but it's definitely not as easy as just plugging a speaker into the wall. You just have to decide how hands-on you want to be.
What is an amplifier?
If none of that meant anything to you because you're not sure what an amp is in the first place, then this section is for you. While you may be tempted to think of speakers as magic, they're not. They're just the magnificent result of human engineering. In order to function properly, they need enough electricity. An amplifier is a device that, thankfully, does exactly as its name suggests. It takes the electricity from the wall you plugged it into, and amplifies it to provide an adequate amount of electricity to your speaker. For home theater needs, this role is typically filled by what's called a "receiver."
Unlike with most headphones, you're definitely going to need an amp when it comes to unpowered bookshelf speakers. If you have active speakers, then good news! The company that made your speakers already paired them with an amp that comes in the enclosure so you don't have to worry about anything. If you're leaning towards passive speakers, then you'll have to be aware of how much juice you're pushing through to your speakers or you might blow them.
Can bookshelf speakers be used for surround sound?
Of course! If you walk into your local home theater store you'll likely see giant, five-foot tall speakers that cost thousands of dollars perfectly positioned at different angles around a plush couch that costs as much as a few months rent. Luckily, that's not the only way to enjoy surround sound audio. A good pair of bookshelf speakers will get the job done ss well, and because they're usually smaller than floor-standing speakers you can easily mount them on the wall so you can make use of your space.
Does it matter what cables I use?
No.
Well, it doesn't matter how expensive they are anyways, it matters that you choose cables with the proper connections. Beyond that though, you could use a coathanger if you wanted to—there's little to no benefit shelling out crazy amounts of money for cabling. In fact, many of the options here will come with cables made by the manufacturer, so you won't have to worry so much about choosing yet another thing to buy.
Seriously, no need to overthink it—just enjoy,
If you care about design, go with the ELAC Debut 2.0 B6.2
Though it obviously isn't always the case, chances are that bigger speakers are going to sound better. That's just how sound waves work, so don't be thrown off by the large size of the ELAC Debut 2.0 B6.2 speakers. They weigh almost 7.4kg and measure 27 x 19.5 x 37.5 cm, so you might want to make sure that you have enough space for them. as far as specs go, these are rocking 6.5-inch woofers along with 1-inch tweeters so they can handle whatever you throw at them.
One thing worth mentioning is that these are passive speakers, so you're most likely going to need a receiver or amplifier. They have an impedance of 6 ohm and the all-black enclosure makes sure it can blend into your living room seamlessly. These don't have any fancy features so there isn't much else to say about them. They just get it right.
The Audioengine HD3 speakers have you covered if you want Bluetooth
While these are technically more on the side of computer speakers, you can also make them a pair of bookshelf speakers if you want. They're not as large as some of the other picks on this list standing at around 30cm tall, so they might not be your preferred choice for a living room setup. But if you're looking to deck out a listening station or actually want speakers that will fit on a bookshelf, these are a great option.
Not only do they have stereo RCA inputs and outputs for you to connect to, but they also have Bluetooth built-in so you can play wirelessly off your phone or similar device in a pinch. It features the aptX audio codec which allows for more data to be sent wirelessly resulting in better sound quality, and it also has a built-in DAC capable of upsampling to 24-bit which is more than you'll likely need anyway.
Another contender for best sounding speakers are the Bowers & Wilkins 607
When it comes to bookshelf speakers, sound quality is key so we have another option for you to take a look at which comes in the form of the Bowers & Wilkins 607 as part of their 600 series. These have a 5″ woofer and a 1″ aluminum tweeter for crisp highs and deep lows, and while a dedicated subwoofer is always a welcome addition to any setup you can probably get by just fine with just these two speakers.
These are passive speakers, so you'll need to know that they have an impedance of 8ohms which is going to come in handy when you're looking for an amp to pair them with. The covering is also acoustically transparent so whether you like the clean, black look or want to see the drivers you won't have to worry about anything getting in the way of your sound.
The Edifier R1280T are a legit bang for your buck
The Edifier R1280T pack most of what you'd want in a good pair of bookshelf speakers into something that won't break your wallet at only around $100. While they do seem kind of clunky and the design isn't as sleek as some of the other options, it does have a kind of retro aesthetic that some people might be drawn to. These are powered speakers and have a super easy setup that basically only requires you plug them in. It doesn't get much easier.
Plus, they come with a dedicated remote control so you can adjust volume from across the room. On the side of the speaker, you'll find three knobs: one for volume, another for treble, and the third to control bass. So if you want to tweak how your music sounds these basic controls should get the job done.
Why you should trust us
We at SoundGuys have made it our mission to get our hands on as many audio products as possible, and yes, it's as cool as it sounds. We all love what we do and take great pride in anything that gets published on our site. But just because we like what we do doesn't mean you should trust us. You shouldn't trust us just because we tell you to. You should trust us because we use our experience testing/reviewing audio products to explain everything we think is important for you to know before you purchase something. In other words, we don't just make a list of products for you to buy with no explanation. We show our work.
Frequently Asked Questions