All products featured are independently chosen by us. However, SoundGuys may receive a commission on orders placed through its retail links. See our ethics statement.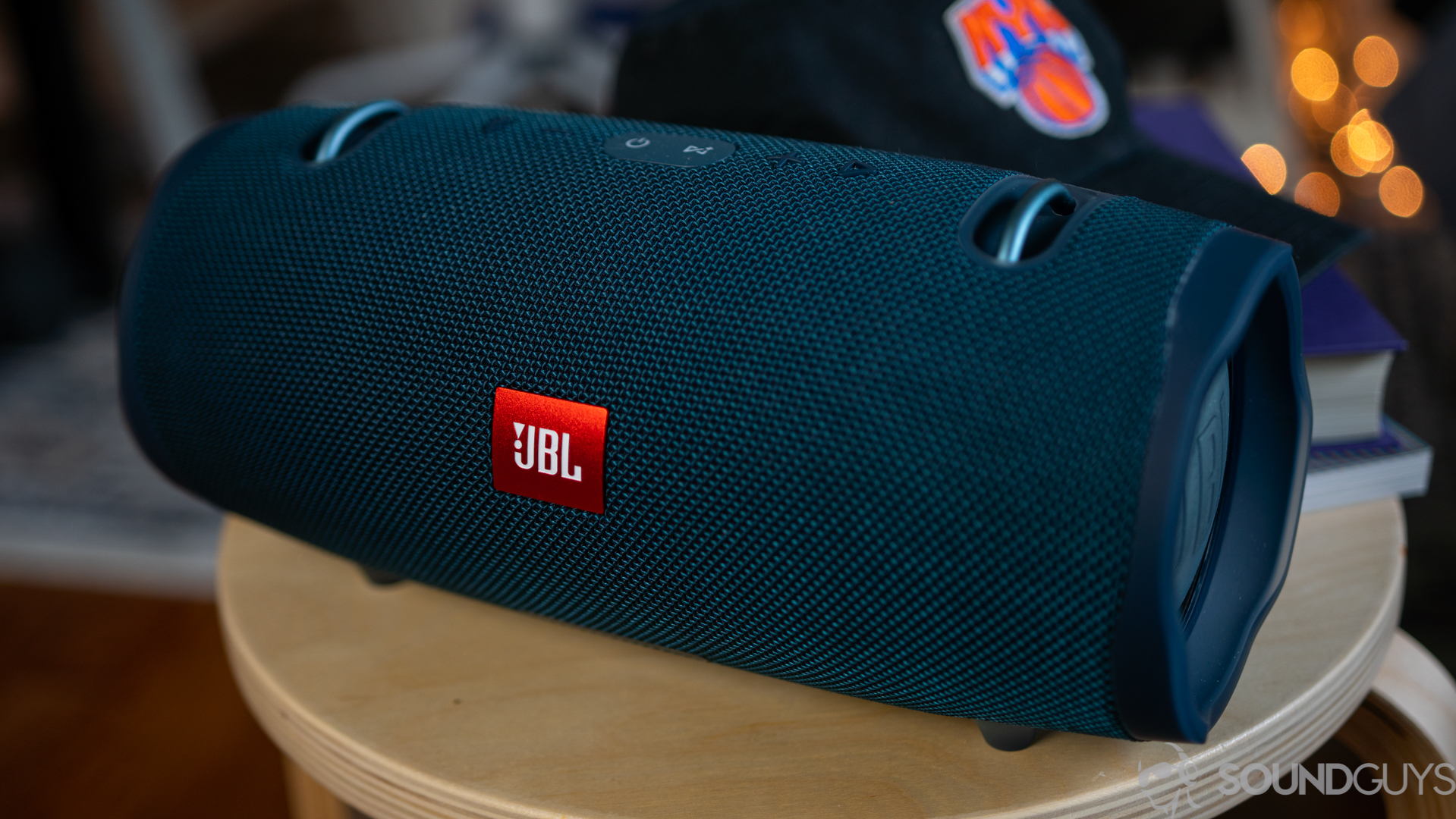 The bottom line
If you're looking for your next party speaker, look no further. It isn't perfect, but the Xtreme 2 nails the most important aspects of a tough Bluetooth speaker.
JBL Xtreme 2
If you're looking for your next party speaker, look no further. It isn't perfect, but the Xtreme 2 nails the most important aspects of a tough Bluetooth speaker.
What we like
Good sound and gets loud<br>
Battery life<br>
Strong connection strength<br>
IPX7 waterproof build<br>
USB output for charging devices<br>
What we don't like
Price<br>
Charges via AC adapter<br>
Rating Metric
Sound Quality
8.1
Durability / Build Quality
9.0
Value
7.0
Design
7.5
Microphone
8.2
Portability
6.5
Battery Life
7.5
If you want a small, cheap speaker to throw in your backpack on your next trip, there are plenty of options. If you want speakers to connect to your receiver and play music in the backyard, there are also a good number of choices. But what if you want one speaker that can do both? If you want a speaker that's loud enough for a yard yet still somewhat portable, your options are thin. That's where the JBL Xtreme 2 comes into play.
Editor's note: This post was updated on July 27, 2023, to add information about the Xtreme 3 and the Xtreme 2's product cycle.
Who is the JBL Xtreme 2 for?
Party people. If you're the kind of person that brings a speaker to the beach or to the BBQ, then the JBL Xtreme 2 is going to check most of the boxes you care about.
If portability isn't your primary concern. Sure, the speaker has an included shoulder-strap for transport, but that doesn't make it portable. It's portable in the way that a beach chair is portable. If you care about being able to throw your speaker in your bag on your way out the door then this isn't for you.
How's the build and design of the speaker?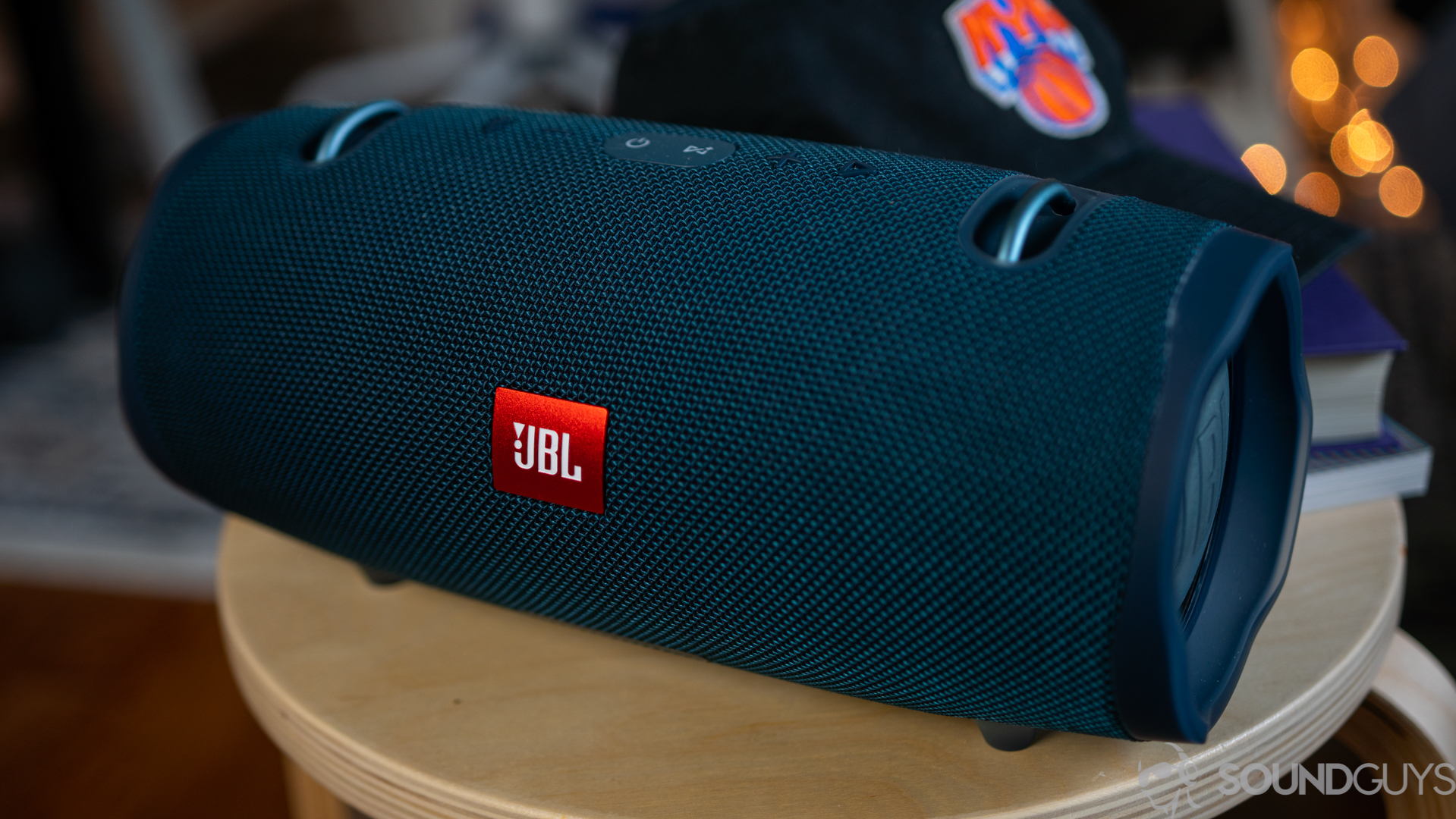 The JBL Xtreme 2 is one of the larger offerings from the company and is wrapped in an IPX7 fabric.
At first glance, the JBL Xtreme 2 leaves no confusion about what kind of speaker it is. This thing is large, heavy, bulky, and built like a tank. Basically, if you took a Charge 5 and stretched it out in Photoshop, you'd get the JBL Xtreme 2. The Xtreme 2 has a tough fabric covering which helps with the IPX7 rating, and a dual passive radiator on either end. The passive radiators not only help out the low end by pushing more air, but it's also super fun to look at. The JBL Xtreme 2 even has a small stand built into the bottom of the speaker so you can place it down somewhere without worrying if it will roll away.
JBL didn't hold back with the Xtreme 2 when it comes to size. This thing is huge, weighing 2.4kg and it's large. So how is this giant thing portable? Well, JBL also put two metal loops into the top of the speaker and included a shoulder strap in the box. So if you do want to take it with you to the beach, for example, you don't have to waste precious arm space and can just sling it over your shoulder. Though I will say that doing so isn't the most comfortable solution, but it is practical. One fun little feature that's worth mentioning is that the strap does have a metal adjustment piece that doubles as a bottle opener for cracking one open when you need to.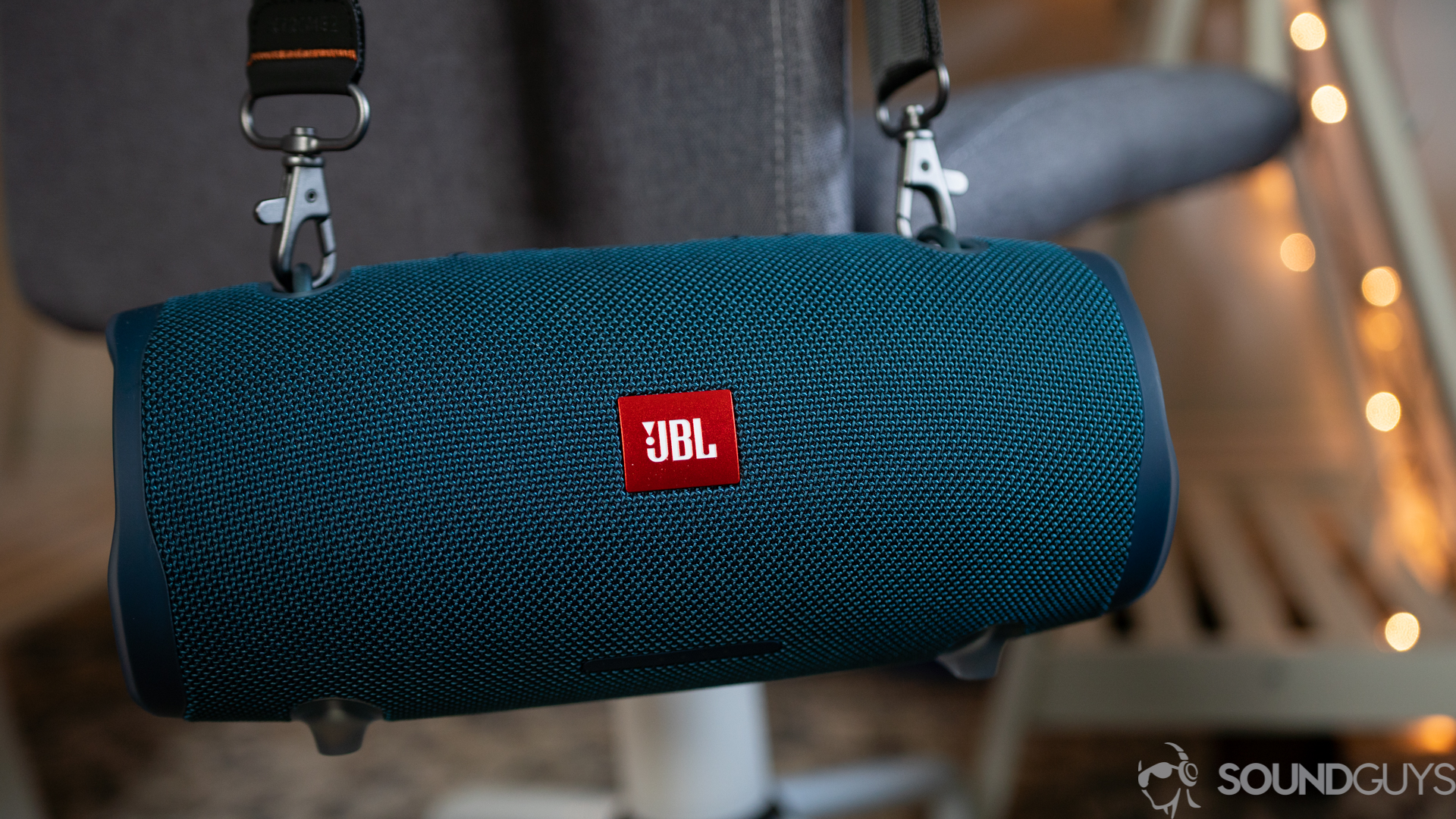 Because of the size, the JBL Xtreme 2 also comes with a removable strap for easy transport.
Lining the top of the speaker is where you'll find all of the buttons including playback controls and power, while the ports are hidden underneath a waterproof flap on the back. Fair warning, opening the flap is pretty difficult which is great for the waterproof aspect but slightly inconvenient when you're trying to pry it open. I actually had to reach for my Leatherman just to pry it open the first time, though it did get easier over time.
Is the JBL Xtreme 2 waterproof?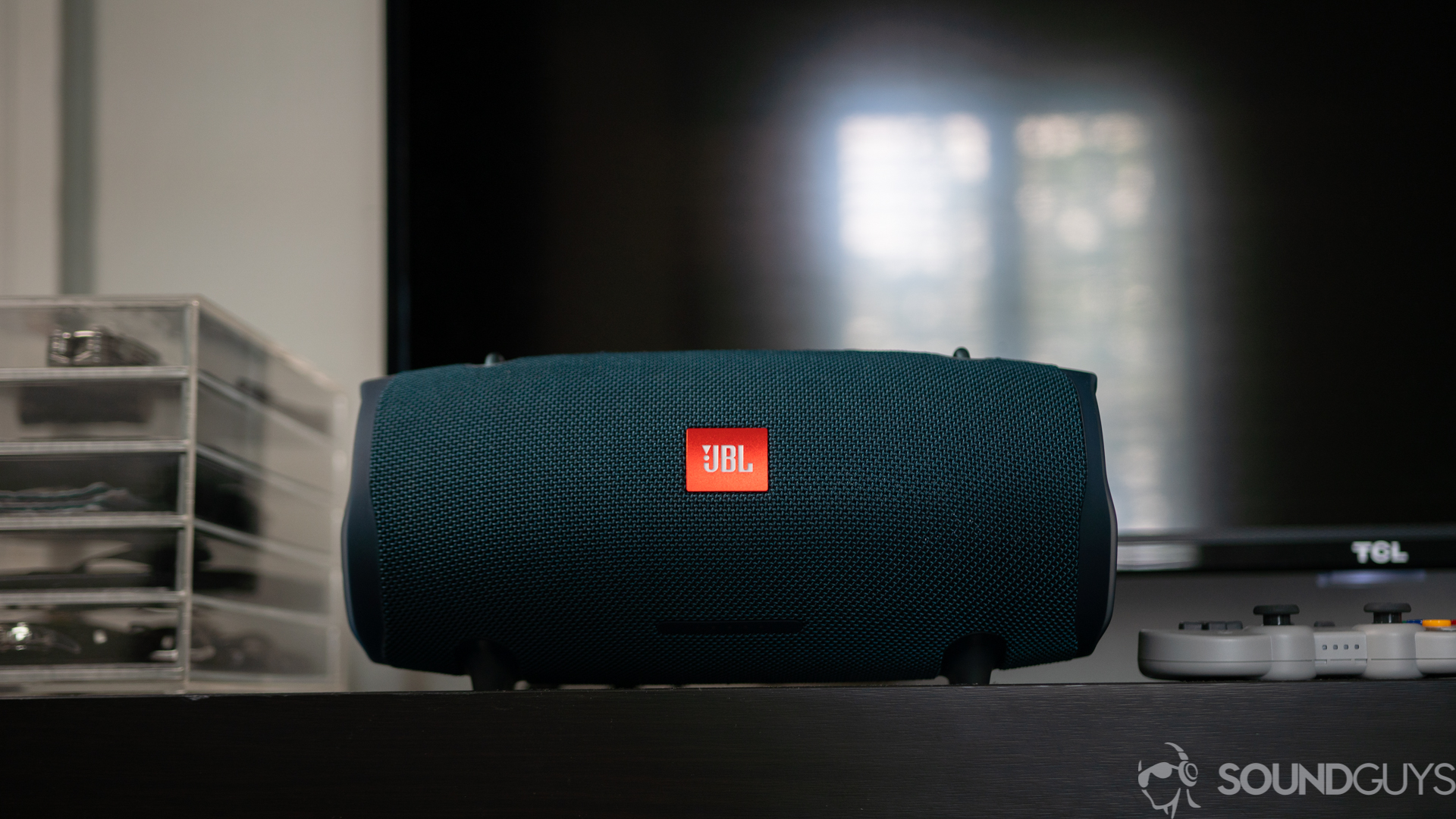 The JBL Xtreme 2 also has two stands on the bottom.
As I mentioned, the Xtreme 2 has an IPX7 fabric covering which makes it completely waterproof. It's worth keeping in mind though that this doesn't mean it can fall to the bottom of a pool and come out okay. There are still limits. To be considered waterproof a product needs to be able to be submerged in up to a meter of water for a minimum of 30 minutes. The JBL Xtreme 2 meets that qualification, but if you drop it to the bottom of a two-meter pool it likely won't do too well.
How's the connection strength of the JBL Xtreme 2?
The JBL Xtreme 2 is rocking Bluetooth 4.2 with just the default SBC codec, so you won't find any high-quality codec compatibility here. So while Bluetooth range was fairly average at around 30 feet and rarely stuttered or skipped within that distance, you won't be able to take advantage of what aptX or AAC has to offer. And that includes the low latency aspect when watching videos so you can expect some slight delay if you're using this as the speaker for your YouTube videos.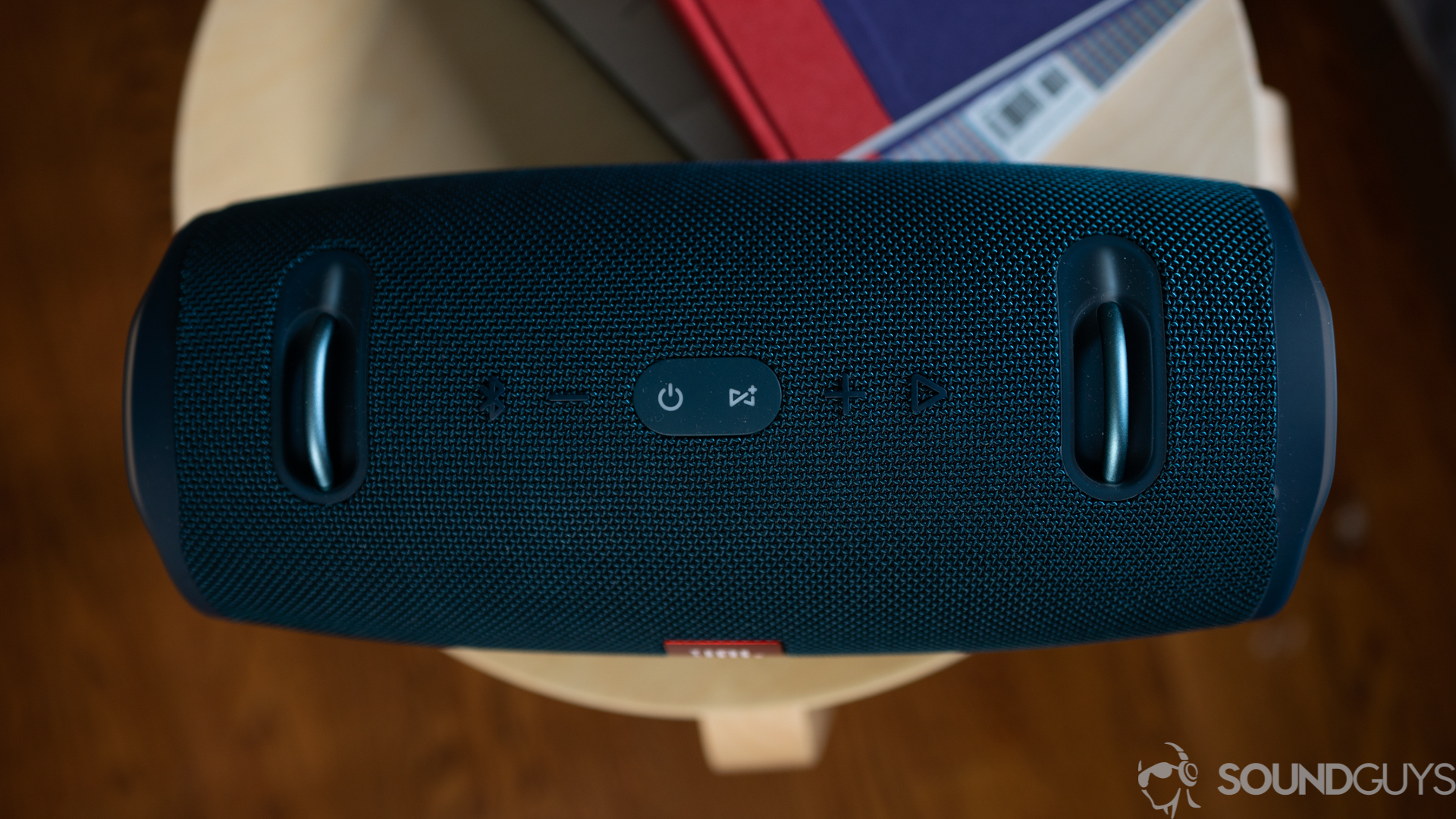 Up top are all of the playback buttons for the Xtreme 2.
Then of course, there's JBL Connect+ which lets you connect the speaker to up to 100 other JBL speakers. As cool that sounds, I don't find that it's very practical unless you intentionally go out and buy more than one JBL speakers or have a lot of friends that also have JBL speakers. I will say that it seems to work pretty well and the music between speakers syncs up perfectly, making it a great option for giant parties. But for average use, it doesn't seem very necessary, especially since this speaker already gets plenty loud all on its own. Still, it's nice to know you have that option if you want it.
Can the JBL Xtreme 2 connect to the Charge 3, the Charge 4, or the JBL Flip 5?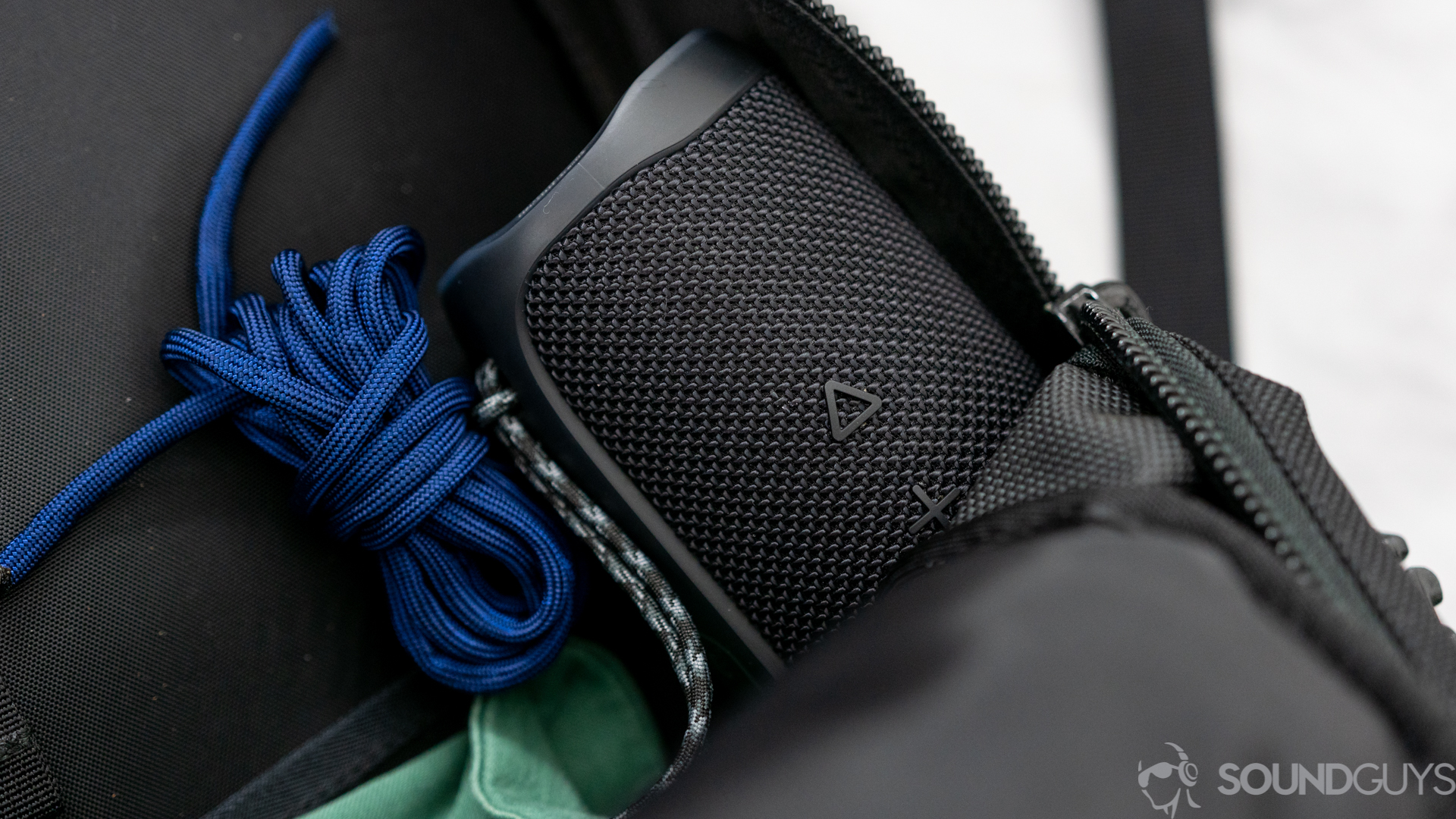 It's still small enough to fit in your bag and comes with a string, though I'd recommend swapping it out for some paracord.
Most likely not. It seems every few years JBL updates the feature that allows speakers to connect with each other and unfortunately it's normally not backwards compatible. The timeline of releases goes like this:
JBL Connect
JBL Connect+
Partyboost
The Xtreme 2 is compatible with JBL Connect+ which means that you can connect it with the JBL Charge 4 since it also has Connect+. The JBL Charge 3 has the older JBL Connect feature, so you will not be able to connect to it with the Xtreme 2. On the other hand, the JBL Flip 5 features the newer Partyboost feature, so you also can not connect to it with the Xtreme 2.
How's the battery life on the JBL Xtreme 2?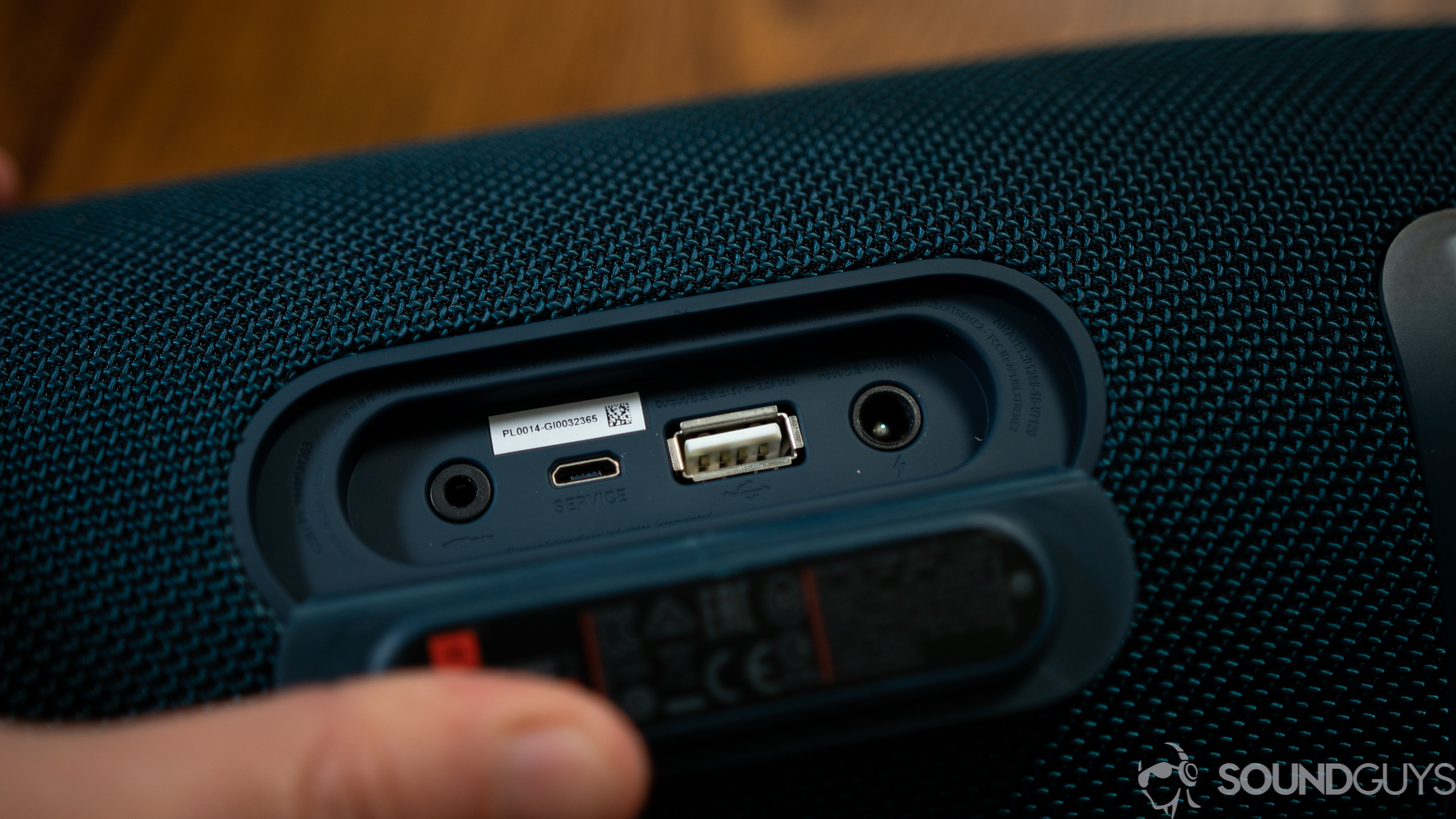 Underneath the waterproof flap is where you'll find all the ports.
You would think that with a giant speaker like this JBL would have a crazy long battery life, but surprisingly JBL only claims about 15 hours of constant playback, and that's without charging any devices via the USB output underneath the waterproof flap. We managed to squeeze out 19 hours and 57 minutes of constant playback at an output of 75dB(SPL), which is more than good enough for a day at the beach. Eventually, you're going to have to charge it which can be annoying because of how it charges.
Speaking of the charger, the JBL Xtreme 2 doesn't charge via USB-C port or even a microUSB. To juice up this bad boy, you need the included power adapter, which seems highly inconvenient. I'm no battery expert, but I don't get why this speaker which has a 10,000 mAh battery inside requires a giant AC power adapter when I can buy a 10,000 mAh battery pack on Amazon right now that charges via microUSB. It just seems like an easy problem to fix. On the bright side, you'll also get a USB output to charge your devices. The microUSB port is just for servicing.
How does the JBL Xtreme 2 sound?
The JBL Xtreme 2 handles lows nicely, with just the right amount of emphasis without overdoing it. The thumping bass kicks through Chanel by Frank Ocean are plainly felt and easy to follow without making it sound like they're getting in the way of the vocals.
Though the JBL Xtreme 2 doesn't have audiophile-quality sound, it should be perfect for your next party.
That said, if you look at the graph of the frequency response above you'll see that the Xtreme 2 doesn't equally emphasize all notes in the mids and highs. There's a slight dip which helps keeps the music from exhibiting any harsh sounds, but it comes at the detriment of clarity. This can be heard nicely during the pre-chorus about one minute into the song So Many Details by Toro y Moi where the synth elements in the background blend into other aspects of the song and are somewhat hard to discern.
Should you get the JBL Xtreme 2?
The JBL Xtreme 2 is for a specific kind of person and if you got to this point in the review then chances are that person is you. If you want a speaker that gets loud, sounds good, and will last you a full day of listening to music then the Xtreme 2 is hard to beat. It's tough IPX7 build means you don't have to worry about it getting destroyed at the beach or the park and the included shoulder strap makes it easy-ish to transport considering its size.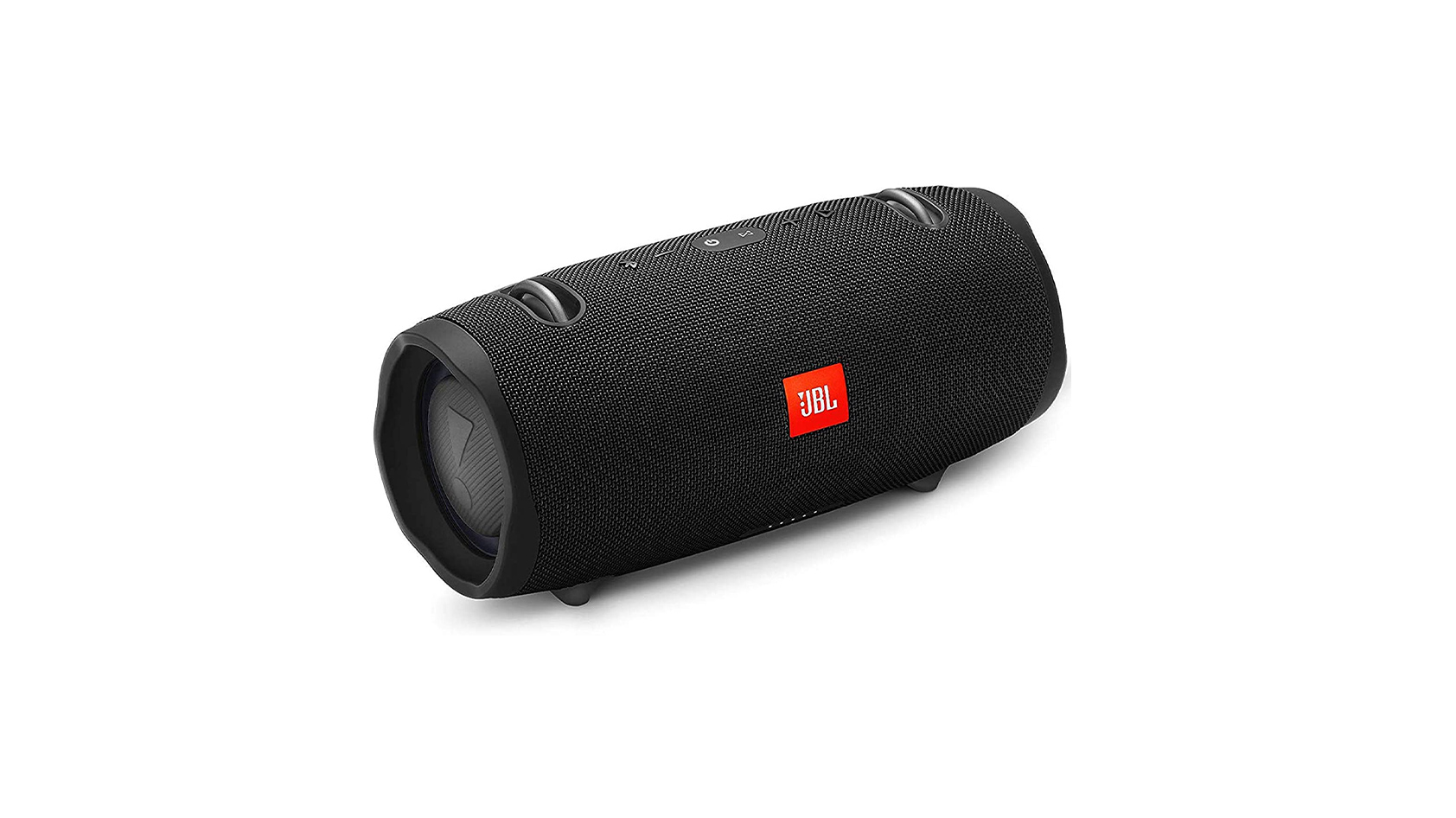 JBL Xtreme 2
All prices listed in USD unless otherwise specified. Prices may change over time, and vary by region. Unfortunately, we cannot list Amazon prices on the site, as they vary greatly by currency.
This is a party speaker, and if you're not looking to bring it to a party then there are other good sounding speakers you can choose from that won't cost as much. But if you want something that's going to get the job time and time again, the Xtreme 2 is worth checking out. With the recent price drop of at least $100 (depending on the colorway), it's a no-brainer to pick it up even if it isn't one of the best JBL speakers out there.
What other options are there?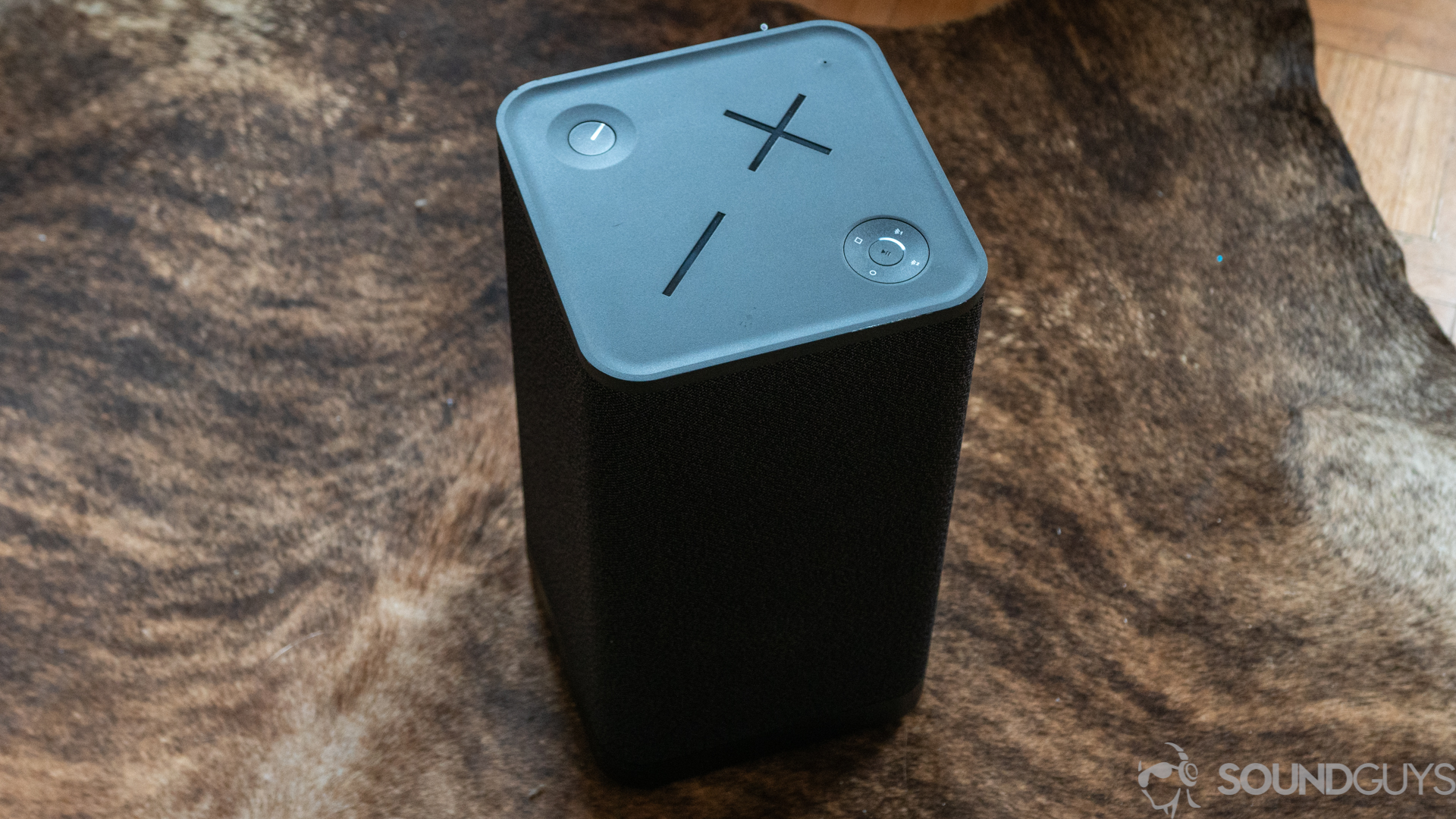 The speaker isn't small at around 5.9kg (13 pounds), but it does have a handy handle.
If you don't want a speaker as large as the JBL Xtreme 2 then you can always go with one of the other JBL speakers like the Charge 4 or the Flip 6, both of which are great deals for the price and still come with a waterproof build though they're more portable. If you want something big and loud, then I'd recommend checking out the UE Hyperboom. It's a giant speaker that gets really loud, sounds good, and is also protected against splashes. Of course, it isn't exactly cheap but if you're after a speaker to power your next party then it might be worth checking out. The JBL Xtreme 2 is now $199.
What about the new JBL Xtreme 3?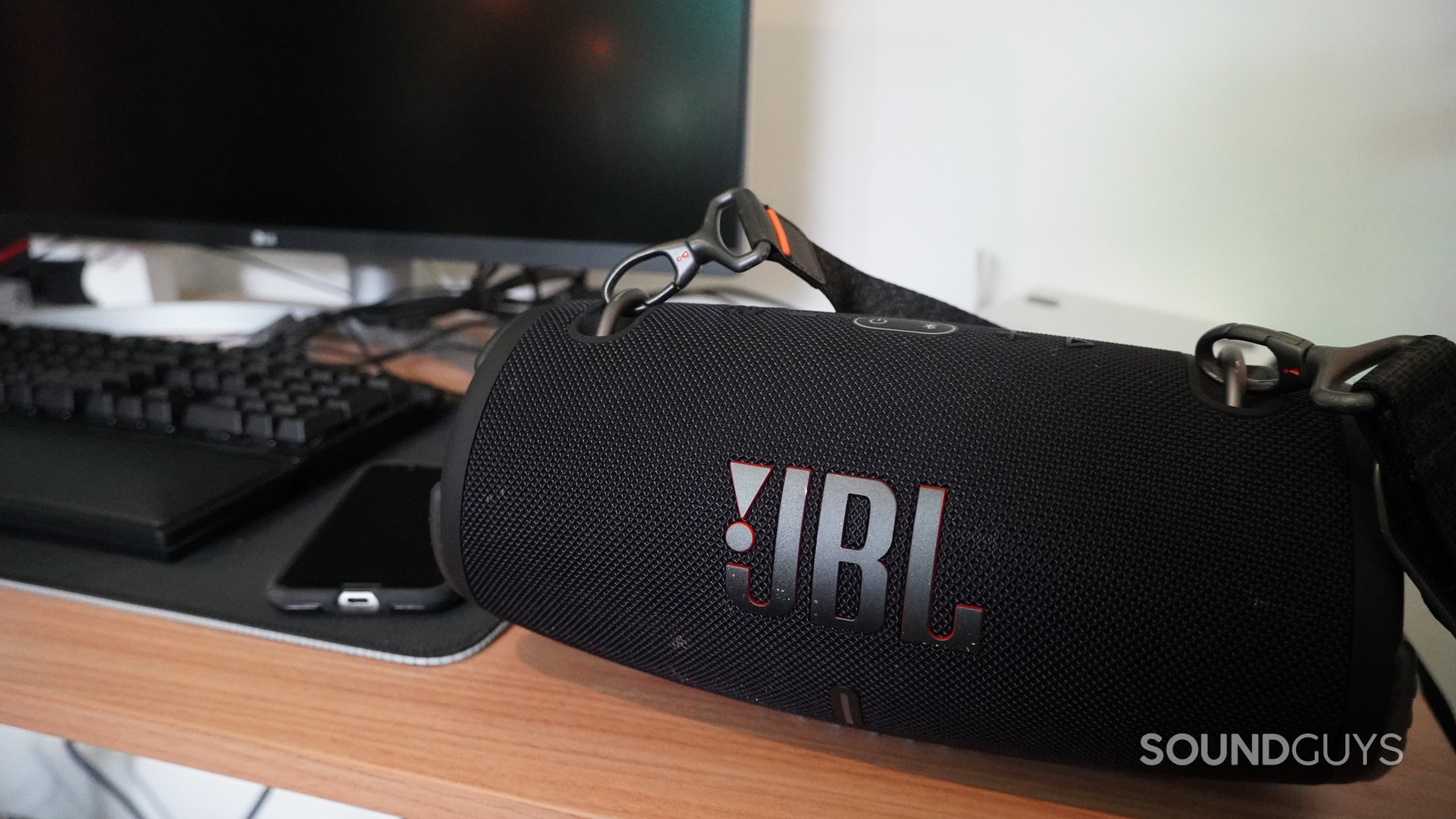 The JBL Xtreme 3 supports Bluetooth multipoint but mostly leaves the process up to your devices.
The JBL Xtreme 3 offers key upgrades from the Xtreme 2: it has Bluetooth 5.1, USB-C charging, and an IP67 water and dustproof resistant rating. It's a bit louder with its 50W output compared to the Xtreme 2's 40W output, and JBL adds bumpers to each end making it a bit more durable. Of course, the higher price can be a bit hard to overcome — especially when the older Xtreme 2 is often on sale to clear stock. Both have a lot to offer, but the Xtreme 2 is too similar to the newer model to really justify an extra premium on top.
Frequently asked questions
Yes you can use two JBL Xtreme 2 speakers as a stereo pair via JBL Connect+, and can connect them to up to 100 compatible JBL speakers for an absurdly loud output.