All products featured are independently chosen by us. However, SoundGuys may receive a commission on orders placed through its retail links. See our ethics statement.
The bottom line
If you're looking forward to outdoor parties, it's hard to recommend a better and more fun speaker at this price point.
Solara
If you're looking forward to outdoor parties, it's hard to recommend a better and more fun speaker at this price point.
What we like
Battery life<br>
Water-resistant<br>
Solar panel for recharging battery<br>
Good sound<br>
What we don't like
Large & hard to carry<br>
Bluetooth 3.0<br>
App could be way better<br>
Rating Metric
Sound Quality
8.2
Bass
8.0
Midrange
9.0
Highs
7.5
Durability / Build Quality
8.5
Value
9.0
Design
7.0
Portability
5.5
Battery Life
8.0
Nowadays it seems like every Bluetooth speaker is the same. A box small enough to throw in your bag with some sort of water-resistant certification. Don't get me wrong those have their place, but where's the innovation? Where are the crazy ideas taking the concept of a Bluetooth speaker to places it hasn't been before? Say hello to the Monster Solara, a crazy Bluetooth speaker that I love. But let's just get this out of the way right now, it isn't for everyone. This thing is not what I would call portable, it isn't exactly aesthetically pretty, and the sound quality isn't perfect. So why do I love it?
Who's it for?
As I already mentioned this speaker isn't for everyone, but there are a few reasons you might want to consider it.
You're looking for an outdoor speaker that gets loud, especially for taking on your next camping trip (assuming you're driving there).
You plan on outfitting your yard with a network of Bluetooth speakers (for some reason).
You want something unique that won't break the bank. I would compare this to something like the Mars speaker by Crazybaby but more durable. It isn't the best speaker you can get but it's super loud and definitely a head-turner.
How's it built?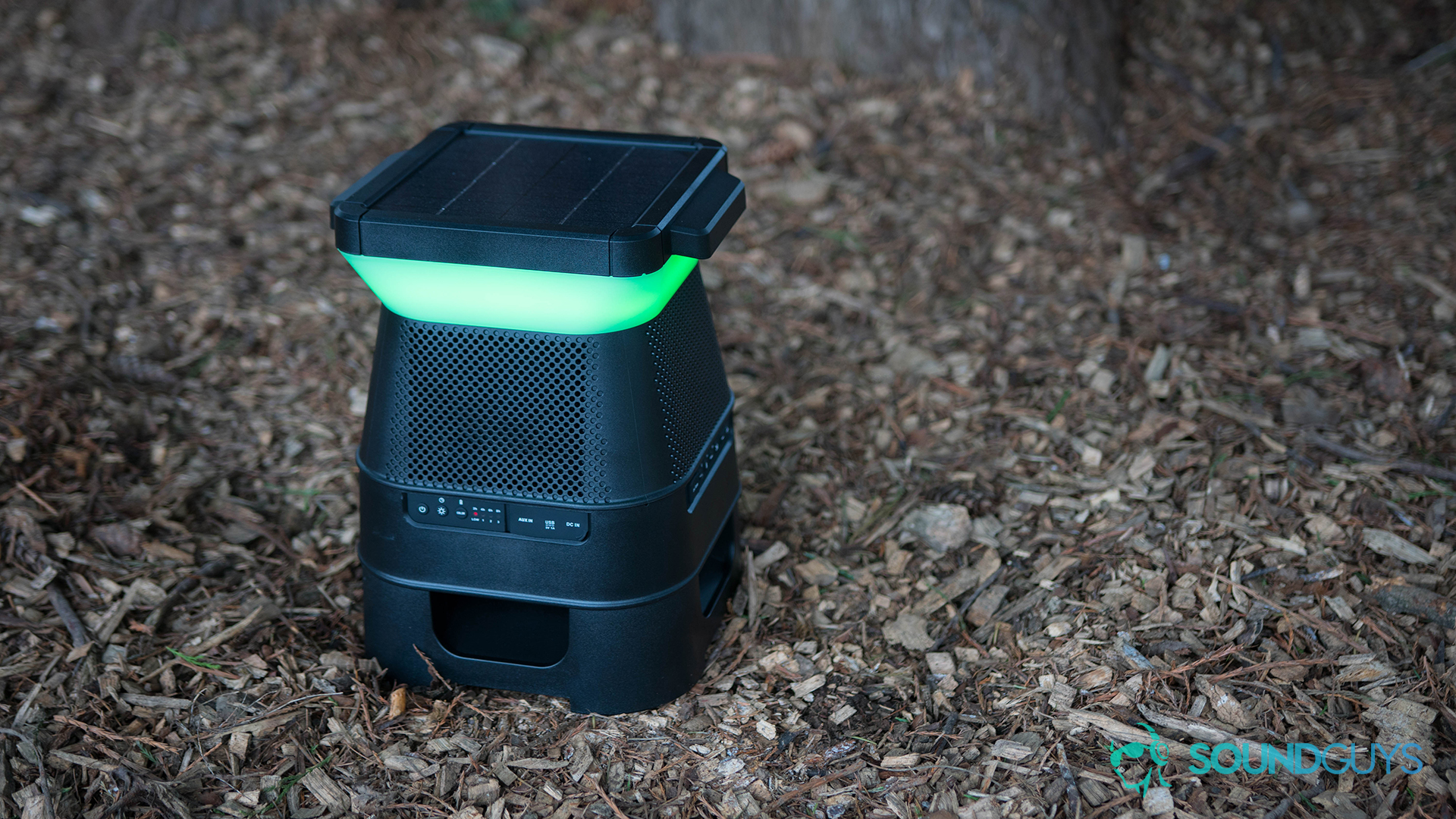 The Monster Solara is right at home in the middle of nowhere, thanks to its ability to recharge its battery via solar power.
If you were hoping to throw this speaker in your bag on your way to a friends house, think again. This speaker is roughly 11.3" x 14.2" x 11.3"-inches and doesn't even bother to try NOT to be. What I mean by that is that it doesn't pretend to be portable. The design is awkward to hold, even more awkward to carry, and at 9 pounds good luck bringing this on your next hike. Though it does come with two small handles on each side so you can move it short distances, it isn't going to work for long hauls. But that said, one perfect use case I can see for this speaker is if you're going to be out camping for the weekend. If you just throw it in your car and don't have to worry about physically transporting it, it would make the perfect speaker for a campsite.
Let's start at the top, where Monster included a solar power panel. Yeah, you read that right. Just like your favorite flower, the Solara has the ability to capture the Sun's rays and convert it into energy to charge the speaker when not in use. Directly under that is something you wouldn't expect from a speaker claiming to get its power from the Sun like Superman (little nerd trivia for 'ya) – an LED light that does a great job at making sure you can see this speaker in the dark. It looks pretty damn cool in my small apartment, and I have to imagine it looks just as cool if you have a few of these in the yard.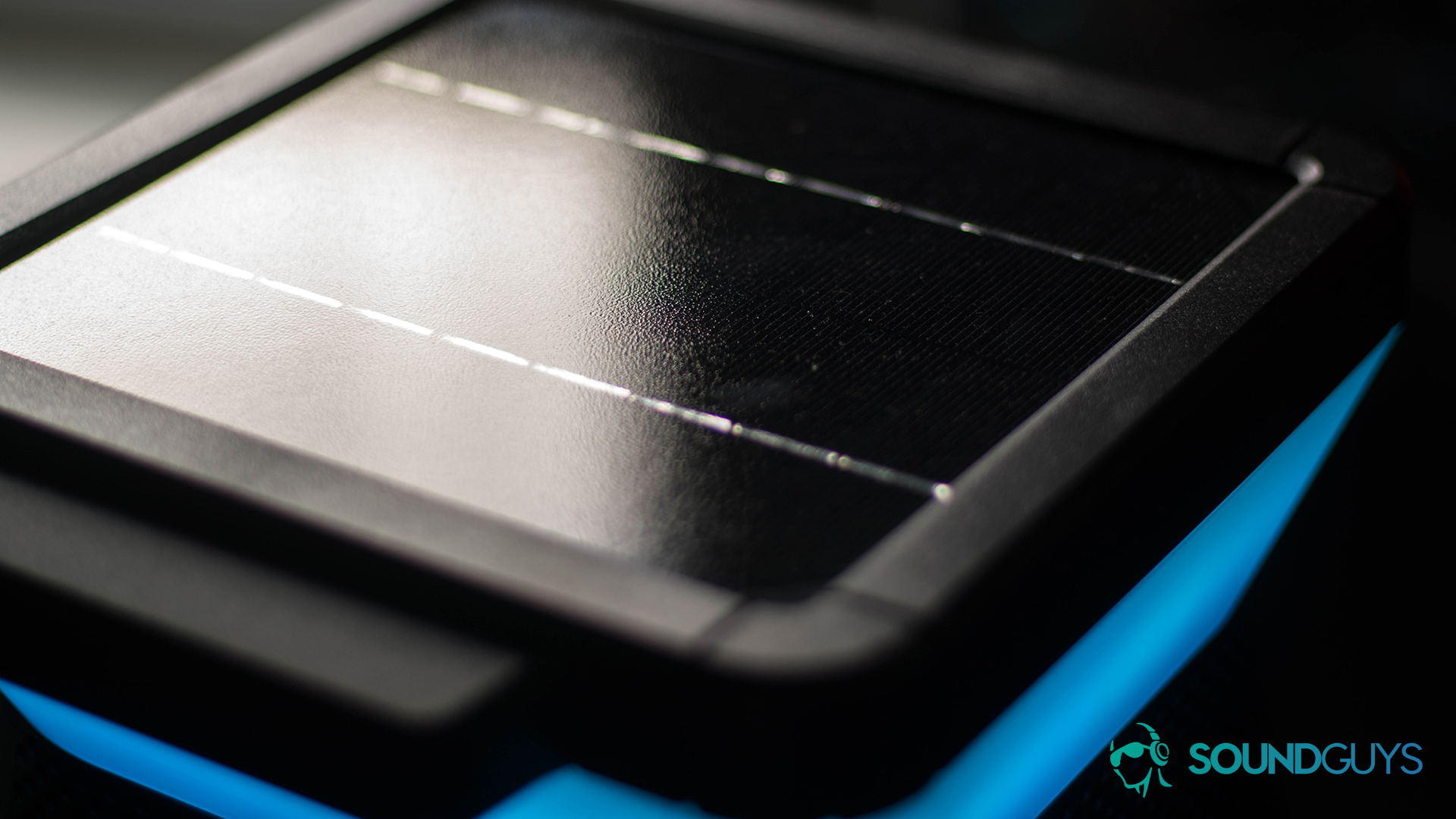 Right on top is where you'll find the solar panel.
Working our way down the speaker we get to the plastic grill that houses the drivers behind them. They face out in every direction so you'll get a full 360-degrees of sound. And unlike some speakers that claim this, I can confirm that regardless which direction the speaker was facing the sound came through loud and clear. But more on the sound quality later. Beneath the grill is where you'll find all of the main inputs and controls, including buttons for music playback as well as some for controlling different aspects of the speaker. The rest of the speaker is basically a hard plastic stand, save for the space at the bottom where you'll find the woofer if you stick your hand in.
Connection strength
This speaker has Bluetooth 3.0 which doesn't effect sound quality in any way, but I still would've liked to see something a little more modern. If for no other reason than to take advantage of the low-energy capabilities of newer Bluetooth versions. Though to be fair, I guess they figure the solar panel up top is enough to combat the energy loss. During testing I haven't had any issues in regular playback. Even when I took it to my local park there weren't any issues that I wouldn't expect. As far as Bluetooth codecs, I couldn't find anything in the manual or the website so I have to assume that it uses the standard SBC codec.
Along the side is where the buttons are for playback controls and switching between input.
One feature that I couldn't test was the ability to pair one of these with up to 7 other Solara speakers, making for a mesh network that you can place around a yard (or extremely large house). As long as the speakers are within 100 feet of each other, you could make a giant network of speakers all playing the same song with mood lighting to boot.
One thing that is kind of annoying is that you can't control the volume of the speaker with your phone. You have to press the buttons on the speaker itself, which I can see being kind of an issue if you have seven of these at a party and want to lower the volume enough to make a toast. But that said I had no problem adjusting volume when connected to my computer which is a little weird. On the left side of the speaker you'll get the on/off switch, source input button, Bluetooth pairing button, EZ-play button (for pairing with other speakers), a play/pause button, and the volume control buttons. It's worth noting that you can't switch between tracks here, so you'll still have to reach for your source device.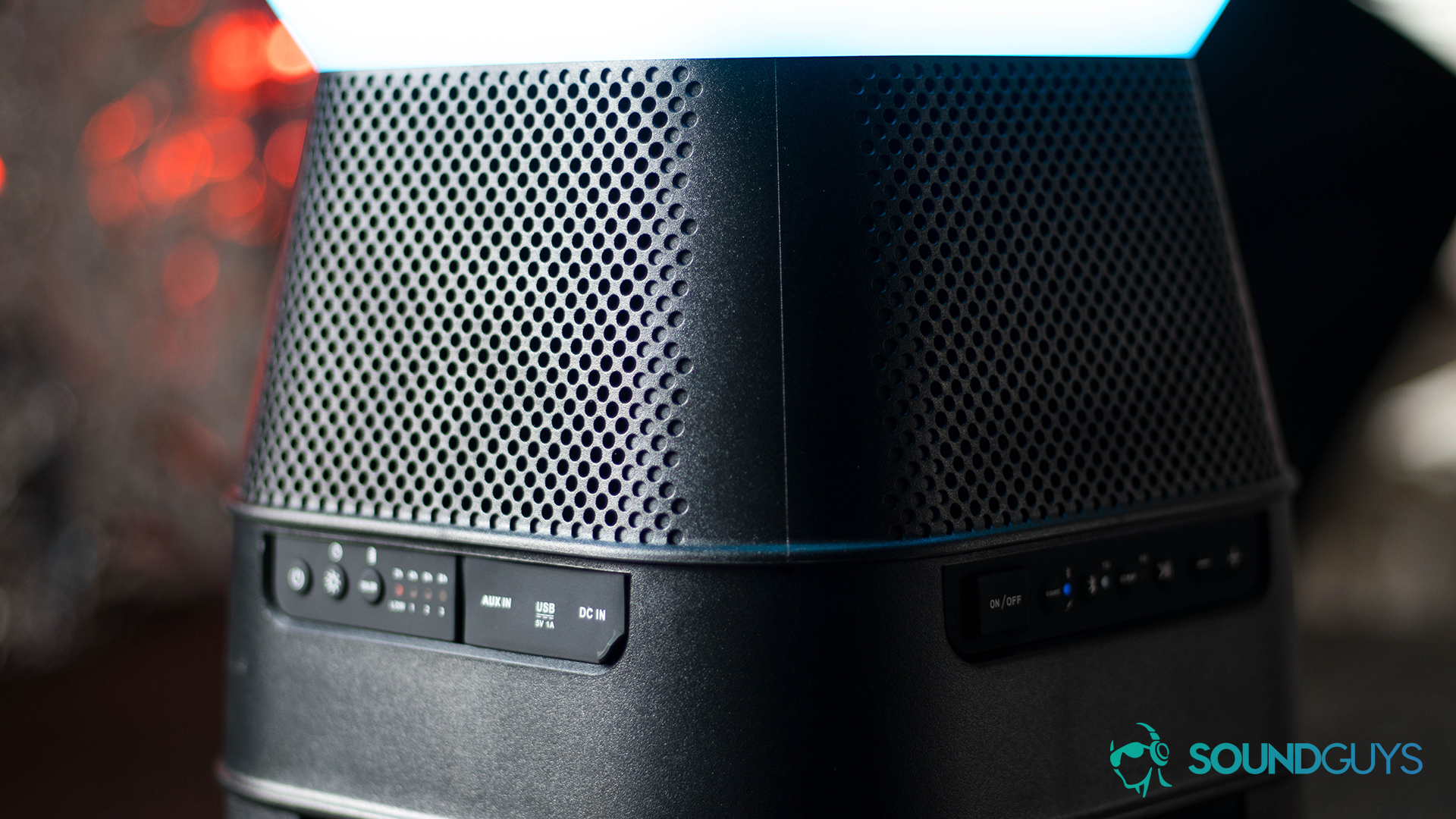 The power input and USB output is hidden under a rubber flap.
The left side of the speaker is all for the LED light up top. You'll get another power-ish button for putting the speaker in standby mode, a button that controls the LED light or sets a timer, and a third button for changing the color of the lights. You can also control the color of the lights via the Monster app, which to be honest is pretty bad. But it gets the job done if you want to cycle through colors. Under a flap to the right you'll get a 3.5mm input, a USB output for charging smaller devices, and a power input for the included 5.5V/2.6A DC Adapter.
How long does it last?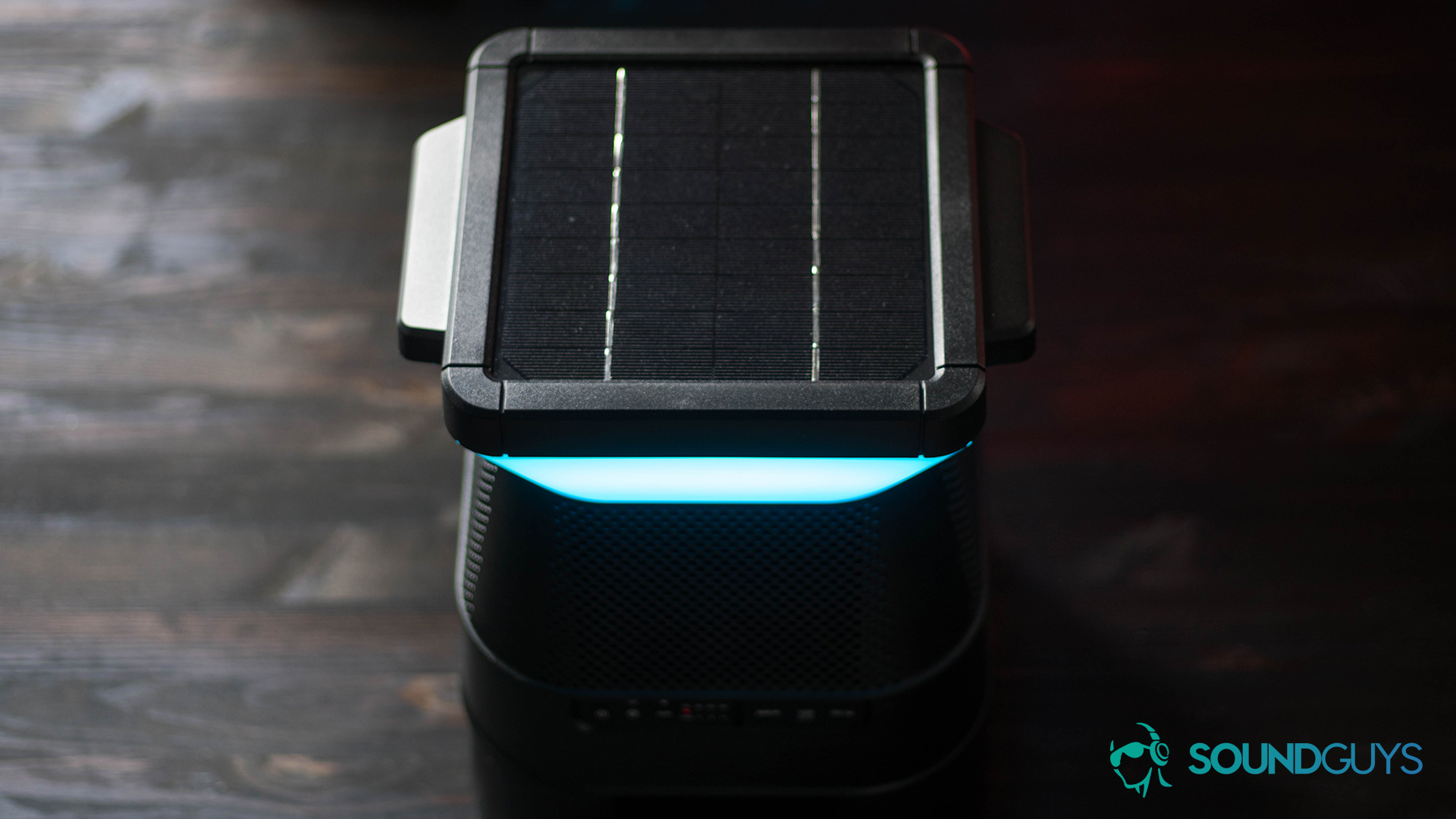 In low light the speaker looks super cool, though it will need sun eventually to charge.
Now Monster claims a battery life of about 7-10 hours of constant playback, and even that can be extended if you're outside and it's a bright sunny day. Now if you know nothing about Portland winter, we don't get tons of sun here. But even with overcast skies keeping this near the window I haven't been able to run the battery dry in about a week of testing. Though to fair, that could also be because I haven't been playing the speaker at max volume since this speaker gets super loud (more on that in the next section). If you want a full day of music for a party or day at the park, I can see the Solara lasting the entire day.
Sound Quality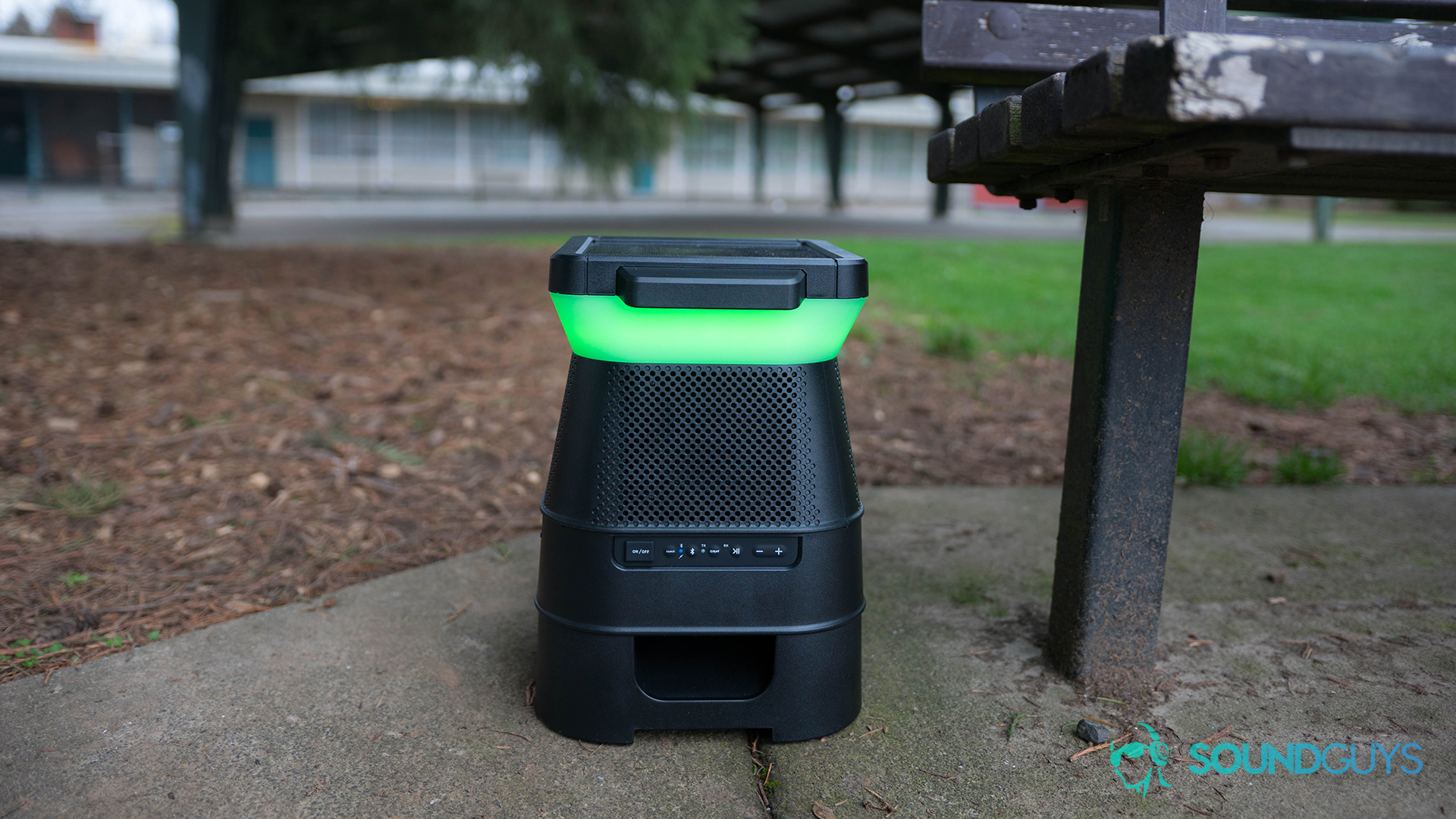 The glow of the LED light makes it look like a lantern.
Now this speaker was intended for both indoor and outdoor usage. So not only did I test this out in my apartment, but I also dragged this hunk of plastic a few blocks over to a nearby park to really put it through its paces. And what I found was pretty impressive. For less than the price of something like the JBL Xtreme you get a speaker that's just as durable and even louder. And I mean loud. I couldn't play this at volumes above 25% in my apartment for fear of eviction.
Lows were already impressive when I was indoors, but being outdoors lets you really appreciate what that giant woofer on the bottom can do. I was actually surprised with how well the Solara handled the low end. I was expecting that the company that basically created Beats by Dre would put a super exaggerated low end into their outdoor speaker, but it was actually pretty well-defined. It was decent where it needed to be, like in the song "Mikey Rocks" by The Cool Kids, but really excelled with more subtle basslines like the soft notes you can find weaving through "Distance" by Emily King.
Normally I gush over the highs in a speaker, but with this speaker there isn't anything to write home about. It's the mids that really took me by surprise here. The vocals and guitar rhythm throughout the song "Suzanne" by Bermuda Triangle complemented each other perfectly, especially when the finger picking picks up during the chorus (roughly 0:18 seconds in)
Final Thoughts
If you're looking for pristine audio quality, the Monster Solara isn't going to quench your audiophile thirst. But if you're looking for a speaker meant to drench large areas in blankets of pretty good sound, the Solara might be the way to go. At only about $150 it's impressive that sound quality isn't the only thing the Solara has going for it. It also has a durable build meant to be outside, a solar panel that charges the battery, and a large LED light for atmosphere. The app could be better, and it's pretty hard (if not impossible) to carry it in a backpack, but I can't think of a better outdoor party speaker at this price point.