The JBL Xtreme came out almost four years ago at this point, but the good thing about audio products is that if they worked well then they'll most likely work well now. Even though there is a newer JBL Xtreme 2 speaker, we still find ourselves coming back to the original when people ask which Bluetooth speakers are worth looking into. While it's not the newest model, that doesn't mean it isn't still worth the money. Especially when you consider how much the price has dropped on it since its release, a price that the Xtreme 2 seems to have picked up. So, is the JBL Xtreme still worth picking up in 2019?
Editor's note: this review was updated on March 9, 2021, to add context to the sound quality section.
What is it like to use the JBL Xtreme?
The best way to describe the JBL Xtreme would be to say that it's a giant Flip 3 with a few extra perks. The speaker is also wrapped in a splashproof fabric that gives it a really nice, but we doubt you'll be holding it most of the time because it's simply too big. While the new Xtreme 2 does feature a complete IPX7 waterproof build, the splashproof fabric found here is no slouch either. Then there are also the two metal hooks on either end of the speaker that come into play. Simply attach the shoulder strap to them and voila, instant portable party power. This is something worth paying attention to if you think that you're going to be carrying the speaker around a lot via the strap, as the new Xtreme 2 has slightly larger metal attachments points. Still, the strap on the Xtreme gets the job done regardless.
The JBL Xtreme uses dual-passive radiators to pump out loud bass notes.
Similar to the Flip series both ends of the speaker have external dual-passive radiators that, due to the larger size of the Xtreme, do work on the low end. Up top you'll find all of the buttons including the Bluetooth pairing button, volume down, power button, JBL connect button, volume up, and a play/pause button. If you double tap the play/pause it'll skip to the next track but there's still no returning to a previous track.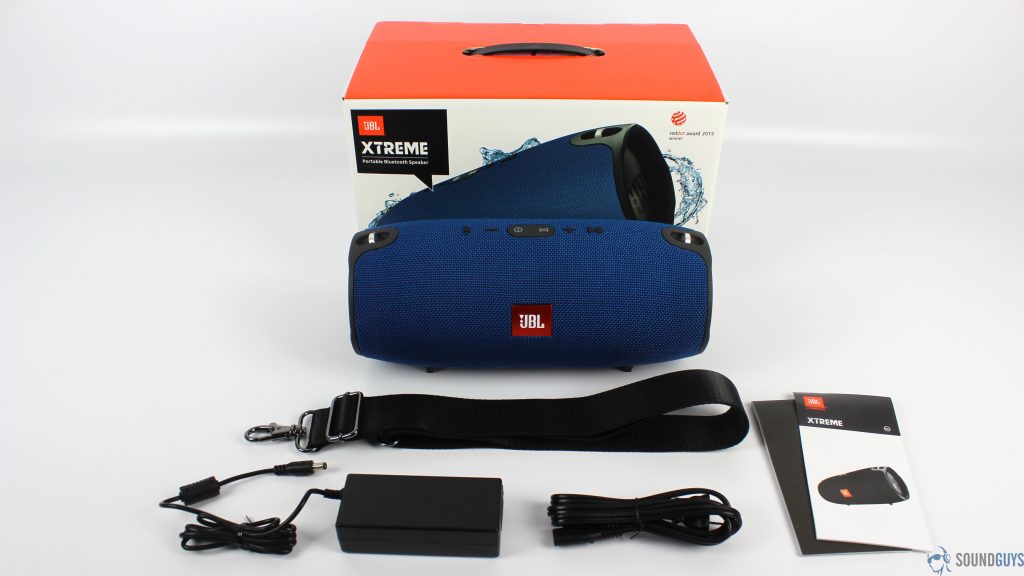 Besides the overall size, the biggest differences you'll find in design between the Xtreme and the Flip 3 can be found on the bottom of the speaker where it has a hard plastic stand built into it. Even though I'm sure it can still be oriented vertically, this makes it pretty clear that JBL intends you to place the speaker horizontally while using it. It's also where you'll find the small indicator lights that let you know roughly how much battery life is left. Also on the bottom is a bright orange zipper that when peeled back reveals a service button, aux in, the power input for charging, as well as two USB outputs to charge your devices.
How do you connect the JBL Xtreme?
Connectivity on the JBL Xtreme is good, but not great. Though it does have a solid connection and we didn't experience too much skipping when testing out the range, there was a fair amount of stuttering when there was a wall or two in the way but that's really nothing out of the norm. The Xtreme is rocking Bluetooth 4.1 but unfortunately doesn't have any higher quality streaming codecs like aptX, LDAC, or AAC. Then again though, neither does the newer Xtreme 2 so as far as streaming quality goes you can expect similar results from both. If none of this made sense to you, learn yourself something new today and read our quick explainer on the importance of Bluetooth codecs and how they affect your music.
How long does the battery last?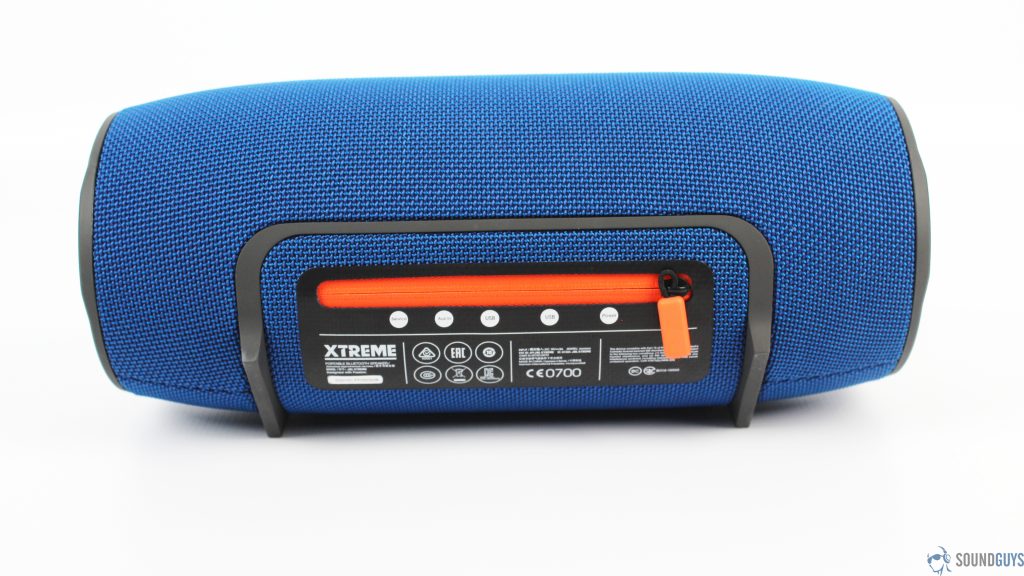 JBL packed an insanely large 10,000mAH battery into the Xtreme and claim a battery life of 15 hours. Again, no different than the newer Xtreme 2 when it comes to how long you can expect constant playback. In our original testing, we got closer to 14 hours. That's still very good considering how loud this thing can get when you max out the volume, which is kind of the point of getting a giant Bluetooth speaker. Unless you also want solar power, which in that case you might want to check out the Monster Solara.
Does the JBL Xtreme sound good?
One thing that was very annoying about the Xtreme was a slight stutter that occurs at the very beginning of a song. It only lasts about a second but it's enough to ruin more intros than you thought you cared for. Besides that, the Xtreme works exactly how we expected it to: pretty damn good. Another cool feature we got to test out is the JBL Connect button which lets you connect and sync multiple JBL speakers together. We paired the Xtreme with the Flip 3 together at the time of this review and they were perfectly in sync. Of course, the new Xtreme 2 lets you connect to up to 100 JBL speakers (way to show off) but I find it rare to ever be connecting more than two anyway so unless that's important to you it really isn't too big a deal.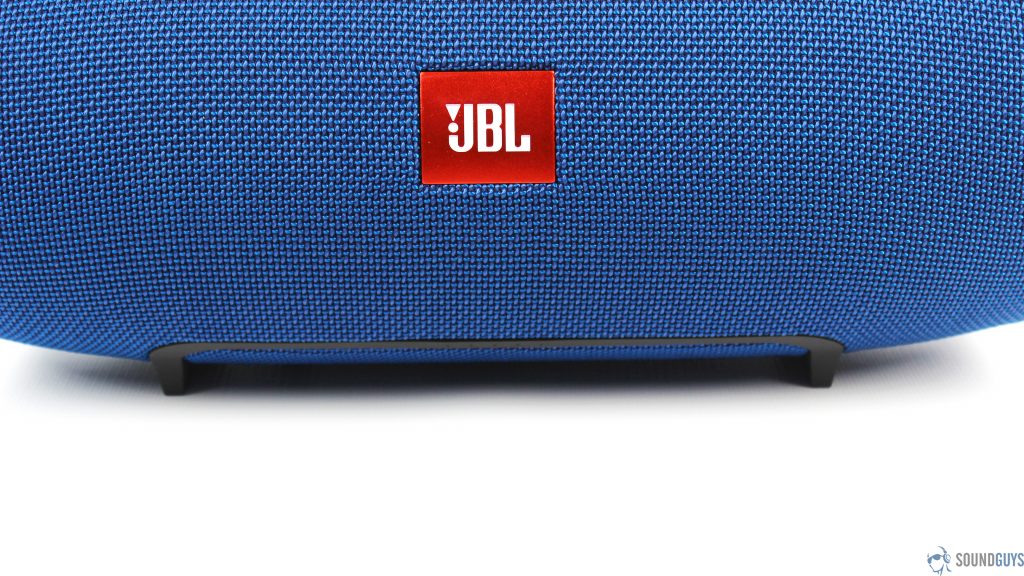 The lows sometimes mask the mids, but this is an infrequent issue. The bass remains prominent in any song; whether that's good or bad is up to you. The smooth bassline in All I Want Is You by Miguel sounded close to perfect to me. Vocals are easy to distinguish, as with most guitars and synths. A good example of this is in The Suffering by Coheed & Cambria which has fairly loud and melodic guitar parts throughout that never make it hard to hear the lead vocals.
Unfortunately, not everything is perfect, and the speaker fails to accurately reproduce treble notes. But what do you expect from a portable, single unit speaker? Hate or Glory by Gesaffelstein is almost impossible to enjoy fully because the already prominent hi-hats towards the end of the song seem to be given a boost that makes them a little painful to the ears. I'm sure this won't be an issue if you're using the speaker outside but if you happen to be in a closed room or standing close to it, it's not too enjoyable. Great song though.
Should you buy the JBL Xtreme?
Overall the JBL Xtreme is still a great speaker and still worth picking up, but it's technically discontinued. If you get one for yourself, chances are its main uses are going to be blasting music while having a party or cleaning your room. That is the same thing, isn't it?
It's hard to recommend splurging and dropping nearly $300 on a newer Xtreme 3 unless you really want the ability to connect 100 JBL speakers together or plan to fully submerge your speaker every now and then. While the IPX7 waterproof build of the Xtreme 2 is certainly tempting, it may not be worth it especially when you consider that the Xtreme is still splashproof and can survive being left out in the rain without a problem.
Frequently Asked Questions