All products featured are independently chosen by us. However, SoundGuys may receive a commission on orders placed through its retail links. See our ethics statement.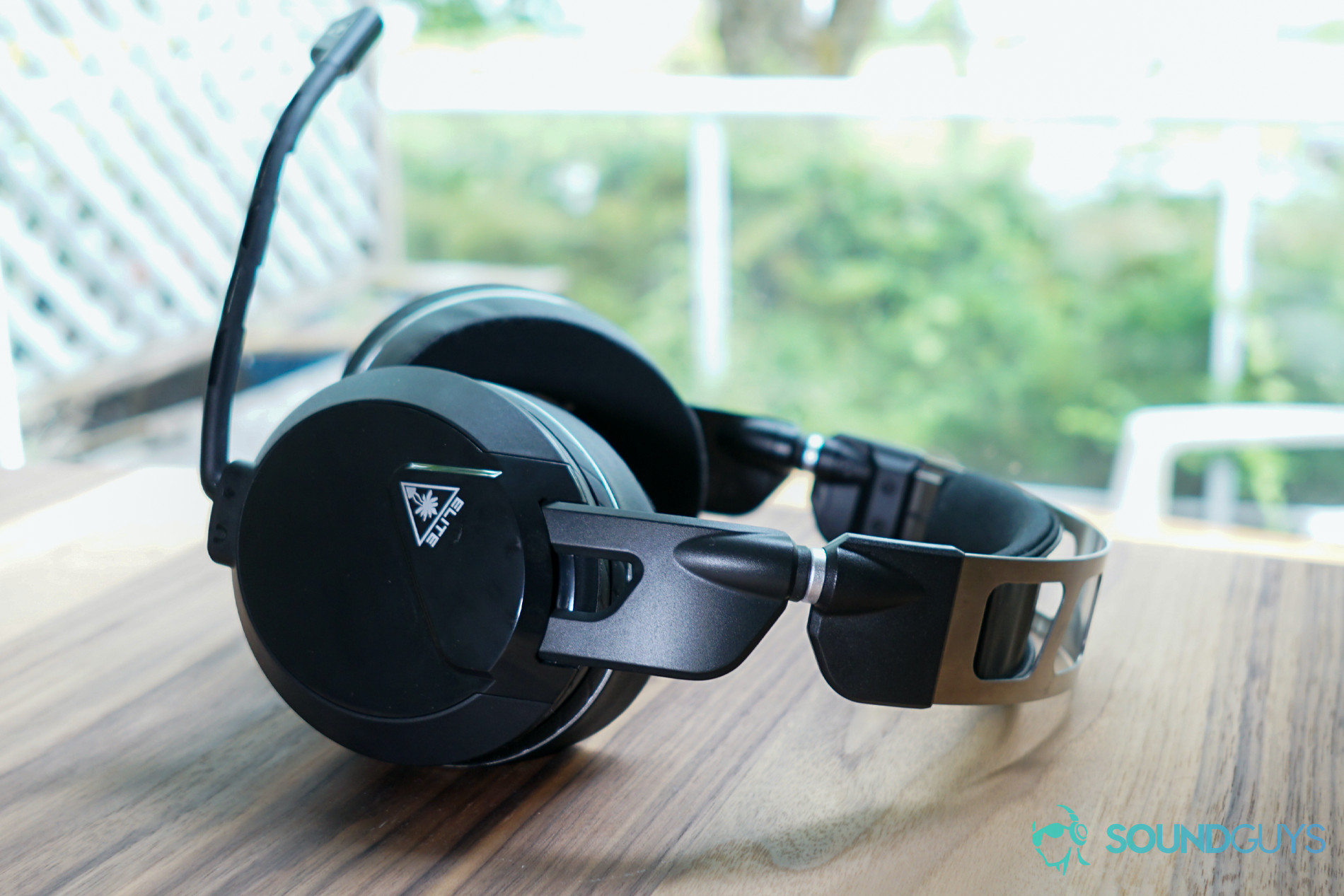 6.9
Turtle Beach Elite Pro 2 + SuperAmp
The bottom line
The Turtle Beach Elite Pro 2 adds a lot of features, and a couple headaches to an otherwise pretty good gaming headset formula.
Turtle Beach Elite Pro 2 + SuperAmp
The Turtle Beach Elite Pro 2 adds a lot of features, and a couple headaches to an otherwise pretty good gaming headset formula.
What we like
Comfortable
Good sound
Well built
What we don't like
Broken software
Expensive
Rating Metric
Sound Quality
9.3
Isolation / Attenuation
2.1
Durability / Build Quality
8.5
Value
7.0
Design
8.0
Microphone
5.4
Portability
6.0
Comfort
9.0
Turtle Beach has made some really solid gaming headsets in the past. Some of them have been simple and well executed, while others included features that didn't make a whole lot of sense. The Turtle Beach Elite Pro 2 + SuperAmp treads a fine line between those two outcomes. It's built on the same great frame as the Turtle Beach Elite Atlas, but the features it adds complicate things.
Is the Elite Pro 2 just another expensive gaming headset that adds gimmicks instead of value, or is there more to it?
Editor's note:  This review was updated on November 7, 2022 to update formatting.
Gamers who want something they can use with either their PC or console and not lose features between platforms will find this headset to suit their needs quite well. Additionally, at-home workers who want a comfortable headset, especially one that fits with glasses nicely, will likely find this headset to suit their needs.
What is the Turtle Beach Elite Pro 2 like?
Even though the SuperAmp uses USB to connect, the headset connects to it using a 3.5mm headphone jack.
Joining headsets like the SteelSeries Arctis Pro, the Turtle Beach Elite Pro 2 includes a SuperAmp unit—a big volume dial you can pair with your phone using an app and control all sorts of settings. The headset itself is a pretty simple one, so a lot of the particulars of using it come down to how you interact with the SuperAmp.
As gaming headsets go, the Turtle Beach Elite Pro 2 is pretty well built. This is a primarily metal gaming headset, with a comfortable suspension band and rotating hinges which will let the headphones lay flat. The earpads are made of memory foam, covered in leatherette on the sides and flexible spandex-like fabric on top. People with glasses may want something with velour, but the headphones have carved grooves to alleviate pressure, so getting a decent seal shouldn't be too hard. I certainly never ran into any issues.
The Elite Pro 2 is a sturdy, comfortable headset. It's got some heft to it, but the suspension band makes it rest comfortably even for long sessions.
The cords that connect the headset to the SuperAmp and the your platform of choice are long enough for most environments, but a desktop setup is always going to be the most convenient.
Actually using the Turtle Beach Elite Pro 2 is pretty pretty straightforward too. There aren't any onboard controls (save for a mic mute switch in the cord), so getting used to the headset is really just a matter of adjusting it to fit properly. The headset's volume control is in the SuperAmp unit, which acts as a go-between for the headset and whatever platform on which you're gaming. This a 3.5mm gaming headset, but the SuperAmp connects over USB (or USB and optical if you're so inclined).
The Turtle Beach Elite Pro 2 offers a pretty great gaming experience once you get the settings right. Using the SuperAmp, the headset offers a PC and console mode (the PlayStation 4 version is the one we used), and DTS:X 2.0 surround sound on both platforms. If you can get turning those settings on to stick—often when the app drops connection, whatever changes you try to make aren't saved—you're in for a good time.
What can the SuperAmp do?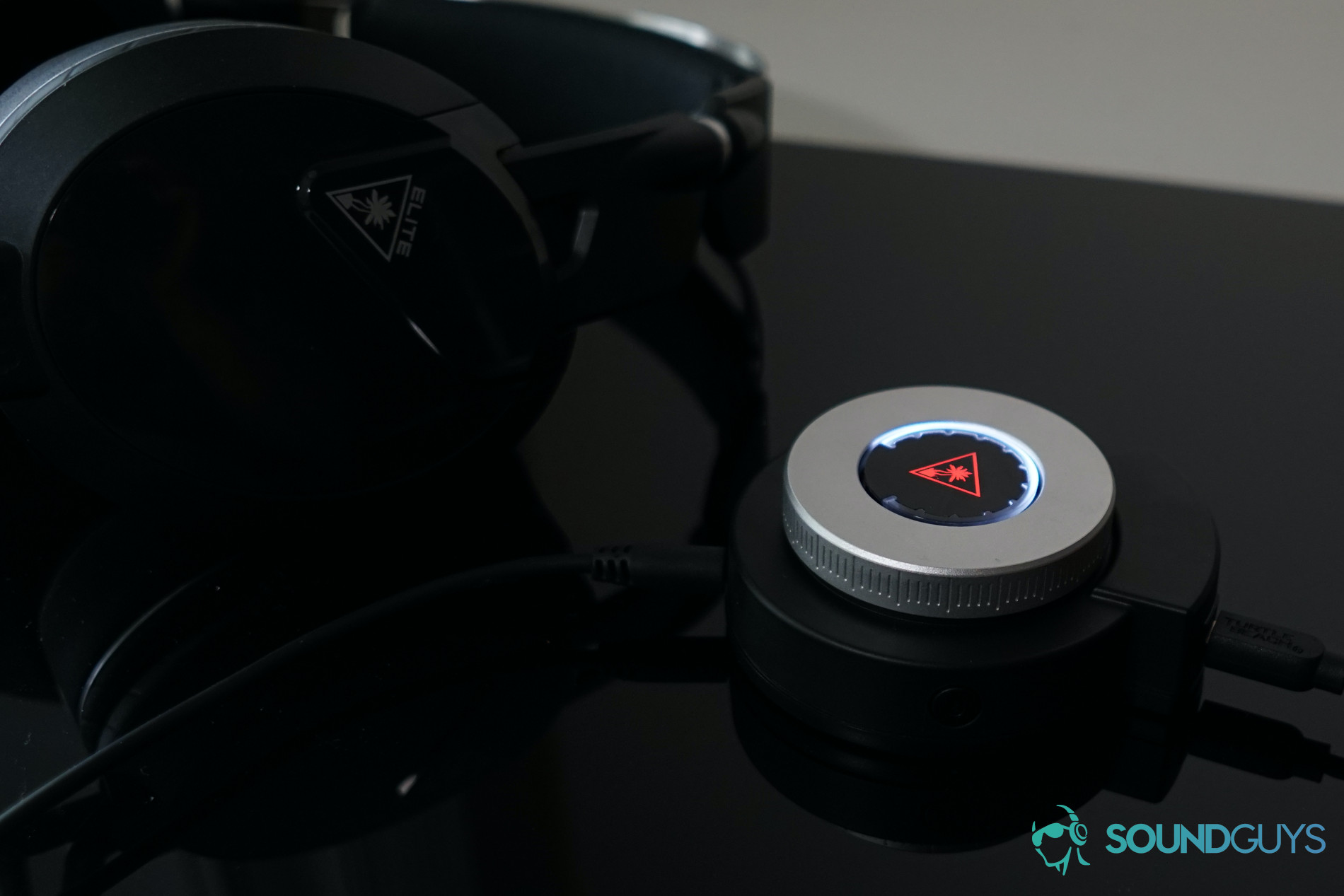 The SuperAmp lights up in the middle, with a white LED ring indicating volume level.
The SuperAmp itself offers all sorts of features which you can access using the Turtle Beach app. Unfortunately, while the app exists on Windows and MacOS, only the mobile version actually offers any significant functionality (the desktop app is only for firmware updates). This means you have to connect to the SuperAmp by pairing via Bluetooth, which I found clunky and extremely inconsistent.
Even after reinstalling the software with multiple restarts, I experience the app crashing or the connection dropping virtually every 15-20 seconds. This means that every time I needed to change a setting, I'd have to re-pair the SuperAmp with my phone, boot the app, change a setting, and hope it stuck (it often didn't). The app itself offers features like surround sound, separate modes for PC and your console of choice, with a host of EQ and mic settings—if it worked consistently, at least.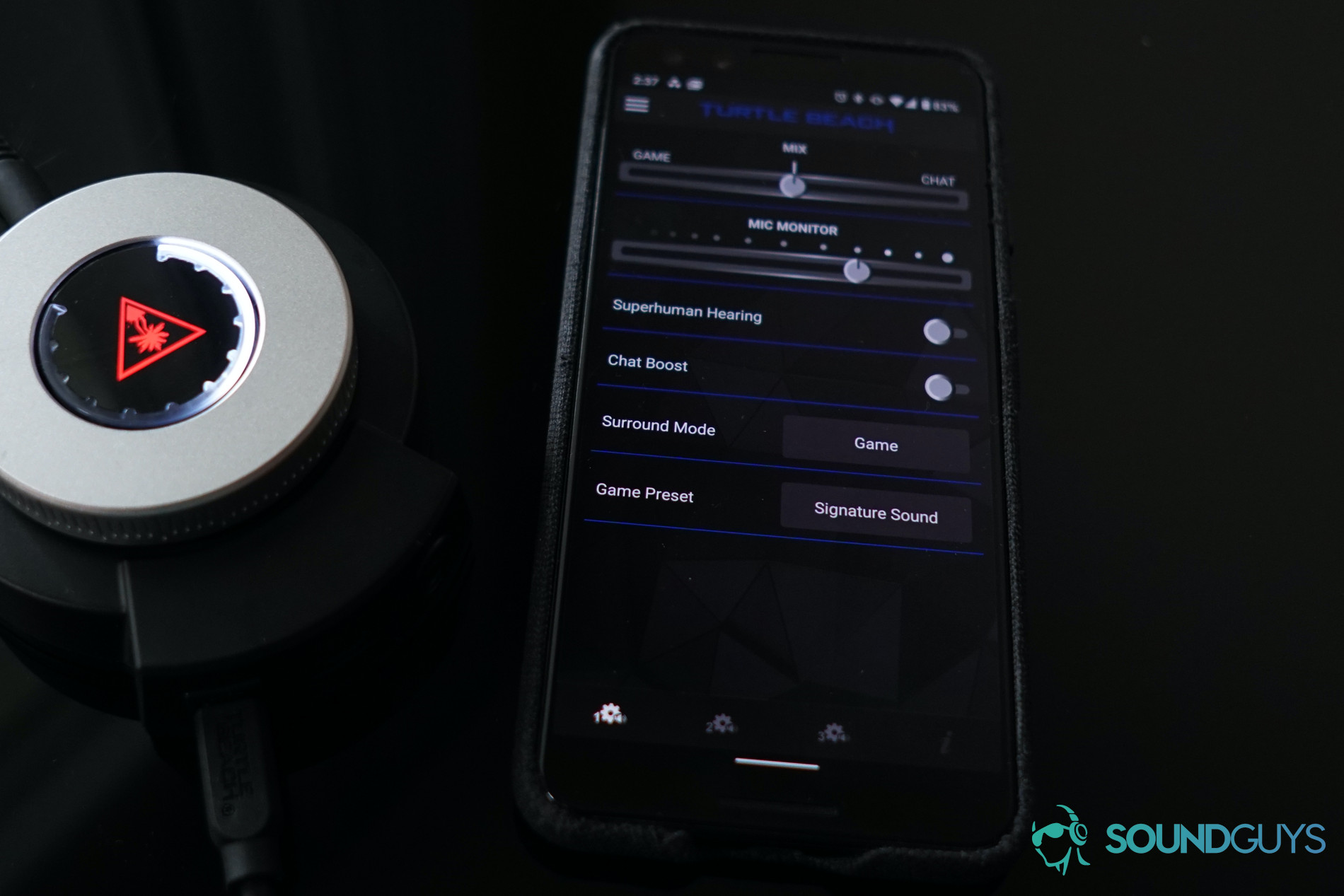 When it works, the Turtle Beach app offers pages of options for the Elite Pro 2. It just doesn't work very often.
Even in the best situations, gaming headset software can be pretty inconvenient. Even if there weren't critical connection problems, adding another device into the mix just makes it all more complicated. If you want to adjust your gaming headset's settings in the middle of a game, you shouldn't have to pull out your phone to do it.
However, even with all the features it adds, the app isn't really necessary. If stereo sound is sufficient for you, there's not a whole of critical features at play in it, though it essentially turns the SuperAmp into just a big volume dial.
This article's frequency response and isolation charts were measured with our old testing system. We have since purchased a Bruel & Kjaer 5128 test fixture (and the appropriate support equipment) to update our testing and data collection. It will take a while to update our backlog of old test results, but we will update this review (and many others!) once we're able with improved sound quality measurements, isolation performance plots, and standardized microphone demos. These will be made obvious with our new chart aesthetic (black background instead of white). Each new mic sample begins with the phrase, "This is a SoundGuys standardized microphone demonstration …"
Thank you for bearing with us, and we hope to see you again once we've sorted everything out.
How well does the Turtle Beach Elite Pro 2 cancel noise?
The Elite Pro 2 offers just as average isolation as most gaming headsets.
The Turtle Beach Elite Pro 2 offers pretty average isolation for a gaming headset. The ear pads are thick, and the fabric surface makes getting a seal easier; but don't expect this to block out much more than the whirring of a fridge.
How does the Turtle Beach Elite Pro 2 sound?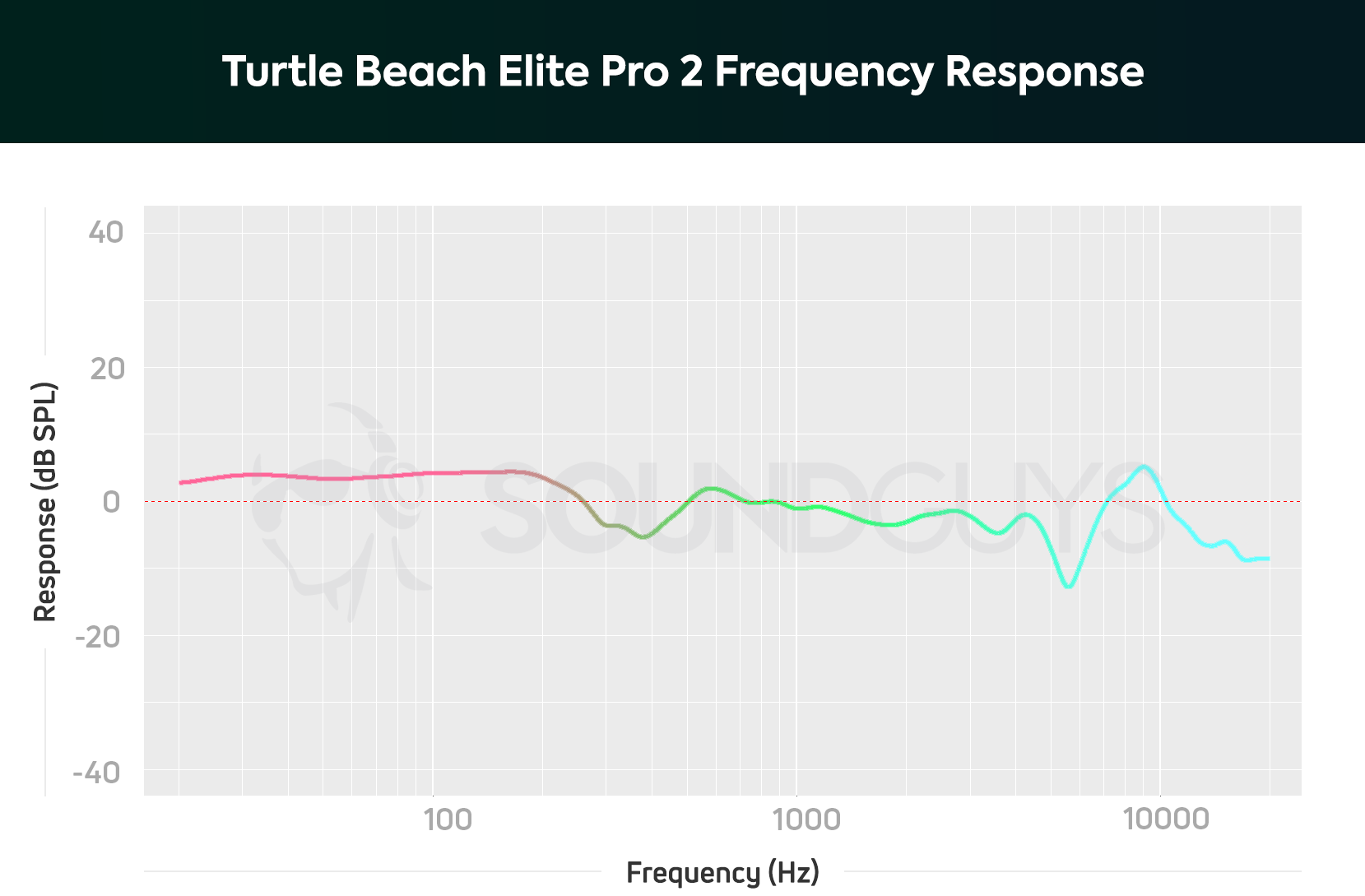 Don't worry too much about the dip in the highs. It's most likely to avoid natural resonances in the ear.
While using the included SuperAmp may add a degree of frustration, at its core, the Turtle Beach Elite Pro 2 has very accurate sound. There's a slight, but consistent over-emphasis in the bass range, and a dip in the highs, but not enough to sound distorted at all.
In music, frequency response like this is great for electronic music. The boosted bass will make a lot of underlying beats and bass tones sound just a little more prominent, without necessarily drowning out anything else out.
In "out of sight" by Run the Jewels, the pounding beat that drives the sound is loud and really comes through prominently, but never so much that it drowns out El-P or Killer Mike's verses (a common occurrence with their mixing). Music that relies on lots of cymbals and lighter strings might come through a little quieter, but this kind of music sounds great with the Turtle Beach Elite Pro 2.
Gaming on PC, the Elite Pro 2 never struggled balancing game sounds with the soundtracks of titles like the punk-rock oriented Sunset Overdrive or the more electronic Risk of Rain 2. On top of that, the surround sound worked well in games like Overwatch, and Control on PlayStation 4, handling positional audio cues in multiplayer as well as more atmospheric effects. In game, audio output is definitely tailored to shooters and other games where gunfire and explosions make up a lot of the sound profile. The boosted bass means the rumble underlying these kinds of sounds will be even more noticeable. Subtler sounds like footsteps in games like Fortnite might be a little hard to pick out in heated moments, but you shouldn't run into too many issues.
How is the microphone?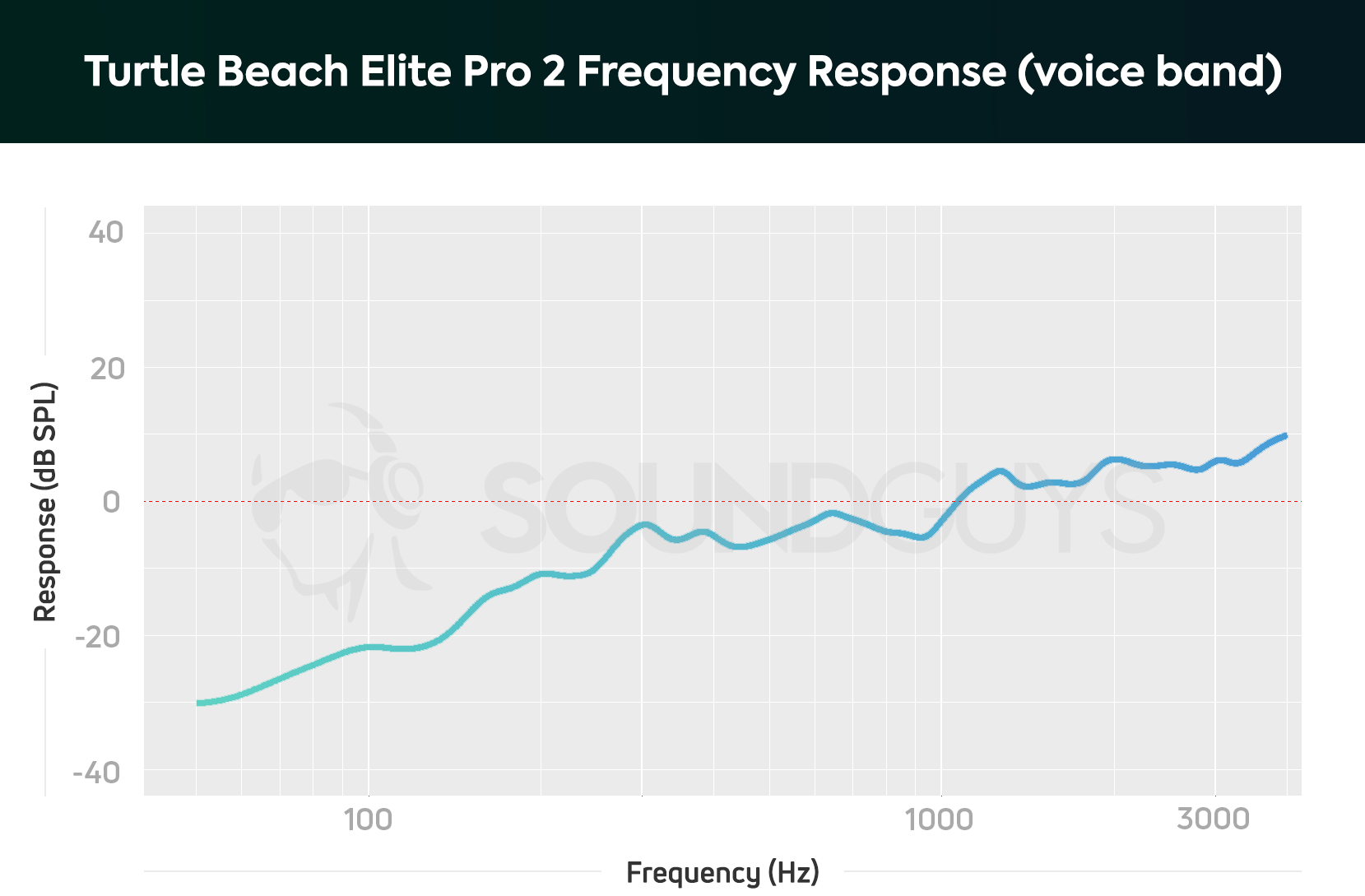 The frequency response may be pretty average, but at least this doesn't have the volume problems many gaming headsets struggle with.
Similarly, the headset's microphone is pretty standard for a gaming headset. There's a very pronounced de-emphasis in bass range and a slight over-emphasis in the high range. If you've got a medium or high pitched voice, you probably won't even notice this kind of output, but people with very deep voices might come through quieter and slightly distorted. Listen for yourself:
How does the microphone sound to you?
320 votes
Should you buy the Turtle Beach Elite Pro 2?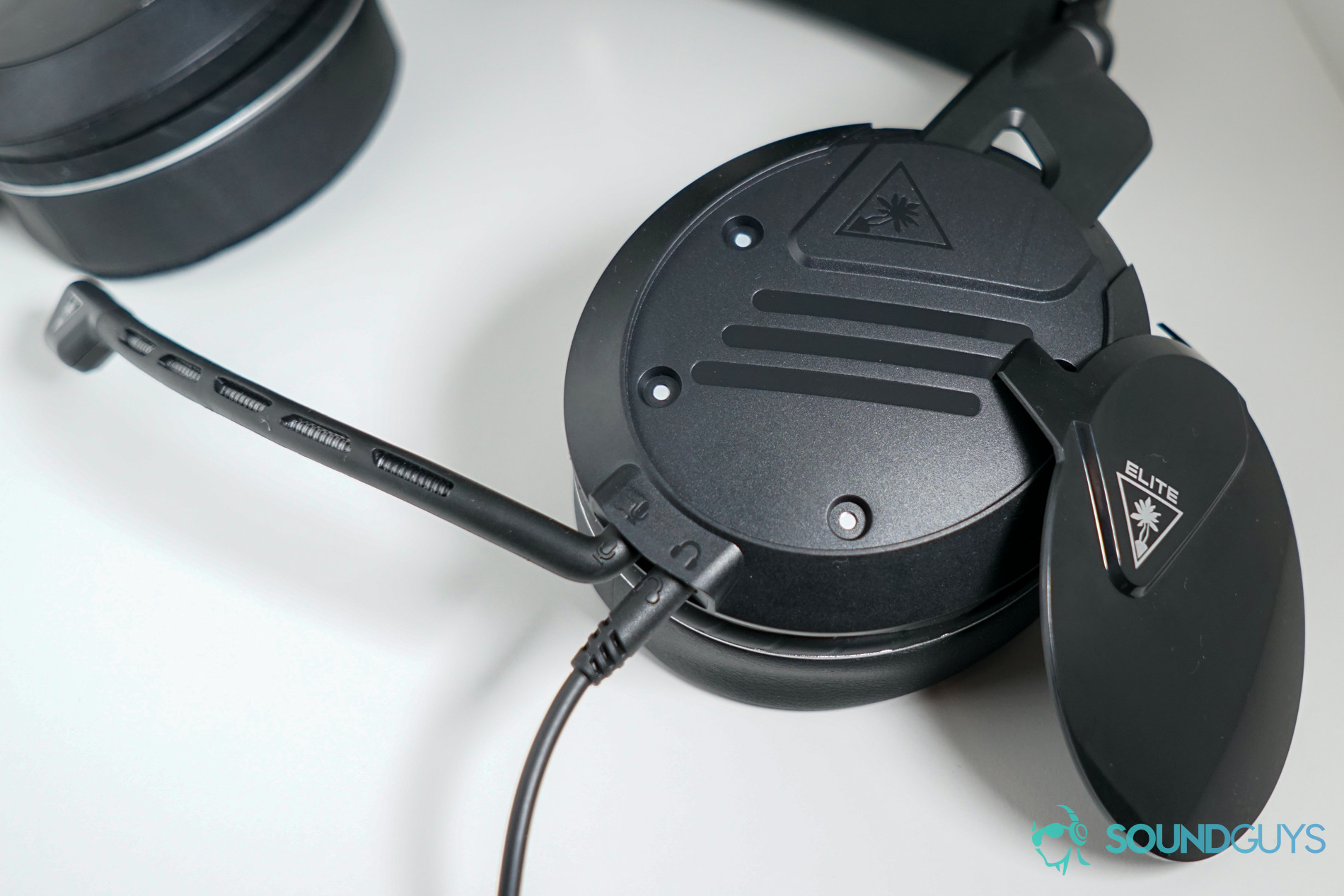 Like many other Turtle Beach gaming headsets, the Elite Pro 2 features magnetic speaker plates which you can swap in and out to personalize your headset.
You could do a lot worse, but there are better, cheaper options. Software aside, there's nothing really wrong with the Turtle Beach Elite Pro 2. The headset is comfortable, sounds good, easy to use, and on a good day offers a decent spread of features. At their core, gaming headsets are meant to simplify gamers' audio experience. Striking a balance between that, features, and price is always a tricky proposition. For all its strong suits, the Turtle Beach Elite Pro 2 + SuperAmp really complicates things, and that alone makes it harder to recommend.
Turtle Beach Elite Pro 2 Plus SuperAmp
Turtle Beach Elite Pro 2 Plus SuperAmp
Decent microphone • Good sound • Well-built design
The Turtle Beach Elite Pro 2 adds a boatload of features with its SuperAmp.
The Turtle Beach Elite Pro 2 Plus includes a SuperAmp unit to pair with your phone and give access to plenty of settings. The headset is comfortable, and it has a very accurate sound.
What are some alternatives to the Turtle Beach Elite Pro 2?
The Turtle Beach Elite Pro 2 probably isn't the best option for gamers who want a wired amp unit with their gaming headset, either. The SuperAmp is a nice little unit to have on your desk, but given that its software barely works, it's essentially a glorified volume knob. The SteelSeries Arctis Nova Pro Wireless is a great option thanks to its similar wireless base station and fantastic design and comfort. Additionally if you're looking for a wireless headset that delivers absolutely stunning battery life, the HyperX Cloud Alpha Wireless is an excellent choice. The Razer BlackShark V2 Pro is another great option, especially for PC gamers. It features THX Spatial Audio, EQ controls via Razer Synapse, good sound quality and isolation, and excellent microphone quality.
If those two features don't matter to you, this almost certainly isn't the gaming headset for you. It's expensive at around $238 USD, and clunky if you're just looking for a regular wired gaming headset. Options like the HyperX Cloud Alpha, Corsair HS60 Pro Surround, or even Turtle Beach's own Recon 70 might well be a better fit for those who want something simple, and they're all a lot cheaper.
Frequently asked questions about the Turtle Beach Elite Pro 2
Yes, the Turtle Beach Elite Pro 2 comes in both white and black. It also has a variant that comes without the SuperAmp.