All products featured are independently chosen by us. However, SoundGuys may receive a commission on orders placed through its retail links. See our ethics statement.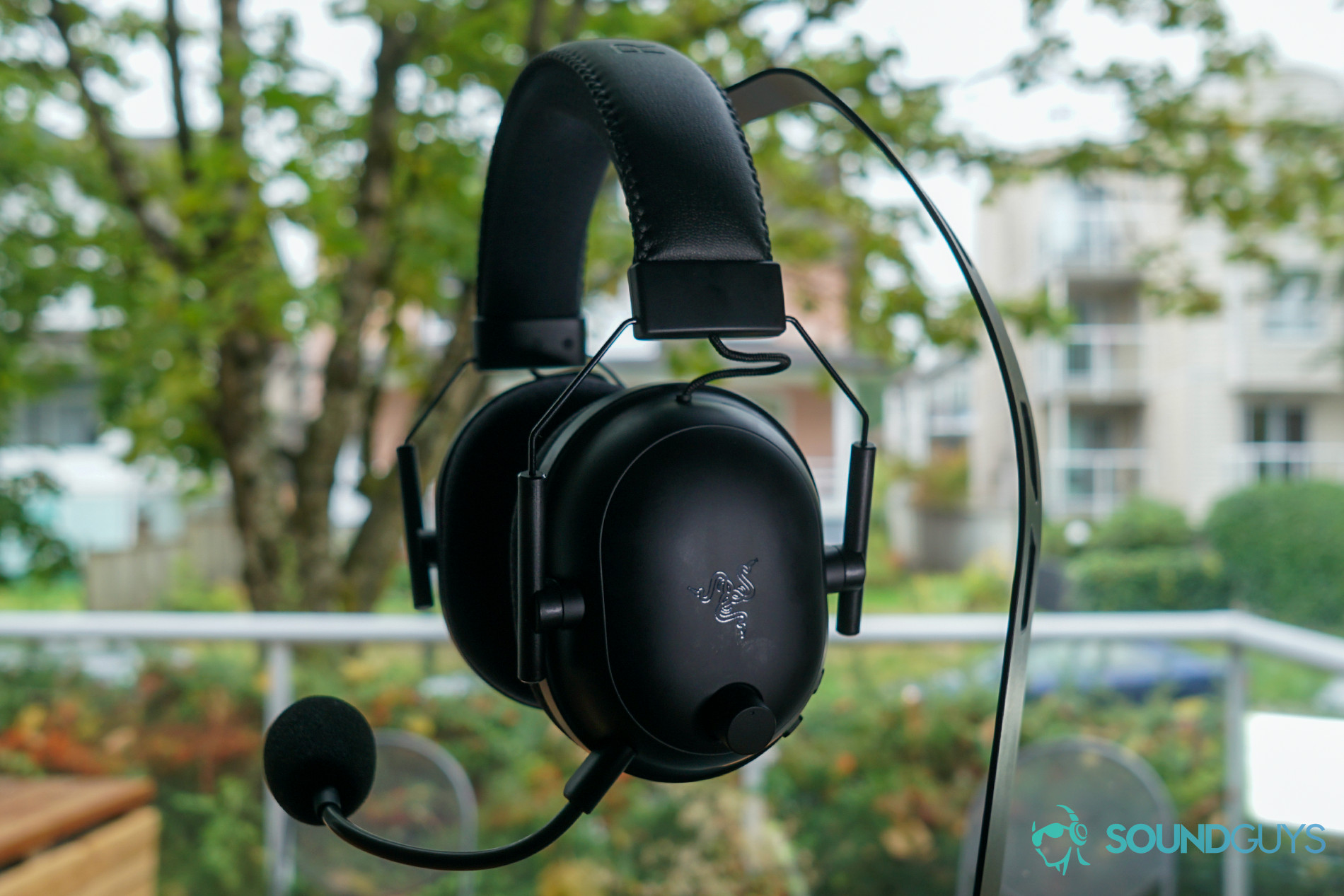 7.6
Razer BlackShark V2 Pro
The bottom line
The Razer BlackShark V2 Pro is one of the best wireless gaming headsets for the PC. While its isolation isn't as good as the wired BlackShark V2, it's microphone improvements and solid wireless performance make the extra expense easy to justify.
Razer BlackShark V2 Pro
The Razer BlackShark V2 Pro is one of the best wireless gaming headsets for the PC. While its isolation isn't as good as the wired BlackShark V2, it's microphone improvements and solid wireless performance make the extra expense easy to justify.
What we like
Wireless
Comfortable
Big mic improvement
Audio
What we don't like
Worse isolation than regular BlackShark V2
Big price hike for wireless
Not as good on console
Rating Metric
Sound Quality
9.2
Isolation / Attenuation
3.9
Durability / Build Quality
7.0
Value
8.5
Design
8.5
Connectivity
6.5
Microphone
6.9
Portability
7.0
Battery Life
9.3
Comfort
9.0
Just a few short months ago, Razer released the BlackShark V2, one of the best gaming headsets of the year, and among the best you can get for $99. Now the company is back with a wireless update. The Razer BlackShark V2 Pro is essentially the same headset as its predecessor, only now it uses wireless audio to connect to your gaming platform of choice.
Is this enough to warrant an upgrade?
Editor's note: This review was updated on July 5, 2023 to update style.

This headset is most useful for gamers looking for a rock-solid gaming audio experience without a cord getting in the way. Additionally, remote workers trapped at home on conference calls may find something to like here. Finally, anyone looking to level up their audio setup for online hangouts will get a lot out of this headset.
What is the Razer BlackShark V2 Pro like?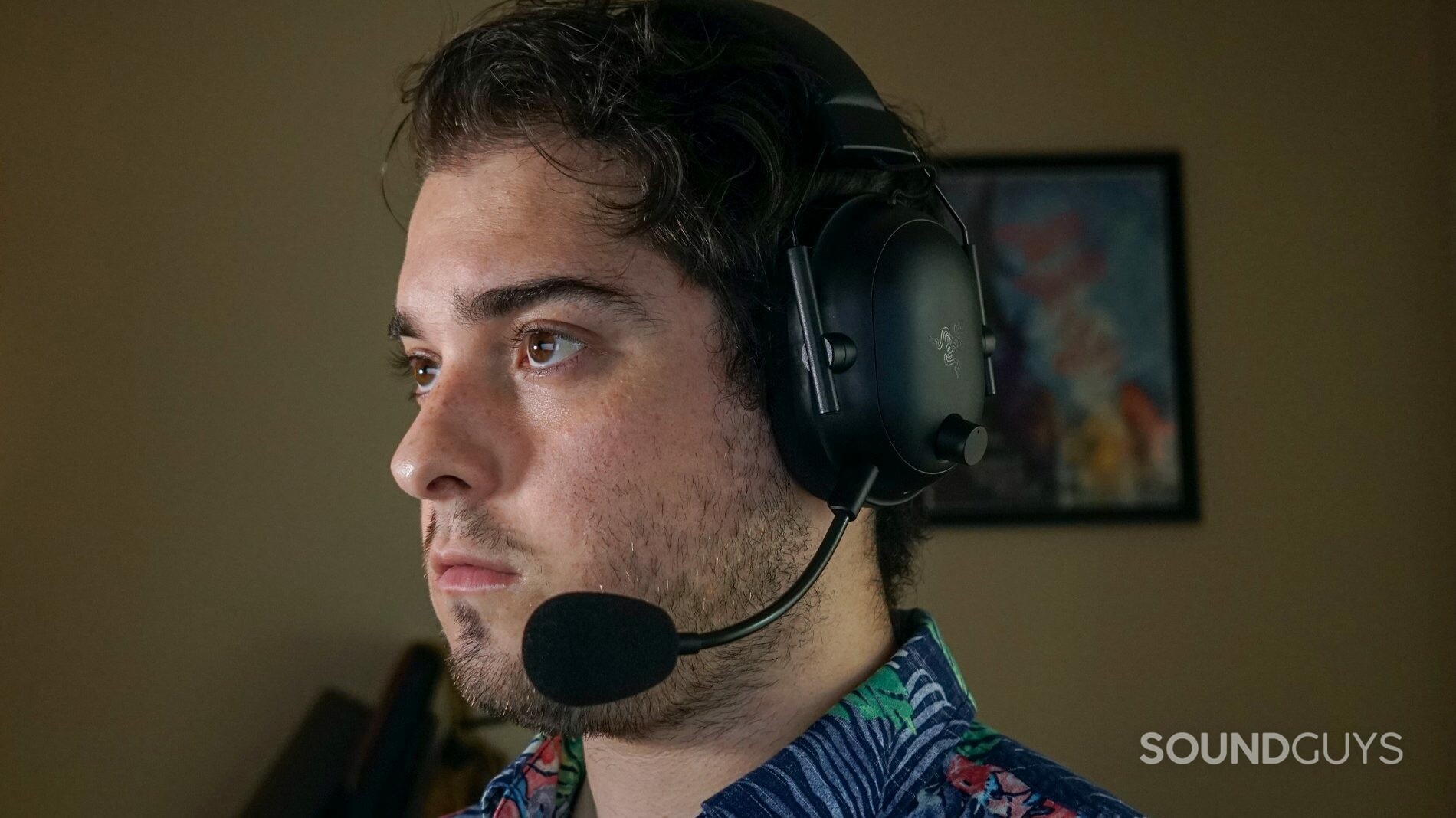 The headset is well designed, but the wireframe yokes may not stand the test of time.
As I mentioned above, the Razer BlackShark V2 Pro is a lot like the Razer BlackShark V2 — almost identical, in fact. This gaming headset is made primarily of plastic, with wireframe hinges and a thick cushioned headband. It features the same slightly restrained aesthetic as the Razer BlackShark V2, so while this is unmistakably a gaming headset, there aren't colored LEDs or bulky angular design flourishes. The Razer logo is a subtle, glossy black that only slightly stands out from the matte headphones — the only real visual difference between the BlackShark V2 Pro and its predecessor. The headset is a little heavier — due to the battery no doubt — but even for multi-hour gameplay sessions, it's still comfortable.
This is very comfortable headset, with memory foam ear pads wrapped in leatherette under a mesh fabric that makes getting a decent seal easy, and keeps heat buildup from being an issue even after long sessions. However, the wireframe hinges feel pretty loose — I had concerns about this in the long term with the BlackShark V2, and things seem to be starting at a considerably less stable point with the BlackShark V2 Pro.
The BlackShark V2 Pro is compatible with PC, Nintendo Switch, Xbox One, and PlayStation 4.
The headset features a mic mute button, a power button, and the same prominent volume knob on the side of the left headphone as the BlackShark V2. Like just about every wireless gaming headset on the market, the Razer BlackShark V2 Pro connects to your PC or console of choice using a 2.4 GHz USB RF dongle for lag-free wireless audio. However, unlike many more recent wireless gaming headsets, this one sticks with microUSB for charging, which is disappointing given how common USB-C has gotten.
Actually using the BlackShark V2 Pro is pretty straightforward. It doesn't take much work to adjust and the headphone hinges have a decent range of motion, so different head shapes shouldn't be an issue. The power button and mic mute button are pretty similar in shape, but one has a much higher profile, so it's clear which one you're touching by feel.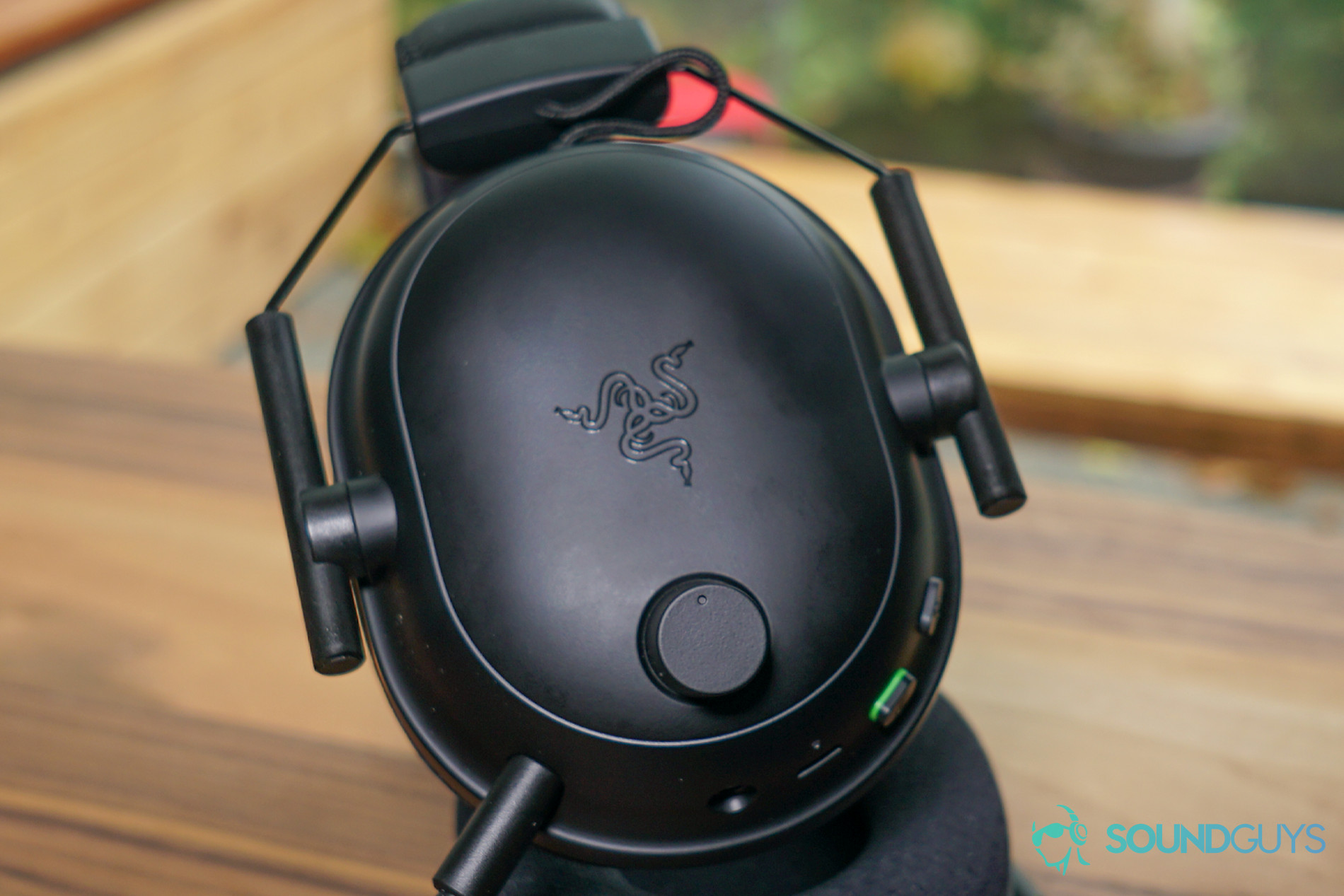 The headset also includes a 3.5mm jack and detachable cord for when the battery dies, or you want to connect to an Xbox One.
Like its predecessor, the Razer BlackShark V2 Pro is compatible with Razer Synapse 3. The app brings support for THX virtual surround sound, and EQ settings for the mic and headphones, among other things. Like many gaming headset apps, Synapse has improved over the years, but its features are hardly necessary, and rarely add all that much to the experience. It's fine, I guess.
How is the battery?
Razer claims the BlackShark V2 Pro battery will last up to 24 hours on a single charge, and we found that largely to be true. In our testing, the headset lasted 24 hours, 40 minutes on a single charge at a consistent output of ~75dB. Listening at a quieter volume than that will likely net you even better performance, and Synapse also offers a sleep mode feature that will shut the headset off after a period of inactivity. Over 24 hours is already a great result, but you may well find it lasting longer than that.
This article's frequency response and isolation charts were measured with our old testing system. We have since purchased a Bruel & Kjaer 5128 test fixture (and the appropriate support equipment) to update our testing and data collection. It will take a while to update our backlog of old test results, but we will update this review (and many others!) once we're able with improved sound quality measurements, isolation performance plots, and standardized microphone demos. These will be made obvious with our new chart aesthetic (black background instead of white). Each new mic sample begins with the phrase, "This is a SoundGuys standardized microphone demonstration …"
Thank you for bearing with us, and we hope to see you again once we've sorted everything out.
How does the Razer BlackShark V2 Pro sound?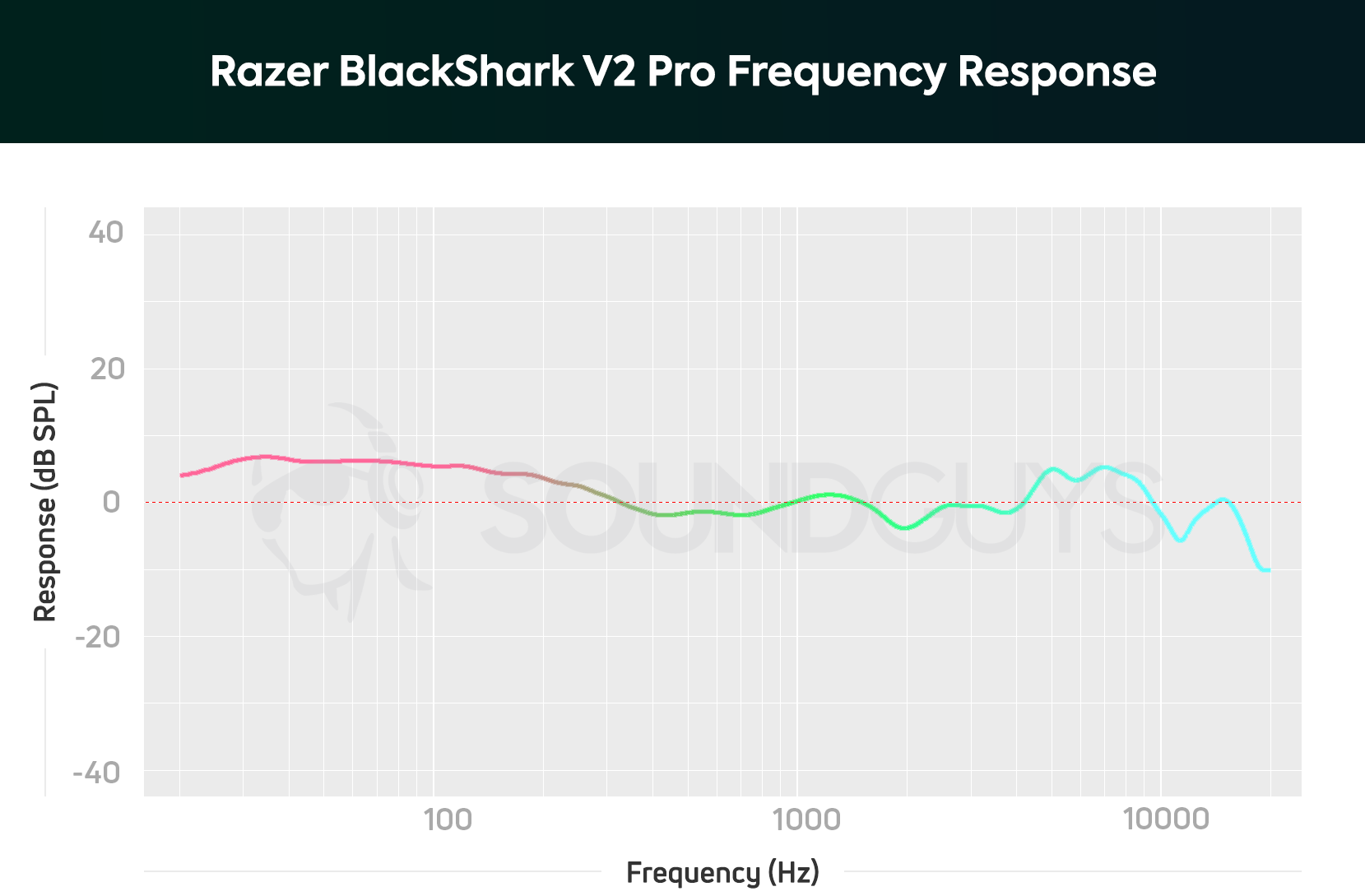 You shouldn't run into any glaring issues with accuracy using the BlackShark V2 Pro.
Much like its predecessor, the Razer BlackShark V2 Pro features generally accurate audio output throughout the midrange, with added emphasis to bass response up to around 200Hz. That may be a little troubling to audiophiles, but a frequency response like this is pleasing for a lot of people.
In music, the added low-end emphasis will be great for EDM and other bass-heavy genres. In the new Gorillaz track Pac-Man (feat. ScHoolboy Q), the synth-laden bass track that sets the tone of the song comes through loud and clear. Some rogue bleeps and bloops sound a little less prominent, but the important parts of the song still come through clearly. Playing on PC, the THX Spatial Audio option works well. Virtual surround sound isn't the biggest deal in the world, but I found it added a lot to games like Overwatch and Fortnite. Games with really prominent soundtracks like Risk of Rain 2 and Final Fantasy XIV don't support surround sound, but still sound great.
In game, sound like this will make the rumble of explosions and gunfire seem louder than they otherwise would. However, while the added emphasis is meaningful, it's not so intense that it drowns out other important sounds. Games rarely layer enough sound in a given moment to make this kind of boosted sound a problem. You'll still be able to hear the footsteps of someone rounding a corner in Valorant, you just might need to listen for it a little more intently.
This is definitely one of the most disappointing aspects of the headset.
While the sound profile of the Razer BlackShark V2 Pro is almost identical to the BlackShark V2, the headset's isolation is demonstrably worse. When the BlackShark V2 first came out, Razer touted its "advanced passive noise cancelation" tech — we said it then, and it bears repeating: that's just isolation.
Unfortunately for the Razer BlackShark V2 Pro, isolation comes down to more than just what the ear pads are made of — headband and hinge tension play a big role too. While the BlackShark V2 Pro is just as comfortable a headset as its predecessor, its hinges are considerably looser, which means its ear pads compress less when worn. This creates a thinner barrier between your ears and the outside world.
The unit we initially tested had extraordinarily loose hinges, apparently due to a hardware defect. After testing a fresh headset, we've updated the score and chart to reflect improved results. However, the fact remains that the Razer BlackShark V2 Pro still doesn't offer isolation as good as its predecessor.
Ultimately, the Razer BlackShark V2 Pro has completely average isolation for a gaming headset. It'll manage just fine in most at-home situations, but considering its predecessor was best-in-class in this regard, that's pretty disappointing.
How is the microphone?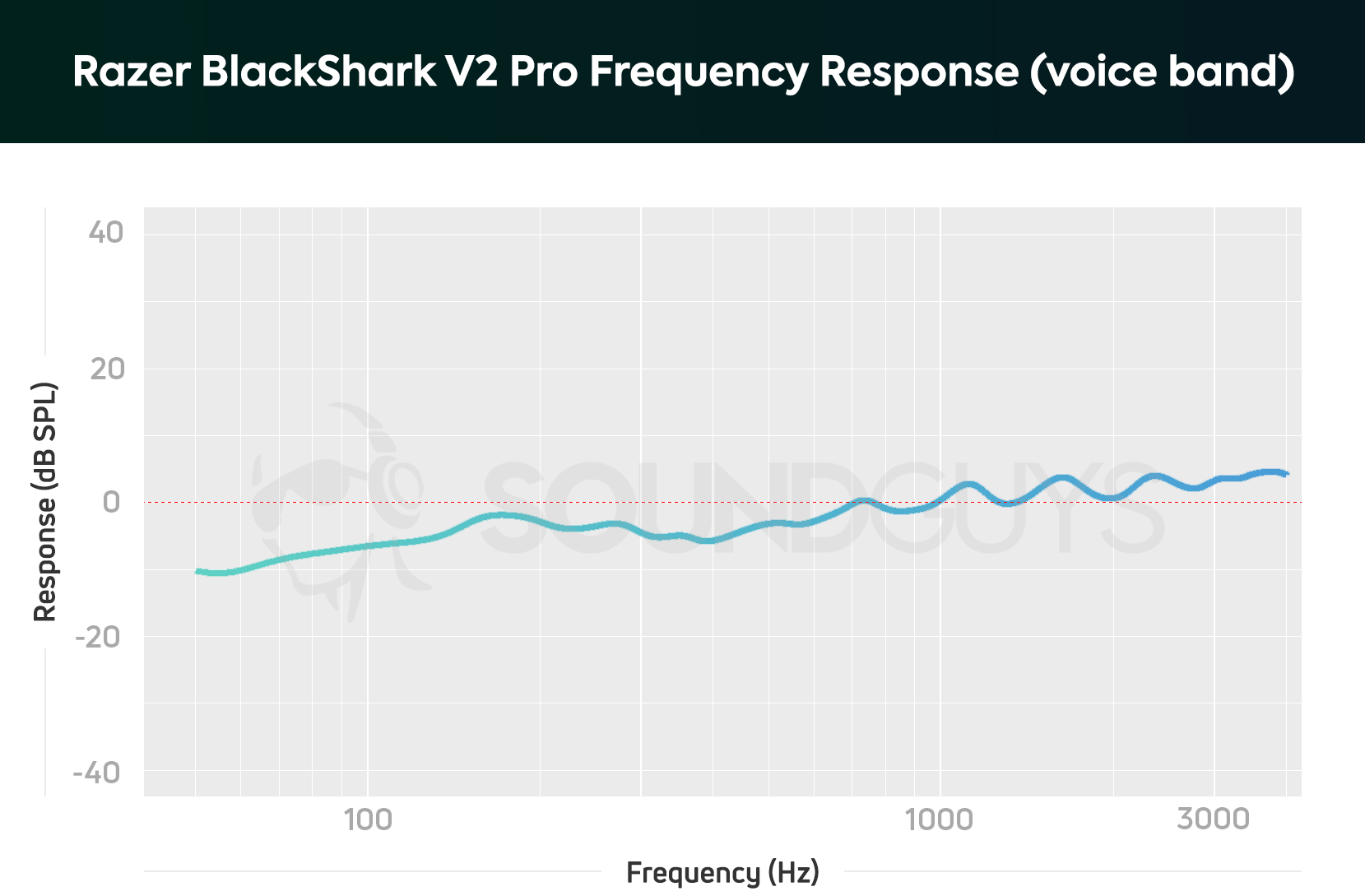 Razer's new 9.9mm supercardiod microphone really improves bass response.
Wireless-ness notwithstanding, the biggest improvement in the Razer BlackShark V2 Pro is the microphone. Where the BlackShark V2 was just okay for deep voices, this is excellent. The headset's microphone features accurate audio output across the vocal range. There's still a little de-emphasis in the bass range, but if you're someone with a deep voice who always struggles with tinny sounding audio, this is definitely one to look out for.
Razer Synapse also adds a decent spread of microphone options, with EQ presets and the ability to set custom EQ, sliders for volume normalization and vocal clarity, as well as an ambient noise reduction feature. It all works well enough, though stacking even a few of those functions can create a processed-sounding result. Listen for yourself:
How does the microphone sound to you?
8042 votes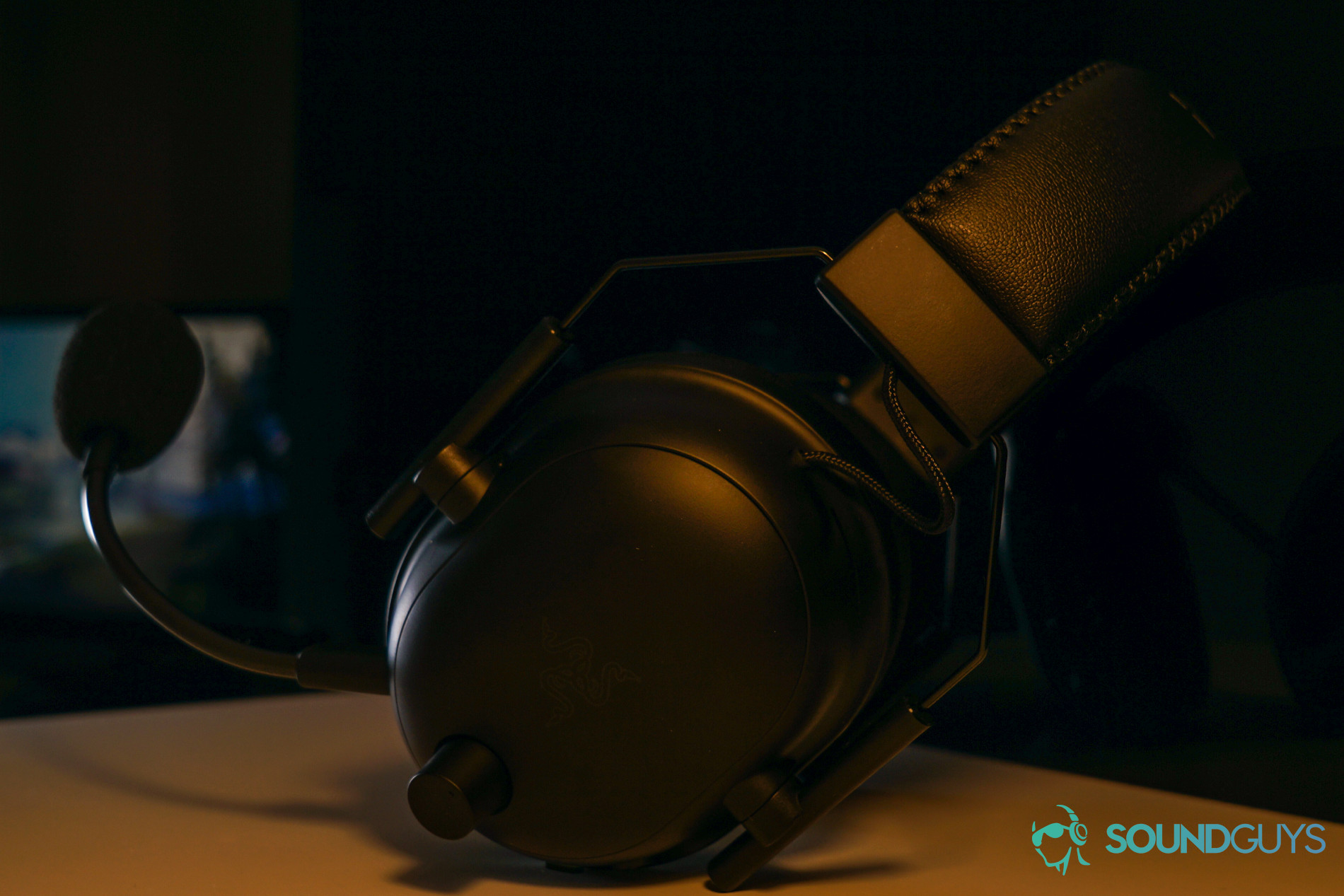 If you're looking for something less flashy to blend into your gaming setup, this is a great option.
The BlackShark V2 Pro's new microphone makes call quality dramatically better than its predecessor. It doesn't have the best battery life on the market, but it's also not far off. The looser hinges make the headset's isolation worse, but not enough to really diminish the overall experience.
However, that's not to say this is quite a one-size-fits-all kind of product. This is primarily a PC-oriented gaming headset, and console gamers may find more to love in wireless gaming headsets like the SteelSeries Arctis 1 Wireless, which is perfectly suited to the Nintendo Switch. Another good option is the HyperX Cloud Alpha Wireless, which has pretty excellent sound quality and comfort. Additionally, if you're only interested in PC gaming, the wired Razer BlackShark V2 is $75 cheaper and brings basically all the same functionality.
Regardless, if you want something light and comfortable, with great sound and a great mic, the Razer BlackShark V2 Pro nails all of that.
Razer BlackShark V2 Pro
Razer BlackShark V2 Pro
Decent sound • Comfortable • Excellent microphone
One of the best wireless gaming headset.
The BlackShark V2 Pro wireless headphones have a better microphone than their predecessors. The battery provides at least twenty-four hours of gameplay, and the app adds control features and surround sound support.
Frequently asked questions
It works wirelessly on the PlayStation 5, but not the Xbox Series X/S.
No. You need the included USB soundcard for Synapse to recognize the Razer BlackShark V2.
Unfortunately, no. The Razer BlackShark V2 Pro doesn't accept simultaneous audio inputs.