All products featured are independently chosen by us. However, SoundGuys may receive a commission on orders placed through its retail links. See our ethics statement.
The bottom line
If you're a PC gamer, this is one of many great options for around $100. It's got good sound, a decent mic (after some fiddling), and it's comfortable. Those looking for something glasses friendly should pay attention.
PC37X
If you're a PC gamer, this is one of many great options for around $100. It's got good sound, a decent mic (after some fiddling), and it's comfortable. Those looking for something glasses friendly should pay attention.
What we like
Velour earpads.
Lightweight.
In headset controls.
Sound quality.
What we don't like
Plastic build.
Mic quality.
Only good for PC
Rating Metric
Sound Quality
9.7
Bass
9.6
Midrange
9.8
Highs
9.6
Isolation / Attenuation
0.5
Durability / Build Quality
7.0
Value
7.5
Design
7.5
Portability
5.0
Comfort
9.0
A recent result of the partnership between Sennheiser and e-commerce company Drop (formerly Massdrop), the Sennheiser PC37X is a PC gaming headset aiming to bring Sennheiser's typically solid audio quality to a simple, discounted package.
This open backed headset is based on Sennheiser's PC gaming headset platform, with a few tweaks. But are they the gear you need?
Editor's note: This review was updated on February 18, 2021 to include a table of contents and more insight into the microphone performance.
Who is the Sennheiser PC37X for?
PC Gamers who want a reliable stereo gaming headset and don't mind an all-plastic construction.
At-home workers looking for something with decent quality and a mic, and don't want to go in for a big garish gaming headset.
Out of the Box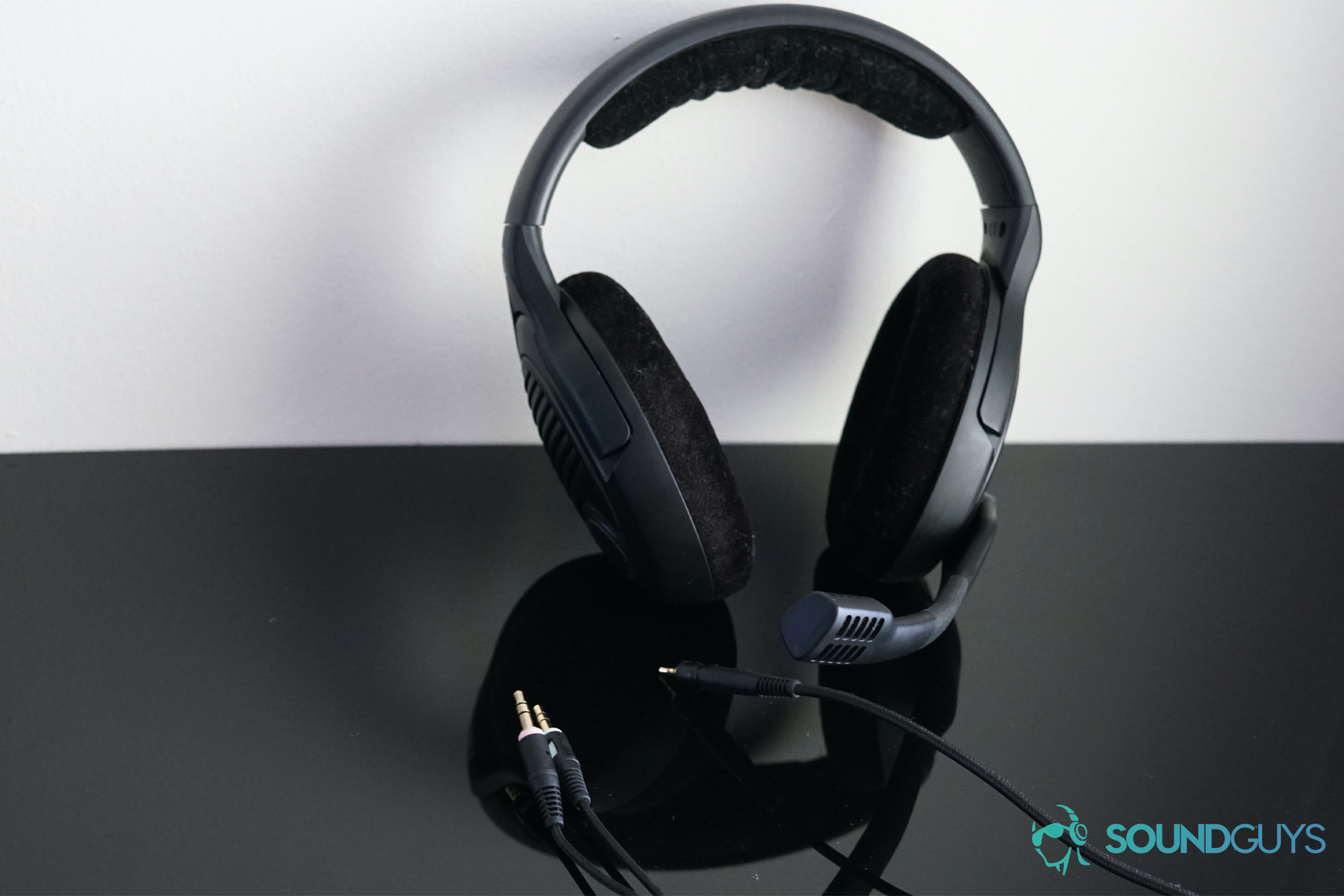 The Sennheiser PC37X's braided cable is detachable, though it comes attached in the box.
Not a lot of stuff comes in the box with the Sennheiser PC37X. It's really just the headset and a little paper safety guide.
What's the Sennheiser PC37X like?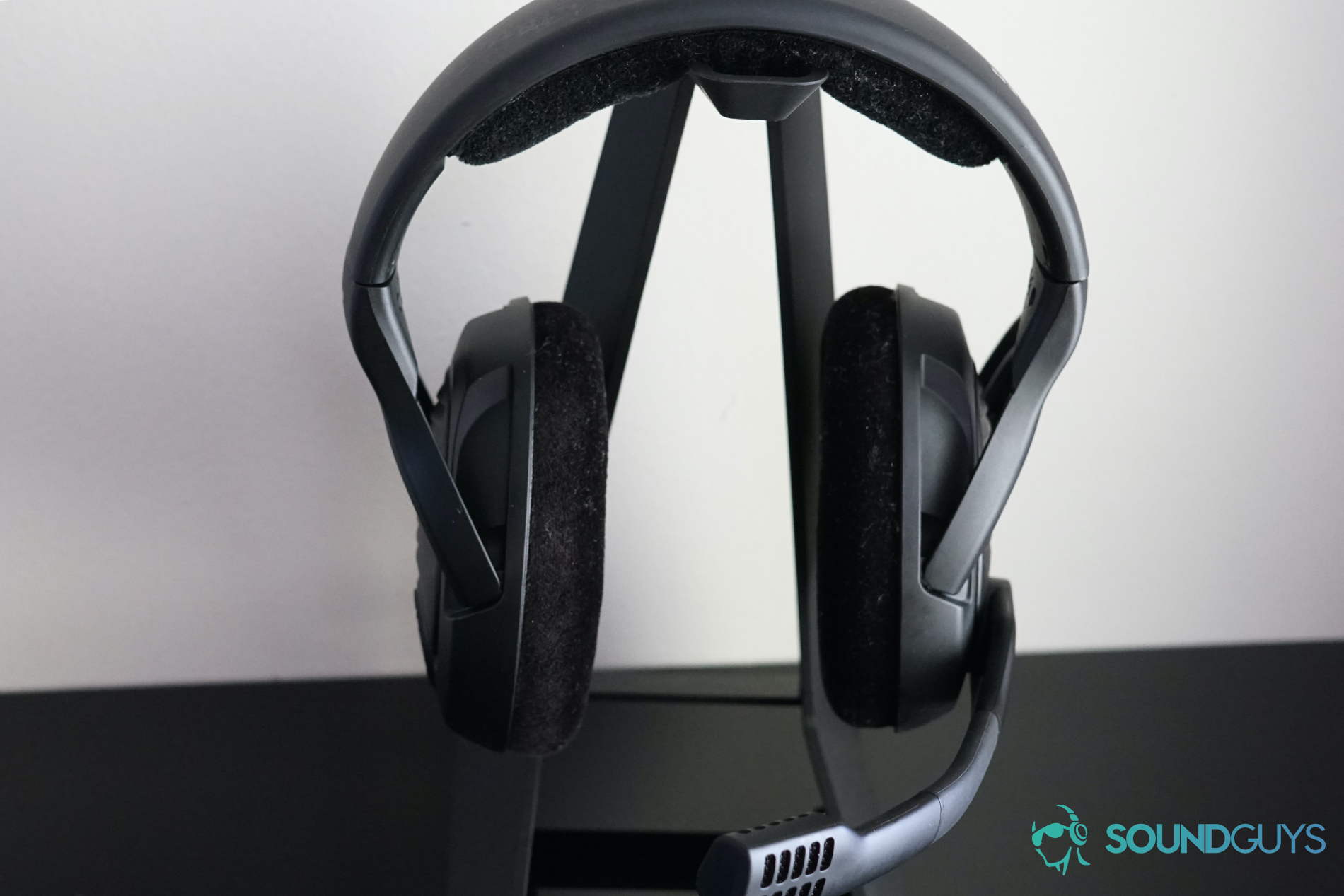 This is a pretty lightweight headset.
The Sennheiser PC37X is an all-plastic, open-backed gaming headset. It doesn't have the bright highlights, colored LEDs, or gaudy angular designs of a lot of the products in this market, but it's undeniably a product for gamers. Basically, this was designed to be comfortably worn for a long period of time.
The headphones are wide, with big velour earpads. The plastic band features a thick velour cushion. The headset is lightweight due to its plastic build, and heat buildup isn't an issue because of the headphones' open backs. All told, it's really comfortable, even if you're wearing glasses.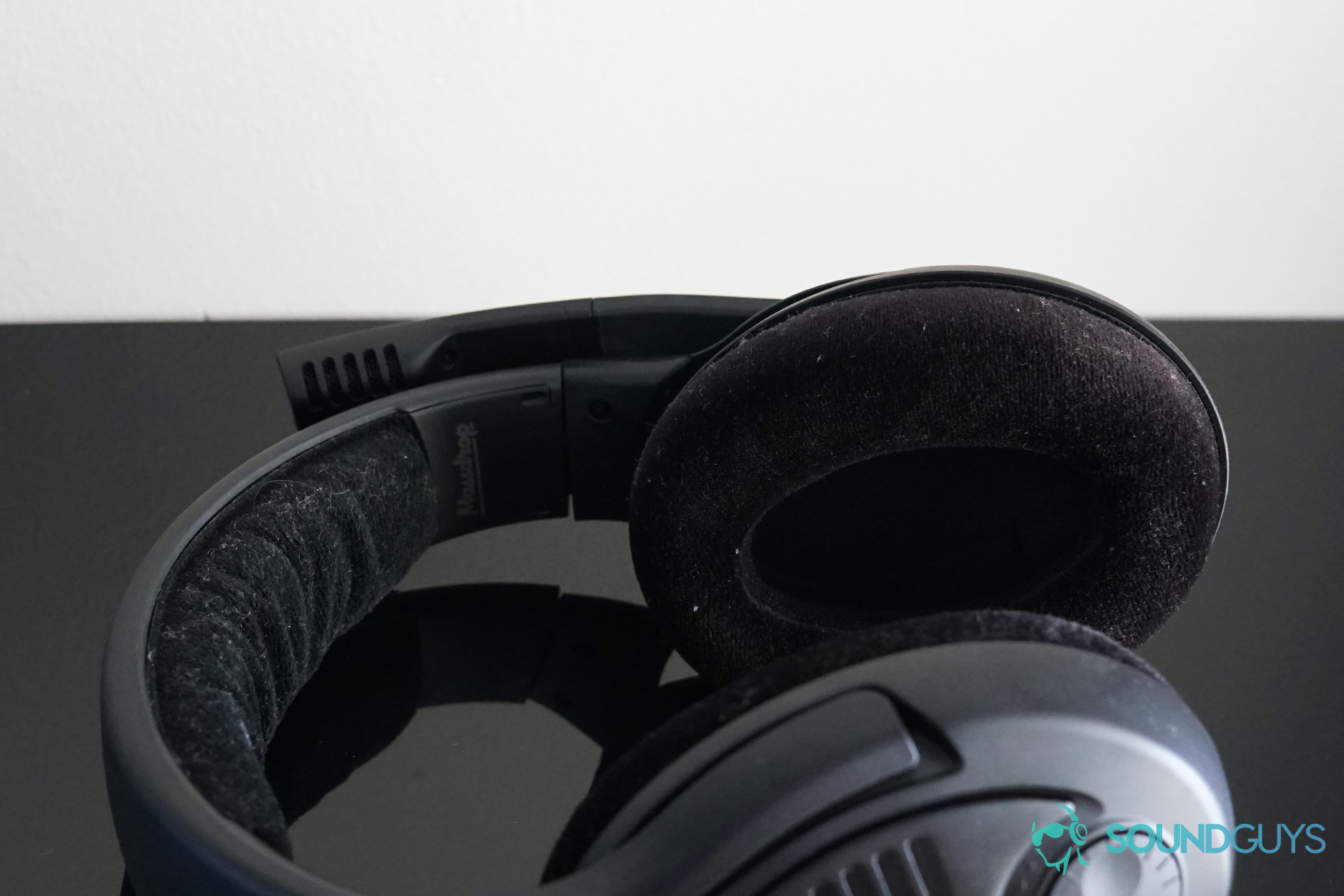 Velour pads are more important for closed-back headphones, where glasses can harm isolation, but they're still nice to see here.
Despite the plastic build, the PC37X doesn't feel cheap or flimsy. The headband is flexible, but it clamps tight enough to feel comfortably secure. Coupled with the slight tilt and twist to the headphones' hinges, this leads to a really good fit. If the headset didn't have an open back, it would probably have pretty good isolation.
Using the headset is pretty straightforward, but it only really works on PC. The Sennheiser PC37X uses twinned 3.5mm connections—one for the mic and one for headphones—which is pretty standard for PC headsets, but means console gamers are pretty much out of luck.
The controls for the Sennheiser PC37X are very easy to find, with notches and ridges so you don't need to look.
This headset also features integrated controls. A low profile volume dial sits on the right headphone, and you can mute the attached microphone by flipping it up into a vertical position—It's all pretty intuitive. During use, flipping the mic up to mute it is fast, and it's clear when it happens from the satisfying click that happens.
Gaming with the Sennheiser PC37X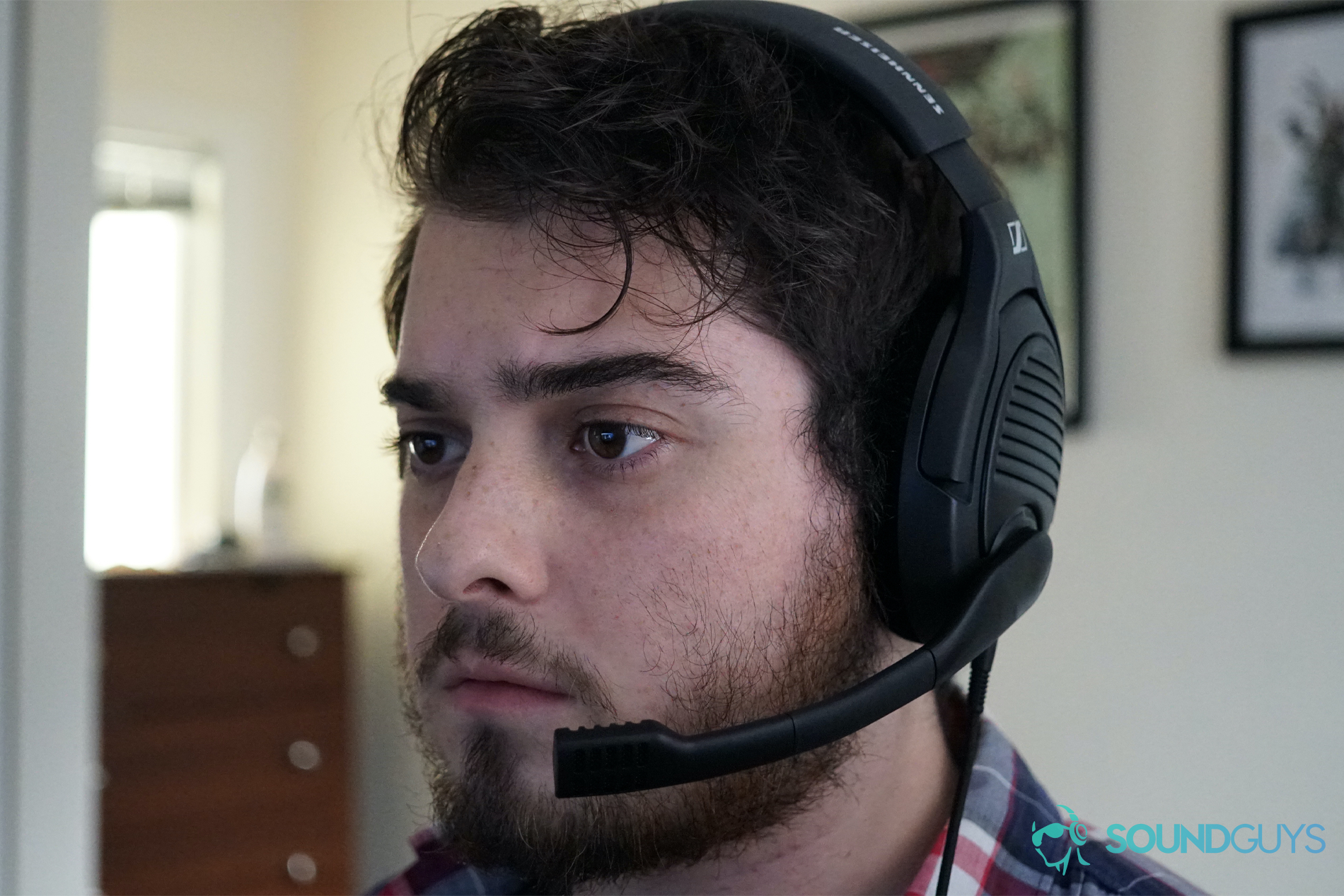 This is a very comfortable headset for long gaming sessions.
The Sennheiser PC37X offers a pretty solid gaming experience. As I mentioned before, it's light and comfortable, so it's great for long sessions. This headset features angled audio drivers, which is a common element in gaming headset and can help create a realistic soundscape. You won't find surround sound or any software-based enhancements, but the angled drivers and open-back headphones get you a lot of the way there.
Playing Overwatch, gunfire came through loud and clear, and the game's built-in software surround sound feature worked like a charm. In Dauntless, I never missed an audio cue from a behemoth, and it was never hard to hear flares in the distance.
During voice chat, the microphone performed pretty well. It output clear sound, but volume was a bit of an issue. Gaming headsets, especially ones that use 3.5mm connections, often struggle to get enough power to their attached microphones, which can make finding a means to boost your mic audio pretty important. Using a program like Discord, there are all sorts of options for doing this—it's not complicated, it's just a matter of finding the right settings.
How does the Sennheiser PC37X sound?
The reduced bass is a little surprising for a gaming headset.
The Sennheiser PC 37X offers very solid sound, as gaming headsets go, with accurate reproduction of mids and most bass sounds. There's a slight over emphasis around 4kHz, but you probably won't notice it too much.
For gaming, this all means you really shouldn't run into anything that doesn't sound the way it should. The slight increase in the highs 6-11kHz means different parts of speech, like sibilant sounds (F, S, and Sh sounds) will come through pretty prominently, which is great for voices sounding natural. The slight de-emphasis at the low end of the bass range might make parts of explosions a little less prominent, but not in a way that'll be all that noticeable.
For listening to music, this won't offer a real HiFi experience, but it'll get pretty close. On most gaming headsets, the swelling bass of a song like Uprising by Magic Sword would drown out a lot of the many subtler melodic elements playing in the background. Because it doesn't fall into the trap of boosting bass just for the sake of it, the Sennheiser PC 37X really handles electronic music well. And while the increase in highs means the sounds of things like strings and cymbals can be a little too loud, they shouldn't overshadow anything.
How is the microphone?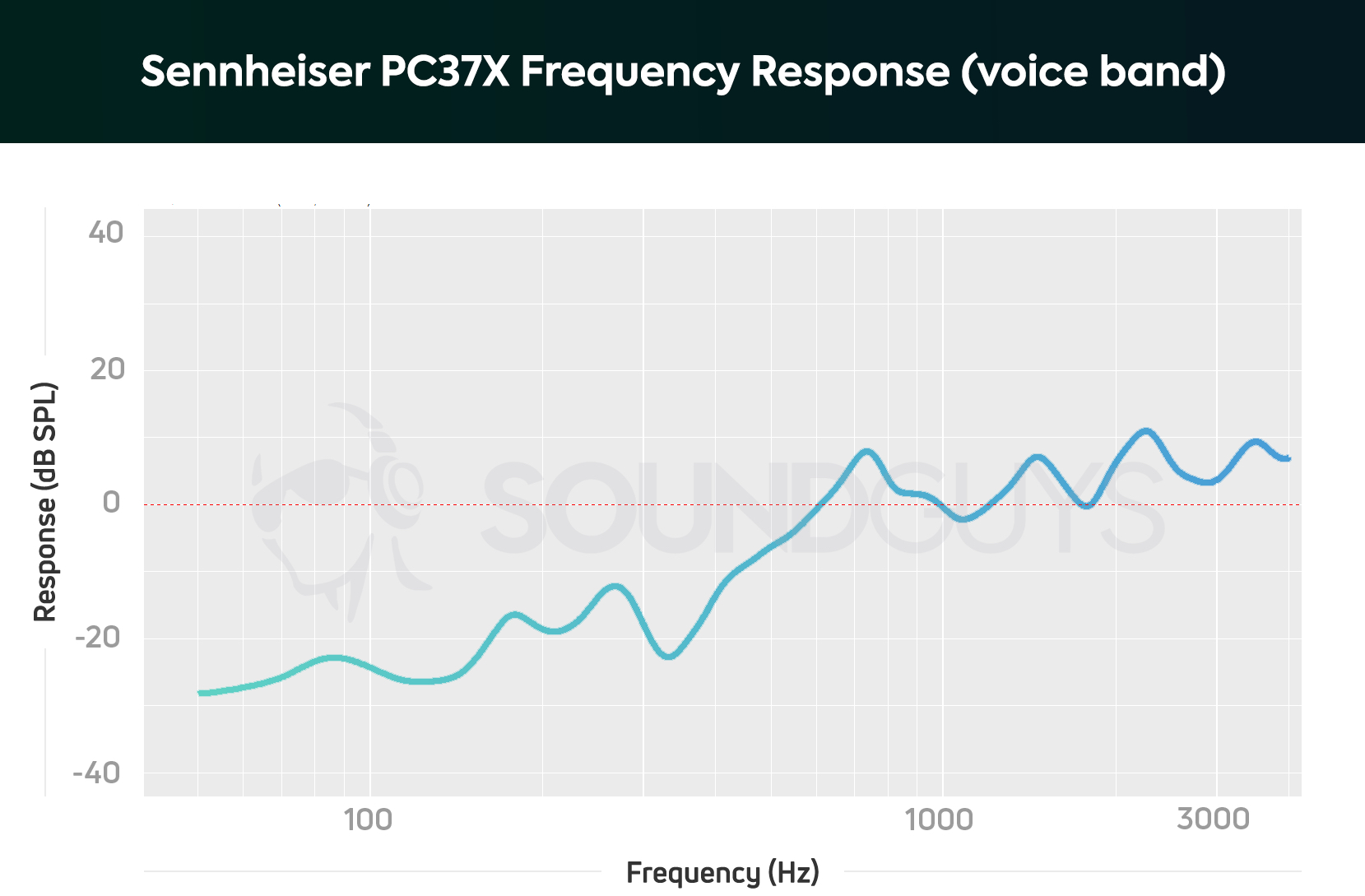 The lack of emphasis in the mid range is a little worrying, but the real issue with this mic is volume.
The Sennheiser PC 37X's mic offers pretty standard audio accuracy for a gaming headset, bordering on below average. Like almost every offering in the space, this mic de-emphasizes bass range audio, mainly to deal with the proximity effect, where a speaker too close to the microphone blows everything out.
However, uncommon for most gaming headsets is this mic's de-emphasis of mids as well. This means people who don't have particularly high voices might find they don't sound totally like themselves on this mic as well. From a usage standpoint, it's actually pretty clear—just be wary of the quality of your 3.5mm connection's grounding or you may end up with some static in the background (as you can hear in my sample).
How does the microphone sound to you?
1602 votes
Should you buy the Sennheiser PC 37X?
If you're a PC gamer, maybe!
Drop made some solid improvements when updating Sennheiser's design.
The Sennheiser PC 37X is a totally solid gaming headset: it's comfortable, sounds good, and offers pretty clear mic audio. The velour headphone pads make this a great option for gamers with glasses. The quiet mic is a little obnoxious, but if all you're going to use it for is Discord, boosting the output is easy.
The real factor that should dictate whether you get this is whether you want an open-back headset. If you're looking for something to isolate you from a noisy home, this is almost certainly not the right headset. For even less money, you can get the HyperX Cloud Alpha, a closed-back stereo gaming headset with fantastic audio (though it also has a quiet mic). If you're looking for something with a few more features, the Razer BlackShark V2 is cheaper and better on basically every front, though it is a closed-back headset. The SteelSeries Arctis 7 will also around the same price and delivers just as many features as the BlackShark V2, only it's also wireless.
However, if isolation or additional features aren't all that important to you, or you're one millions of parents now working from home and struggling to balance keeping focus at work with making sure your kids aren't destroying the house, this is a great option.
Frequently asked questions about Sennheiser PC 37X
It's possible, but just as likely that your PC's headphone jack is improperly grounded. If your mic is putting out sound with static or you're hearing it in the headphones, try plugging the headset into an audio interface or a USB adapter. Adapters rarely go for more than $15—much cheaper than a brand new headset if your problem is a wonky headphone jack.