All products featured are independently chosen by us. However, SoundGuys may receive a commission on orders placed through its retail links. See our ethics statement.
8.3
Massdrop x Noble Kaiser 10
The bottom line
The Massdrop x Noble Kaiser 10 are unique and house 10 drivers per earbud housing. The detachable cable lengthens the premium headset's lifetime, and the pelican case protects it from the elements and other objects that may be floating around your bag. There's no doubt about it: these are exorbitantly priced, but the Noble Kaiser 10 may be the perfect endgame for you.
Massdrop x Noble Kaiser 10
The Massdrop x Noble Kaiser 10 are unique and house 10 drivers per earbud housing. The detachable cable lengthens the premium headset's lifetime, and the pelican case protects it from the elements and other objects that may be floating around your bag. There's no doubt about it: these are exorbitantly priced, but the Noble Kaiser 10 may be the perfect endgame for you.
What we like
Sound quality<br>
Isolation<br>
Removable braided cable<br>
Multitude of ear tip options<br>
Protective Pelican case and drawstring pouch<br>
What we don't like
Price<br>
Ear hooks large for smaller ears<br>
Rating Metric
Sound Quality
9.6
Bass
9.8
Midrange
9.9
Highs
9.3
Isolation / Attenuation
3.8
Durability / Build Quality
8.8
Value
6.5
Design
8.6
Portability
8.8
The Massdrop x Noble Kaiser 10 rejects current audio trends; these are neither cheap nor feature-packed. Instead, you're paying an absolute premium for audio performance, and the Kaiser 10 IEMs outperform most other earphones when it comes to sound quality. Although the housings are ridiculously large, they're comfortable to wear for hours at a time because you're provided with a host of ear tip options. If you find yourself needing studio sound from anywhere, these are the earbuds to save for.
Who is the Massdrop x Noble Kaiser 10 for?
The earbuds are for audiophiles who want to enjoy high-fidelity sound anywhere.
Audiophiles prize the Noble Kaiser 10 Universal IEMs, because each earbud housing contains 10 drivers to divvy up audio reproduction across the frequency spectrum. This allows for a neutral-leaning frequency response, which happens to be uniquely close to the platonic ideal.
Audio engineers may consider these IEMs for their accurate audio reproduction, ergonomic around-ear design, and portability. If you travel a lot and mix outside of the studio, the Massdrop x Noble Kaiser 10 are a great on-the-go option, if you can stomach the cost.
What's it like to use the earphones?
The braided cable is long and durable, but if you're concerned about its toughness, you may want to use the included Pelican case.
If you thought these earbuds included water-resistance, touch controls, or even an integrated microphone, you're in for a surprise. The Noble Kaiser 10 are premium in-ear monitors that take music seriously. Each enormous earbud services 10 Knowles balanced-armature drivers for splitting up the responsibility of audio reproduction across the frequency spectrum, much like the 1More Quad Driver and Triple Driver in-ears. Rather than a single, generalized driver reproducing all 15-20,000Hz, it's divided among 10 drivers per earbud. All this works nets positively: specialization bodes well for clear audio with minimized harmonic distortion.
You don't need an amp to power the Noble Kaiser 10 low-impedance in-ear monitors.
Outward-facing red anodized aluminum plates are branded with a crown, Noble Audio's esteemed logo. The earbuds are to be worn around the ear and the cable comes in a tangle-resistant, braided design. Instead of using a classic MMCX connector, Noble Audio used a two-pin connection for each earbud. It's easier to remove than Shure MMCX cables, but isn't cause for concern by any means.
Included accessories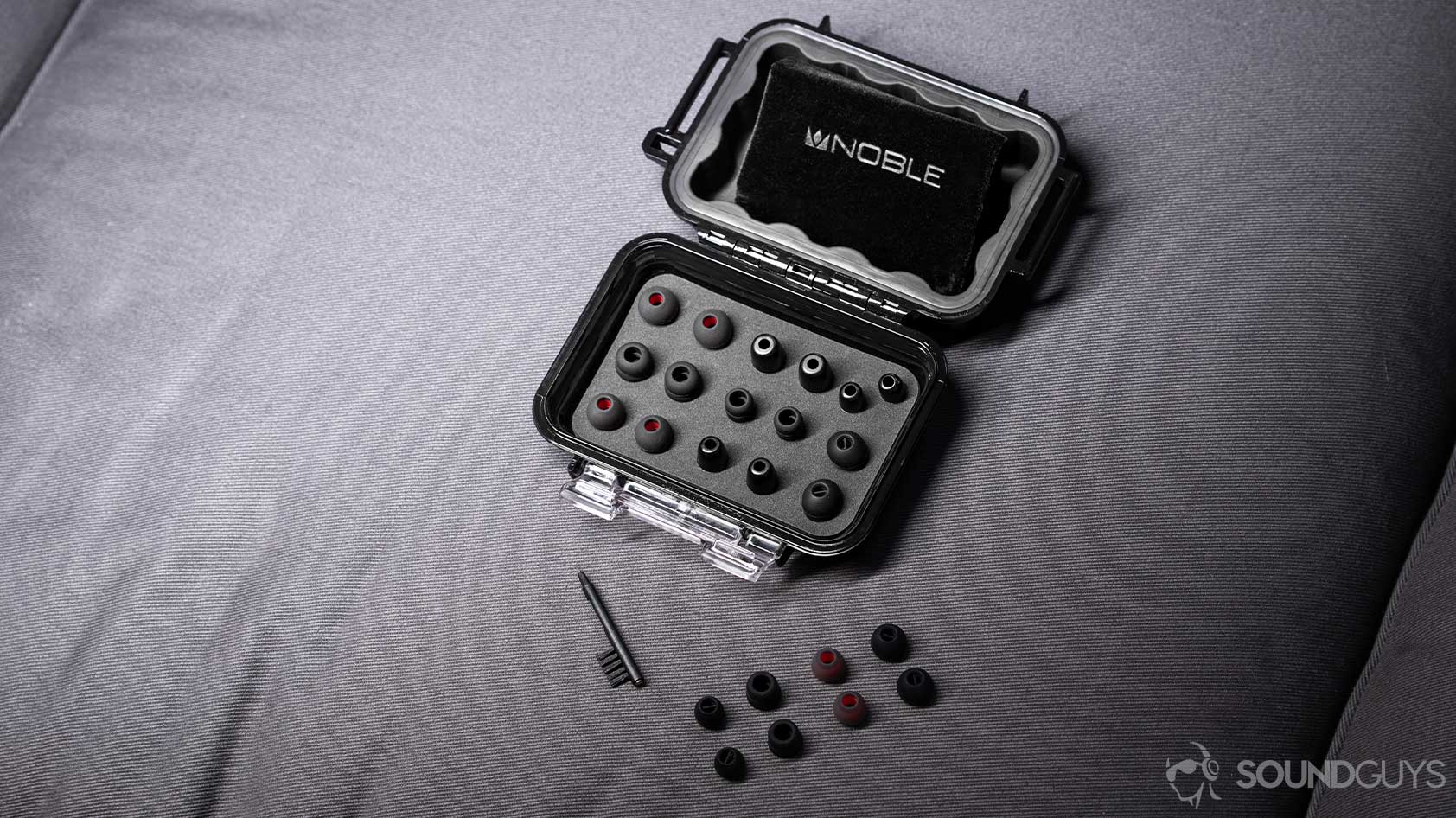 The double-flanged ear tips may be uncomfortable if you're coming straight from on or over-ear headphones.
Earbuds aside, you get a generous number of goodies with the Massdrop x Noble Kaiser 10 including 11 pairs of ear tips, a cleaning brush, a velvet drawstring bag, and a Pelican case with a matching black carabiner. The cleaning brush is the unsung hero of the accessory kit because all of us excrete earwax and that can muck up the ear tips or clog part of the mesh covering the nozzles. Not only does the brush keep things more sanitary, it also ensures your enjoyment of optimal audio: a clogged earbud nozzle won't sound as good.
The ear tip assortment is fantastic too, because you get memory foam, standard silicone, and double-flanged silicone options. Not only are you bound to find the proper fit, but you also get plenty of choice when it comes to material preference.
Connection
The detachable cable lengthens the lifetime of the Noble Kaiser 10, letting you easily replace it from Massdrop or Noble Audio's website.
The Massdrop x Kaiser 10 includes a standard 3.5mm TRRS cable by default, however you may purchase an additional Lightning cable or 2.5mm TRRS cable for an additional $40. This leans toward the pricier side of earbud cables, but remains reasonable given the $700 cost of the studio earbuds. No matter what termination your equipment requires, this remains a wired headset and can't be converted into a wireless one like the RHA T20 Wireless.
Sound quality
The 10 balanced armature drivers are broken off into pairs of five: bass, midrange, upper midrange, treble, and upper treble frequency ranges. The bass drivers are tuned to slightly attenuate bass response, similar to the high-pass filter in the Shure SM57 microphone. This filtering minimizes any auditory masking likely to occur to the midrange frequencies and isn't so dramatic as to render sub-bass imperceptible: it's about half as loud as vocals. Seeing how the response is almost perfectly neutral from 100Hz-2kHz, virtually all music will sound true to form. This is where most vocal and fundamental frequencies fall, which are the easiest for our ears to register.
Related: Do you need an amp?
Isolation is great and aided by the slew of ear tip options afforded to listeners. While it can't compete with active noise canceling technology, even some sub-bass frequencies are slightly attenuated by the Noble Kaiser 10 seal, which helps reduce the chance of external noise masking your music and degrading audio quality.
In Rainbow Kitten Surprise's song Hide, a drum pattern kicks the song off. After the first pass (0:01), a delayed static response is heard through the left earbud. I've listened to this song more times than I can count, and never picked up on this unpolished resonance prior to the Noble Kaiser 10. Its imperfection adds to the song, setting up the speakers' narrative of accepting one's flaws. Sam Melo begins singing just four seconds into the song, and his vocals are easily distinguishable from the electric guitar plucks and staccato drum beat underscoring ballad.
I can't think of an instance throughout Hide where auditory masking is present. Even with the slight sub-bass attenuation, kick drums remain pronounced as they emphasize the lyrics "And he's a better kisser than you think, Ma. He's a better listener than most," at 1:18. If you look forward to rediscovering albums you believed to know like the back of your hand, the Massdrop x Noble Kaiser 10 will make you reevaluate just how familiar you are with your favorite tunes. I spent plenty of time going through cornerstone albums only to realize I'd been missing plenty of nuanced sounds that were masked by other headphones.
How do the Massdrop x Noble Kaiser 10 compare to other in-ear monitors?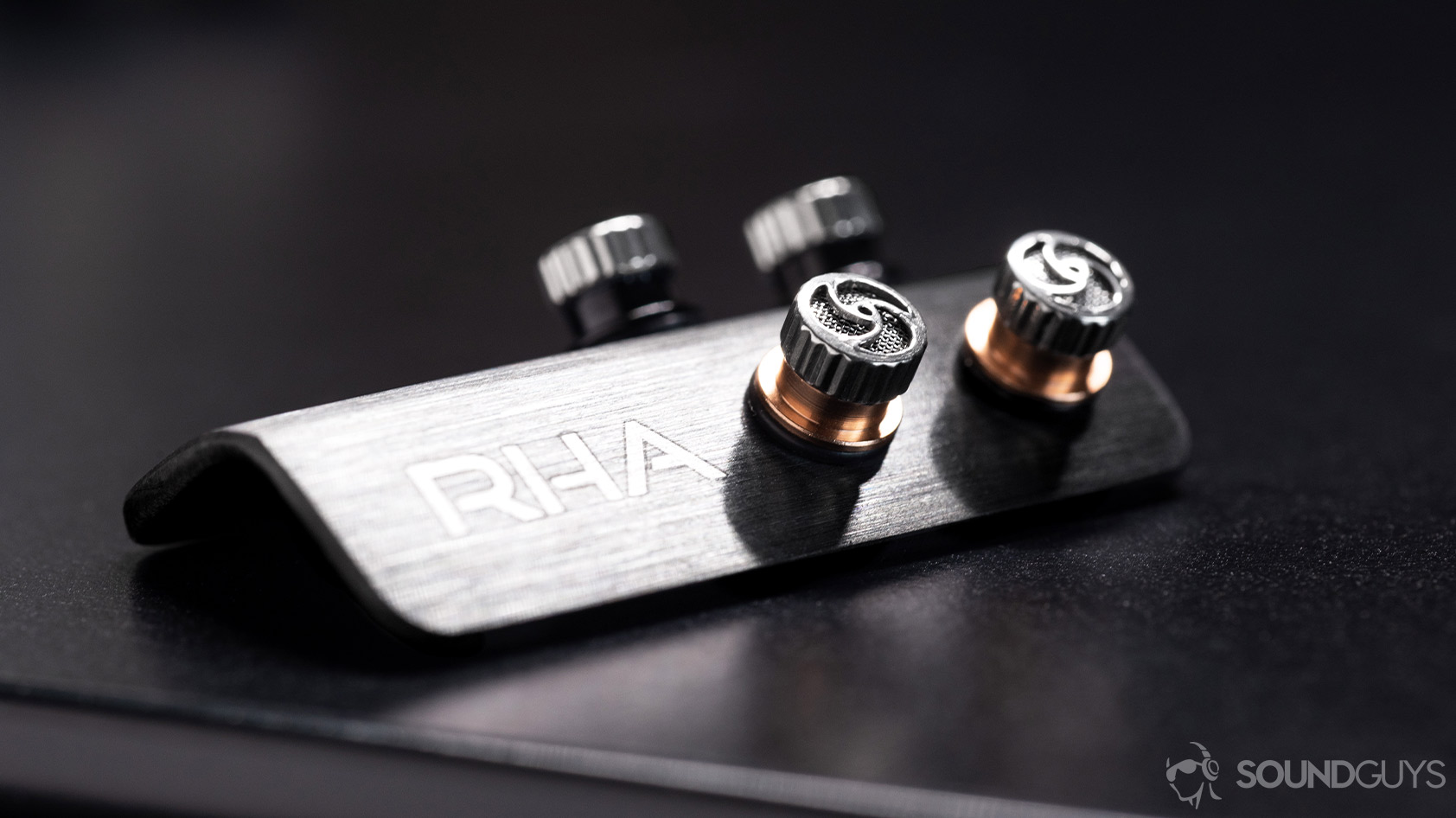 The RHA T20 Wireless earbuds use a filter system similar to that of the Etymotic ER4SR.
If you're serious about premium IEMs, you've likely familiarized yourself with the likes of Sennheiser, Shure, Audio-Technica, and Etymotic. All of these companies manufacture excellent products, professional or otherwise. The Shure SE846 are popular for their durability and isolation properties. These use a six-driver array and are great if you're a stage performer looking for something to negate crowd noise during a performance. The nozzles feature a smaller diameter than most in-ears, making them more comfortable for longer listening sessions. 
Best studio headphones
The best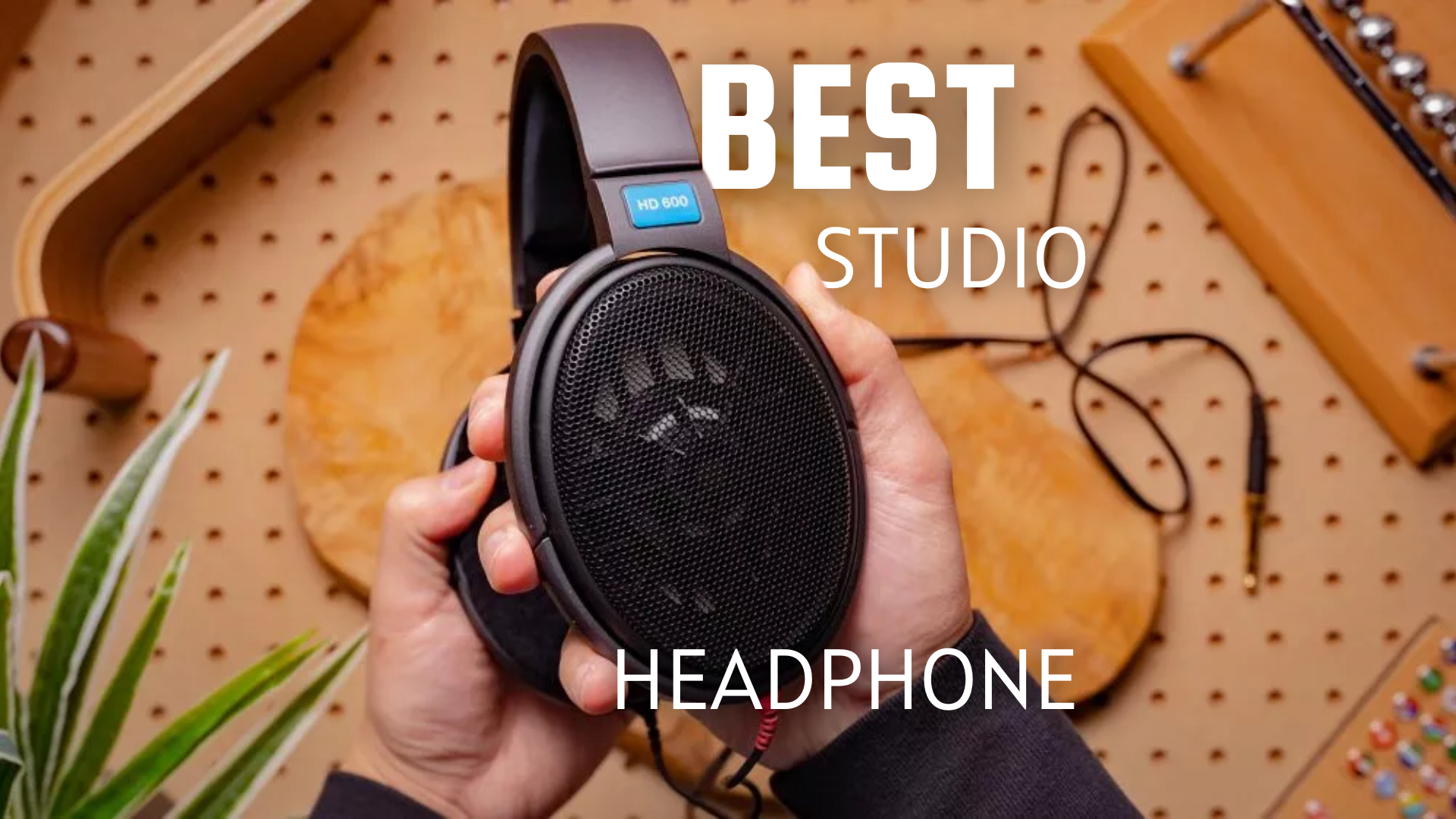 A similar, more affordable alternative are the Audio-Technica ATH-E70, which use a triple-driver system to accurately reproduce audio from 20Hz-19kHz. The memory cable ear hooks are easier to adjust and mold to the contour of one's ears than the Massdrop x Noble Kaiser 10. The cables are also detachable from the earbud housings.
If you're on a budget, relatively speaking for IEMs, then you may want to get the Etymotic ER4SR. The price has been slashed significantly since their 2016 debut, and they have a nifty feature: you can replace the filters to change the sound signature, something we've seen with RHA's earbuds. You're also afforded an assortment of ear tips that vary in size, shape, and material. If you want something a bit more discreet and much, much more affordable, these belong in your ears.
Should you buy the Massdrop x Noble Kaiser 10 Universal?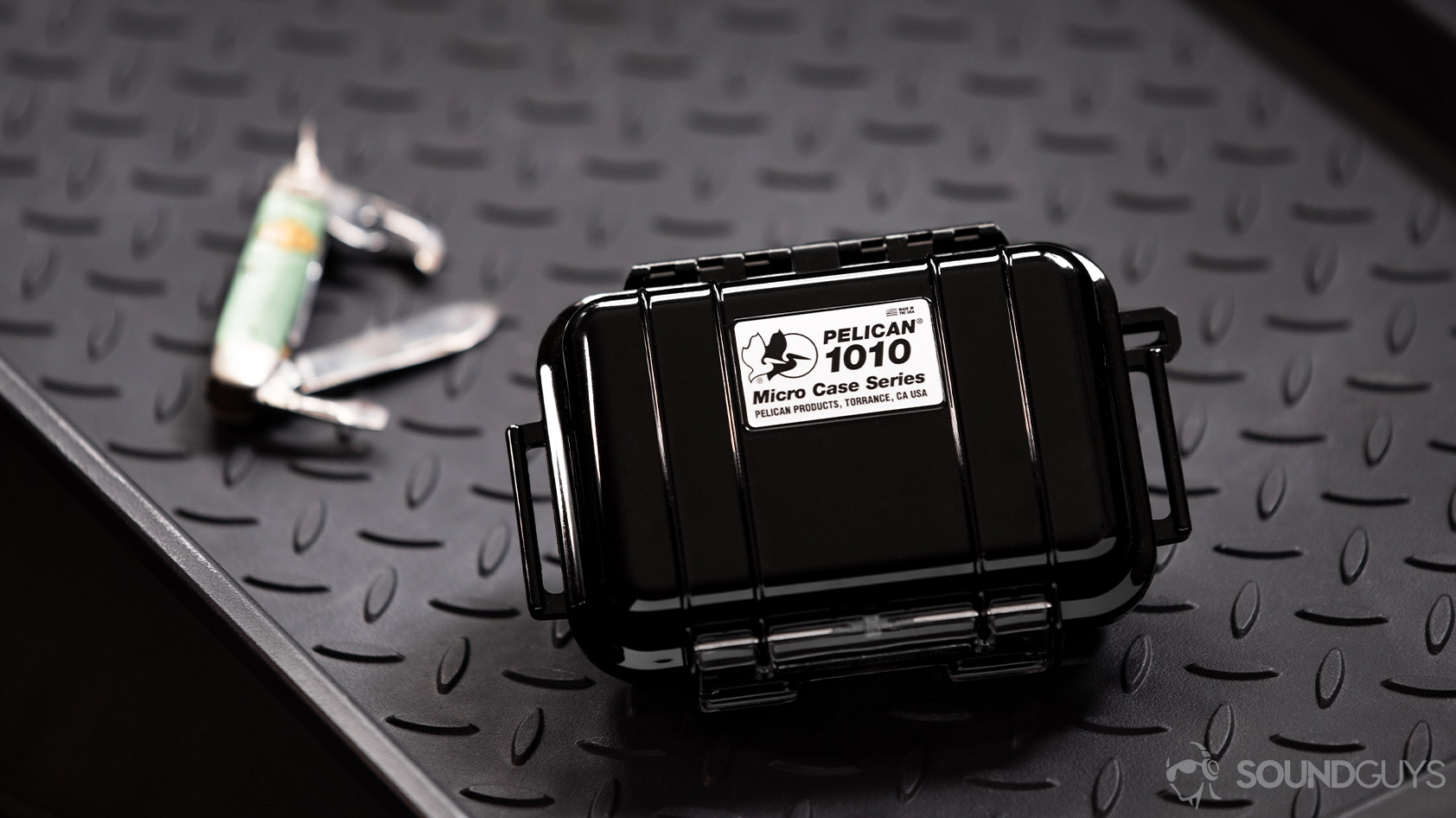 The Pelican case is water-resistant, crushproof, and dustproof.
Yes, the Massdrop x Noble Kaiser 10 Universal IEMs are a lovely headset, assuming you can swing the price.
Of course, not everyone can or wants to justify spending north of $700 on earbuds, but these aren't just run-of-the-mill earbuds. I was able to listen to some of my favorite songs as if I'd never heard them before with the Kaiser 10, was that worth the money? Not for me, but for those with more flexible budgets, that experience may be priceless.