The 1MORE Quad Driver In-Ear circulates budget audiophile circles and is here to stay. These durable earbuds feature a premium build and unique frequency response from the four-driver array in each earbud. If you want a great pair of earbuds that costs just over $100 USD, this is your best bet. The Quad Driver In-Ear isn't perfect though, so let's see if it meets your needs and what you might want to get instead.
Editor's note: this 1MORE Quad Driver In-Ear Earphones review was updated on June 29, 2021, to more specifically address how the Quad Driver In-Ear compares to the 1MORE Triple Driver In-Ear throughout the article.
What's it like to use the 1MORE Quad Driver In-Ear?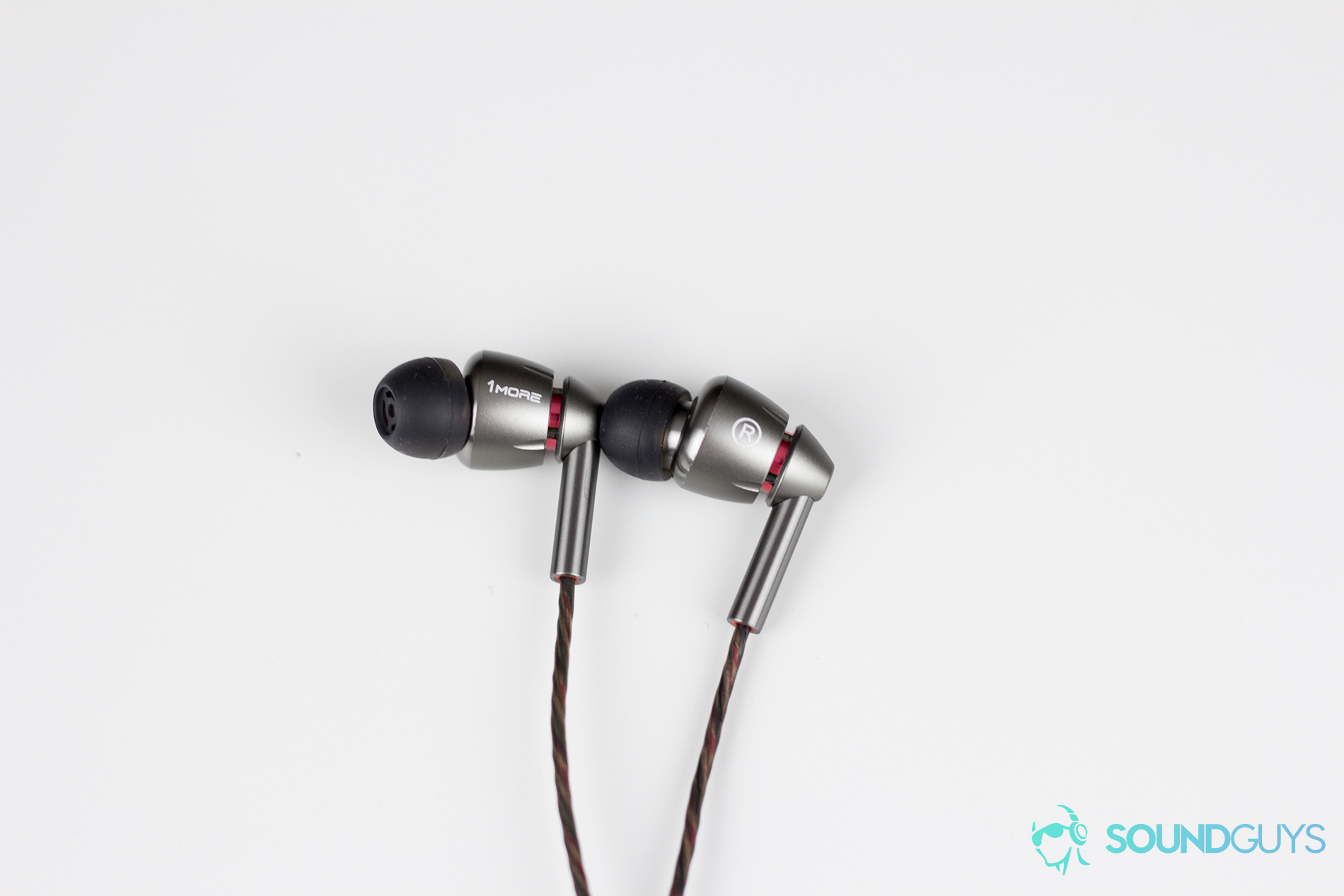 If there's one thing 1MORE didn't skimp on when it came to these in-ears, it's build quality. Just like the previous Triple Driver In-Ear model, this feels more premium than the price suggests. The earbud housings have a metallic finish to them that protects the four drivers inside. But what's the point of having four drivers in each earbud? Doing so allows the company to tune each driver to reproduce a particular frequency range, in theory allowing for greater accuracy and clarity. Each earbud houses a single dynamic driver and three balanced armatures, but we'll get to that in the sound quality section down below.
Start here: What makes a good set of in-ears?
The metal of the earbuds is reflected in the control module and the Y-Split located on the cable. You'll also find it on the 90° 3.5mm connector jack which has hard rubber to help prevent fraying, unlike the previous model which instead uses a straight jack. Some may find the 90° jack a little inconvenient as it can angle oddly in a pocket, but it's generally more durable than a straight plug.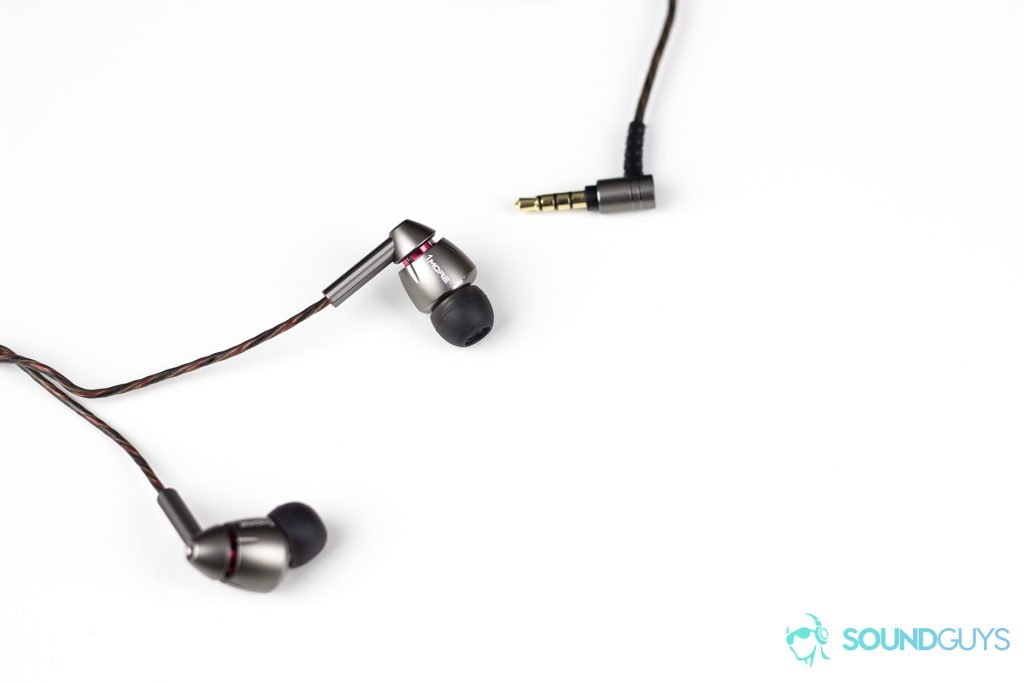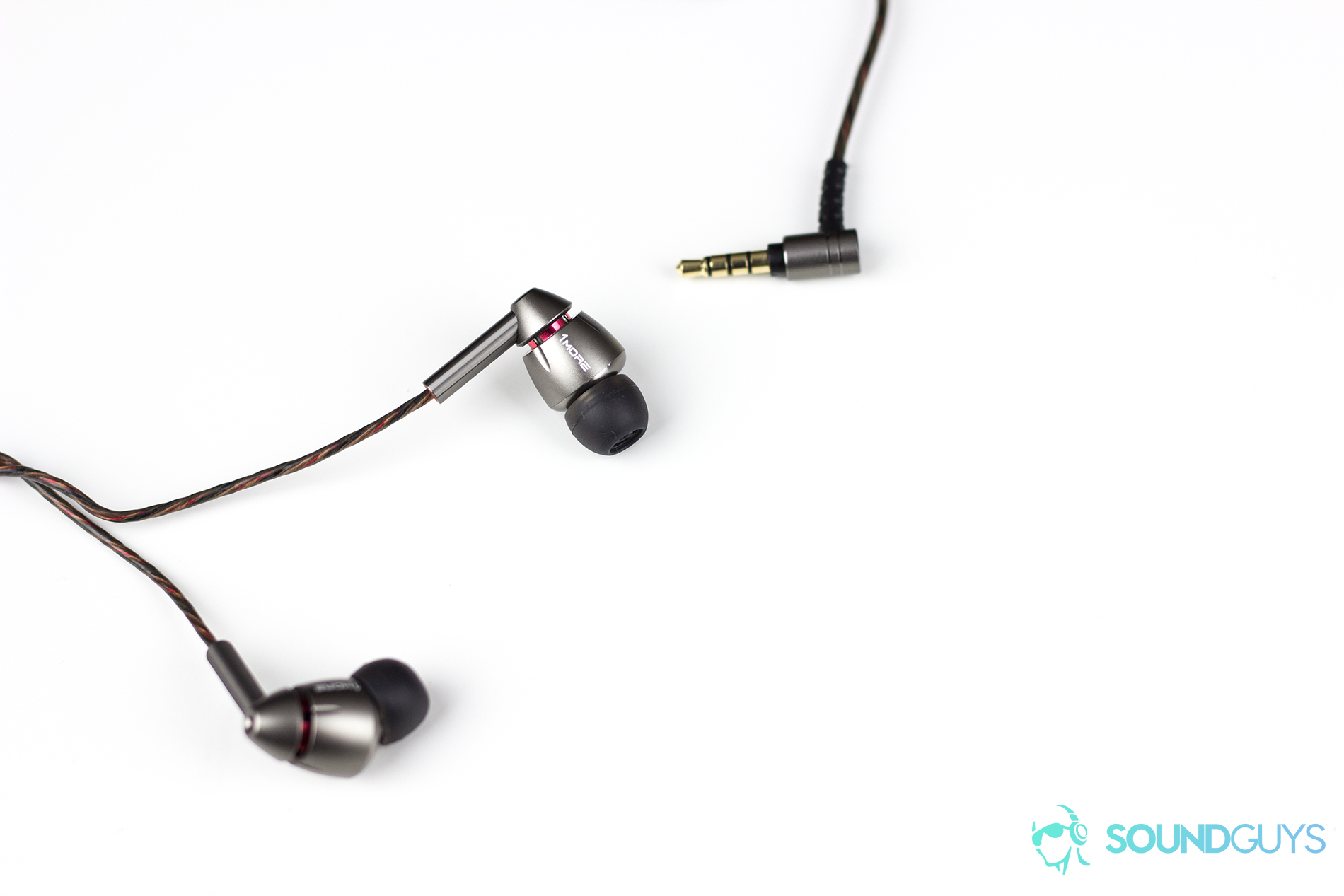 One difference between the 1MORE Quad Driver In-Ear and the Triple Driver In-Ear is the wire and control module. The Quad Driver In-Ear has a Kevlar-wrapped cable, rather than the woven fabric covering found on the bottom half of the previous model. The control module is also greatly improved, with circular tactile buttons that are spaced apart making it easy to control without looking. The Quad Driver In-Ear has more of an industrial design when compared to the somewhat more minimal-looking Triple Driver In-Ear, and the earbuds are angled 45° for a comfortable fit.
How do you connect the 1MORE Quad Driver In-Ear?
This pair of earbuds sports a 3.5mm TRRS plug that you can plug straight into your phone's headphone jack (assuming it still has one). Its control module is compatible with both Android and iOS devices; two volume buttons flank a multifunction button for answering calls, skipping tracks, pausing playback, and accessing Google Assistant or Siri. There's only one exception: on Android, you can't return to a previous track. The microphone is just okay, and no one complained when I spoke at length. If anything, a few people said that I sounded "like I was standing in a big room."
How does the 1MORE Quad Driver In-Ear sound?
As we mentioned earlier, the Quad Driver In-Ear divides frequency response reproduction with four individual drivers. This results in a slightly larger nozzle than other earbuds so if you have a favorite pair of ear tips they're probably not going to work. I had trouble fitting the included foam tips over the nozzles and was stuck using the silicone tips for this review. These are also Hi-Res certified so if you have the right files, these can do them justice with a frequency range that goes up to 40kHz.
Lows, mids, and highs
At first, I wasn't too impressed with the bass response. I thought they were a little too strong, but after a while, I began to appreciate the slight bump. But the response falls just shy of making bass heads happy and is a little too strong for those who seek accuracy. It's either a case of the porridge in the middle being just right, or not right for anyone.
The song casanova. by Denitia and Sene is a great example, as for the most part, the low end is strong but fairly enjoyable throughout the song. It only really becomes a little too overpowering for my taste during the bridge at 2:33. The mids sound fine but bass-heavy tracks mask vocal detail. Generally, though, vocals still come through loud and clear. I found this most apparent in the song Get Free by Major Lazer.
Related: 1MORE True Wireless ANC review
Highs are amplified enough to remain audible which you can hear in the song My Hometown by Bruce Springsteen. At high volumes, guitar slides and cymbal crashes sound a bit too loud though. This can be avoided by just lowering the volume a bit or using a third-party equalizer app.
Should you buy the 1MORE Quad Driver In-Ear instead of the 1MORE Triple Driver In-Ear?
The short answer is no, the 1MORE Quad Driver In-Ear is not worth getting over the 1MORE Triple Driver In-Ear. The Quad Driver In-Ear is good, but the price differential is hard to justify. Still, if you have the extra money to spend there are a few reasons why you might opt for the Quad Driver In-Ear instead, namely build quality which is objectively better with the four-driver unit.
Though the Triple Driver In-Ear isn't shoddy, the Quad Driver In-Ear's Kevlar cable and metal control module beat out the fabric and plastic of the previous model for sure. Another reason is the control module itself, which is significantly easier and more ergonomic to use than its predecessor by a long shot. The last reason you might still prefer the 1MORE Quad Driver In-Ear is for its sound quality. The Quad Driver has slightly louder bass and treble reproduction.
So if you want four drivers, and add up all of the other pros and find that it's worth the money then you won't be disappointed with these new Quad Driver earbuds. Clearly, I wasn't.
Next: Etymotic ER4SR
Frequently Asked Questions