All products featured are independently chosen by us. However, SoundGuys may receive a commission on orders placed through its retail links. See our ethics statement.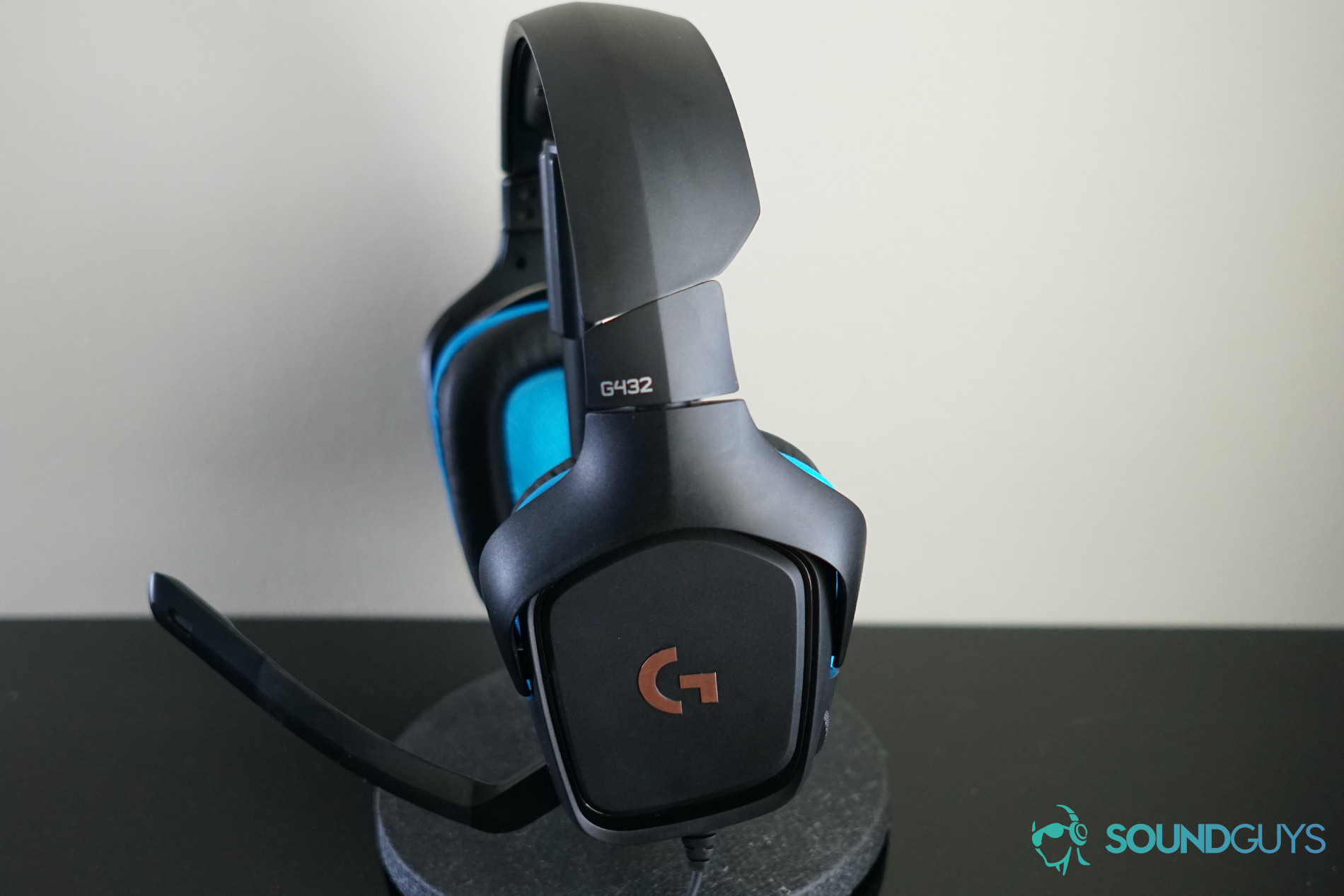 The bottom line
The Logitech G432 skimps on a little too much to reach its low price point. The build feels cheap, and the design is a little dated. It'll do in a pinch, but there are better options.
Logitech G432
The Logitech G432 skimps on a little too much to reach its low price point. The build feels cheap, and the design is a little dated. It'll do in a pinch, but there are better options.
What we like
Price
Surround sound works well
Easy to use
What we don't like
Feels cheap
Microphone
Sound
Rating Metric
Sound Quality
9.4
Isolation / Attenuation
3.8
Durability / Build Quality
6.9
Value
7.0
Design
7.0
Microphone
4.0
Portability
6.0
Comfort
7.0
Logitech's been a mainstay in gaming peripherals for pretty much as long as there's been a market for them. A big part of the company's success in gaming headsets was the popularity of the Logitech G430—you wouldn't need to look very long to find a handful of Twitch streamers all wearing the classic black and blue headset. The Logitech G432 is the company's most recent follow-up to the headset, and it doesn't change the formula up much.
The headset's about a year old at this point, but how does it hold up to the competition?
Editor's note: This review was updated on March 1, 2022 to include even more alternative recommendations.
Who is the Logitech G432 for?
Gamers who want something to cover their basic PC gaming needs.
Parents who want something cheap, but decent that they can slap on their kids' heads to avoid the sounds of gunfire filling their home.
What is the Logitech G432 like?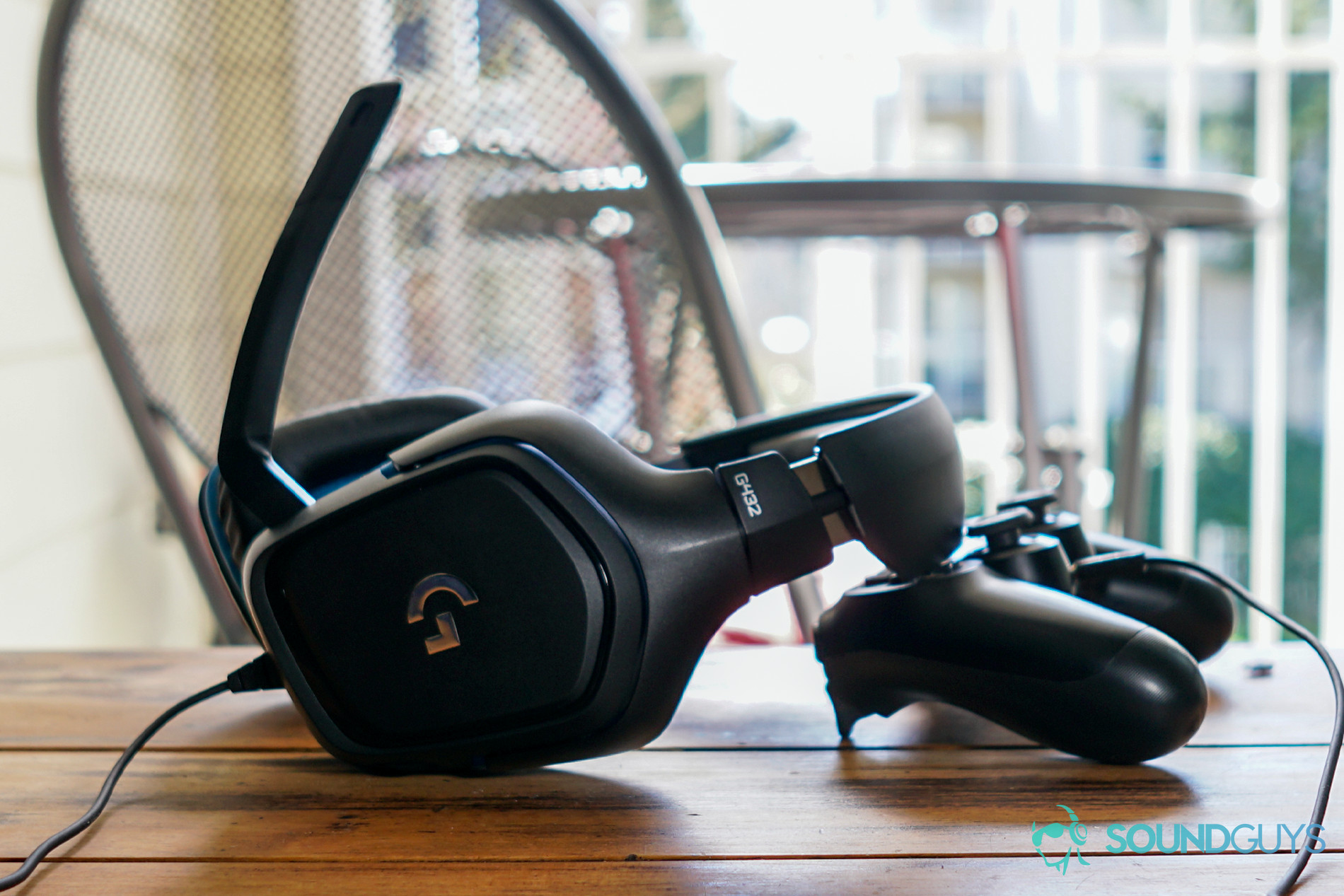 This wired headset works just about everywhere.
I've reviewed a lot of gaming headsets since I came to SoundGuys. Sometimes it can feel like the problems that affect a brand new $200 headset are the same ones that have troubled most gaming headsets for years. The Logitech G432 is proof enough that this isn't really true. It's based primarily on the build of Logitech G430, and as someone who used that headset quite a bit, not much has changed. As a result, this headset is seriously showing its age, in ways I didn't expect at first.
The Logitech G432 is made primarily of plastic, with a single strip of metal running through the band, and boy, does it feel flimsy. The metal in the band does a decent job creating a good amount of tension for keeping the headset on your head, but the plastic feels pretty cheap. It bends and creaks, and the hinges don't allow for a lot of vertical adjustment. I was never uncomfortable, but people with wider heads might struggle to find a decent fit.
This headset is comfortable enough, but it's really nothing special.
The Logitech G432's ear pads are made of foam covered in leatherette. Visually this is the biggest change from the Logitech G430, which used a blue mesh fabric instead of leatherette. The change makes heat management a bit more of a concern, as the mesh breathed much better. This also isn't the memory foam that's become pretty common across the gaming headset market—it's rigid, plain foam, and it isn't very comfortable. Gamers with glasses will probably love the experience ever less than I did, as pads like this won't do them any favors on the isolation front. I struggled to get a decent seal even when wearing a ball cap while using the headset, and it barely interacted with the ear pads.
Using the headset is a pretty straightforward affair. There's a volume dial on the back of the left headphone, and flipping the attached microphone up vertically will mute it. There's really not much more to the Logitech G432. The headset offers DTS:X surround sound support via the company's G Hub app, as long as you're plugged into a PC with the USB attachment, but otherwise it's just a plug-and-play affair.
How does the Logitech G432 connect?
Not a lot comes in the box with the Logitech G432. Aside from the headset itself, you get a USB adapter and a 3.5mm headphone/mic splitter.
The Logitech G432 is a wired gaming headset that primarily connects using 3.5mm TRRS plug. If you're on a console like the Playstation 4, Xbox One, or Nintendo Switch (undocked), just plug it into the controller (or the top of the Switch), and you're ready to go. If you're gaming on a PC without a TRRS port, you've got two options—the included 3.5mm splitter will work if you want something analog or can't afford to give up a USB port, and the USB adapter has got you covered if you want access to surround sound. The USB adapter is also a good idea if your PC's 3.5mm jacks are improperly grounded, as this can cause a layer of static in the headphones.
Gaming with the Logitech G432
Playing on an undocked Switch worked just as well as everywhere else.
Actually using the Logitech G432 for games offers a completely fine experience. Playing games like Overwatch and Halo: The Master Chief Collection on PC, I ran into no issues whatsoever and found the surround function worked very well. On console, surround sound isn't an option, but stereo sound yielded solid results too.
A feature like surround sound isn't necessary for any game. Whether you're hunting down enemies in Fortnite or trying to defuse the bomb in Counterstrike, the only thing that's going make you better at the game is practice—I was just as middling in Overwatch when I heard exactly where my enemies were as when I just heard roughly where they were. All the same, if it's something you feel really strongly about, the surround sound included with the Logitech G432 works well, and it's a set it and forget it kind of feature—check the box in G hub once and you don't need to go back into the app again.
How does the Logitech G432 sound?
This article's frequency response and isolation charts were measured with our old testing system. We have since purchased a Bruel & Kjaer 5128 test fixture (and the appropriate support equipment) to update our testing and data collection. It will take a while to update our backlog of old test results, but we will update this review (and many others!) once we're able with improved sound quality measurements, isolation performance plots, and standardized microphone demos. These will be made obvious with our new chart aesthetic (black background instead of white). Each new mic sample begins with the phrase, "This is a SoundGuys standardized microphone demonstration …"
Thank you for bearing with us, and we hope to see you again once we've sorted everything out.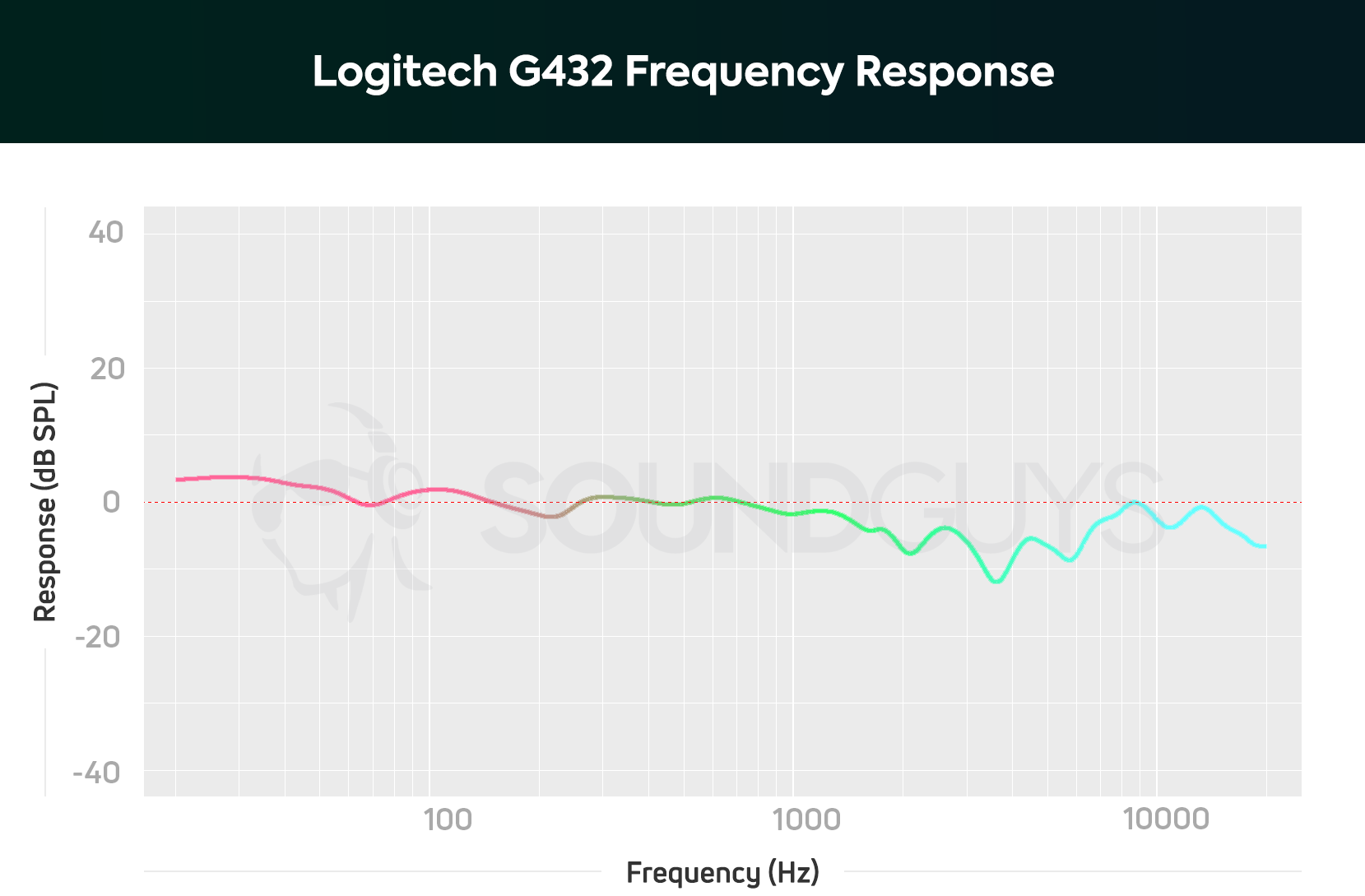 The headset offers pretty accurate audio output across the board.
The Logitech G432 has a pretty accurate frequency response for a gaming headset. There's a little over-emphasis in the bass range, and a consistent, though comparatively minor de-emphasis in the mids and highs. However, in the grand scheme, there's nothing really out of place.
In game, this means things like explosions, gunfire, and particularly deep swells of background music might have a slight issue with drowning out other kinds of sound. It shouldn't be anything too intense, but it's also the kind of thing you can fix in a game's audio settings if needed.
Strings and cymbals get masked by a lot of bass range sounds.
In music, this means songs with the sounds of some strings and cymbals will be masked by a lot of bassier sounds, but only slightly. If you're really into EDM, this could be a great thing, but otherwise this might produce some pretty skewed output. In Forcefield Lifts over Neon City by Daikaiju, the low-end whir that sits in the background of most of the song runs over a lot of its fainter string parts.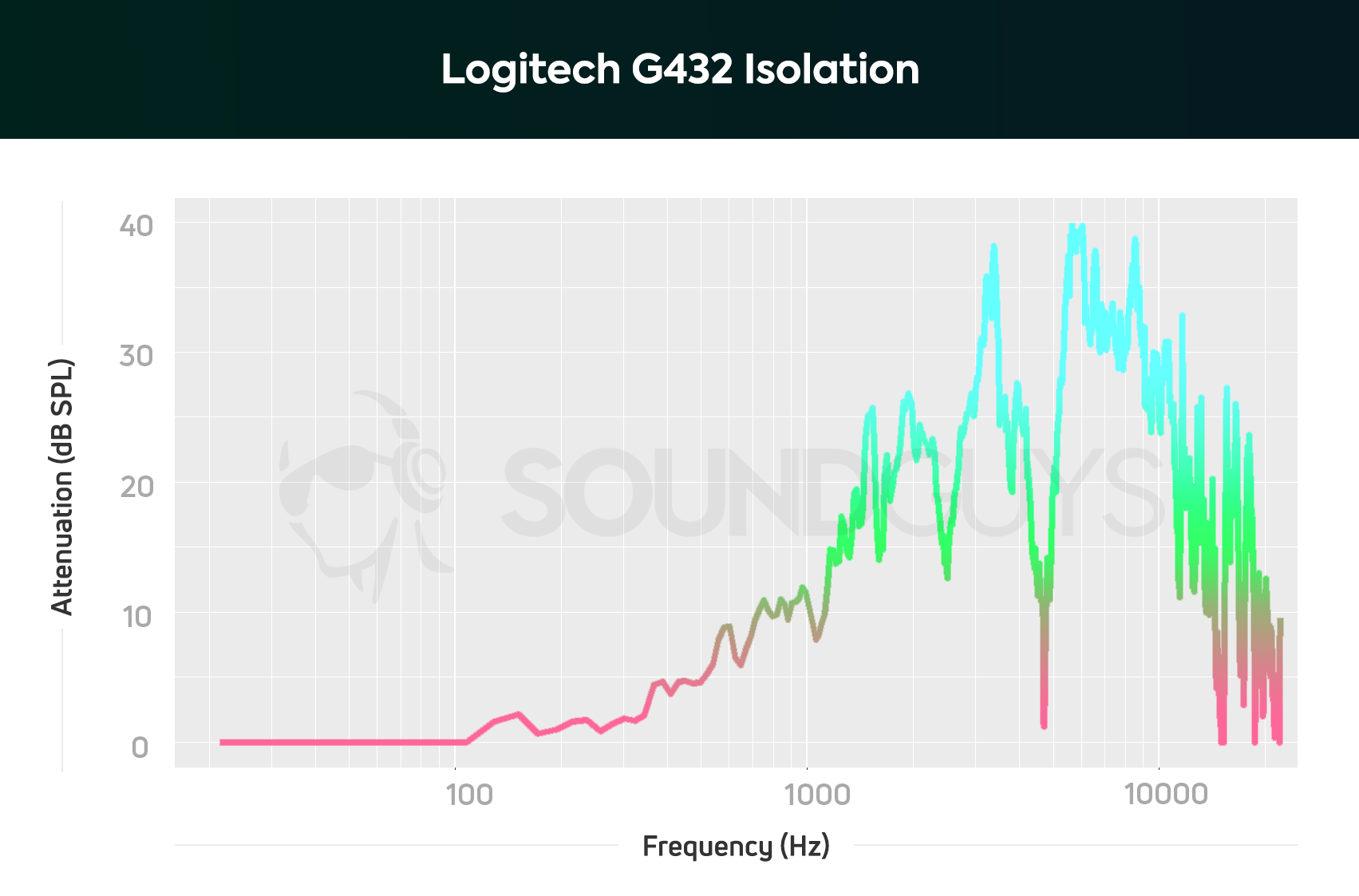 The isolation is fine, if you can get a decent seal.
The Logitech G432 offers decent enough isolation for a gaming headset, but its ear pads are pretty thin. That means turning up the volume is your best bet for drowning out even the typical noises of apartment life, like a TV in another room or the whirr of the fridge in the kitchen.
How does the microphone sound?
There's not a lot here to encourage people with deeper voices.
Much like the Logitech G432's audio output, the headset's microphone output is basically on the wrong end of average for a gaming headset. There's a huge de-emphasis in the bass and mid range, up to around 600Hz, which means people with deeper voices are going to sound pretty distorted. Normally, when we see this it's because a microphone has issues with the proximity effect. That seems to be true here: we noticed that there was a certain amount of clipping in the recordings we created with it. What really concerns us is the mic's tendency to clip at normal volumes—imagine if your game gets the least bit heated and you raise your voice. In the following recording, I'm speaking at a pretty normal without any boosting—listen for yourself:
How does the microphone sound to you?
2056 votes
That said, you could probably hear that it was easy to tell what I was saying, and that's because the mic does a pretty decent job with keeping a decent level in the higher-frequency sounds that are needed for speech intelligibility. Though this mic isn't perfect, its faults aren't going to ruin your gaming completely. Just be sure to get a little bit of distance away from your mouth and Discord should be fine.
Should you buy the Logitech G432?
The Logitech G432 will do in a pinch, but there are tons of legitimately good or great options in the under $80 USD, and most of them will do better. In 2017, this was a worthy pick up—these day it just doesn't match up.
What should you get instead?
If you're a PC gamer looking for something cheap headsets like the Razer Kraken X and Corsair HS60 Pro Surround both offer equal sound, sturdier frames, and cover the same features. There's also a wide range of cheap Turtle Beach gaming headsets, like the Recon 200 and Recon Spark, which all retail for less money and offer better sound quality (especially on the microphone side). In fact, the Turtle Beach Recon 70 runs for half the price of the G432, and it's a better gaming headset in pretty much every way (minus the surround sound).
These days it's not unrealistic to look for something wireless at this price point. Logitech's own G435 Lightspeed wireless gaming headset is made of all recycled materials, and it's comfortable and very lightweight—all for the same price as the G432. On top of that, options like the Razer Barracuda X and the SteelSeries Arctis 1 Wireless are exceptionally reliable wireless options with USB-C dongles for expanded platform compatibility, and they're both only $10 USD more than the G432.
The Logitech G430 was a workhorse of a headset, but times have changed. Its follow-up sounds good, but its mic has clipping issues, and the whole thing feels pretty flimsy. These days, there's just no good reason to buy this headset—if there are more recent headsets available, most of them will serve you better.
Frequently asked questions
Either! See the connectivity section for more details.