All products featured are independently chosen by us. However, SoundGuys may receive a commission on orders placed through its retail links. See our ethics statement.
The bottom line
LG's handsome true wireless earbuds aren't attractive enough to compensate for the poor fit. The drivers are tuned by Meridian Audio and sound quality is good when a proper fit is achieved, but this is rare and nearly impossible to maintain. The UVnano charging case is neat and purportedly reduces bacteria buildup. Although it includes some neat features, the LG TONE Free HBS-FL7 earbuds just aren't worth the money.
LG TONE Free HBS-FL7
LG's handsome true wireless earbuds aren't attractive enough to compensate for the poor fit. The drivers are tuned by Meridian Audio and sound quality is good when a proper fit is achieved, but this is rare and nearly impossible to maintain. The UVnano charging case is neat and purportedly reduces bacteria buildup. Although it includes some neat features, the LG TONE Free HBS-FL7 earbuds just aren't worth the money.
What we like
Attractive design
IPX4-rated
Fast charging
UVnano charging case may reduce bacteria buildup
Auto ear detection
What we don't like
Poor fit, discomfort
Randomly pauses playback
Price
Rating Metric
Sound Quality
9.1
Isolation / Attenuation
1.2
Durability / Build Quality
7.2
Value
6.5
Design
6.7
Microphone
6.5
Portability
9.5
Battery Life
5.8
Comfort
5.0
We're all guilty of buying something simply because we think it's pretty. While the LG TONE Free HBS FL7 is presented beautifully, it's underwhelming for the price. There are some great features, though, like the bacteria-reducing charging case and Meridian Audio tuning.
Editor's note: this LG TONE Free HBS-FL7 review was updated on July 30, 2020 to address how the buds compare to the LG TONE Free HBS-FN6.
Who should get the LG TONE Free true wireless?
The glossy finish turns these earbuds into fingerprint magnets.
General consumers may want to consider LG's TONE Free headset. These serve as a more stylish alternative to the Apple AirPods, because they don't form a cogent seal. AAC is the only supported high-quality codec, which benefits iPhone users but not Android users to the same degree.
Hygienic listeners will appreciate the UVnano charging case that uses internal UV LEDs to reduce bacterial buildup on the ear tips.
Using the LG TONE Free HBS-FL7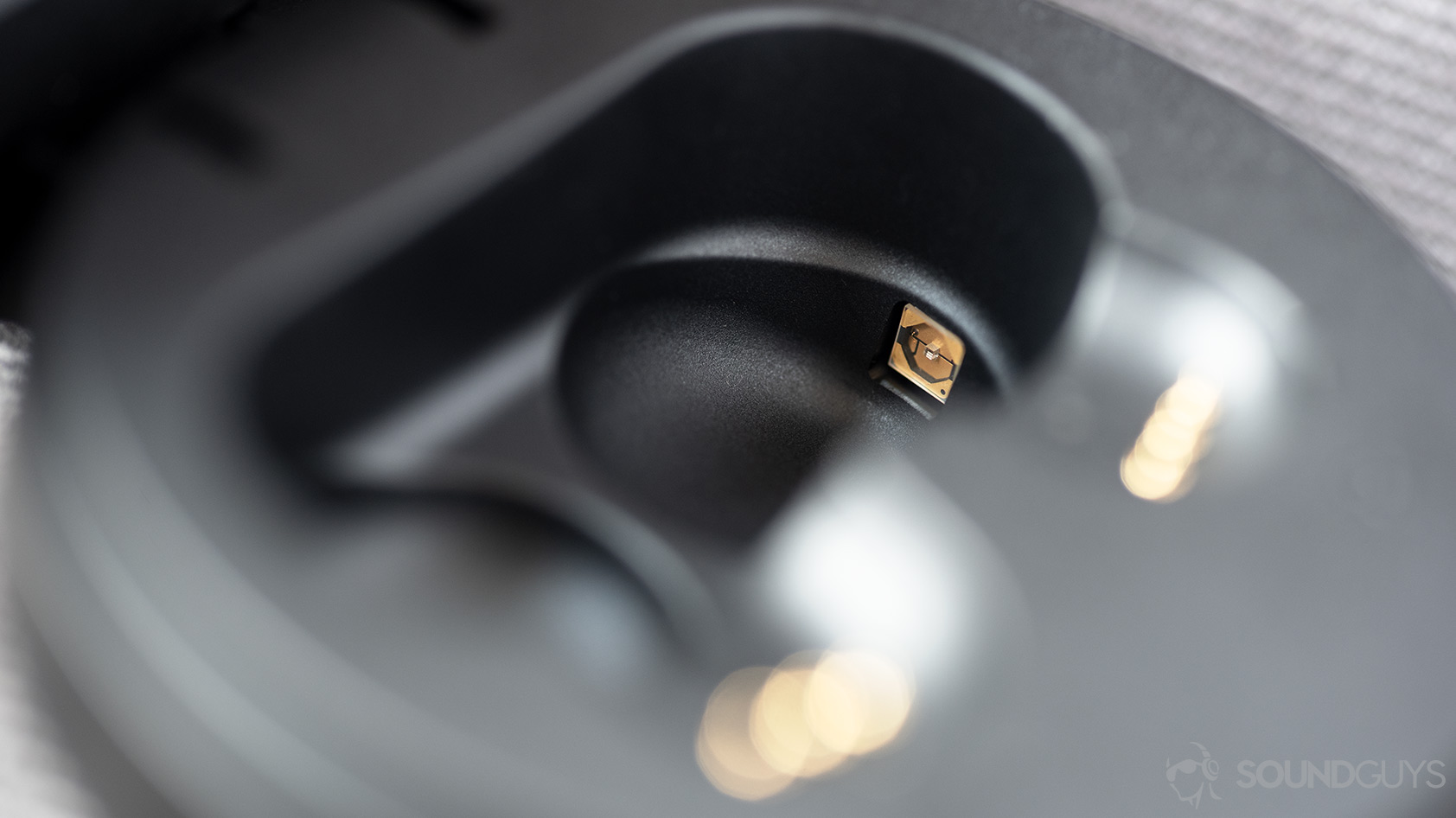 UV LEDs inside the case blast the ear tips with UV light to reduce bacteria.
LG's latest true wireless earbuds embrace a modern design aesthetic with glossy panels and a circular charging case. It looks gorgeous, on par with the older Earin M-2 which was uniquely stunning for its time. The indented touch-capacitive housings consistently register commands, making it easy to field calls and pause playback without reaching for your phone.
Despite the elegant look, the earbuds are durable and merit an IPX4 rating to prove it. However, I wouldn't recommend working out with these, because they don't create a seal to the ear. The half-open design is great for remaining aware of your surroundings, but the 'buds fell out multiple times during testing—once as I jogged across a crosswalk. If you're moving any faster than a brisk walking pace, you may want to look at something more secure like the Master & Dynamic MW07 Go. At least if the earbuds do fall out, your music will automatically pause thanks to automatic ear detection. Re-inserting them automatically resumes playback, and the process is snappy.
The earbuds prioritize beauty at the expense of functionality.
Another neat feature of the LG TONE Free HBS FL7 is the puck-like charging case. According to independent testing, the UVnano technology reduces earbud bacteria via the integrated UV lights. Although this isn't a cure-all, it could help reduce the rate of temporary hearing loss by preventing ear infections. Minor infections can impede one's ability to perceive and discern noises such as speech patterns.
Should Android users get the LG app?
The ear tips are bulbous and oddly shaped, making it easy for the 'buds to fall out.
The LG Tone & Talk app isn't very useful: it affords nothing beyond what can be done directly from the headset, aside from finding your earbuds. Controls are limited, and you can't adjust the volume or skip tracks. All you can do is pause music, cycle through EQ presets, review notifications, and access Google Assistant.
Controls are identical on both earbuds.
Single tap to pause or resume media playback.
Double-tap to review notifications.
Triple-tap to cycle through EQ presets: normal, bass, flat, and treble.
Tap and hold to make a command.
How do you connect the LG TONE Free HBS-FL7?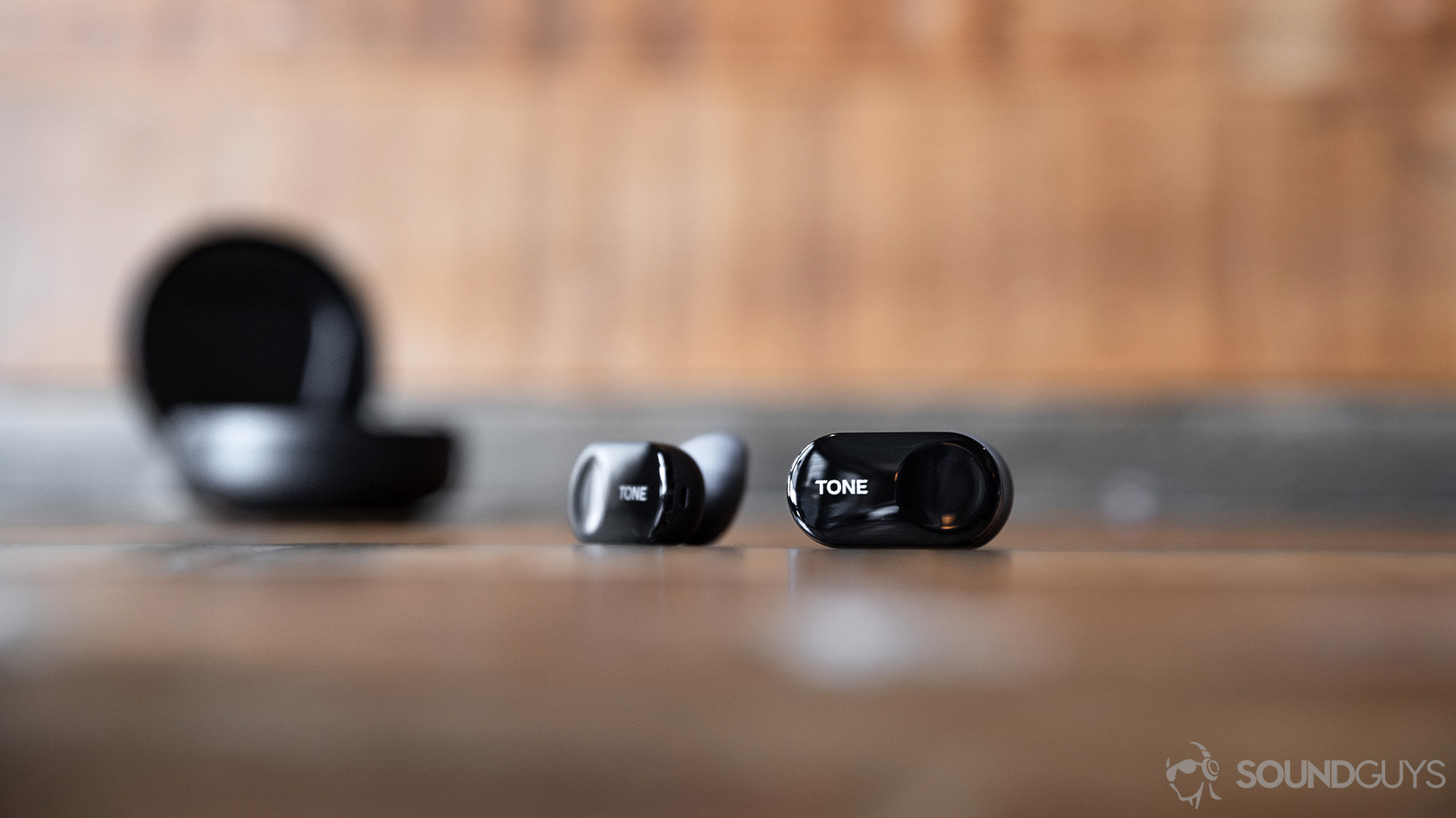 The all-black appearance is sleek and covert.
Removing both earbuds from the case simultaneously initiates pairing. Android 5.0 devices with location services on automatically recognize the TONE Free HBS FL7 and display a nifty pop-up asking you to pair the earbuds to your smartphone. iPhone users have to go through the typical pairing process of sifting through the iPhone's Bluetooth menu and selecting "LG TONE Free HBS FL7."
Once the headset is connected, Google will prompt you to finish setting up the device and allow Google Assistant access. Updates are made available through the Google application. If one is available, an alert appears in your smartphone's notification shade, informing you that headset access is unavailable once the process begins. On March 9, 2020, I installed firmware version 1.5.0#2f09259 and expect more to come.
Connection strength is ok; there were some connection stutters when the headset was less than a meter away from my Samsung Galaxy S10e, but nothing too severe. Unfortunately, multipoint connectivity isn't supported; so you have to manually switch from one device to another, rather than connect to two at once.
Audio-visual lag is barely noticeable, though it is still present. AAC is the only high-quality Bluetooth codec supported, which isn't great for Android devices but serves iOS products well. This is fine as high-quality streaming isn't too important when the earbuds don't create a complete seal to the ear. No matter what, external noise can get in and degrade audio reproduction by way of auditory masking. This means any benefit afforded by aptX or LDAC would be rendered practically null.
Battery life is average
We recorded 5 hours, 19 minutes of listening on a single charge before having to pop the earbuds in the case. This isn't the best battery life we've observed, but it stands above average. Plus, the earbuds support quick charging; all you need is to place them in the USB-C case for five minutes to enjoy one hour of listening. In total, the case can provide up to 15 extra hours of on-the-go battery life.
The poor fit impacts sound quality
The dynamic drivers are tuned by Meridian Audio and promise an engaging sound. Listeners in search of accurate audio reproduction will enjoy these earbuds in theory, but the semi-open build subjects music to auditory masking. This means loud, external sounds mask relatively quieter notes like mids (e.g. vocals). Suffice to say, you don't buy these earbuds for sound quality but for style and the ability to remain vigilant while walking about.
Related: How to read charts
Isolation is nearly non-existent, but the earbuds fit our test head surprisingly well. The rubberized material on both the ear tips and test head created enough friction that the 'buds stayed in place during testing, which explains the low-end attenuation from the chart above. Unless your skin is remarkably rubbery, you're unlikely to experience this same suction-like effect. In short, real-world isolation performance is poor and I heard nearly everything going on around me when testing these 'buds.
Lows, mids, and highs
Lauv's song Tattoos Together opens with notes individually plucked on a bass guitar before Lauv begins singing. Although the bassline is audible throughout the whole song, it takes more effort to hear it with these buds than with other earbuds that create a cogent seal.
Claps also fall to the wayside when listening to Tatoos Together, especially if listening outside. When I was walking around, I found it nearly impossible to hear the intermittent claps during each verse due to the fact that wind noise and traffic took precedence.
Microphone quality isn't good
Just ok microphone quality compelled me to use my smartphone to take calls instead of the LG TONE Free 'buds.
A dual-microphone array sounds promising especially since they reduce noise and echoes. During calls, though, friends and family all noted how I sounded "hollow" and "muffled." If you have to take a quick call, mic quality is passable but for all other instances, you're better off with a dedicated handset or earbuds like the Samsung Galaxy Buds Plus. Don't take my relatives' words for it; have a listen for yourself.
LG TONE Free HBS-FL7 microphone demo:
How does the microphone sound to you?
56 votes
LG TONE Free HBS-FL7 vs LG TONE Free HBS-FN6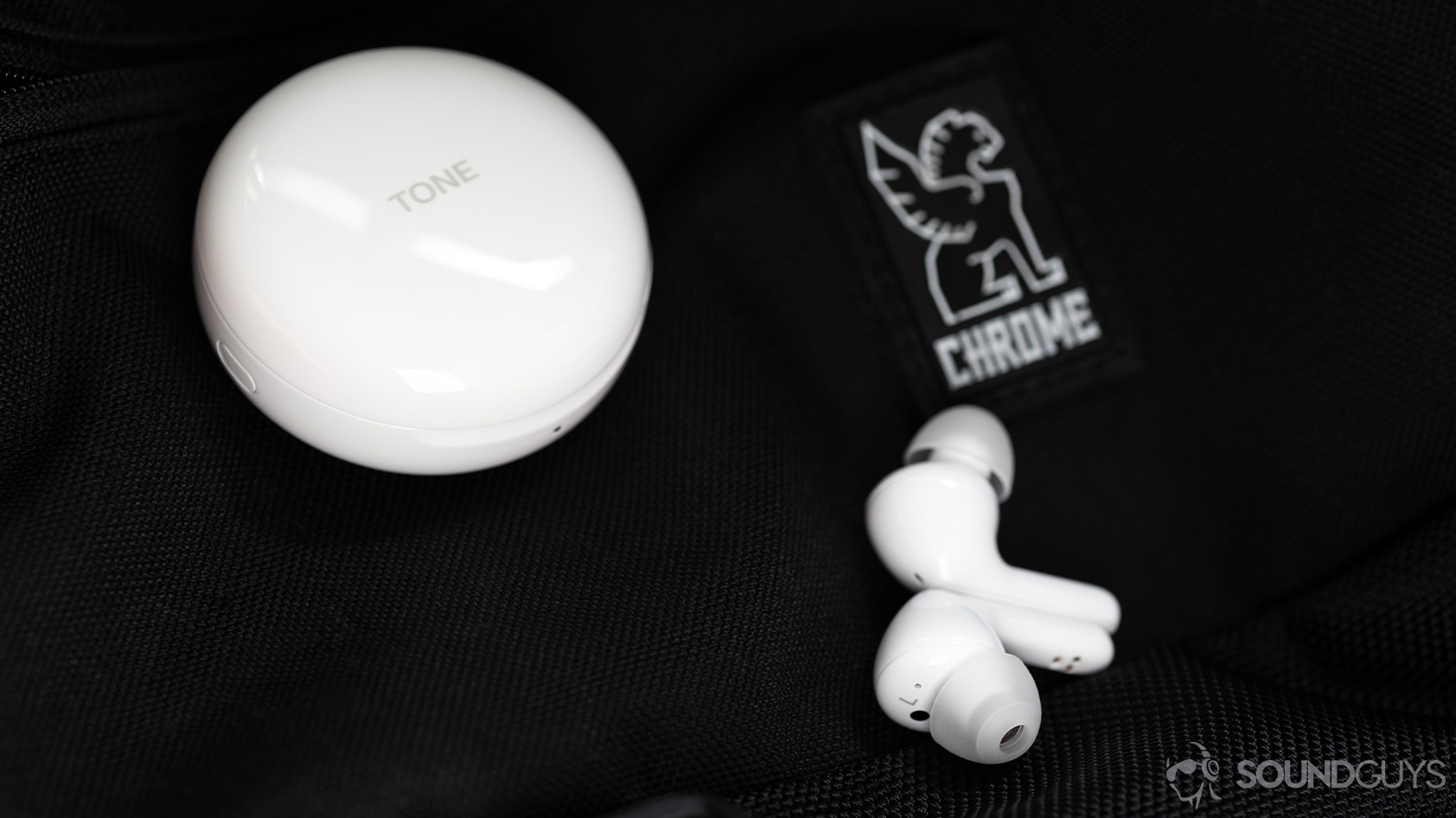 The earbuds take on a familiar shape to much of the competition.
The LG TONE Free HBS-FN6 uses the same UVnano technology within the charging case to disinfect the earbuds after a 10-minute exposure cycle. The HBS-FN6 differs from the earbuds addressed in this review, though, because they have dedicated nozzles and ear tips that completely seal to the ear. In fact, the LG TONE Free HBS-FN6 does a very good job of blocking out background noise and pumping out relatively accurate audio in the upper-bass and low-midrange frequency range.
Other than that, the earbuds aren't particularly spectacular. Both headsets use touch controls and merited an IPX4 rating, so you may exercise without worry. What's more, neither supports aptX, just AAC and SBC. Battery life is similar but the LG TONE Free HBS-FL7 outlasted the TONE Free HBS-FN6 by 19 minutes, the latter has a standalone playtime of exactly five hours.
Both headsets are underwhelming for their asking prices, but the TONE free HBS-FL7 more so.
Should you buy the LG TONE Free HBS-FL7?
The compact, puck-like charging case is easy to slip into a purse.
Listeners concerned about bacterial growth on their earbuds may find the LG TONE Free HBS FL7 worth it, but the technology doesn't negate the need to clean your earbuds. Stripping away the fancy appearance and Meridian branding, and the TONE Free headset just isn't a great value in terms of functionality and sound quality. It doesn't matter what company tunes a pair of earbuds if said earbuds don't actually stay in your ears.
Frequently asked questions about the LG TONE Free XL7