All products featured are independently chosen by us. However, SoundGuys may receive a commission on orders placed through its retail links. See our ethics statement.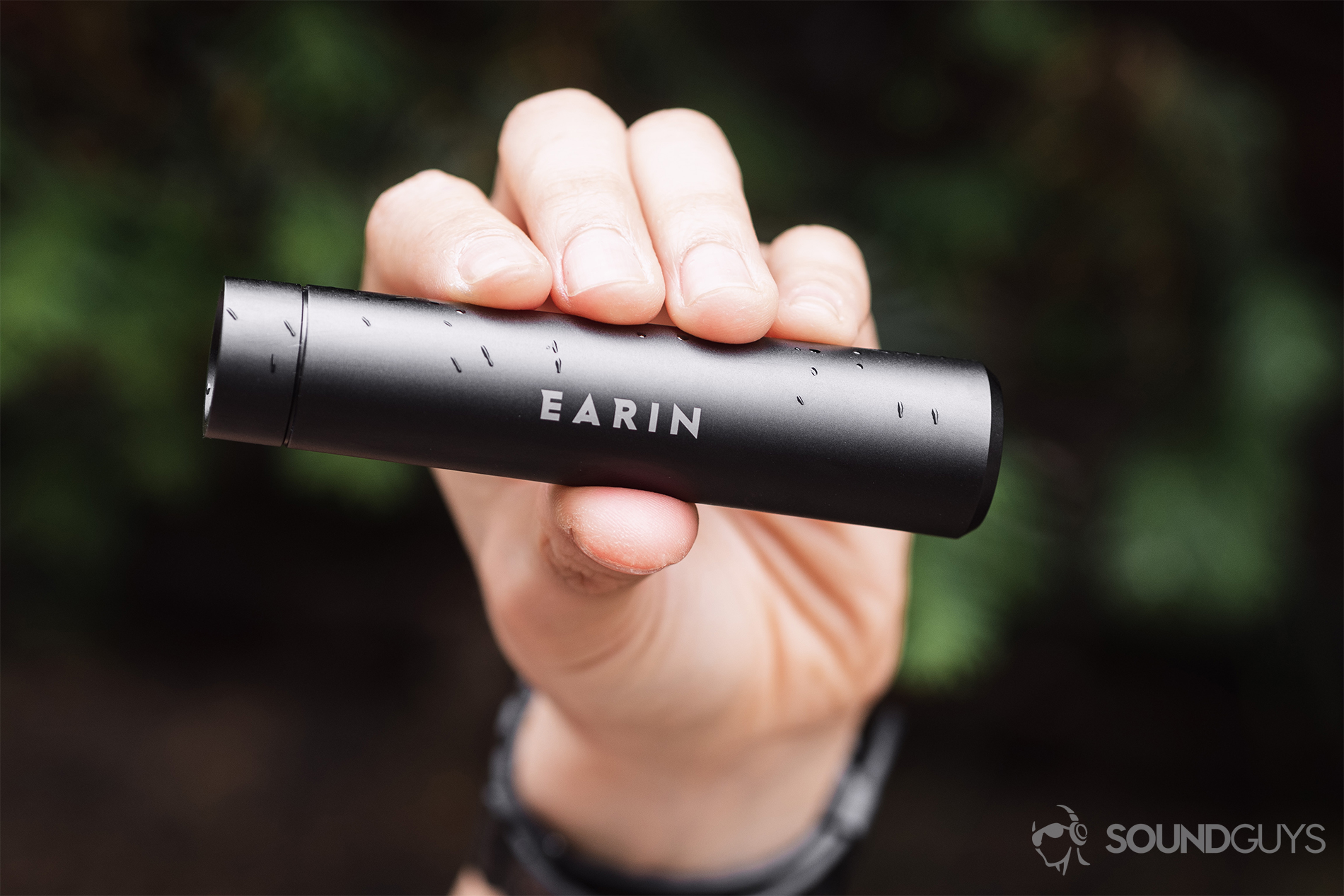 The bottom line
If you want a handsome pair of true wireless earbuds include plenty of user-friendly features, get these before they're sold out agian.
Earin M-2
If you want a handsome pair of true wireless earbuds include plenty of user-friendly features, get these before they're sold out agian.
Dimensions
4.5g (per earbud)
56g (charging case)
What we like
Gorgeous design<br>
AAC and aptX support<br>
Firmware updates<br>
Responsive touch controls<br>
Compact 'buds and charging capsule<br>
What we don't like
Expensive<br>
Unreliable noise reduction<br>
Battery life falls short<br>
Rating Metric
Sound Quality
8.1
Bass
8.2
Midrange
8.1
Highs
8.0
Durability / Build Quality
8.3
Value
7.4
Design
9.4
Microphone
8.5
Portability
9.2
Battery Life
4.5
The Earin M-2 have been in development for just under two years and the Earin's patience has paid off. Seeing as the true wireless earbud arena is still reminiscent of the Wild West, there are plenty of opportunities for companies to swoop in and compete for audio renown. One of the first things that stands out about these true wireless earbuds is their sleek, compact design. The Earin engineers have crafted an original, minimalist product with plenty going for it under the hood.
Who are the Earin M-2 for?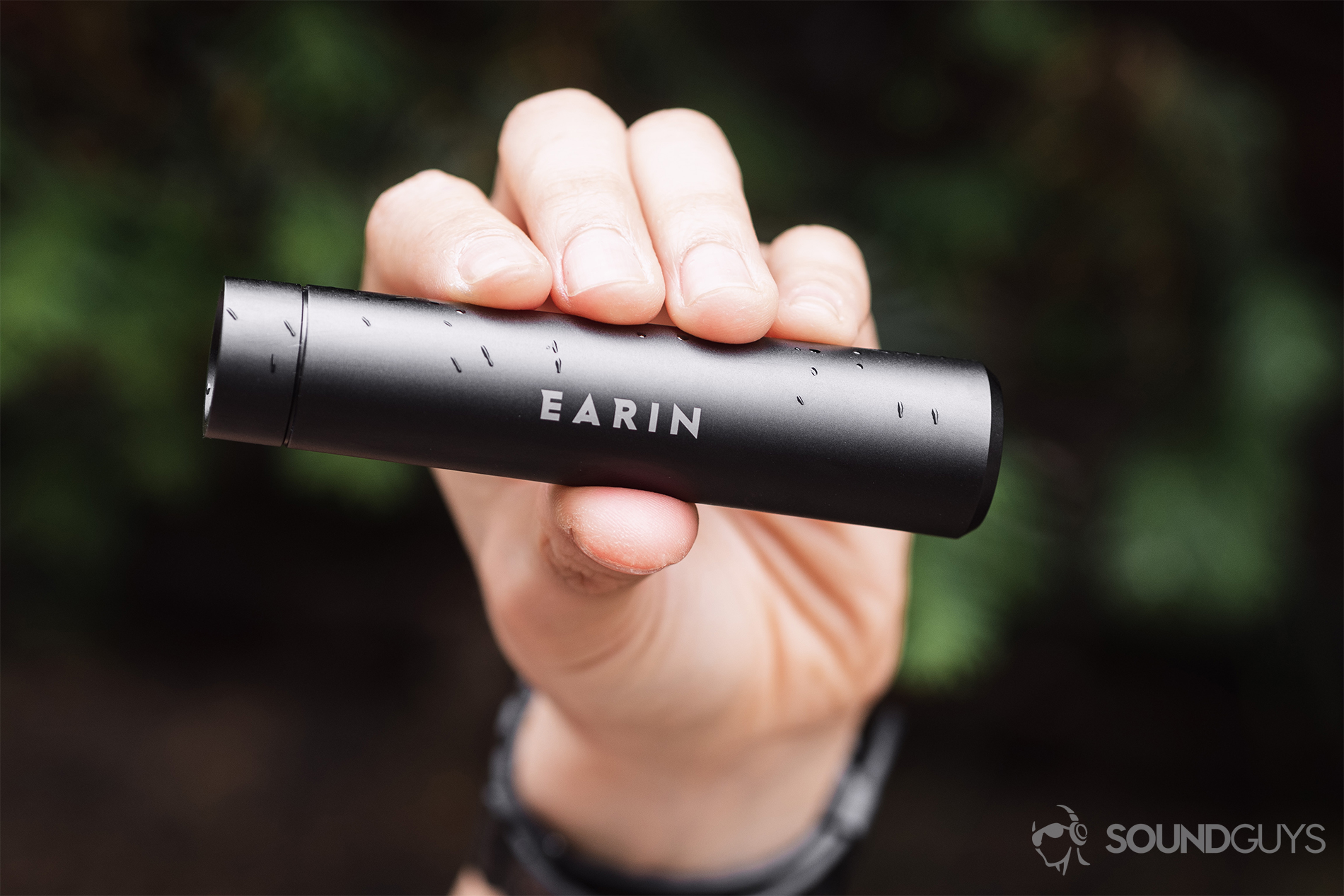 Though the aluminum capsule isn't IP-certified, it withstood mild showers.
Listeners who want a slim pair of true wireless earbuds. These are the most elegant pair of true wireless earbuds that have laid in my ears. If you appreciate the finer things and don't mind bucking up a few extra dollars for them, you'll be enamored with the Earin M-2.
Movie fanatics and gamers. Weird, right? I wouldn't expect gamers to even consider these, but if you need to hear things exactly as they happen and still want a wireless listening experience, the low-latency NFMI and aptX technology will help expedite that. This is perfect for first-person shooter (FPS) games where response time is paramount.
What's inside?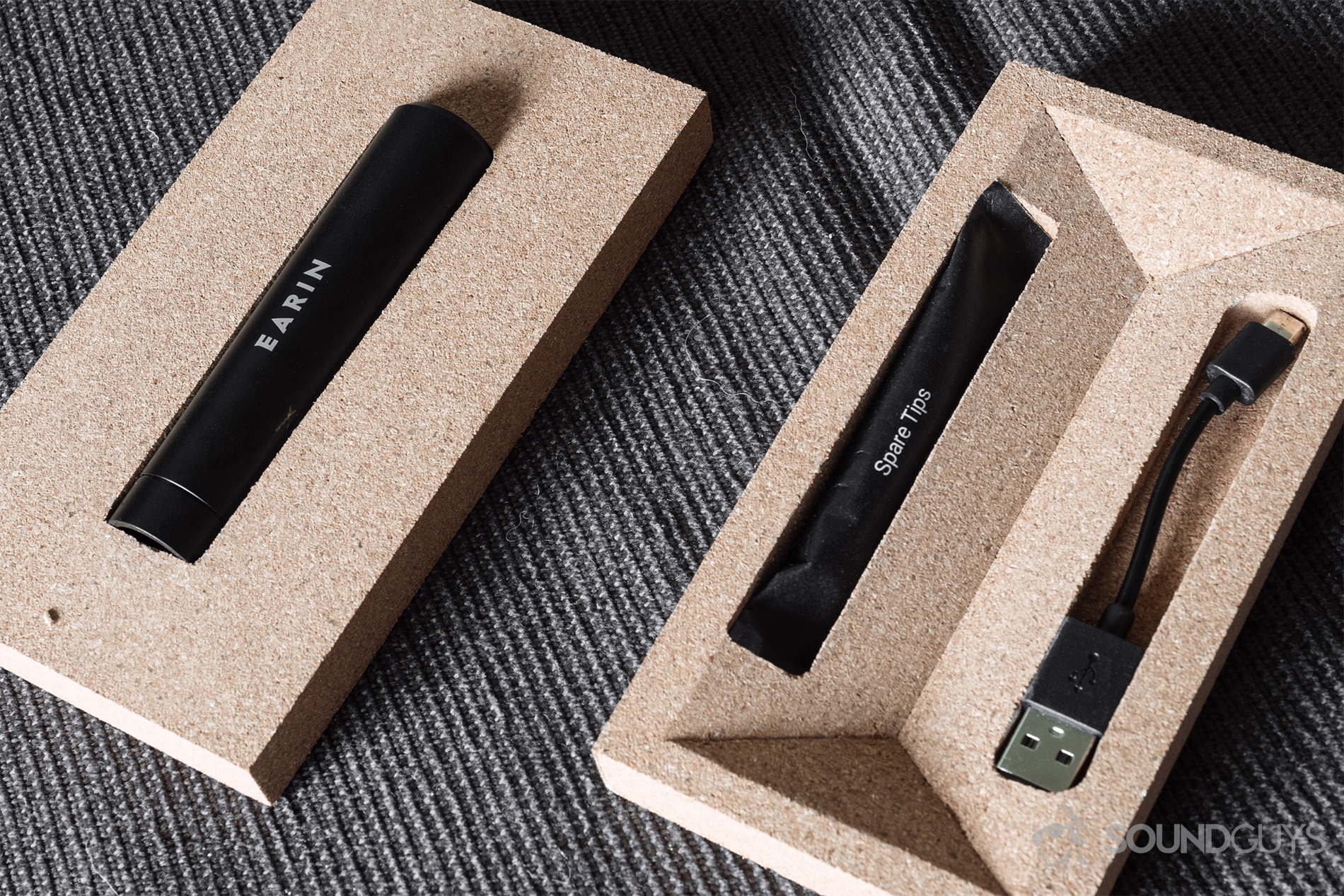 The Earin M-2 include a charging capsule, micro-USB cable, and spare ear tips.
Inside the cork casing is the aluminum capsule; a micro-USB cable; four pairs of ear tips; one silicone and four memory foam; and the Earin M-2 true wireless earbuds. Hats off to the packaging design team, because the attention to detail is impeccable and mirrors the understated, elegant design elements seen in the M-2 earbuds.
How are Earin M-2 built?
The first thing that you notice about these earbuds is the compact design. This is what true wireless earbuds should look like; Bose SoundSport Free, we're looking at you. Juxtaposing the aluminum housing with the glossy touch panels is a brilliant design choice. Both the silicone or memory foam ear tips look like a natural extension of the housing, mainly due to the tapered lines from the touch panel to the earbud nozzle.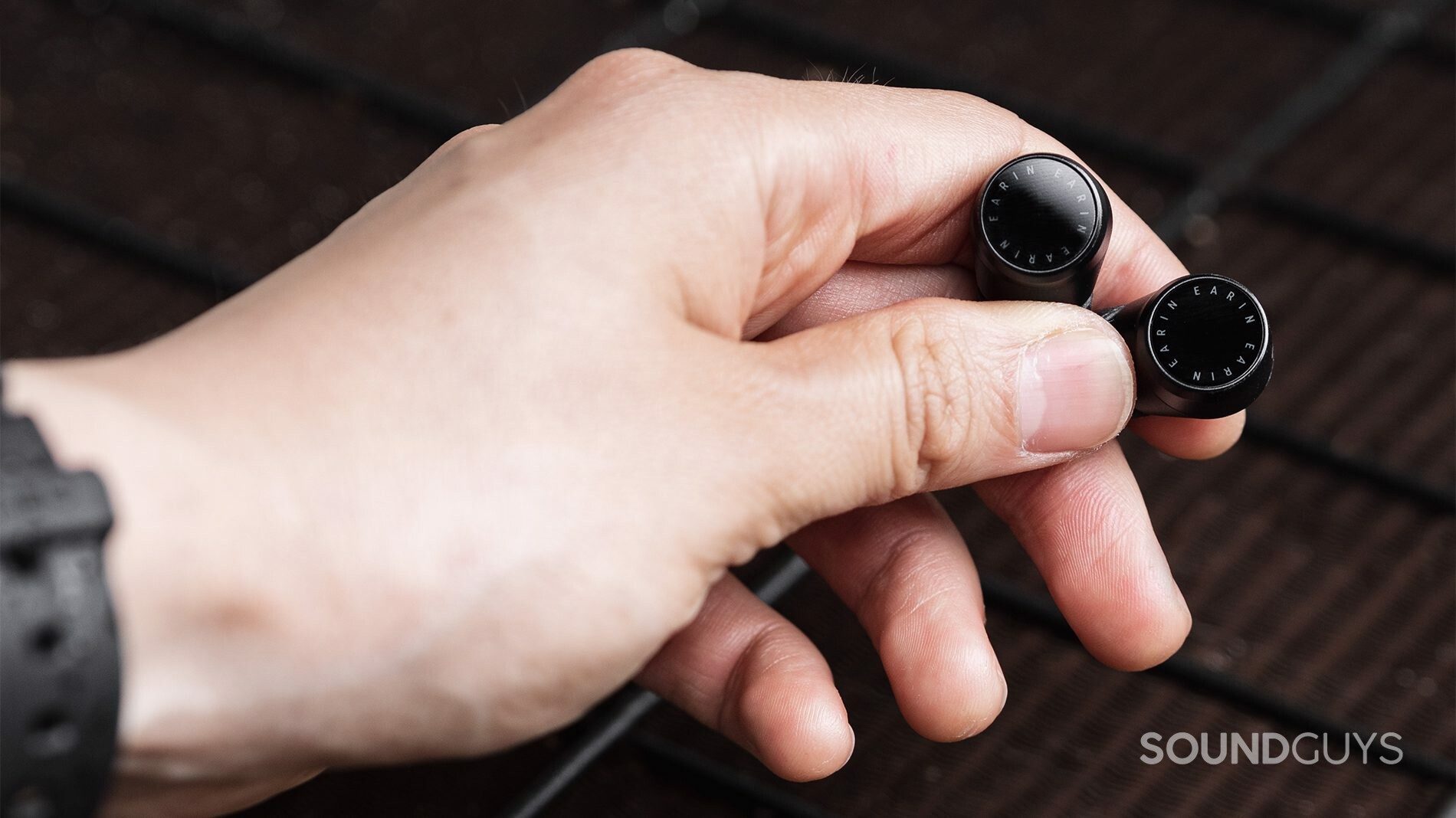 Each earbud is identical inside and out, so you don't have to worry about which touch controls work on which earbud.
Each earbud has a dedicated dual-mic arrangement which serves two purposes: 1) they aide in clear voice transmission for calls and commands, and 2) the integrated intelligent noise reduction registers and process ambient noise. This means that your brain is subjected to less auditory masking, which in turn protects you from noise-induced hearing loss.
You can adjust how much noise reduction is applied to the M-2 via the app. Although it isn't perfect, it is constantly updated.
Made from the same aluminum as the earbud housings, the charging capsule has a retractable inner layer to rest the Earin M-2 in. It's pretty and functional by providing an additional 10 hours of battery life. One concern about the capsule is the exposed micro-USB input. Granted, it's recessed but accidents happen, and these don't benefit from any sort of water-proofing.
What about the touch controls?
They're good but limited. You have your basic playback controls consisting of play/pause, next/previous track. What's cool is that, since the earbuds are identical internally and externally, it doesn't matter if you use the right or left earbud to initiate calls, commands, or controls. It would've been nice to have volume controls like the JLab Epic Air, but you win some, you lose some.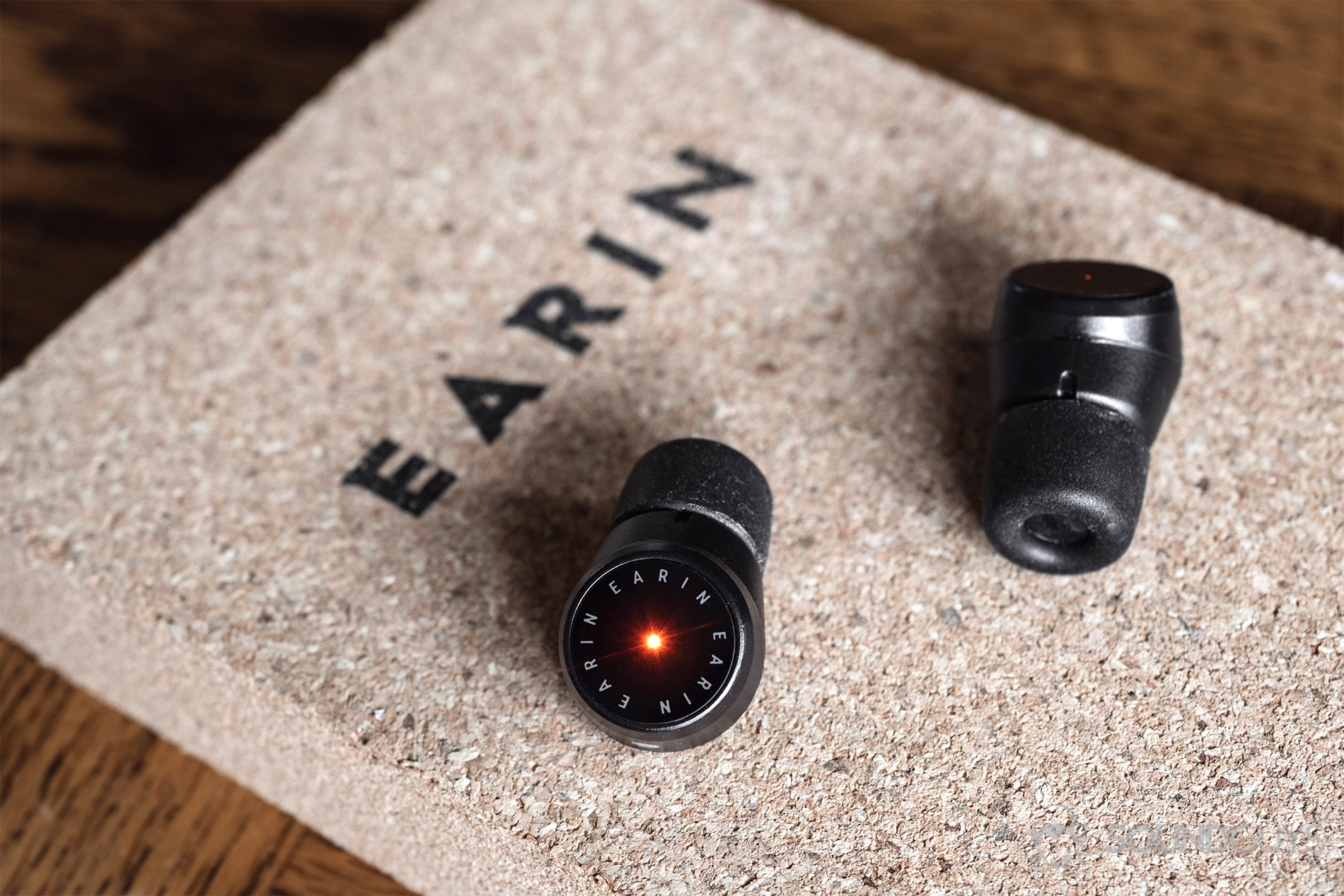 By tapping either earbud panel twice you can skip tracks, but there's no way to adjust volume via the earbuds.
What settings should you use for the Earin M-2 app?
Subject to updates at nearly anytime, the Earin M-2 app is an easy way to adjust the gain, balance, and audio transparency of the earbuds. It's hard to say what settings are going to sound best to your ears, but there are a few things you should know that will help guide your choices. (Note: Each adjustment ranges from -7 to +7.)
Gain
When it comes to phones, all Bluetooth headphones operate the same way with volume and gain adjustments. Though it's technically not the same thing—and certainly isn't with regards to setups that include an amp and external DAC—in this case, you can treat the gain adjustment like a volume setting. The app isn't actually changing the signal gain on the phone, so you might as well stick to your phone's volume rockers.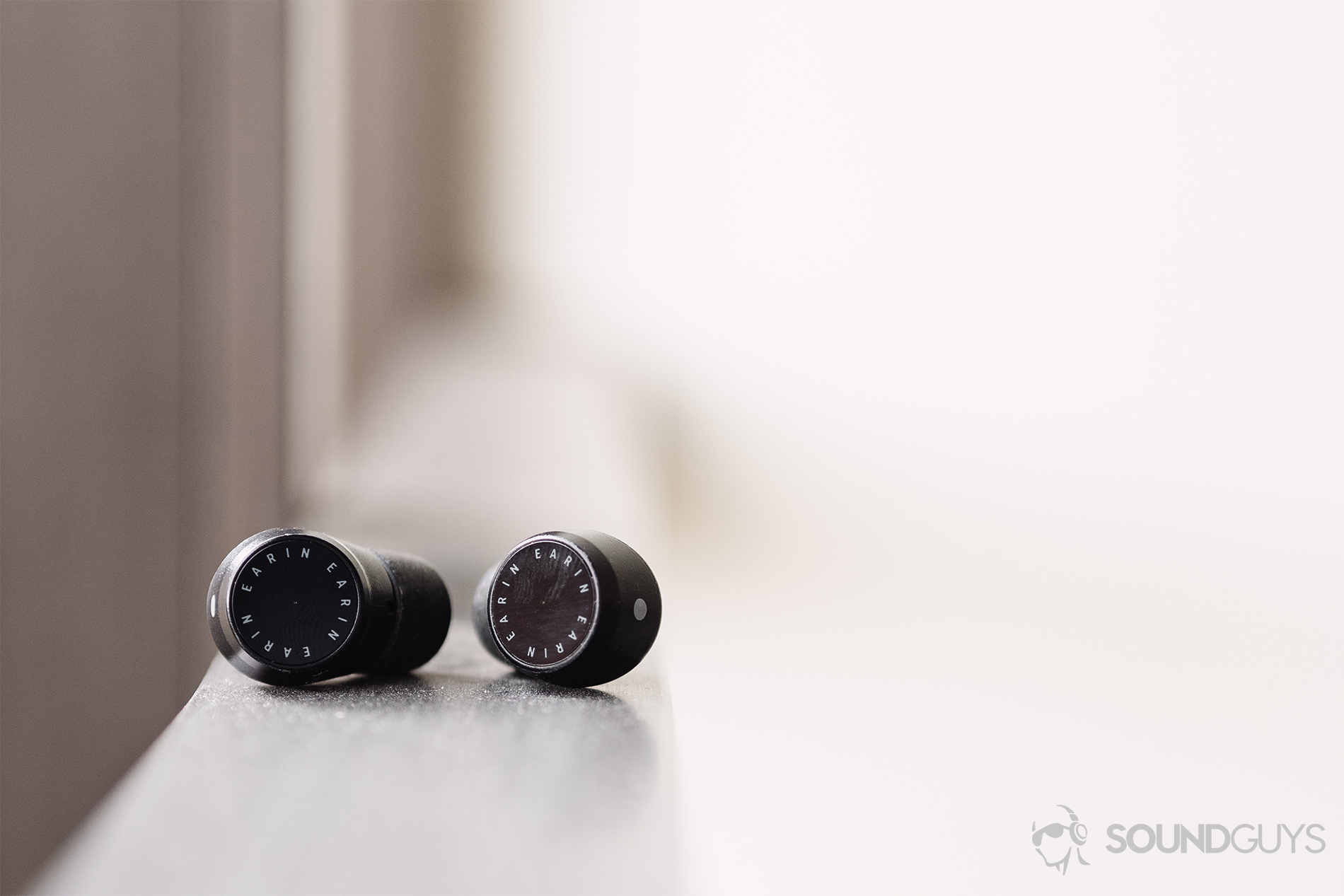 Though the earbuds are bass-heavy it rarely degrades the overall clarity.
Balance
Adjusting the balance does exactly as you'd expect: it determines how the audio output is, well, balanced between the left and right channels. This is an awesome feature to have, especially for the hearing impaired. If you suffer from deafness in one ear, you can push the slider all the way to the left or right for mono-listening.
Audio transparency
This adjustment is interesting. There are two vertical sliders, one for volume and one for soundstage, adjusting the perceived distance of your media from your ears. Having the ability to set this to your liking is awesome… when it works. I found that having it set manually, regardless of the sliders' positions, amplifies external noise. One of the most jarring things was hearing keyboard clicks and clacks as if they were halfway to my cochlea. Interestingly enough, this rarely happens when in auto mode, so I keep it there.
The Earin M-2 app is available on the Google Play and Apple App store. It automatically updates the firmware when they're released.
Battery life
The package reads that the earbuds maintain four hours of charge and the capsule adds an additional ten hours of playback time. However, during our objective testing we found that the earbuds only last 3.5 hours at a constant 75dB output before needing to be placed back in the capsule.

This isn't bad by any means, and it makes sense since plenty of hardware is under the hood. Granted, it is always a bit disappointing when the reported battery life falls short of real-world use. And in all fairness, you probably won't be listening at 75dB for extended periods of time. It won't cause hearing damage, but it's abnormally loud. In that case, you should be able to get closer to the allotted four hours without feeling like you're squeezing water from a stone.
Connectivity
After just a day of use, it was apparent that these are a standout pair of truly wireless earbuds because of the unfaltering connectivity. Sure, this is in part due to Bluetooth 4.2 technology, but when I interviewed Earin CTO Olle Linden, he shared that the real star is the internal hardware. Each earbud contains an identical chip set which features NFMI MiGLO technology by NXP.
To pair the Earin M-2 with your phone, take one earbud out of the case and pair it; then, remove the other to connect the two.
Linden shared that a 10MHz induction transfers through the head, rather than around the head like the M-1. Though this may sound intimidating, it's actually rather ubiquitous technology often used by the hearing aid industry. This means that each earbud has a dual-antenna system built-in, one for Bluetooth and another for the 10MHz connection from earbud to earbud.
Instead of transferring data around the head, the Earin M-2 10MHz chip set allows induction through the head for a more reliable connection.
Of course, a downside to this nifty technology is a shorter battery life and greater expense. There's no way around it, the Earin M-2 are one of the pricier true wireless options out there, but Linden assured me that users will enjoy updates as needed to the app and earbuds. In a way, this counteracts the initial expense, increasing the longevity of the earbuds and going against the trend of planned obsolescence.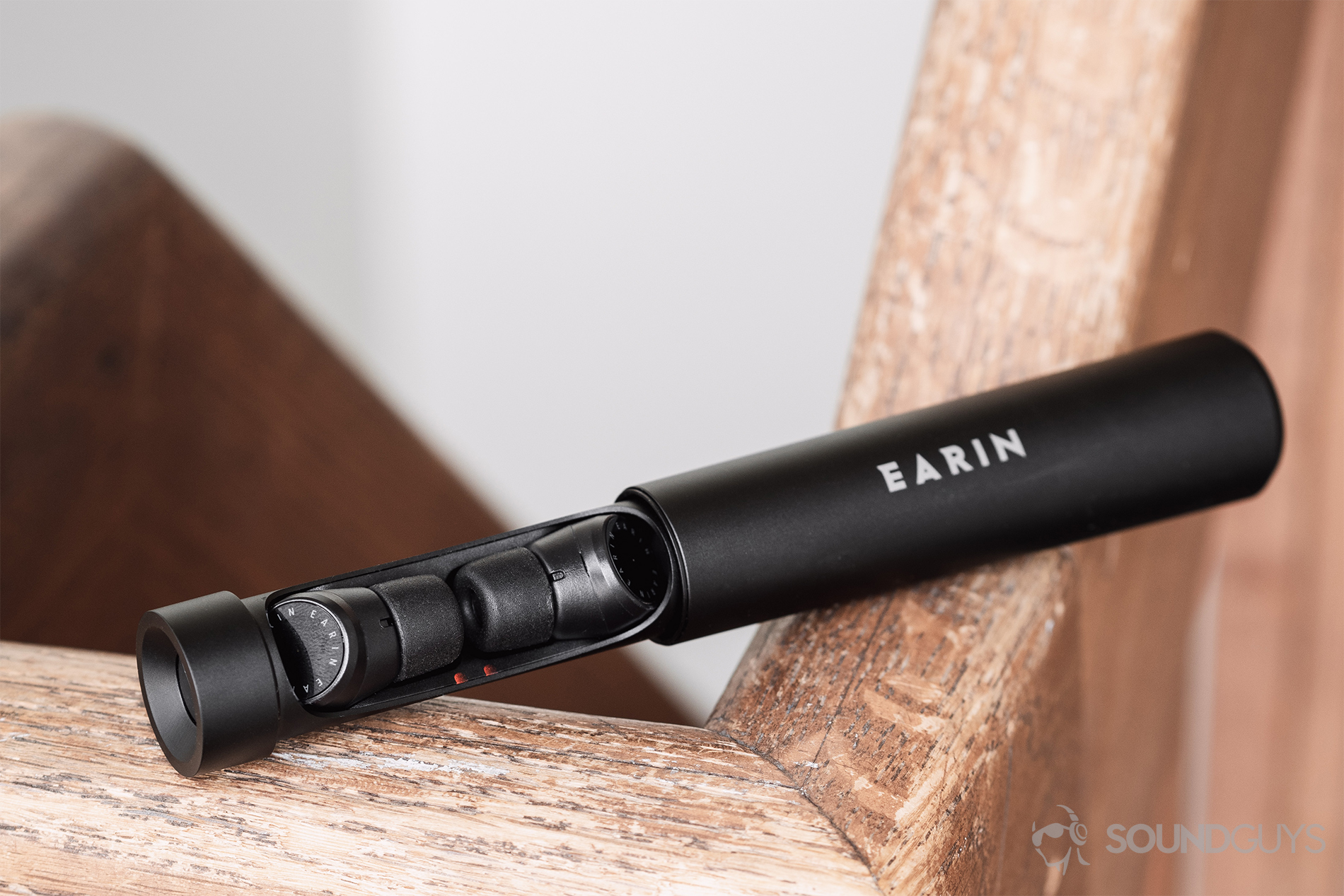 The capsule contains a sliding layer to hold and charge the earbuds.
Is audio-visual lag an issue with these wireless earbuds?
Thanks to the NFMI MiGLO integration, there is minimal lag and the lag that exists is virtually imperceptible at 200-300 milliseconds of a delay. If you're an avid laptop movie watcher, or surprisingly even a gamer, these earbuds will provide immediate audio information sans connection hiccups.
How do the Earin M-2 sound?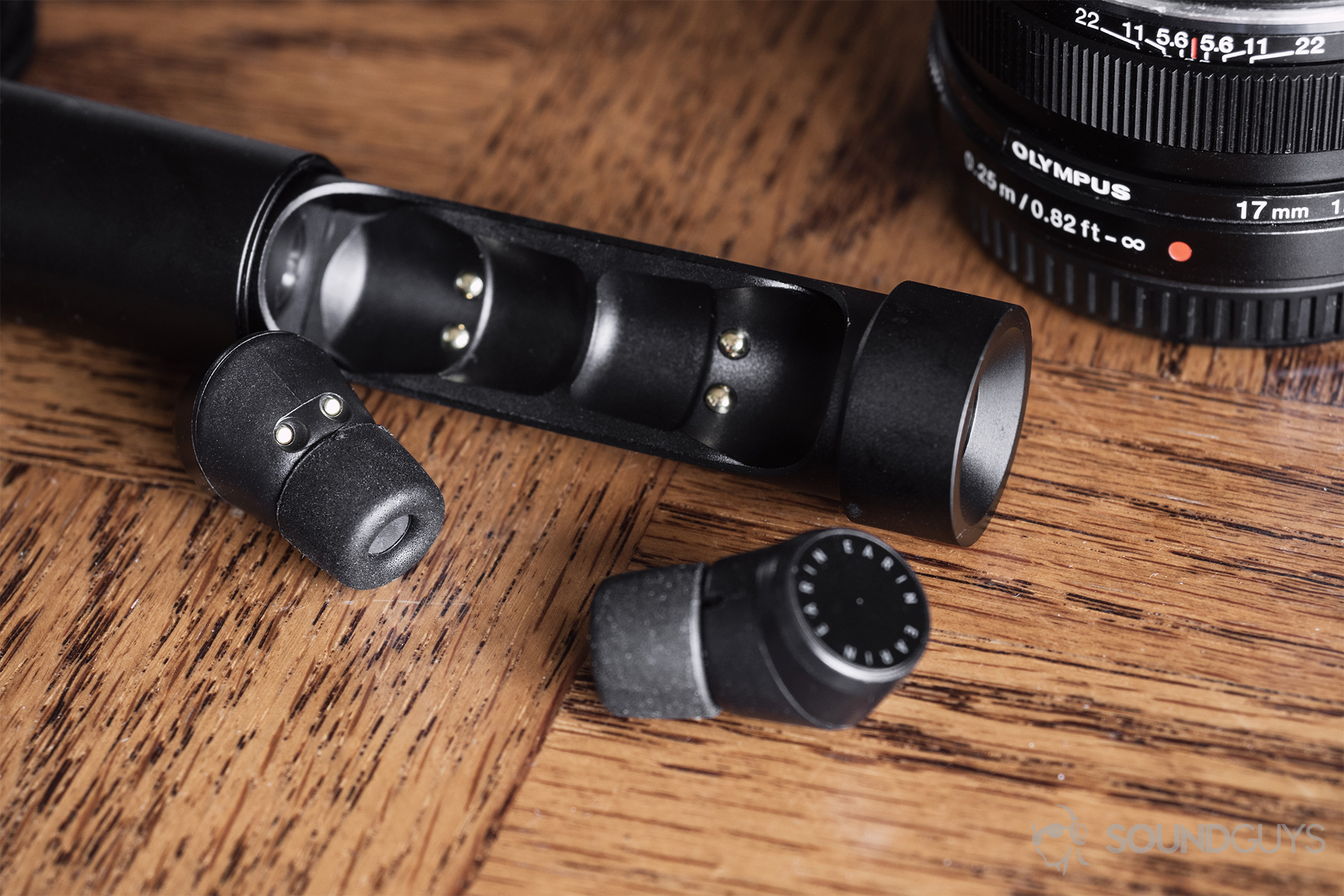 Adjusting the audio transparency doesn't always give a consistent result. Unless it's set to auto, external noise is often sporadically amplified.
These sound great. Even though it didn't make our best true wireless earbuds list, this are an excellent pair of earbuds. The low-end emphasis is manageable, and the soundstage is good. It's worth noting that, for the sake of consistency, I set the gain and balance adjustments to zero and the audio transparency to auto.
Edward Sharpe & the Magnetic Zeros, a band that's settled into its folk and indie roots, rarely relies on the drums or bass guitar to tell a story, making Man On Fire a great demonstration of the emphasis placed on the M-2 's low-end reproduction. This uplifting jangle opens with the picking of a B chord on an acoustic guitar; it isn't until eight seconds in that drummer Josh Collazo introduces listeners to the steady kick drum. After hearing the pattern for a few seconds, it's apparent that the bass frequencies ever-so-slightly mask the background harmonies and continuous guitar picking.
Syrian-American artist Mona Haydar's song Hijabi addresses what it's like to be a Muslim woman in the United States and, being a rap song, it's both vocal and bass-heavy. Haydar's vocals during the refrain remain audible and clear amidst the American-inspired prototypical beat and Syrian instrumentals. It is, however, easier to hear what's being said when Haydar pushes her voice to a lower register with the lyrics, "Keep swaggin' my hijabis," than when she sings, "All around the world love women every shading," at 1:43 and 1:25 respectively.
Passepied (Debussy) by the Punch Brothers is a three-minute, twenty-nine-second long instrumental comprised of an evocative concert of string instruments, including the mandolin, banjo, guitar, violin, and more. There is plenty to pay attention to in this ballad, but I'd like to address how Gabe Witcher's nimble fiddle performance is never overshadowed by Paul Kowert's bass plucking. The clarity of the highs is best illustrated at 3:14. Kowert begins walking down the neck of the bass with his picking, paralleling the listeners experience of walking out of the song. Though the bass is clearly the most prominent noise in the final moments, the fiddle remains clear even with its wide frequency range.
Should you buy the Earin M-2?
If you place build and design above all else, yes, you should buy it. As if it needs to be reiterated, these are stunning earbuds with plenty of brains under the hood. Though not the most comprehensive, the playback controls are intuitive and responsive, performing their role well. What's more, even with the bass bump in M-2 frequency response, these are a solid sounding pair of earbuds that play well to any genre of music.
Despite their quirks, the Earin M-2 true wireless earbuds are a great pair choice for anyone looking to cut the cord.
What's more, if you find yourself exhausted by the constant trial and error of true wireless earbud connectivity, the Earin M-2 is the answer. If you're sick of falling prey to the trap of planned obsolescence, the Earin M-2 is well worth it. The constant firmware updates promote longevity and show that Earin is committed to the sanctity of its product and loyalty of its supporters.