All products featured are independently chosen by us. However, SoundGuys may receive a commission on orders placed through its retail links. See our ethics statement.
7.8
JLab Epic Air Wireless
The bottom line
The Epic Air Wireless have a great fit and the touch controls work perfectly. If only the connection worked just as good these would be easy to recommend.
JLab Epic Air Wireless
The Epic Air Wireless have a great fit and the touch controls work perfectly. If only the connection worked just as good these would be easy to recommend.
What we like
Good fit<br>
Sweat-resistant<br>
Touch controls are really useful<br>
What we don't like
Bass-heavy<br>
Spotty Connection<br>
Bulky carrying case<br>
Rating Metric
Sound Quality
7.2
Bass
6.5
Midrange
7.5
Highs
7.5
Durability / Build Quality
9.0
Value
7.0
Design
8.0
Microphone
8.0
Portability
7.5
Battery Life
8.5
Truly wireless earbuds really came into the limelight in 2016 and 2017, with companies like Jabra, Apple, Bragi, and even Motorola all giving it a go. Another company that's now entered the fray is JLab with their Epic Air Wireless truly wireless earbuds. Unlike all the other headphones mentioned, these come with ear hooks which makes them bigger but also more secure. But for $149 ($129 on sale), are they worthy of the price tag?
What's Inside
In the box you'll get 8 different sets of earbuds to help you get the perfect fit, the headphones, a charging case for the 'buds, warranty and instruction manuals, and of course the JLab logo sticker that comes with all their products.
Connection
Normally in these reviews I start with the build of the product, but the connection aspect of these is too important to let wait so let's jump right into it. These work by turning one of the earbuds into the primary one, and the other into the secondary. After the two are connected, the audio is sent from the source to the primary 'bud, then to the secondary earbud, and both play it back simultaneously (or close to it). When listening to music it's damn near spot on and I didn't notice any lag, but it definitely becomes a little more noticeable when watching YouTube videos. It's like watching an old kung-fu movie. It's not a huge lag, but it's enough to notice within a few seconds. That said, these weren't made for watching Youtube videos, they were made for the gym but if you happen to watch a lot of video on your phone this is something to keep in mind.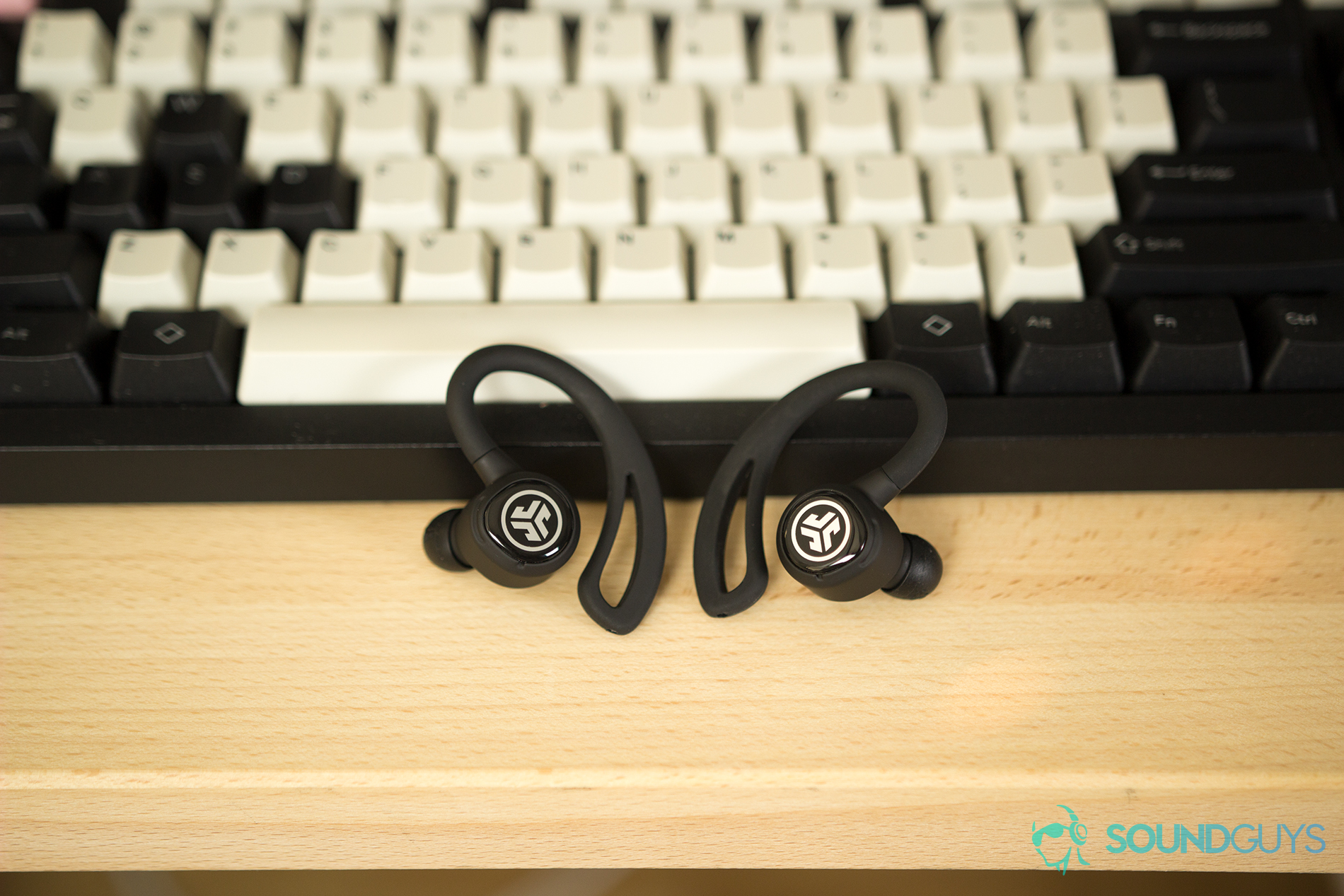 One thing that was pretty clever of JLab to do is that both earbuds have the ability to act as the primary 'bud. It's up to you whether you want that to be the left or the right one. On the inside of both earbuds is a power/pairing button. Whichever pocket you usually keep your phone in is the one that you should make the primary, as you'll get a stronger connection that way. When you power it on a little voice will let you know when it's connected to the source device, and also when it's connected to the other earbud.
Which brings me to one of the biggest issues with these headphones: the connection strength. Expect plenty of drops. Most of them come from the secondary earbud, but every once in a while both will just stop and come back a split second later. On average I get a super quick skip once every other song so it's not constant, but it definitely gets annoying. Especially if you're in the middle of good workout or your favorite part of the song is coming up.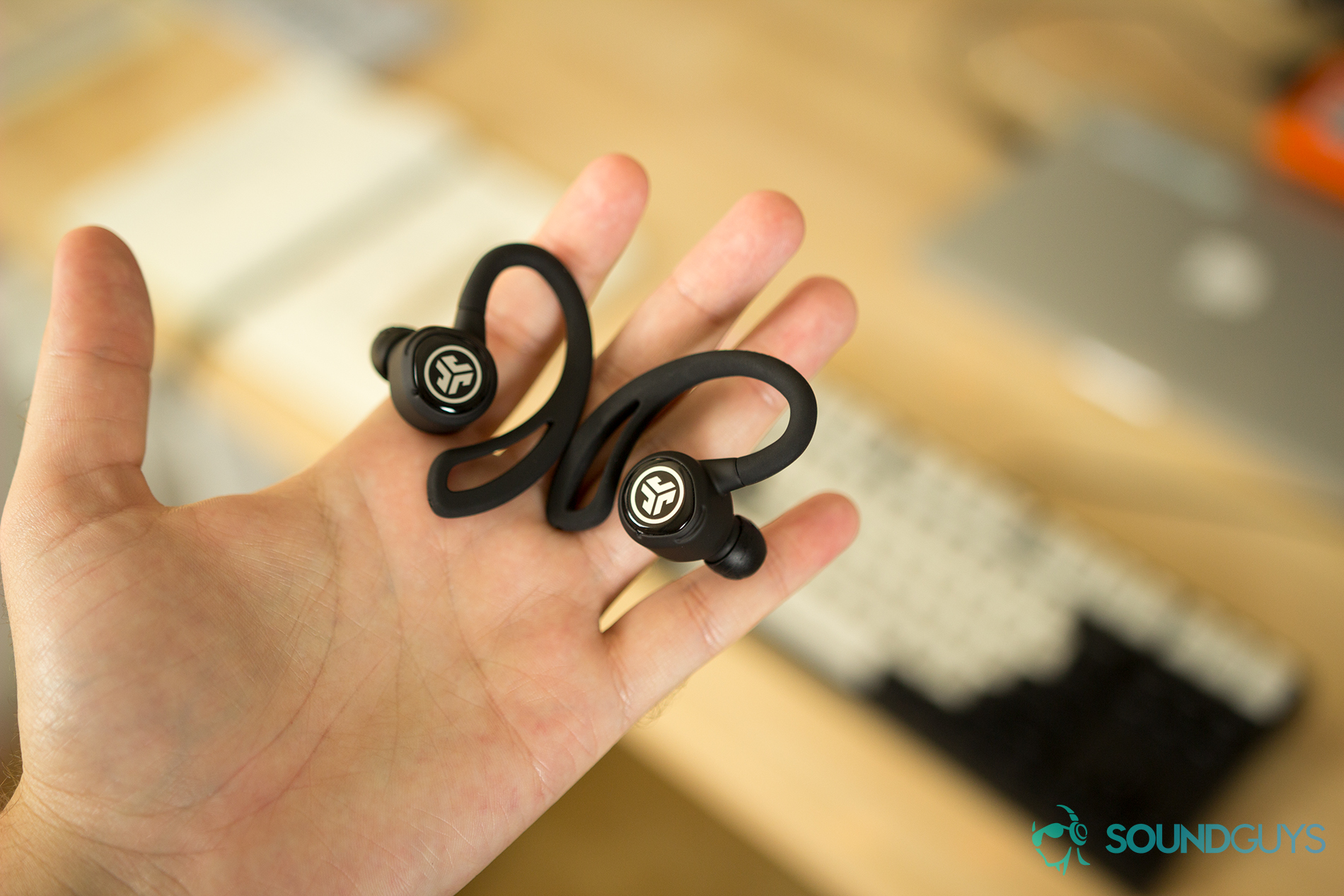 Now why would you put up with these skips? Is it because the sound quality is amazing? Spoiler alert: no. You put up with it because the touch sensitive controls are super intuitive and they work every time. The outside of the earbuds are touch sensitive so they respond to taps just like the Apple Airpods, except they do way more than the Airpods. A single tap on the left earbud pauses and plays the music while a double tap will activate Siri or Google. It also lowers the volume if you hold your finger to it. The right earbud lets you skip to the next track with a single tap, return to a previous song with a double tap, and raises the volume if you hold your finger to it. Unfortunately, it does take a second or two to respond to your touch but it does respond, and it works every time.
Build & Design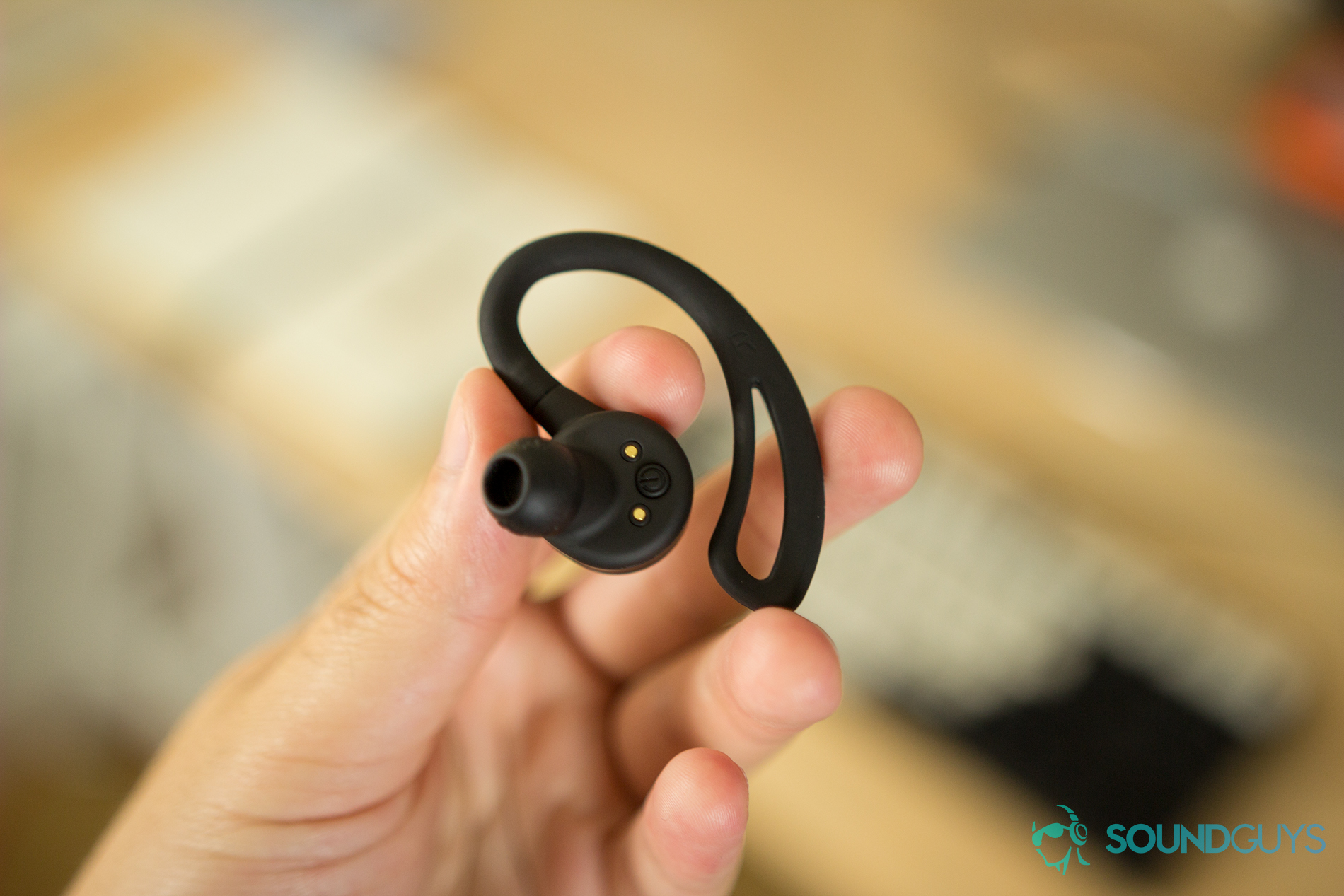 The Epic Air Wireless are made of a matte black plastic that's smooth to the touch and thankfully isn't a fingerprint magnet. Sweat is easily wiped off and make sure you do before putting it back in the case because even though the earbuds are IP55 water and sweat resistant, the charging case isn't. The ear hooks are a little bigger than what you'd find on something like the Powerbeats3, but just as pliable if not more so. I had no problem getting these to hook onto my ears and thanks to the numerous ear tips (including double and even triple flanged ones) I also didn't have a problem with these falling out at all. Whether I was using the free weights or jogging on the treadmill these never felt like they were going to fall out any point, so kudos to JLab for that.
The charging case is also absurdly large in my opinion. Too large to comfortably put in my pocket so make sure you have a gym bag to toss it in. But to be fair the case doesn't only charge the headphones, it also has a USB out so it can act as a portable power bank and charge the devices you have with you. I haven't found much use for this yet and I'd gladly trade in that feature for a smaller case that's easier to carry around, but it is a unique feature that I haven't seen before and who knows maybe I'm the minority. If you don't want to carry around your workout headphones and a battery pack maybe this might do it for you.
Battery Life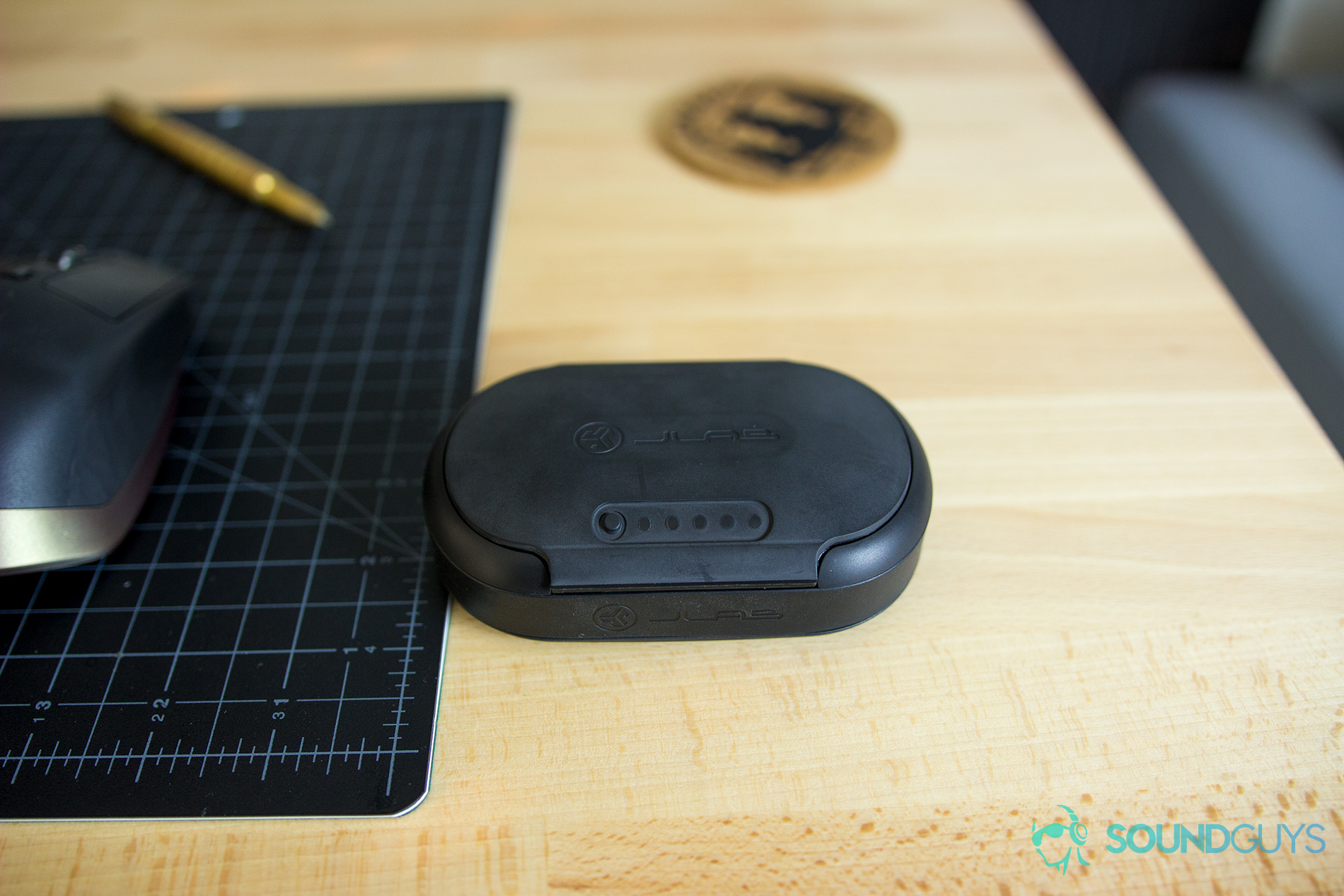 JLab claims that these will give you a solid 7 hours of constant playback, with an additional 30 being provided by the case. In about a week and a half of testing I haven't been able to kill these because the case made it so that I never had to plug them into a wall. Speaking of which, the case itself has a built-in USB cable so you can charge it up any chance you get.
Sound Quality
If you were looking for 'buds that get loud, these might be for you. With my source device on 50% volume I've had no problems listening to music, maxing it out makes it painful to keep in my ears. I doubt even the maximum output lovers will be able to wear these at full volume. As far as sound quality goes, these won't blow you away by any means.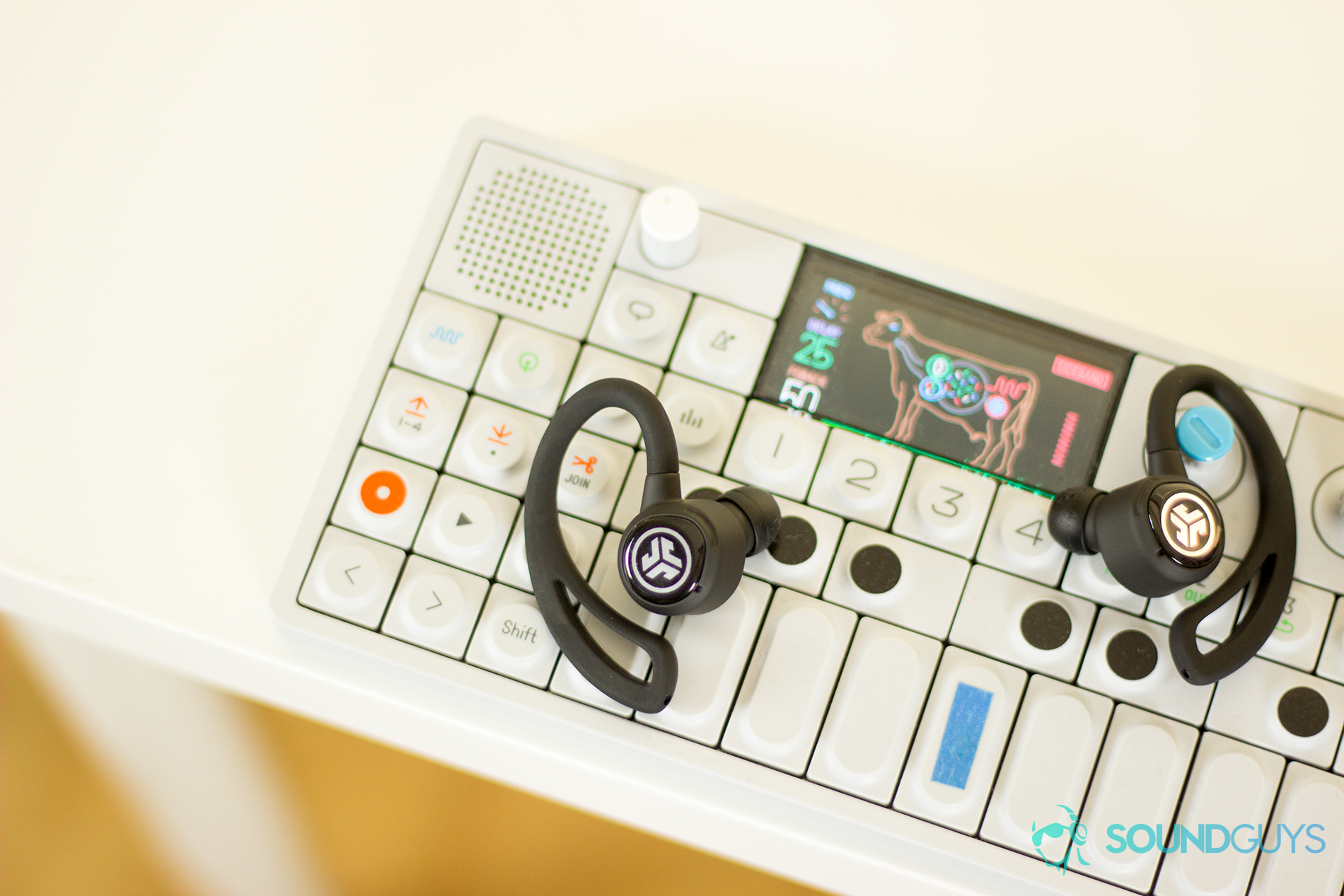 The bass in "You Are The Sunshine Of My Life" by Stevie Wonder comes out hard and really takes over the experience. It's not exactly clean either and result in a bit of mud in the lower-mids. The song "Running Home to You" by Bee Caves just feels way warmer than I'm used to. The same can be said for "Starboy" by The Weeknd, with the synths just completely filling up space that they shouldn't be in. The highs also don't have a ton of detail but never get harsh which is fine. Like some other workout 'buds these give high priority to the low end which is a recipe for success when it comes to fitness headphones so I can't fault them for it, but if you're expecting pristine audio quality you should look elsewhere.
Conclusion
If JLab could fix the occasional skipping and dropping of the signal, these would be my new go-to earbuds for the gym. I know I just kind of went in on the sound quality but just because it's lacking in the detail I normally like doesn't mean it's a bad pair of gym headphones. I'm not mixing tracks while I'm at the gym I just need something to take my mind off of being tired and these do a good job. I'm willing to forgive sound quality in my workout headphones if the ease of use makes it worthwhile, and these are really easy to use.
Once paired you can triple click the button on one of the earbuds in order to auto-pair, so every time you take them out of the case they're ready to go and that's been super helpful while using these. On top of that they stay snug in my ear, the touch controls are easy to use, and the battery life is next level. Is the spotty connection a deal-breaker? Probably, but if you can live with that these are still a decent pair of 'buds.