All products featured are independently chosen by us. However, SoundGuys may receive a commission on orders placed through its retail links. See our ethics statement.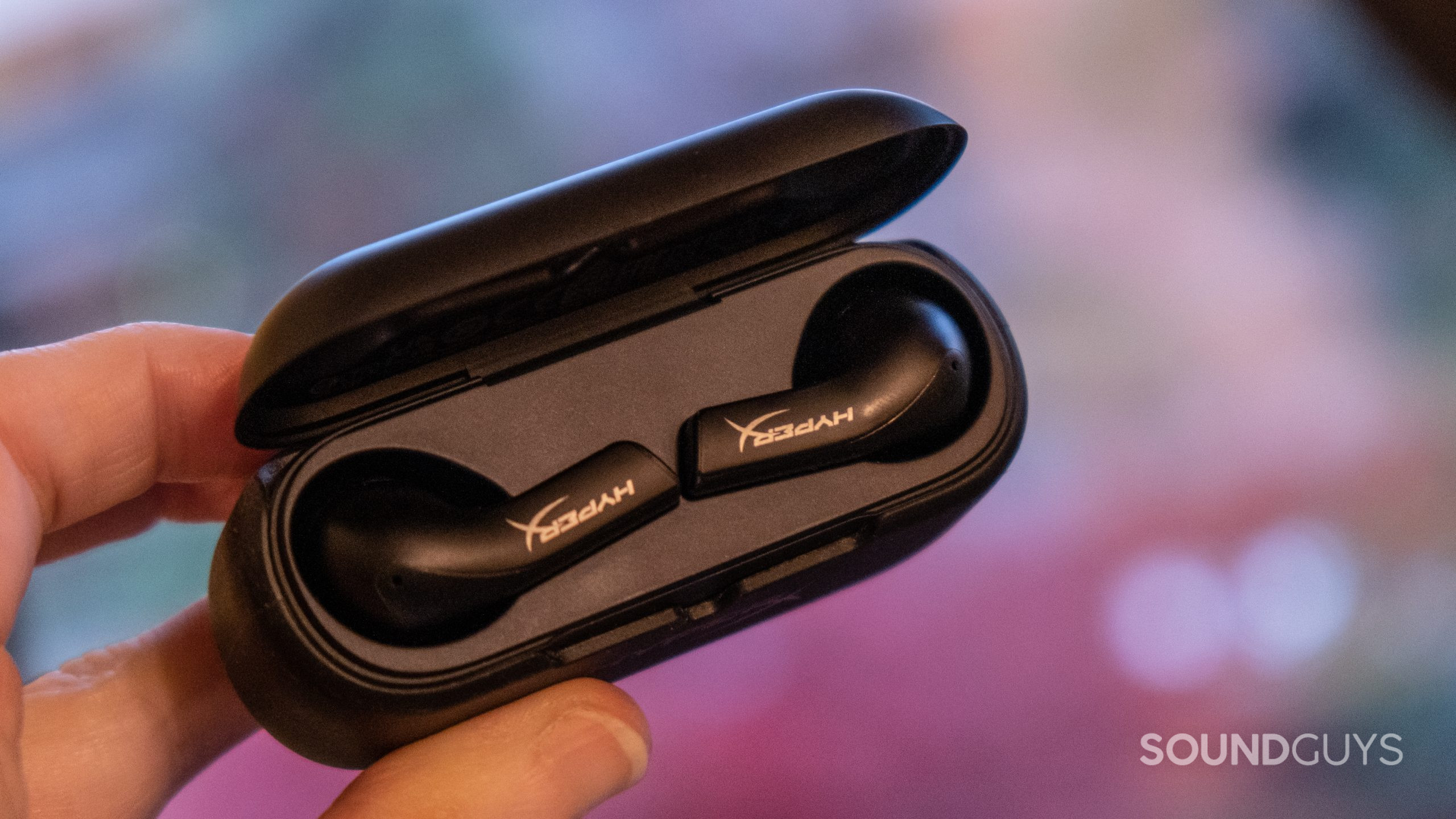 Jasper Lastoria / SoundGuys
The bottom line
The HyperX Cloud Mix Buds is a lightweight set of alternately Bluetooth or USB-C dongle earbuds for gaming or music touting low latency, with some growing pains in execution.
HyperX Cloud Mix Buds
The HyperX Cloud Mix Buds is a lightweight set of alternately Bluetooth or USB-C dongle earbuds for gaming or music touting low latency, with some growing pains in execution.
What we like
Lightweight
Bluetooth or 2.4GHz USB-C wireless dongle
Battery life
Control mapping
EQ
Works with phones, consoles, and PC
What we don't like
Bluetooth connection is glitchy
In-ear detection works imperfectly
Mediocre fit
SBC only
App does not retain all settings
HyperX is pretty well established at this point in the arena of gaming headsets, and now the HyperX Cloud Mix Buds seeks to be your new Bluetooth and 2.4GHz gaming earbuds too. Competition for these kinds of combination Pizza Hut and Taco Bell earbuds is sparse, and it's relatively new to have both Bluetooth and a USB-C dongle for a wireless earbud connection. Let's see if you can get that low-latency audio for games and your Bluetooth needs equally met with the Cloud Mix Buds.
About this review: We tested the HyperX Cloud Mix Buds over a period of a week. It was running firmware version 3.1.0.2, and the NGENUITY app ran version 5.0.11. SoundGuys purchased the unit for this review.
What you need to know about the HyperX Cloud Mix Buds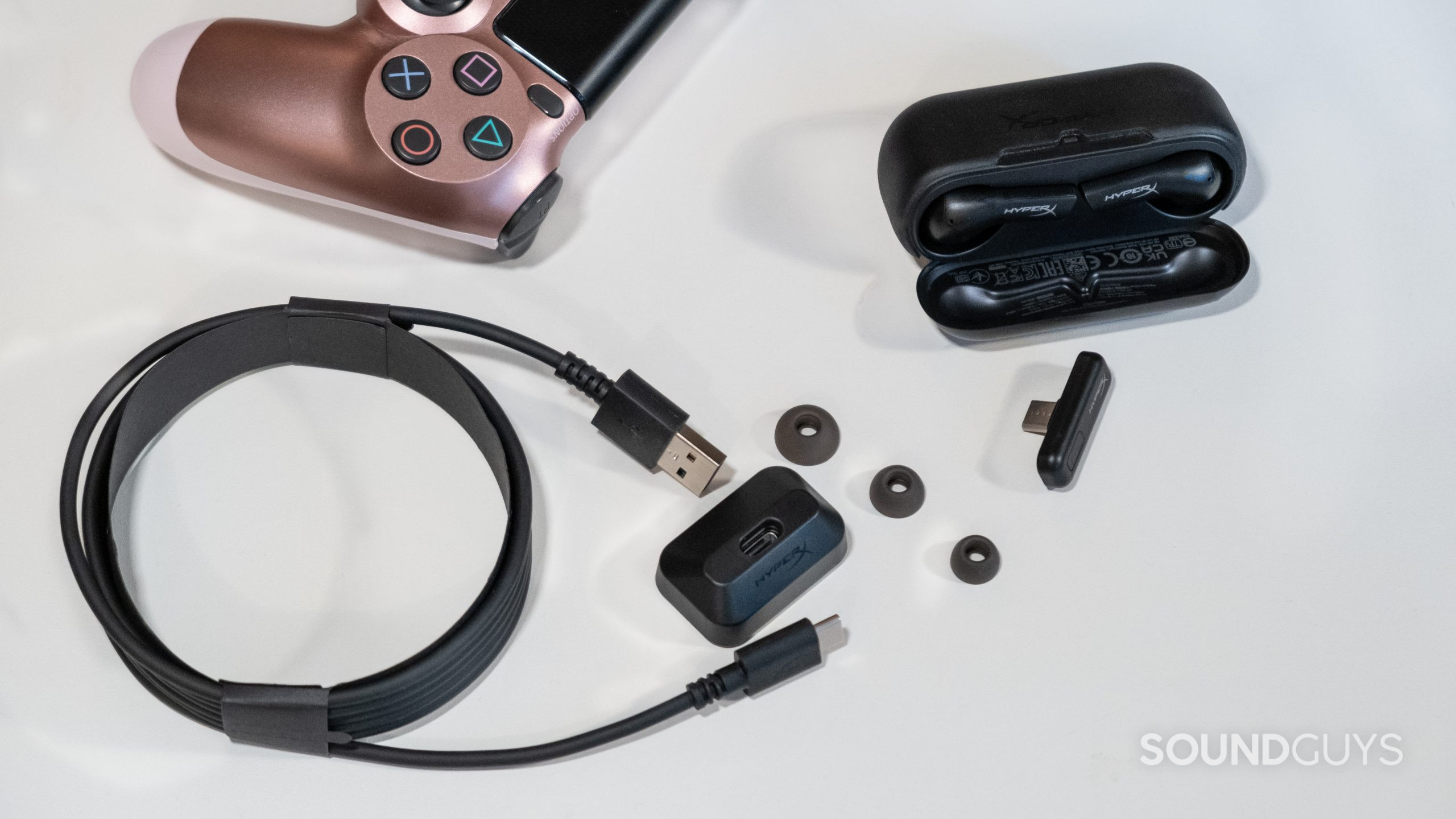 Jasper Lastoria / SoundGuys
The HyperX USB-C dongle is pretty small.
HyperX Cloud Mix Buds: $149.99 USD
In a niche market, the HyperX Cloud Mix Buds offers users both a true wireless experience with the convenience of a 2.4GHz USB-C dongle for gaming. Aimed as a do-anything product, the Cloud Mix Buds is a bit of an outlier that seems at home with mobile gamers and console gamers, who also want a set of buds for listening to music. Like any ambitious product, it has some foibles and interesting quirks.
What's good about the HyperX Cloud Mix Buds?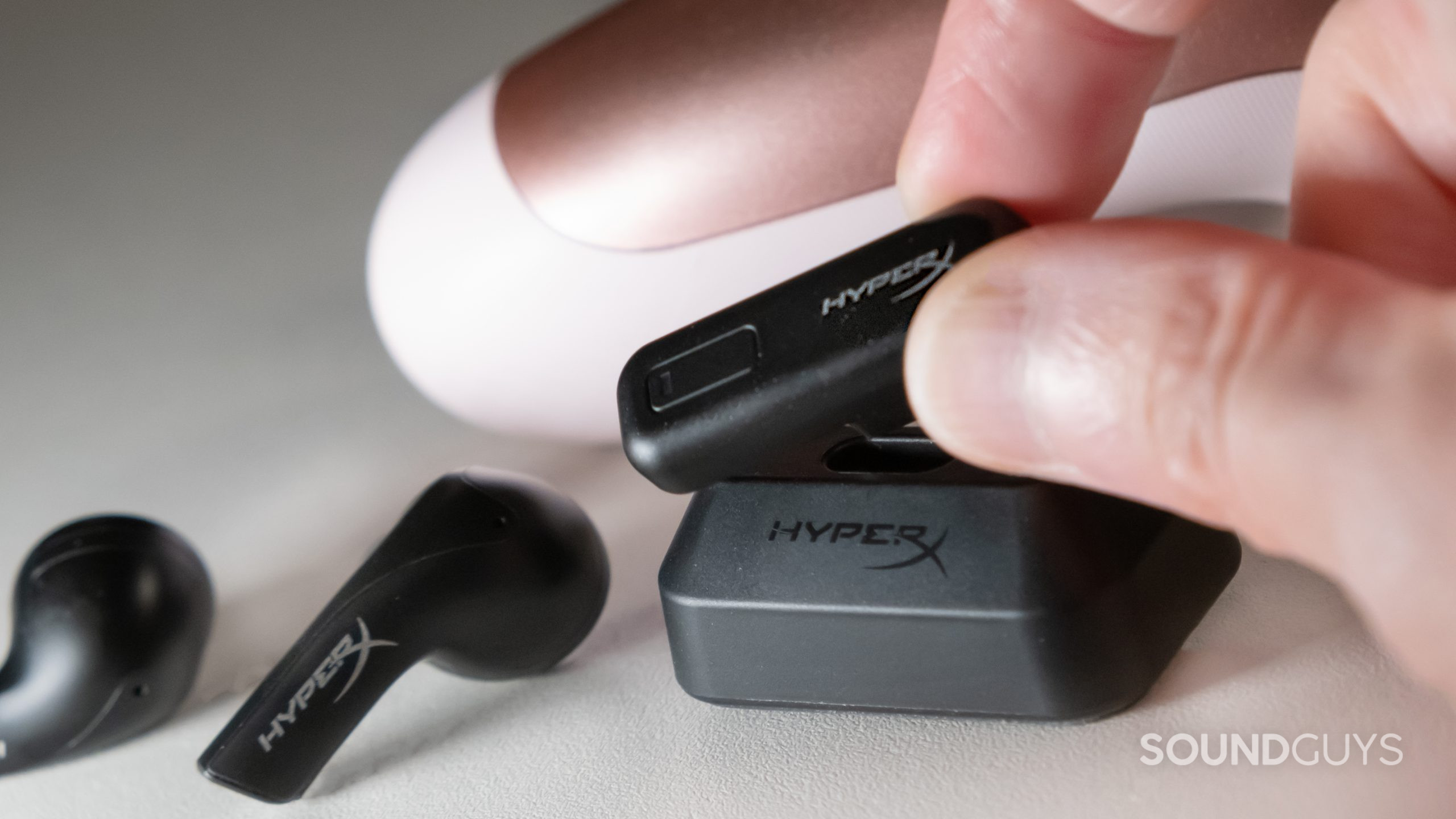 Jasper Lastoria / SoundGuys
You can use the dongle with your USB-C phone, or pop it into the extension adapter with your PC.
Off the bat, 10 hours of battery life per charge is encouraging for both music and especially gaming. The buds switch over to mono easily. Default touch controls are pretty intuitive and remappable in the HyperX NGENUITY app with an excellent amount of user control. The Cloud Mix Buds registers commands with average accuracy, occasionally not responding.
Gamers can use the USB-C dongle with PCs, Nintendo Switch, or PlayStation 4 and 5. With a PC the 2.4GHz connection is solid. While walking around an apartment listening to music it stays connected. Audio quality is notably less compressed over the 2.4GHz connection when compared to the Bluetooth 5.2 connection transmitted via the SBC codec (using the same song and streaming platform). If you have an Android phone, it probably has a USB-C port which achieves that low latency sound promised by HyperX. This is fresh territory with only a handful of options out, so know that it's not perfect, but the dongle works with Android phones using USB-C ports.
Included with the Cloud Mix Buds NGENUITY mobile app (iOS/Android) is a five band equalizer, which can do a lot to help out the default pretty bassy and trebly sound. It's not where the DTS:X surround sound is though—for that you need to connect to your PC using the desktop version. It works, but it's limited to PC.
HyperX includes a silicone half sleeve to protect the case, which is sort of nice for drops and it guards the USB-C charge port, but adds about 10mm or so of height to the case, and doesn't protect the lid. That said, more true wireless earbuds should come with sleeves to guard cases, so let's count this inclusion as a pro.
What's not so good about the HyperX Cloud Mix Buds?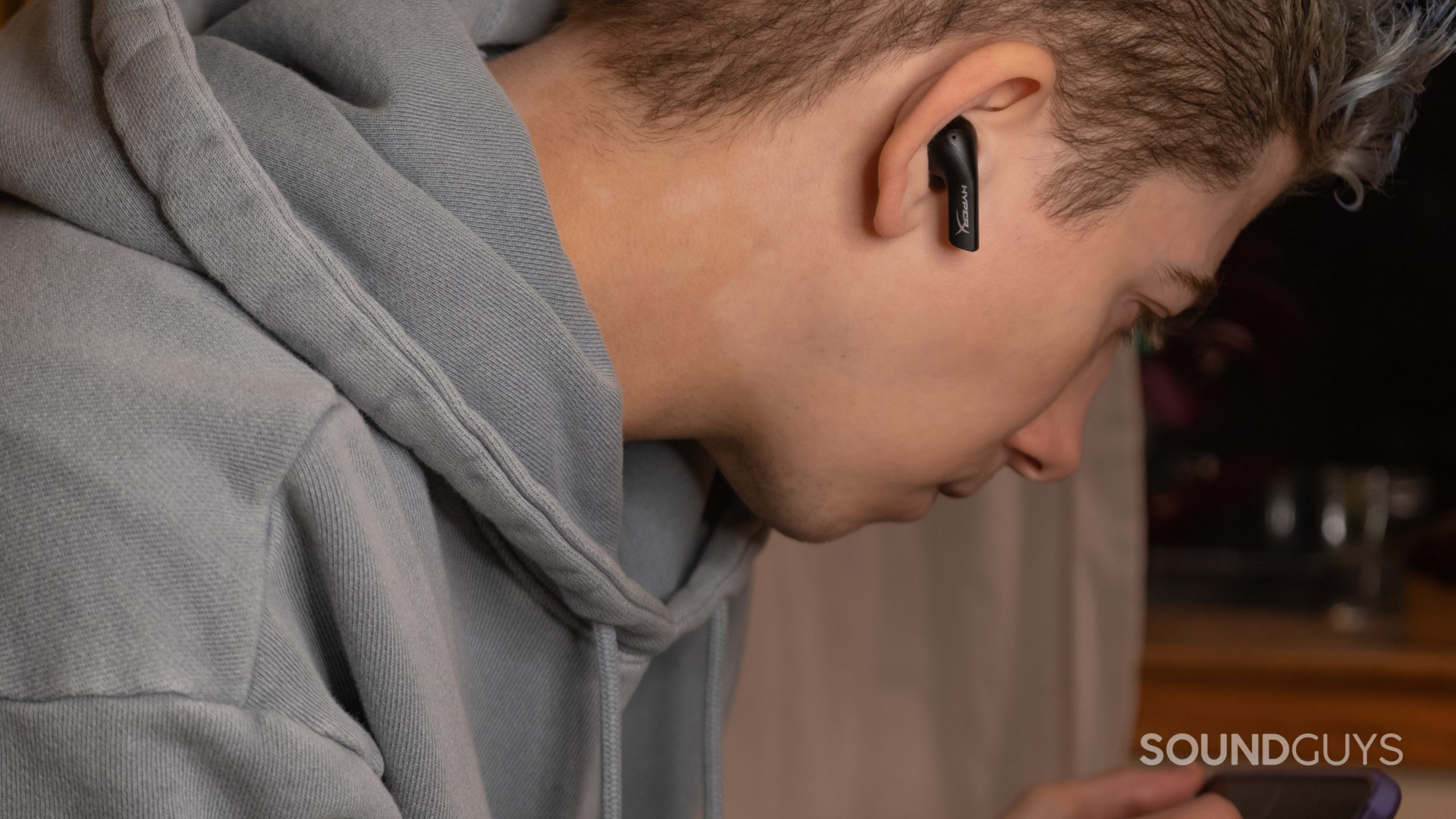 Jasper Lastoria / SoundGuys
The buds stay in fine if you're just sitting.
Folks with current generation iPhones won't get the low latency performance promised, because over Bluetooth the Cloud Mix Buds doesn't seem to predictably use the AAC codec and the iPhone lacks a USB-C port. While the mobile NGENUITY app supplies a pretty intuitive and nicely laid out interface, it does not retain most settings between sessions, such as in-ear detection or EQ. This means more fussing than anticipated to get things how you want each time. The app often does not register that the buds are connected via Bluetooth when they are, requiring you to exit and re-open the app repeatedly.
In order to be comply with the standards of Bluetooth 5.0 or greater, the HyperX Cloud Mix Buds ought to support AAC and SBC. Effectively, in our tests it supports SBC in practice. When connected to an Android device using Developer settings it defaults to SBC. Selecting AAC (or any other codec) will appear to switch the codec, but returning to the settings it reverts to SBC.
While mono listening is great from an accessibility perspective, sometimes the HyperX Cloud Mix Buds incorrectly determines one bud is not in your ears and switches both earbuds to mono mode. This is annoying, and basically the opposite of the spatial audio advertised on the site. Disabling in-ear detection ought to fix this, but when toggled off it very often stays on anyway and the problem persists.
Even though the Cloud Mix Buds usually registers most commands, it can also register taps that never happened, even with your hands, hair, and hats nowhere near. This means the earbuds occasionally pause and then unpause audio mid-session, seemingly at random.
Jasper Lastoria / SoundGuys
The case comes with a silicone sleeve, which guards part of the case, and it's a dust magnet.
The low latency USB-C connection is the main selling point of the HyperX Cloud Mix Buds, but if you're gaming on your phone the dongle can get in the way. The flat shape is good, but it's easy to accidentally mash the button on its side, particularly if you have large hands. This messes with your audio connection momentarily. Frequent mobile gamers also know that games drain batteries quicker than most tasks, and having your charging port occupied will become a liability fast.
Over Bluetooth the signal cuts out more than you'd expect from true wireless earbuds at this price.
Isolation is average for a not super amazing fit, blocking mostly higher frequency noise. The design of the buds favors a loose fit. Shipping with a bare essentials set of three sets of ear tips in combination with the so-so ergonomics means the HyperX Cloud Mix Buds simply won't fit some ears adequately.
The battery case is rather bulky and the lid feels flimsy, as do the buds. HyperX did not give the Cloud Mix Buds a premium treatment, with the plastic buds feeling somewhat lower end in quality. Actually, the USB-C dongle actually comes across as the best constructed piece in the package, but one doesn't come away thinking the price is represented in the overall build quality.
HyperX Cloud Mix Buds specs
When considering the HyperX Cloud Mix Buds, keeping the specs in mind for not just Bluetooth, but also USB-C 2.4GHz audio can be difficult to keep straight. Here's a quick rundown.
HyperX Cloud Mix Buds

Size


Ear tips: 11mm, 12mm, 14mm


Weight


Earbud: 5.4 g
Case: 63 g


Noise canceling


N/A


IP certification


IPX4


Connection


Bluetooth 5.2; SBC
USB-C; 2.4GHz


Controls


Touch


Battery life


10 hours per charge
33 hours total


Fast charging


No


Wireless charging


No


Connector


USB-C


Price


$149 USD

HyperX Cloud Mix Buds review: Should you buy it?
Jasper Lastoria / SoundGuys
At first the lid seems fine, but over the course of a few days the hinge gets looser.
In its current state it's difficult to recommend the HyperX Cloud Mix Buds. The product has great aspirations, but it has some bugs. It's possible an update could fix the NGENUITY app's failure to retain settings, the hypersensitive in-ear detection that messes with audio, and the iffy Bluetooth connection. However, we don't tend to recommend products in anticipation of possible updates.
The 2.4GHz low latency dongle works pretty well with compatible devices, even if you might accidentally hit the button on it while playing a game. However, you're still probably better off with a separate set of earbuds for music, as the connection and functionality is simply not good enough over Bluetooth. The fit is light and loose, which is alright for stationary audio, but not ideal for walking around.
HyperX Cloud Mix Buds
HyperX Cloud Mix Buds
10-hour battery life • Solid USB-C dongle connection • DTS:X audio
Earbuds with PC, console, and phone connection support
The HyperX Cloud Mix is a lightweight set of Bluetooth or USB-C dongle earbuds for gaming sessions.
The equalizer can help remedy the pretty hyped bass and treble response, but it resets every time you use the mobile version. Surround sound using the DTS:X functionality is only accessible in the desktop version of NGENUITY, which effectively neuters the capabilities of the HyperX Cloud Mix Buds. Customized touch commands are one of the few settings the mobile NGENUITY app retains, and the press and hold function takes the right amount of time, unlike say the TOZO NC9. Otherwise, the touch controls work about 75% of the time, and occasionally a ghost apparently taps a bud to pause the music.
To be fair, you don't have a lot of options for switch hitters that work for mobile gaming and consoles, with the EPOS GTW 270 Hybrid being one of the only ones. It has shorter battery life, but better Bluetooth options. You might still prefer two separate, purpose built products until this market matures.
Frequently asked questions about the PRODUCT
The HyperX Cloud Mix Buds only has DTS:X surround sound when connected to a PC running the NGENUITY desktop software.
Besides the buds, the Cloud Mix Buds includes a battery charging case, a silicone case cover, three sets of ear tips, a USB-A to USB-C cable, a transmitter dock, and a 2.4GHz USB-C dongle.
No, you can't do easy device switching, like with Apple products, with the HyperX Cloud Mix Buds. If the USB-C dongle is plugged into your PC (for example) you won't be able to connect to your phone using Bluetooth. When in range it will always prioritize the USB-C connection over Bluetooth. To switch you need to physically disconnect the dongle first.