All products featured are independently chosen by us. However, SoundGuys may receive a commission on orders placed through its retail links. See our ethics statement.
The bottom line
They might not be great for anyone who is going to be doing any kind of serious audio mixing, but that's not who the FiiO FH5 is for. If you're the kind of person that likes to listen to great quality music on your commutes or in the office, these are for you.
FiiO FH5
They might not be great for anyone who is going to be doing any kind of serious audio mixing, but that's not who the FiiO FH5 is for. If you're the kind of person that likes to listen to great quality music on your commutes or in the office, these are for you.
Weight
8g (earbud)
41g (earbuds and cable)
What we like
Great build quality<br>
Sound quality is perfect for everyday use<br>
MMCX connectors<br>
Comfortable to wear<br>
What we don't like
The design might not be for everyone<br>
Price<br>
Rating Metric
Sound Quality
9.7
Isolation / Attenuation
5.4
Durability / Build Quality
9.0
Value
7.5
Design
7.5
Portability
8.3
Comfort
8.7
If you want to go wireless, there is no shortage of Bluetooth earbuds to choose from, and new ones seem to be released weekly. If you want a great pair of in-ears however, the pickings get slimmer, more expensive, but way better-sounding. The FiiO FH5 in-ear monitors are a perfect example of that, with a quad-driver setup in all-metal housings meant to give you the best sound possible.
Editor's note: this FiiO FH5 review was updated on March 29, 2021, to include updated charts, add context to the sound quality section, and include a contents menu.
Who should get the FiiO FH5?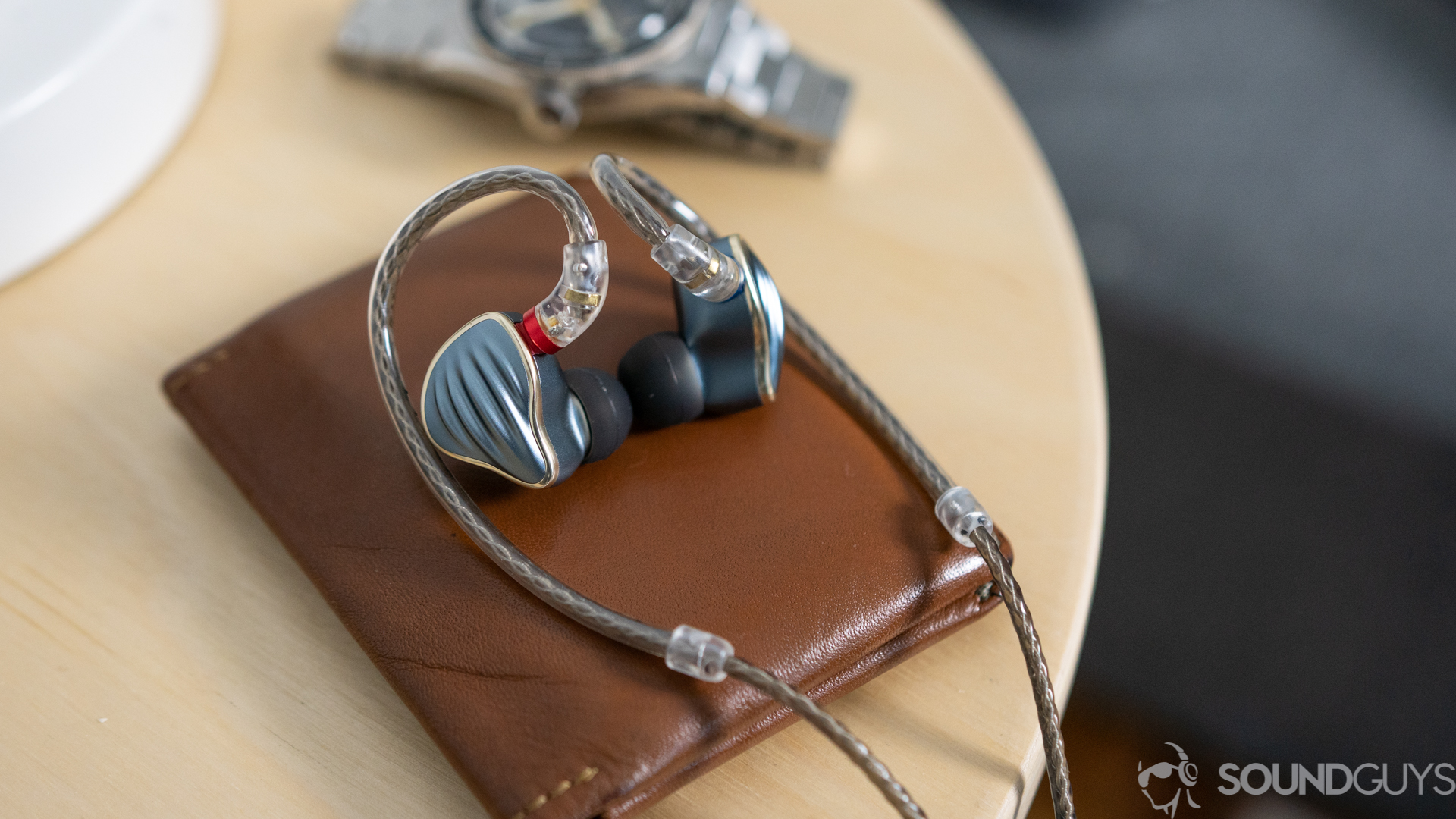 As part of your everyday essentials, the FiiO FH5 really add quality sound to your daily routine.
Commuters should consider these wired earbuds, because they're well built, include a premium plastic case, and provide excellent isolation no matter which ear tips you use.
Anyone tired of Bluetooth headphones should make the jump to these wired beauties. Bluetooth is great and all, but if you're tired of charging a bunch of devices and paying crazy amounts of money for sub-par sound and a little more convenience, then these are for you.
People who listen to music will appreciate the simplicity of these IEMs. FiiO's default cable doesn't include an inline mic or remote, so it's just you and your music. If you want good sound quality then you might like the FiiO FH5.
What's it like to use the FiiO FH5?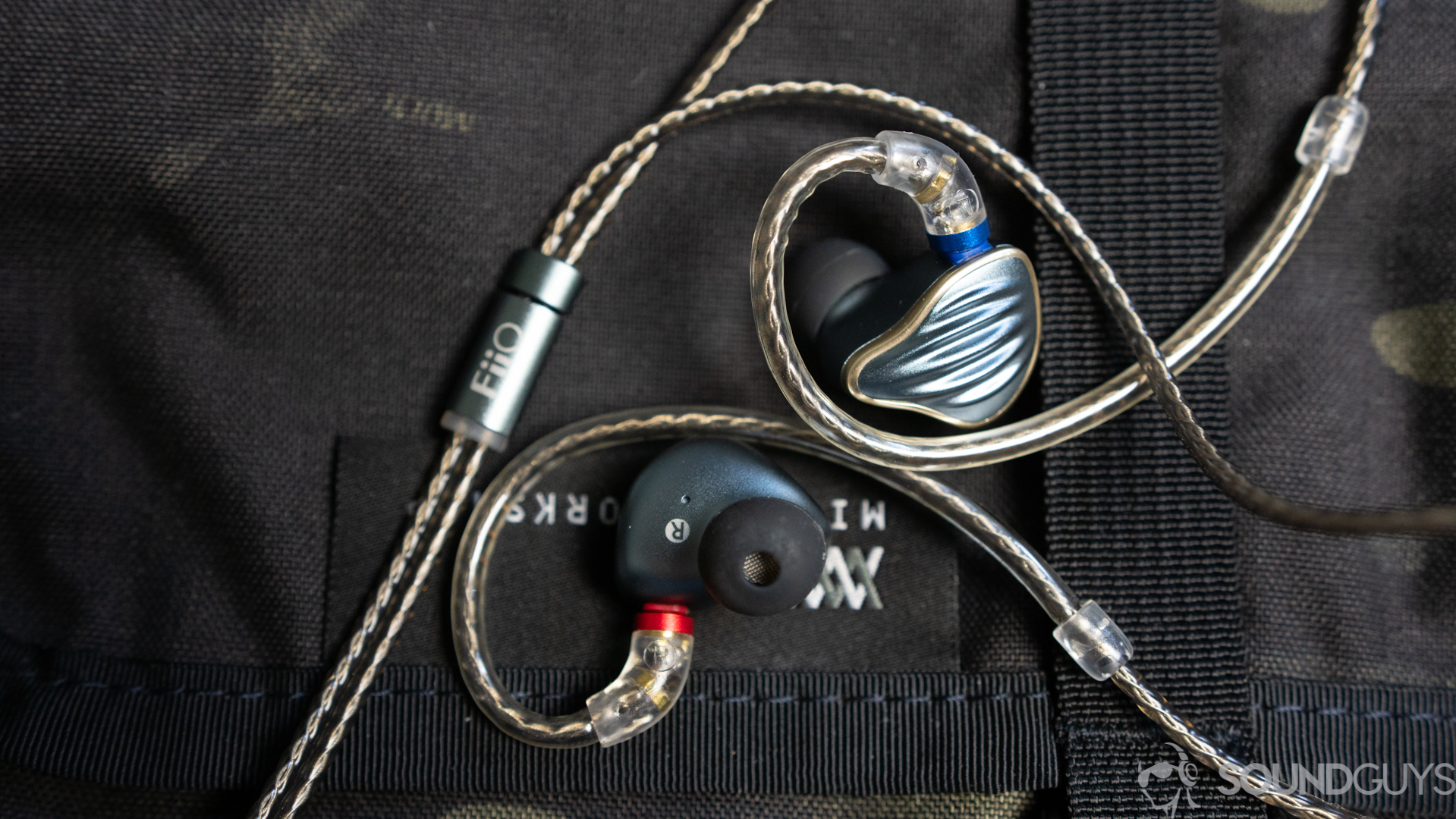 The design of the FiiO FH5 is gorgeous, with a light blue metal housing that's still lightweight.
If you've ever wondered what a racecar would look like as a pair of in-ears, the FH5 in-ears are your answer. After visiting the website it turns out that is exactly what the company was going for in its design language. The casing is a CNC machined aluminum body that feels heavy (41g) but is surprisingly lightweight. They fit almost perfectly right out of the box and by just swapping out the ear tips got a more comfortable pair. I was able to get a fit that got them to stay in no matter what I did throughout the day.
Start here: Ultimate headphone buying guide
The sleek, metallic look is reflected all the way down to the 90° 3.5mm connector at the terminal end. The braided wires are wrapped in a translucent TPU sheath that makes it easy to handle without sacrificing the overall look and feel. It also does a great job at preventing tangles, and I didn't have to untie a single knot during the review process. The connector is also notoriously the weakest part of a pair of earbuds, but that isn't the case here.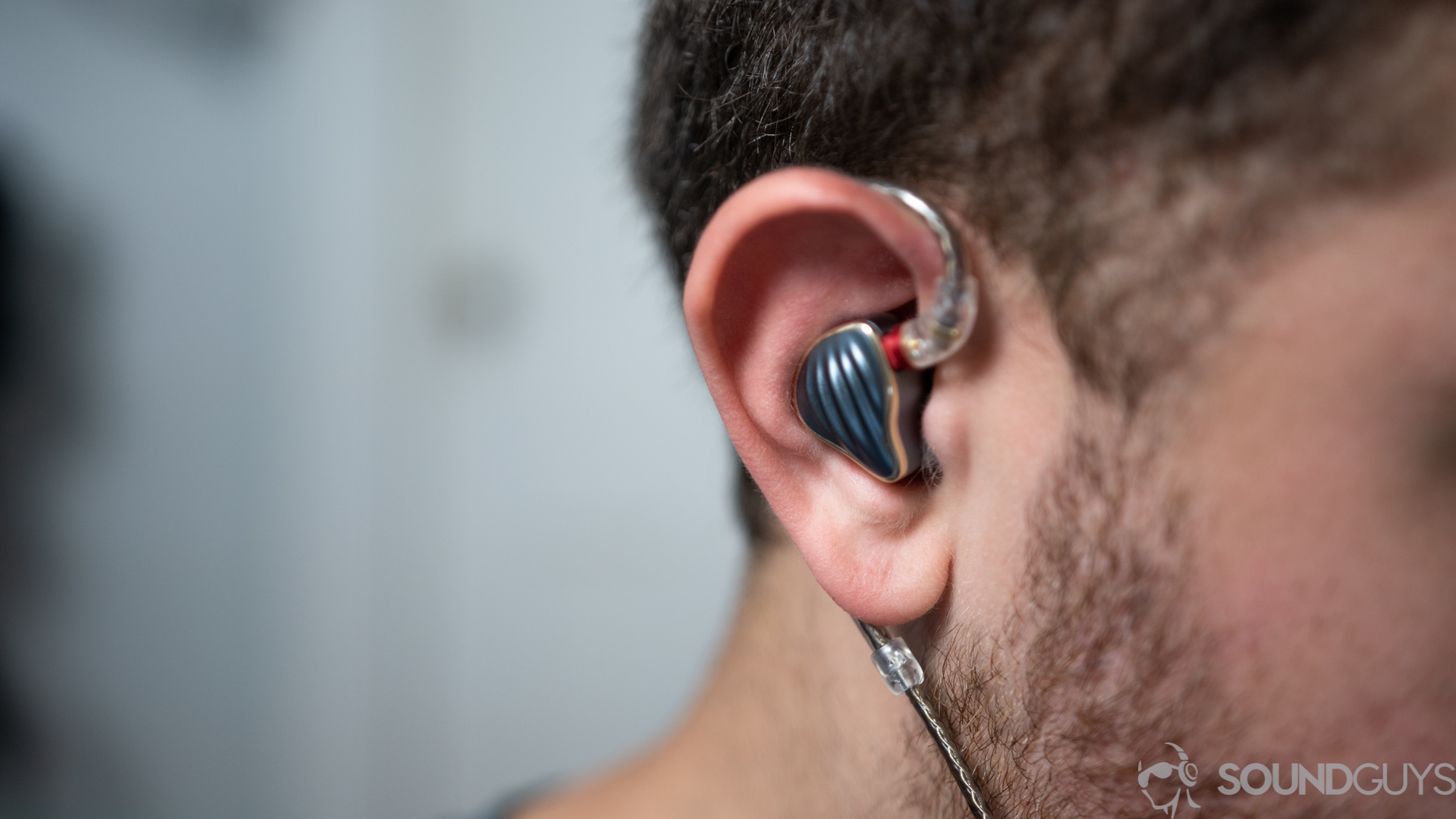 These aren't your typical earbuds that come with your smartphone, and they wrap around your ear for a more secure fit
You get the same tough aluminum metal here with a hard plastic piece for extra reinforcement against fraying. Plus, the jack has some great knurling which isn't necessary, but feels great and provides additional grip. Thankfully, if you do happen to break the cable you won't have to go replacing the entire thing thanks to MMCX connectors. The housings just pop off, so you can replace the damaged cable without needing to spend a fortune.
When you open the box, you're greeted with just the in-ears and all the other goodies are packed neatly away underneath. Besides the 'buds, you get a small hardshell carrying case with a zippered pouch along with four different kinds of ear tips (memory foam, balanced, vocal, and bass), all of which come in different sizes. With all of these things included, you should be able to get a perfect fit.
How do you connect the FiiO FH5?
The 90° 3.5mm connector is made of a tough metal reinforced with hard plastic to prevent fraying wires
The only issue with the connection was finding a device that still has a headphone jack. My primary source device is usually a Pixel 3 and my other is the 11-inch iPad Pro, neither of which have headphone jacks. Luckily, my computer still has a headphone jack (for now), and FiiO sent along the M9 hi-res digital music player for me to check out as well. Unfortunately, I didn't use it much since this isn't a review for the M9. Plus, most people reading this will already have their own source devices.
I'm currently also working on an Apple Music piece, so I did all of my listening streaming that while using my laptop. Considering these headphones have an impedance of 19Ω and were made for portable devices, I didn't have a problem applying enough power at all. I ended up keeping the volume at only around 30%, which was more than enough to hear my music at adequate levels. If you already have an amp that you want to use with me these you obviously can because it's a free world, but you really don't need one here.
How do the earbuds sound?
The FiiO FH5 sound great and reproduce music accurately with minor emphasis to sub-bass frequencies; its emphasis varies on what ear sleeves you select. Interestingly, the vocal ear tips provide the most accurate sound quality according to our objective measurements, but the difference between the balanced and vocal tips is 9.6 to 9.7 respectively.
There's the 10mm polymer dynamic driver that handles the lows, a Knowles ED30262 balanced armature that deals with the mids, and two Knowles 31082 drivers that handles highs and ultra-highs. Depending on your age, health, and other factors, you're unlikely to hear the bulk of those super high frequencies (especially since most human hearing only extends to 20kHz).
Related: Types and signs of hearing loss
At the risk of being blunt and making this the shortest sound quality section in any review ever, these do sound pretty great.
Passive isolation is very good with the FH5, so long as you can keep the earbuds in place.
Isolation performance is excellent no matter which ear tips you use. Some listeners report issue with the short nozzles, and if you have trouble finding a good fit, we recommend using the memory foam ear tips. Still, so long as you can get the buds to remain in place, you'll stay zoned into your music while wearing the FH5.
Lows, mids, and highs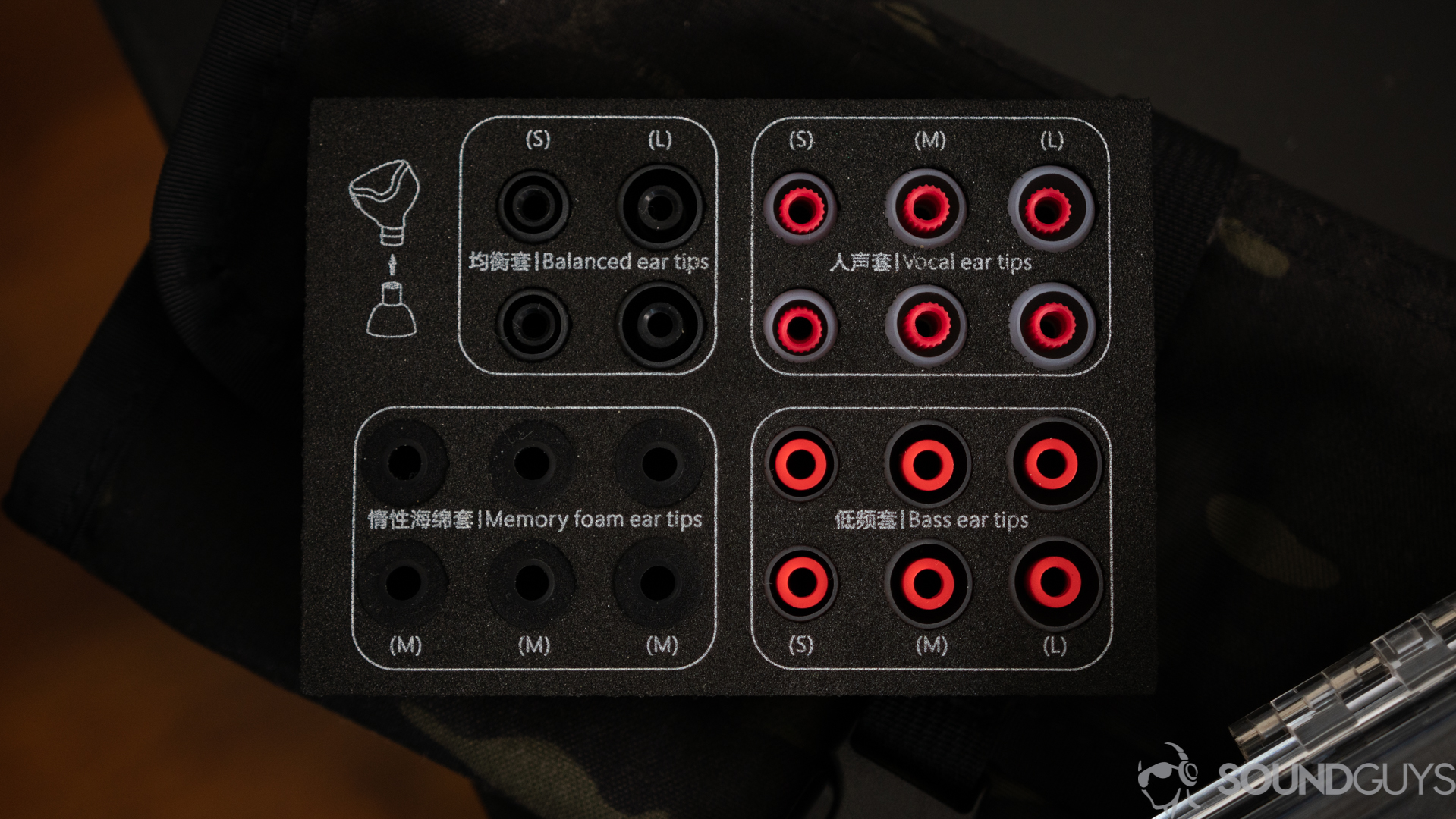 Each pair of FH5 in-ears come with plenty of ear tip options to customize your sound and get the best fit
The song Where's the Fun in Forever by Miguel benefits from the slight bass bump without making it feel like my eyes are going to fall from my skull. That might not be for everyone, but it's right up my alley. If you want a heavy bass go with Beats headphones, but if you just want clear sound in the low-end, these will get the job done.
Related: Best earbuds around
Low-mids sound accurate across the board, and there's a slight bump to upper-mids which helps vocals and string harmonics stand out. Vocals sounded nice and clear, and the raspy vocals of Cold Little Heart by Michael Kiwanuka have plenty of detail. The detail in the highs was similarly clear, emphasized at all the right parts of the frequency range without ever getting harsh or distorting. Treble clarity is slightly tamped down when you swap the silicone ear tips for the memory foam alternatives.
Should you buy the FiiO FH5?
The FiiO FH5 is an excellent pair of ear buds that makes you remember what a good pair of IEMs is capable of.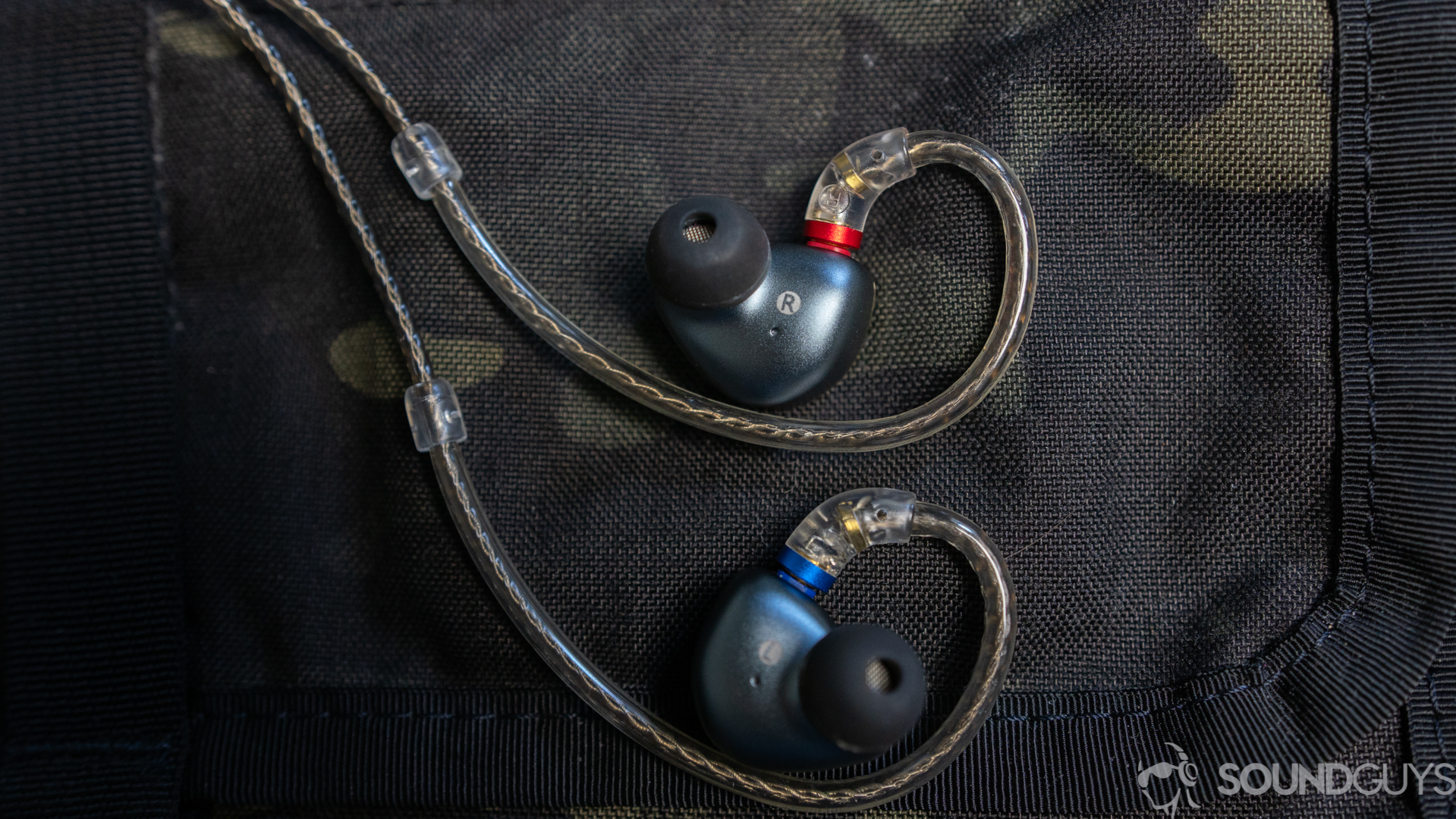 The FH5 cable has red and blue markers to designate right and left channels which is surprisingly helpful, especially if you're in a dimly lit area.
Although I used less-than-ideal source files from streaming services, the earbuds made my music sound great. So are these worth the $249 asking price? I'll answer that by only copping out a bit: for me, it absolutely is with the money. Admittedly, its value depends on how much you prioritize sound quality.
New audio products seem to focus more on the tech inside with sound coming as an afterthought. That's not a bad thing either, considering it's that tech that gives us the amazing active noise canceling from Bose and Sony, or the IPX7 sweatproof build of the Samsung Galaxy Buds Pro. Still, there's something romantic about a quality pair of in-ears designed to be great at one specific thing.