All products featured are independently chosen by us. However, SoundGuys may receive a commission on orders placed through its retail links. See our ethics statement.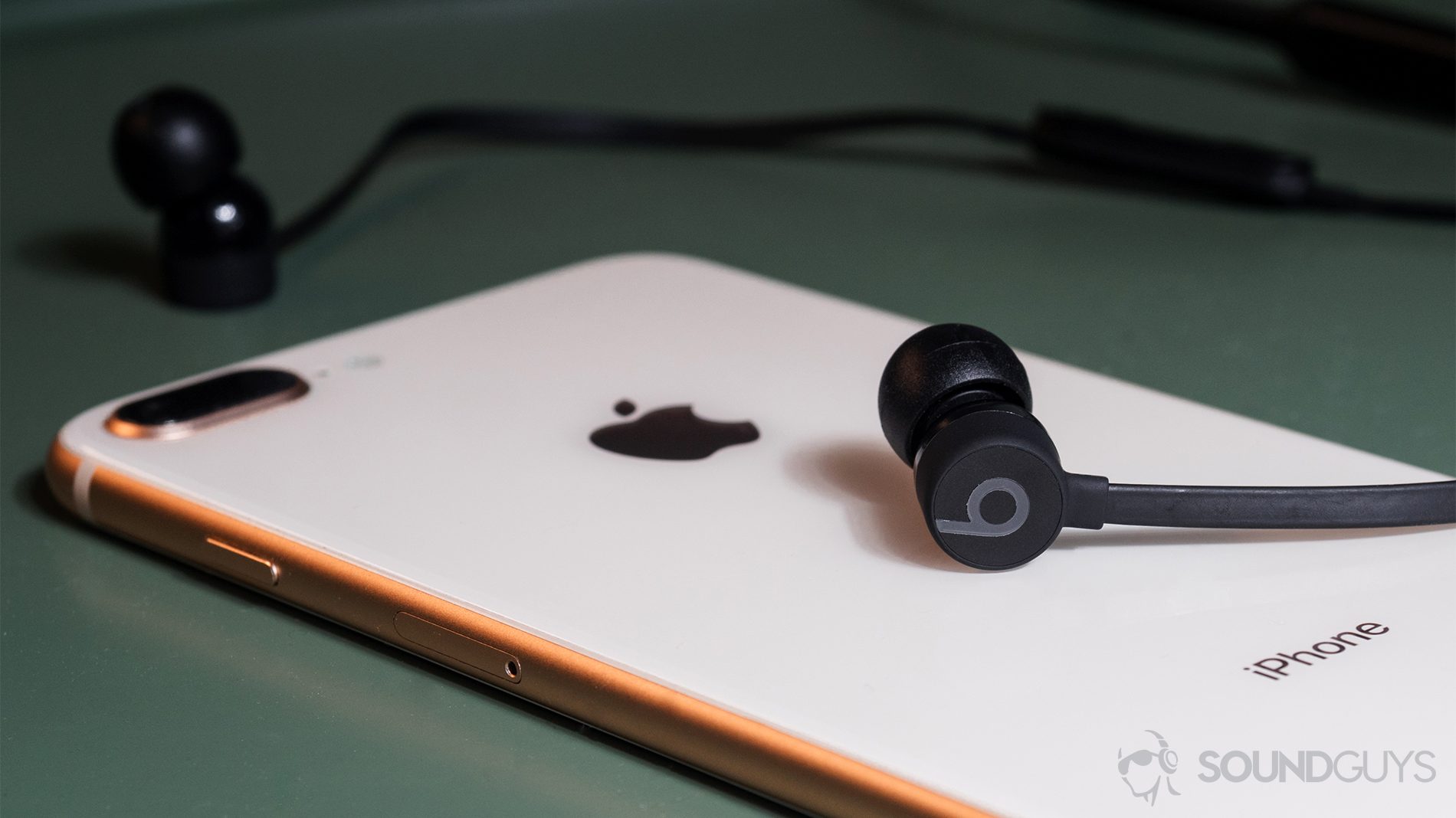 The bottom line
If you're in need of something stylish, timeless, and reliable, the BeatsX are the wireless earbuds for you. Just keep them away from water; after all, they lack an official IP rating. However, these have been discontinued and replaced with the Beats Flex so you're probably better off just picking those up.
BeatsX
If you're in need of something stylish, timeless, and reliable, the BeatsX are the wireless earbuds for you. Just keep them away from water; after all, they lack an official IP rating. However, these have been discontinued and replaced with the Beats Flex so you're probably better off just picking those up.
What we like
Class 1 Bluetooth<br>
AAC and W1 chip<br>
Multipoint connectivity<br>
Magnetic housings<br>
What we don't like
Sound quality<br>
Battery life<br>
Rating Metric
Sound Quality
7.7
Isolation / Attenuation
4.1
Durability / Build Quality
7.8
Value
8.3
Design
8.8
Connectivity
5.0
Microphone
8.7
Portability
8.6
Battery Life
5.8
Since the inception of the Beats brand back in 2008—before it was swallowed up and transformed into a division of Apple—we've come to recognize the lowercase "b" logo and occasionally ostentatious design choices. The BeatsX is different: this headset speaks confidently, with a minimalist design featuring sleek, uninterrupted lines. Even though these earbuds are discontinued, they're still around as a renewed product and are a great deal if you can snag them. Let's see how they stack up relative to the best wireless Beats.
Editor's note: this BeatsX review was updated on March 13, 2021, to add context to the sound quality section and include a contents menu.
Who should get the BeatsX?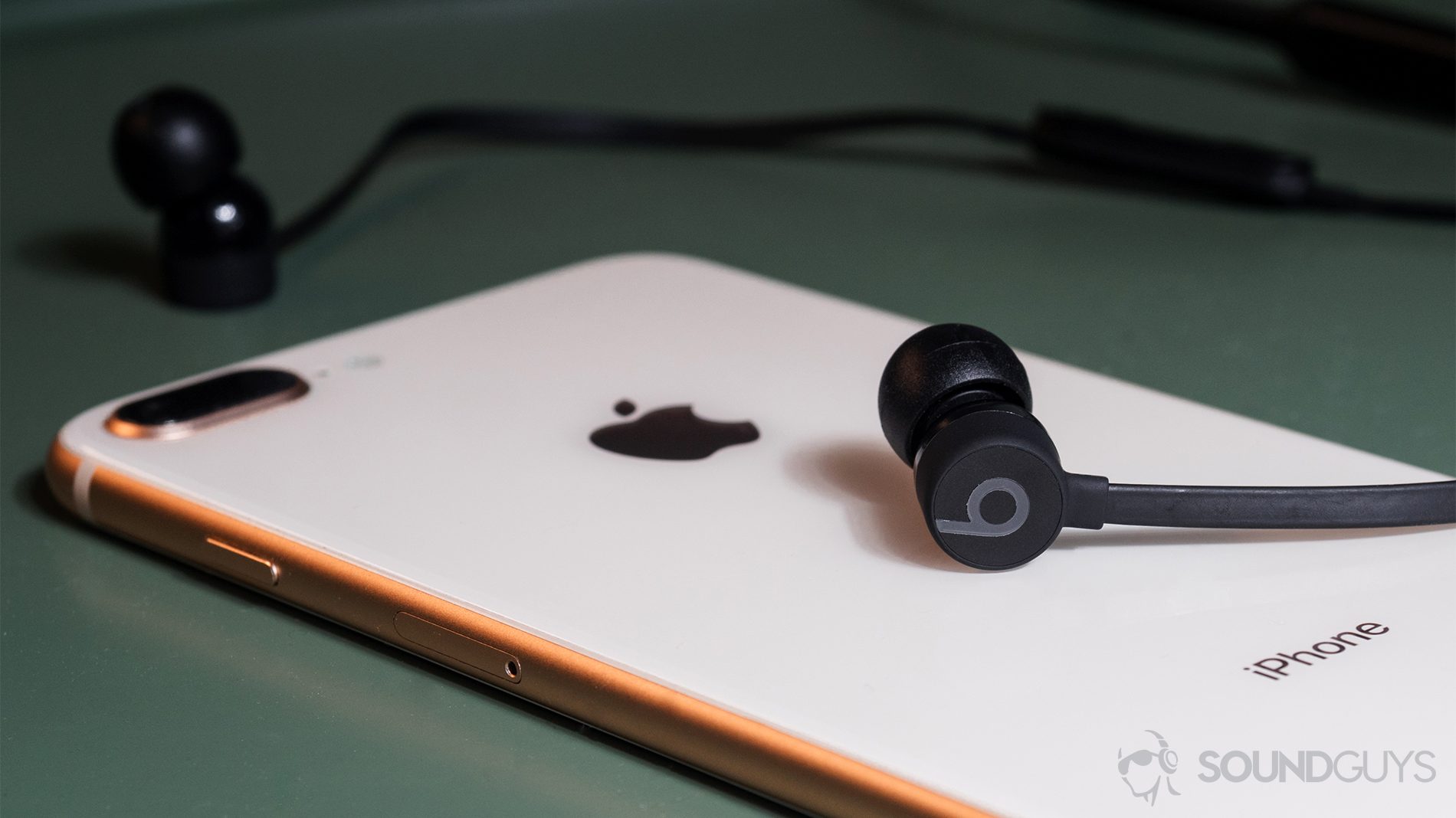 Listeners using an iOS device will enjoy an optimal listening experience with the BeatsX due to the earbuds' AAC support and integrated W1 chip.
iPhone users. Noted as being one of the best pairs of iPhone earbuds, the BeatsX brings many of the same benefits of the Apple AirPods without the drawbacks of true wireless technology. The integrated W1 chip and Class 1 Bluetooth promotes reliable connectivity with a 100-meter range.
Fashion-conscious consumers. Unlike previous Beats models, the BeatsX features a subdued design and understated all-black or all-white color palette, presenting a more sophisticated style to consumer-friendly earbuds.
Anyone not into true wireless. Whether it's because of the shorter battery life or the high probability that you may lose one, true wireless earbuds aren't for everyone. If you prefer a wire connecting your buds but still want to experience what the W1 chip can do, then these are you.
How are BeatsX built?
Connecting the BeatsX cables is a Flex-Form cable, which is comfortable to wear and handles moisture well.
The mainly plastic construction doesn't cheapen the feel of the BeatsX. In fact, the plastic neckband caps and earbud housings pair nicely with the rubberized Flex-Form cable, much like how a third-tier Cabernet pairs well with tonight's TV dinner. Cheap, sure, but surprisingly good.
A discreet power button inlaid in the end of the neckband maintains the low-key aesthetic, while still being functional. The same can be said for the in-line mic and remote, which sports a prototypical layout and allows for virtual assistant access, be it Siri or Google Assistant. To my glee, the volume controls are also compatible with Android devices.
Found descending from the BeatsX right earbud is an in-line mic and remote, allowing basic playback control and virtual assistant access.
Ergonomics—a word that might as well have its own department in Home Depot—are excellent and can be attributed to the angled earbud nozzles and varied ear and wing tips. It's worth it to take a few minutes and figure out which provided ear tips best suit you as it drastically improves audio quality. Additionally, the earbud housings are magnetized. Albeit, the magnets could be stronger as it's easy to separate them if a piece of clothing tugs against the housings.
How do the BeatsX compare to other Beats earbuds?
While they're not officially sweat-resistant as per the official product page, they survived my three-mile run and weight-lifting routines. Although—full disclosure—I detest running with neckband style earbuds and don't find the neckband bobbing or cable wobbling to enhance my runs. In all fairness, though, there are plenty of popular exercise-oriented neckbuds available.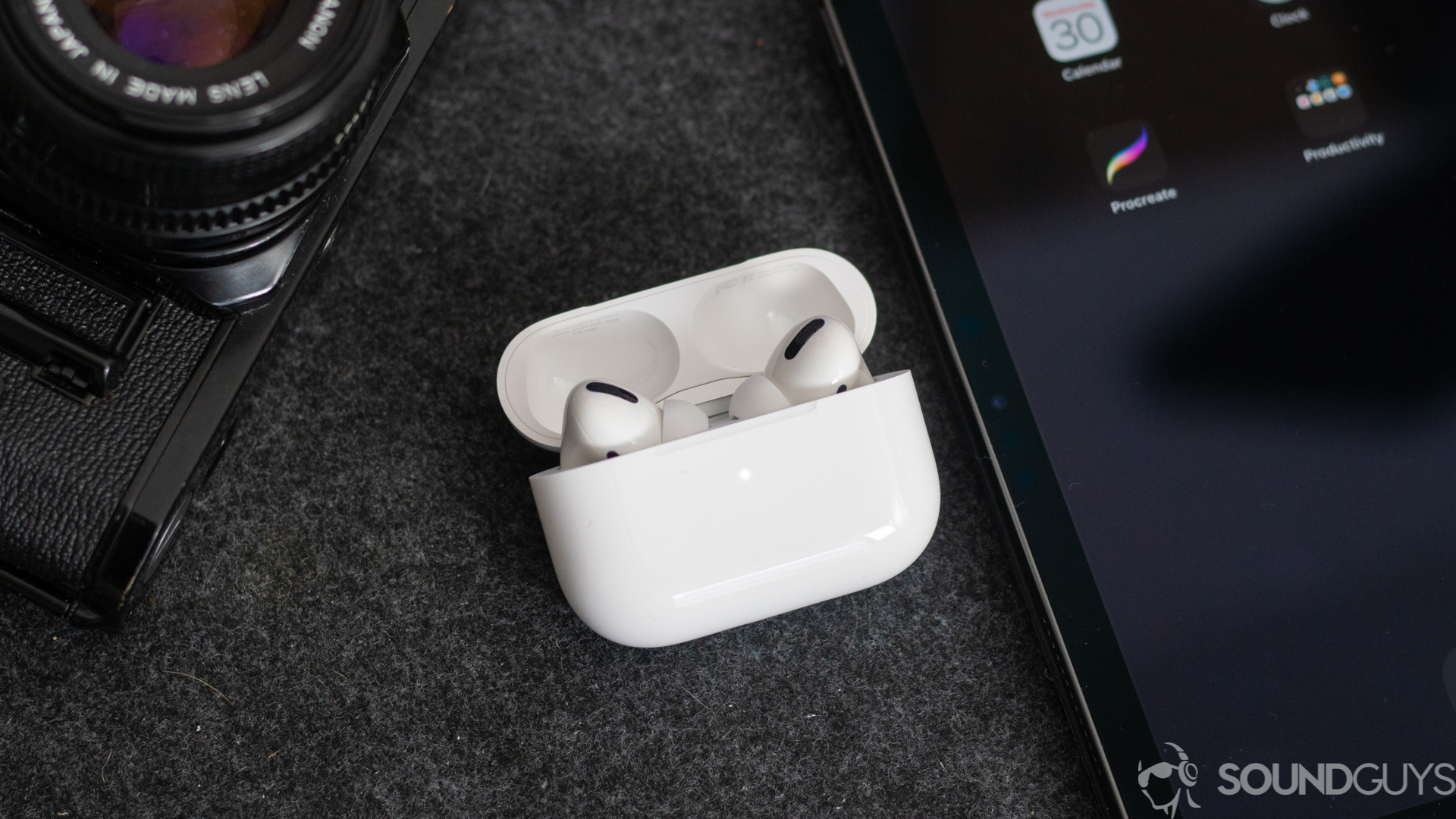 Apple includes wireless charging capabilities by default with its AirPods Pro noise canceling true wireless earbuds.
The Powerbeats3 Wireless, however, are a more durable alternative that cost just $10 more than the BeatsX. If you want a top-notch true wireless option with cutting edge technology, look into the Beats Powerbeats Pro true wireless earbuds. Just like the Apple AirPods (2019) and Apple AirPods Pro, these earbuds feature an integrated H1 chip for hands-free Siri access and extended battery life. Granted, they're significantly more expensive than the BeatsX in question but if you're after top-tier fitness headphones those are worth looking into.
How long does the battery of the BeatsX last?
Seeing as the battery life is listed at eight hours, it's a disappointment that our objective testing revealed that the BeatsX provide 5.45 hours of playback before requiring a recharge. Fortunately, a full charge cycle takes just under an hour, which is about half the time of most wireless earbuds. And five minutes of charging provides two hours of playback when the battery is low. Additionally, you'll likely listen at lower volumes than 75dB(SPL), which should extend the battery life.
With Fast Fuel, you can give the BeatsX an extra two hours of playback from just five minutes of charging when the battery is low.
So long as we're discussing charging methods, you may notice that the lightning input is completely exposed. While this makes the BeatsX look sleek, it's a bit worrisome to have such an integral part of the earbuds subject to dirt, dust, and water. Form before function, I suppose.
How is the connection quality of the BeatsX?
For optimal connectivity, you're going to need an iOS device. It allows you to take full advantage of that delicious W1 chip and AAC Bluetooth codec compatibility. If you're coming from a non-iOS device, you're going to experience about a half-second of audio-visual lag. While this is bearable, it's not ideal.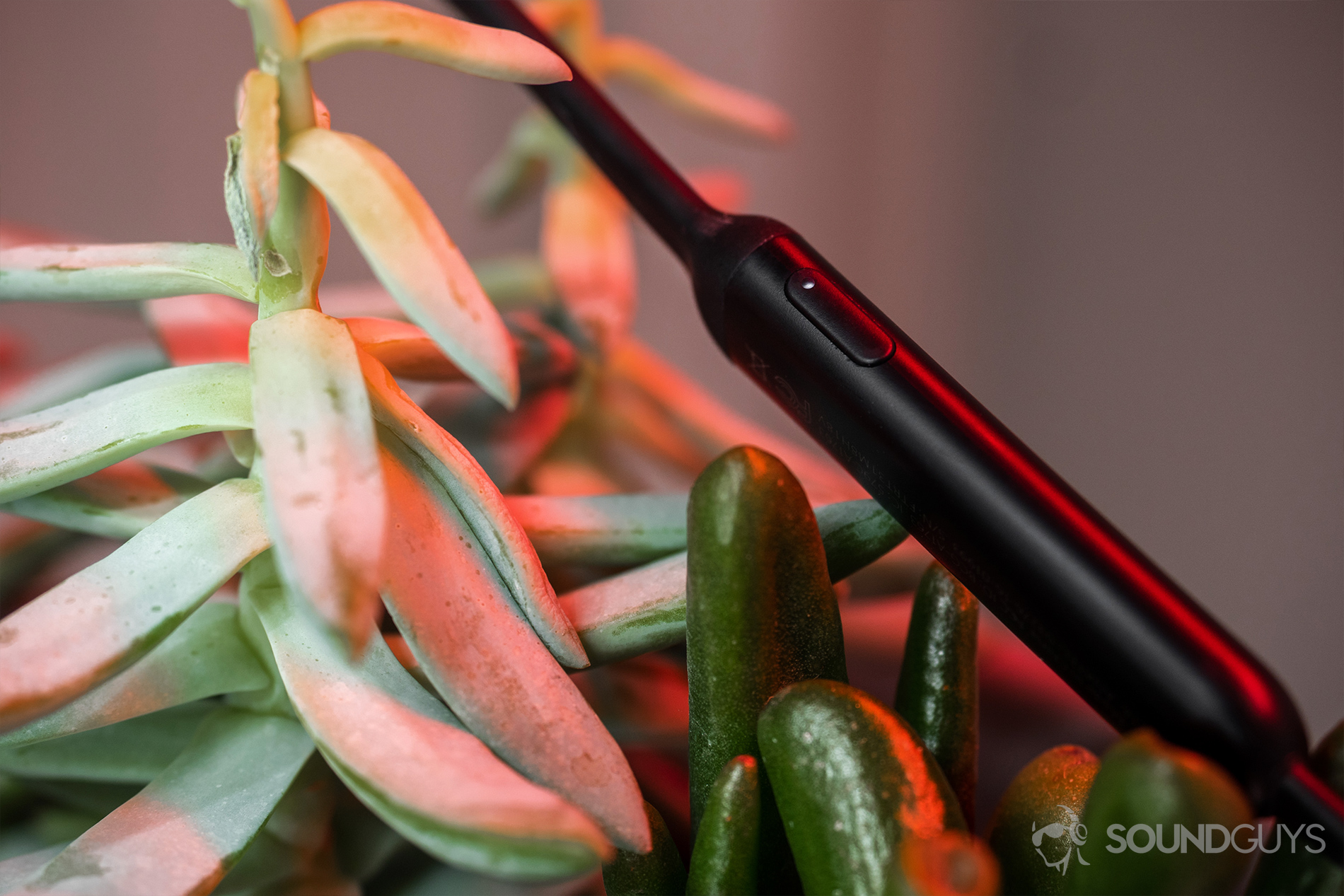 The BeatsX can connect to two devices simultaneously and alternate between the two.
That said, connection strength and stability is excellent when listening from various Android and Windows devices. I did, however, experience short-lived spotty connectivity when walking around my local park. This shouldn't cause much pause, though, seeing as most Bluetooth devices struggle in large, open environments.
How to pair to the BeatsX
Pairing to the BeatsX earbuds is super simple if you're on iOS. Just like the AirPods, simply powering these on near an iOS device will activate a pop-up on your phone or tablet prompting you to connect. Once you hit "Connect" then these will automatically pair with every device in your iCloud account. If you're using an Android device or want to connect on PC then you need to follow these steps:
Hold down the power button for five seconds or until the indicator light begins to flash.
Navigate to the Bluetooth settings on the device you wish to pair to.
Select "BeatsX" from the available devices to connect.
How do the BeatsX sound?
Although the frequency response isn't neutral, it's enjoyable for most consumers and preferred for activities like exercise.
Generally speaking, the BeatsX reproduces a fairly bass-heavy sound but also place quite a bit of emphasis on midrange frequencies. For the most part, this can be seen as a good thing, because it counteracts vocal masking. It's still a problem though. Relative to the PowerBeats3, the low-end emphasis could be considered subdued. Treble, on the other hand, is audible, but much of the detail that rings from the instruments' harmonics are lost in the din.
Isolation is fine. If you want to improve it, make sure to invest in a pair of memory foam ear tips. Doing so attenuates external noise by creating a more cogent seal. As a result, you'll enjoy more powerful low-end reproduction.
Lows and mids
In the song I Like It by Cardi B, her animated vocals are often masked by the low-end. As Cardi B raps her way through the intro—which lacks the heavy bass found in later verses—it's easy to hear her above the claps and background instruments. However, once the sub-bass kicks in at 0:57, it's hard to hear her.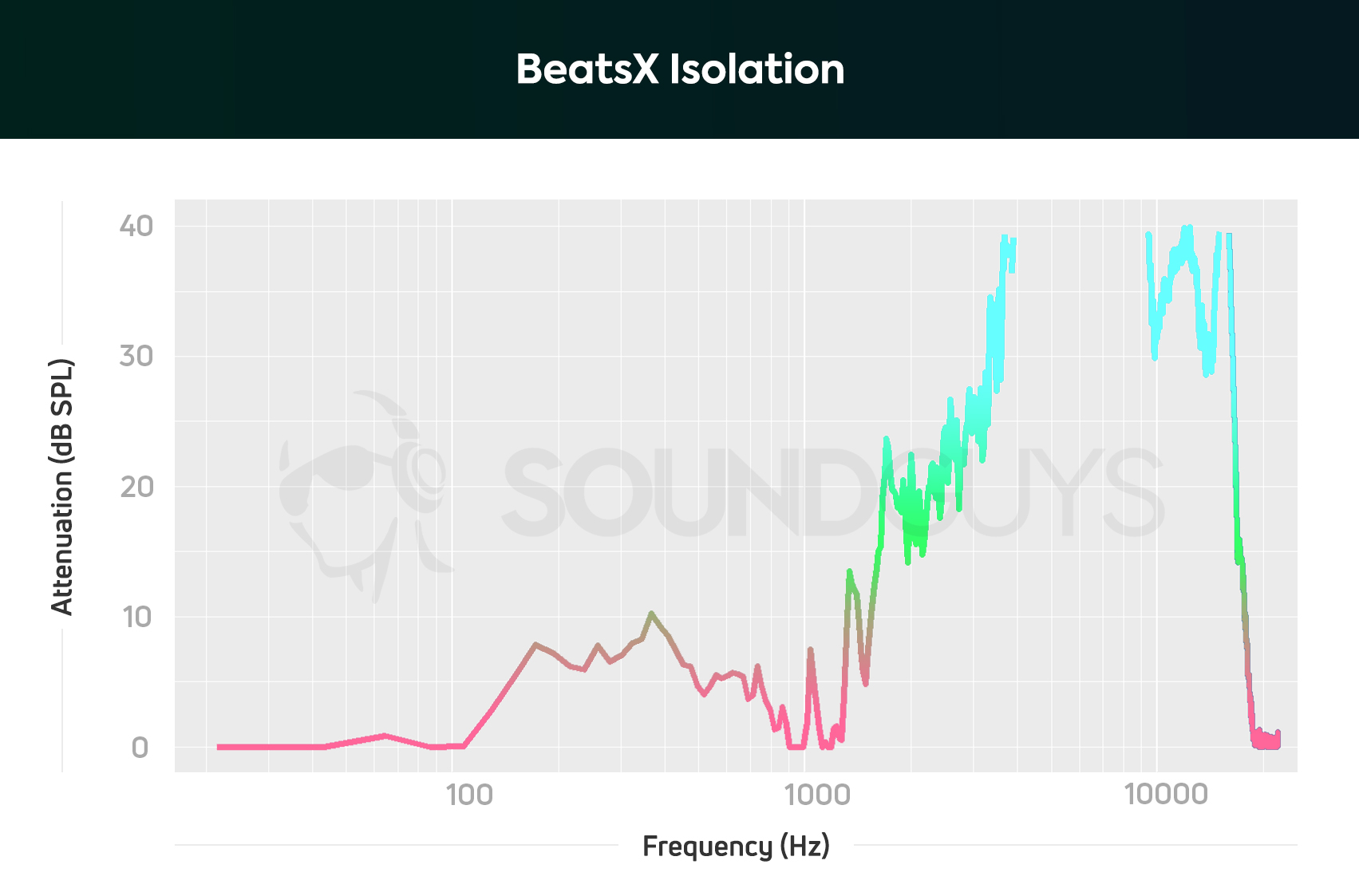 To improve low-end attenuation, make sure to outfit the BeatsX with a pair of memory foam ear tips.
The masking is even more apparent when Bad Bunny jumps in for the second verse. Since his voice is a much lower register than Cardi B's, it's even more difficult for the BeatsX to reproduce a clear differentiation between his vocals, the mariachi, bass line, and supporting vocals. You can clearly hear this at 1:32 when he says, "I spend in the club what you have in the bank."
Though this can be frustrating if you're looking for a neutral, accurate listening experience, many consumers won't notice the distortion and masking. As a matter of fact, it's quite enjoyable to the consumer ear and preferred in day-to-day situations, say during a noisy commute or while exercising.
Highs
Cory Wong by Vulfpeck, featuring contributing artist Cory Wong, takes full advantage of Wong's adroit picking and slides. When listening to this funky instrumental through the BeatsX, the guitar solo that begins at 1:33 sounds good as Wong alternates between D, D#/E, and C notes. Midway through the solo, the hi-hats re-enter and resonate between 3.5kHz-5kHz. The subsequent reverb from the harmonics are difficult to hear above the solo and groovy synth noises.
Does the BeatsX have a good microphone?
The BeatsX microphone may struggle to accurately relay lower voices but sounds pretty good with female voices.
The microphone performs exceptionally well in noisy environments. With construction just 50 meters away, the BeatsX attenuated background noise with ease. Not to mention that I was also surrounded by multiple voices in windy Atlanta. The chart above shows that the mic struggles to accurately relay lower voices, usually male. However, registers like mine, which has a fundamental frequency response of about 160kHz, sounds accurate. When talking with friends on the phone, they thought I sounded good and was relayed clearly.
Should you buy the BeatsX today?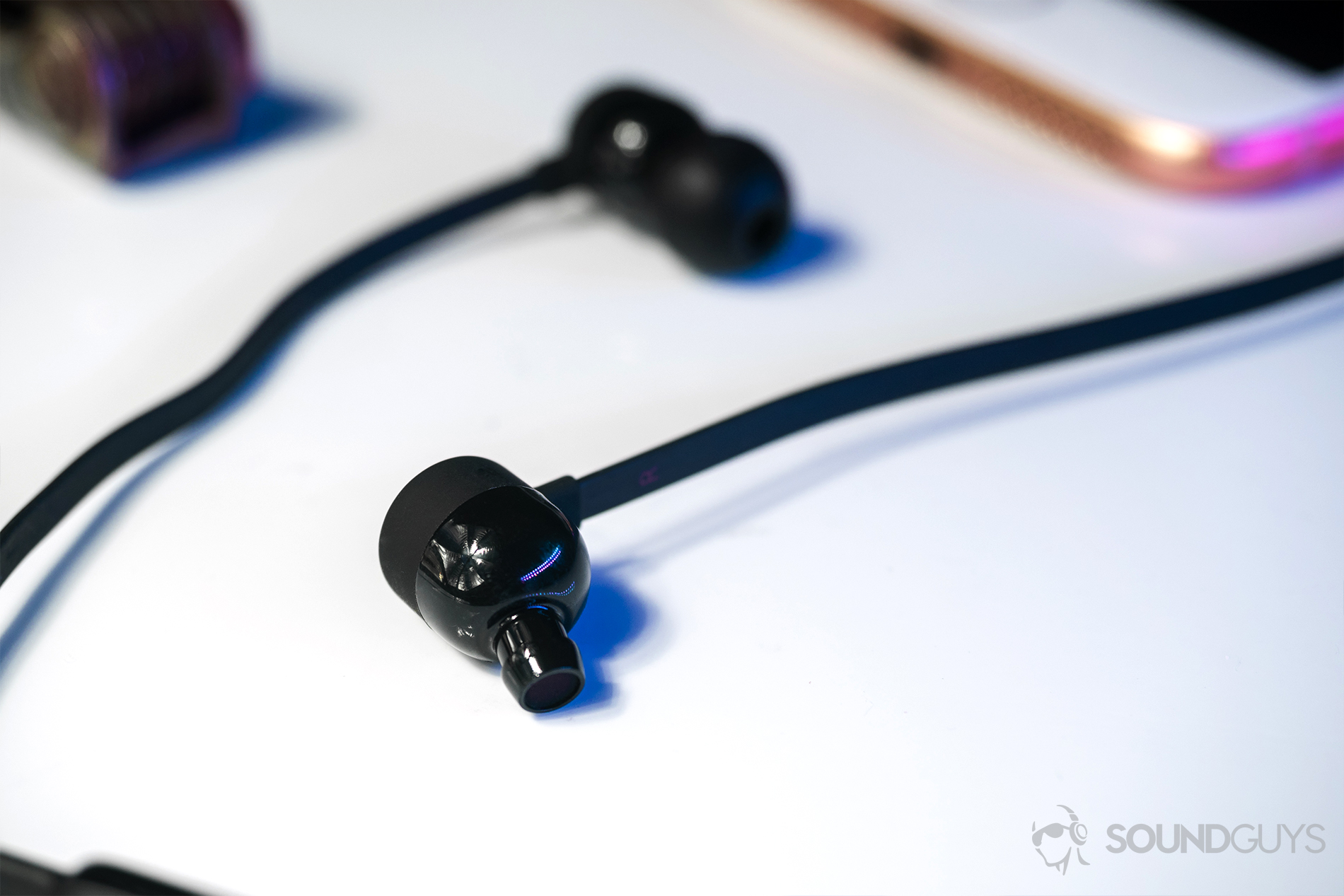 At just under $50 USD from Amazon, the BeatsX are a great deal and reliable pair of wireless earbuds.
The BeatsX were worth once it, but unfortunately they seem to be discontinued. If you can find them for cheap you'll be happy with them but chances are you're better off just getting the newer Beats Flex earbuds that are set to replace these. While the BeatsX earbuds aren't as flashy as the company's flagship Studio3 Wireless or Solo Pro headphones, they're still one of the better Beats options for daily listening.
BeatsX
BeatsX
Class 1 Bluetooth • AAC and W1 chip • Multipoint connectivity
These have been replaced with the Beats Flex, so unless you can find the BeatsX for super cheap.
If you're in need of something stylish, timeless, and reliable, the BeatsX are the wireless earbuds for you. Just keep them away from water; after all, they lack an official IP rating. However, these have been discontinued and replaced with the Beats Flex so you're probably better off just picking those up.
What should you get instead of the BeatsX?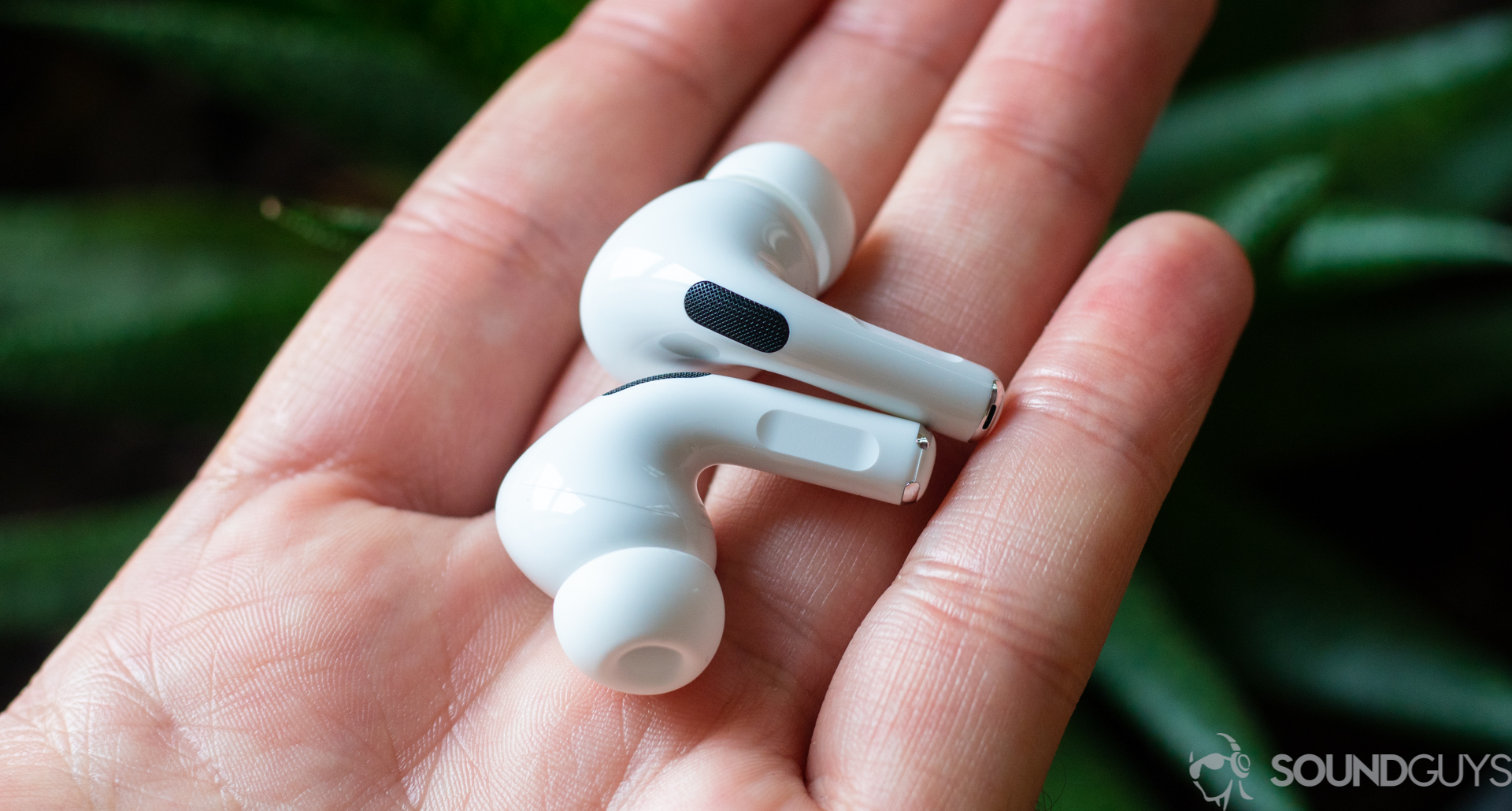 The Apple AirPods Pro have indentations to indicate where the touch controls are located.
The AirPods Pro are a great pair of true wireless earbuds and are better than the BeatsX in almost every way, but let's be real, true wireless earbuds aren't for everyone. If you weren't looking for true wireless earbuds anyway then the BeatsX are right up your alley. Still, the AirPods Pro have plenty of features that the BeatsX are lacking. They have surprisingly good active noise canceling, a transparency mode to let you hear what's going on around you, an IPX5 build, a great portable charging case, and eartips that get these to stay in better than the original AirPods.
Beats Flex
One of the newer options from the Beats brand are the Beats Flex. These look almost identical to the BeatsX but supposedly have a better battery life at about 12 hours and charge via USB-C. Besides that they have the same neckband design, Class 1 Bluetooth with the W1 chip for easy pairing to Apple devices, and auto-pause functionality thanks to the magnets inside the earbuds as well. While we have to wait to get these in for review to see if they're truly worth it or not, they do seem to be a solid replacement to the BeatsX considering they're half the price. For a sportier headset, consider the Beats Powerbeats or true wireless Beats Powerbeats Pro.
Still looking? Read up on our list of the best wireless earbuds
Frequently asked questions about the BeatsX
If you're just looking for something good that will last longer, we have a number of recommendations over on our best earbuds list.