Links on SoundGuys may earn us a commission. Learn more.
6.9
Astro Gaming A50 Wireless
The bottom line
The Astro A50 Wireless offers the bells and whistles you'd expect of a premium gaming headset, but it flubs basics like mic and build quality. For $300, you should get something a little more durable.
Astro Gaming A50 Wireless
The Astro A50 Wireless offers the bells and whistles you'd expect of a premium gaming headset, but it flubs basics like mic and build quality. For $300, you should get something a little more durable.
What we like
Comfortable
Good sound
Battery life
What we don't like
Mic quality
Build quality
Sleep mode function can be good and bad
Expensive
Rating Metric
Sound Quality
9.3
Bass
9.6
Midrange
9.8
Highs
8.6
Isolation / Attenuation
1.5
Durability / Build Quality
5.0
Value
5.0
Design
7.5
Connectivity
6.5
Microphone
5.2
Portability
5.0
Battery Life
8.6
Comfort
8.0
Astro Gaming has been a popular gaming headset option for awhile now, offering comfortable headsets tailored to a variety of gaming needs. The new fourth generation of Astro Gaming A50 Wireless continues the line's focus on wireless gaming using a base station for easy charging and switching between PC and PlayStation 4.
But does it live up the hype? Not really.
Editor's note: This Astro Gaming A50 Wireless review was updated on January 11, 2022 to update our frequency response and isolation charts, update scoring, improve readability, add a deals widget, and add an alternatives section.

Who is the Astro Gaming A50 Wireless for?
This is a decent option for long stretches—provided it all holds together.
Gamers looking for something wireless that works on console and PC.
People with glasses looking for something that won't cause as much head strain over time.
Anyone looking for something you don't have to remember to charge as often.
What's the Astro Gaming A50 Wireless like?
This headset is made primarily of plastic, and not very durable plastic at that.
There's not much point beating around the bush: Using the Astro Gaming A50 Wireless is an exercise in frustration for me. This is a premium wireless gaming headset, with thick and comfortable velour earpads, a very adjustable design, solid battery life, and a slew of features. In short, it should be very good, and on paper it is. In practice, not so much.
The Astro Gaming A50 Wireless is unmistakably a gaming headset. It's made primarily from plastic, with big headphones, a hollow plastic band, and an attached flexible microphone. The headphones attach to the band using metal bars, which are also use to adjust the headset's height and rotate the ear cups. It comes with velour pads, which is great for gamers with glasses. Materials like leatherette offer better isolation overall, but you need something a little softer and more flexible to establish a decent seal around a pair of glasses.
On first use, the headset seems well built. However, even after a just a little while the durability of the band seems pretty suspect. The Astro Gaming A50 Wireless is compatible with Astro's Mod Kit accessories, which offer leatherette replacements for the band cushion and ear pads, as as such, these parts are easy to remove. The ear pads are held in magnetically, and they're easier to take off and put on than any gaming headset I've ever used. The headband cushion snaps into place, but after taking it out once, it now pops out almost every time I use the headset.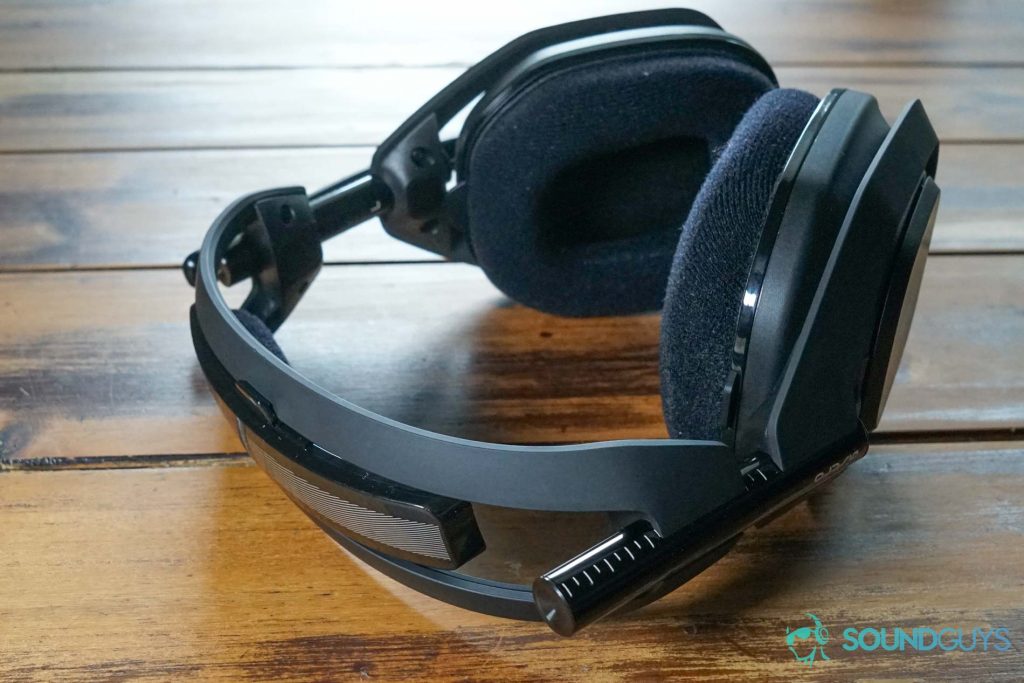 The headband was a source of frustration throughout my time with it.
Nothing about the headset is bent or broken, the pad just has a very loose connection. This is, in a word, infuriating. I need to put a rubber band over the cushion to keep it in place. Having easily replaceable parts is a great idea, but here that interchangeability makes using the Astro Gaming A50 Wireless worse. It feels cheap, despite being $300.
Apart from the band issues, using the headset is fine; but it takes a little getting used to. There are all sorts of on-ear controls, and figuring out which button or switch is where takes time. On the back of the right headphone, there's the volume dial and power switch, as well as buttons for toggling the A50's Dolby sound and EQ presets. The right ear cup has buttons for adjusting the balance between game and chat audio. On the left ear cup, the microphone mutes when you flip it up.
The dock worked fine most of the time. Also pictured: The hair tie I relied on to keep the headband in place.
The included base station is what you use to connect the Astro Gaming A50 Wireless to your PC or console, and using is generally pretty simple—just plug the USB cord in, put the headset in the cradle, and it's ready to go. Most of the time, there isn't much issue, but every so often, the base station stops charging the headset. On PC, I only ever have to unplug it for a second to fix it, but on PlayStation 4 I run into issues much more frequently, and it isn't always just charging—sometimes the headset doesn't connect at all.
Connecting a headset that employs an optical cord to a PlayStation 4 is always a little more complicated than plug-and-play headsets. However, even with all the correct steps followed, it's a little inconsistent.
The Astro Gaming A50 Wireless actually comes with quite a bit in the box. On top of the headset itself, you get the included wireless base station, micro USB cord for connecting it to your platform of choice, and an optical cable for playing on the PlayStation 4. The micro USB also works for directly charging the headset.
How do you connect the Astro Gaming A50?
The base station offers all sorts of connection options, with optical ports for the PlayStation 4, and micro USB for PC. If you'd rather charge by plugging in, there's a USB port for plugging other devices into the base, too.
The Astro Gaming A50 Wireless connects to your console or PC using a USB cord connected to its included base station and charging cradle. The base station connects to the headset using a 2.4GHz RF signal, which is lag free and great for gaming. Astro claims the A50 Wireless can maintain a steady connection up to 30 feet, which feels pretty accurate—I don't drop connection to the base station even on the other side of my apartment behind a few closed doors.
How good is the battery life?
Astro claims the A50 Wireless can last over 15 hours on a single charge, and while that's very possible, we can't actually tell for sure. The headset features a baked in battery saving "feature" that can't turned off and puts the headset to sleep after not moving for around a half hour. This means we can't conduct our typical full battery test, barring us placing the battery testing rig on top of a running washing machine for 16 plus hours. But from what results we can get by poking the headset every so often and checking the battery percentage: we'd estimate around 16 hours of playback time.
The headset automatically shuts off after 30 minutes of inactivity.
This standby feature means if you forget to shut off your headset and go to sleep, it won't lose much charge when you next pick it up. However, it also means if you're prone to laying down as you play or watch movies or what have you, you might run into it going to sleep while you're using it. As long as you move your head at least every few minutes it shouldn't be an issue.
Gaming with the Astro Gaming A50 Wireless
The dock displays useful information, like whether Dolby Audio is turned on and which EQ preset you've selected.
Despite the issues I have generally with using the Astro Gaming A50 Wireless, gaming with it is a completely fine experience. Playing games like Overwatch, Risk of Rain 2, and Doom Eternal on PC is great. The heavy metal soundtrack of Doom sounds great, but never overshadows all the different snaps, pops, and booms that make the game's combat such a satisfying audio experience.
This headset offers Dolby Audio surround sound for gaming on both the PlayStation 4 and PC, and while it works well enough, the directional effect is definitely a little on the light side. I have trouble distinguishing it from the regular stereo sound sometimes, but that's not necessarily a bad thing. Gaming headsets often try to offer a pretty wide soundstage, so even a stereo signal sounds accurate enough. Surround sound is nice to have, but it's not going to make most people any better at video games.
How does the Astro Gaming A50 Wireless sound?
This frequency response is good for electronic music and anything with booming bass.
The Astro Gaming A50 Wireless sounds pretty typical for a gaming headset. The headset adequately emphasizes bass notes, and under emphasizes sounds in the highs. The Dolby Audio feature brings a little more than just surround sound, and slightly changes the headset's frequency response when turned on, further de-emphasizing high end sound. Nothing's too far out of whack, so you shouldn't run into any issues with sounds drowning out other sounds.
In music, a frequency response like this is good for electronic music, and other genres where booming bass is what you're looking for. However, the sound of cymbals and some vocals may come through a little quieter due to the high-end de-emphasis. In It Gets Funkier by Vulfpeck, the higher notes of the piano part normally sound just as crisp as the bass line, and while it's still totally audible here, it definitely gets a little lost in all the other sound.
How well does the Astro Gaming A50 Wireless block out noise?
The Astro A50 doesn't do much for isolation.
The Astro Gaming A50 Wireless doesn't offer much in the way of isolation. Wearing this headset, you'll probably have to rely on turning up the volume more than you should when particularly loud noises occur. However, since you're probably not leaving the house with this headset, you're unlikely to encounter frequent and distracting loud noises. But hey, I guess everyone's neighbors are home these days, so all bets are off. Expect the ability to filter out the whirring of a fridge down the hall, and not much more.
Is the microphone any good?
The A50's microphone is flexible, but it's not terribly accurate.
The Astro Gaming A50 Wireless features a pretty average microphone for a gaming headset. Much like many products on the market, there's a very significant de-emphasis in the bass range. This means people with deeper voices will come across pretty distorted. The sporadic peaks in the high range will make hearing things like sibilant sounds (F, S, and SH sounds) easier, though.
This is a very quiet mic, so wherever you're playing, you'll need to increase your input volume. Have a listen for yourself:
How does the microphone sound to you?
1845 votes
Should you buy the Astro Gaming A50 Wireless?
The Astro Gaming A50 Wireless should be a great gaming headset, but it just isn't.
The A50 couldn't live up to the hype.
The build quality is suspect, the microphone is quiet and distorts deeper voices, and the base station offers just as much annoyance as convenience. It doesn't always connect to the platform its plugged into, getting the headset to sit in the right position is finicky, and it needs to be reset seemingly at random. There's a lot to like about this headset, too—it's comfortable and the audio features it offers work well. However, it's just not enough to justify a $300 price.
The Astro Gaming A50 Wireless has been a high-end mainstay since it released in Summer 2019. Frankly, there are far better options for less money out there.
Astro Gaming A50 Wireless
All prices listed in USD unless otherwise specified. Prices may change over time, and vary by region. Unfortunately, we cannot list Amazon prices on the site, as they vary greatly by currency.
What should you buy instead?
The SteelSeries Arctis 7 will give you all the same features for less than half the price.
If you really want something uber premium, the HyperX Cloud Orbit S and the Audeze Mobius sound far better—they're slightly more expensive, but might be worth it. Additionally, the Razer Nari Ultimate is cheaper and actually executes on the feeling of a high-end wireless device.