All products featured are independently chosen by us. However, SoundGuys may receive a commission on orders placed through its retail links. See our ethics statement.
4.4
AmazonBasics Gaming Headset
The bottom line
Even for the price, this is a bad gaming headset.
AmazonBasics Gaming Headset
Even for the price, this is a bad gaming headset.
What we like
Cheap
Mic handles low end pretty well
What we don't like
Everything else
Rating Metric
Sound Quality
3.2
Isolation / Attenuation
1.0
Durability / Build Quality
5.0
Value
5.5
Design
5.0
Connectivity
7.0
Comfort
4.0
When any product category gets popular enough, Amazon is there to undercut the market with its cheap line of AmazonBasics wares. Now, the same brand eating up the "Amazon recommends" shelf space in everything from office supplies to kitchen knives is moving in on gaming headsets too, with the AmazonBasics Gaming Headset.
AmazonBasics is a private label brand, which means its products are made by other companies—it's like Kirkland at Costco. Stores usually use these to drive prices down, and that's certainly on display with this budget gaming headset.
Editor's note: this AmazonBasics Gaming Headset review was updated on February 2, 2022 to include a microphone poll in the mic quality section and an expanded alternatives section.
Who is the AmazonBasics Gaming Headset for?
Gamers on an extreme budget: this isn't a headset built for anything other than gaming. People who work at home all looking for a decent headset might want to look elsewhere, for reasons I'll get into as we go.
Parents of destructive or clumsy kids will enjoy not being out $100 if their young keyboard warrior breaks their AmazonBasics Gaming Headset.
What is the AmazonBasics Gaming Headset like?
With a 3.5mm connection, this is a straightforward plug-and-play headset.
The AmazonBasics Gaming Headset is, in short, a bad gaming headset. While it serves its function, the cheap materials, poor performance, and weird fit means you're getting less than what you pay for. As the branding indicates, the AmazonBasics Gaming Headset covers the basics… and little else. It's a 3.5mm headset, offering stereo sound and a flexible attached microphone—nothing more, nothing less.
Related: A guide to gaming headset apps
While it's made primarily of plastic, it doesn't feel especially cheap—though it's hardly comfortable. The headband is flexible, but I found it far too tight. Within 20 minutes for first putting the headset on, I felt some pretty noticeable discomfort, which blossomed into a nice little headache a little while later. After a few days of sporadic use, the band loosened a bit—but you shouldn't have to wait at all for your devices to not give headaches.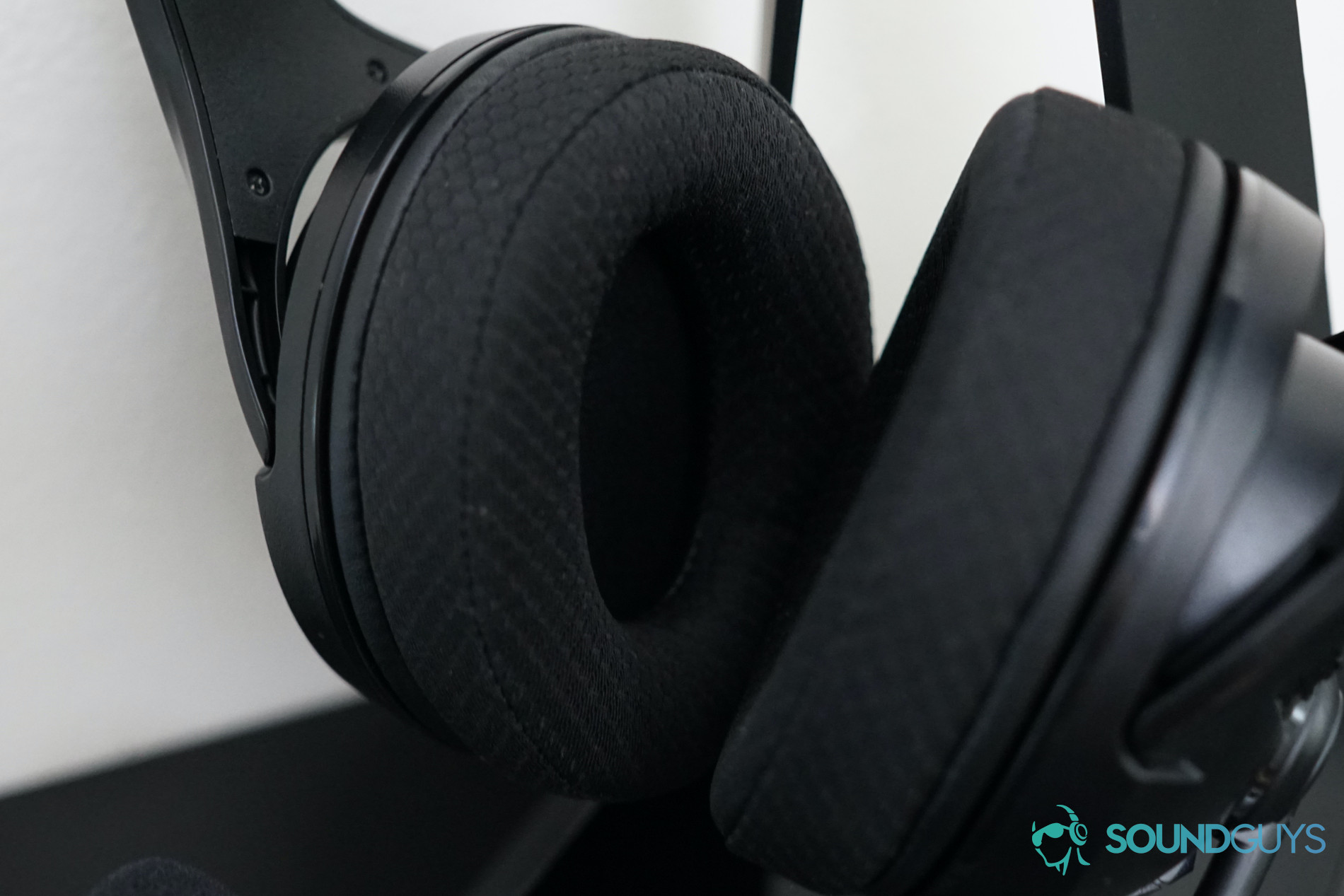 The ear pads are made of nice fabric. It would be great for glasses, if only the rest of the build wasn't so uncomfortable.
The microphone is flexible and its wire is long enough that you can pose it however you like. It's a little on the quiet side, but nothing too egregious. However, if you're gaming on a PC with separate 3.5mm headphone and mic ports, you'll need to get your own splitter. Clearly, this headset was designed for consoles first, though it works just fine on basically every platform. The inline controls work well enough too, with a big volume dial and a mute switch.
If you don't need surround sound, this headset can cover most needs.
Gaming with the AmazonBasics Gaming Headset is a pretty straightforward affair. There aren't any extra features, or companion apps. In essence, it's just as mediocre an experience as using the headset for anything else.
How does the AmazonBasics Gaming Headset sound?
In a word, the AmazonBasics Gaming Headset sounds bad.
This headset under emphasizes the bass and high ranges pretty significantly.
There are a few things to talk about when it comes to the AmazonBasics gaming headset's sound. As this frequency response chart shows, the headset de-emphasizes bass and high tones, and boosts sound between 400Hz and 1kHz. Basically, it means music will sound bad, RPGs will be tough to navigate, and FPS games will be torture if you rely on audio cues like gunshots or explosions to tell you when you're about to die.
Voice chat will sound a little wonky as well. I talked to people over Discord with both higher and lower voices, and in both cases things just didn't sound quite right. A lot of the variation in sound that naturally occurs during speech sounded almost smoothed over. To make matters worse, a persistent low level crackle became more and more audible as I increased the headset's volume.
The AmazonBasics Gaming Headset makes just about everything sound bad.
In music, this kind of frequency response means music won't sound as good you'd likely want. Sounds that occupy the high end, like cymbals and strings, won't sound as prominent as sounds in the mid range, or even the bass range.
Naima's Dream by The Mattson 2 is a great example of this. The song's normally very prominent bass line sounds oddly muted, and the airy strings that back up the lead guitar sound completely indistinct.
This headset won't keep much sound out, partly due its poor seal.
The AmazonBasics Gaming Headset features worse isolation than most over-ear gaming headsets. A big part of this seems to be due headphones, which angle slightly out toward the front. This makes it difficult to achieve an adequate seal, and combined the tight headband was a big contributor to the discomfort I mentioned earlier.
However, the headphone pads are thick enough to offer a degree of isolation that should be adequate in home environments. You'll still hear roommates talking or traffic out the window, but if all you're worried about is the whirr of the fridge in the other room, this will get the job done.
How does the microphone sound?
An attached microphone that adequately emphasizes the bass range is a rarity in gaming headsets.
Oddly enough, the microphone is perhaps one of this headset's only relative bright spots. If you're looking at the wobbly line on the chart above and wondering "that's a bright spot?" well, now you have a sense for what kind of product this is. The AmazonBasics Gaming Headset's microphone does a decent job with low and mid range sounds—rather uncommon for attached microphones. This means people with very deep voices won't have to worry about coming through less clearly or quieter.
However, the mic also struggles in the high range, which means sibilant sounds ("F," "S," and "SH" sounds) won't come through as clearly. This means that speech might not sound quite as natural as it could.
How does the microphone sound to you?
13 votes
Should you buy the AmazonBasics Gaming Headset?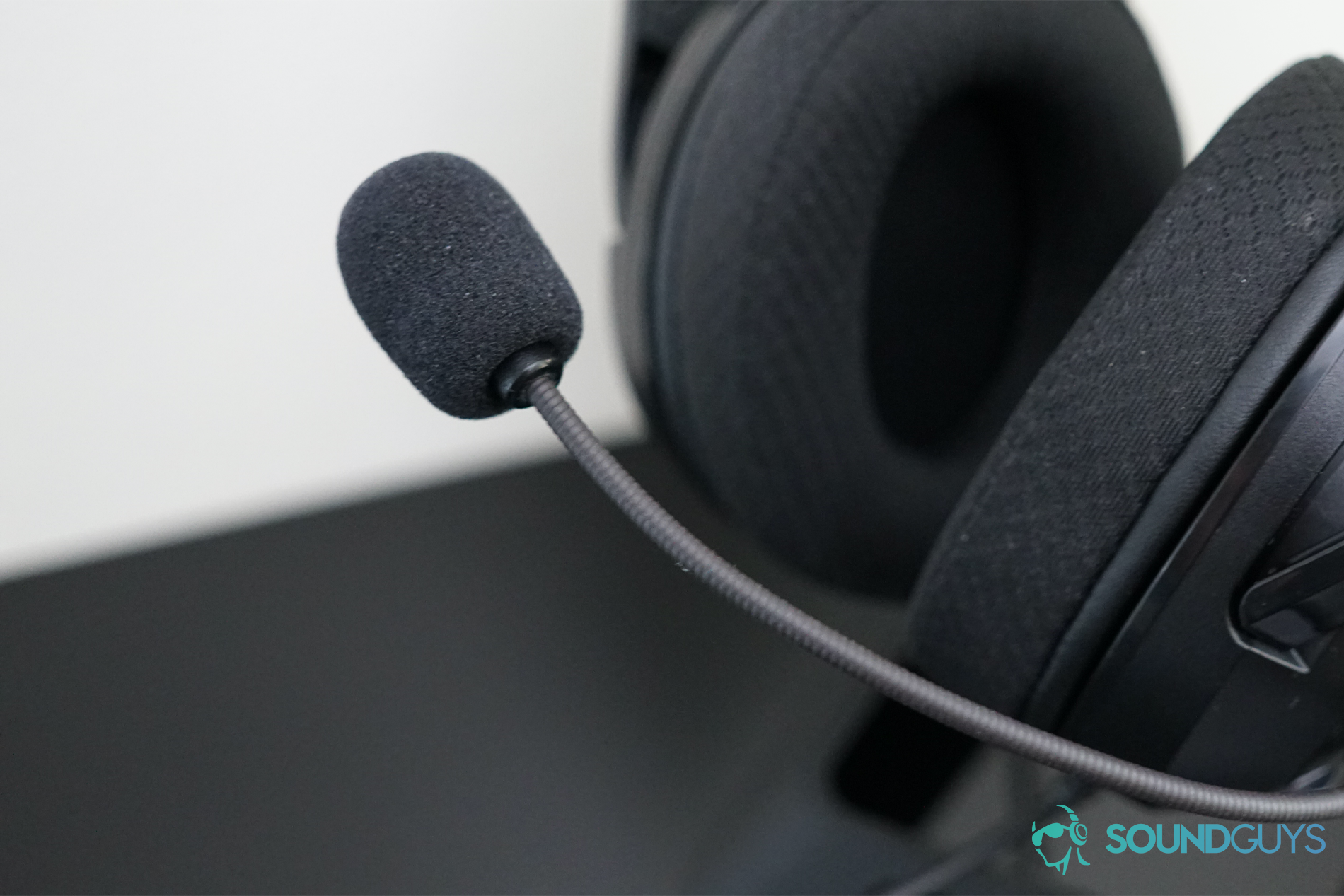 Probably not, no. For all but the morbidly curious and extremely cash-strapped, I just can't recommend getting the AmazonBasics Gaming. There are plenty of fantastic options in the budget range—this isn't one of them.This headset is uncomfortable, built from cheap materials, and it flat out sounds bad.
What should I get instead of the AmazonBasics Gaming Headset?
Pretty much anything will do a better job than the AmazonBasics Gaming Headset. If you're gaming on a PC, you'll probably have to buy an additional 3.5mm splitter, which brings the price closer to far superior headsets like the Razer Kraken X and, if you look a little further up, the HyperX Cloud Alpha.
If you're in the market for a gaming headset, saving up for something nice will pay dividends. However, even at $26 USD this is not a good value. Turtle Beach options around this price range, like the Recon 70, Recon 200, and Recon Spark are all vastly superior to this headset, and run for less than $50 USD. Past that, if you're really looking in the sub-$30 USD area, the JBL Quantum 50 sounds excellent, and it's very comfortable—though this is a pair of earbuds, rather than over-ear headphones.