All products featured are independently chosen by us. However, SoundGuys may receive a commission on orders placed through its retail links. See our ethics statement.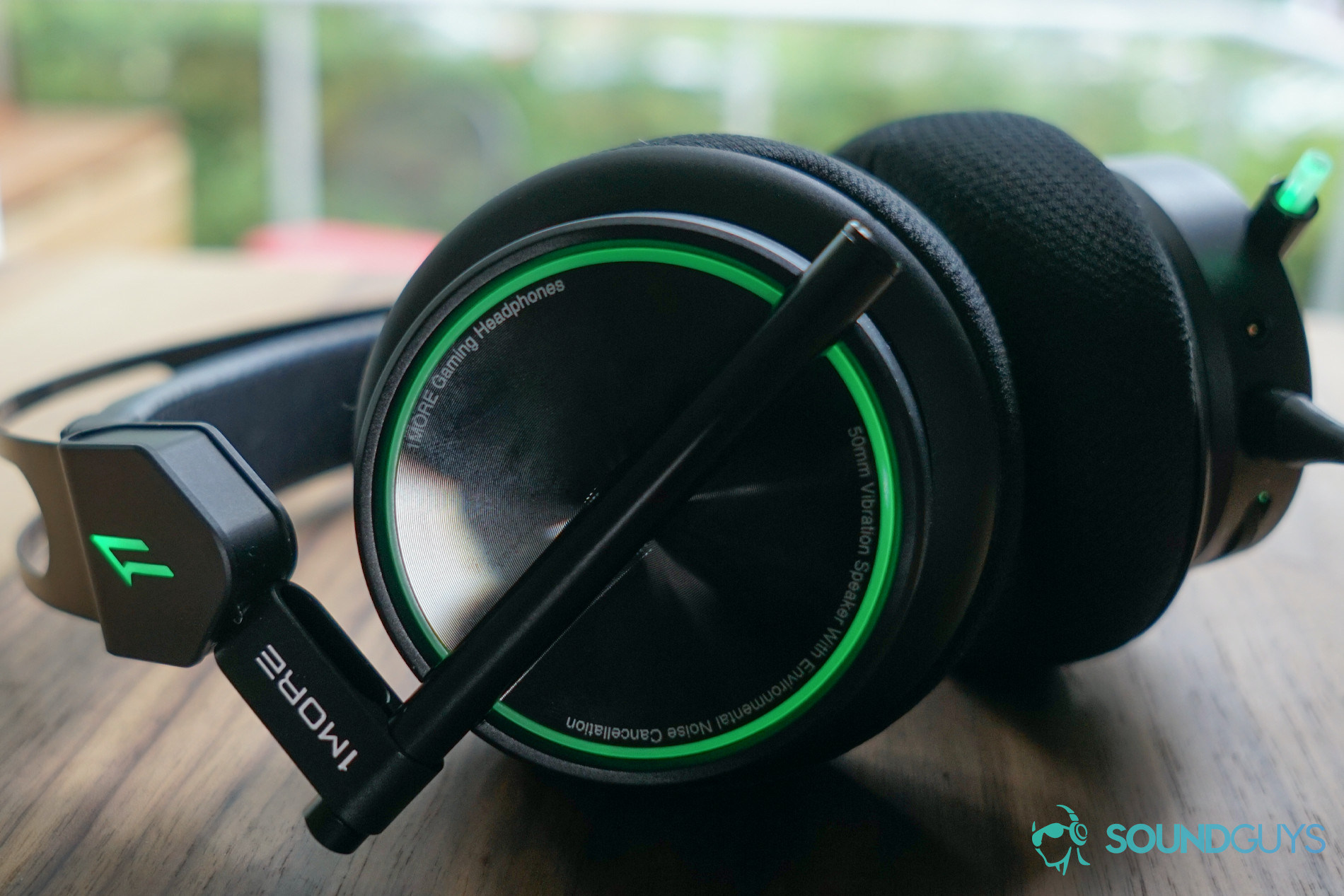 The bottom line
The 1More Spearhead VR can provide a pretty solid gaming experience, but if you're not careful, it'll have you saying "no more" before the app's even set up.
1More Spearhead VR
The 1More Spearhead VR can provide a pretty solid gaming experience, but if you're not careful, it'll have you saying "no more" before the app's even set up.
What we like
Comfortable
Accurate microphone
What we don't like
Catastrophic software risk
Audio output is just okay
LED tube is useless
Internal mic sounds worse than an external one
Rating Metric
Sound Quality
7.1
Isolation / Attenuation
2.6
Durability / Build Quality
7.0
Value
6.5
Design
7.0
Portability
6.0
Comfort
9.0
Audio company 1More hasn't made as many strides in the gaming headset market as, say, the true wireless earbuds space, but it's got a few offerings. The 1More Spearhead VR is the company's more affordable option, and it offers a pretty large stable of features.
Is this a dark horse contender, or is it held back by 1More's rather odd design choices?
Editor's note: This review was updated on May 11, 2021 to include a table of contents.
Who is the 1More Spearhead VR for?
PC Gamers who want all decent chunk of gaming and media features for not that much money.
At-home workers looking for something comfortable with a decent mic, and don't mind all the glowing lights.
What is the 1More Spearhead VR like?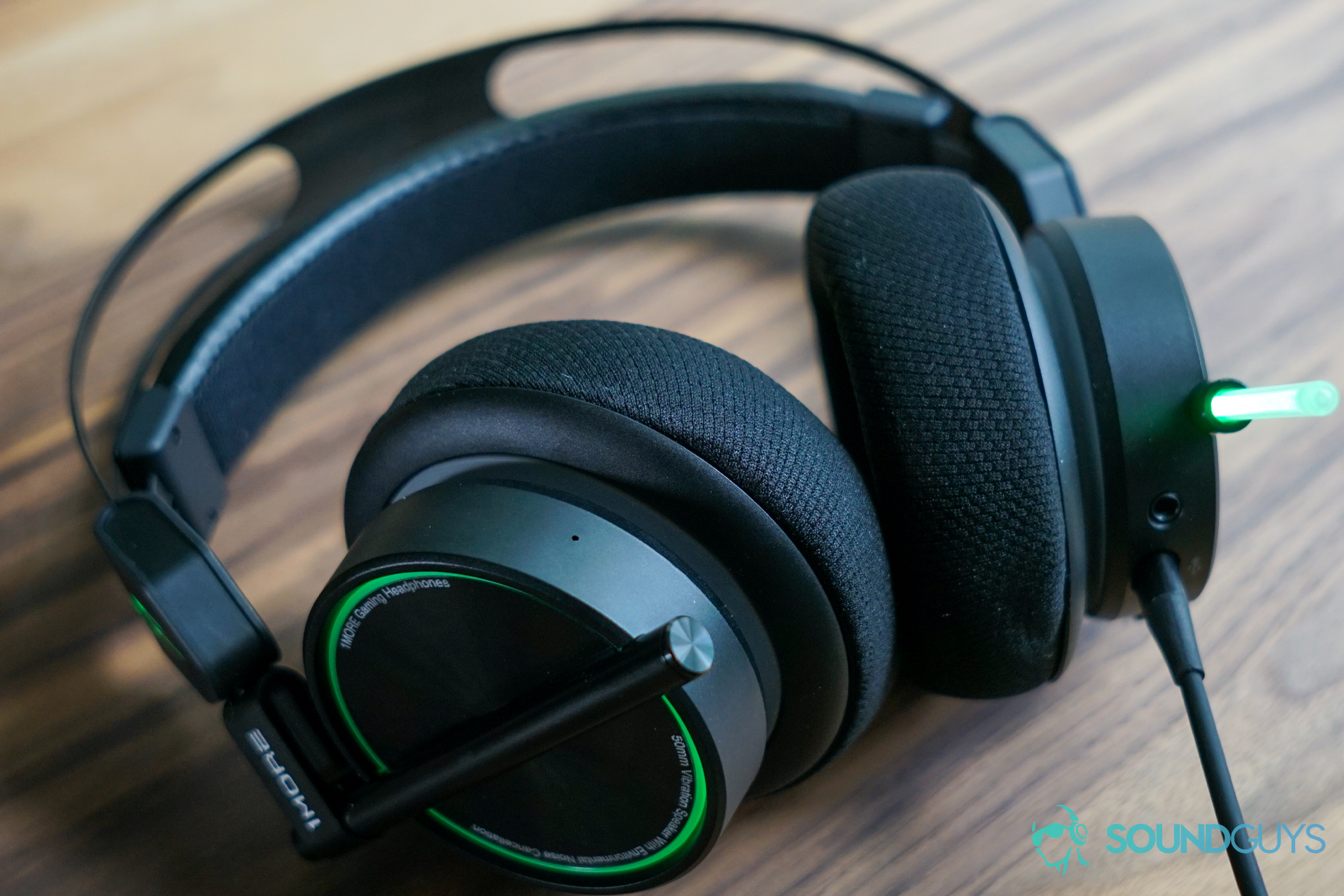 This is actually a pretty nicely built gaming headset. Shame about… well, everything else.
Right off the bat, and more intensely than most, it's extremely obvious what the 1More Spearhead is. From its pronounced suspension band to its rather complicated and angular hinge system (and yes, the colored LED lights that run through it)—this is a real gamer product. Gaudy design decisions aside, there's actually a lot to like about this headset.
The 1More Spearhead VR is a wired gaming headset compatible primarily with the PC via USB connection, and consoles via 3.5mm. It's made primarily of metal and plastic, and it strikes a great balance between feeling sturdy and avoiding too much heft. The headphones sit on offset hinges that move at a diagonal angle, with ear pads that tilt in whichever direction you need. The metal suspension band features a mesh covered pad, which matches the material of the ear pads. In short, the 1More Spearhead VR is a very comfortable gaming headset—it sits with just the right amount of tension to feel secure without being too tight. The ear pads are soft, and establishing a decent seal is easy.
To adjust the bass, click in the wheel and then start turning it to increase or decrease levels.
Actually using the headset is pretty straightforward. For the most part, this is a plug and play affair—the headset includes detachable USB and 3.5mm cords for whatever platform you're interested in using. On the left ear cup, there's a mic mute switch and volume dial, which you can press to control the headset's bass output. Also attached to the left headphone is an retractable LED light tube, which may look like a microphone, but in fact is just an LED stick that serves no other purpose than aesthetics. The microphone is actually embedded inside the right ear cup. I don't know why 1More decided to do this, but the retractable LED stick will light up as you speak into the microphone, or glow a solid color when the mic is muted.
The 1More Spearhead VR App is a struggle to use
There are a lot of features in this app that don't make many apparent changes to the way things sound.
The 1More Spearhead comes with a full complement of features supported by custom software in the form of an app you can download from the company's website. To put it lightly: the app is unpleasant to use. There's a brief line in the headset's manual indicating that you shouldn't have headset plugged in when installing the software, or else the installation will fail. It's easy to miss, but a very important rule to follow.
I installed the app with the headset plugged in the first time, and as prophesied by the info booklet: the installation failed, and put my computer in a boot loop. This forced me to the restore and reinstall everything on my computer. While this is without doubt a case of user error, it doesn't feel unreasonable to mention—given that something as seemingly minor as having the headset plugged in could result in such a catastrophic failure. Most gaming headset apps exist on a spectrum of largely mediocre performance and value, but is one definitely takes the cake for highest risk.
When the Spearhead app is installed properly it's still not great to use. The app offers a suite of features powered by Xear audio like surround sound, dynamic bass, microphone clarity, and environmental noise canceling. However, the app is poorly laid out, and many times settings didn't save after being "applied."
Gaming with the 1More Spearhead VR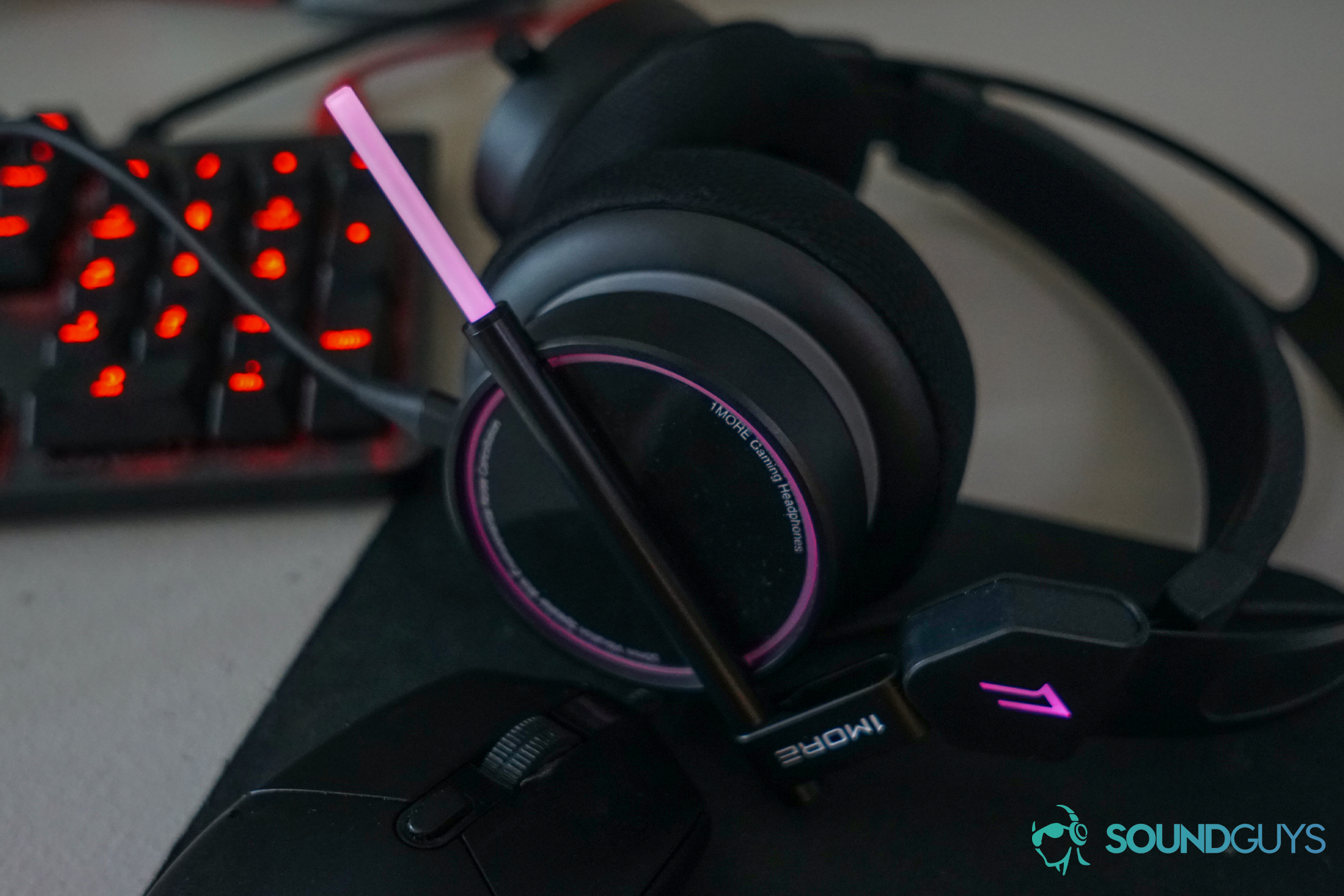 Using the Spearhead app you can match the colored LEDs to your setup, or pick something different.
Despite the generally unpleasant software experience, gaming with the 1More Spearhead VR is actually  pretty solid. As mentioned earlier, this is very comfortable gaming headset, and wearing it even for multi-hour gaming sessions shouldn't prove an issue for anyone.
Playing games like Risk of Rain 2 and League of Legends on PC worked great, and I never had trouble hearing disparate games underneath the games' score. Similarly games like Spider Man and Dauntless on PlayStation 4 worked well.
This is an easy headset to wear for a long time.
The included surround sound feature works well, though it was a little subtler than other virtual surround sound standards I've experienced. Regardless, if you've decided the software isn't worth the risk or potential headache, you won't be missing too much. As with every other kind of virtual standard, surround sound isn't a necessity and it's not going make you better at a game—ultimately, it's just a little more information.
How does the 1More Spearhead VR sound?
Things are a little all over the place here.
The 1More Spearhead VR has pretty unique audio output for a gaming headset, but not necessarily in a good way. There's a slight over-emphasis in the bass range, and in the mid range around 1kHz, and consistent and steep de-emphasis in the mid and high range from 2kHz onward.
In music, a frequency response like this may look a little wonky, but it should do just fine for most genres. The vocal range is accurately output for the most part, and if you're into EDM, the bass emphasis will sound great. High range sounds like cymbals and some strings may have trouble keeping up. For example, the horn sections of Found a Child by Ballin' Jack the rhythm comes through loud and clear—just how you'd want—but the rhythm guitar accents that play at the same time get almost totally lost in the background.
High range sounds like cymbals and some strings may have trouble keeping up.
In game, sound like this is totally fine. If you're especially into battle royale games like Fortnite or a shooter like Valorant, you may run into some issues picking out subtler sounds like footsteps during more intense firefights. Otherwise, the 1More Spearhead shouldn't cause any issues. If it's something you're worried about, the Spearhead app also supports custom EQ settings, so you can readjust things as needed.
Don't expect this headset to block out much of anything.
The 1More Spearhead VR offers pretty average isolation for a gaming headset, which is to say, not much. Getting a decent seal is easy, but the headset can't manage to block out more than the whirring of a fridge. Certainly, don't expect anything approaching active noise canceling. Even if it had very good isolation, this wouldn't really be a headset to take outdoors, but attenuation like this only hammers that point home further.
How is the microphone?
This is one of the more accurate mics around.
As I mentioned before, despite its looks, the 1More Spearhead VR does not feature a boom microphone like most gaming headsets. However, while most embedded microphones are, in a word, terrible, this one is largely quite good. There's still the basically unavoidable hallmark muffled echo you'll find with almost every internal microphone, but otherwise this is very accurate. There are no issues with volume, and the bass range is accurately output well below the typical vocal range—something most gaming headsets really struggle with.
The 1More Spearhead VR also supports an environmental noise canceling feature for the microphone, which effectively gets rid of the muffled internal mic noise. It also makes your mic audio sound considerably more processed, but it's definitely a tradeoff worth considering. Listen for yourself:
How does the microphone sound to you?
127 votes
Should you buy the 1More Spearhead VR?
Probably not, unless you really enjoy looking like you're talking into a lightsaber.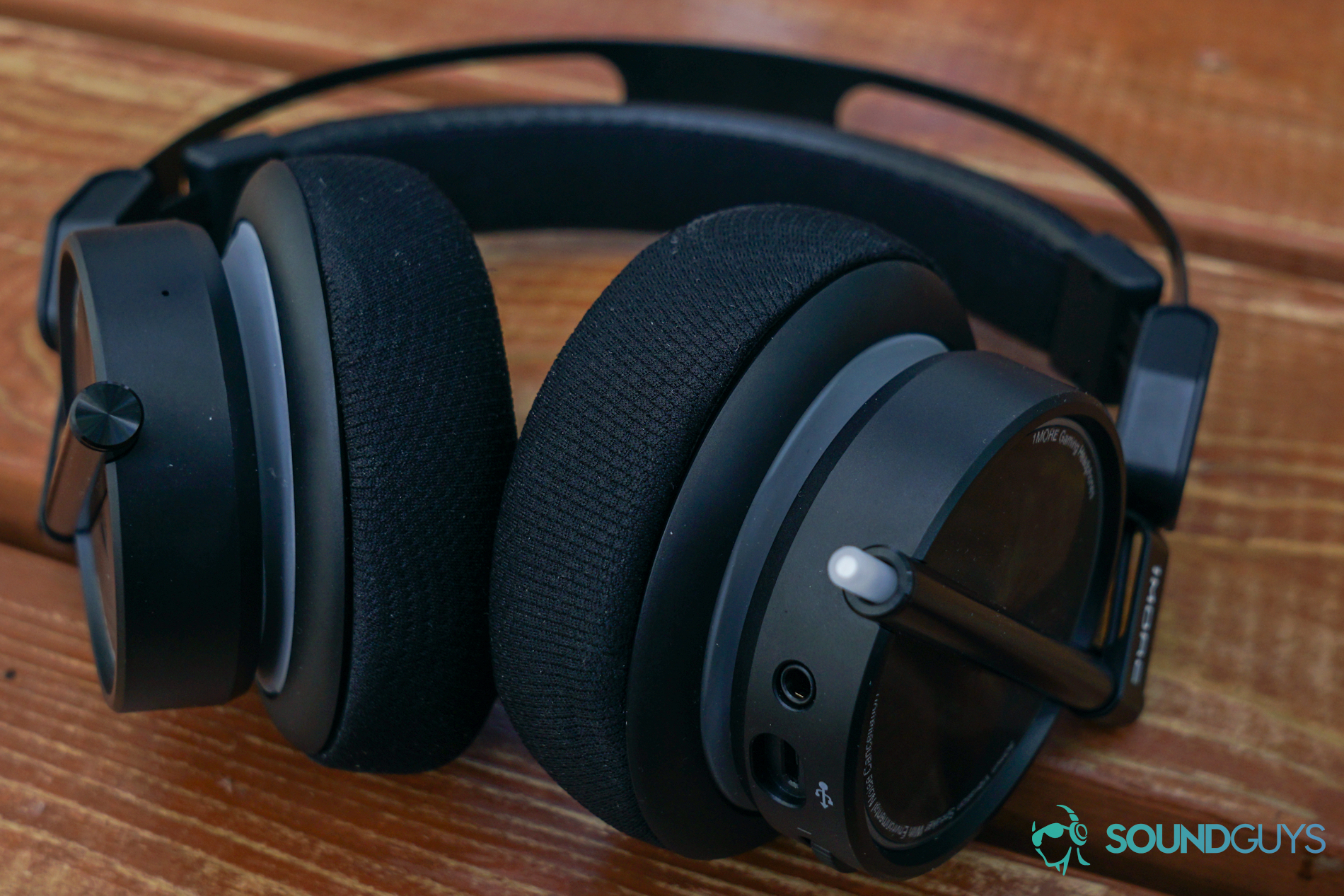 There are separate connection ports for the 3.5mm and USB cords.
It's not that the 1More Spearhead VR doesn't have very much going for it. This is a comfortable headset, with a decent array of features, and very accurate microphone. However, it also has the worst software experience of any gaming headset I've used (no other app has even come close to forcing a full restore). For $150, there are plenty of headsets that offer everything this one does, and more, only with better execution.
The SteelSeries Arctis 7 is just comfortable as the 1More Spearhead, and offers basically all the same features for less money—plus it's wireless. The Logitech G Pro X doesn't have the gaudy LED lights, but it's software does everything the 1More app aspires to without the risk of breaking your computer. There are all sorts of gaming headsets with good microphones—you don't need to get this one, when the rest of its features are so lackluster.