The V-MODA Crossfade 2 Wireless Codex Edition improves upon the Crossfade 2 Wireless. The Codex Edition headphones include the same design external design, battery life, and headphone jack as its predecessor with one major improvement: the support of the aptX and AAC Bluetooth codecs.
Does this addition to the V-MODA family render the Crossfade 2 Wireless irrelevant?
Editor's note: this V-MODA Crossfade 2 Wireless Codex review was updated on January 14, 2022, to expand the list of buying options, add context to the sound quality section, and add an Alternatives section.
Who should get the V-MODA Crossfade 2 Wireless Codex?
DJs and anyone who's rough with their stuff will benefit from the SteelFlex headband that can withstand at least 10 instances of being crushed flat. Each headset undergoes MIL-STD-810G testing to ensure durability.
On-the-go audio enthusiasts will appreciate that this headset supports two high-quality Bluetooth codecs.
Those who enjoy the finer things should play around in V-MODA's virtual customization module. When you customize your cans before checkout, one of the plate categories is precious metals. From there you'll find 14K gold in a variety of colors, platinum, sterling silver, and more.
V-MODA's Codex Upgrade Program gives Crossfade Wireless and Crossfade 2 Wireless owners a coupon code towards the Codex Edition.
What's it like to use the V-MODA Crossfade 2 Wireless Codex?
V-MODA's modus operandi is to produce tough-as-nails products that have specs to match. This tough headset remains lightweight—that, combined with the CliqFold hinges, make these an excellent option for travelers, DJs, gym-goers, and the like.
Read on: Ultimate headphone buying guide
With all of this talk of metal components and a battery of testing, you may be concerned about comfort. Worry not: the cushioned SteelFlex headband and large memory foam cushions provide ample support. Not only that, but the ear cushions have small cutouts in the vegan leather wrap for improved air circulation.
V-MODA designers and engineers paid attention to the look and feel of the carrying case, which features airflow vents on each side. This isn't just aesthetic, it lets your headphones air out even when in the case. It also features fastened elastic bands to store the included headphone cables.
How do you control the Crossfade 2 Wireless Codex?
Usually, you'll find the conrols of an over-ear headset on the lateral edge of one of the headphones. In the case of the Crossfade 2 Wireless Codex, though, the controls sit just above the shield in an upside-down V-formation. This definition makes it easier to identify the buttons. You can access your preferred smart assistant, perform basic playback and call controls, and adjust the volume.
Can you customize V-MODA headphones?
Durability and longevity aside, one of the major selling points of V-MODA headphones is customization. Like most headphones, you have control over the general color palette—black, black/rose gold, and white—but you can also choose the shield material and color; the screw material; and what accessories you want to include.
Related: Best gaming headsets with good microphones
Of course, opting for modest 14K gold-plated shields will cause the price to skyrocket from $350 to $1,000 USD. Choosing platinum shields? Ouch. That's going to run you $27,000 USD. Luckily, the default aluminum options don't alter the price, and they come in a variety of colors. Regardless of the material, you can get the shields either laser engraved or 3D printed with a design of your choosing.
V-MODA BoomPro X microphone demo:
Gamers can use this headset in wired mode for any console with a 3.5mm input. V-MODA offers a compatible BoomPro X microphone that should improve microphone quality a bit compared to the headset's embedded mic.
V-MODA Crossfade 2 Wireless vs Crossfade 2 Wireless Codex Edition: What's the difference?
The V-MODA Crossfade 2 Wireless and Crossfade 2 Wireless Codex Edition look very similar, but the Codex Edition is significantly more expensive than the standards wireless model. This is to account for AAC and aptX support, but otherwise, the headsets share many premium features.
How long does the battery last on theV-MODA Crossfade 2 Wireless Codex Edition?
A 430mAh battery supplies 14 hours of playtime, which isn't great compared to other non-active noise cancelling (ANC) headsets like the Skullcandy Crusher Wireless or Jabra Elite 45h.
You can quickly charge the Crossfade 2 Wireless Codex Edition: 30 minutes of charging provides four hours of playback. A full charge cycle takes two and a half hours via microUSB.
How do you connect the V-MODA Crossfade 2 Wireless Codex Edition?
To connect the Wireless Codex to your smartphone, you must turn on the headset and open the Bluetooth settings in your smartphone. Your phone will discover the V-MODA headset and promptly connect once you tap its title from your smartphone.
The Crossfade 2 Wireless Codex supports Bluetooth multipoint, so you can connect to two devices simultaneously. What's more, aptX and AAC codec support means there's virtually zero perceptible wireless lag when listening wirelessly. Again, you can always unravel the included 3.5mm aux cable for some hi-res audio quality if you subscribe to a lossless streaming service like Apple Music, Amazon Music, or Tidal.
Does the V-MODA Crossfade 2 Wireless Codex have noise cancelling?
The V-MODA Crossfade 2 Wireless Codex doesn't have noise cancelling. The pads included with the V-MODA Crossfade Wireless 2 isolate fairly well. V-MODA ditched the thinner stock pads offered with older headsets in favor of the deep XL ear pads. This blocks out more noise because the XL pads encircle the ears, instead of just sitting on them. You'll notice that headset blocks out nearby conversations and room ambiance, but low-frequency sounds like an airplane engine still come through pretty clearly.
How does the V-MODA Crossfade 2 Wireless Codex sound?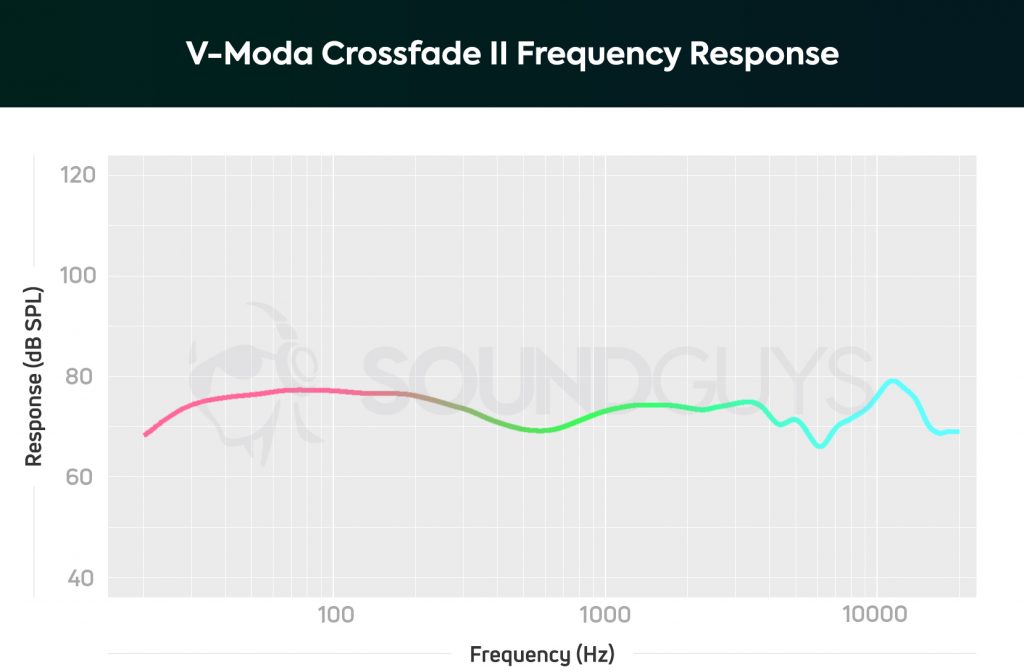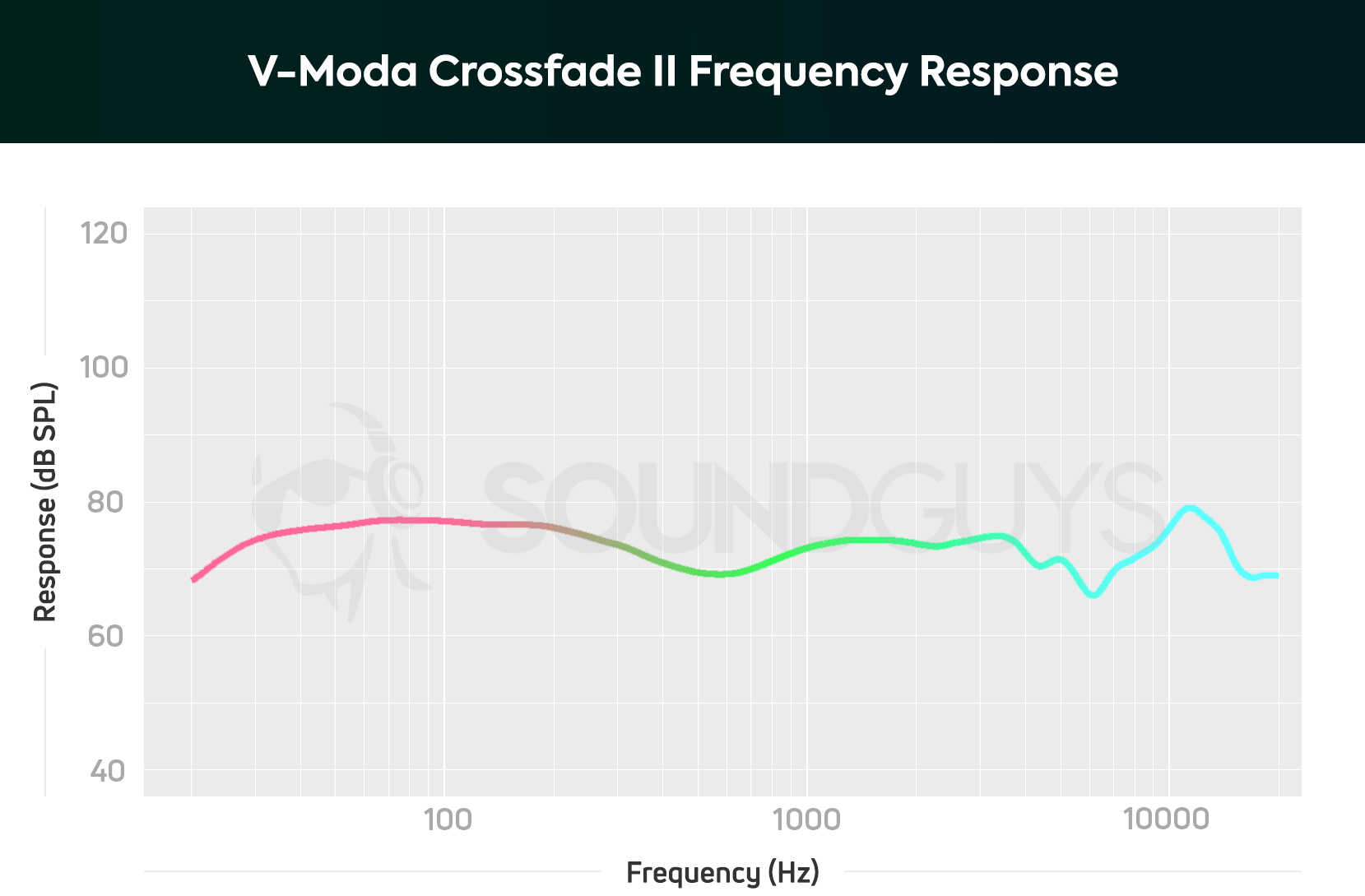 V-MODA is known for booming bass, but this time everything's a little more tastefully restrained.
The Crossfade 2 Wireless Codex frequency response to sound pleasing for nearly all consumers. The boosted bass adds more oomph to your music, which could make it a little difficult to hear midrange notes (400-600Hz) in tracks that are already mixed to make bass notes sound louder than everything else. Generally, though, this is a pretty typical and inoffensive sosund.
Lows, mids, highs
Rainbows as performed by James Lindsey and Cicily is a comforting hip-hop track that sounds great through this headset. The bass drop at 0:20 sounds great, though the biggest bass drop does mask Lindsey's vocals ever so slightly. The best example of this can be heard at 1:10, where Lindsey sings, "Rainbows." During the bridge at 0:37, Lindsey takes a few inhales. This may seem like an odd thing to highlight, but I listen to this song regularly and rarely hear it unless using the Crossfade 2 Wireless Codex Edition.
Hippo Campus' song Warm Glow sounds clear, especially at 2:57, when steady cymbal hits become present while Jake Lupen and Nathan Stocker sing. Their voices are easy to hear above the instrumental picking and constant hi-hat hits. It isn't until 3:50 when the drums and vocal echos re-enter that the hi-hats become difficult to hear.
Is the V-MODA Crossfade 2 Wireless Codex worth it?
Yes, but only for a particular buyer. The V-MODA Crossfade 2 Wireless Codex is one of the most durable headsets you can get, and as long as you're okay with the sub-par battery life and expensive price tag, you'll enjoy this unique headset.
The Crossfade 2 Wireless Codex can be found for less than $300 USD in certain regions, which is a significant markdown from the original $349 USD price. This headset as its drawbacks: no V-MODA mobile app, which means the headset won't receive firmware updates or simple features like a software EQ. This means you're stuck with the default sound or left to your own devices.
V-MODA Crossfade 2 Wireless Codex Edition
All prices listed in USD unless otherwise specified. Prices may change over time, and vary by region. Unfortunately, we cannot list Amazon prices on the site, as they vary greatly by currency.
Next: The best Beats alternatives
What should you get instead of the V-MODA Crossfade 2 Wireless Codex Edition?
If you want a sturdy headset with great sound quality, even more Bluetooth codecs, and an excellent mobile app that works on iOS and Android, we recommend the Shure AONIC 50. This costs $299 USD, though it often goes on promotion, and has a solid microphone with good noise cancelling. You charge it with a USB-C cable and it lasts longer than the Crossfade 2 Wireless Codex Edition (~20 hours). The USB-C port can double as an audio passthrough for USB-C listening for phones that lack a headphone jack. If you want something similar but a bit cheaper, consider the Shure AONIC 40 instead.
The Sennheiser MOMENTUM 3 Wireless is another Bluetooth noise cancelling headset with great build quality. It doesn't merit the same MIL-STD-810 G rating as V-MODA's headset, but the leather headband, plush ear cups, and metal hinges will make you feel confident when using it. This also happens to be a surprisingly good headset if you like bass, and you can EQ the sound in the Smart Control app.
Frequently Asked Questions
I can't decide between the V-Moda Crossfade 2 Wireless Codex Edition and the Shure AONIC 50. I need the headset to last a long time.
The Shure AONIC 50 and V-Moda Crossfade 2 Wireless Codex are very different headsets: the former has noise cancelling, while the latter does not. Shure's passive isolation is slightly better when it comes to blocking out midrange frequencies than V-Moda's, but V-Moda's headset more effectively blocks out high frequencies. Microphone quality is better with the Shure AONIC 50 as is sound quality. Neither headset supports software EQ technology, but the Shure AONIC 50 can receive firmware updates through its mobile app. Unless you're uniquely rough with your headphones, save up for the Shure AONIC 50; it's a more versatile headset that's future-proofed with firmware update support.