All products featured are independently chosen by us. However, SoundGuys may receive a commission on orders placed through its retail links. See our ethics statement.
The bottom line
If you want one of the best pairs of Bluetooth headphones you can get, these are definitely up there. But expect to pay nicely for them
If you want one of the best pairs of Bluetooth headphones you can get, these are definitely up there. But expect to pay nicely for them
What we like
Great build
Quality materials
Strong connection
Fold to a compact size
What we don't like
Price
No rotating ear cups
Bass-heavy
Rating Metric
Sound Quality
8.6
Bass
8.2
Midrange
8.6
Highs
9.0
Durability / Build Quality
9.0
Value
7.8
Design
8.5
Microphone
8.0
Portability
9.2
Battery Life
8.1
UPDATE [March 2022]: While this model is already a few years old, it remains one of the best wireless headphones in our book. Only the more recent Sony WH-1000XM4 managed to get a better rating in our tests.
V-MODA has had plenty of success with their headphones, and they also recently released their first Bluetooth speaker dubbed the REMIX. We really liked it in our full review, but that wasn't the only new product V-MODA has up their sleeves. The Crossfade 2 Wireless are their newest pair of Bluetooth headphones and we got a chance to check them out over the last few weeks. So how are they?
What's inside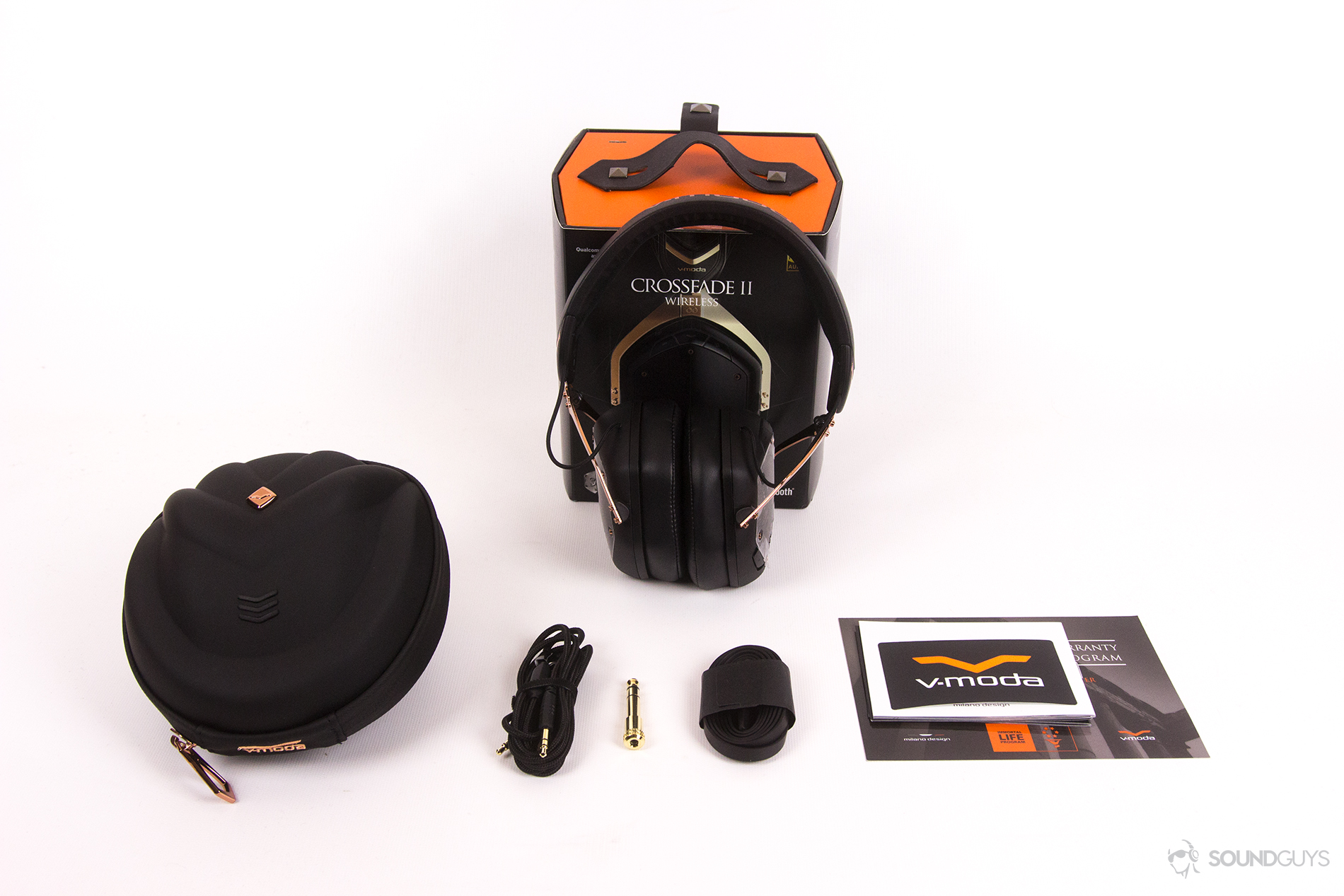 In the box you'll get the headphones, a hardshell carrying case, a 3.5mm audio cable, 1/4″ adapter, micro USB charging cable, and the warranty information and instruction booklet.
Build & Design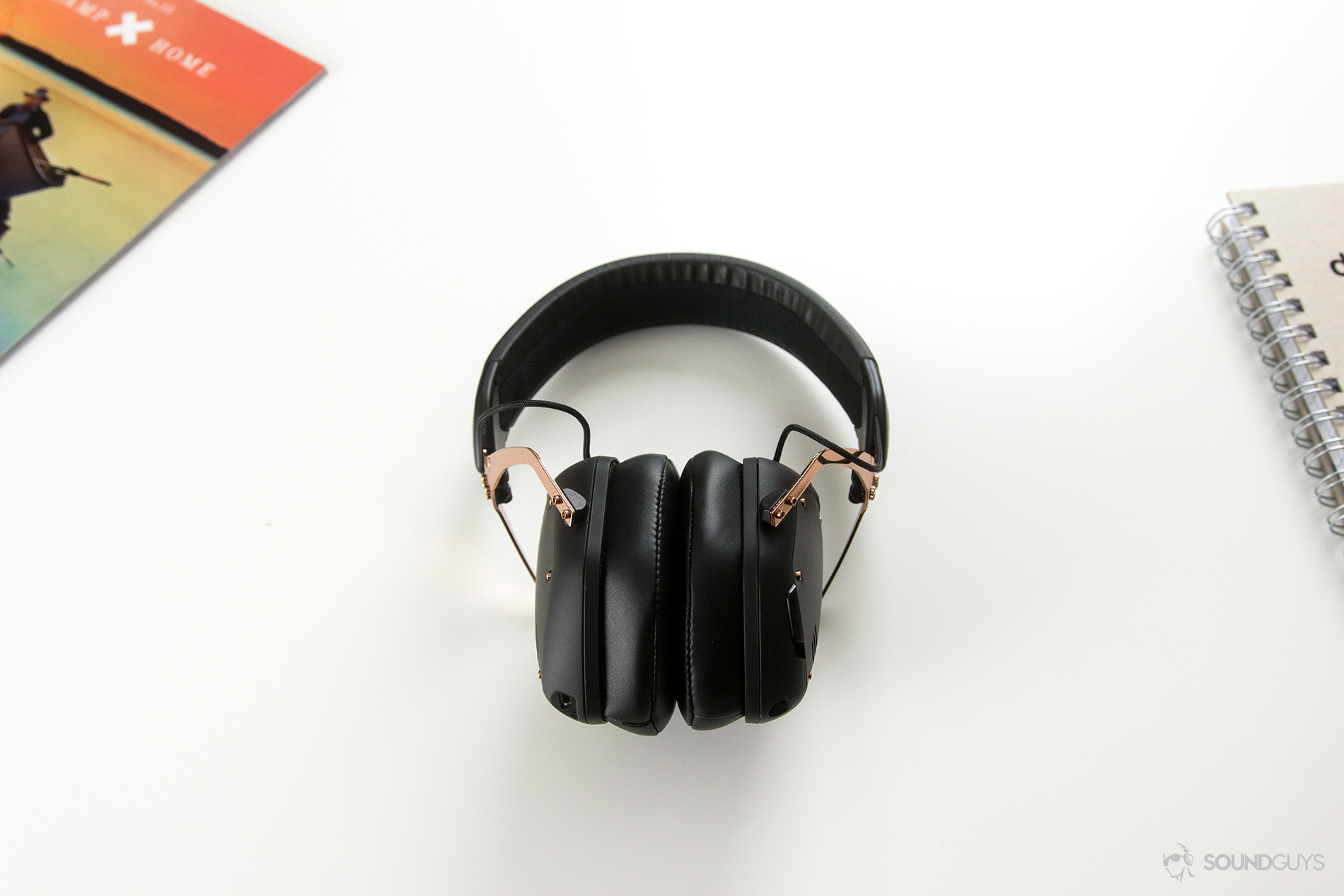 V-MODA knows a thing a two about good build quality, and that shows with the Crossfade 2 Wireless. These have a metal frame that make them both sturdy and lightweight, and they still have V-MODA custom Cliqfold hinges so you can fold them down into a more compact form factor. The headband is wrapped in a soft padding as are the ear pads which are stuffed with memory foam padding and do a great job of passively isolating outside noise. You'll probably still hear the roar of an engine, but as far as people talking around they do a pretty good job blocking them out.
Now these are kind of small but they fit over my ears just right. That said, I can see how it might be a little too tight for some. They are really comfortable thanks to the padding when you're wearing them, but I did have to take them off  every now and then to let my ears breathe. On the bright side, that means that you won't have to worry about these flying off your head. I do wish the ear cups rotated a full 90-degrees for when they're not in use so they'll be a bit more comfortable to wear around the neck, but if you're a DJ or live performer they do rotate around so you can hear what you're mixing.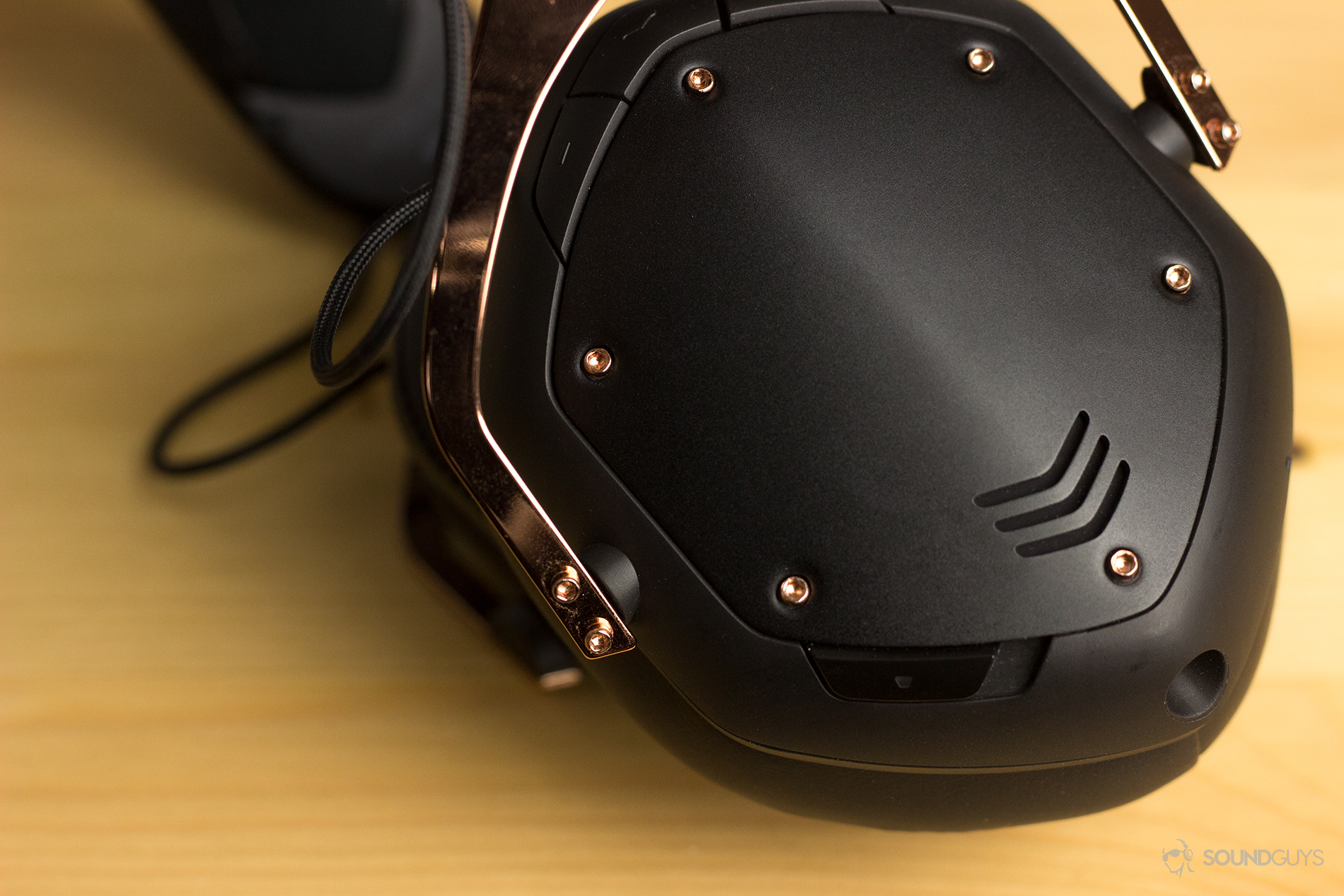 The plates on the outside can be replaced for a customized headset.
The overall design maintains the industrial feel of previous V-MODA headphones with plenty of visible metal and exposed screws. These are slightly heavier than the previous V-MODA Crossfade Wireless headphones just because of a larger battery that was stuffed inside. A fair trade in my book. On the left ear cup you'll find a single micro USB input on the bottom which is kind of weird to me after seeing their REMIX speaker charge via USB Type-C. Micro USB is fine for now but headphones can last a long time if you take care of them, and it would've been nice to see a bit of future proofing here. The right ear cup is where you'll find the power and Bluetooth pairing switch, three buttons for playback controls, a mic, and a 3.5mm input on the bottom.
Like most of V-MODA's product you will be able to customize these with 3D printed shields, so if you ever get bored you can always switch it up for different materials and designs. We're looking at the Rose Gold variant here which comes with aptX support. But you can also get these in white or all-black, neither of which come with aptX support.
Connection
The Crossfade 2 are able to maintain reliable, stable connection.
As a pair of wireless headphones, connectivity is a particularly important factor. Luckily, these had near perfect connection strength. In a few weeks of testing, the only time music ever stuttered was when I was intentionally testing the range (about 30 feet). They performed perfectly during everyday tasks. It didn't matter whether I was riding on the train, walking around city, sitting at a coffee shop, or just sitting at my desk, I never had any issues with dropped music. As long as you stay within that range music doesn't drop out and neither do calls. Though during phone calls people heard tons of reverb I was still able to hold conversations without needing to repeat myself.
As far as playback controls go these have you covered. On the right ear cup you'll find three buttons, two of which control volume and a third which is a multi-function button. One tap will pause or play music, two taps skips to the next track, and three taps returns to a previous song. You can also hold it down to access Siri or Google Now. The buttons have the perfect amount of click to them, and never left me wondering whether or not I had actually pressed a button or not.
Battery Life
The angular ear cups don't accommodate larger-than-average ears, but are extremely comfortable otherwise.
V-MODA claims a battery life of about 14 hours of constant playback, but we never quite reached that. In our first run we reached 11.5 hours and the second maxed at 12 hours. Both are decent numbers and I'm sure if you don't play music on max volume like we do when testing battery life, you can make it last longer but we were never quite able to stretch it that long.
Sound Quality
As we mentioned earlier the Rose Gold do support aptX over Bluetooth, but as my phone doesn't support that codec just yet I had to do testing via my Macbook which does support aptX. If you don't have an aptX device you don't have to worry though, these are still hi-res certified meaning that they can reach frequencies of up to 40 kHz when hardwired to a source device.
The headphones use Cliqfold hinges to fold toward the headband, creating a compact headset.
Bass-heads rejoice, these headphones follow in the footsteps of V-MODA products of the past. Lows are definitely strong, but tight and controlled. I can't see too many people using these for studio monitoring but for casually listening to music the will do fine. I also think they'd be solid for anyone looking to perform live since the excellent noise isolation of the ear cups mixed with the strong lows means you'll be able to hear your music in a crowded place.
One negative about having a strong bass is that it sometimes finds its way into the mids. That wasn't always the case though. For the most part, vocals in the song "Distance" by Emily King sound crystal clear and float over the top of instruments. But there are some points during the chorus where the bass notes cut through the rhythmic guitar chords. Again, this never compromises the quality of the vocals but it was still present.
Though plenty of people love bass, I personally love highs. And the Crossfade Wireless 2's do a great job at preserving detail without ever becoming harsh. Even at max volume, the sound is balanced and crispy with hi-hats in "Glow" by Retro Stefson maintaining a nice sizzle throughout.
Conclusion
Overall, I think V-MODA has another winner. The build of the Crossfade 2 Wireless are durable and the design is what we've come to expect from the company. I'm still a huge fan of the Cliqfold hinges which is a great way to make these more compact, and the noise isolating ear pads are top notch. I do wish the battery life was better but with 11-14 hours of constant playback you're probably not going to have too many issues in day-to-day use.
Connection strength was great and though I prefer a less bass-driven sound, I know I'm in the minority and this has worked for V-MODA in the past. My only issue with these is that $330 might be a bit too high an asking price for most people. But at the same time, I don't feel like these are for "most people". If you want a cheap pair of headphones look elsewhere. These are for the person who wants the best.