All products featured are independently chosen by us. However, SoundGuys may receive a commission on orders placed through its retail links. See our ethics statement.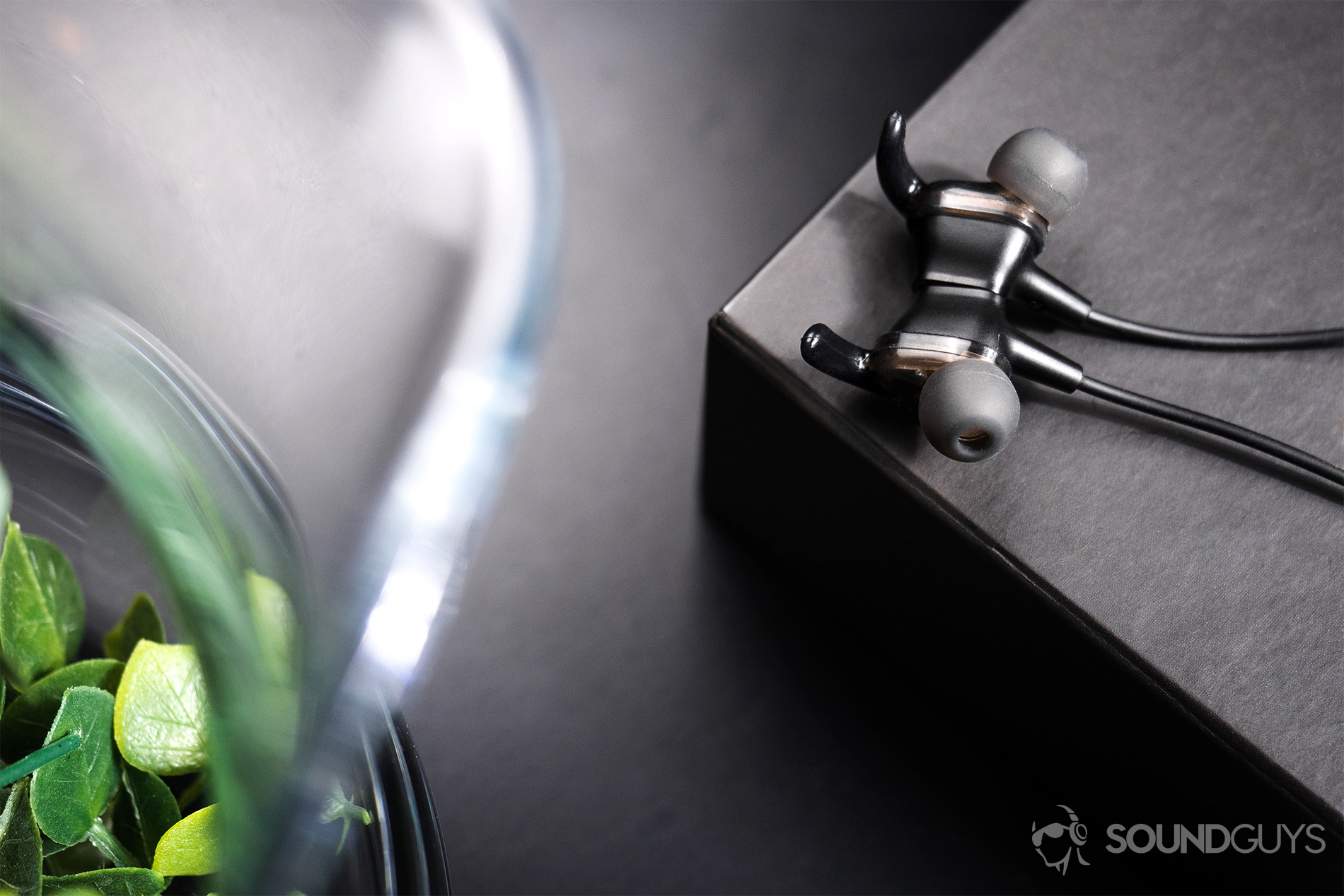 The bottom line
If you're looking to get the absolute most out of each penny spent on a set of wireless earbuds, the SoundPeats Engine should be top on your list. Its IPX6 water-resistant build, Bluetooth 5.0 firmware, and aptX and aptX LL support make this a hard-to-pass-up option.
SoundPeats Engine
If you're looking to get the absolute most out of each penny spent on a set of wireless earbuds, the SoundPeats Engine should be top on your list. Its IPX6 water-resistant build, Bluetooth 5.0 firmware, and aptX and aptX LL support make this a hard-to-pass-up option.
What we like
Bluetooth 5.0<br>
IPX6 water-resistance<br>
aptX and aptX LL support<br>
Multipoint connectivity<br>
Magnetic housings<br>
Battery life<br>
What we don't like
Sound quality<br>
Mic quality<br>
Rating Metric
Sound Quality
7.8
Bass
7.7
Midrange
7.9
Highs
7.8
Isolation / Attenuation
2.3
Durability / Build Quality
8.5
Value
9.5
Design
8.3
Microphone
7.4
Portability
8.8
Battery Life
8.1
Finding the right earbuds is a wholly personal experience: some of us prioritize comfort while others would rather enjoy exaggerated bass. Regardless of your audio inclinations, we can all appreciate a good deal. Well, we're always on the hunt for the best bang for your buck and feel the SoundPeats Engine wireless earbuds deftly negotiate sound quality, comfort, durability, and style for a pretty price of ~$30. If you're thinking that you need to spend an exorbitant amount of money to get premium wireless earbuds, think again.
Who is the SoundPeats Engine for?
The included wing tips mitigate outer ear fatigue and promote a stable fit.
Listeners who aren't looking to compromise just because they're on a budget. These wireless earbuds are feature-packed given their ~$30 price tag. They support both aptX and aptX LL, which is unheard of for the price, and they isolate well.
Anyone looking for last-minute gift ideas. Whether you're in desperate need for a go-to stocking stuffer or know that your loved one specifically wants wireless earbuds, the SoundPeats Engine is a great pick for all listeners.
Athletes. The IPX6 water-resistant build paired with the BeatsX-like soft-touch, flexible neckband makes these neckband earbuds easy to exercise with. Although the neckband design, isn't ideal for running, the manageable cable length makes it bearable.
What's inside
Listeners receive a bulky zipper carrying case, a small carabiner, a micro-USB charging cable, three sets of ear and wing tips, a cable management clip, and the SoundPeats Engine wireless neckband earbuds.
How is the SoundPeats Engine built?
The SoundPeats Engine flexible neckband features a non-skid design, creating just enough friction on the neck to remain static without weighing heavily.
Each trapezoidal plastic housing contains a set of dual-dynamic drivers, which separate the low and midrange frequency reproduction from the treble frequency reproduction by allotting separate chambers to the drivers. This design is similar to that of the acclaimed 1More Triple-Driver and Quad-Driver earbuds.
The angled nozzles perfectly in the ear canal, and the housings don't irritate the outer ear due to the unique trapezoidal shape.
What's more, the angled nozzles create a more comfortable, ergonomic fit for all-day listening. Descending from the housings are thin cables that connect to each end of the neckband. The three-button mic and control module is on the right cable, and the raised buttons are easy to find without looking.
The neckband itself provides plenty of give, and feels identical to that of the BeatsX or OnePlus Bullets Wireless. One gripe I do have about the build is that the plastic end caps criss-cross over each other. Aside from looking dorky, though, it's not something worth fretting about.
The hardshell carrying case is a nice gesture, but it's rather bulky.
Listeners can access their respective virtual assistants by double-tapping the center button. Although the microphone registers the voice well enough for software recognition, many interlocutors mentioned my voice rang hollow during a conversation.
Is it a good option for working out?
When it comes to exercising, a neckband design isn't typically the first choice especially for runners who don't want to deal with the neckband bouncing about. For just $30, it's hard to pass on these IPX6 water-resistant earbuds. Plus, the included wing tips create a secure fit; I never once worried about the earbuds flopping out.
Battery life
With just under 13 hours of playback on a single charge, the SoundPeats Engine is up for that task whatever that may be.
The neckband holds a 240mAh battery, which requires approximately two hours to complete a full charge via the included micro-USB cable. Although it's annoying to see companies opt for micro-USB charging over the soon-to-be universal USB-C mode of charging, SoundPeats had to cut costs somewhere.
Despite the antiquated charging method, the earbuds provide 12.73 hours of playback according to our objective testing. This is just shy of the company's project 13-hour battery life, but seeing as most people won't subject themselves to a constant 75db(SPL) output, you'll likely experience extended playback time.
Connectivity
The integrated control module allows listeners to command Google Assistant or Siri by double-tapping the center button.
Right out of the gate, the SoundPeats Engine wireless earbuds operate via Bluetooth 5.0 with a 10-meter wireless range. This up-to-date firmware is promising as well as the aptX and aptX-Low Latency Bluetooth codec support. Supporting both high-quality Qualcomm codecs is virtually unheard of at this price range—just one of many reasons these 'buds easily stand out from the cheap-earbud crowd.
Like the Plantronics BackBeat Go 410, these earbuds support multiconnect, meaning they can connect to two devices simultaneously. Unlike Plantronics' earbuds, these occasionally struggle to connect. There were a handful of times that I had to completely unpair the SoundPeats Engine from my phone or laptop and reinitiate the pairing process to allow for media playback.
How do the earbuds sound?
Taking the price into consideration, these earbuds sound outstanding. Clarity is lacking across the frequency spectrum, but that's to be expected. Lows easily mask the mids, which makes sense since many consumers favor an emphasized bass response over detailed vocals. Highs, however, are surprisingly clear given the exaggerated bass.
Passive isolation is pretty good, but can't quite combat my dishwasher or random cafe neighbors' conversations. While you're not going to get studio headphone quality out of the SoundPeats Engine, the sound is fine for commuting and exercising and exceptional for the price.
Breaking it down: Lows, mids, and highs
In George Ezra's feel-good song Pretty Shining People, the opening guitar picking of B-G#m-F# is difficult to hear above the primary guitar and that's before the rest of the band joins in. Ezra's bass-baritone vocals, on the other hand, happen to sound excellent especially once the pre-chorus kicks in at 0:34. Here, the tambourine enters, and it's easy to appreciate the complementary contrast between the jangling tambourine hits and Ezra's voice.
This anthem is a great example of what the SoundPeats Engine earbuds excel at and what can be improved upon in the next generation: powerful lows are enjoyable but do tend to mask vocals—females' in particular—Ezra's low register is an exception and sounds great with these 'buds. What's more the 6kHz and 10kHz spikes create a perceived sense of detail, compensating for the general lack of clarity.
Should you buy the SoundPeats Engine?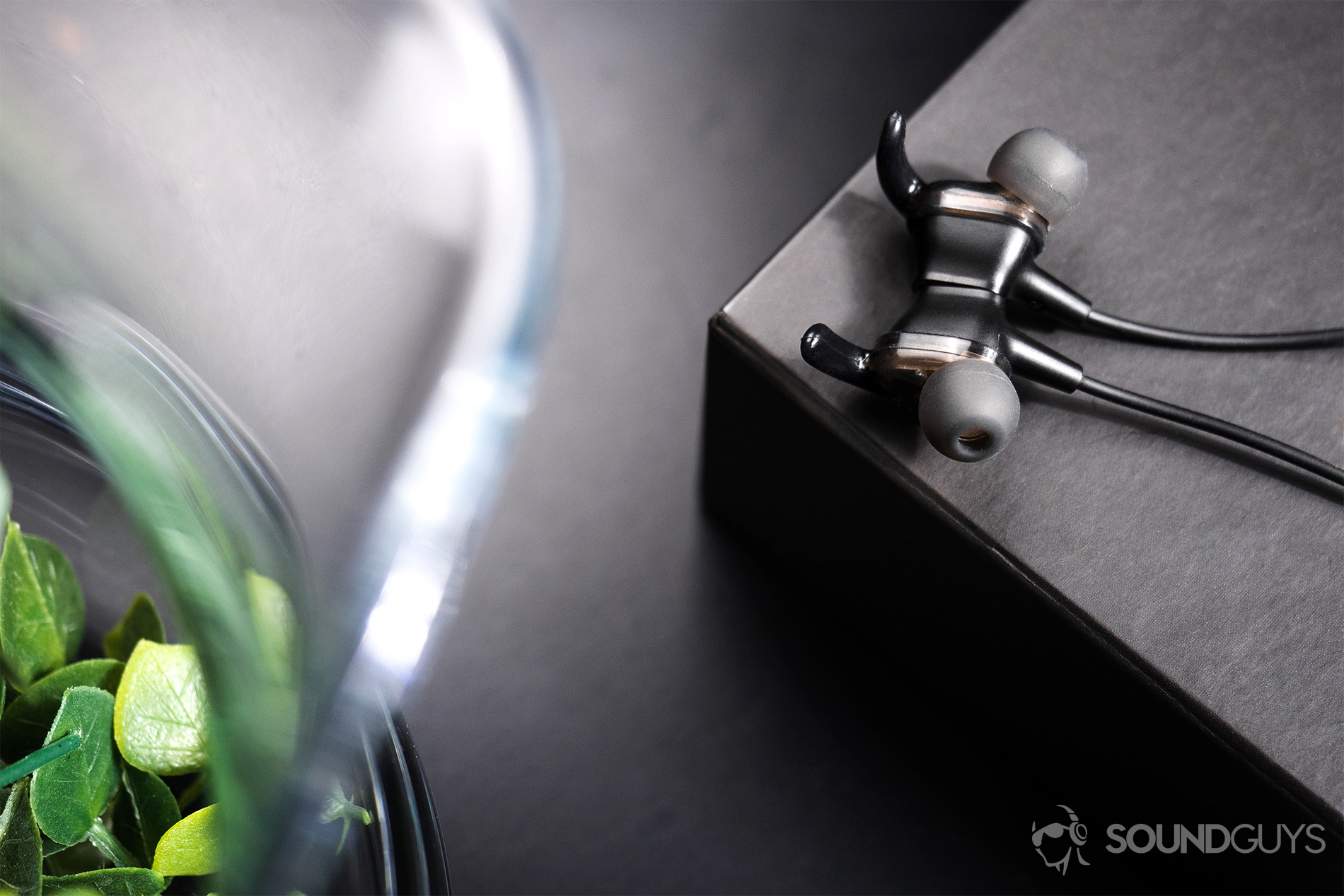 The magnetized earbuds are handy, but connecting them doesn't automatically pause the music.
Normally, it's easy to suggest a comparable alternative to products that will make readers just as happy, but the SoundPeats Engine has little competition in its price range. In fact, with this feature set, these earbuds are easily competing with higher-caliber and pricier alternatives.
Again, for less than a 16-piece meal with four large sides and eight biscuits from KFC, you're getting an IPX6 water-resistant build, aptX and aptX LL support, fantastic battery life, and a comfortable fit. Sure, sound clarity is lacking and micro-USB charging is a nuisance, but they're a small price to pay for such a small price to pay.
Up next: Best headphones under $100