All products featured are independently chosen by us. However, SoundGuys may receive a commission on orders placed through its retail links. See our ethics statement.
The bottom line
Despite the Samson Go Mic being nearly 10 years old, it's still one of the best USB microphones out there. While it's not going to give you professional recording quality like the Shure SM7B will, this little mic is great for the traveling vlogger or beginning content creator.
Samson Go Mic
Despite the Samson Go Mic being nearly 10 years old, it's still one of the best USB microphones out there. While it's not going to give you professional recording quality like the Shure SM7B will, this little mic is great for the traveling vlogger or beginning content creator.
What we like
Cardioid and omnidirectional patterns<br>
Lightweight, portable<br>
Value<br>
Plug and play<br>
What we don't like
Ball-joint seems fragile<br>
Pop filter needed<br>
Picks up ambient noise<br>
Rating Metric
Sound Quality
8.3
Durability / Build Quality
8.7
Value
8.5
Design
8.7
Portability
9.5
Picking out a microphone seems an intimidating process. After all, there are so many recording patterns to know about and it seems that picking out a general-purpose mic can be more difficult than selecting a user-specific option. Well, although the Samson Go Mic is about a decade old, it's still a go-to pick for many starting content creators, gamers, and podcasters. Let's take a look at this affordable hit.
Editor's note: this Samson Go Mic review was updated on March 14, 2021, to include a microphone audio sample and poll, and to expand the list of buying options.
Who is the Samson Go Mic for?
The Samson Go Mic can clip onto most laptop screens and desktop monitors, giving it a small footprint.
Content creators. As we all know, content is king and to have quality content you need quality hardware. That said, good hardware doesn't need to run you into debt as proven by the Samson Go Mic which is portable and records at 16-bit, 44.1kHz resolution.
Gamers. Finding a proper gaming headset is nice, but it's often more expensive than buying a standalone microphone. With the Go Mic's built-in clip, it's easy to attach this to your monitor and forget about it.
People making frequent conference calls. We all know what it's like to listen to your co-worker mid-sentence only for them to cut in and out sporadically. The Samson Go Mic is an easy, all-in-one solution to your conference call woes.
How is the Samson Go Mic built?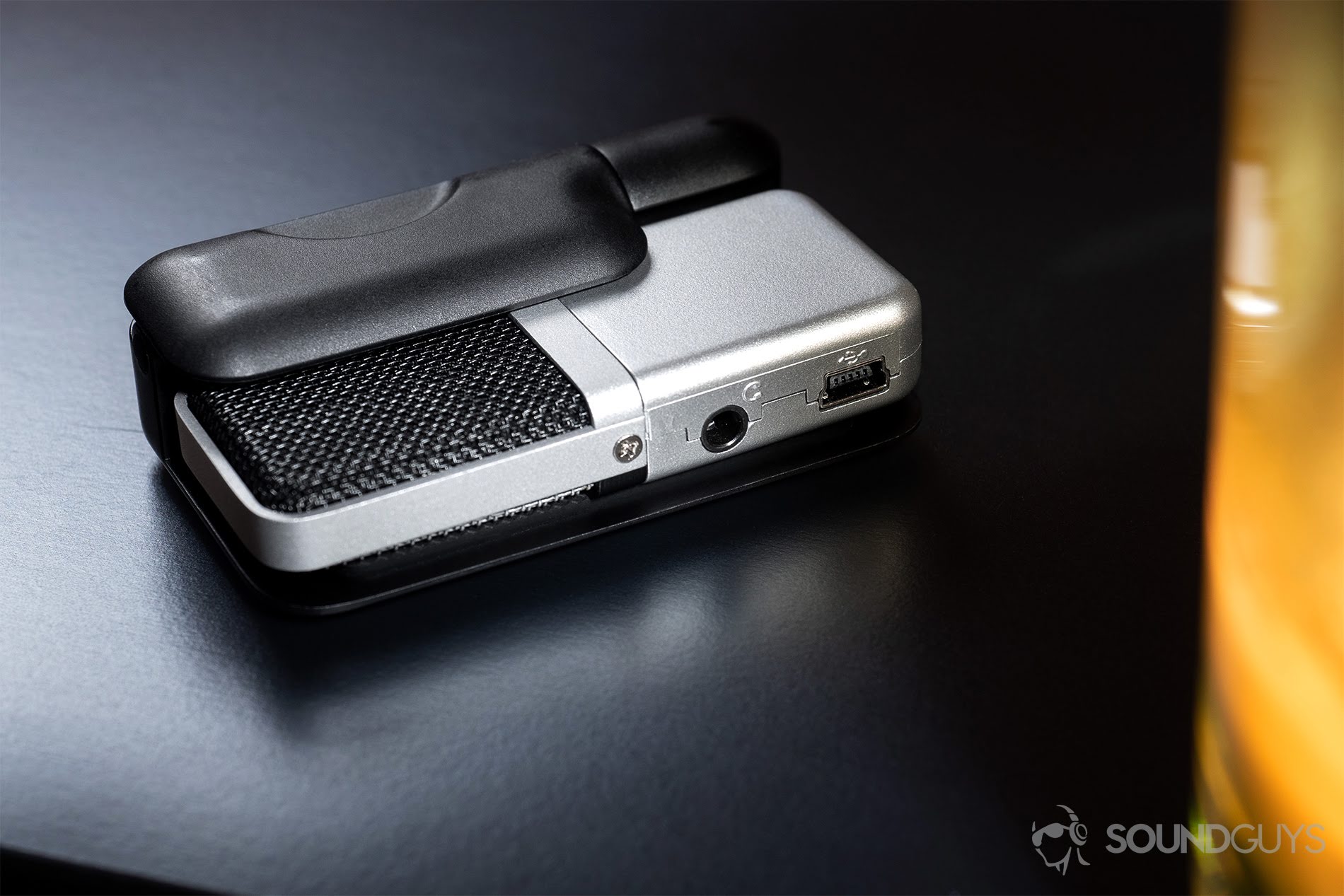 The diecast zinc stand also acts as a holder for the Go Mic.
The first thing I noticed about this microphone is the build quality: the diecast base is zinc-molded and outfitted with a shock absorbent pad to isolate the recording capsules from minimal vibrations. Aside from acting as a shock absorber, the base also serves as a clip for computer monitors and a sheath for the microphone itself. This in addition to the included zipper carrying case.
Behind the windscreen rests two 10mm capsules that are internally shock-isolated and can record both cardioid and omnidirectional polar patterns. The pattern switch is found on the interior side of the mic housing. Here users can choose between cardioid, cardioid with a 10dB pad, or omnidirectional pattern.
The LED indicator blinks red to notify users when their voices are clipping.
There aren't many, if any, frivolities included with the Samson Go Mic. That said, the LED indicator is useful for notifying users of power supply and clipping; it blinks red when noises are too loud. Additionally, the outer edge of the recording module houses two inputs: one for a 3.5mm headphone plug and another for mini-B USB power supply.
Installing the microphone couldn't be easier. If you're using something like Audacity or Adobe Audition, all you have to do is plug the microphone in via the included cable and hit record. Listeners can record 16-bit/44.1kHz, which leaves ample room for post-production adjustments.
How do you connect the Samson Go Mic?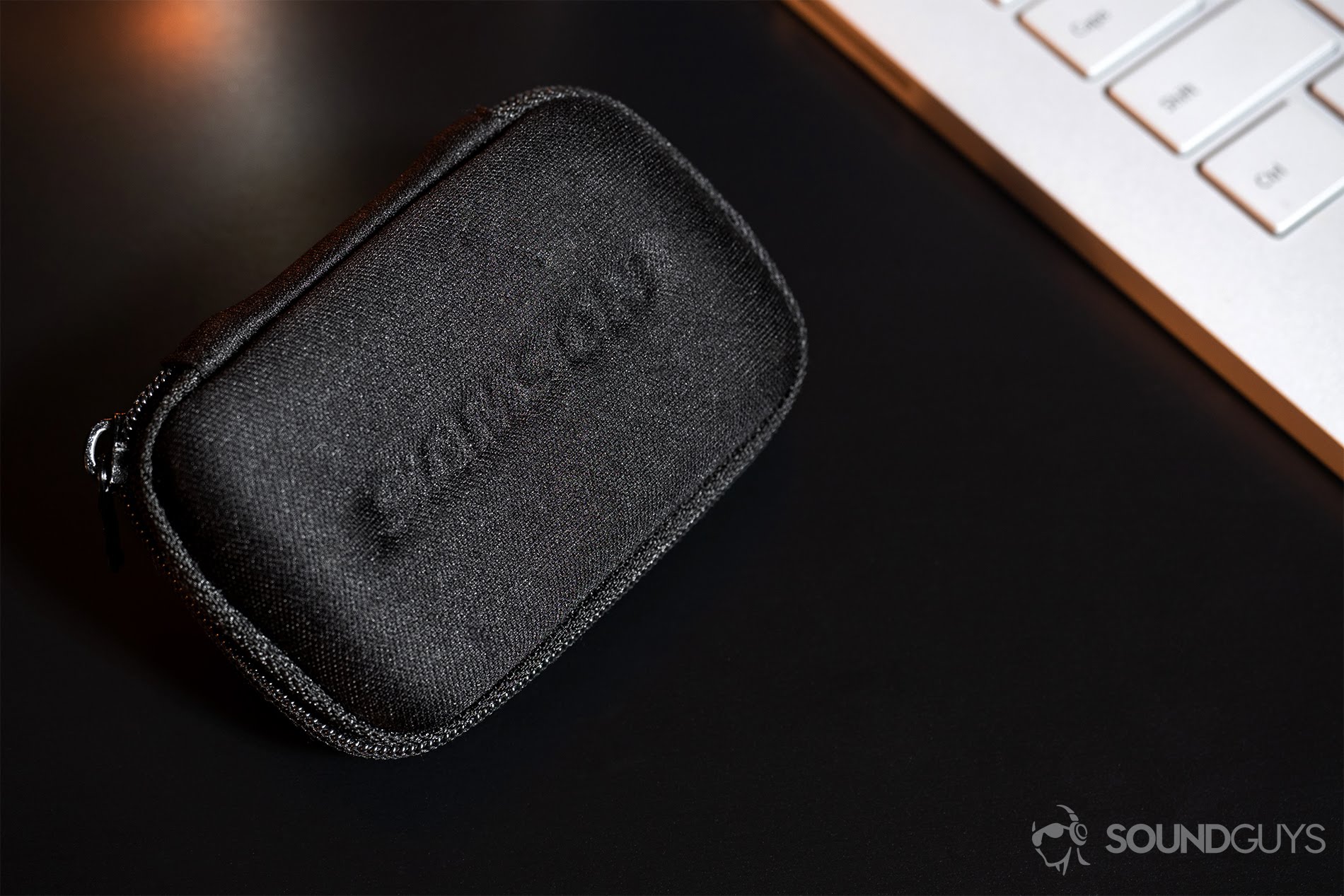 The included carrying case is all black with the embossed Samson name.
Users don't need to concern themselves with finding the proper XLR connector and adapter or with finding a sustainable USB interface. The Samson Go Mic truly is a plug-and-go option for users who don't need top-notch studio recording quality and prefer ease-of-use. The included cable is well reinforced and seems resistant to fraying, which makes sense since this is predominantly a travel microphone.
Is the recording quality any good?
Listeners can choose from two primary recording modes via a built-in switch.
While listeners can record 16-bit/44.1kHz, the quality isn't the best. This makes sense, though, since you're paying less than $50 for a premium-feeling portable mic. Background noise like outside traffic, branches brushing against a nearby window, and even a noisy refrigerator are registered by the microphone regardless of what recording mode is activated. The -10dB setting is a nice touch, though, and comes in handy when surrounded by manageable background noise.
Samson Go Mic microphone demo (cardioid):
While the microphone does have a tendency to record unwanted background noise, it's still a welcome upgrade to my Surface Book's integrated microphone. What's more, for people looking for a solution to their business calls and gaming communications, this is an excellent and affordable pick. Vocals are more isolated in cardioid mode than omnidirectional mode and will outperform most onboard computer mics.
How does the microphone sound to you?
663 votes
Which recording mode should you use?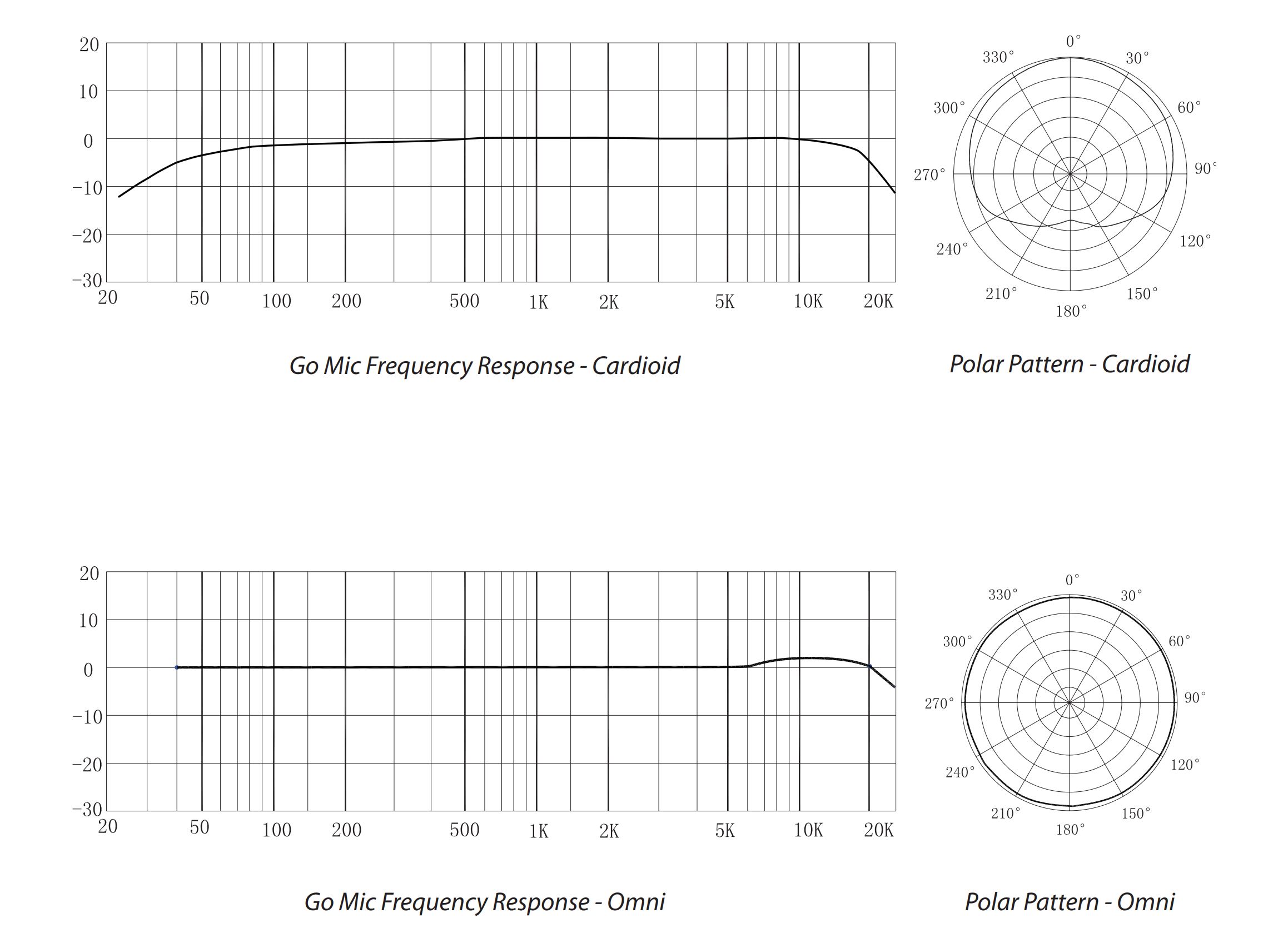 In the user manual, Samson provides the frequency response of both polar patterns.
Cardioid mode should be used for things like podcasting or when the only audio you want to record is directly in front of the microphone.
Omnidrectional recording mode should be used when you want to the microphone to pick up some of the environmental ambiance.
Should you buy the Samson Go Mic?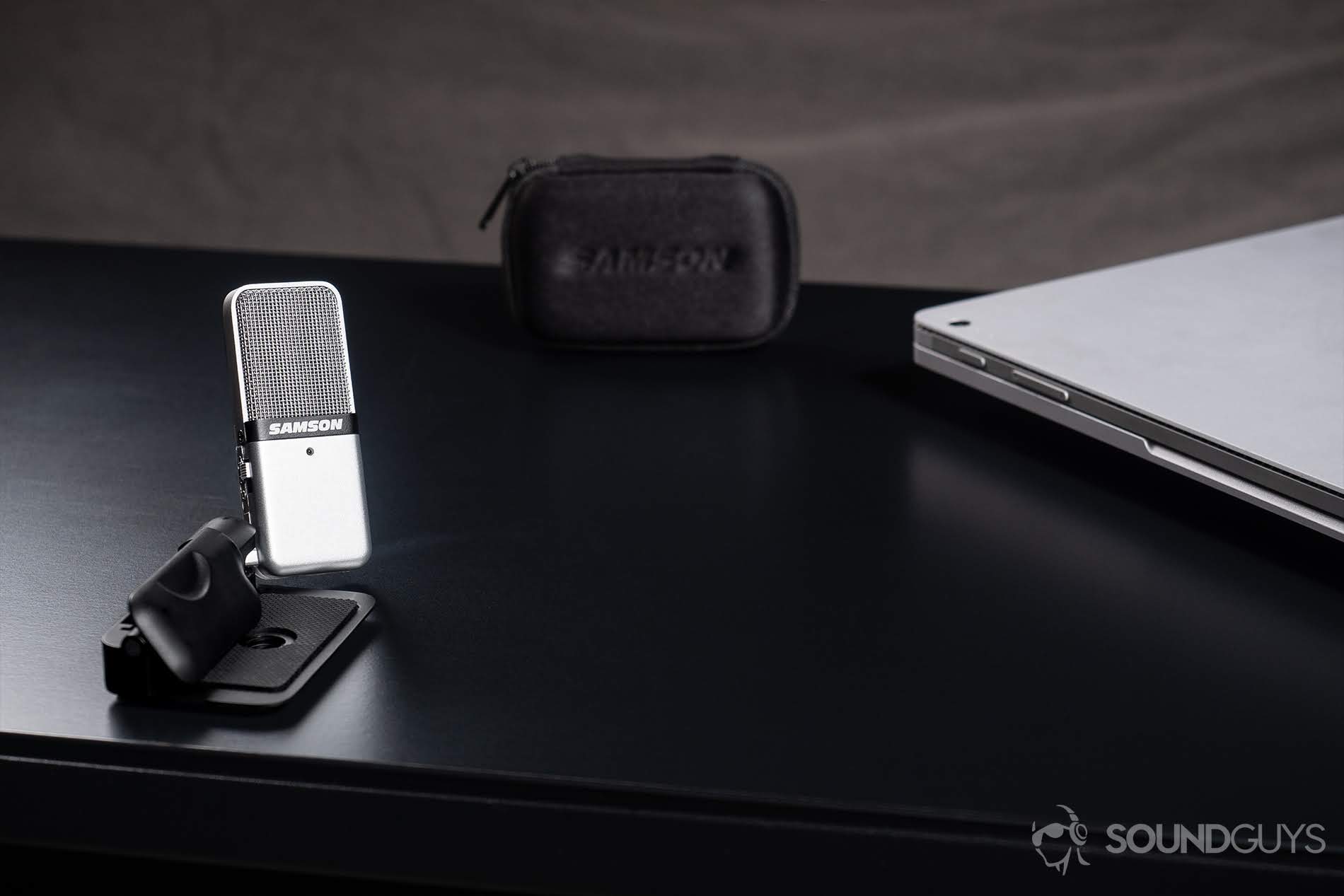 For ~$40, it's hard to recommend a better deal than the Samson Go, despite it being a decade-old product.
If you're looking to up your YouTube channel or podcasting game and don't want to invest a heart-stopping expensive amount of money in a microphone, this is a great starter option. It's sure to be an improvement over your phone's or computer's mic and couldn't be easier to use. Again, its use isn't just limited to content creators; gamers will find the cardioid -10dB pattern of use as the 10dB pad will mitigate key clicking while talking.
Samson Go Mic
Samson Go Mic
Multi pattern options • Lightweight and durable • Affordable
An affordable, durable and portable microphone.
The Samson Go Mic truly is an ease-of-use microphone. The included cable is well-reinforced, and the case is sturdily built. It records cardioid and omnidirectional polar patterns at 16-bit, 44.1kHz resolution.
What should you get instead of the Go Mic?
If you want a similarly priced alternative, check out the Razer Seiren Mini. This USB gamer mic is super easy to use and has a sleek, professional-looking build to it. If you're concerned about audio quality and think that the Go Mic may not be good enough for your needs, that's completely understandable. It really is an entry-level microphone that just so happens to be an excellent bang for anyone's buck. Fortunately, we've compiled a list of the best USB microphones and best podcasting microphones if you're still looking.
Next: Best studio headphones
Yes, you can absolutely use the Samson Go Mic in lieu of your laptop's integrated microphone for video chat apps. Depending on what interface you use, you may be prompted to choose between the Samson Go Mic and the default hardware mic as your input. Zoom does this, but FaceBook Messenger does not.