All products featured are independently chosen by us. However, SoundGuys may receive a commission on orders placed through its retail links. See our ethics statement.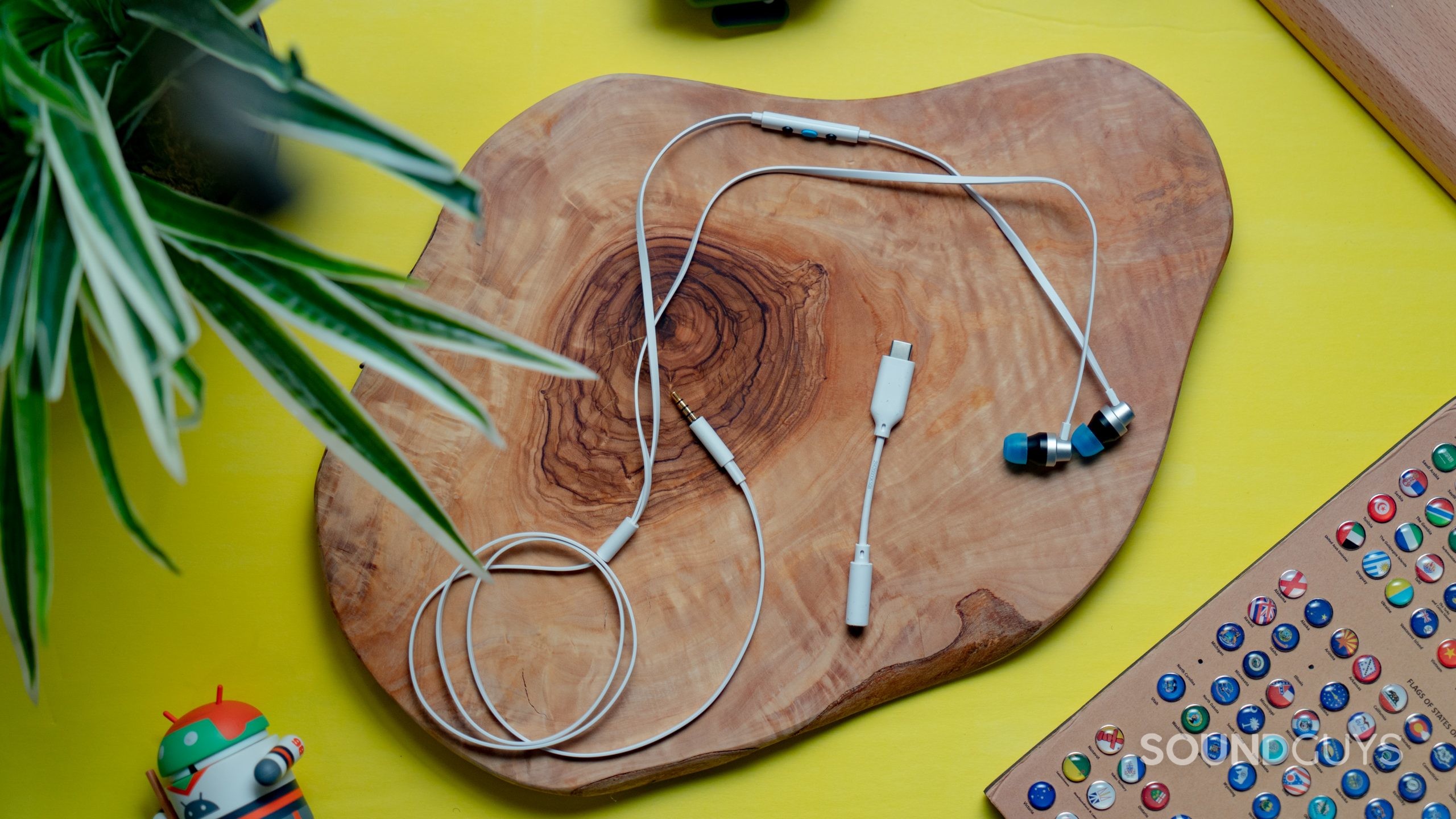 The bottom line
The Logitech G333 is well built, and it's great for online gaming or having a pair of buds that you can easily toss in a bag. It falls short when it comes to a more analytical listening experience however. If you can find it for the right price it's still a good choice.
Logitech G333
The Logitech G333 is well built, and it's great for online gaming or having a pair of buds that you can easily toss in a bag. It falls short when it comes to a more analytical listening experience however. If you can find it for the right price it's still a good choice.
What we like
Aluminum housing
Easy inline controls
Microphone
What we don't like
Sound quality
Short cable
Rating Metric
Sound Quality
8.5
Bass
7.8
Midrange
9.5
Highs
8.3
Isolation / Attenuation
4.7
Durability / Build Quality
6.6
Value
6.0
Design
7.5
Connectivity
6.5
Portability
8.8
Feature
5.9
Comfort
7.0
Gaming earbuds often receive less attention than their full-sized headset counterparts, but that's not to say they don't have as much to offer. In fact, they usually do it at a lower price than their larger siblings. The Logitech G333 does exactly that. It's cheaper than its headset counterparts, with nice aluminum housings and good build quality. Does that quality carry over to the listening and gaming experience?
Editor's note: this is the first version of the article. Updates will follow as the market changes.
About this Logitech G333 review: We tested the Logitech G333 over a period of one week. The company provided the unit for this review.
The Logitech G333 is primarily aimed at gamers, being a pair of earbuds with an inline microphone meant for voice chat. Compared to a full-size gaming headset it's much easier to throw these into a bag thanks to the small size and included carrying case, making it an ideal choice for gamers looking for earbuds to use with their Nintendo Switch or other portable games. It's also a decent choice for anyone that needs a pair of earbuds for online communication, but office workers may find the short cable a little bit more of a hinderance.
What's it like to use the Logitech G333?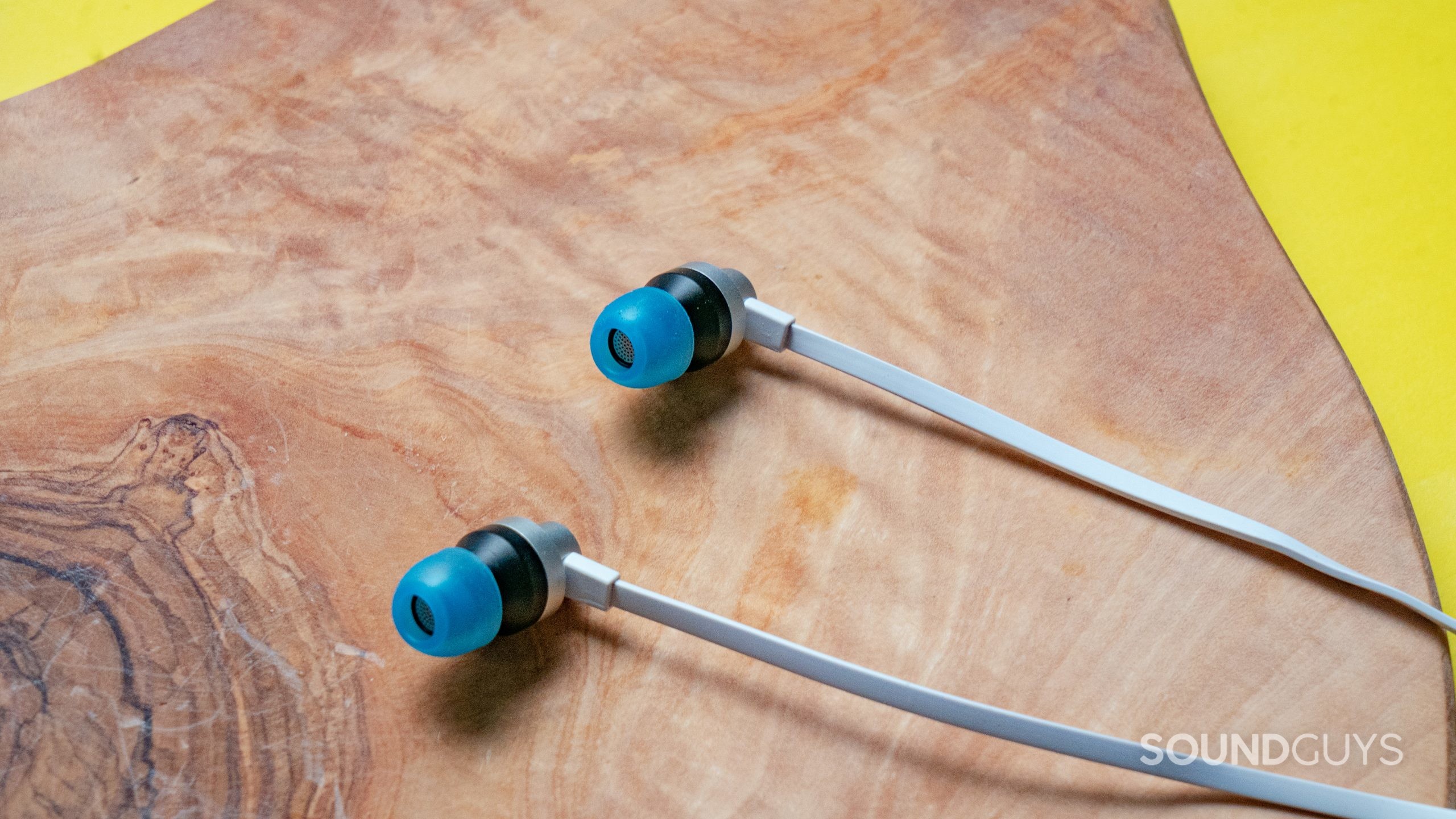 The Logitech G333 features some nice aluminum housing that makes these earbuds feel premium.
The Logitech G333 is a wired set of earbuds with an inline microphone and controls primarily intended for gaming. The earbud housings are primarily made of aluminum, making them fairly lightweight. In addition to a carrying pouch the box also includes three different sizes of swappable ear tips. Also included is a USB-C to 3.5mm adapter.
Once you've found the right tip size for your ears the the G333 is generally quite comfortable. I find it a little irritating after an hour or two, and it sometimes require adjustment, but I've had trouble with lots of earbuds in the past and this isn't outside the norm.
The biggest issue here is actually the rather short connecting cable. It's long enough for having your phone in your pocket or connecting it to a controller in your hand, but it's a little on the short side for connecting to a laptop sitting on the opposite side of your desk or a computer tower on the floor. If you get up or move your head a lot when you aren't holding whatever device you're plugged into, don't be surprised if you accidentally yank the device off the table or pull the earbuds out.
How do you control the Logitech G333?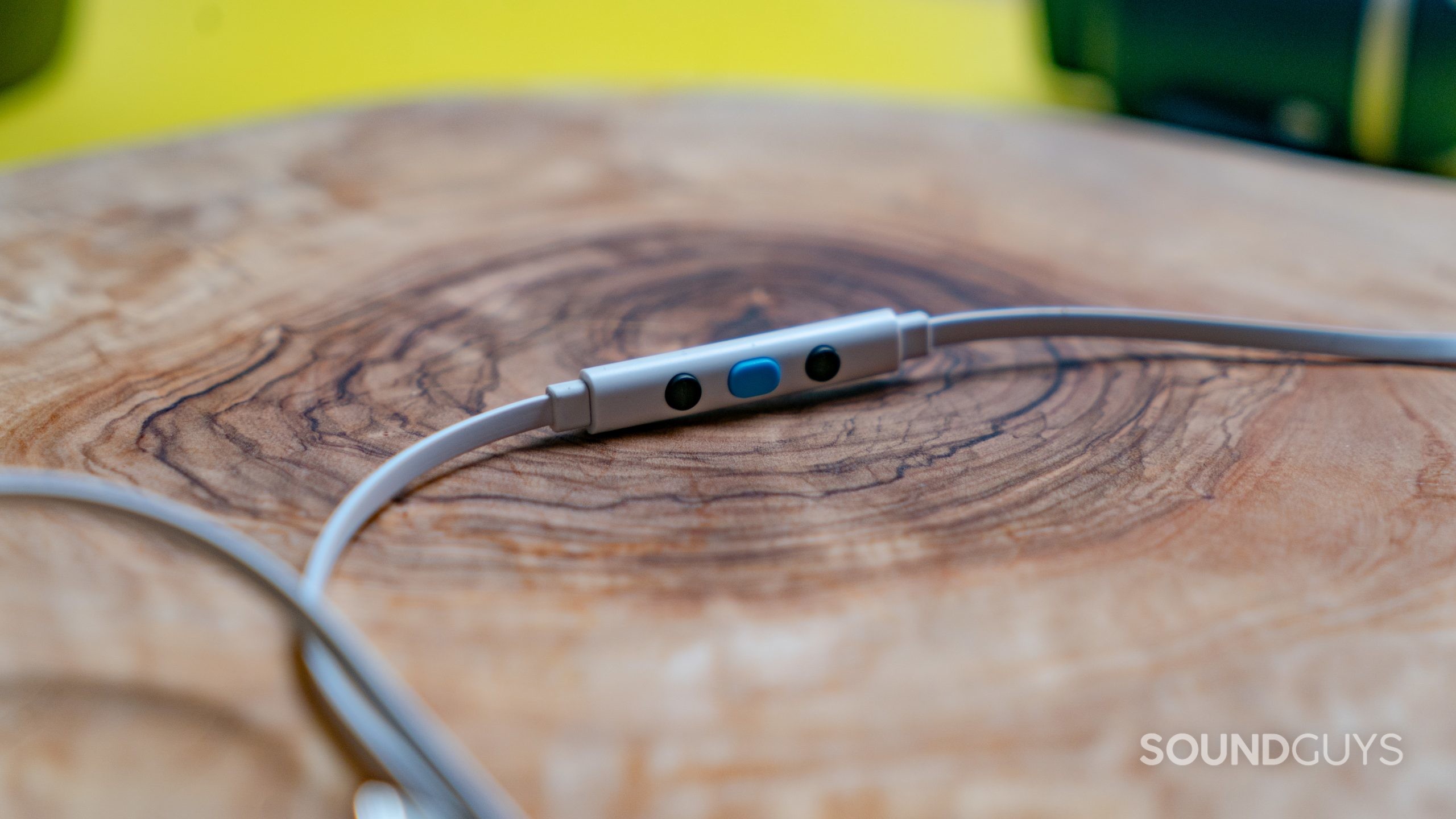 The inline controls here are simple and easy to use, but the lack of ability to fast forward or rewind is missed.
The inline control unit on the headset has three buttons in total. There are simple volume up and volume down buttons, and in between the volume controls, there's a button to play and pause music. On some phones, you can also hold down this middle button in order to have it read out your notifications. Overall this is a fairly simple set of controls, but that makes it very easy to get to grips with.
How do you connect the Logitech G333?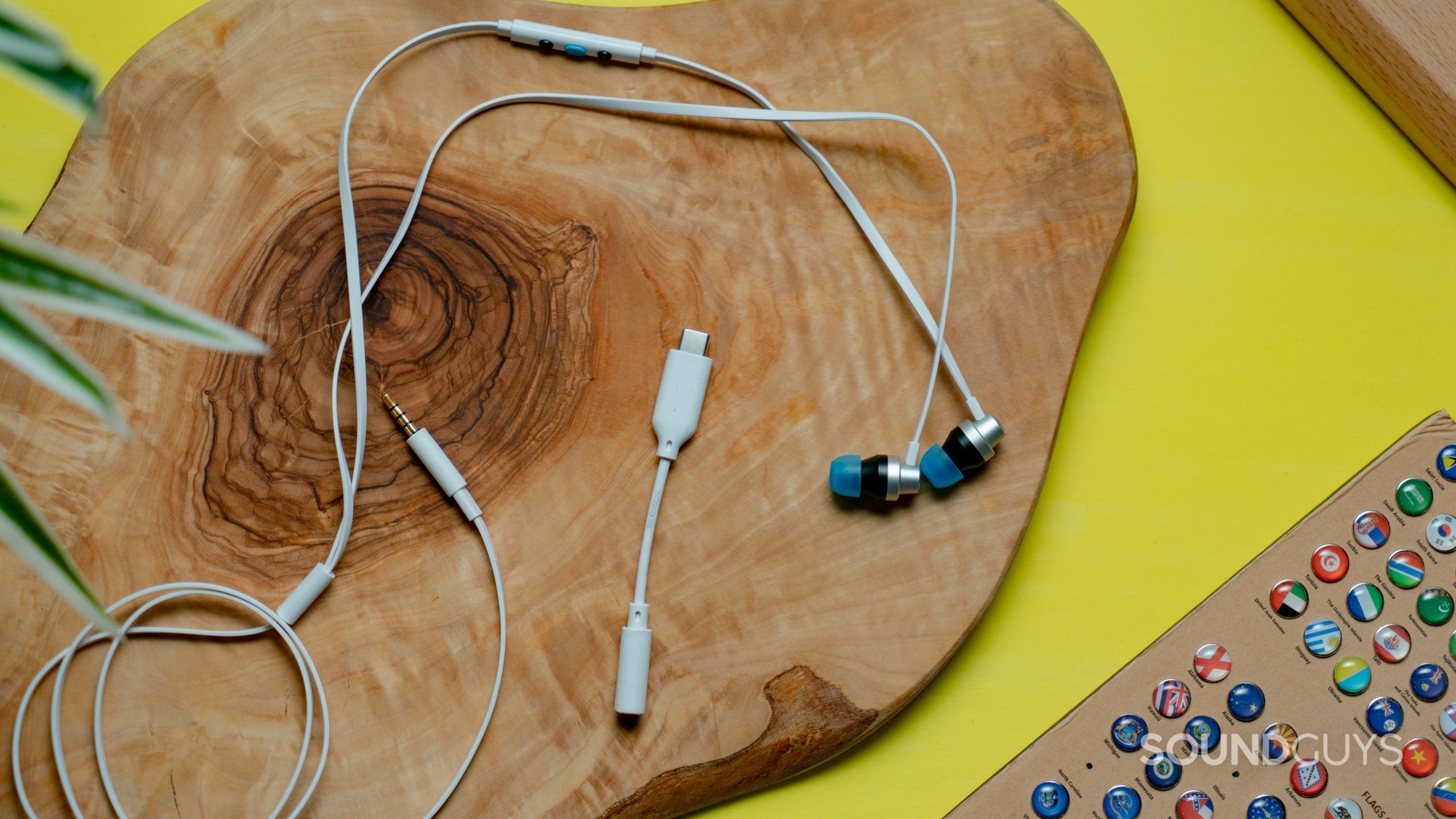 The Logitech G333 includes a 3.5mm to USB-C adaptor, making it easy to use with modern smartphones so long as you don't forget the dongle.
The Logitech G333 is a wired set of earbuds and it connects using a 3.5mm headphone jack. This is a TRRS connector, meaning it carries both incoming stereo playback and outgoing microphone audio on the same connector, making it especially useful with smartphones and other devices that have a TRRS jack. The earbuds are compatible with the Xbox Series S/X, PlayStation 5, PlayStation 4, most computers and laptops, the Nintendo Switch in handheld mode, and the Steam Deck. If your smartphone doesn't have a 3.5mm connector, the box also includes a USB-C-to-3.5mm adapter for you to use.
How well does the Logitech G333 attenuate noise?
The Logitech G333 is generally pretty good at masking outside noise so long as you find a good fit.
The Logitech G333 is decent at attenuating outside noise. It's better than most average gaming headsets by a small margin, but nowhere close to a headset or set of earbuds that feature active noise canceling. When wearing these earbuds they'll do a pretty good job of blocking out room-level conversations, and even mostly cover someone playing music at a reasonable volume in the same room as you. It's not perfect, but if you can get a good seal it's even hard to hear someone talking to you. Like all earbuds, you always have the option of leaving one ear open. However this tight seal around the ear canal can also make it so that your own swallowing, even sipping something like tea, becomes more audible.
How does the Logitech G333 sound?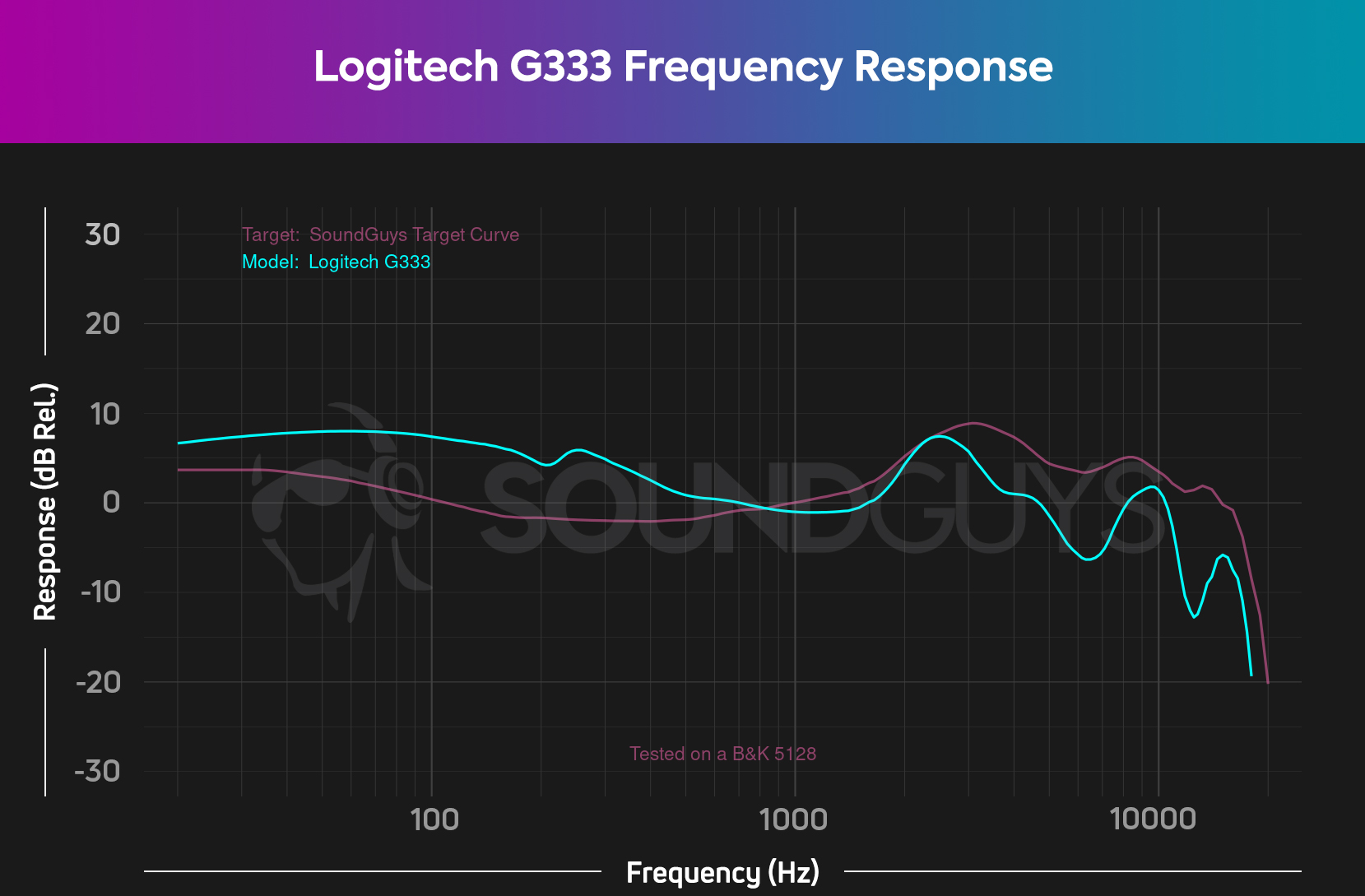 The frequency response of the G333 is in no way unpleasant or piercing, but it does deviate from our ideal curve notably.
The Logitech G333 has a notable bump to the bass and low midrange frequencies compared to our ideal frequency response curve. It also has lacks emphasis on the high end, but still has exaggerated peaks and valleys. This can make elements like cymbals and guitars sound somewhat exaggerated or hissy. The bass emphasis isn't particularly unusual for a gaming headset, and it leads to elements in games to sound punchy and present.
The G333 really suits the footstep-and-gunshot-laden soundscape of Counter-Strike: Global Offensive, and most games will sound similarly good pretty good. However, if you want something that sounds accurate for music listening, look elsewhere.
When listening to music these earbuds are serviceable, but probably shouldn't be your first choice of listening device. Cymbals in rock and dance music often sound a little hissy or overly present compared to the rest of the song due to the misshapen peaks in the high end of the frequency response chart. You can hear this pretty clearly in a song like Bandages by Hot Hot Heat, or in the synthesizers of Focker by Late of the Pier. Not all songs sound out of place however, the guitars of I Bet You Look Good on the Dancefloor by Arctic Monkeys sound right at home here, likely thanks to the superb engineering on that album. Dance music with a focus on bass sounds fine here thankfully, such as the song Purple Gusher by REZZ, where the heavy bass synths of the chorus suit the exaggerated bass profile nicely.
How good is the Logitech G333's microphone?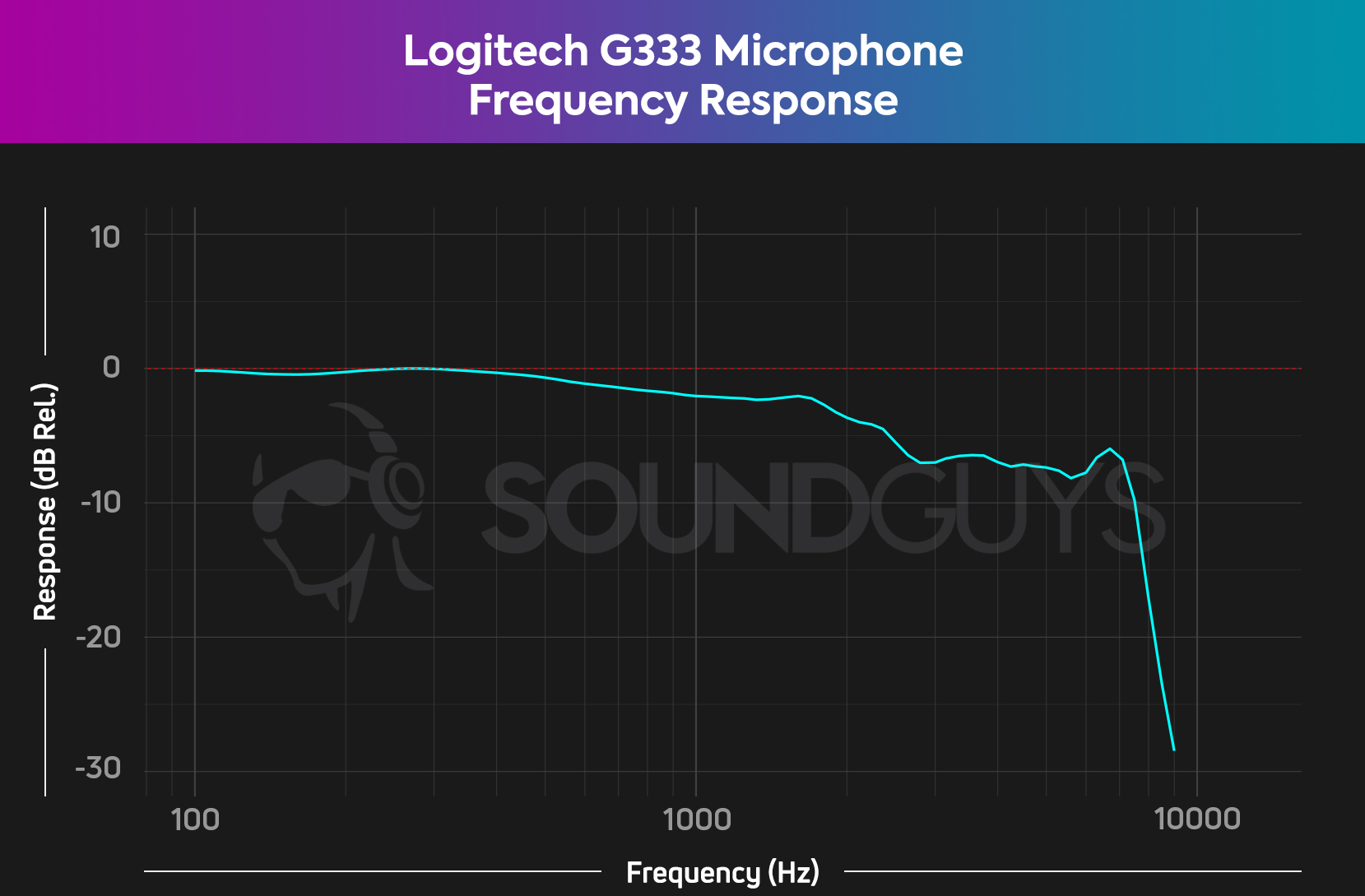 The Logitech G333 has a somewhat flat frequency response, with less emphasis on higher frequencies.
Considering that it only has an in-line microphone, the Logitech G333 delivers pretty decent mic performance for a set of earbuds. The frequency response line is mostly flat, but lower frequencies are pronounced. It's right at home handling in game voice chat with games like Counter-Strike: Global Offensive, as well as in long Discord calls with friends. The most notable absent feature is that there's no hardware mute button. You can listen below to judge for yourself how it sounds, as well as vote in the associated poll.
Logitech G333 microphone demo (Ideal conditions):
Logitech G333 microphone demo (Office conditions):
How does the microphone sound to you?
331 votes
Should you buy the Logitech G333?
K/DA and League of Legends also sounds fine on these buds, so long as you don't mind the angry teammates in voice chat.
The Logitech G333 is a well built set of earbuds, but it's not perfect. The sound quality leaves a bit to be desired. The cable is close to being frustratingly short. The sizing on the earbud tips isn't as customizable as some nicer pairs are. However, if you can find these  earbuds for the right price ($49.99 USD is a bit on the high side, but we've seen them go on sale from time to time), they're an easy-to-use set of earbuds for online voice chat and having a relaxing time playing games.
The aluminum housing feels premium, the inline controls are nice, and the small form factor is really easy to throw in a bag and take with you, especially if you need something for gaming on the go with a Nintendo Switch or Steam Deck. If you're looking for something to game with but don't want a full size headset, then the Logitech G333 is a good choice if you find it for the right price.
Logitech G333
Logitech G333
Affordable price • 3.5mm jack and USB-C • Simple to use
For gamers on a budget.
The Logitech G333 is a simple pair of plug-and-play earbuds for any gamer who doesn't want to break the bank.
What should you get instead of the Logitech G333?
Our usual go-to recommendation for gaming earbuds is the JBL Quantum 50. The JBL Quantum 50 likely has the Logitech G333 beat in terms of sound quality thanks to it being closer to our ideal frequency response curve, but the microphone leaves a bit to be desired. The JBL Quantum 50 is also usually cheaper. The Razer Hammerhead Duo is another option, especially if you're a fan of the design of Razer products. It has an aluminum frame that matches the Logitech G333 and fairly good sound quality as well, but it has poor isolation and a higher price tag.
If you're looking for a pair of true wireless earbuds instead then you should definitely consider the EPOS GTW 270 Hybrid. It's quite a bit more expensive, but it justifies itself by having really great build quality, nice sound quality, good battery life, and low latency audio thanks to an included USB-C adapter. The biggest drawback here is that the microphone can only be used while using Bluetooth, and it doesn't sound great at all.
Frequently asked questions about the Logitech G333
The Logitech G333 has a 3.5mm TRRS headphone connector which can be used to connect it to most headphones jacks. TRRS stands for tip, ring, ring, sleeve, and it describes how the connector is physically shaped. The alternative is a TRS connector, which is most often found on some desktop computers, and which may require a splitter in order to work properly with these earbuds. Unlike a TRS connector, a TRRS connector is able to carry audio output and microphone input over a single connector.