All products featured are independently chosen by us. However, SoundGuys may receive a commission on orders placed through its retail links. See our ethics statement.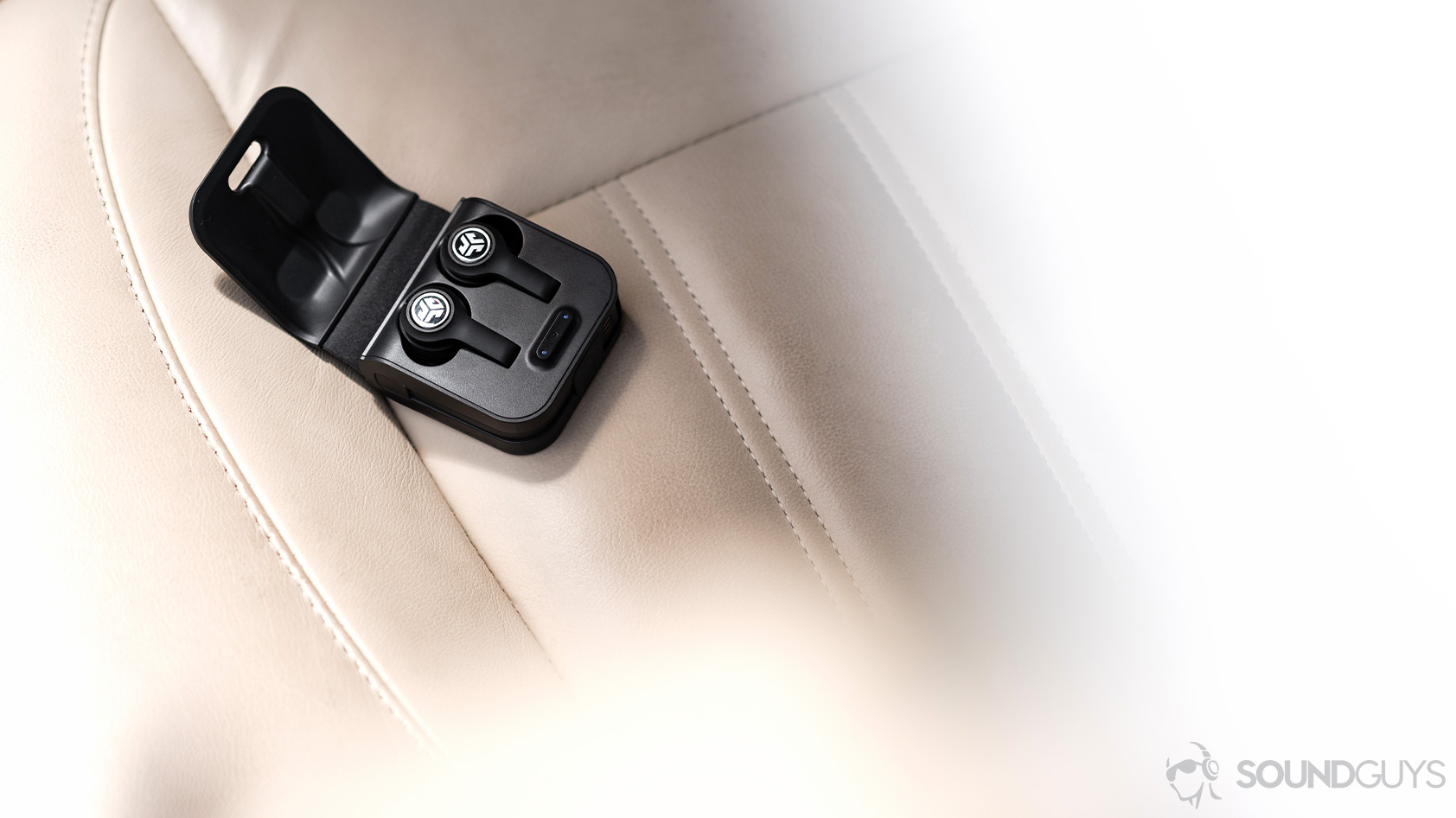 7.3
JLab JBuds Air Executive
The bottom line
If you're one for the finer things with a budget for the standard things, the JLab JBuds Air Executive is for you. The included charging case appears luxuriant without sacrificing functionality. Meanwhile, the IP55 earbuds afford comprehensive touch controls for on-the-go listeners.
JLab JBuds Air Executive
If you're one for the finer things with a budget for the standard things, the JLab JBuds Air Executive is for you. The included charging case appears luxuriant without sacrificing functionality. Meanwhile, the IP55 earbuds afford comprehensive touch controls for on-the-go listeners.
What we like
IP55
Comprehensive touch controls
Sleek case with integrated charging cable
Quick charging
Isolation
What we don't like
Comfort
AAC-only, no aptX
Rating Metric
Sound Quality
6.8
Bass
2.8
Midrange
8.8
Highs
9.0
Isolation / Attenuation
5.2
Durability / Build Quality
8.6
Value
9.0
Design
8.3
Portability
9.2
Battery Life
5.3
JLab, a Major League Soccer partner, has built a strong reputation on its affordable, reliable products. Its JLab JBuds Air remains one of our favorite cheap true wireless earbuds, and the new JLab JBuds Air Executive follow suit. For just $69, you're able to enjoy a sleek pair of true wireless earbuds with touch controls and solid battery life.
Editor's note: this JLab JBuds Air Executive review was updated on May 12, 2020, to address the Anker SoundCore Liberty Air 2, Samsung Galaxy Buds, and Jabra Elite 65t as a viable alternatives.
Who is the JLab JBuds Air Executive for?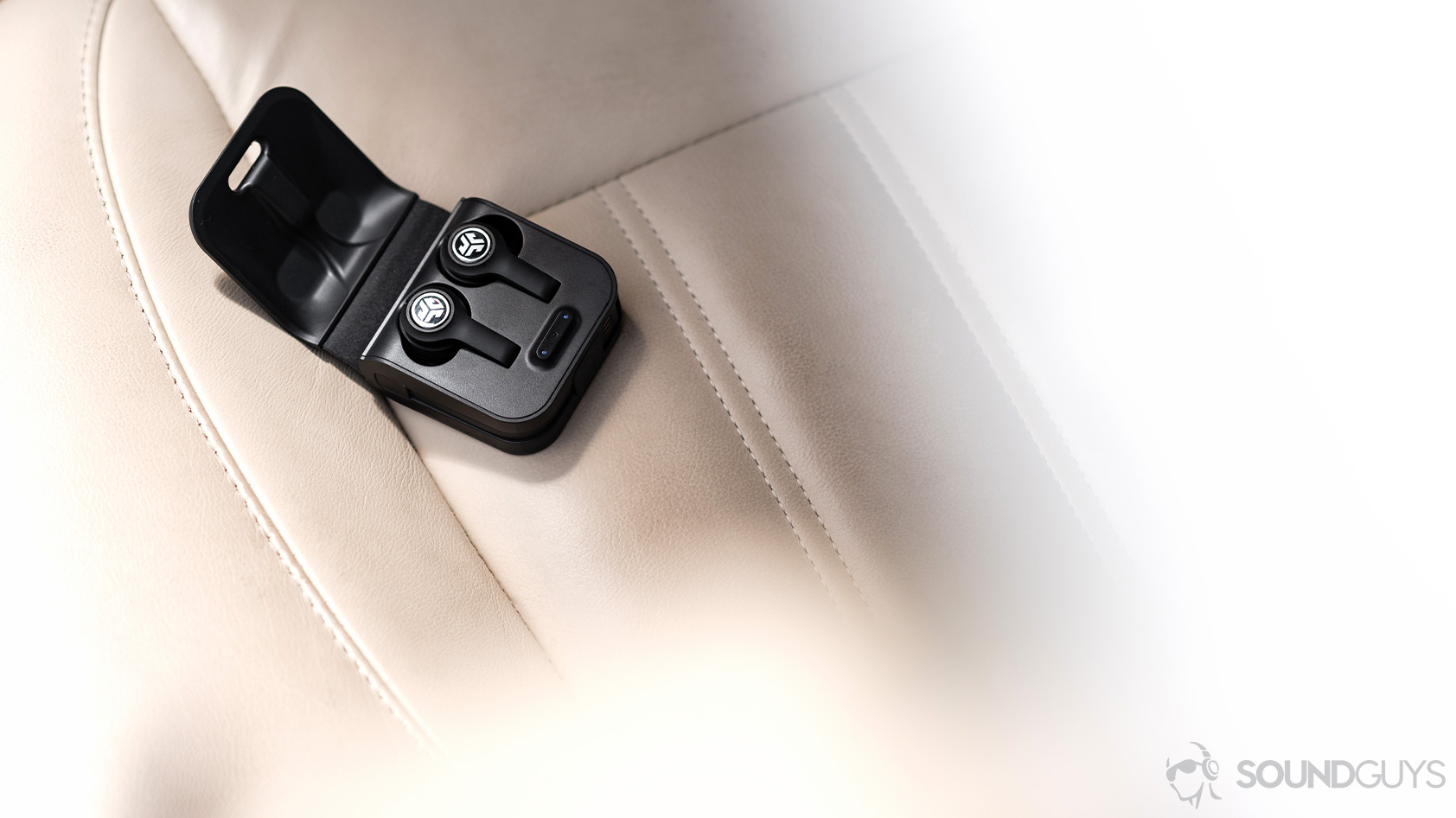 The charging case opens to reveal the earbuds, which must be removed simultaneously to properly initiate pairing mode.
The traveling entrepreneur will appreciate the luxuriant appeal of the JLab JBuds Air Executive design and its modest price. The faux leather case sticks out from competitors' charging cases due to its integrated USB charging cable. This makes it simple to charge the earbuds from anywhere.
iPhone users who want AAC support, true wireless technology, and ear tips that actually go into the ear without paying a fortune.
Anyone looking for a sleek pair of all-purpose earbuds for less than $100. These are IP55-rated, which means they resist both dust and water. Plus, battery life is substantial for true wireless earbuds and the auto-connect feature and Bluetooth 5.0 firmware makes pairing and connecting seamless.
What's it like to use the JLab JBuds Air Executive?
Each earbud houses a touch-capacitive panel responsible for different controls.
It's great. The first thing I noticed about the JLab JBuds Air Executive is how the charging case's sophisticated design doesn't match the bargain bin price. Again, it's a synthetic leather material. This not only keeps costs down, but it also means these are a viable option for vegans. Three LEDs are revealed through a cutout on the top panel. If the two outer lights are flashing blue, the earbuds are charging. If none are alight and the earbuds are stored, the 'buds are fully charged.
JLab includes its trademark integrated USB-A cable into the case, which is tested to withstand 10,000 bends. If it does fail, you can follow up with JLab as the Executive includes a two-year warranty. Another smart feature of the earbuds are the comprehensive touch controls. These include volume controls and Be Aware mode. The latter of which functions identically to Ambient Aware mode seen in other headsets: external noise is filtered in to keep you observant of your environment.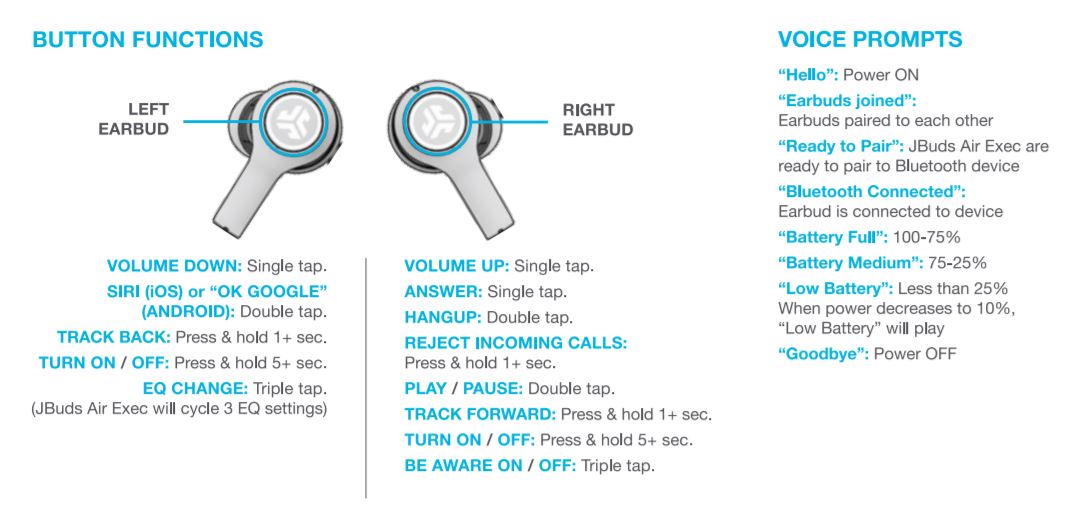 JLab Audio A list of the touch controls and voice prompts.
A stemmed design mirrors the AirPods and RHA TrueConnect. The angled nozzles are comfortable at first, but the wide diameter pains my ear canal after an hour of listening. While the discomfort is a bummer, the earbuds are IP55-certified, ensuring dust and water-resistance. These are suitable for working out, but the JLab JBuds Air Sport is a better workout companion. Those are deliberately designed for athletes.
How long does the JLab JBuds Air Executive's battery last?
Our testing garnered 4.5 hours of playback from the earbuds. Although this doesn't touch the likes of Beats or Samsung, it's good. By default, I throw the earbuds into the case when not in use, so battery life was never a real-world issue.
The 700mAh case can quickly charge the earbuds. When you're in a pinch, 15 minutes in the case grants an hour of playback. Completing a full charge of the earbuds requires 1.5 hours, while a full cycle for the case takes 2.5 hours. These times are good considering you get five full charges altogether.
How do you connect the JLab JBuds Air Executive to your phone?
The USB-A charging cable is built into the case.
To my chagrin, I struggled with pairing the JLab JBuds Air Executive to my Samsung Galaxy S10e. Rather than reviewing the quick start guide, I tried to pair them by removing one earbud from the case, pairing it, and then removing the other. Doing so only pairs the first earbud to a phone. Be sure to remove both as they tether to each other before pairing to your phone.
iPhone users will benefit from high-quality streaming due to AAC support, but AAC's performance on Android leaves plenty to be desired.
Once connected, performance is great. I moved about my ~900-squarefoot apartment with few connection issues. This reliable connection strength is in part due to the Bluetooth 5.0 firmware. Bluetooth codec support is less impressive though. Like the JLab Epic Air Elite, these only support SBC and AAC. For those who aren't well versed in codecs, this means only iPhone users benefit from high-quality streaming. Android's handling of the AAC codec is less than ideal, resulting in unpredictable, underwhelming performance.
What do the JLab JBuds Air Executive sound like?
They sound very bass-heavy, even with the default JLab sound signature selected. If you want to double-down on an even more bass-centric EQ, triple tap the left earbud. This cycles through the three modes: JLab signature, balanced, and bass boost. Data from the charts above was collected with the signature sound and default (medium) ear tips. 100Hz sounds are twice as loud as 400Hz sounds. This tuning encourages auditory masking: midrange frequency detail will be difficult to hear as our brains spend more energy processing the louder, low-end noises.
Isolation is great once you get a solid seal. JLab provides four pairs of ear tips, three of which are silicone (S, M, L) and one which is memory foam. The memory foam tips are the most comfortable and provide the most reliable seal. It's important to get a good fit with these earbuds. The more external noise blocked out the better; this preserves detail and clarity.
Lows, mids, and highs
The charging case provides an additional four full cycles to the earbuds' standalone 4.5-hour playtime.
In the Backseat Lovers' song Kilby Girl, Josh Harmon's vocals are clear during the first verse as he's only backed by guitars. However, during the choruses, the second one in particular, the detail of his voice is lost to the drum hits, coinciding with power chords played from each guitar. To hear this, skip to 2:04. A fast-paced, high-pitched guitar section riffs atop the aggressive drumming. While Harmon remains audible, it's difficult to make out the last syllable of his words such as "nineteen," "nose ring," and in the phrase, "better than I do."

That said, I appreciated the assertive bass response when walking along the high-trafficked road by my apartment complex. The emphasized frequencies made it easy to keep pace with the song and measure out each beat even as sixteen-wheelers trucked on by.
Editor's note: we were unable to collect microphone data prior to publication and will update the review once data is collated.
Related: Where do sounds live?
Do the JBuds Air Executive hold up well in 2020?
The Anker SoundCore Liberty Air 2 has one of the best microphone systems we've used.
When we initially published our JLab JBuds Air Executive review in the spring of 2019, cheap true wireless earbuds were still a rare sight. Today, however, they are aplenty and the Air Executive has tons of competition from the likes of Anker SoundCore, Creative, and even more premium companies like Samsung, and Jabra.
The first-gen Samsung Galaxy Buds retail for around $100 and afford a more compact design, significantly better battery life, a useful mobile app, and reliable software updates. On the other hand, the Jabra Elite 65t, a hugely popular true wireless model, can be had for just $79. Jabra's earbuds are dust- and water-resistant and boast a much better microphone system than JLab's.
Anker SoundCore's Liberty Air 2 true wireless earbuds are among the best cheap true wireless earbuds we've used to date. They support both aptX and AAC for high-quality streaming on any mobile operating system; the case is Qi-compatible; and battery life and microphone quality are absolutely stellar. Then again, you are paying an additional $30, but it affords you so much more than the JLab JBuds Air Exeuctive.
Should you buy the JLab JBuds Air Executive?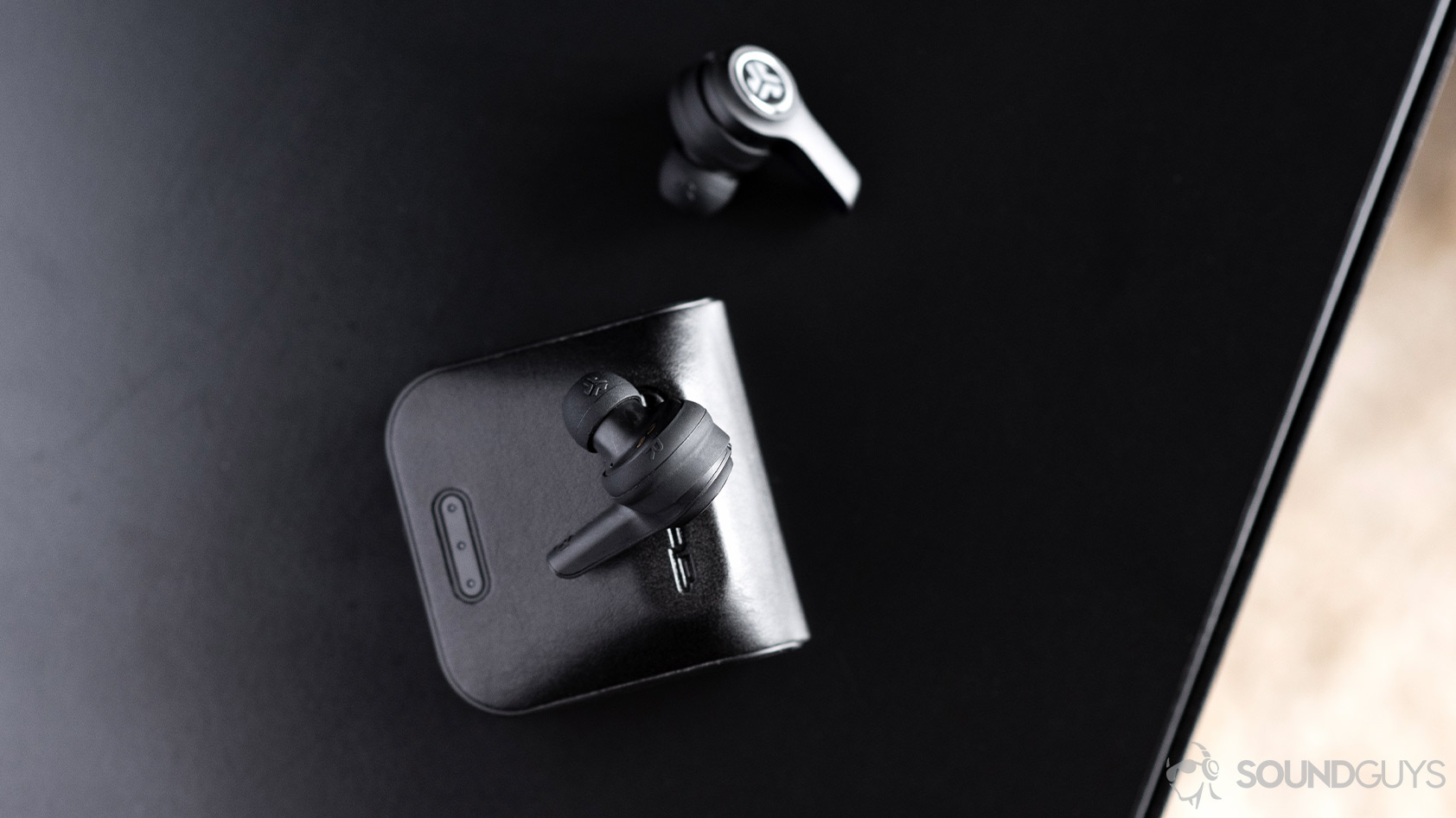 For $69, the JLab JBuds Air Executive easily stands out from the crowd.
Listeners who dig the design, particularly the carrying case, will thoroughly enjoy these bargain earbuds. JLab took a risk by sidestepping from its traditionally athletic aesthetic, but it's one that will likely pay off in dividends. Sure, audio quality isn't impressive, but it's passable. All else about the JLab JBuds Air Executive is markedly better than anything else you'll find at this price, save for the Creative Outlier Air.