All products featured are independently chosen by us. However, SoundGuys may receive a commission on orders placed through its retail links. See our ethics statement.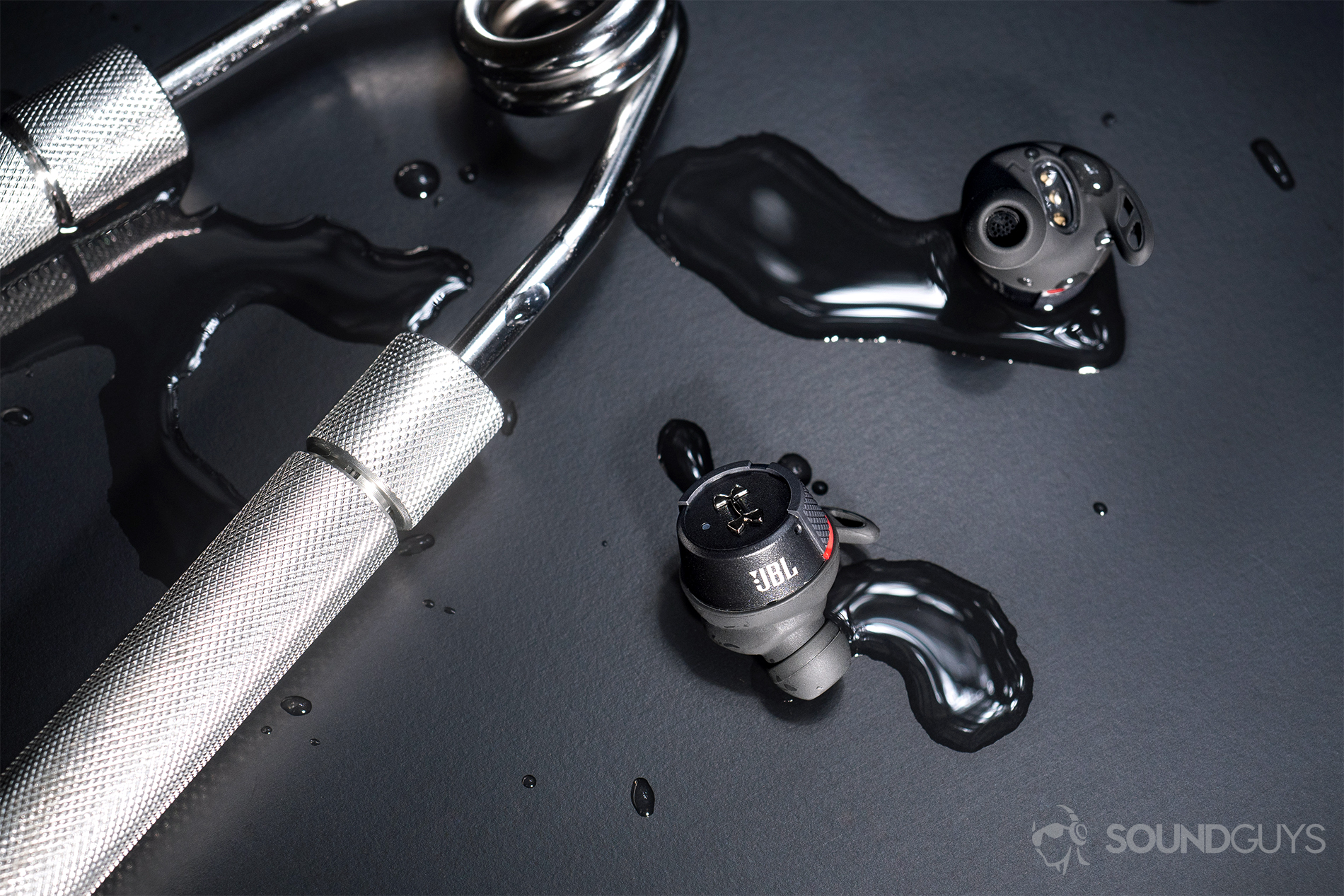 7
Under Armour True Wireless Flash by JBL
The bottom line
The Under Armour True Wireless Flash by JBL includes IPX7 earbuds with a water-resistant aluminum case, making it stand out from other workout packages. Included wing tips keep the earbuds in place during vigorous workouts and listeners are afforded a 12-month membership to MapMyRun. Listeners who want a smaller package should turn their attention to Jabra or Jaybird.
Under Armour True Wireless Flash by JBL
The Under Armour True Wireless Flash by JBL includes IPX7 earbuds with a water-resistant aluminum case, making it stand out from other workout packages. Included wing tips keep the earbuds in place during vigorous workouts and listeners are afforded a 12-month membership to MapMyRun. Listeners who want a smaller package should turn their attention to Jabra or Jaybird.
What we like
IPX7<br>
Battery life<br>
Water-resistant charging case<br>
Ambient Aware for outdoor exercise<br>
What we don't like
Bulky housings<br>
Lacks multipoint connectivity<br>
Finicky connection<br>
Rating Metric
Sound Quality
8.5
Isolation / Attenuation
3.6
Durability / Build Quality
9.0
Value
8.0
Design
8.0
Connectivity
4.0
Portability
9.0
Battery Life
5.5
Comfort
7.3
While workout earbuds are a dime a dozen, the True Wireless Flash by JBL stands out from the crowd with its Under Armour partnership. This affords listeners a one-year premium membership to MapMyRun along with athlete-friendly features to keep you safe and pumped up. But just because these are some of the best JBL headphones doesn't mean they're necessarily the buds to buy.
Editor's note: this review was updated on August 28, 2020, to address the new UA True Wireless FLASH X by JBL, and to update scoring per new testing methodology.
Who is the UA True Wireless FLASH by JBL for?
What's inside?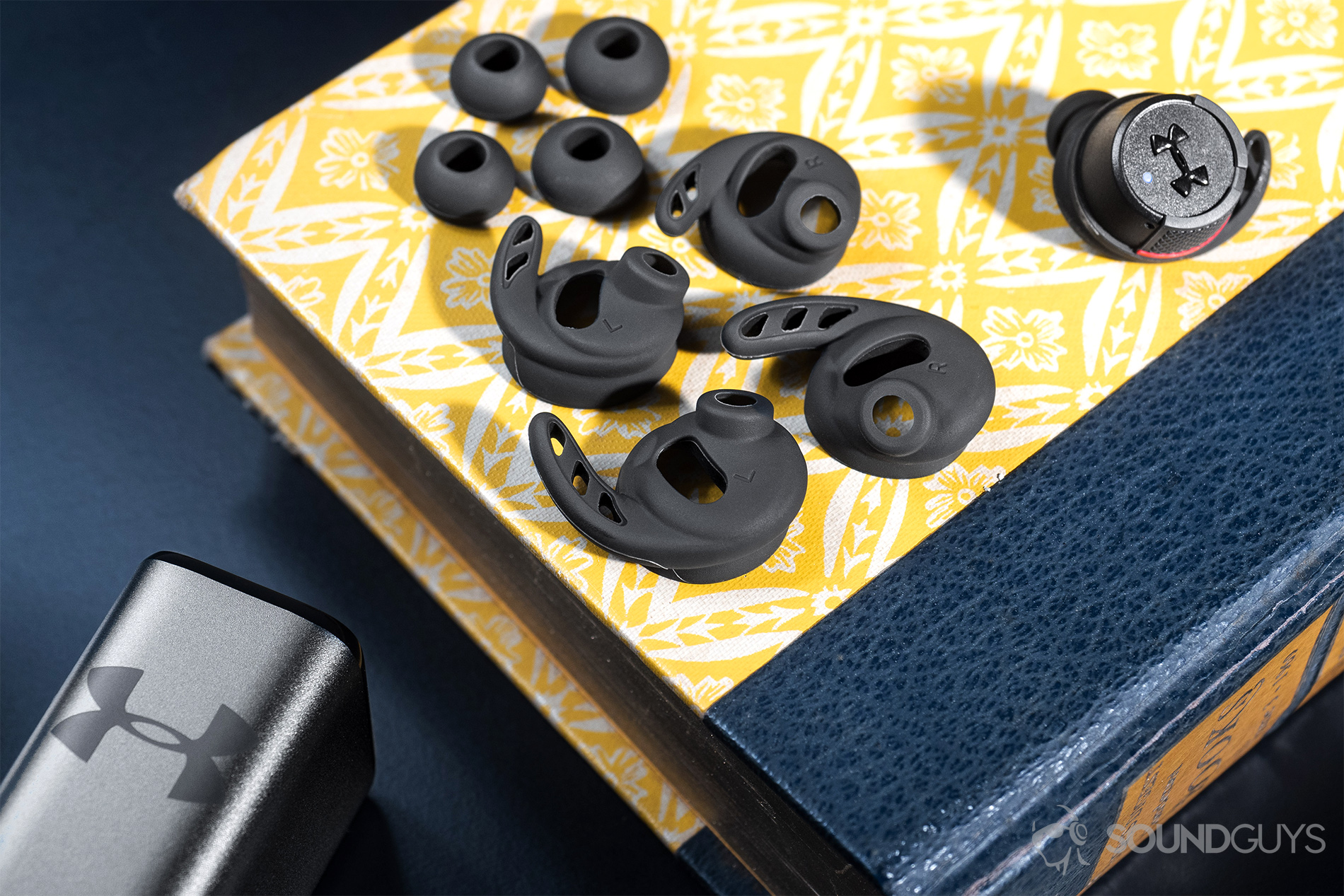 The included ear and wing tips are likely to fit most listeners and form a secure seal for accurate sound reproduction.
The UA True Wireless FLASH by JBL includes quite a few accessories. Under Armour provides a charging case, micro-USB cable, three pairs of ear tips, three pairs of wing tips, the IPX7 water-resistant earbuds, and a one-year MapMyRun premium membership.
These earbuds are built to last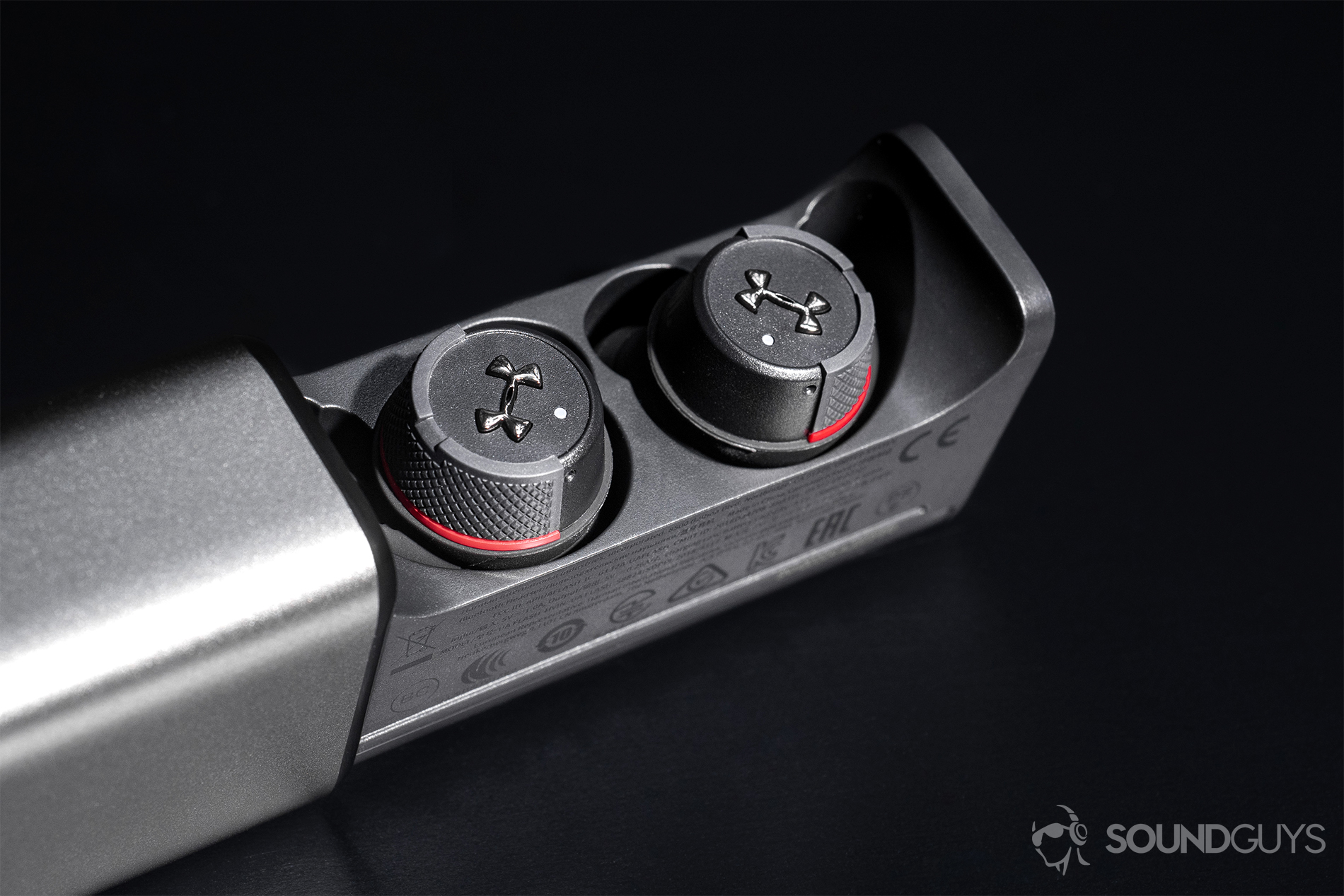 The True Wireless Flash by JBL comes with a water-resistant charging case.
The aluminum charging case lacks any hint of a sharp edge and features a sliding mechanism to reveal the True Wireless Flash earbuds. While its large 1,500mAh capacity can't be dispensed to other devices like the JLab Epic Air Elite's case, it is water-resistant making it more durable than competitors. The attached cord can easily be attached to a backpack; even if it goes unused, it's a nice touch.
Like the charging case, there's an absence of sharp corners on the earbuds. Their stout, cylindrical form protrudes from the ear, but the matte black finish and textured design counteract the potential dorkiness factor. The Under Armour logo embellishes each earbud panel, both of which also double as buttons: the left alternates between Ambient Aware and TalkThru hearing while the right operates playback and call controls.
Listeners can operate playback and call controls via the right earbud and use the left earbud to cycle thought listening modes.
The earbuds won't shake out of your skull though, thanks to the Sport Flex wing and ear tips. They securely hold onto the outer ear and create a strong seal with the proper ear tips installed.
Working out is a breeze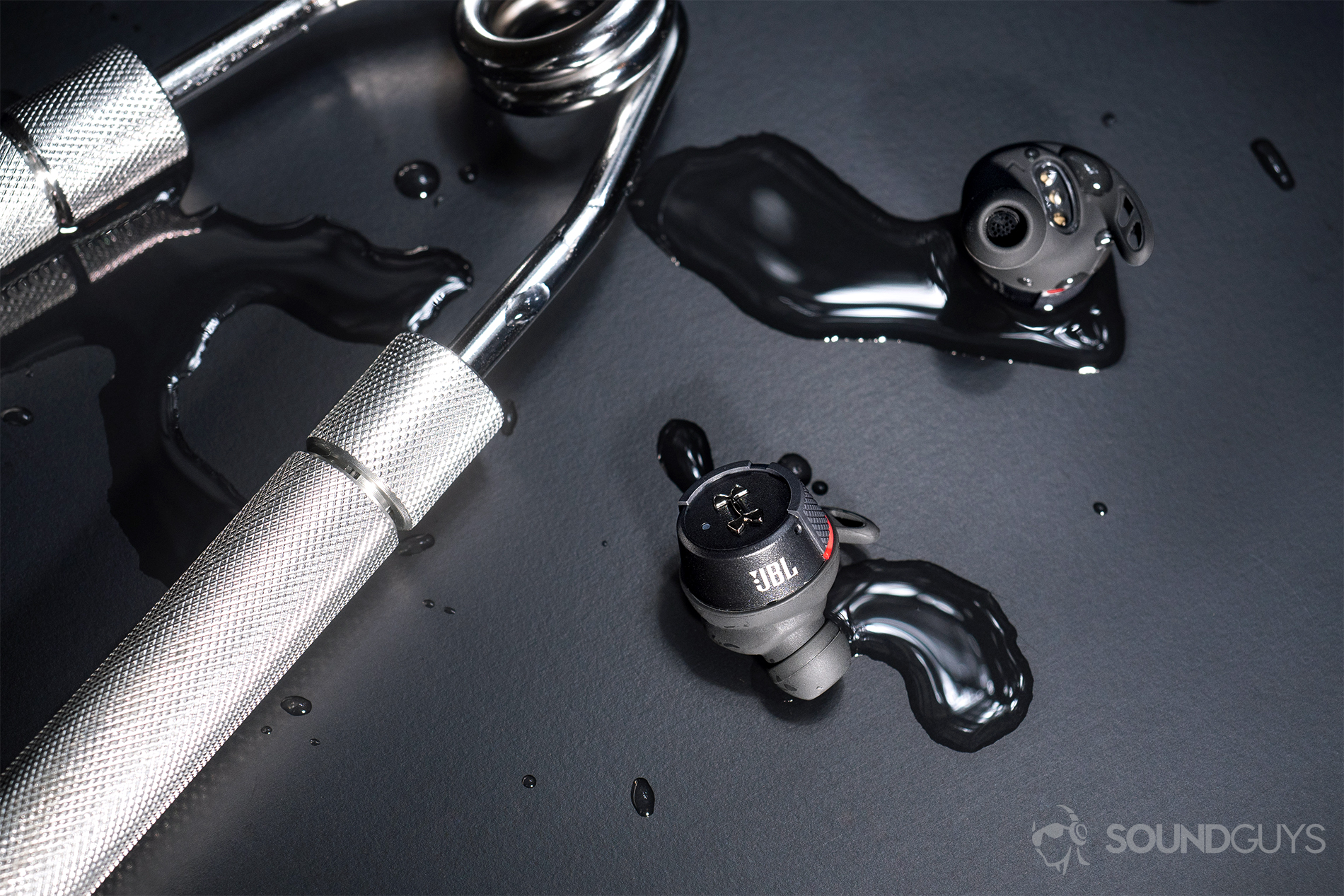 The IPX7 water-resistant rating relieves any worry of durability when working out.
Between the IPX7 certification, ergonomic wing tips, and angled nozzles, it's apparent that the UA True Wireless FLASH by JBL was designed with athletes in mind. The rounded housings rest securely on the outer ear, which is great for running or weight-lifting. One downside of this is that my ears became sore after 45 minutes of wear from the silicone sleeves chafing the cartilage. Unlike neckband earbuds, though, moving into a horizontal position to bench press doesn't cause any undue jostling.
Operating the onboard controls is easy to do while exercising since there's plenty of real estate for your finger to press. You can access Google Assistant or Siri via the left earbud. Unfortunately, there is about a one-second lag between when a command is made and when it's executed, but it's functional nonetheless.
Ambient Aware and TalkThru modes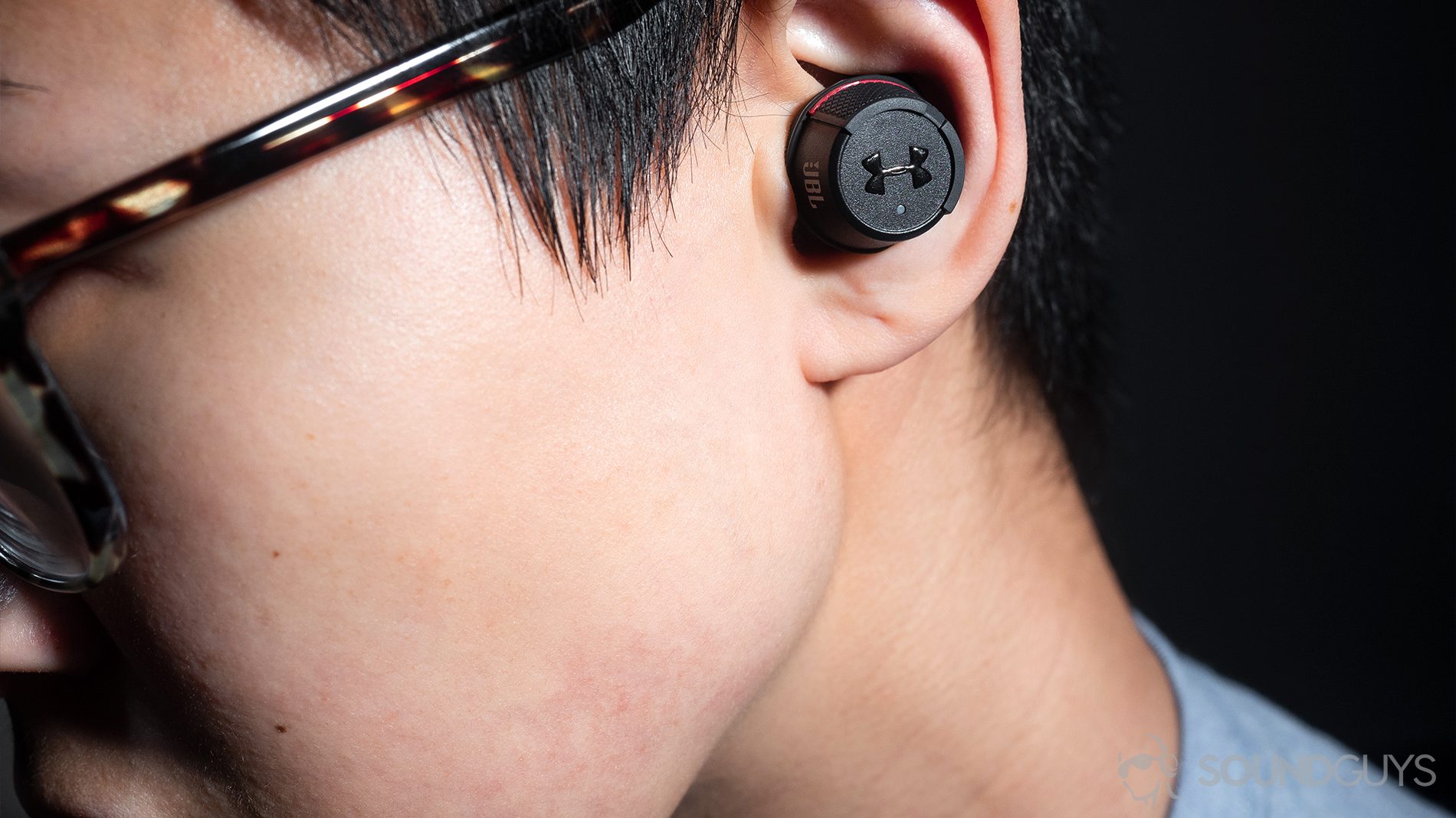 The earbuds protrude from the ear but are reasonably bulky.
A great safety feature that more workout headphones and earbuds are using is Ambient Aware, which allows you to hear external noise. This feature is a must-have for outdoor runners in particular. It also features TalkThru, which handles external sound differently.
If you plan to run outside, be sure to use Ambient Aware mode so you can remain vigilant of your surroundings.
Rather than simply allowing outside noise in through the earbuds, TalkThru amplifies human voices through the earbuds. Doing so makes it easier to hold a conversation without removing the earbuds. The relayed audio isn't great: my friend's voice was laden with static.
While I enjoy both features, Ambient Aware is more practical, since it's not a big deal to remove an earbud while talking.
Battery life is average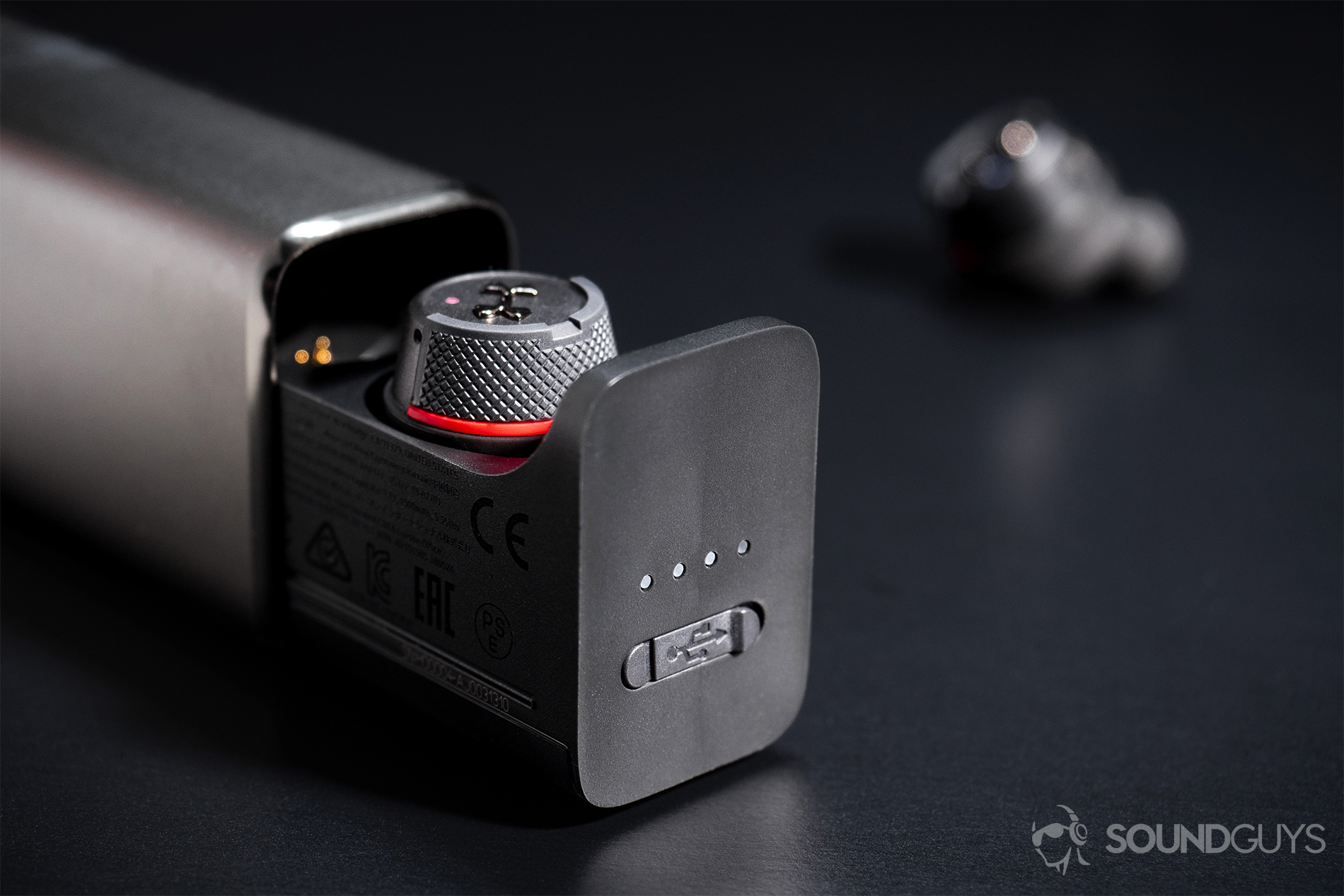 It takes two hours to fully charge the carrying case which provides an additional 20 hours of playback to the UA True Wireless FLASH by JBL earbuds' standalone five-hour battery life.
Battery life of the UA True Wireless FLASH by JBL is great; according to our objective testing, standalone battery life clocks in at 4.95 hours. This nearly reaches the posited five-hour battery life, and if you play your music at lower volumes than 75dB—which you probably do—then you'll benefit from extended playback times.
For the price, it's surprising that the Flash by JBL uses micro-USB charging rather than USB-C. However, this seemingly archaic choice is forgivable since it takes just two hours to complete a full charge cycle. Plus, the water-resistant charging case provides an extra 20 hours of battery life, so it's unlikely you'll be without power.
Connection quality is just okay
Unfortunately, connectivity of the UA True Wireless FLASH by JBL is fickle even for true wireless. Connectivity stutters, while not frequent, occur a few times an hour which may be too off-putting for some. The earbuds operate via Bluetooth 4.2 and—unlike the Plantronics BackBeat Fit 3100—don't support multipoint connectivity. Additionally, if you plan to stream Netflix from the treadmill, you'll experience some audio-visual lag as these don't support any high-quality Bluetooth codecs to reduce latency. With all that said, auto-connect works without a hitch.
Learn more: Understanding Bluetooth codecs
How do the earbuds sound?
The UA True Wireless FLASH by JBL have a consumer-friendly sound signature with some bass emphasis and treble de-emphasis. Let's start with the bass: amplified bass notes give your music more oomph, which is exactly what athletes and general consumers crave.
Passive isolation is quite good for a set of workout earbuds, so you'll want to listen in mono mode or use ambient passthrough when outside.
Since JBL provides an assortment of ear and wing tips, most listeners will easily achieve a proper fit. The chart above depicts ideal isolation conditions whereby midrange notes like nearby conversations will be somewhat quieted. Distant ambiance, however, is no match for these earbuds as its practically muted. Despite, the fairly neutral tuning and better-than-average isolation, clarity is still lacking with the True Wireless FLASH.
The first 33 seconds of Stromae's song Papaoutai is clearly reproduced. The opening Dm-Am-C-Dm-G chord progression repeated in the first 13 seconds of the song sounds fine; though even here, the harmonics of each chord are difficult to catch and other instruments have yet to enter the song.
During the first verse, vocals dominate the song until the chorus starts at 0:49. At this point, multiple percussive instruments come into play and are followed by synthesized sounds which mask Stromae's lamenting tone. It's during the chorus that the lack of clarity becomes apparent: the Under Armour True Wireless Flash can manage fairly accurate reproduction of narrow frequency ranges but accounting for the audible spectrum proves difficult.
UA True Wireless Flash vs UA True Wireless FLASH X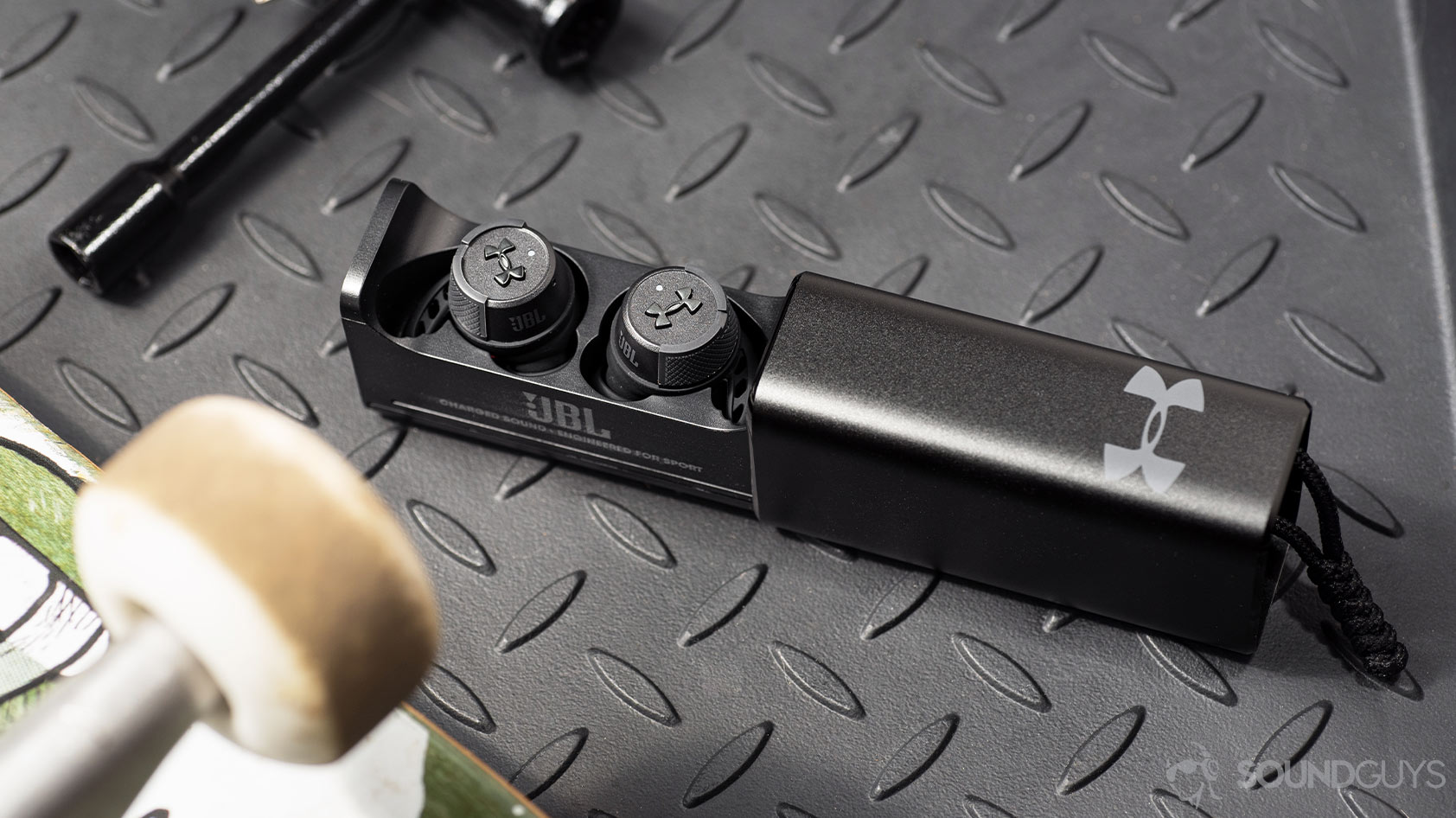 The UA True Wireless FLASH X by JBL look almost identical to the first-generation headset.
The UA True Wireless Flash X and UA True Wireless FLASH have plenty in common: the design hardly deviates, save for the abandoned red accent in the second-generation model. There are expected improvements to the FLASH X internals, though. Standalone and on-the-go battery life is doubled, and the new version supports Bluetooth 5.0.
Sound quality and isolation are the same between the two JBL and Under Armour headsets, and you still get the same software features like TalkThru and Ambient Aware listening modes. And you're afforded the same 12-Month MapMyRun Premium Membership. Really, if you're waffling between the two headsets, the original UA FLASH true wireless earbuds are a better deal.
Should you buy the True Wireless Flash in 2020?
While $129 is a reasonable price to pay for true wireless workout earbuds, users may want to save up for something from Jabra or Jaybird.
These earbuds were good when they came out, but as the years have passed, these earbuds are less and less impressive compared to the competition. If you're willing to increase your budget a smidge, the Jabra Elite 75t buds are a great pick. Alternatively, you could even get the Samsung Galaxy Buds Plus, which feature IPX2 water-resistance as well as Spotify integration. There are plenty of excellent alternatives, and it's not that the Under Armor True Wireless Flash is a bad deal, rather that there are much better, more advanced options out there.