All products featured are independently chosen by us. However, SoundGuys may receive a commission on orders placed through its retail links. See our ethics statement.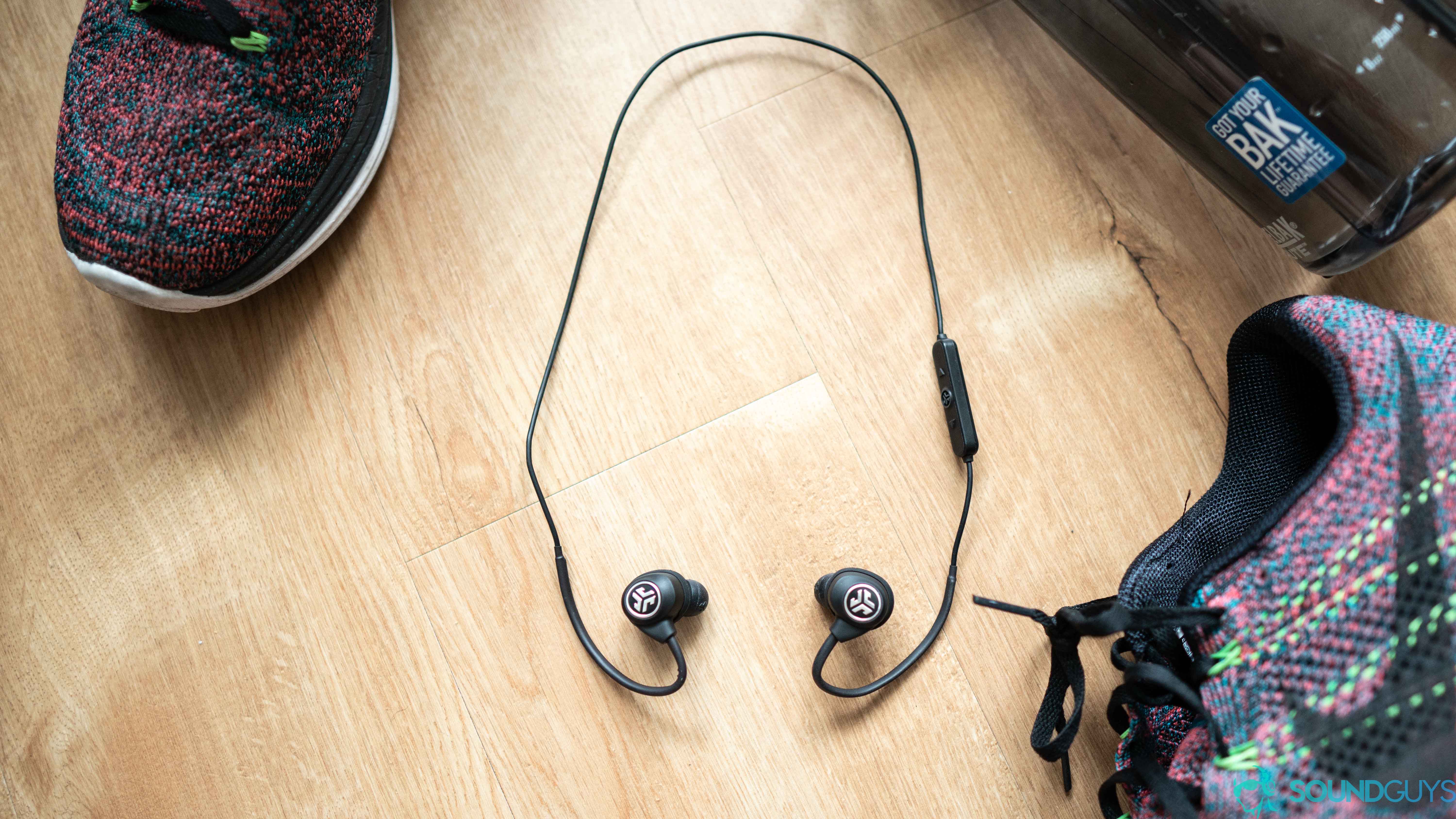 7.2
JLab Epic Sport Wireless
The bottom line
If they didn't sit in a price range that put them against heavy-hitters like Jaybird, it would be easy to put up with the cons of the JLab Epic Sport, but at $99, it's hard to recommend these. They're not a bad pair of 'buds. If you can find them on sale, I say go for it but at retail value, there are better options available.
JLab Epic Sport Wireless
If they didn't sit in a price range that put them against heavy-hitters like Jaybird, it would be easy to put up with the cons of the JLab Epic Sport, but at $99, it's hard to recommend these. They're not a bad pair of 'buds. If you can find them on sale, I say go for it but at retail value, there are better options available.
What we like
Decent sound quality<br>
Solid connection & aptX compatible<br>
12 hour battery life<br>
EQ presets available without an app<br>
What we don't like
Build quality<br>
Bulky control module<br>
Memory wires need constant adjusting<br>
Price<br>
Rating Metric
Sound Quality
7.5
Bass
7.5
Midrange
8.0
Highs
7.0
Durability / Build Quality
6.5
Value
6.0
Design
7.0
Microphone
6.0
Portability
8.0
Battery Life
9.0
With summer right around the corner, now is as good a time as any to start getting that summer body ready. If you're not the kind to spend money on a personal trainer to keep you motivated, another way to keep pushing yourself is to find the right music. But it isn't as simple as it sounds, because now you'll probably need headphones which is where JLab Audio comes in. There are plenty of options to choose from, making it seem a little intimidating at first. And now there's another pair of headphones being thrown into the fray, the JLab Epic Sport Wireless. At $100, these land squarely in the same price bracket as some more popular brands like Jaybird and even Bose. So are they comparable? Should you go for a cheap and easily replaceable pair? Or spend a little more for something more high end?
Who are they for?
Hard to say. There are so many fitness earbuds out there now that it's hard to recommend a pair that doesn't have something great about them. Although these are a decent pair of 'buds, they aren't great at anything. And there are better options for the price. That said, if you can get them on sale, these are perfect for anyone looking for a pair of Bluetooth earbuds that require minimal effort to set up and use.
How are they for working out?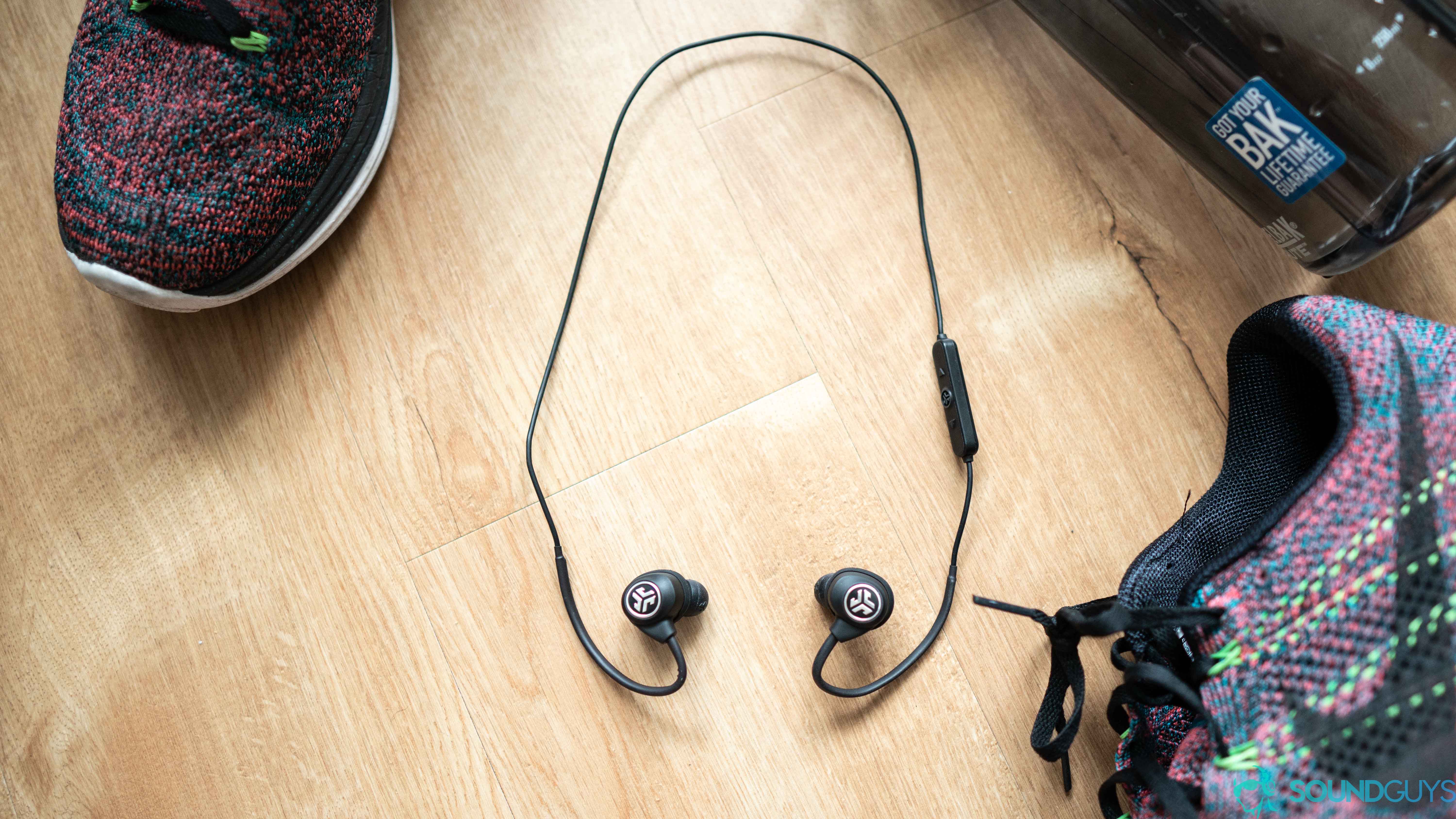 The JLab Epic Sport Bluetooth headphones have a wire connecting the two earbuds.
JLab Audio makes a few different kinds of products, but its new Epic Sport Wireless are made specifically for fitness and pushing you through the toughest workouts. The best workout headphones do two things:
Work when you need them to.
Get the hell out of your way.
So I brought these to the gym with me for a week to see how they held up, and as far as the actual design goes, these do a pretty good job at both doing what I needed and staying out of my way. Though the earbuds are pretty large, I find it helps them to stay in my ears. Some other earbuds I've tested were fine when standing still but required constant adjustments during high-movement activities like running, jumping jacks, and in some cases, even just lying down on the bench. I had no such issues with the JLab Epic Sport Wireless. In fact, I didn't even need to change out the included silicone tips for memory foam ones (which I normally do to help with fit). The ones that came fresh out of the box fit perfectly for me.
Of course, your mileage may vary here but JLab included a few different sets of ear tips and gels, so you can find the combination that works for you. I have to admit that, at first glance, I didn't think the large earbuds would be comfortable, but they are. It fits just right for me, and after about an hour at the gym, they still felt comfortable enough to wear on the walk home. That said, one area of the headphones that could use a little work is the Memory Wire ear hook. This is a part of the wire that molds to your ear so that it fits perfectly every time. But I found that part to be too loose, and it doesn't really hold the shape that I need it to. Luckily it wasn't a big deal for me because, as I mentioned, the earbuds themselves were already a great fit. But if you're going to be relying on the pliable wires to keep these in your ears, then you might run into some problems.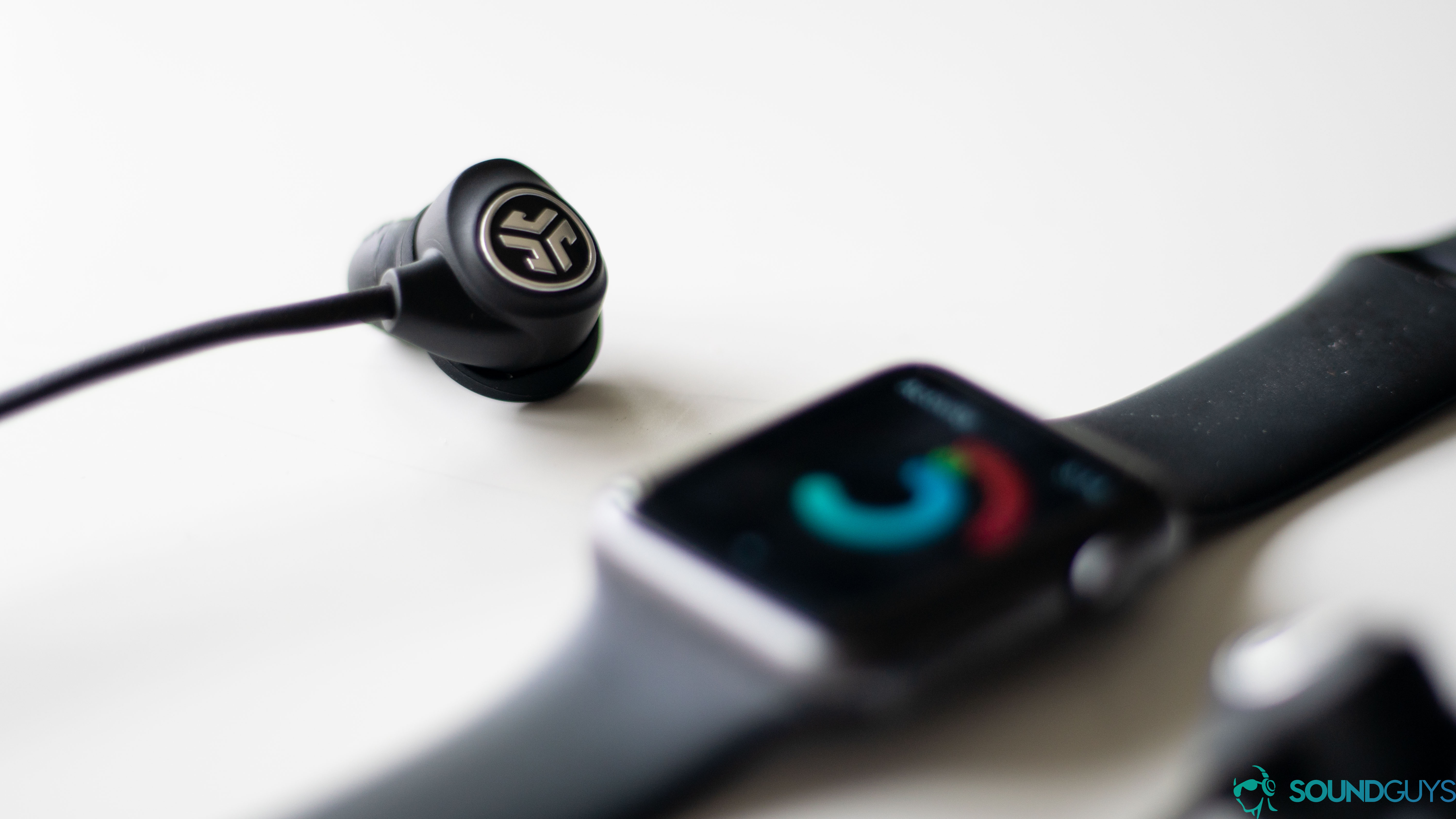 The JLab Epic Sport were made for fitness buffs looking to get the most out of their workouts.
But now we get to the build of the JLab Epic Sport. I will say that the IP66 rating is good. You're obviously going to be sweating while wearing these, so being protected from water and sweat damage is a must-have in a pair of fitness 'buds. But that's just about the only good thing when it comes to build quality. The JLab Epic Sport Wireless look and feel like they're made from cheap plastic. Both the Bose SoundSport Wireless and the Jaybird X3 earbuds are also made of plastic, but they both have a better fit and finish that feel like they'll withstand above-average wear and tear. When you look at the JLab Epic Sport Wireless, the thin wire connecting the two earbuds looks like you could snap it if you tried hard enough, and it makes the already-large control module appear downright bulky by comparison.
For me, the control module is the one part of the headphones that I truly didn't like. Jaybird has managed to make its modules appear sleeker without losing much in terms of functionality, but the control module here looks straight out of 2012. To be fair, these headphones do claim to have 12 hours of battery life (compared with the 8 hours of the Jaybird X3), so having a larger control module is probably unavoidable. But JLab could still make it look less plastic-y. And even though the buttons are tactile, they're hard to find when you're not looking. I actually didn't even think it had volume buttons for a solid 30 minutes, because I was fumbling around while running and couldn't find them. Only after stopping and checking did I find them.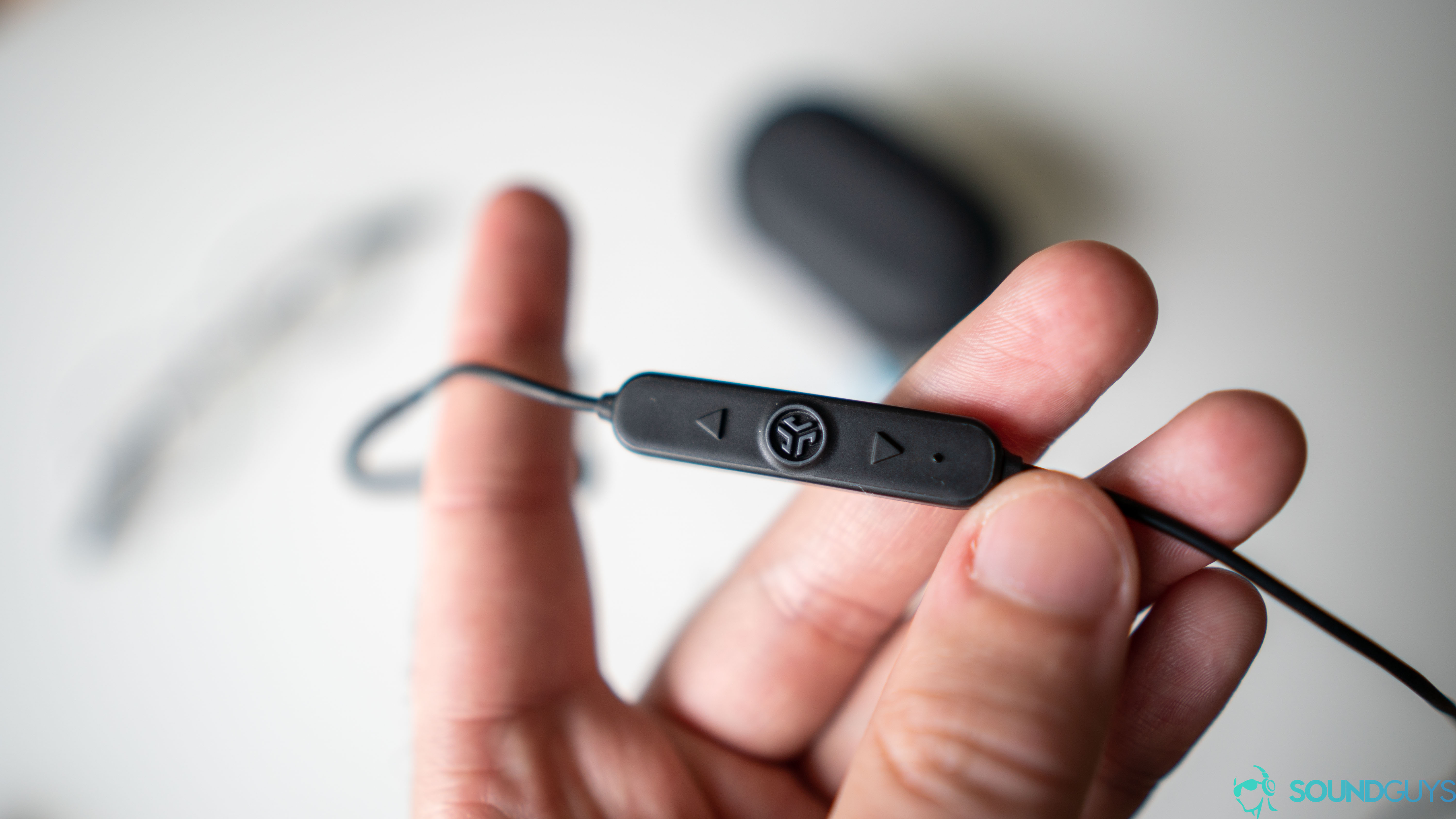 The buttons on the JLab Epic Sport control module do everything you need them to but are a little too flush.
If you can live with the module, I actually do think that these make a good pair of gym 'buds because of how well they fit. Not having to fidget with your headphones lets you focus on what's important: dem gainz. Still, for the price, I would've liked to see better build materials used here. So far, I've used them for about three days and haven't had any issues, but I'm not sold on their longevity.
How good are they at being wireless?
Pretty damn good. I only had one instance where the headphones kept skipping and saying, "out of range," when my phone was right in my pocket. But I'm pretty certain it was a weird glitch, because as soon as I restarted the headphones, it was smooth sailing. Luckily, this happened on the way to the gym and not at the gym, which would have been significantly more annoying.
For fitness folks, the JLab Epic Sport pair nicely with water. Stay hydrated!
They have Bluetooth 4.2 with aptX codec compatibility, so if you have a compatible phone, you can enjoy higher quality streaming at a range of about 30 feet. In this aspect, I also had no problems besides the one that I already mentioned. Playback controls all work fine as well, once you find the buttons. You'll get the volume up and down buttons, which you can also hold down to skip between tracks, and a multi-function button in the middle that lets you pause/play music, answer phone calls, and access Siri or Google Assistant.
How long do the JLab Epic Sport last?
The charging cradle is convenient, but if you lose it you're out of luck until you can replace it.
JLab claims these will last you about 12 hours of constant playback which more or less accounts for the large control module. Still, I'd trade some of that battery life for a smaller module, but that's just me. Still, I have to admit that the battery life is really good. Playing these with the volume at 50 percent, I was able to get them to last closer to 13 hours. On 100-percent volume, battery life did suffer accordingly and only lasted closer to 6 or 7 hours. Considering that's around where the rest of the fitness earbuds stand by default, I thought it was pretty good.  On the downside, the headphones charge via a proprietary charging cradle. While I find convenient for daily use, as all you need to do to charge them is snap them into place, it's a problem because you're kind of out of luck if you lose it. At least until you can order another one, so don't lose it.
But how do they sound?
The JLab Epic Sport Wireless offer three different EQ profiles, all of which can be accessed without the use of an app, which is pretty cool and useful. Just quick-tapping both volume buttons switches between signature mode, balanced mode, and bass-boost mode. There doesn't seem to be a perfect setting that gets everything right, but for what it's worth, my preferred mode was "signature." Plus, that's how it comes fresh out of the box.
JLab used thin wires to connect the earbuds
For the most part, it does a decent job at reproducing bass kicks, even if sub-bass suffers. But there's not really much that a pair of 8mm drivers can do on that front. The bass line in the song Wasted Time by The Weekend, which is supposed to undercut the vocals, sounds more like the bass notes on a guitar than an actual bass. You won't feel the power that it's supposed to have but at least you know it's there.
The mids were my favorite part of these headphones. Vocals were rarely overpowered by bass, which is usually the go-to move in fitness headphones. If you prefer that kind of bass-heavy sound you can always put it in bass mode, which achieves that sound perfectly. That said, bass isn't too strong here anyway, so why bother? I wouldn't say the mids are clear, but these do a good job at keeping the lower midrange frequencies out of the way of vocals.
A good example of this is the song Monument (The Inevitable End Version) by Royksopp, which—by the way is, in my opinion—the best song to exercise to, hands down. But even with all the grittiness of the rolling synth elements that play throughout the song, you can still make out what's being said. As far as the highs go, there's nothing amazing here. These have barely any soundstage (which, let's be real, is to be expected) and at max volume, these tend to bend towards harshness. It's also worth mentioning that these are terrible at isolating noise. Even at high volumes, I was able to clearly hear cars which is good if you're going to be running on the street, as you'd want to be aware of your surroundings, but not so good if you want to isolate yourself at the gym.
Conclusion
Although these are definitely better and more consistent than plenty of the cheaper models on the market, it's hard to recommend these over similar offerings from Jaybird and Bose. These are a solid pair of fitness headphones but for $100, they're not great. Even though the price tag might lead you to believe otherwise, they feel like a pair that you can get for half the price. If you're wondering whether you should invest in a "premium" pair of 'buds for the gym, I don't think the JLab Epic Sport Wireless will be the pair to convince you. The Epic Air also wasn't spectacular, but at least you could justify the price because they were true wireless earbuds. These don't feel like they have anything special about them to justify the price tag. At half the price these would have been the headphones to beat, but at $100 they're hard to recommend.