All products featured are independently chosen by us. However, SoundGuys may receive a commission on orders placed through its retail links. See our ethics statement.
7.5
JLab House Party & Block Party
The bottom line
For the price, both of these speakers will make a solid starter pack for multiroom audio if you're looking to enjoy some music.
JLab House Party & Block Party
For the price, both of these speakers will make a solid starter pack for multiroom audio if you're looking to enjoy some music.
What we like
Strong connection between the speakers
IPX5
Solid bass
Price
What we don't like
Limited playback controls
No mic
Rating Metric
Sound Quality
7.4
Bass
8.0
Midrange
7.3
Highs
7.1
Durability / Build Quality
8.0
Value
9.0
Design
7.0
Portability
7.7
Battery Life
7.0
UPDATE [March 2022]: These speakers been discontinued. Have a look at our current Bluetooth speaker picks. The JBL Charge 5 also lets you connect multiple speakers together using JBL's PartyBoost tool.
Back in January JLab announced two speakers meant to merge the gap between home and personal audio. They sent out the Block Party and House Party speakers for us to take a look at. They look fairly similar though, one is obviously much larger than the other. If you're looking for multiroom speakers on the cheap, are these a good option?
What's Inside
In the box you'll get the speakers, the respective charging cords (micro USB for the smaller House Party and DC for the larger Block Party model), instruction booklets, and warranty information and a JLab sticker.
Build & Design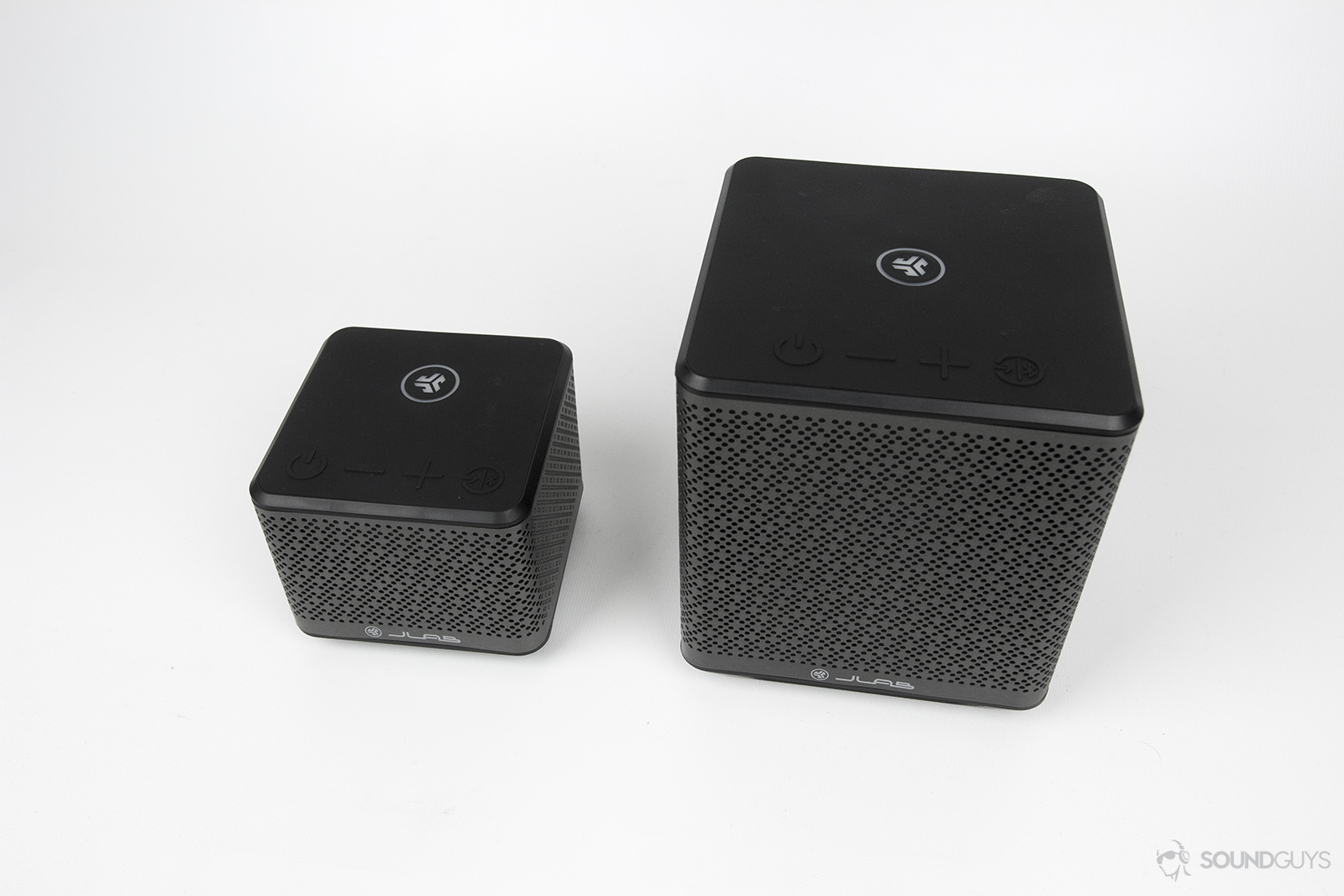 The House Party and Block Party speakers have basically the same cube design, with a few subtle differences. There are more similarities than there are differences between the two. The most obvious difference is the size. The House Party you can hold in the palm of your hand if you want to, while the Block Party is about two times that size. So probably best for setting down on a table somewhere.
You'll find the same metal grill wrapped around three of the four sides on both of these with tiny holes drilled into it in a pretty nice pattern. The top and back are made of a matte plastic that almost feels like rubber and gives you a good grip when you're handling them. Up top are five buttons for playback control and pairing on both models, while around back you'll find different inputs on each hidden speaker under a rubber flap. The smaller speaker has a 3.5mm input and micro USB input for charging, while the larger Block Party speaker has a DC input for charging, 3.5mm input, and USB output for charging your mobile devices. It also has a rubber loop which I found most useful when moving the speaker from one area to another.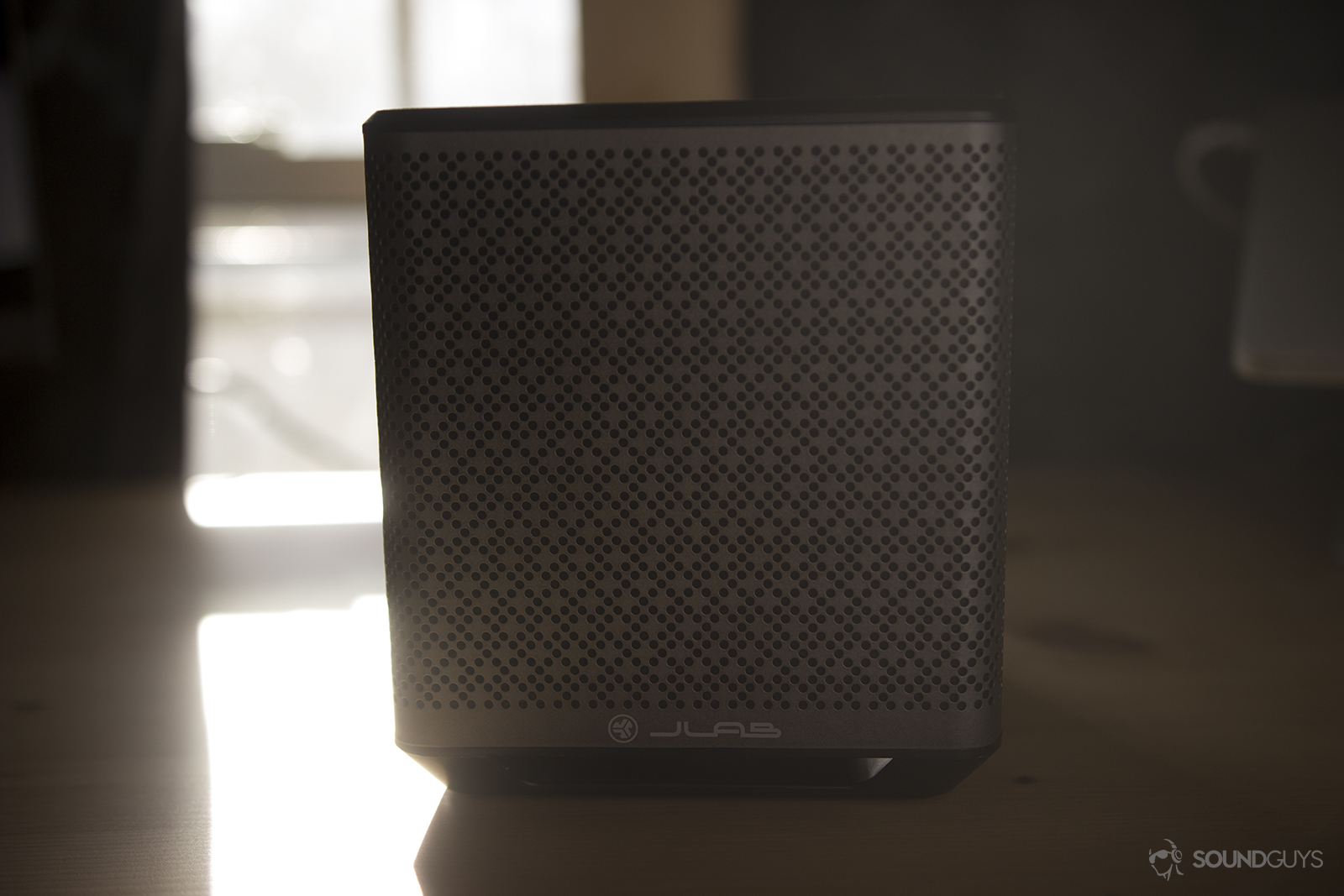 Even though build quality feels great in the hand, I wouldn't consider either of these to be durable. They might be able to brush off a drop or two but it's not something I'd make a habit of even with the metal grille. On the bright side they both do have an IPX5 rating, so accidentally spilling something on it shouldn't be an issue.
Connection
As far as connection goes these two are identical. You'll get a power button, volume up and down buttons, and a Bluetooth pairing button that also turns on receive mode. The JLab logo on top of the speakers is the fifth button which lets you pause or play music as well as enter share mode.
So what's the deal with the receive and share modes? This is how you get multiroom audio. Though there's no Wi-Fi connectivity in these, you can pair up to 8 House or Block Parties together as long as they're within range of each other. In my testing this maxed out at about 40 – 50 feet from each other (and from the source device) before skipping occurred. That isn't bad at all if you're putting them in rooms right next to each other, but if you want one speaker in an upstairs bedroom and another out in the yard you might have an issue.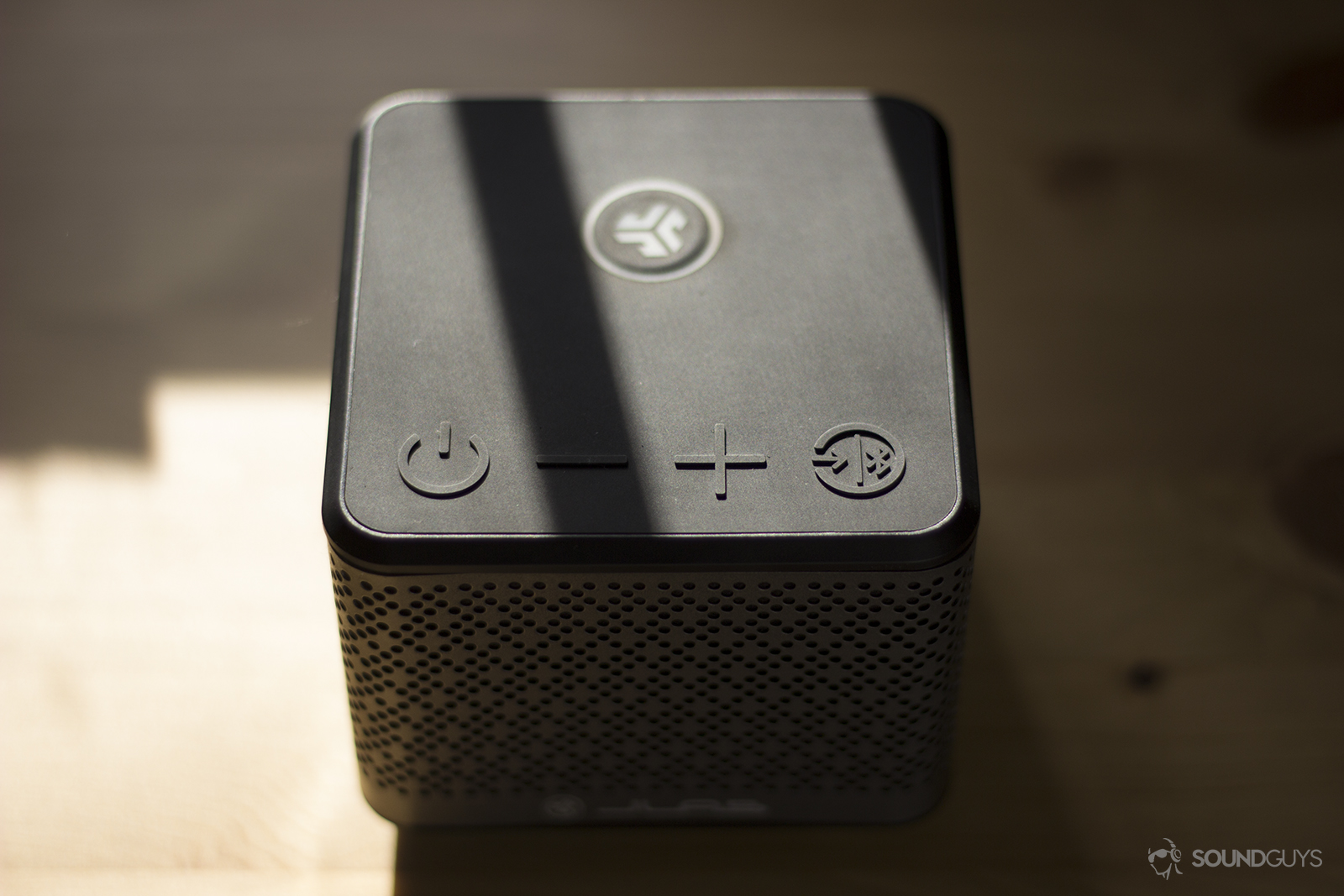 Another plus is that you can pair these speakers together without an app. All you have to do is pair your source device to one of the speakers and then turn on sharing mode on that same speaker. Then go to the second speaker and put it in receiving mode. And that's it, the speakers do the rest. You'll then be able to adjust volume for each speaker individually via the volume controls up top, or you can adjust the volume for the entire system from your phone. Overall, I had a really positive experience with connection and I only had significant stutters when I was testing range. In regular use around the house there were at most 3 or 4 skips in a few hours of playtime, which is pretty impressive for multiroom speakers with no Wi-Fi connection.
Battery Life
Jlab claims that both speakers will get you around 9 hours of playback time which is pretty thoughtful. This way if you're playing them connected to each other they'll die at the same time, which was the case when we did our testing. The batteries ended up giving out within 10 minutes of each other. Unfortunately, neither speaker lasted the full 9 hours. They both gave out after about 7 hours, but to be fair we do all of our testing on max volume. I'm not sure how often you're going to be having a 9 hour long party, but if you do you might have to plug these in at some point.
Sound Quality
I wasn't expecting anything too amazing in terms of sound quality but to be honest I was pleasantly surprised by how good they sounded. Of course take that with a grain of salt, because these are meant for parties so if you're into accuracy and beautiful sound these might not be for you. But I can say that I'd rather listen to these at a party over some of the other more popular brands people tend to bring around.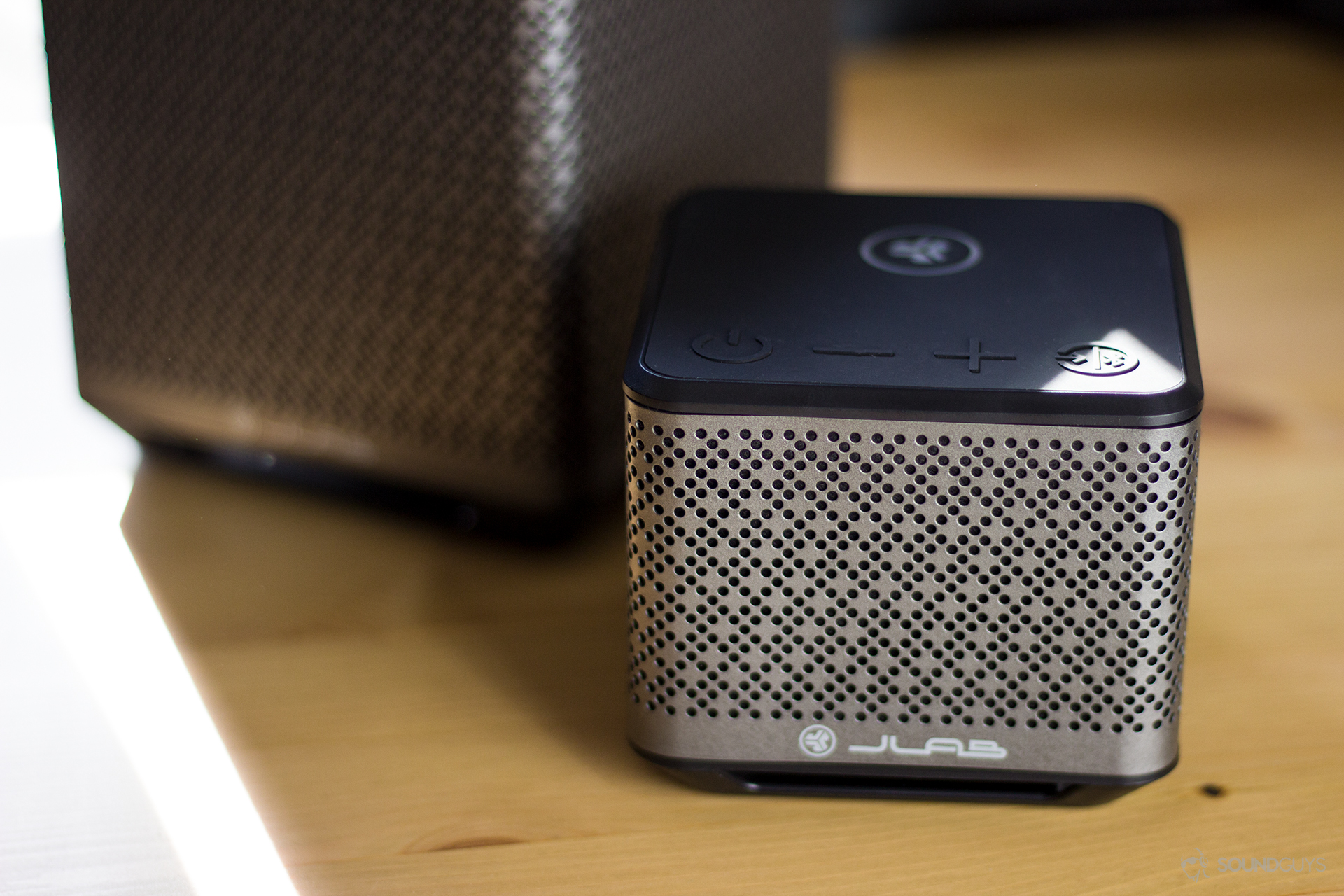 These speakers were definitely made for parties. Even the smaller House Party speaker has powerful lows the fill the room. You're not going to rattle anything off the tabletop, but both speakers have a good amount of bass. The bassline in "Redbone" by Childish Gambino weaves around the room when you listen to while connected to both speakers. They might even be a little too bassy, so you're definitely not going to want to use these for anything other than getting the party started.
The mid-range isn't the best part of this speaker. It's not that they sound bad, because they don't. Rihanna's vocals in "Consideration" are clearly discernible throughout, but the strong bass tends to overshadow most of the shadow. Like I said, it's not the most pleasant casual listening experience but it's perfect for a party which to me is the intended use case for this speaker.
Highs are pulled back enough to eliminate harsh sounds even when you're standing pretty close to speaker, but it's a little too much for my taste and cymbals and hi-hats lose some of their quality. Of course, it's something that JLab definitely had to do considering how loud these speakers can get.
Conclusion
So one thing we haven't touched on yet is pricing. The Block Party costs $149 and the House Party will run you about $99, which I personally think is a steal. Sure something like Sonos will give you a clearer sound and has a stronger connection because of the wi-fi capabilities, but two of the cheapest Sonos speakers will cost $400, while you can get the two speakers featured here for only $250.
If you're looking for speakers you can place around your house for a party it's hard not to recommend these, depending on how big your house is of course. But in my testing just these two speakers provided sufficient sound to fill multiple rooms in the house with a decent flood of music. Is it a permanent multiroom solution like Sonos? Probably not. And they're not really meant for home theater use either, but if you only want to jam with music I'm sure these speakers will get the job done.