All products featured are independently chosen by us. However, SoundGuys may receive a commission on orders placed through its retail links. See our ethics statement.
The bottom line
If you want some bass-heavy earbuds with bumping battery life, the JLab Epic Air Sport are a good fit. The touch panels are easy to operate while running or biking. While they can't be taken for a swim, they should withstand even your sweatiest moments. If anything should fail, JLab has you covered with a two-year warranty.
JLab Epic Air Sport
If you want some bass-heavy earbuds with bumping battery life, the JLab Epic Air Sport are a good fit. The touch panels are easy to operate while running or biking. While they can't be taken for a swim, they should withstand even your sweatiest moments. If anything should fail, JLab has you covered with a two-year warranty.
What we like
Battery life
IP66 dust- and water-resistant
Be Aware mode
Bluetooth 5.0, Class 1
Dual-purpose charging case with integrated cable
What we don't like
Large charging case
No quick-charging
Static in the background
Rating Metric
Sound Quality
9.1
Bass
8.7
Midrange
9.5
Highs
9.2
Isolation / Attenuation
3.6
Durability / Build Quality
8.8
Value
8.6
Design
8.5
Portability
8.4
Battery Life
7.4
Comfort
8.5
When you're working out there are two criteria your earbuds need to meet: they must be reliable and comfortable. Fortunately, the JLab Epic Air Sport fit the bill and for much less than competing true wireless earbuds.
Editor's note: this JLab Epic Air Sport review was updated on May 19, 2020, to address the JLab GO Air as an extreme budget option.
Who is the JLab Epic Air Sport for?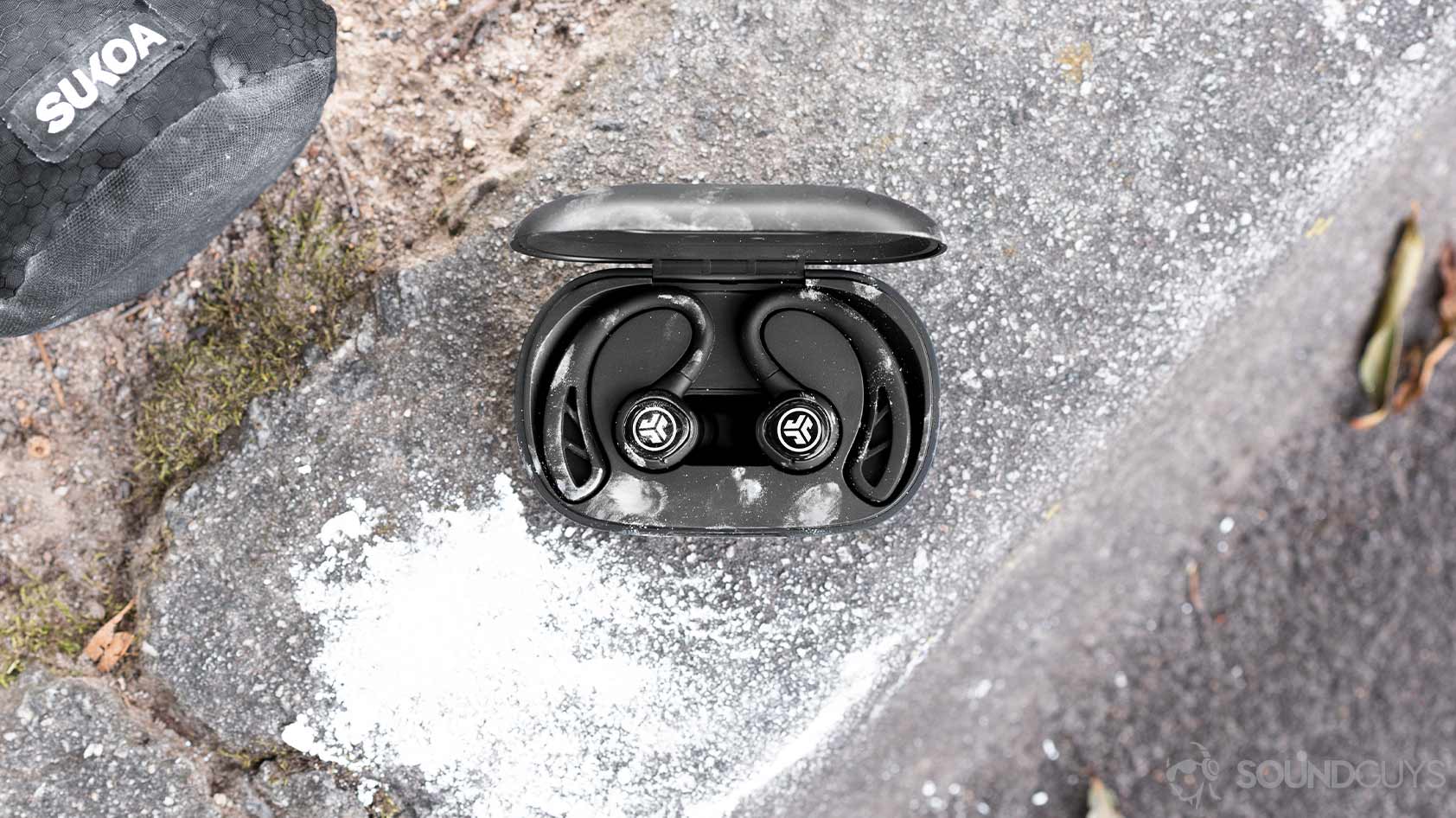 The JLab Epic Air Sport earbuds can handle dust and water thanks to the IP66 rating.
Athletes will get plenty of mileage out from these dust- and water-resistant earbuds. The hooks rest neatly behind the ear and keep the earbuds stable while you're jumping about.
Power users should consider these earbuds for their 2600mAh dual-purpose charging case. This allows you to charge both the earbuds and your phone.
General consumers will also enjoy the earbuds: just because they're targeted toward athletes doesn't mean the features are limited to athletic use. You never know when you'll get caught in a downpour or need to hear your surroundings, and the Epic Air Sport can accommodate both situations.
What's it like to use the JLab Epic Air Sport?
The charging case can top up your phone, too.
Usability is akin to the company's Epic Air Elite. The Sport earbuds preserve the earhook form. We've seen this design with the Beats Powerbeats Pro and Plantronics Backbeat Fit 3100. Slightly angled nozzles extend from the housings. They're a bit wide and may prove uncomfortable after an hour or two. If this happens to you, swap out the default silicone ear tips for the memory foam ones.
Each earbud has its own touch panel and is responsible for an assortment of controls. You may decrease volume, reverse tracks, access a voice assistant, and cycle through EQ settings with the left earbud. The right one is for increasing the volume, skipping tracks, playing and pausing music, as well as call controls. Just like the JLab JBuds Air Sport, responsiveness is immediate with sweaty and chalky hands alike. No matter what sport you're partaking in, the controls should hold up.
A glossy touch panel adorns each earbud.
The JLab Epic Air Sport's charging case is one of the bigger options out there for true wireless earbuds and for good reason: it's dual-purpose. This means you can charge your phone and earbuds simultaneously. Of course, charging your phone with the case will deplete it faster, but no worries. You can top it up from anywhere, a benefit of the integrated USB-A cable. My one gripe about the case is its slippery texture. I fumbled it more than once. Not that it matters too much, but the plastic isn't particularly drop-resistant and has a few scuff marks.
Can I work out with the JLab Epic Air Sport?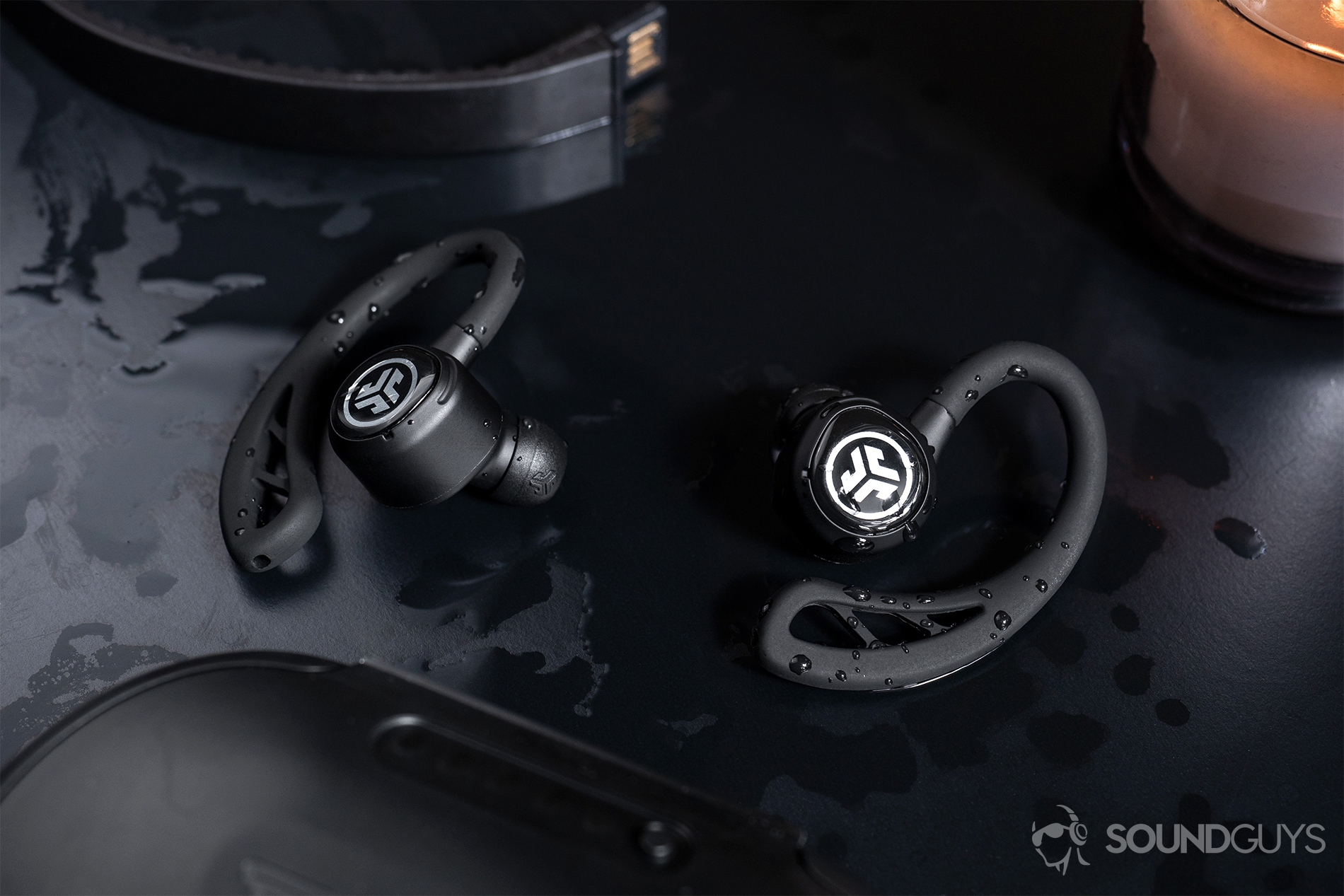 Just like the Epic Air Elite (pictured) you can sweat to your heart's content with the Epic Air Sport.
Working out with the earbuds is great. The ear hooks hug the back of my ear friction-free. Whether I jumped down to descend from a bouldering wall or was riding over a poorly paved road on my bike, the buds stayed in my ears as I put them through their paces. I would advise against using the memory foam ear tips for exercise as the material wears down faster than silicone. I split my time between the materials and a bit of the foam material shed onto my fingers when swapping them out for the default ear tips.
How long does the JLab Epic Air Sport's battery last?

We were able to squeeze out 9 hours, 17 minutes of playback before the earbuds were depleted. This is excellent. At the time of publication, only the Beats Powerbeats Pro 'buds have a greater standalone battery life, and they're $100 more expensive. To completely charge the earbuds, you'll need to set aside 2.5 hours, while the massive 2600mAh case requires four hours for a complete charge. This is a long time to wait, however, it then provides an additional five charge cycles to the earbuds.
How do you connect the JLab Epic Air Sport to your phone?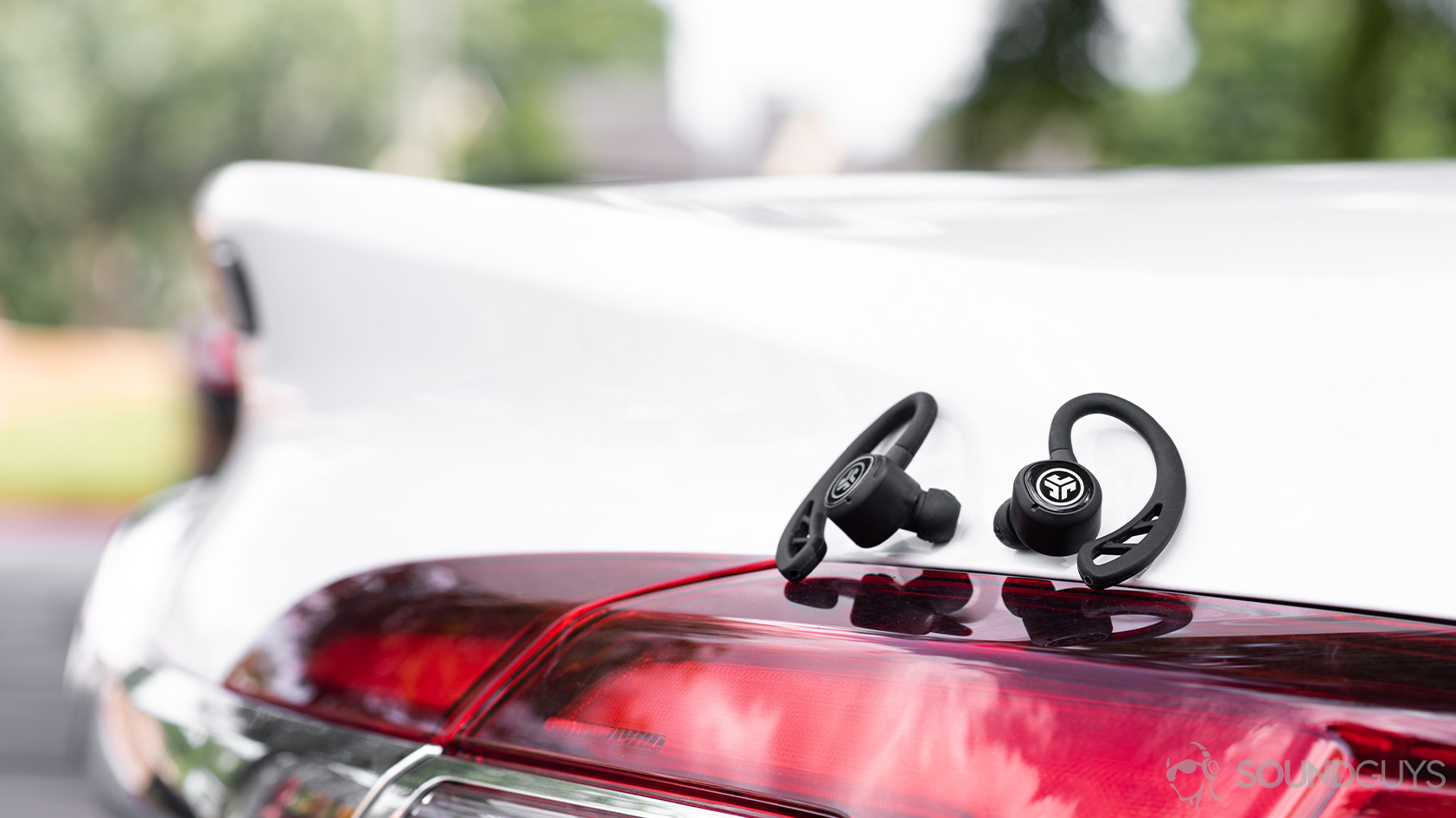 The ear hooks feature cutouts which grant flexibility.
You can connect via the standard Bluetooth pairing process: remove both earbuds from the case and find the JLab Epic Air Sport in your phone's Bluetooth menu. They'll immediately pair to your device. Subsequent connecting is quick thanks to the Class 1, Bluetooth 5 technology. Connection quality is also stable even outdoors; you're afforded 10 meters of untethered freedom.
If you don't care for voice-activated Siri access, these are a good, affordable alternative to the Powerbeats Pro.
Unfortunately, you can't connect to more than one device at a time. If you're streaming music from your laptop and get a call, you'll answer it sans-earbuds. Another pithy shame, but not a surprise, is the lack of high-quality codec support. In all fairness, the earbuds do support AAC. However, AAC performance is only acceptable and reliable with iOS devices.
What do the JLab Epic Air Sport sound like?
Bass notes sound twice as loud as midrange notes, which is bad news for vocal clarity. Granted, bass notes aren't as overstated as they are with the JLab JBuds Air Sport and Executive. While these aren't my first choice for casual listening, they're fine for exercise. I always prefer a bit more volume in the low-end for workouts as it helps me keep a steady pace with the beat. JLab provides three EQ presets: signature (default), balanced, and bass boost. You can cycle through these by triple-tapping the left earbud.
Related: How to read charts
Isolation is similar to the Epic Air Elite, which makes sense as they have a nearly identical design to the JLab Epic Air Sport. Hardly any low-end noises are filtered out by the earbuds, but general chatter and background noise are attenuated. If you notice an excessive amount of environmental sound disrupting your music, test out the various ear tips. JLab provides seven pairs, so you should be able to find something that suits you. Worst-case scenario, third-party tips may be the answer.
Lows, mids, and highs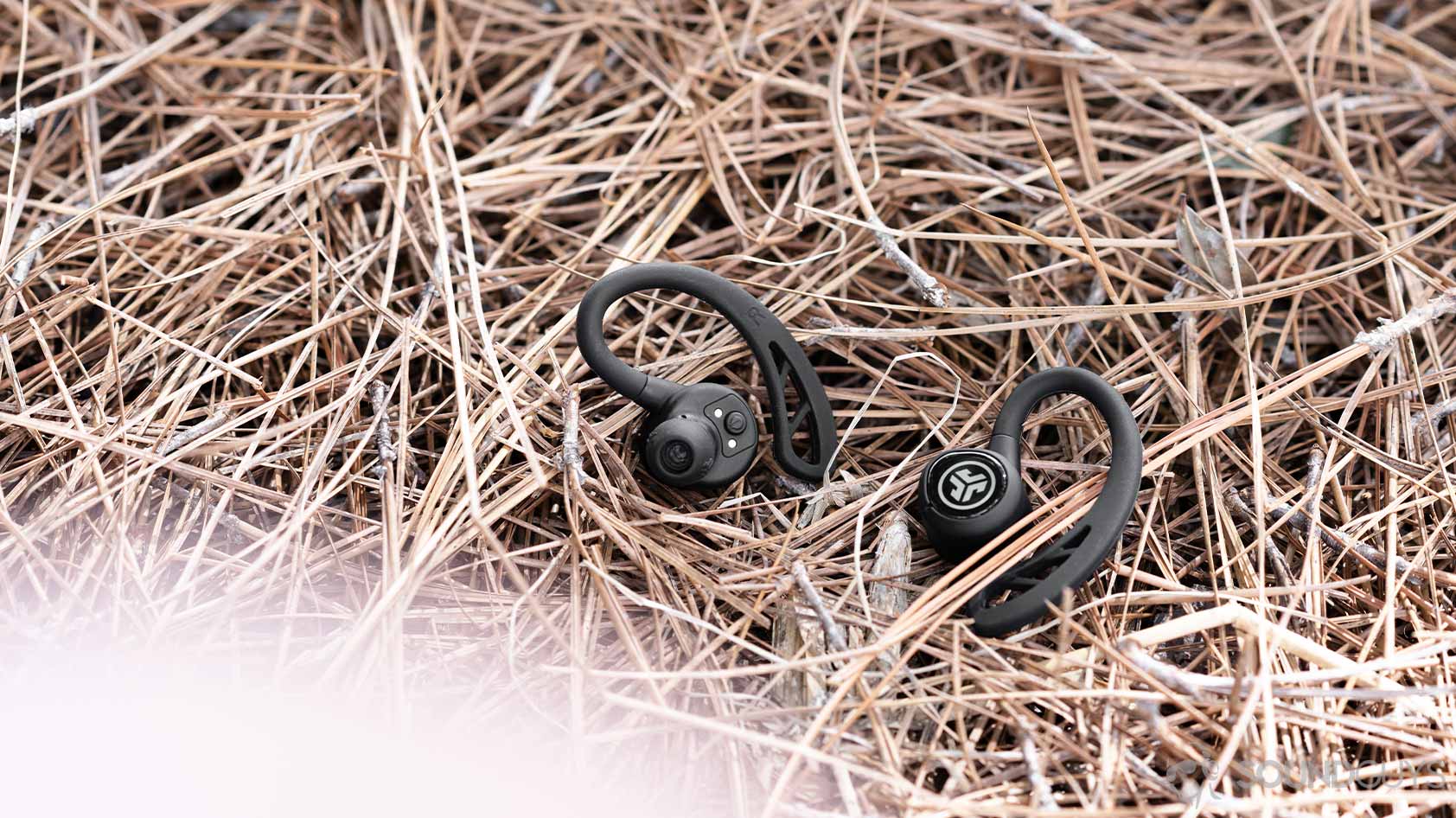 You can manually power the earphones on and off via the button behind each nozzle.
In Aly & AJ's song The Distance, the lack of detail is particularly apparent when the duo harmonizes. Skip ahead to 3:02. They sing in unison, "I keep on going the distance," while a quieted drum beat thumps in the background. The drummer's part is controlled and tempered. However, the disparate reproduction quality between the bass and midrange frequencies makes it hard to hear Aly harmonize with AJ's dominant vocals. That said, in songs with fewer instruments drum kicks, in particular, vocals sound surprisingly clear for sport earphones.
Treble frequencies sound accurate. Similarly to vocal harmonics, detail can be lost during a specifically cacophonous part of a song. Generally speaking, though, they sound pleasant in The Distance.
How good is the JLab Epic Air Sport's microphone?
Due to technical difficulties, we were unable to get an objective measurement of the microphone's frequency response. However, the demo below should help you determine whether you feel the quality is good enough for your usage. While on the phone with my mom, she had nothing bad to say about the sound quality. My only note for phone calls is how audio is only relayed through the left earbud. To JLab's credit, this is common among true wireless earbuds.
JLab Epic Air Sport microphone demo:
Should you buy the JLab Epic Air Sport?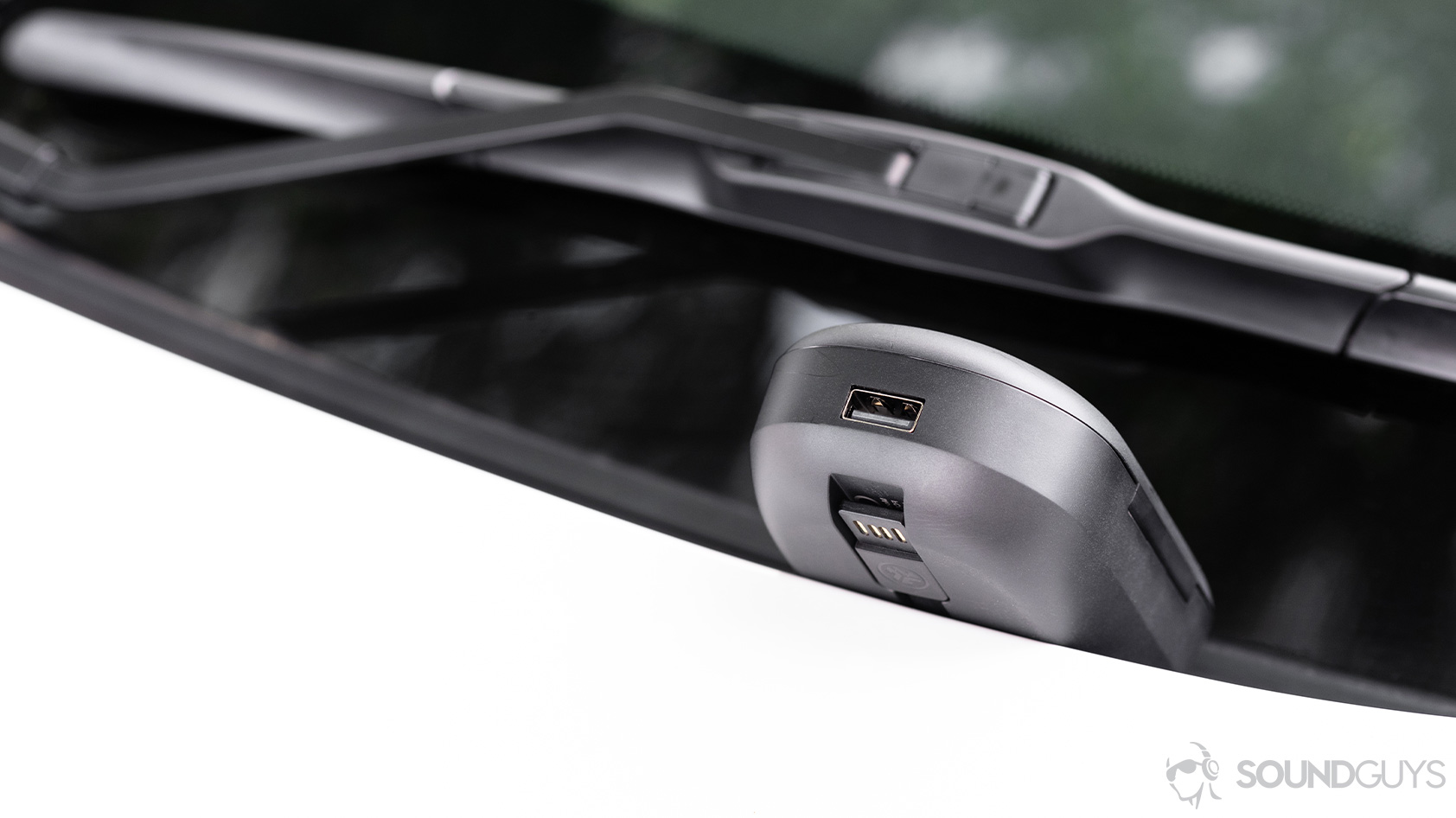 The charging case's novelty is the main selling point of the Epic Air Sport.
However, if the dual-purpose charging case is overkill, the JLab JBuds Air Sport may be a more appropriate choice. They feature a similar earhook design with touch controls, use Bluetooth 5.0, are IP66-rated, and support AAC. Sure, battery life isn't as impressive and they're more bass-heavy, but seeing as most of us put the 'buds in the case when inactive, it shouldn't pose too much of an issue. Plus, they're half the price for the Epic Air Sport. Alternatively, you can go the super cheap route with the JLab GO Air for just $30.
Frequently asked questions
The JLab Go Air is a completely different beast from the JLab Epic Air Sport; the former is a $30 budget pair of true wireless earbuds, while the latter is set to compete with the likes of the Beats Powerbeats Pro and Beats Powerbeats. The Go Air earbuds are IP44-rated, making them a great pick for listeners who may want to use them while running or rock-climbing. As the price implies, they're devoid of especially premium features like a dual-purpose charging case but do use JLab's updated Dual Connect technology for a stable connection within the 10-meter wireless range. Again, the Go Air is just a wildly different product; if you only plan to workout casually, then get the Go Air. For users who require a secure fit, great battery life, and responsive controls, the Epic Air Sport is JLab's top-of-the-line headset.