All products featured are independently chosen by us. However, SoundGuys may receive a commission on orders placed through its retail links. See our ethics statement.
The bottom line
The JBL Link Bar is a great all-in-one solution for consumers looking to consolidate their electronics. With this, you no longer need a separate Chromecast device or dedicated smart TV. It's a true plug-and-play device with some notable quirks. Though it is only available now as a refurbished item from JBL's store, it's still a great deal.
JBL Link Bar
The JBL Link Bar is a great all-in-one solution for consumers looking to consolidate their electronics. With this, you no longer need a separate Chromecast device or dedicated smart TV. It's a true plug-and-play device with some notable quirks. Though it is only available now as a refurbished item from JBL's store, it's still a great deal.
What we like
Integrated Google Assistant, Chromecast, and Android TV
HDMI ARC output
Three 4K HDMI inputs
Bluetooth and Wi-Fi streaming
Wall-mount brackets included
Remote with integrated mic
What we don't like
Egregious lag with Chromecast
Finicky Google Assistant integration
Unable to add Link Bar to a preexisting Google Home speaker group
Rating Metric
Sound Quality
8.4
Bass
7.3
Midrange
9.8
Highs
8.2
Durability / Build Quality
8.0
Value
8.0
Design
9.0
After much anticipation, the JBL Link Bar has finally hit the market. This soundbar is an amalgamation of products: it's a Chromecast-enabled smart speaker that promises full Android TV functionality. No more delays, it's time to see if the Link Bar lives up to the hype.
Editor's note: this review was updated on January 18, 2021, to address product availability and update formatting.
Who is the JBL Link Bar for?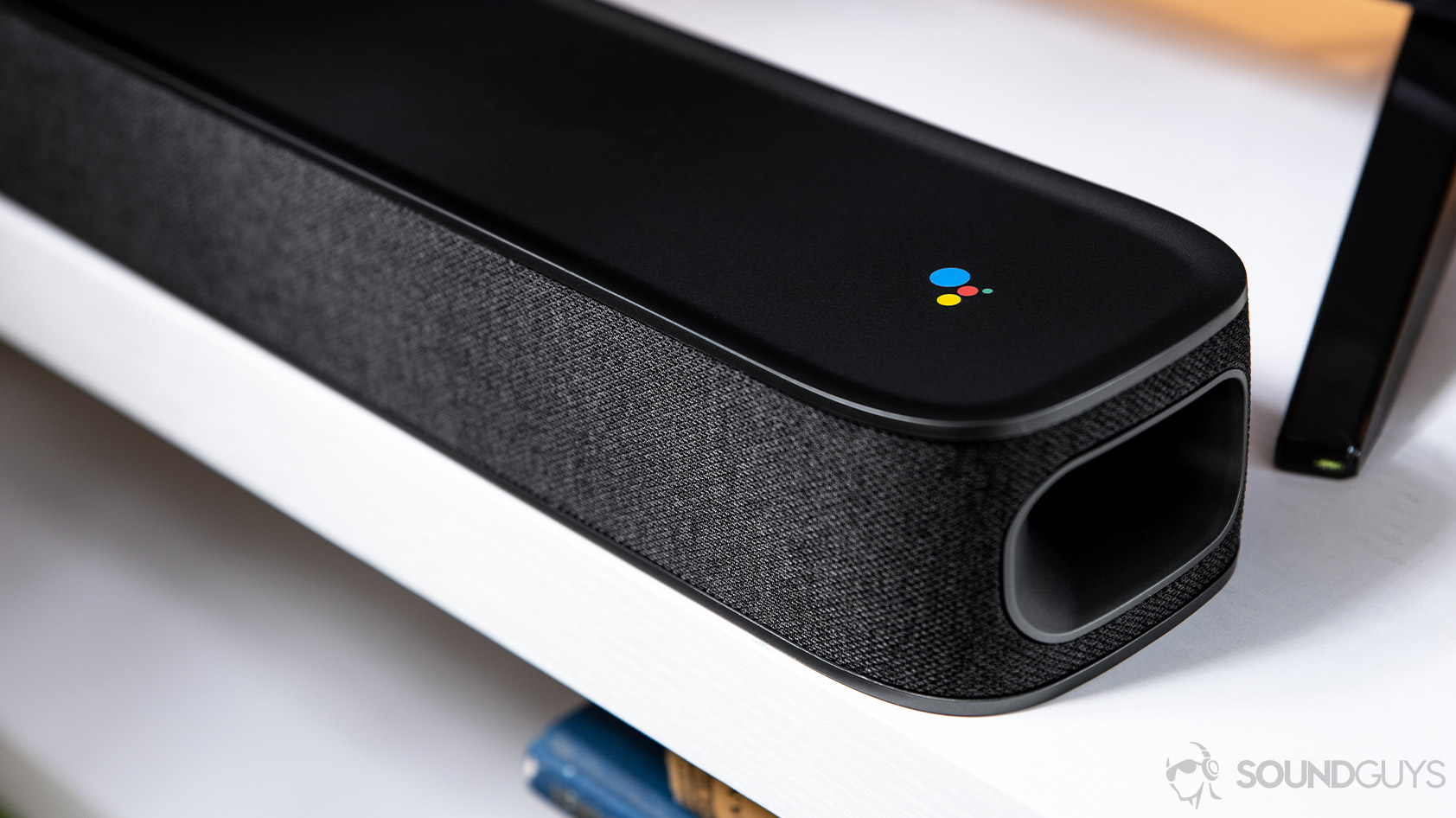 The JBL Link Bar supports full Google Assistant integration.
Anyone with a non-smart TV. The biggest selling point of this soundbar is its ability to turn your regular old TV into a smart one. Assuming you've yet to jump onto the smart TV bandwagon, this speaker, while expensive, could actually save you money in the long run by eliminating the need to upgrade your TV.
People who want fewer devices in their lives. The Link Bar's specialty is its multifunctionality. This soundbar streams audio via Wi-Fi or Bluetooth and features a built-in Chromecast, which is great for casting audio but not so great for streaming TV and movies. Source switching is easy with the included remote, or from the soundbar's top panel.
What's it like to use the JBL Link Bar?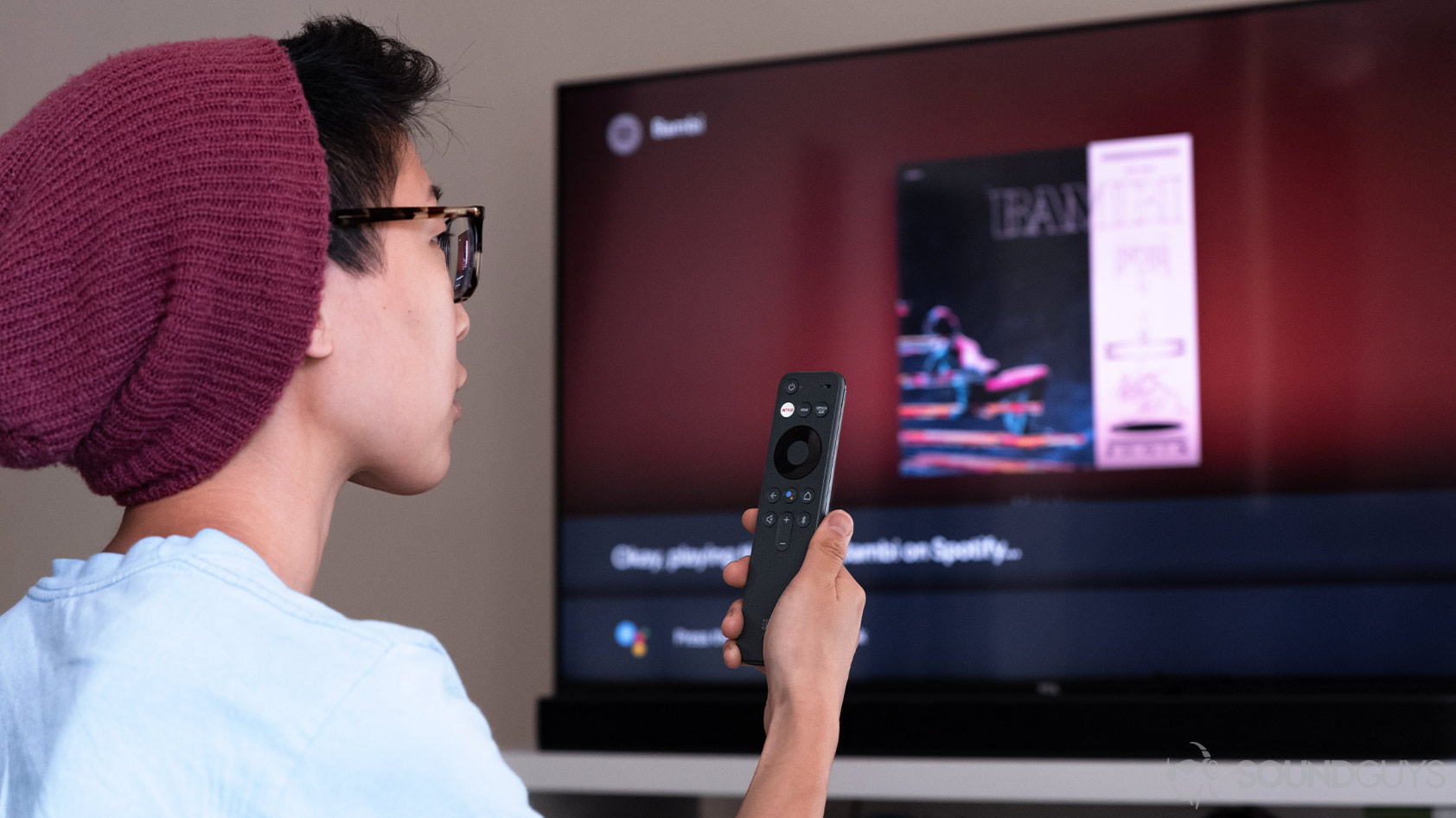 You can speak directly into the remote or say, "Hey Google," to activate the soundbar's microphone.
The Link Bar comes in a sleek, compact package. It has just five buttons on top for alternating between inputs, volume control, and a quick mute toggle. The small footprint ensures it fits nicely under a TV. JBL includes wall-mount brackets for handier home theater enthusiasts.
I mainly used the Android TV functionality to open Netflix and Hulu. All content looks great as the soundbar supports 4K streaming even if you use Chromecast instead of Android TV. Chromecast projecting is also available and is great for projecting a laptop's display onto the TV. I found this surprisingly useful for reading guitar tabs. Unfortunately, it's not great for video as there's a 3-5 second delay between casting. The audio was relayed much sooner than video when I tried casting.
Other apps are available for download such as Spotify. I connected my account but ran into intermittent lag and pausing issues. For a while, I had better luck with casting Spotify from my phone to the Link Bar. Eventually, problems arose there too. There was a two-second lag between skipping or pausing songs. My phone's app dramatically spiraled out of control one day, skipping tens of tracks at a time. I ended up using my Sonos One instead for the rest of the evening.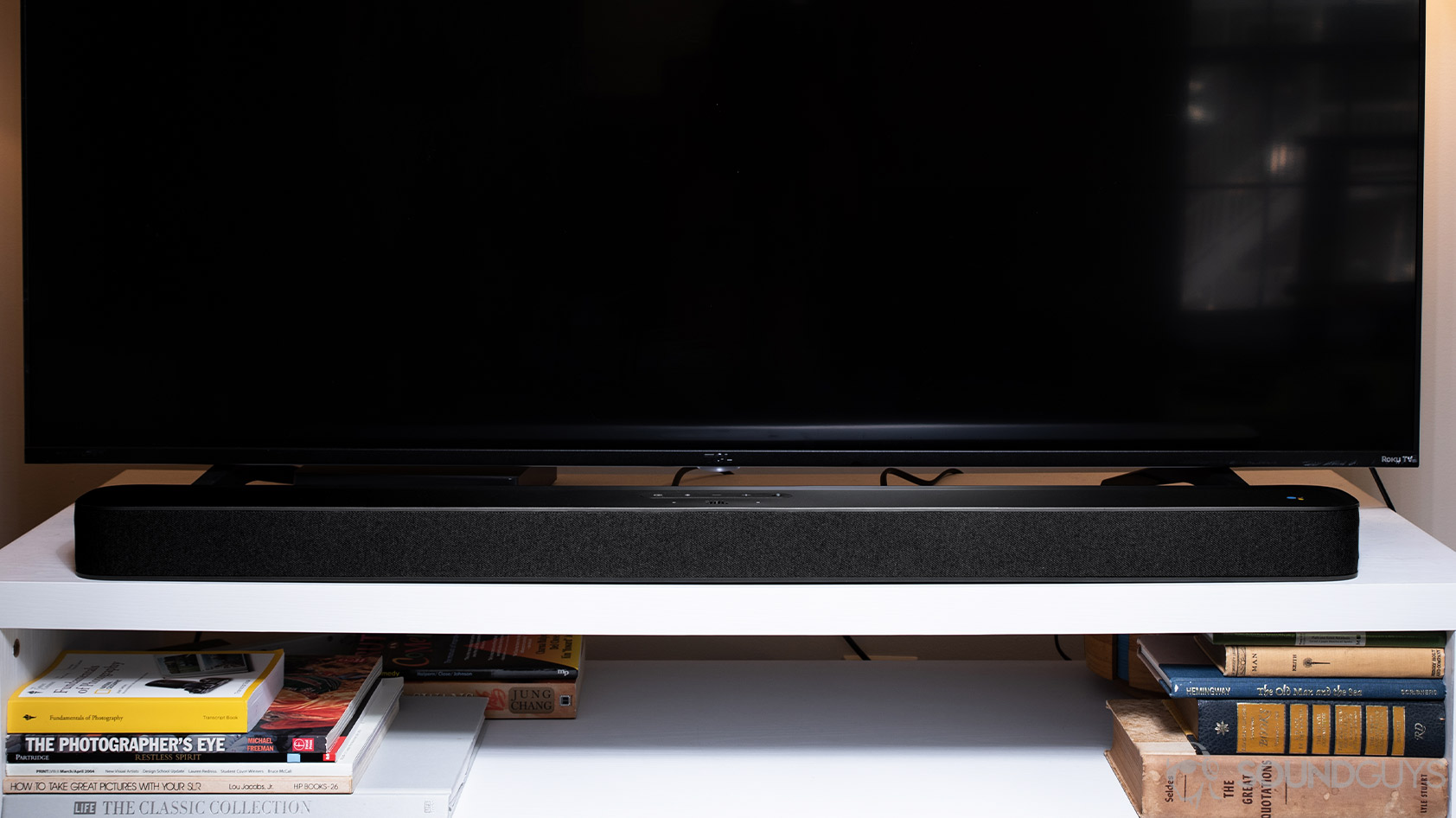 The soundbar may be placed directly beneath a TV or mounted to a wall.
I didn't have this issue with Google Play Music, which leads me to believe it's likely an issue with Spotify and not the Link Bar. As of now, there isn't a dedicated YouTube Music Android TV app. Instead, you have to search YouTube for music videos. That said casting from the YouTube Music mobile app was problem-free.
The Link Bar is a discreet soundbar that outwits its peers.
The remote control is a long, tapered rectangle with an integrated microphone in the top-right corner. It requires two AAA batteries and has a slew of buttons on it including a dedicated Netflix button, source switching, circular control pad, and more.
I didn't realize how much I'd enjoy speaking into the mic and at the soundbar for hands-free commands. I eat most meals on my couch, so being able to speak into the remote, rather than grease it up with salt and oil-laden hands, was a big perk. However, there is a noticeable delay with Google Assistant commands, sometimes up to three seconds. I didn't mind much as I mainly used it when I was eating but can see how this would be unacceptable for others.
How do you set up the JBL Link Bar?
There are plenty of ways to connect the JBL Link Bar to your TV and peripherals.
The setup process is a breeze: use the included HDMI cable to connect the soundbar to your TV's HDMI ARC input, connect the power cable to an outlet, and you're golden, Ponyboy. If applicable, you can also add cable boxes and other source boxes to any of the HDMI inputs.
To get 10-bit color through an HDMI connection, you must enable the "HDMI UHD deep color" option on your TV. If your TV doesn't have any HDMI inputs, you can connect via optical input. However, doing so negates any Android TV functionality. At that point, save a buck and get a regular soundbar.
You cannot currently add the Link Bar to Google Home groups.
In order to make use of Android TV and Google Assistant, you have to sign in with your Google Account. If you're concerned about privacy, you can switch the microphone off. JBL shunts data privacy responsibility over to Google in its JBL Link Bar FAQ document.
Setting up the remote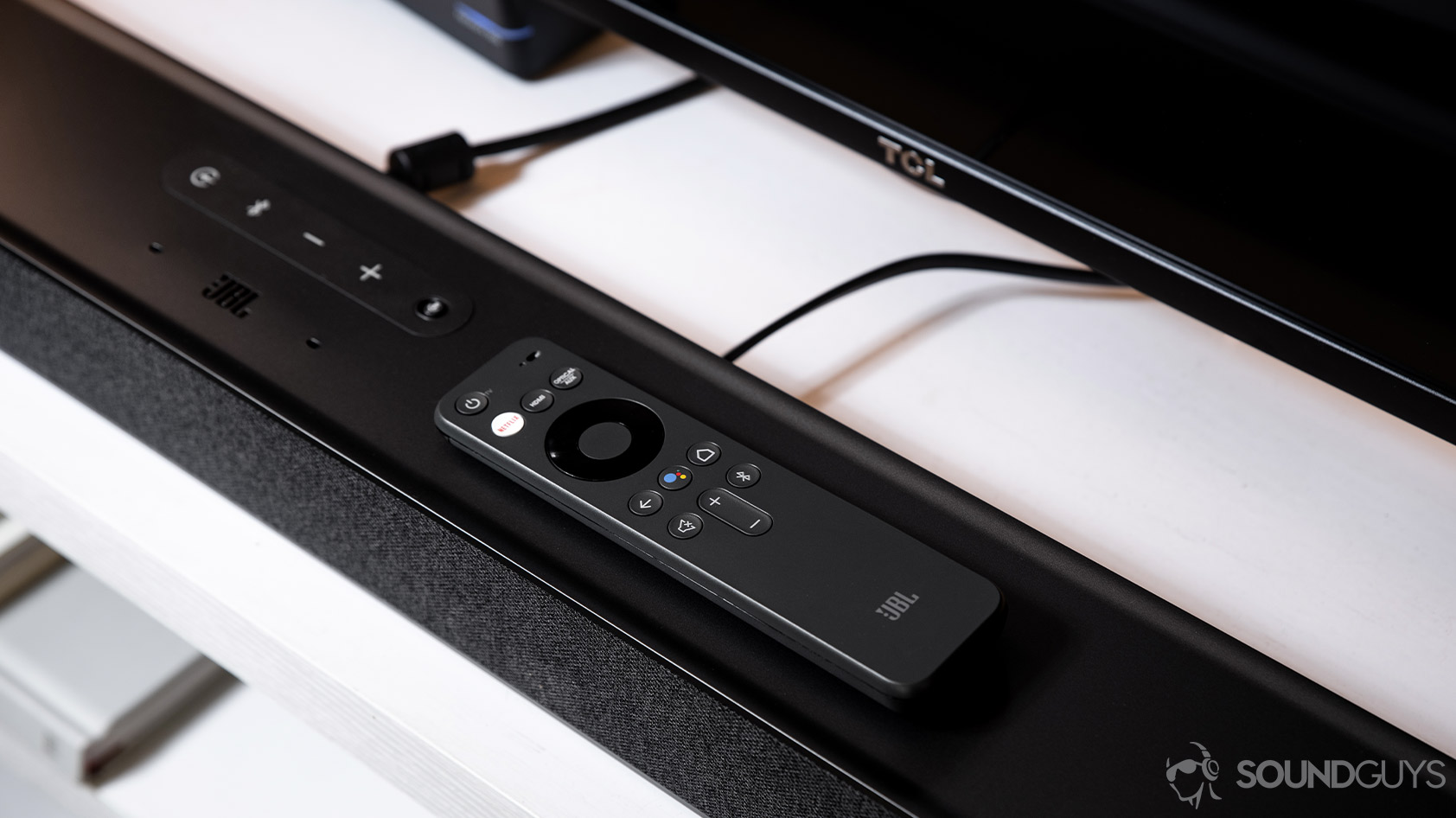 I didn't expect to use the dedicated Netflix button as often as I did.
To pair the remote, press and hold the "home" and "back" buttons simultaneously for three seconds. Once a green LED flashes, the remote is in pairing mode. Press the Bluetooth button on the soundbar, and the Link Bar remote will pop up in the pairing menu displayed on your TV. Select it and wait about 10 seconds for a connection to form.
Now you can perform any of the remote's functions. For instance, by pressing the Google Assistant button on the remote, you activate voice commands. You may then speak directly into the microphone without needing to say, "OK Google."
Adding the Link Bar to Google Home groups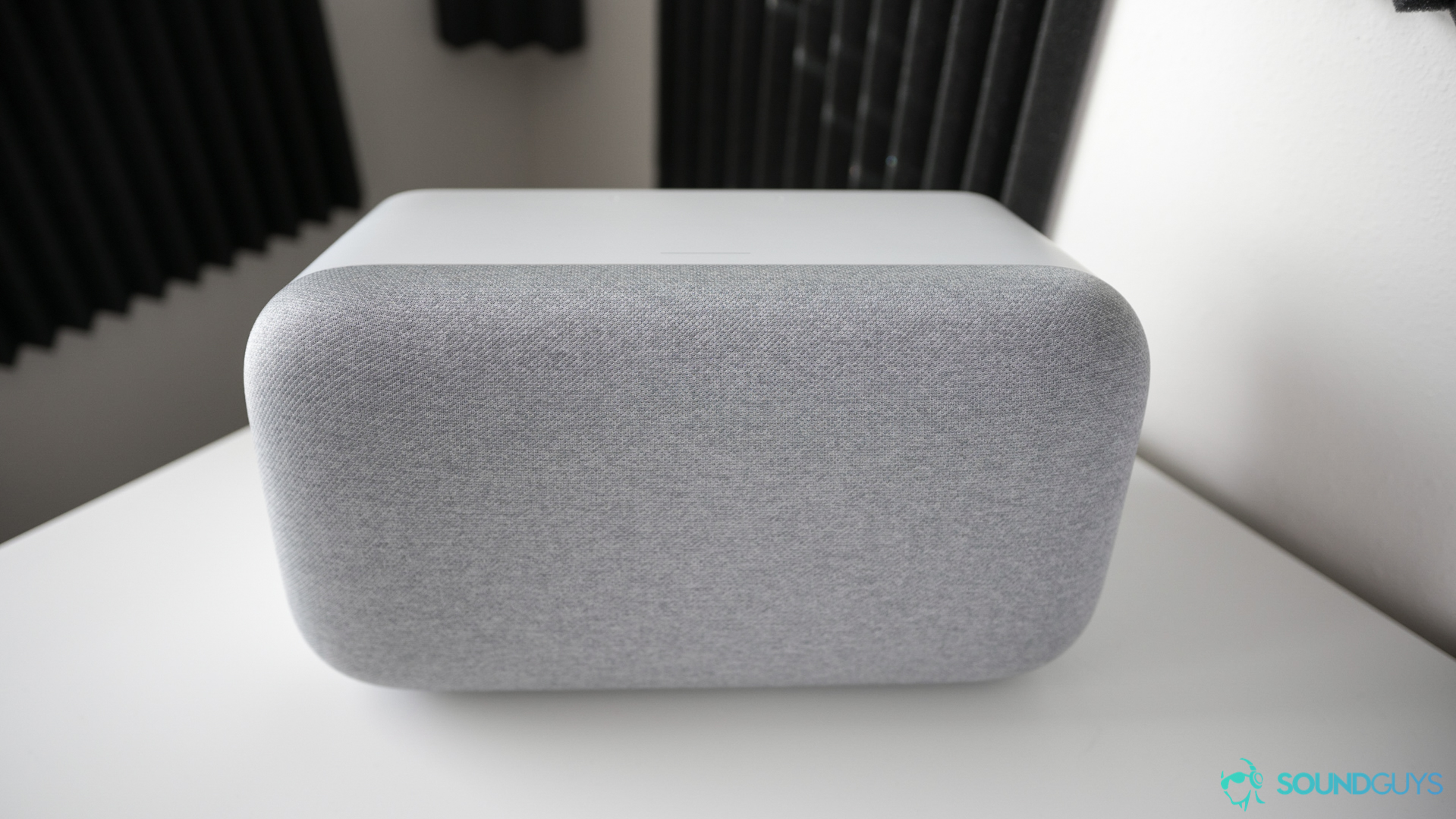 Want to group the Link Bar with your Google Home Max? Sorry, you can't (yet).
Well, this is one of the biggest drawbacks of the Link Bar for listeners already invested in smart home devices: you can't currently connect to other Google Home speakers with the Link Bar. JBL responded to a customer on its forum, saying that an update should be available shortly. Currently, the Link Bar is only recognized as a TV, not as a smart speaker, by other Google Home devices.
Supported audio and Bluetooth codecs
The JBL Link Bar supports MP3, AAC-LC, HE+AAC, FLAC, Vorbis, Wav, CELT/opus via Wi-Fi streaming. It has Bluetooth 4.2 firmware and only SBC and AAC codecs are supported. This is ok, but if you want the best audio quality, stream over WiFi or by analog connection. The JBL Link Bar does not support Dolby Atmos—but it does support Dolby Audio.
Pairing the optional subwoofer
JBL didn't go with a heavy-handed bass presence for the Link Bar. Instead, its low-end reproduction is surprisingly tame and, by most consumer standards, lacking. If you want your movies and music to a greater impact, the JBL SW10 may be a worthwhile buy. I'd rather settle for lessened bass response than shelling out an additional $300 on a subwoofer. To each their own, though; at least setup is easy.
Power on the JBL SW10 subwoofer and Link Bar.
Press the "subwoofer pairing" button on both the SW10 and Link Bar; each device's LED indicator will blink.
If pairing is successful, the LED indicators will be on. If pairing failed, both LED indicators will blink slowly.
What does it sound like?
The Link Bar has a weaker bass response than expected from JBL, but the company offers a subwoofer to go with the soundbar.
The JBL Link Bar sounds great once you get past the tenuous low-end. Beneath the grill is a pair of transducers, four tweeters, and a racetrack driver. These separate components do a great job at separating frequency response reproduction, which results in clear audio even as volume levels increase. Dialogue stands out well, perhaps a perk of the attenuated bass as auditory masking is less of an issue. For being a non-3D audio soundbar, the Link Bar effectively recreates a realistic sense of space.
Hippo Campus' song Bambi opens with a synthesized beat and quiet, repeated bass bumps. Seeing how the Link Bar struggles with bass notes, this already hushed beat is nearly imperceptible with the soundbar at reasonable levels (~50% volume). Bambi relies heavily on mellow bass lines to carry Jake Luppen's narrative vocals, making the song sound off to anyone previously familiar with it.
The JBL Link Bar sounds pretty good but it would be nice if its bass response was stronger.
Vocals, though, sound fantastic. Nathan Stocker harmonizes with Luppen at 1:24, and he sounds impeccably clear throughout the line, "Why I haven't been much myself…" The subdued bass beat is still more difficult to hear than I'm accustomed to, but the piano keys and gentle guitar slides are accurate.
Related: How to read charts
Should you buy it?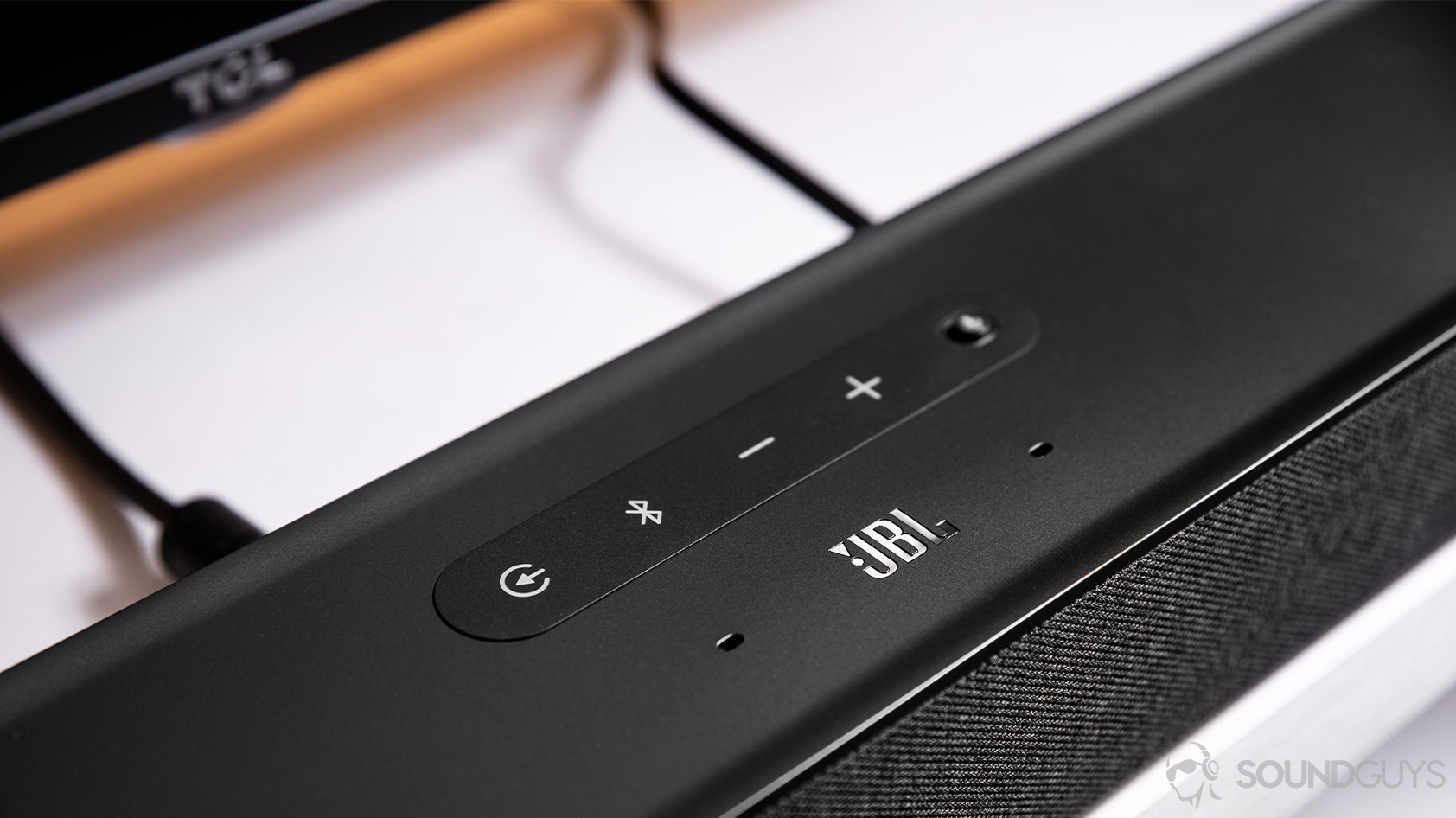 The integrated control panel is easy to use but not as convenient as the remote.
If you're looking for a jack of all trades, yes. The JBL Link Bar sounds great and is reasonably priced for all that it affords. That said, the price is most justifiable by those who don't currently have smart TVs, or a Chromecast. Listeners who already own either of those will find a better value in a standalone soundbar or surround sound setup. The Link Bar seems to have been discontinued by JBL, but you can get it refurbished from their website, which also means it's cheaper than before.
The most egregious shortcoming of the Link Bar is its inability to be lumped in with other Google Home products when editing groups. If you're able to overlook that, it's a very impressive piece of tech. While the JBL Link Bar may not be the best soundbar, it's certainly one of the smartest.
Next: Best smart speakers