Buy at Amazon
I can't be the only one who really wants truly wireless earbuds to be a thing. There are plenty of options out there but the most they do is just work. The general consensus is that they're just not good enough yet to replace your average Bluetooth earbuds or even your favorite wired pair. We already took a look at the Verveones by Motorola, and you can bet we're going to check out the new Airpods, but right now, let's take a look at another pair of truly wireless earbuds that want to be crowned king. The Jabra Elite Sport Wireless.
What's Inside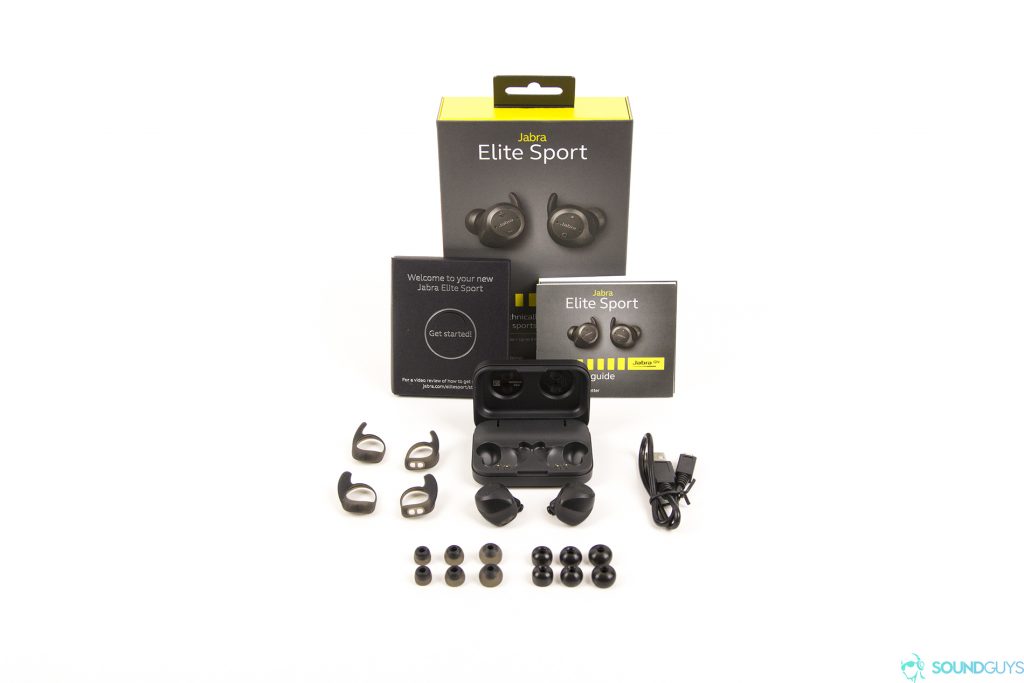 When you open the box you'll get a charging case, the headphones, 3 sets of silicone ear tips, and 3 sets of memory foam ear tips, two sized wing tips, a micro USB cable to charge the case, and a small box with the quick start guide and warranty information inside.
Build & Design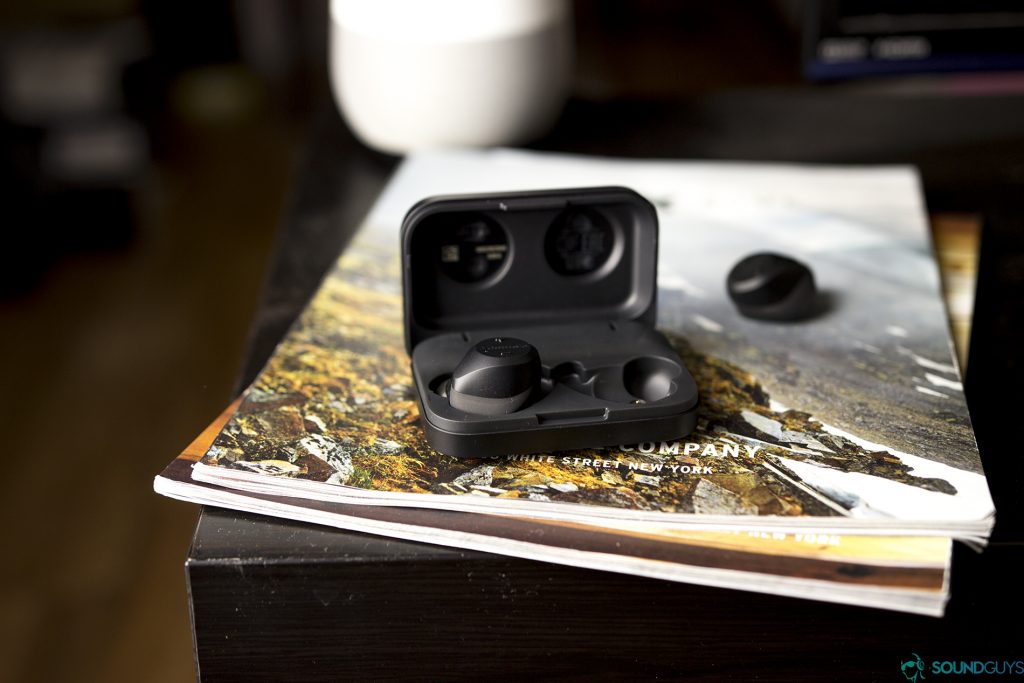 Just by looking at the them, the Jabra Elite Sports are what I envision when I think of my perfect pair of true wireless 'buds. All black, minimal ear buds that you can discretely pop in and out of your ear throughout the day. Before you can do that, you will need to find the right combination of wing tips and ear tips. I found that just the largest pair of memory foam tips with no ear wings worked perfectly but your mileage may vary. Once I figured it out, I had no problem keeping these in my ear whether I was running or commuting on the train. Unfortunately these are still kind of large and will probably jut out of your ears. That's just a side effect of the technology though, and I'm sure that it will get smaller as the tech gets better.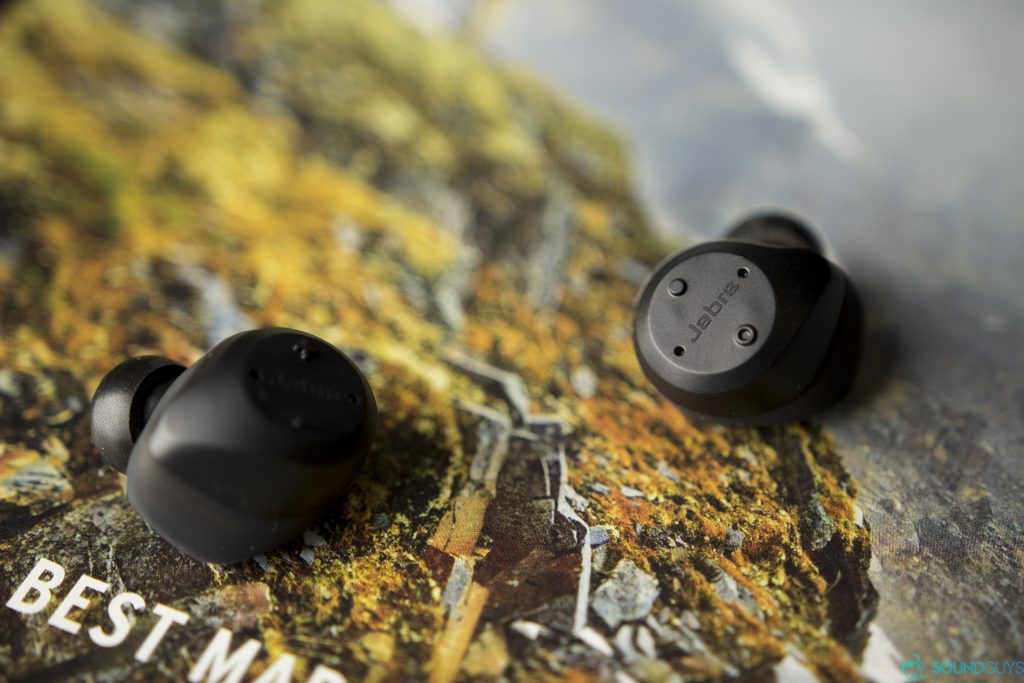 On the bright side, these are made for exercise. They're IP67 certified which gives them protection against sweat, and they have a built heart rate sensor along with a very health-centered app (more on that later). It's good that these don't fall out but unfortunately they do get a little uncomfortable after about an hour of listening. I wouldn't call it painful but you'll be aware of it's placement in your ear, which is also kind of good since you probably don't want to lose one. Speaking of which, the charging case has a little bit of a pop to it when you're opening it and the first time opening up the case I almost lost an earbud. It popped open and sent the right earbud flying under my seat. Just a fair warning so you don't go opening the case near a sewer or something.
Connection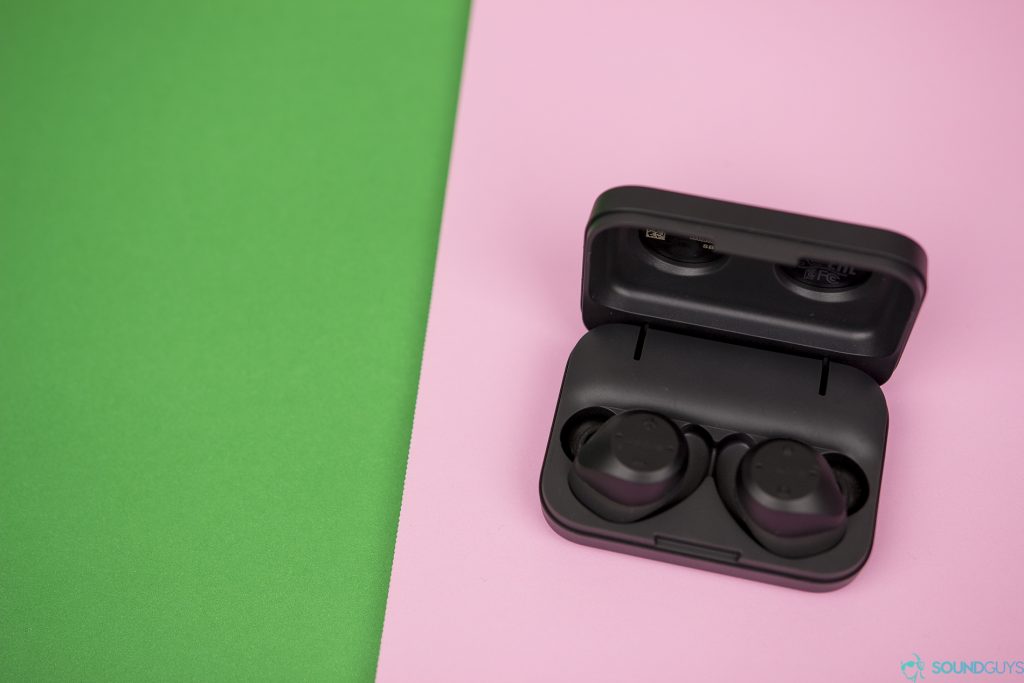 This is the part of the review where the "truly wireless" part of these earbuds gets put to the test. The audio signal has to get sent from the source device to one of the earbud, from that earbud to the other one, and then has to playback with no delays and skips. In three days of constant testing, I've only had two quick stutters during playback. Otherwise these played back perfectly. The only major issue I had was once on the second day when the left earbud just gave out for some reason and I had to put them back in the case and let them reset. Since then I've been on the lookout for it to happen again, but it hasn't. Pretty impressive considering all of the features these have packed into them. One of my favorite features has to be Passthrough, which uses the microphones in the earbuds to let you hear what's going on around you. This is useful for when you need to be aware of your surroundings, or just want to talk to someone quickly without removing the 'buds entirely.
On the left earbud are the volume up and down buttons, which also let you skip between tracks if you hold them down. The right earbud has the play/pause/power button which also answers phone calls if tapped and activates the heart-rate sensor if you hold it down. The top button lets you open up the Jabra Sport app if you tap it, or start a workout by holding it down. The app itself isn't as user friendly as my main fitness app, but it does provide way more information especially when paired with the heart rate sensor in the earbud. You can get training from a voice coach right in your ear and it'll rate your workout depending on how hard it was for which can be both rewarding and shameful, depending on your workout. There's also an option to "find my headphones" which will cause them to emit a high pitched sound so you can easily locate them as long as they are within range.
Battery Life
Like most truly wireless earbuds, the battery life on these isn't great at only about 3 hours. But they do come with a charging case that lets you recharge it 2 more times for a total of 9 hours of listening times. If you don't have the time to let them charge completely they also have a quick charge feature which will give you an hour of listening time in only 15 minutes of charging. Just enough time for a decent run or workout.
Sound Quality
I wasn't expecting these to sound amazing and they don't, but I was surprised at how good they sounded. Soundstage obviously isn't too amazing but as far as quality goes they don't sound that much worse than other regular fitness 'buds. Don't get me wrong these don't sound bad at all for exercise, but if you're looking to use these mainly as a pair of 'buds to listen to music casually with they might not be too impressive.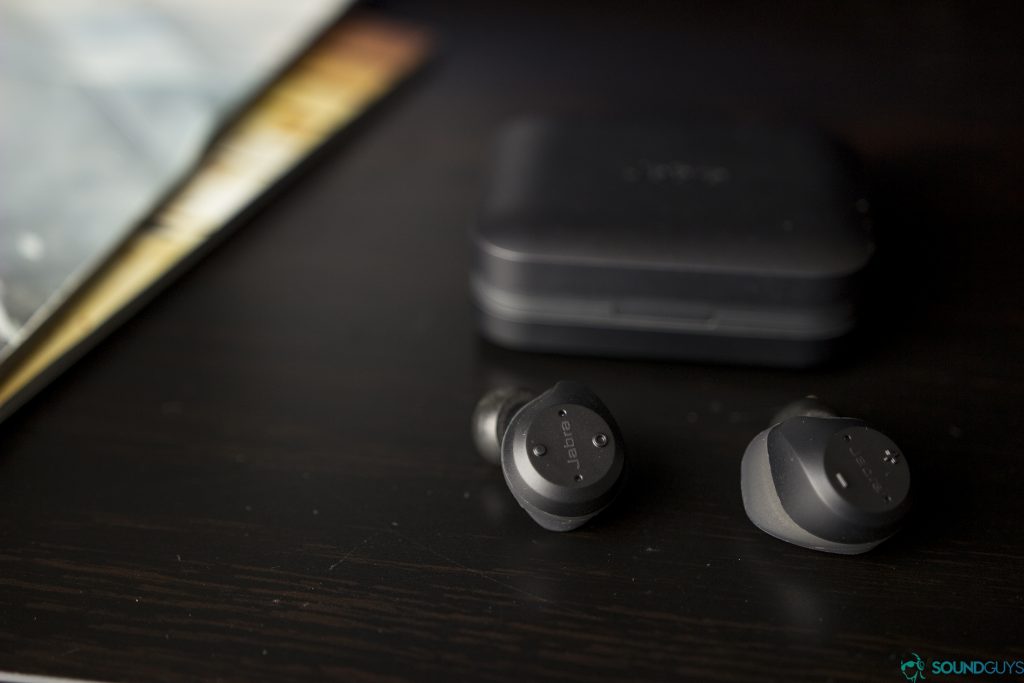 Lows
I usually expect a higher emphasis on the bass in workout earbuds and the Elite Sport didn't let me down. If you're looking for that extra push to your music to help push you past the pain of workout, these won't disappoint. That said the fact these these are already so close to your ears means that songs tend to sound a little muddy as the lows really push through their limits. The rhythmic bass of "Feel It Coming" by The Weeknd made it's way nicely throughout the song but it, along with the steady bass kick almost feel like the main part of the song.
Mids
Overall the mids kind of battled with the low end. This was really present in "Redbone" by Childish Gambino where I'm more used to the vocals being more forward sounding, floating over the top of the instrumental which wasn't the case here. The low end definitely had more of a say then the rest of the frequencies.
Highs
Highs were pulled back plenty which is great if you're not a fan of harshness, but it does take away from detail in cymbals and hi-hats. Overall, it sounds like Jabra played it safe and took off a little more than was necessary to avoid any painful sounds and I agree with the decision since these are sitting right in my ear, but the choice is kind of noticeable and cymbals, tambourines, and hi-hats are just barely there.
Conclusion
The Jabra Elite Sports cost $249 (currently $199 at Best Buy), and there are definitely better sounding ways to spend that money. That said, these are without a doubt one of the best (if not the best) pairs of truly wireless 'earbuds out there. They have a pretty accurate heart-rate sensor which, when paired with the robust Jabra Sport Life app, lets you track pretty much anything. And the connection rarely if ever drops out which is a pretty huge accomplishment in my opinion. Sure, they're quite a bit more expensive than something like the Apple Airpods, but they also have way more features and look way slicker in my opinion.
Buy Now