All products featured are independently chosen by us. However, SoundGuys may receive a commission on orders placed through its retail links. See our ethics statement.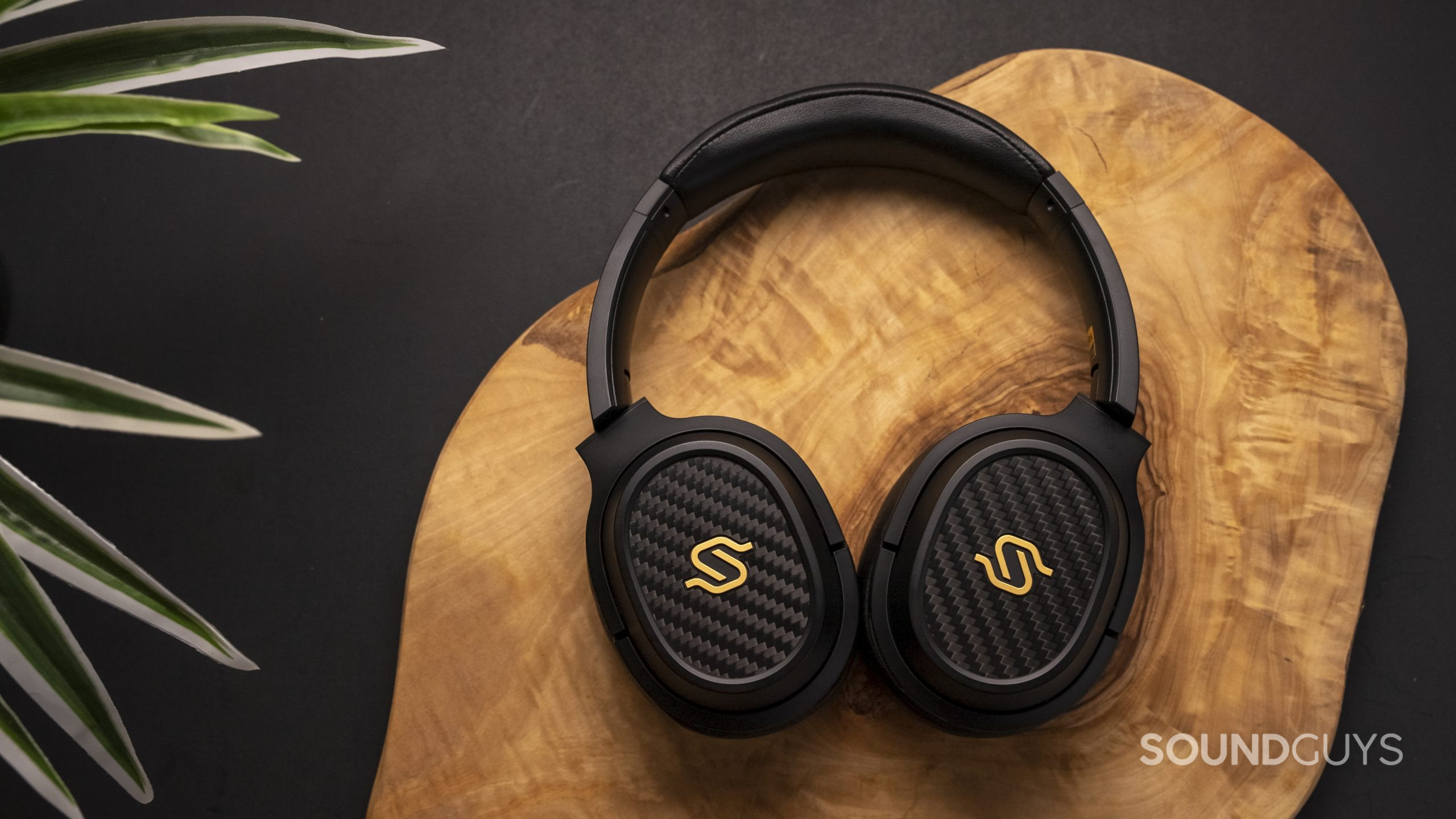 7.2
Edifier Stax Spirit S3
The bottom line
The Edifier Stax Spirit S3 could be a good pick for anyone looking for a great sounding, untethered planar magnetic closed back headphone, with some caveats.
Edifier Stax Spirit S3
The Edifier Stax Spirit S3 could be a good pick for anyone looking for a great sounding, untethered planar magnetic closed back headphone, with some caveats.
What we like
Excellent sound quality
Bluetooth multipoint
Battery life
Lightweight
Alternate set of earpads included
Bluetooth multipoint
What we don't like
No audio passthrough via USB
Very limited EQ presets in app
Unreliable multifunction button
Not vegan friendly
Rating Metric
Sound Quality
9.7
Bass
9.7
Midrange
9.8
Highs
9.5
Isolation / Attenuation
3.3
Durability / Build Quality
5.0
Value
3.5
Design
7.0
Connectivity
6.0
Portability
6.0
Battery Life
9.8
Feature
5.0
Comfort
9.0
Edifier acquired the STAX brand name in 2012, along with its 80 years of audio and electrostatic "earspeaker" heritage. With the S3, Edifier is bringing the "Stax Spirit" to a set of lightweight, highly portable wireless planar magnetic headphones, adding in some of the conveniences of Bluetooth technology to the mix.
Editor's note: this is the first version of the article. Updates will follow as the market changes.
About this Edifier Stax Spirit S3 review:
We tested the Edifier Stax Spirit S3 over a period of 1 week. It was running firmware version 1.0.0, with Edifier Connect app version 7.7.12. The company provided the unit for this review.
Anyone looking for lightweight, closed back, over-ear wireless headphones with great sound quality, particularly for home or the office should take a look at the Edifier Stax Spirit S3. It should appeal to anyone who enjoys the planar magnetic or electrostatic sound, though the basic EQ presets won't make useful changes for anyone else. It's not the best for commuting due to basic isolation and lack of ANC.
What's it like to use Edifier Stax Spirit S3?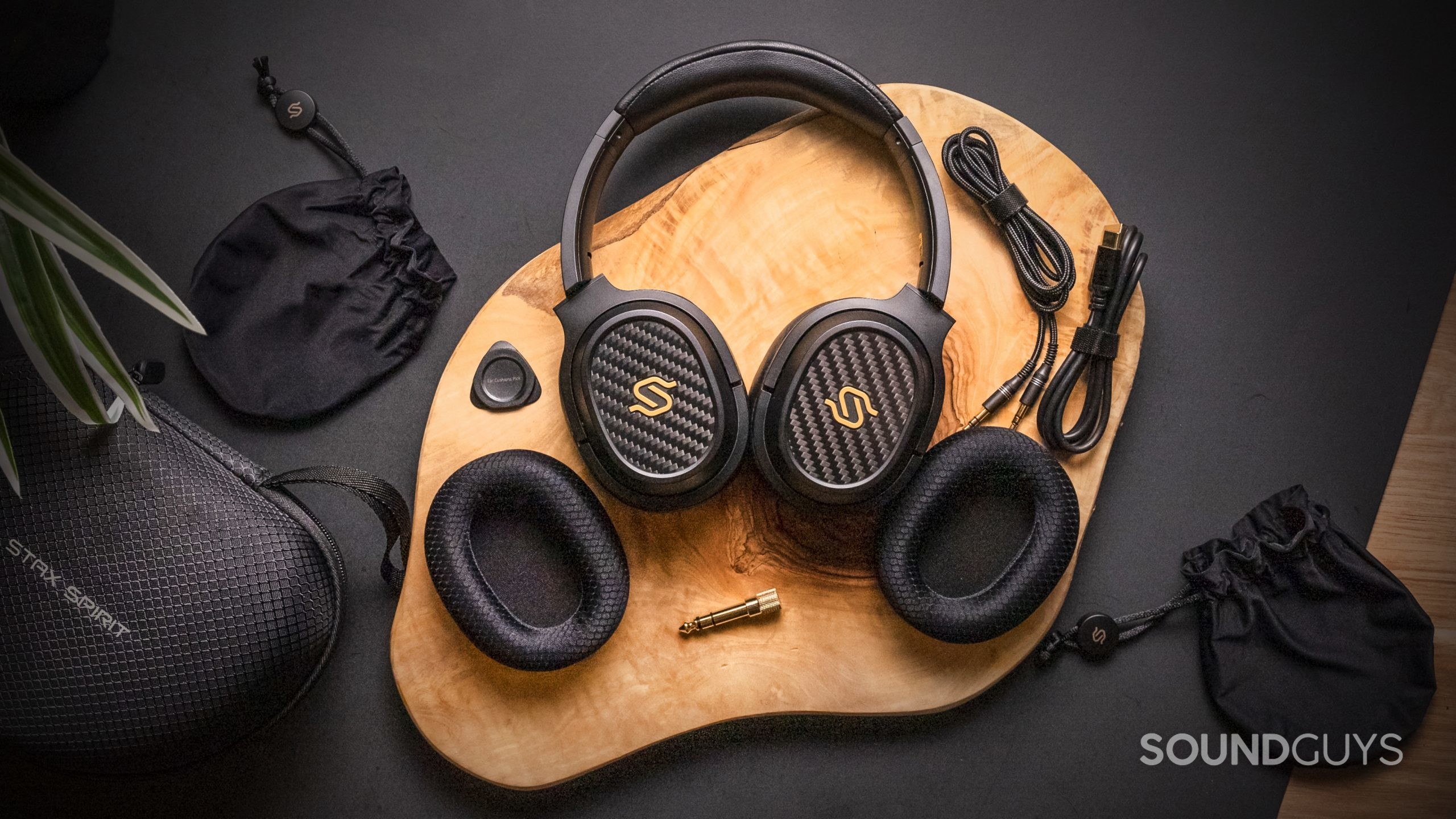 The Edifier Stax Spirit S3 includes all the expected accessories, plus a set of cooling ear pads and a plastic tool to help change them over.
The Stax Spirit S3's lightweight black carbon fiber construction and foldable design allows it to pack down into a fairly compact, semi-rigid carrying case. The headband and ear pads are covered with real leather (lamb's skin), and a second provided set of mesh-covered ear pads incorporate cooling gel. It all looks nice, but the creaky hinges don't instil us with confidence about overall durability.
It's very comfortable for long periods, particularly with the cooling pads, and the weight feels pretty minimal. Walking around though, the creaky plastic frame is actually quite audible, and it can get a little irritating—at least if it's not masked by the music you're listening to.
How do you control the Edifier Stax Spirit S3?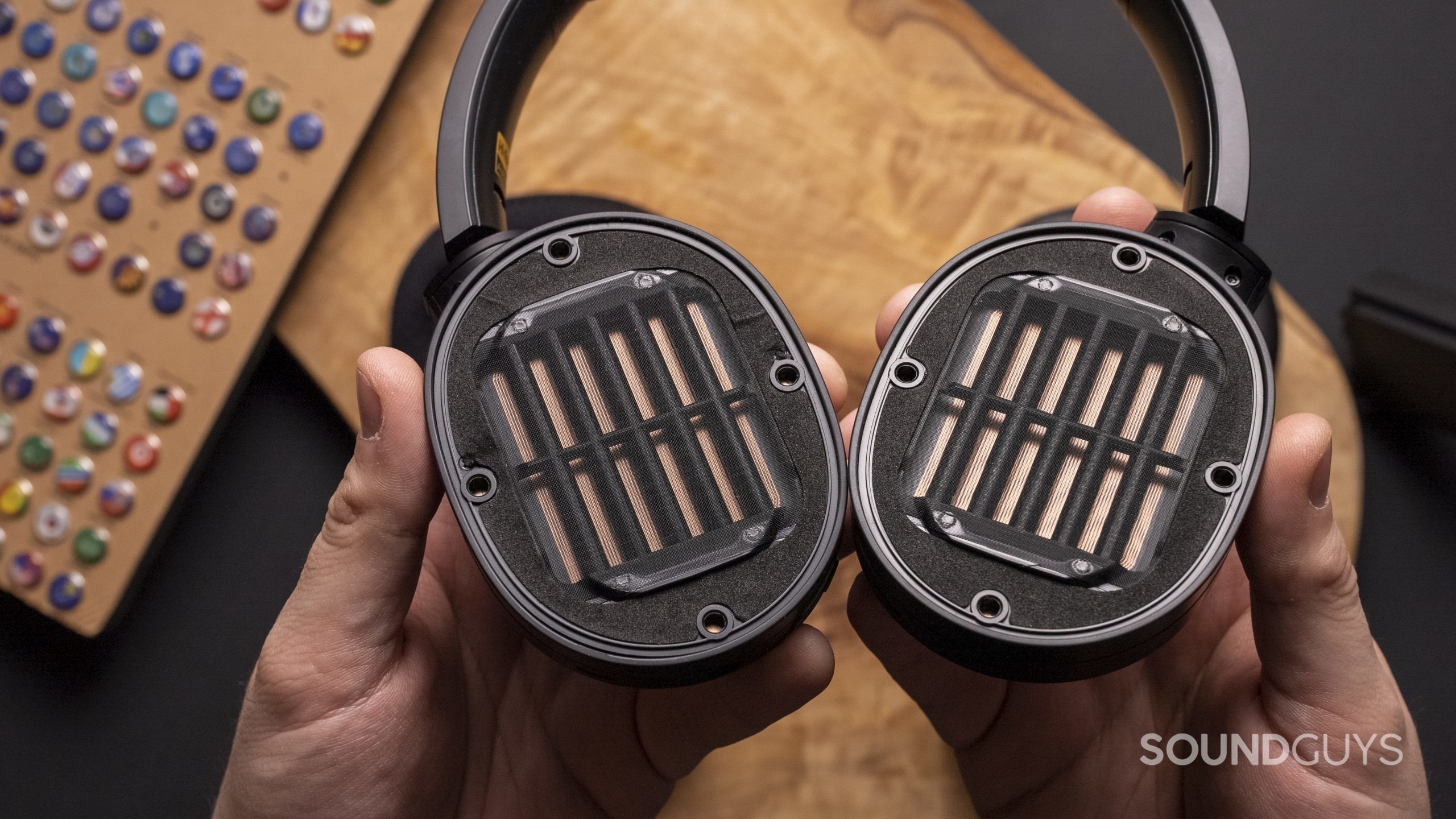 Stax Spirit S3 planar drivers exposed, pads removed.
The headphones feature basic controls in the form of volume up and down buttons and a central multifunction button (MFB).
Volume +
Volume -
MFB

One press


Volume +

Volume up


Volume -

Volume down


MFB

Play/Pause/Call answer/Call end


Two presses


Volume +




Volume -




MFB

Voice assistant / Call ignore


Three presses


Volume +




Volume -




MFB

Enable/disable gaming mode



Long press


Volume +

Next track


Volume -

Previous track


MFB



While the multifunction button's features work reliably, powering off frequently doesn't work as expected, and holding the button down for three seconds often either does nothing at all, or ends up clearing the memory of paired Bluetooth devices if held slightly too long. This is a great example of why we always favor a dedicated on/off switch for usability.
Should you use the Edifier Connect app for the Edifier Stax Spirit S3?
The Edifier Connect app doesn't bring a lot of useful functionality to the headphones. It lets you access the Classic, Hi-Fi, and STAX EQ presets (discussed later), and switch to gaming mode for low-latency audio. Interestingly, you can also tell it which ear pads you are using, presumably for fine tuning the sound (although this feature isn't working for me on my iOS device).
How does the Edifier Stax Spirit S3 connect?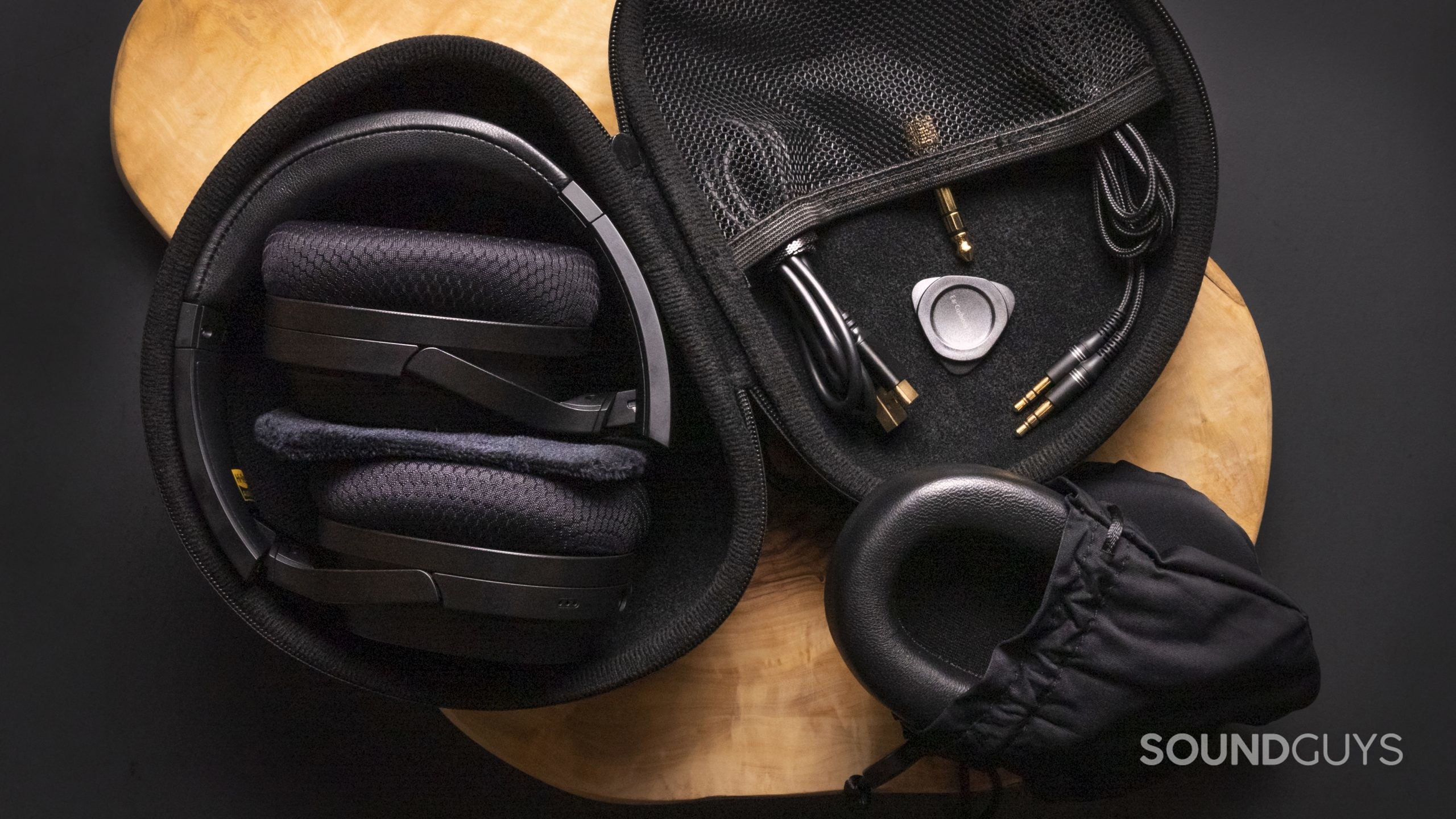 A decent quality 3.5mm jack cable is included in the package.
The headset connects using a Bluetooth 5.2 connection, and lists SBC, aptX, aptX HD and aptX Adaptive codecs. AAC is absent from the product documentation, but behold, it does appear as available in the Android developer codec options. The headphone also supports Bluetooth multipoint (what Edifier calls "Dual Connectivity") for seamless source switching between devices for music, games, and phone calls. A low latency gaming mode can also be enabled with three presses of the multifunction button.
The Stax Spirit S3 also includes a nice braided 3.5mm jack cable and a 3.5mm-to-1/4-inch adaptor for wired listening. It's worth noting that even with a wired connection, the headphones must be powered on, or you'll get no sound at all. You also get no sound while it's being charged, so listening and charging simultaneously is not an option. Audio is not supported over USB, which I find a head-scratching omission.
Pairing relies on tthe multifunction button located on the bottom of the right ear cup.
1. With the headphone powered off, press and hold the multifunction button for 3 seconds. The LED will rapidly blink red and blue.
2. Select "EDIFIER STAX SPIRIT S3" in your device bluetooth settings to connect. Blue LED will blink twice every 5 seconds once connected. Subsequently, the headset will auto-connect to the last used device.
3. To connect a second device (for Bluetooth multipoint), press and hold the multifunction button for 5 seconds when powered off to skip the latest connected device and pair a new Bluetooth device.
How long does the Edifier Stax Spirit S3 battery last?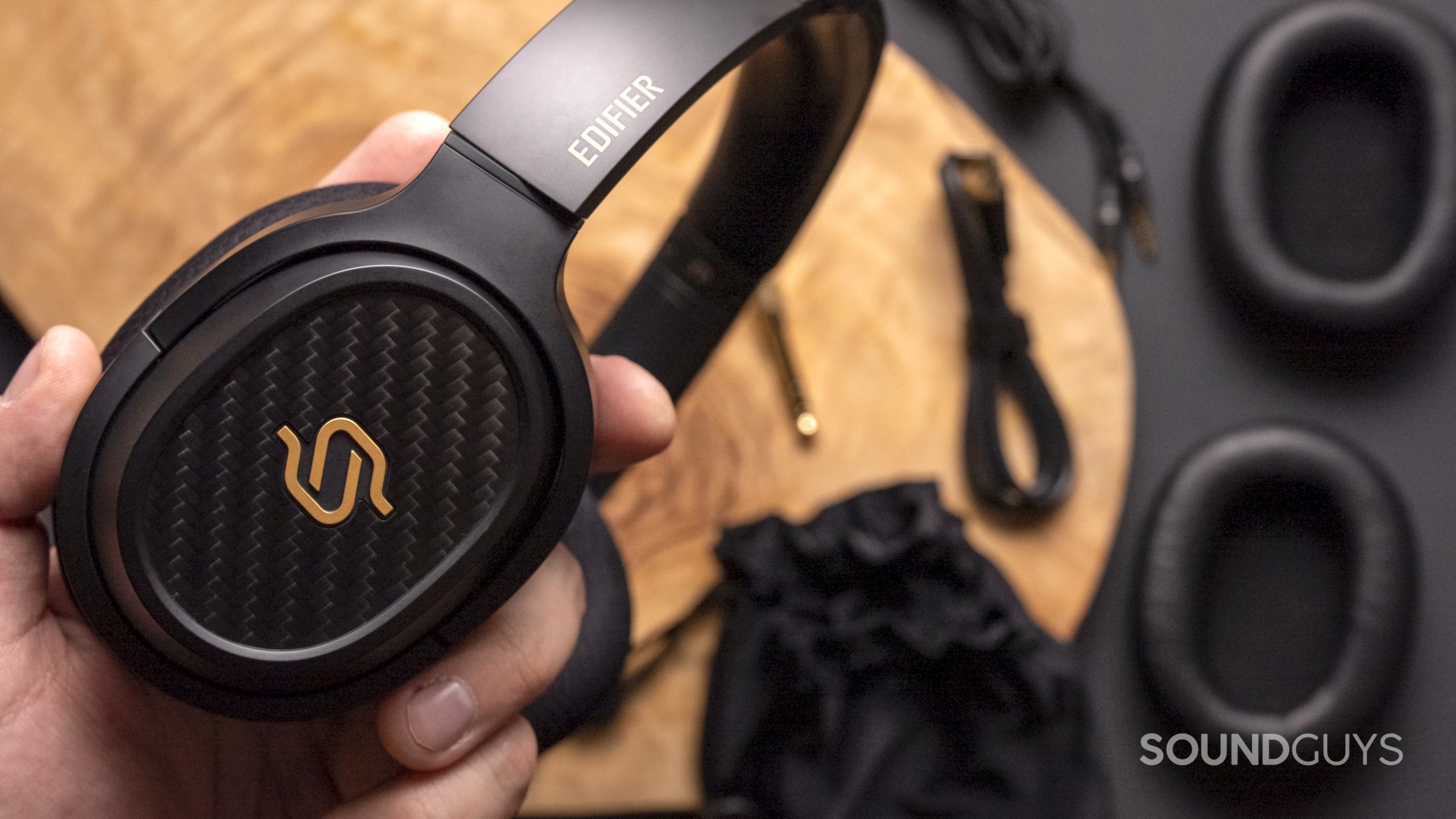 The lack of ANC means battery life is exceptional.
The manufacturer quotes battery life of around 80 hours for music playback. Our testing shows the 1500mAh battery lasts 93 hours and 2 minutes, bettering Edifier's spec, which is always nice. It's an outstanding battery performance, exceeding pretty much anything we've seen outside of a few gaming headsets, and is no doubt helped by the lack of ANC or other power draining features. If you're concerned about battery tech, and how it impacts the useful life and sustainability of wireless audio products, this is an important feature to consider.
The Stax Spirit S3 supports fast charging. Edifier states that the Stax Spirit S3 provides 11 hours playtime after a short 10-minute charge. Full charge takes around 1.5 hours.
How well does the Edifier Stax Spirit S3 block out noise?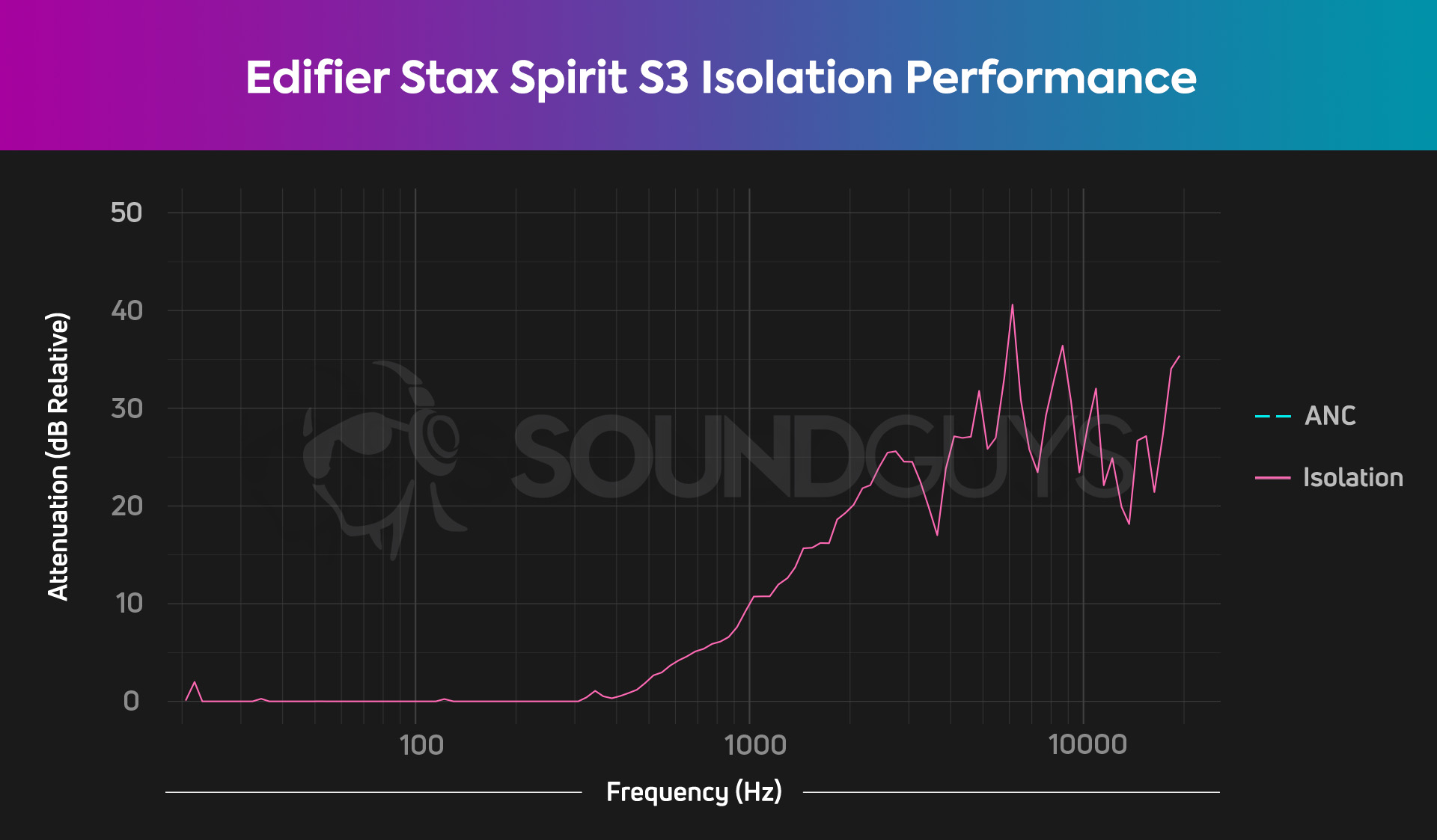 The Edifier's closed backs offer a decent amount of attenuation of your surroundings above 2kHz. Leather pads measured.
Planar magnetic headphones are often open backed, but these closed back headphones offer a significant advantage over open designs in term of the isolation they provide from surrounding noise, although it's really only effective above 1kHz. It also helps with preventing those around you from hearing what you're listening to.
How does the Edifier Stax Spirit S3 sound?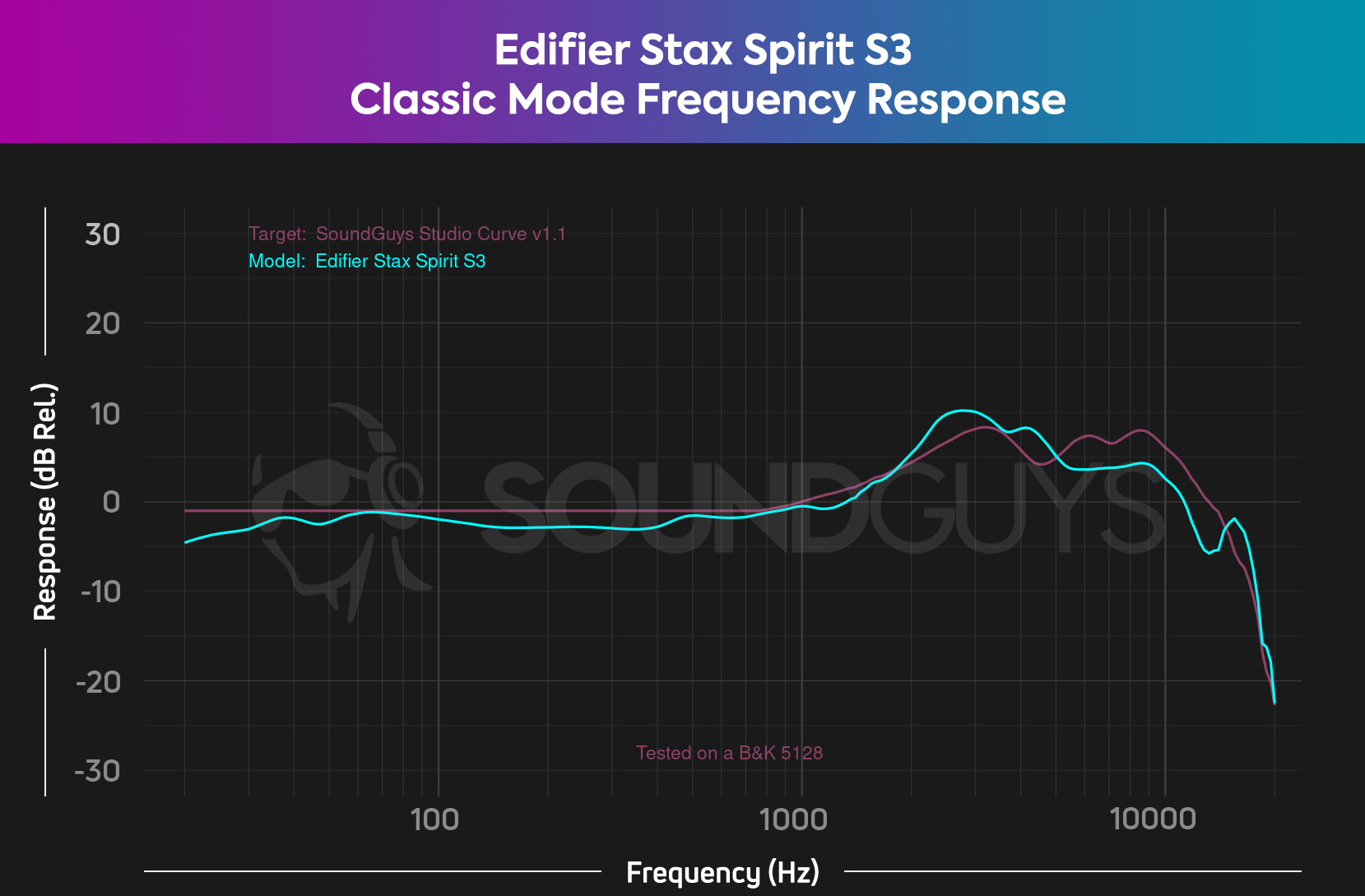 Edifier does a great job here, particularly for those who favor the "ruler to the mids" type response illustrated by our "studio curve" in pink.
Audeze licensed patented technologies to Edifier for use in the Stax Spirit S3, which might explain why it exhibits some of the sonic characteristics we like from Audeze's offerings. The default "Classic" sound profile produces a frequency response that's a remarkably good fit to our studio curve—a closer fit than the $4,500 USD Audeze LCD-5! This is the target we use to reflect what listeners who like a flatter in- room response from their speakers like to hear, when applied to headphones. That is to say that these headphones don't provide the gentle bass boost and downward sloping system response that most listeners prefer, reflected in our standard target curve.
Bass, Mids, and Treble
The headphones utilize 89mm x 70mm planar magnetic drivers, which sound incredibly clear and are more than capable of revealing flaws not just in the source material, but in the Bluetooth codec used for wireless playback. For the critical listening portion of the review, the wired connection was used, plugged into the output of a 2019 MacBook Pro.
Anyone who likes the "planar" sound signature will feel at home with these.
Listening to The Police's Spirits In The Material World (2003 remaster) on the S3 reveals a lot of detail about the track. There's the repetitive synthesizer pattern that almost conceals Andy Summers' guitar chords, and occasional muted saxophone squawks. Stewart Copeland's brilliant drum pattern, accenting the upbeats on the hi hat, with a tight sounding kick beat, finally brings in the bright, snappy snare for the chorus that feels almost a little too present here. Sting's complex picking pattern on the bass guitar underpins things nicely.
Listening tests comparing the HiFi and Stax EQ presets to the default "Classic" suggest that they placed additional emphasis on the upper frequency registers. Our measurements confirm this:
We'd really have liked to see a preset that provided some low frequency boost, ideally a shelf below 100Hz
Can you use the Edifier Stax Spirit S3 for phone calls?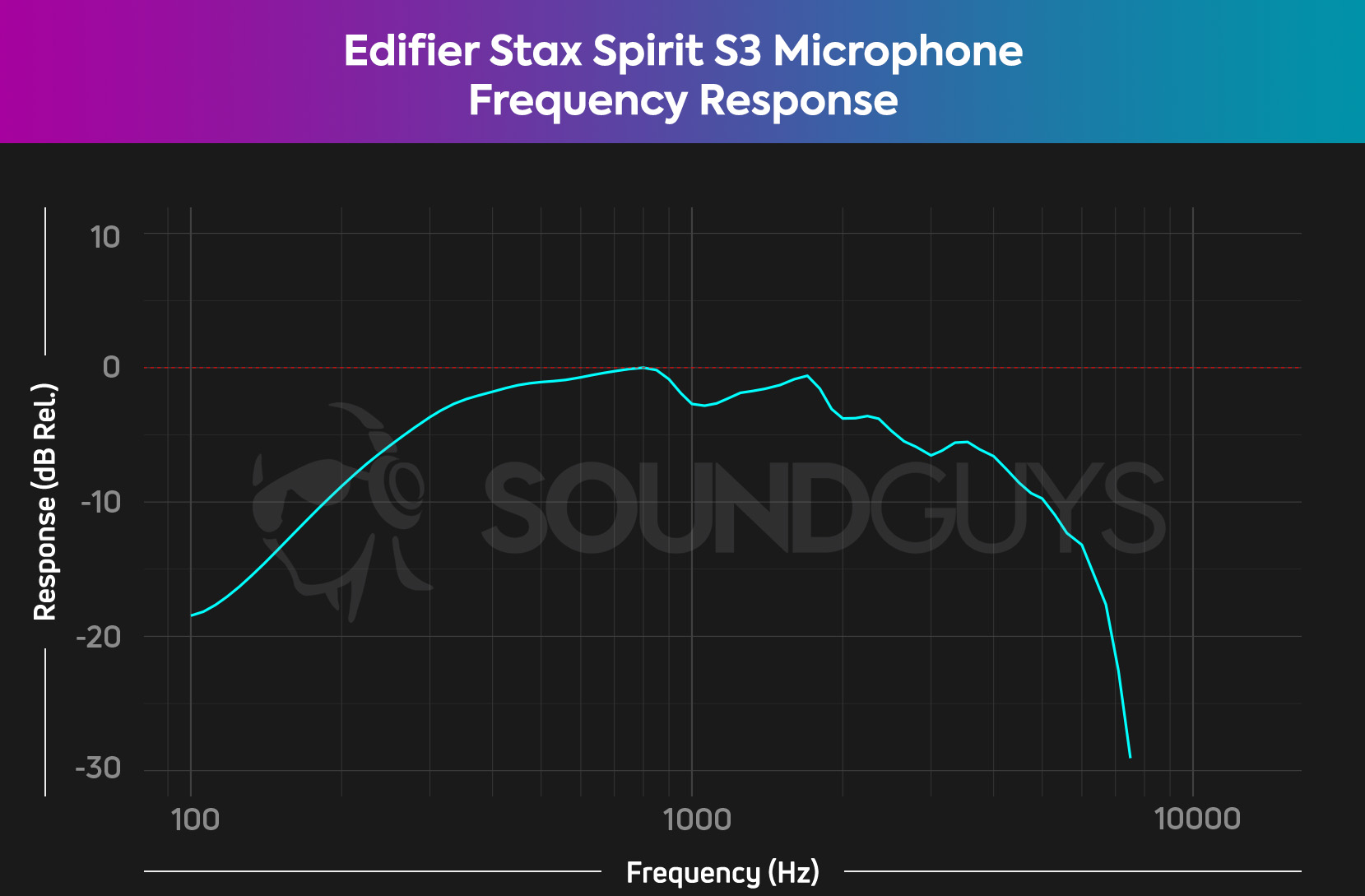 The microphone's frequency response does a passable job of delivering speech frequencies evenly.
The Edifier S3 can certainly work for phone calls, in fact it's promoted as "making telephone communication like face-to-face communication." This might be a little optimistic, or even hyperbolic. The mic quality is pretty average, with office noise coming through without much attenuation, and wind noise handled reasonably well. Take a listen below.
Edifier Stax Spirit S3 microphone demo (Ideal conditions):
Edifier Stax Spirit S3 microphone demo (Office conditions):
Edifier Stax Spirit S3 microphone demo (Windy conditions):
How does the microphone sound to you?
334 votes
Should you buy the Edifier Stax Spirit S3?
Closed back wireless planar magnetic headphones are still pretty rare, so this one definitely deserves a look, and you might end up buying for the sound alone. However, there are a few things we find puzzling or problematic. We're disappointed by the lack of audio passthrough via a wired USB connection, and the fact you can't use it while charging. The included app's EQ presets are limited in both number and scope. Creaky plastic hinges are not something we expect, especially not at this price point, and the unreliable multifunction button makes turning the headphones off a frustration on occasion. Finally, if you're looking for vegan friendly products, this unfortunately isn't one.
Edifier Stax Spirit S3
Edifier Stax Spirit S3
The Edifier Stax Spirit S3 is a great wireless planar magnetic headphone with excellent battery life
The Edifier Stax Spirit S3 could be a good pick for anyone looking for a great sounding, untethered planar magnetic closed back headphone, with some caveats.
What should you get instead of the Edifier Stax Spirit S3?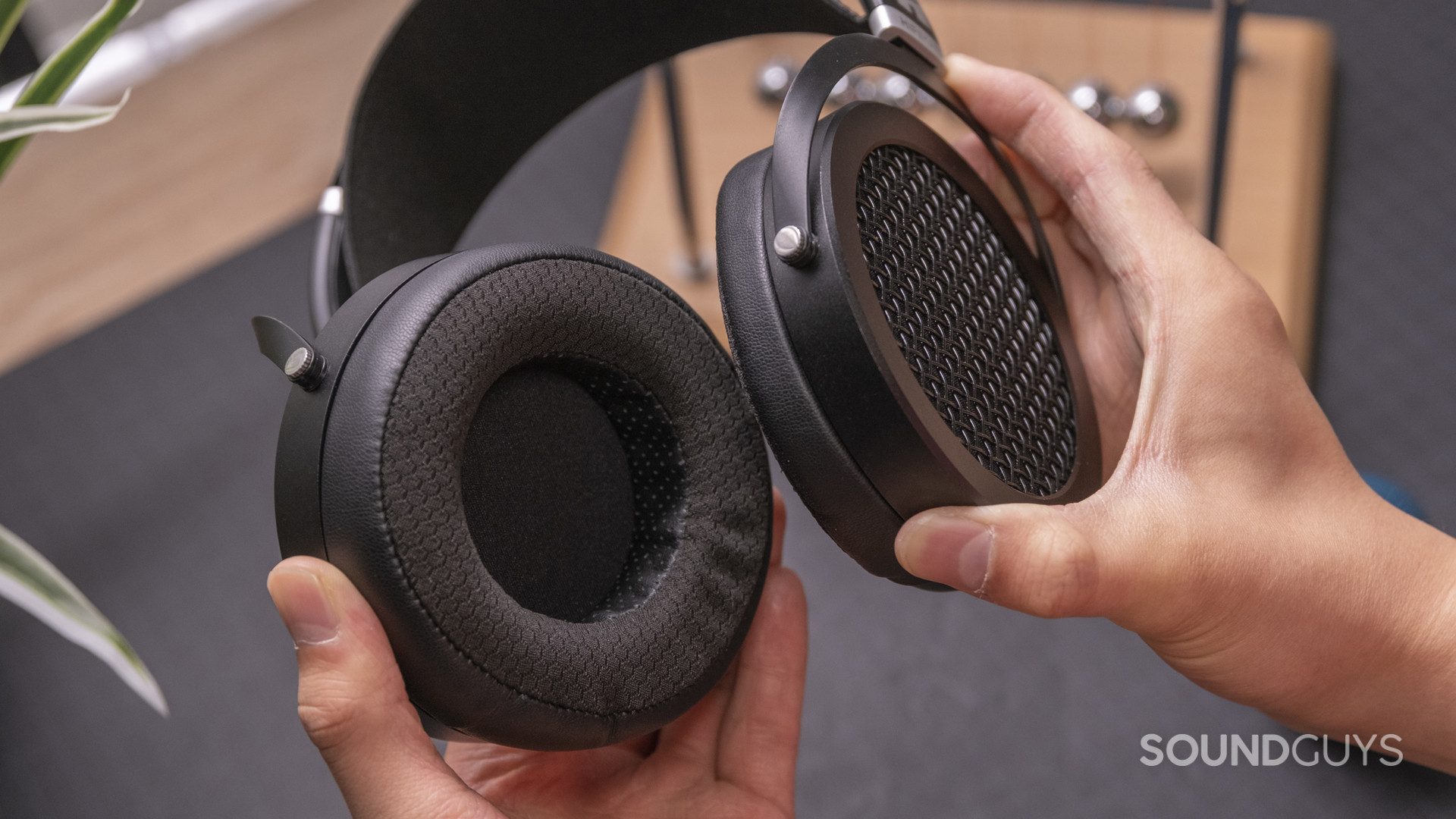 Mercifully, the cloth parts of the padding mean listeners with eyeglasses can use the Sundara without issue.
If you're mainly curious about picking up planar magnetic driver headphones, there are plenty out there, and we recommend both the closed back Monoprice Monolith M1070C and the open backed HiFiMan Sundara.
If you're fixed on something wireless and are open to the less stealthy aesthetic of gaming headphones, we recommend trying the Audeze Penrose, technically a great headset with greater flexibility, for less cash than the Edifier S3 .
Frequently asked questions