All products featured are independently chosen by us. However, SoundGuys may receive a commission on orders placed through its retail links. See our ethics statement.
The bottom line
While not quite an all in one hifi system, the Edifier S1000W handily connects wirelessly with Wi-Fi and Bluetooth, as well as to standard digital (optical, coax), and RCA analog. You can use it as a smart speaker with Amazon Alexa, or use the Edifier Home app in concert with Apple Airplay 2, Tidal, or Spotify. If you don't mind the size, it's a highly versatile pair of speakers.
Edifier S1000W
While not quite an all in one hifi system, the Edifier S1000W handily connects wirelessly with Wi-Fi and Bluetooth, as well as to standard digital (optical, coax), and RCA analog. You can use it as a smart speaker with Amazon Alexa, or use the Edifier Home app in concert with Apple Airplay 2, Tidal, or Spotify. If you don't mind the size, it's a highly versatile pair of speakers.
What we like
Optical, coaxial, and RCA inputs
Good bass response
Good app
Bass and treble EQ controls
Wi-Fi, Bluetooth, and Alexa
What we don't like
No HDMI input
No wired sub out
Not just a set of basic bookshelf speakers, the Edifier S1000W has all kinds of wireless connectivity, as well as most of the wired ports we've come to expect on consumer speakers. These are hefty retro-inspired bookshelf style speakers, but underneath all that wood beats a heart of modern convenience, with app support, Bluetooth, Apple Airplay 2, Amazon Alexa, and more. Let's see if the Edifier S1000W is worth your dollars.
About this Edifier S1000W review: We tested the Edifier S1000W over a period of five days. It was running firmware version 4.6.430231, and the Edifier Home app ran version 3.1.6. The company provided the unit for this review.
Editor's note: this article was updated on August 8, 2023, to add the Bose Companion 2 Series III as an alternative.
What you need to know about the Edifier S1000W
Jasper Lastoria / SoundGuys
Colored lights indicate the different inputs.
Edifier S1000W: $449.99 USD / $579.99 CAD
Anyone who has ever looked at an Amazon Echo Dot and thought, "I don't want an orb in my house, but I would like Alexa," might enjoy these stealthily smart Edifier speakers. The fact you can hook up the Edifier S1000W to nearly every media port in your house makes it even more compelling. For under $500, it lands in that tier of serious but not inaccessible audio gear. Edifier has an assortment of these wood-paneled and black speakers at every price. The S1000W inhabits the upper ranks of that product line, surpassed only by the S2000 and S3000 series, and the Airpulse range. It appeals to folks who want purpose built speakers that work without fussing about.
What's good about the Edifier S1000W?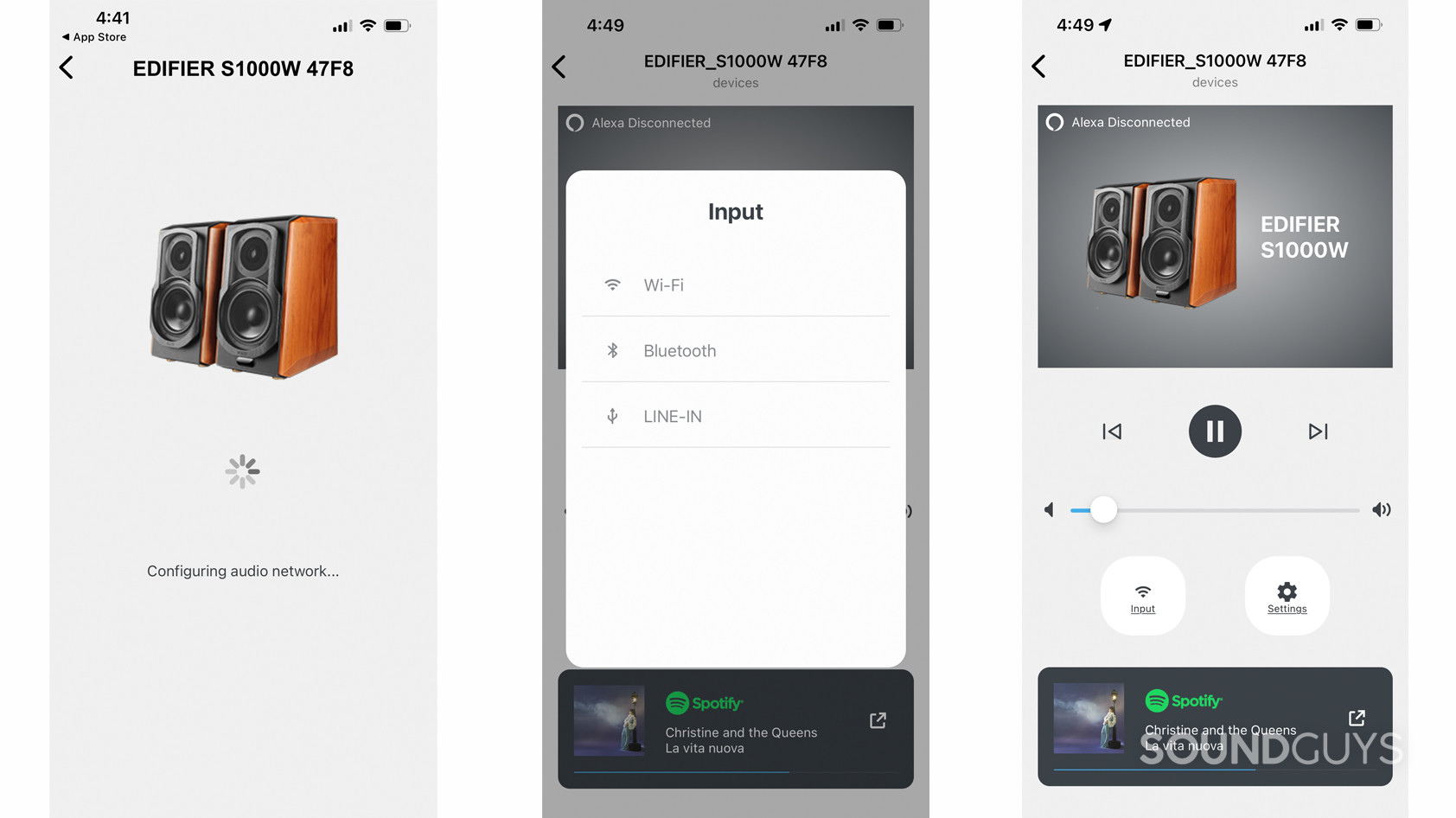 The app only lets you select inputs that are already connected.
As an all-in-one music solution the Edifier S1000W has a decent of connectivity, despite its pseudo-retro style. The S1000W has both Wi-Fi and Bluetooth connections, meaning you can expect a stable connection, but also you can change what's playing from another room if so inclined from your phone. Apple users get Airplay 2, folks who want some Amazon Alexa features without the Amazon aesthetic are in luck too, as are Tidal and Spotify subscribers.
On the back of the right speaker you also have two RCA inputs, optical, and coaxial connections. There's no HDMI input, but optical works just fine so long as you don't care about Dolby Atmos object based 3D sound for television. You also don't need to worry about amplification, because the right speaker is active (has amps built in), which is pretty nice. All of the connections and the three knobs dedicated to volume, bass, and treble reside on this right speaker. Meanwhile, the left simply has a connection to receive left channel audio.
You can use the included remote control, the back of the right speaker, or the Edifier Home app for most of your needs. You won't be stuck searching for the remote if you want to simply change your input, for instance. You can either whip out your phone and change inputs there, or (if you misplace the phone too) reach around the speaker and press the volume knob to cycle inputs. These thoughtful details and the stable app functionality bring the speakers into the modern age. For the tech averse, you can use the S1000W without downloading the Edifier Home app, although you'll only be able to use the hardwired inputs.
To set it up with Wi-Fi, you'll need the app and to follow the relatively simple instructions. It's good to have the Edifier Home app regardless — there was a firmware update waiting when we first set up the speakers (updating takes about 10 minutes, but the process is easy). If you have a home with multiple rooms, you can add other Wi-Fi-capable Edifier speakers and control those through the app too. Basically, the Edifier Home app works as a hub for every other wireless capability the S1000W has, including Alexa. The Bluetooth 5.0 connection works fine too, but most of the time Wi-Fi makes more sense. It uses AAC (for Apple users), SBC, or aptX HD codecs with compatible devices.
Testing with multiple songs, the tuning of the S1000W with the bass and treble knobs set to the default 12 o'clock boosts both high frequencies and bass more than necessary. Cymbals in A Beginning Dream by Triste Janero sound distractingly loud, but a quick reach around the back to blindly adjust the treble setting helps out. Meanwhile, it's nice to feel the oomph of the 5.5 inch aluminum cones when the bass kicks off in Bounce Back by Skylar Spence. Sometimes, it's too much and the mids are too shy, but adjusting the bass knob reins it in somewhat.
What's not so good about the Edifier S1000W?
While the connectivity of the Edifier S1000W is impressive, you might find yourself surprised there's no HDMI input. We're seeing increasing HDMI support in the active bookshelf speaker market, although optical can work fine, it can simplify setup if you're not looking to buy a soundbar as well. We don't expect the S1000W to connect to everything, but if you want to use it with a turntable, there's no included preamp. If your turntable doesn't have one built in, you'll need an outboard option to use these as turntable speakers.
It bears mentioning that the Edifier S1000W speakers are quite big. Collectively they weigh about 16.8kg (36 pounds). In addition, the rear bass reflex port means you should avoid placing the speakers too close to the wall, and the speakers measure fairly deep at 295mm (11.6 inches). Because of the size they won't fit on a lot of shelves or stands.
Given there are no EQ options on the remote or in the Edifier Home app, having all the speakers' controls on the back can be annoying, depending on where you put them. Squeezing your hand around back if you just want to adjust the bass is a little inconvenient on a bookshelf. If you have the space, the S1000W size could be a positive, but if square footage is a luxury you might want to grab the measuring tape.
Edifier S1000W specs
To make sure the Edifier S1000W suits your lifestyle and home, we've compiled its specs for you.
PRODUCT NAME

Size


198 x 345 x 295 mm


Weight


16.77 kg


Channels


2


Audio specs


Tweeters: 1 inch titanium domes
Mid-bass: 5.5 inches aluminum cones
Enclosure: bass-reflex


Audio inputs


Optical digital
Coaxial digital
RCA analog


Wireless audio connection


Bluetooth 5.0 AAC, SBC, aptX HD codecs
Wi-Fi 5GHz
Apple AirPlay 2


Streaming services


Amazon Music
Tidal
Spotify


App


Edifier Home app (iOS/Android)


Controls


Remote control
Rear right speaker knobs
App


Price


$449 USD

Edifier S1000W review: Should you buy it?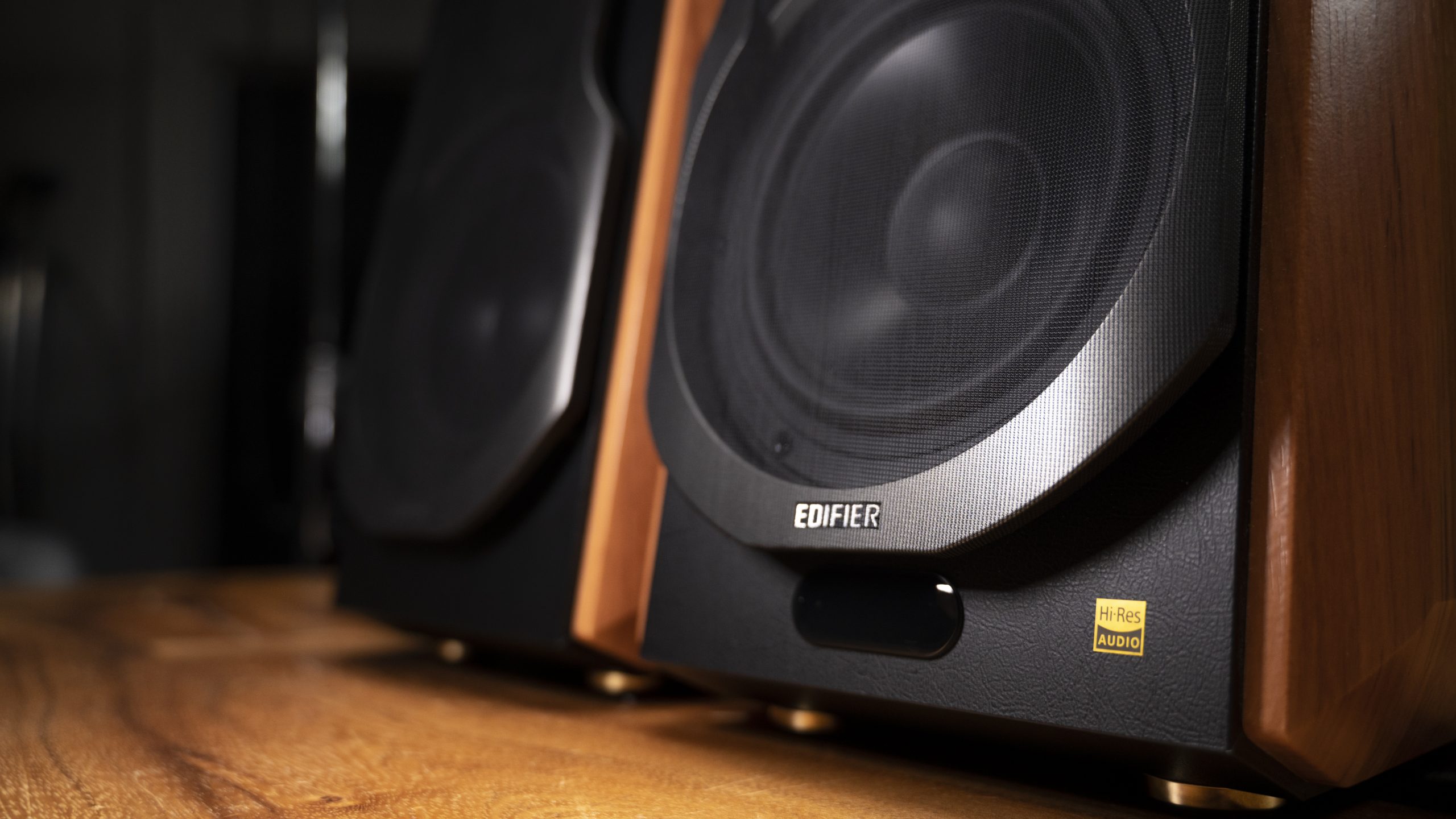 The build of the S1000W is totally sturdy, free of rattling from bass response at safe volumes. A two year warranty lends some assurance too.
If you have room to accommodate the Edifier S1000W, it supplies a satisfying sound for most listeners, alongside the flexibility of wireless compatibility. Where it falters is in its surprising omissions. If you're hoping to hook S1000W up to your turntable, while also retaining the modern convenience of asking Alexa to tell you a joke, you'll need to already have a preamp. If you're looking for an HDMI input you're also out of luck.
However, the optical connection works just fine with most TVs. The stereo configuration sounds good, and the bass response of the S1000W is totally sufficient to immerse you in a movie. In terms of maintaining a thoughtful balance between functionality and convenience, the Edifier S1000W does a great job of playing music from multiple sources. Although somewhat rudimentary, the bass and treble knobs do the speakers a favor by expanding the versatility of the tuning.
Integrating Tidal, Airplay 2, and Spotify into the equation adds value to the S1000W by not tying you to a single streaming service. That you can add more Edifier speakers into the Edifier Home app to control in one place is nice, particularly if you want a wireless sub, but that will get expensive very quickly. The stability of the app and Wi-Fi connection seems relatively solid, especially considering much of the S1000W's utility in the future relies on the app continuing to work. If you have the room, the Edifier S1000W is a nifty addition to your home, and saves most folks from purchasing additional gear.
Those looking for similar speakers that play nice with turntables, should look at the Kanto YU6 for $349 at Amazon. It weighs less than half the S1000W, with marginally smaller drivers. However, these speakers miss out on Wi-Fi connectivity, but you can still connect over Bluetooth and optical. The same can be said of the Klipsch The Fives which has seen some discounts recently (selling for $499 at Amazon) and wisely includes the HDMI connection, missing from the Edifiers. It depends on which input you plan on using most often. That Edifier combines most of the old with the new in this tight package is hard to ignore. If the Edifier S1000W is simply too much for your needs, the Bose Companion 2 Series III computer speakers basically just plug into your computer and sound pretty good, taking up very little space for only $149 at Amazon.
Edifier S1000W
Edifier S1000W
Connectivity • Sound quality • Plug and play
Frequently asked questions about the Edifier S1000W
Here's a visual tour of the S1000W ports.
Yes, you can change inputs without the remote. Pressing the volume knob on the back of the right speaker cycles through your inputs. You can also use the Edifier Home app.
The Edifier S1000W does support high resolution audio, although, it depends on what is connected. When you connect the optical or coaxial cable receiving PCM audio can it reach the maximum 192kHz audio advertised.