All products featured are independently chosen by us. However, SoundGuys may receive a commission on orders placed through its retail links. See our ethics statement.
What is eARC and how does it compare to HDMI ARC?
Find out about the important differences between HDMI Audio Return Channel types.
HDMI cables have been around for some time, and you're likely already familiar with them. These cables make connecting up your home theater, soundbar, or any other recent AV equipment a breeze. However, there are several versions of the HDMI standard, and the features offered by your TV, AV receiver, or soundbar will depend on when it was made. Features such as ARC or eARC can be handy in specific situations, and your cables can make a difference. Read on to make yourself aware of these advanced audio-specific features, how they work, and how to find them.
What is HDMI?
High-Definition Multimedia Interface (HDMI) is the digital audio-visual connection standard for high-definition televisions. You'll see the D-shaped connectors on computer monitors, projectors, game consoles (7th generation +), and many laptops. Developed almost 20 years ago, HDMI was designed to allow devices to transfer uncompressed digital video and audio data over a reliable, physical connection. It is built on the existing DVI (Digital Visual Interface) high-speed serial link for sending video signals to computer displays by adding control and device communication features and, most importantly for us, digital audio.
All HDMI devices must support the baseline audio format of stereo, uncompressed, in pulse code modulated (PCM) format. Other audio formats are optional, allowing for eight channels of uncompressed audio at bit-depths of 16, 20, or 24 bits, with sample rates from 32kHz to 192kHz. HDMI will also carry any IEC 61937-compliant compressed audio streams, such as Dolby Digital and DTS, and eight channels of one-bit DSD audio (as used on Super Audio CDs) at rates up to four times that used for Super Audio CD.  Post version 1.3, HDMI allows Dolby TrueHD and DTS-HD Master Audio lossless audio streams.
What is HDMI ARC?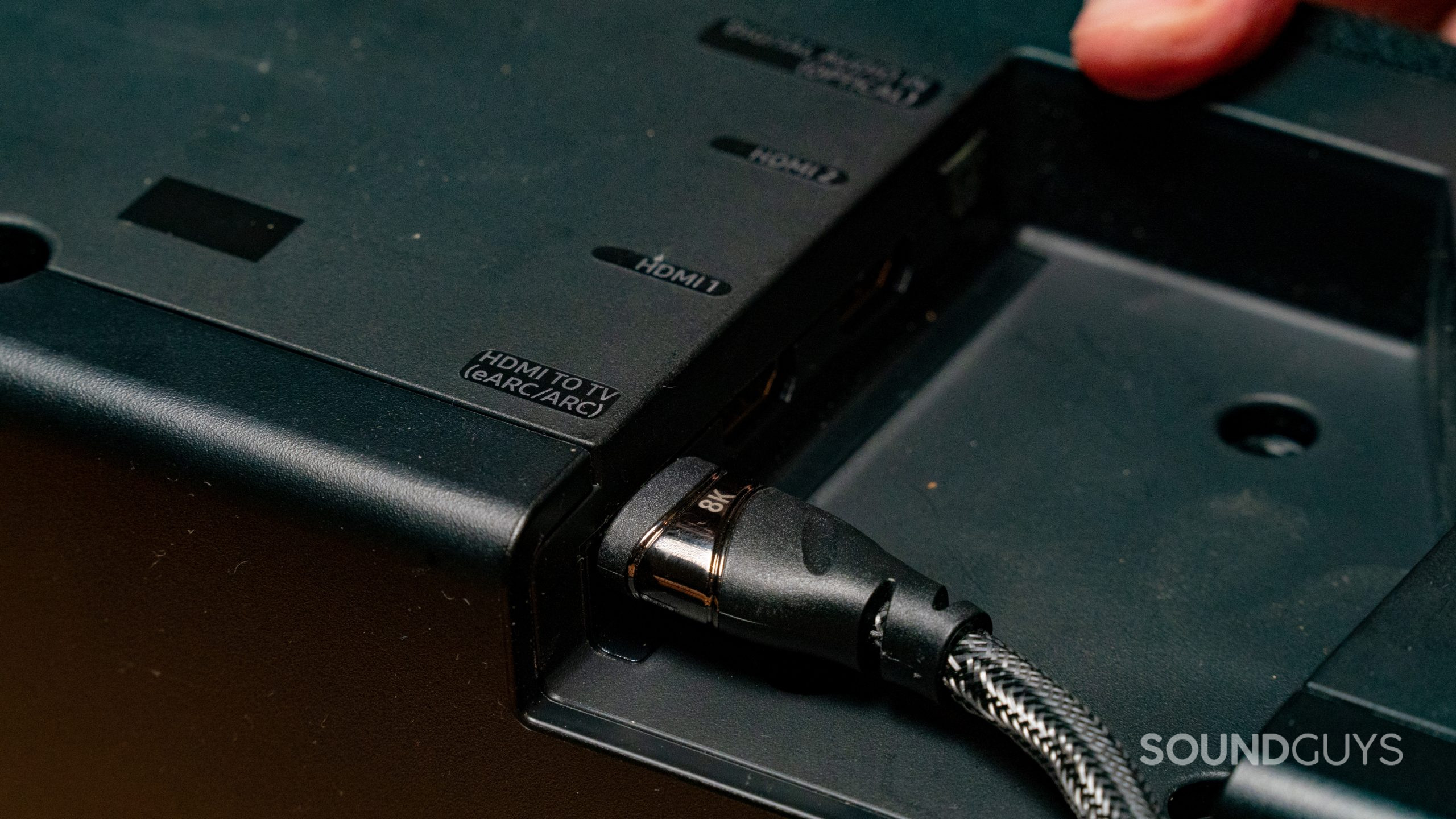 Check the sockets on your source component and the TV for (e)ARC identification.
HDMI Audio Return Channel (ARC) is a useful feature added to the HDMI 1.4 standard in 2009. ARC is an additional audio connection intended to replace external cables between the TV and the A/V receiver, or active speaker system, to simplify setup. "Return" refers to the case where the audio comes from the TV and can be sent back upstream to an AV receiver via the existing HDMI cable connecting the TV and AV receiver.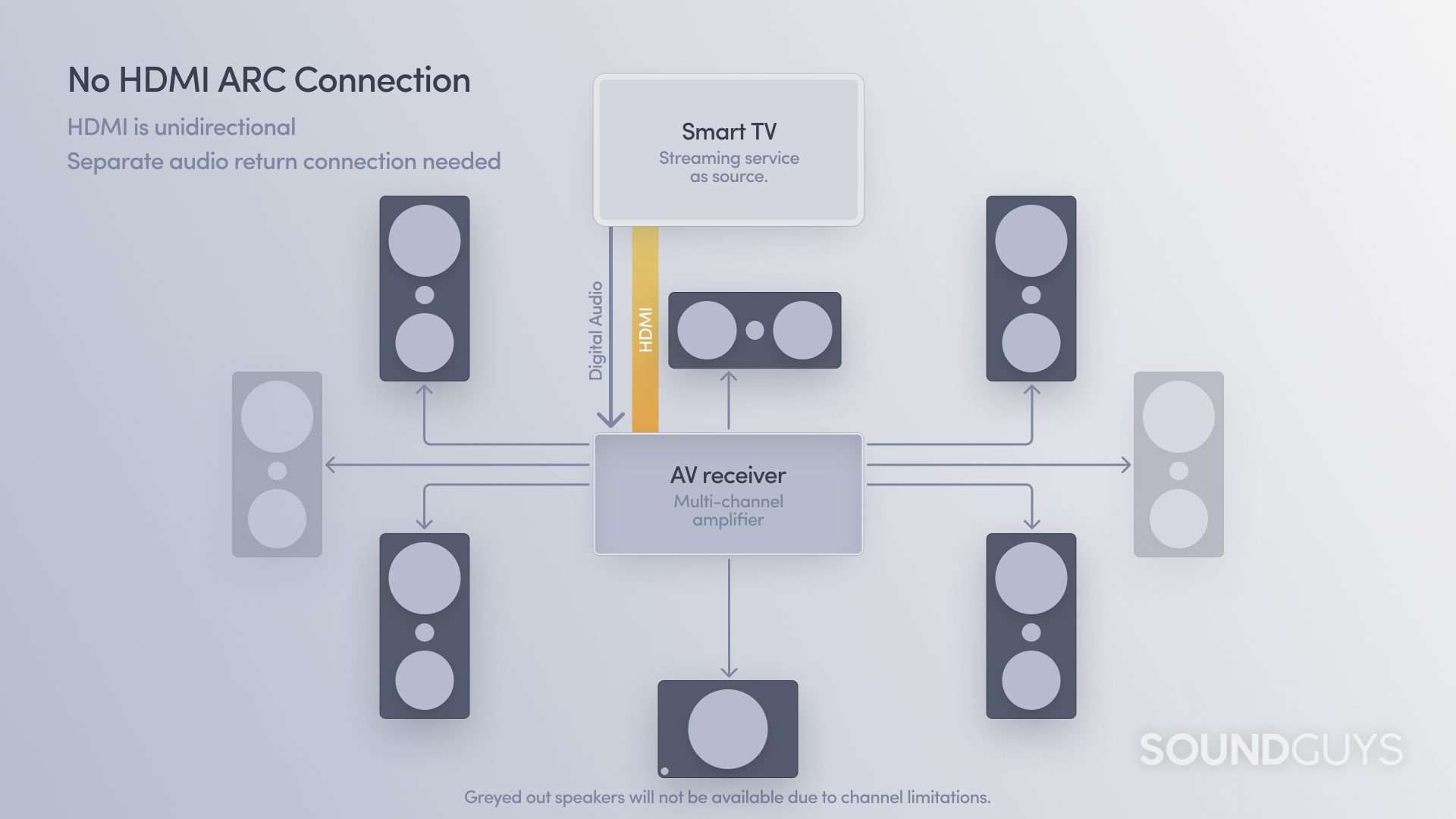 Without HDMI ARC, an additional connection is needed for audio return when the TV is your source.
Without ARC, audio can only travel in one direction along the HDMI cable. An HDMI ARC port is both an audio input and output. The primary use case for the return channel is when the TV receives or produces the video and audio stream instead of the other equipment. A typical case is running an app like Netflix on a smart TV, but you want the audio playback handled by your other equipment, not the TV. Without ARC, the TV's audio output must be routed back to the amplifier using a separate cable (typically a TOSLink or RCA). For HDMI ARC to work, the devices at each end need an HDMI ARC socket to connect together.
HDMI ARC does not support the Dolby TrueHD, Dolby Atmos, DTS-HD Master Audio, or DTS:X soundtracks found on Blu-ray or 4K Blu-ray discs; it will likely only send a 5.1 data stream. Since support is optional for every audio codec included in the standard, you shouldn't assume that the TV will send a 5.1 Dolby Digital or DTS soundtrack over the return channel. Some TVs will only send Dolby Digital or sometimes just basic stereo, meaning you may not be able to realize the full potential of your connected sound system.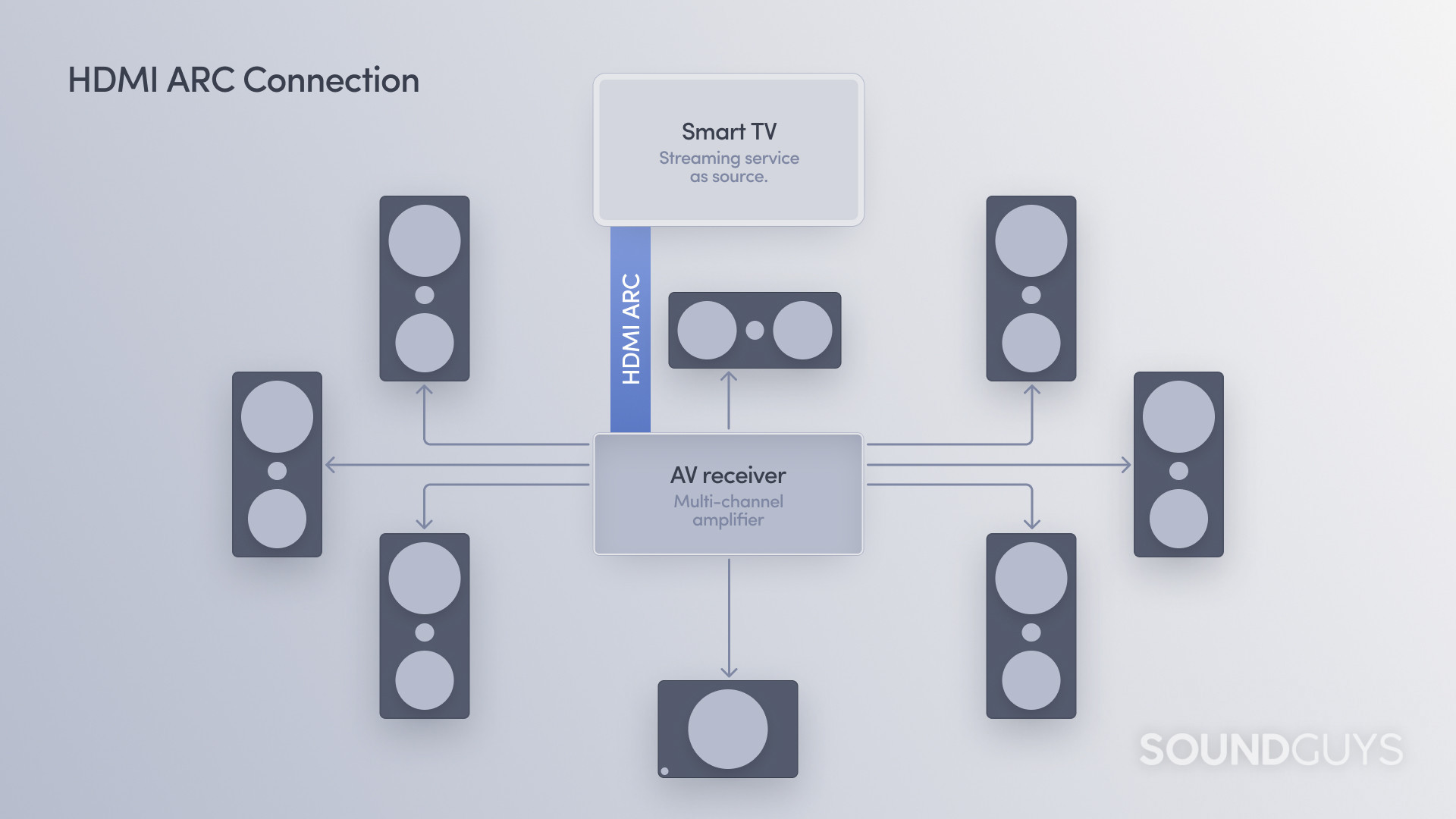 HDMI ARC enables up to 8 return channels.
If you want to go beyond the limitations of ARC, you'll need hardware that supports HDMI eARC (see below). The good news is streaming service apps like Netflix, Amazon Prime Video, and Disney Plus encode Dolby Atmos into the lossy Dolby Digital Plus format, which means ARC can handle Dolby Atmos audio from these sources.
What kind of cable do you need to use HDMI ARC?
The following cable types are defined for HDMI in general, per the HDMI 1.4 specification:
Standard HDMI Cable, which supports video up to 1080i and 720p.
Standard HDMI Cable with Ethernet.
Standard Automotive HDMI Cable.
High Speed HDMI Cable, which supports video up to 1080p, 4K 30 Hz, 3D and deep color.
High-speed HDMI Cable with Ethernet.
While ARC is an optional feature on the device side, any of the above cable types should allow ARC to work when connected to an appropriately labeled socket. You just need to select a cable that meets your requirements for video resolution.
What is HDMI eARC?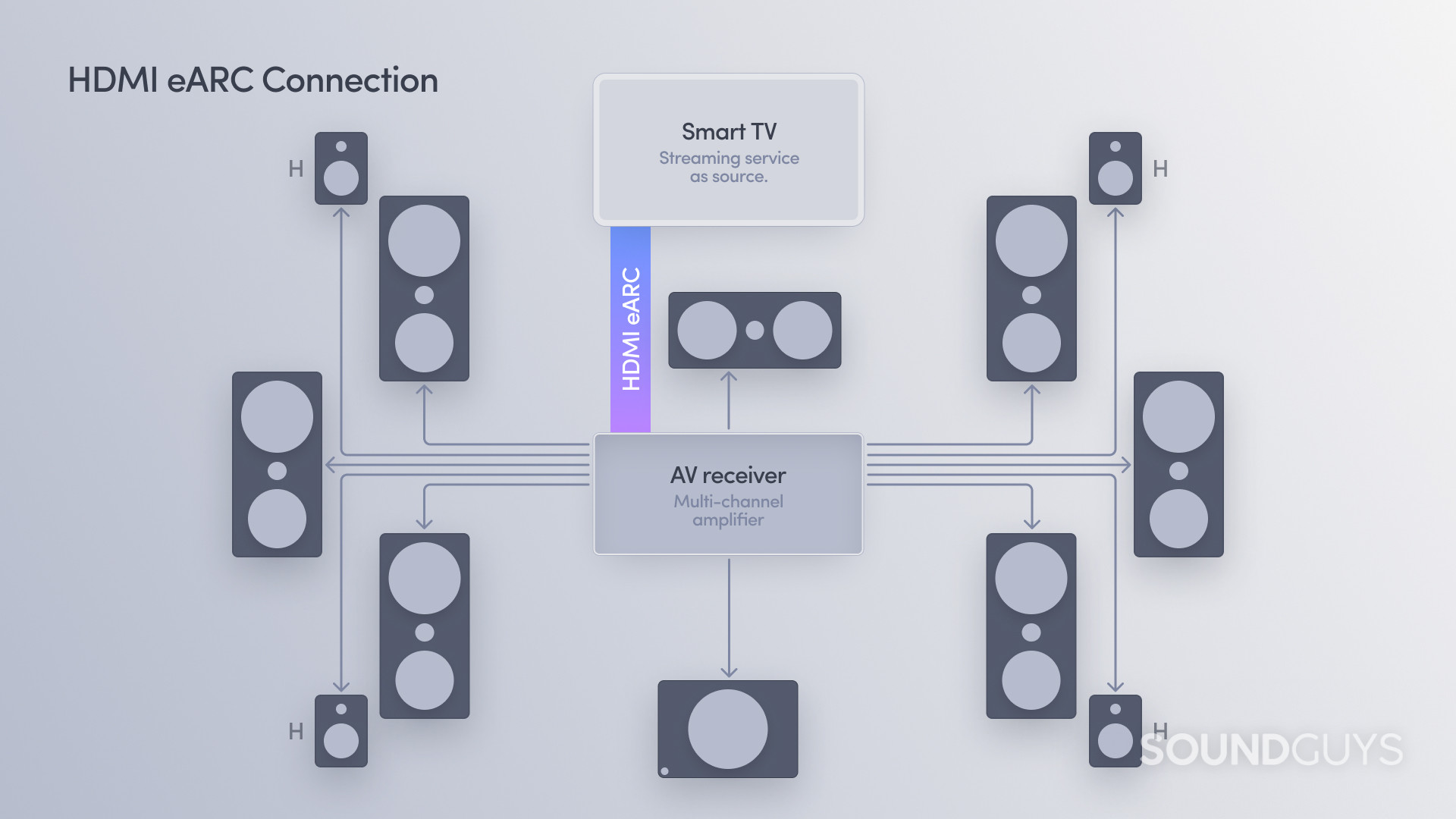 HDMI eARC enables up to 32 return channels, which Atmos systems need.
HDMI Enhanced Audio Return Channel (eARC) is a feature added in HDMI version 2.1, introduced in November 2017.  On the audio side, HDMI version 2.0 marked a significant step forward, as the maximum number of supported audio channels went from 8 to 32 while keeping the max sample rate of 192kHz per channel. This allows the cables to carry object-based immersive audio formats such as Dolby Atmos and DTS: X. HDMI 2.1 added eARC, meaning that the same digital audio information can be carried back to the source component from a TV, much like in the standard (8-channel) ARC, for the same reasons outlined above.
What kind of cable do you need to use HDMI eARC?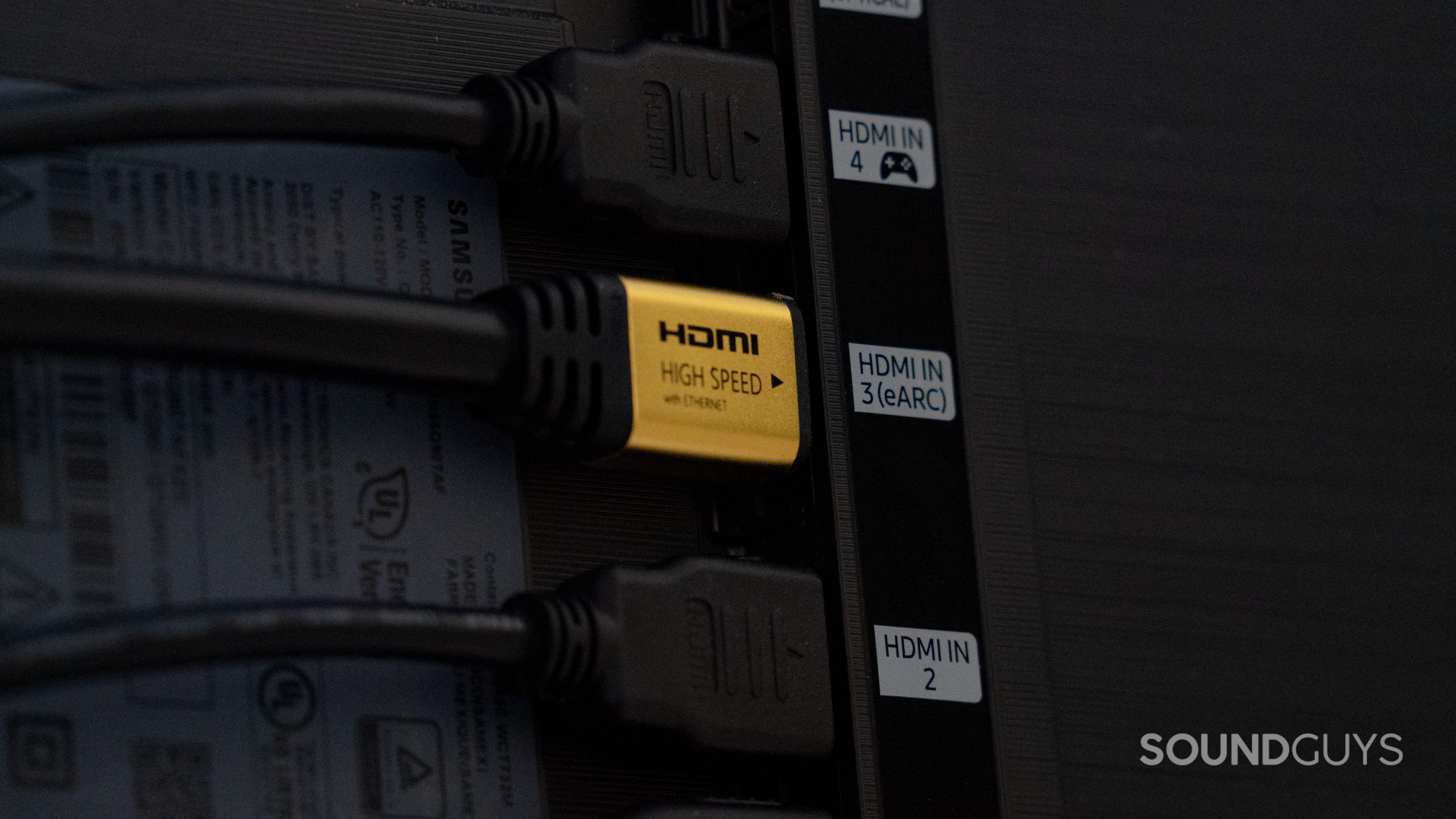 There's usually just one port that supports (e)ARC. Make sure you use the correct cable to make use of it.
HDMI cables are ubiquitous, but there are significant differences to be aware of. eARC should work over a standard HDMI cable with Ethernet or a High-Speed HDMI cable with Ethernet. You don't need to upgrade your cables if you already have these types. Higher data rates are only required for the video component. If this applies to you, read on.
HDMI 2.0 cables have a specified maximum bandwidth of 18Gbps. They should have certification showing they are capable of this and an EMI test to ensure the cable minimizes interference with wireless signals. HDMI 2.0 cables are defined as:
Premium High-Speed HDMI Cable
Premium High-Speed HDMI Cable with Ethernet
A third cable entered the fray with the HDMI 2.1 specification. This is called "48G," Category 3, or "Ultra High Speed" HDMI, and is designed to support the 48Gbps bandwidth of HDMI 2.1, supporting 4K, 5K, 8K, and 10K video resolutions at 120Hz.
Ultra High-Speed HDMI Cable (48G Cable), which supports video up to 10K at 120Hz, includes Ethernet.
Ultra High-Speed HDMI cables can be a bit more expensive, but they're only necessary if you need video at a higher resolution than 4K—otherwise, save yourself some cash. Now would also be a good time to point out that buying expensive cables, particularly those for digital signals, is a waste of money.
A note on HDMI feature support
All features defined in the HDMI Specification are considered optional, and HDMI device manufacturers can implement any combination of these features they want. Product manufacturers cannot describe their devices using HDMI version numbers and are required to list which specific features are supported. However, the HDMI forum needs to enforce this better, so do your research.
Frequently asked questions about the HDMI eARC
eARC should work over a standard HDMI cable with Ethernet or a High-Speed HDMI cable with Ethernet. To use this feature, you don't need to upgrade your cables to Premium or Ultra High-Speed HDMI.