All products featured are independently chosen by us. However, SoundGuys may receive a commission on orders placed through its retail links. See our ethics statement.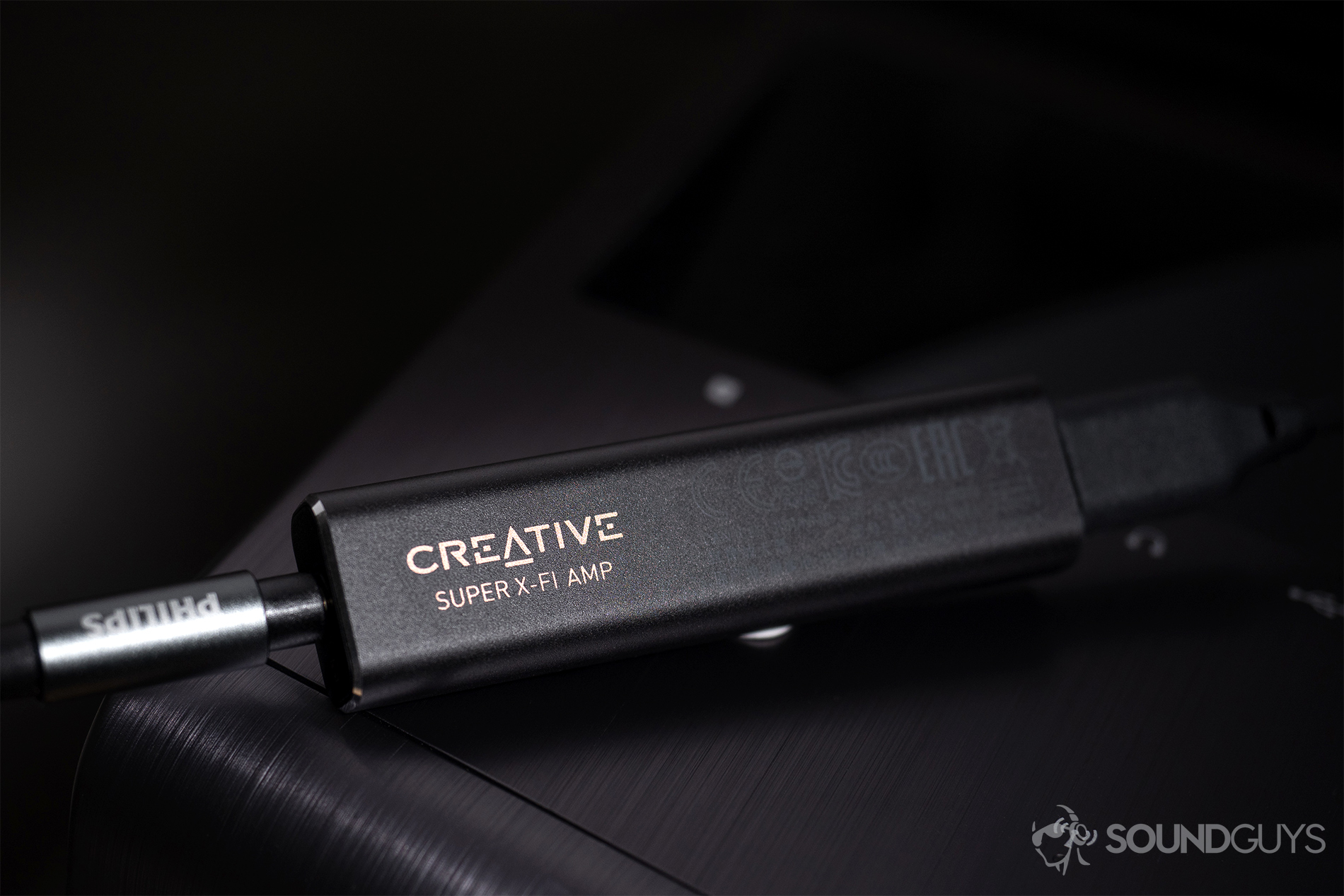 The bottom line
If you're itching to hear what all the hullabaloo about immersive audio is, the Creative Super X-Fi amp offers an easy solution in a neat package.
Creative Super X-Fi Amp
If you're itching to hear what all the hullabaloo about immersive audio is, the Creative Super X-Fi amp offers an easy solution in a neat package.
What we like
Replicates immersive sound<br>
Cross-device compatibility<br>
Sound customization through app<br>
What we don't like
Price<br>
Not compatible with iOS<br>
Gets warm<br>
While there's no denying that the portability of earbuds and certain headphones is convenient compared to lugging around a home theater setup, the Creative Super X-Fi Amp emulates an immersive, theater-like experience in a 15-gram package. It alters how we perceive the sound from straightforward, left/right channel listening experience to a more engaging, all-encompassing  sound. In fact, it's so effective that we recognized it as a top pick from CES 2019.
Who is the Creative Super X-Fi Amp for?
Anyone. Creative touts this small, portable amp as a way to vastly improve the listening experience be it for gamers, music aficionados, or general consumers. When it comes to music, the Super X-Fi is compatible with hi-res FLAC files or general MP3 files streamed over any music service. Its minute stature makes it easy to use on the go. Plus, at least with this dongle, you get to enjoy improved audio.
Using the Super X-Fi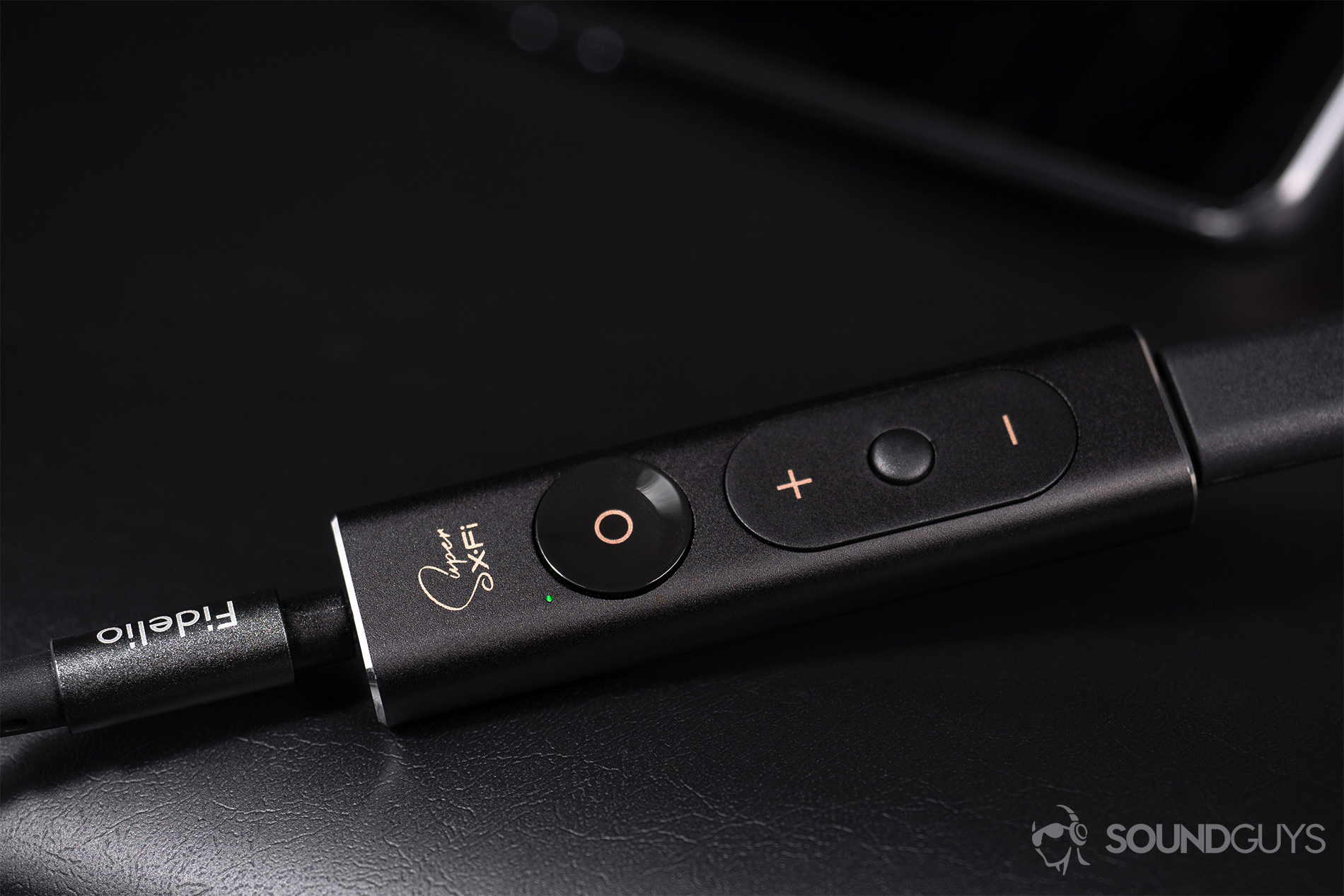 Toggling between on and off is useful for things like podcasts where holographic audio processing sounds unnatural.
Connecting the unibody aluminum amp to a phone is easy. If, however, said phone has a micro-USB port, the included USB-C to micro-USB adapter must be used. From there, listening is a matter of plugging in a pair of wired headphones.
Flush with the amp's casing is a three-button remote for playback controls. The amplifier effectively increases media loudness. Unfortunately, users can't skip tracks via the amp and are limited to play and pause functionality.
The most useful button, though, is the on/off toggle. I've used this more than initially expected because not every piece of media sounds better with Super X-Fi processing. For instance, podcasts played through the Super X-Fi Amp tend to sound as if the hosts are sitting in a highly resonant echo chamber.
The Super X-Fi processes audio as it would sound being played through a theater system, which is great for music, movies, and gaming.
Initially, I found this curious but was able to meet with Creative Product Marketing Manager Ryan Schlieper at CES 2019. He explained: "We faithfully reproduce how those streams are placed within a mix. When they're compressed in a normal space intended for your ears, you're not going to hear the final mix the same way you would on a theater system."
To further enhance the experience, a voice prompt implores the listener to download the Super X-Fi app which is freely available on the Google Play Store. That's right, for now, iPhone users who want to take advantage of the Super X-Fi processing, need to invest in the brand's SXFi Air wireless headphones.
Getting set up with the app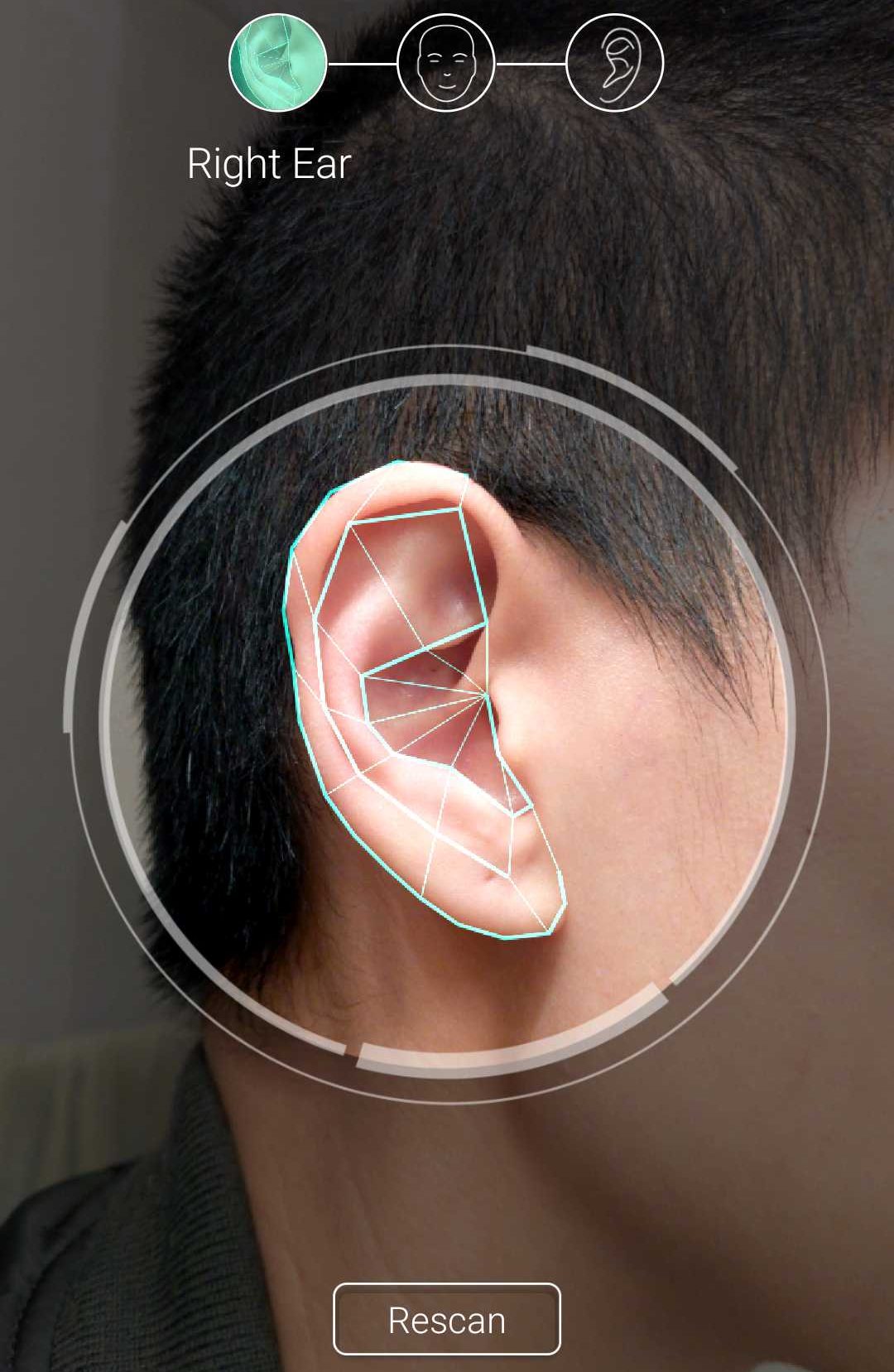 Head mapping is the first step to setting up the Super X-Fi Amp via the free app.
Head mapping: This is difficult to do alone, and as someone who lives alone I had to use a mirror. The app asks users to take three pictures, one of each ear and a straight-on headshot. The app then calculates for the subject's facial anatomy to create an optimal sound.
Headphone selection: Users can choose from brands like AKG, Bose, Apple, Sennheiser, and Sony. If your headset isn't listed, you'll still be able to use the app and take advantage of the head mapping.
Activate your SXFi account: Doing so allows your head map and headphone information to be stored in the amp, so the settings are applied to other devices. This is similar to the Jaybird MySound app.
Inside the Super X-Fi Amp
Currently, the amp isn't yet available for iOS devices.
This is a deceptively simple solution to immersive audio. It uses a low-jitter asynchronous USB-C port to perfectly time signal processing. The Super X-Fi supplies enough power for three times the amplification power of standalone headphones and supports cans with impedance ratings up to 600Ω. Listeners also benefit from the integrated 128dB AKM 32-bit DAC, which minimizes harmonic distortion. This combination promotes detailed audio reproduction so listeners can experience as realistic and immersive of an experience as possible.
How it changes music and gaming
The amp can easily fit into a backpack along with other accessories.
When using the Creative Super X-Fi Amp to listen to music, I immediately notice the greater auditory depth perception. This makes everything sound like you're in the middle of a concert hall rather than having a basic two-channel system. While it technically isn't improving frequency reproduction, the altered reproduction introduces listeners to a novel way of hearing their favorite music.
For gaming, the main benefit of real-world emulation is being able to react more acutely. Since it sounds like your virtual setting has been expanded from a two-dimensional auditory plane to a three-dimensional one, your gameplay may improve as you have an easier time understanding where combatants are camping out.
Should you buy the Creative Super X-Fi Amp?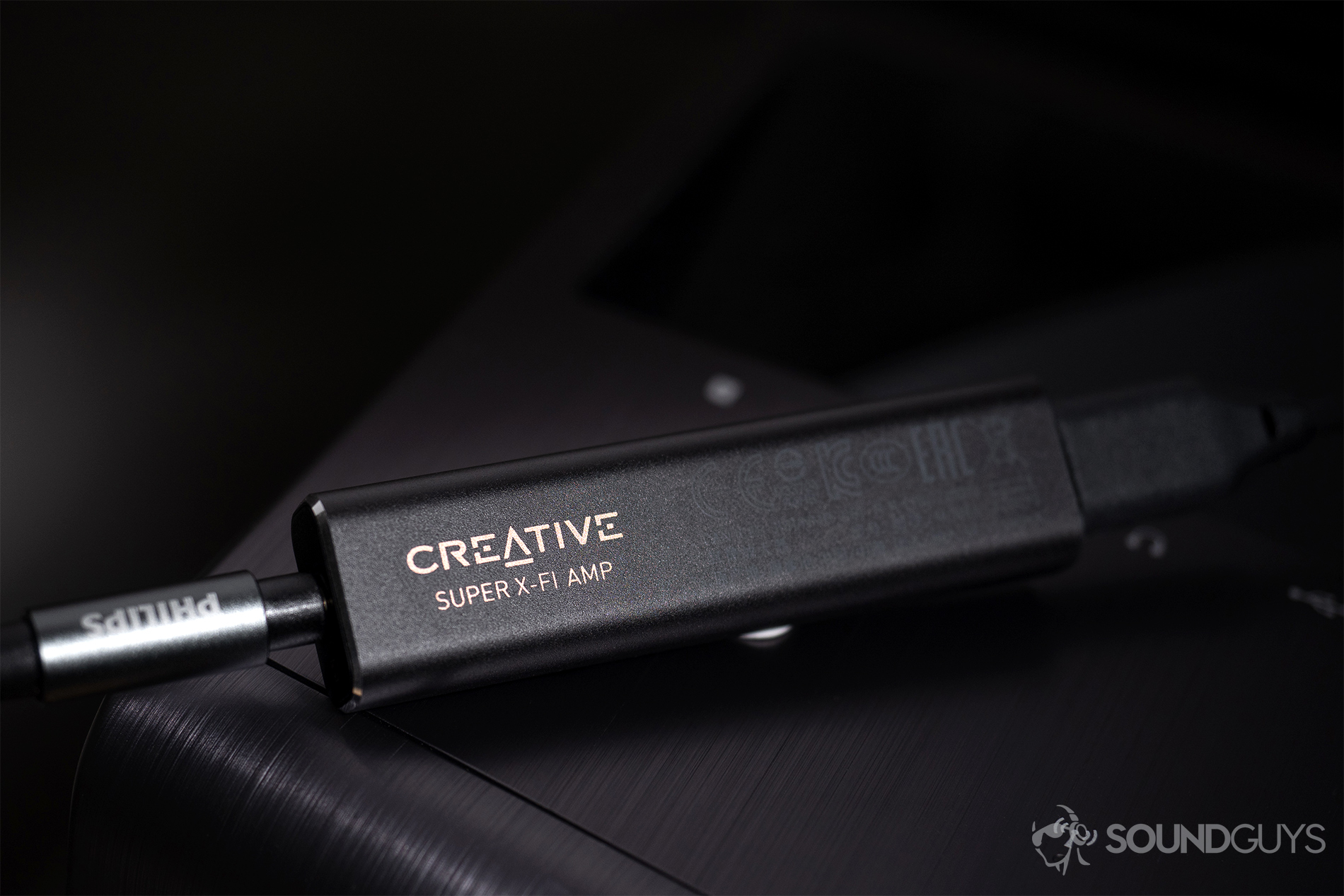 The Creative Super X-Fi Amp is expensive at $149 but its effects are clear. Plus, the inclusion of the Aurvana headphones helps.
If you absolutely can't wait for the ubiquity of MPEG-H and immersive audio, then yes. While $149 is a lot to pay for what could be boiled down to as "just a dongle," Creative throws listeners a bone by including a free pair of Super X-Fi certified Aurvana SE headphones. This amp has dramatically changed how I enjoy music: it's fun to listen to high school classics with the amp activated, making it difficult to return to listening without it.
Still looking? Check out the Best headphone amp of 2019