All products featured are independently chosen by us. However, SoundGuys may receive a commission on orders placed through its retail links. See our ethics statement.
Best Audio Products at CES 2022
Here's our best in show.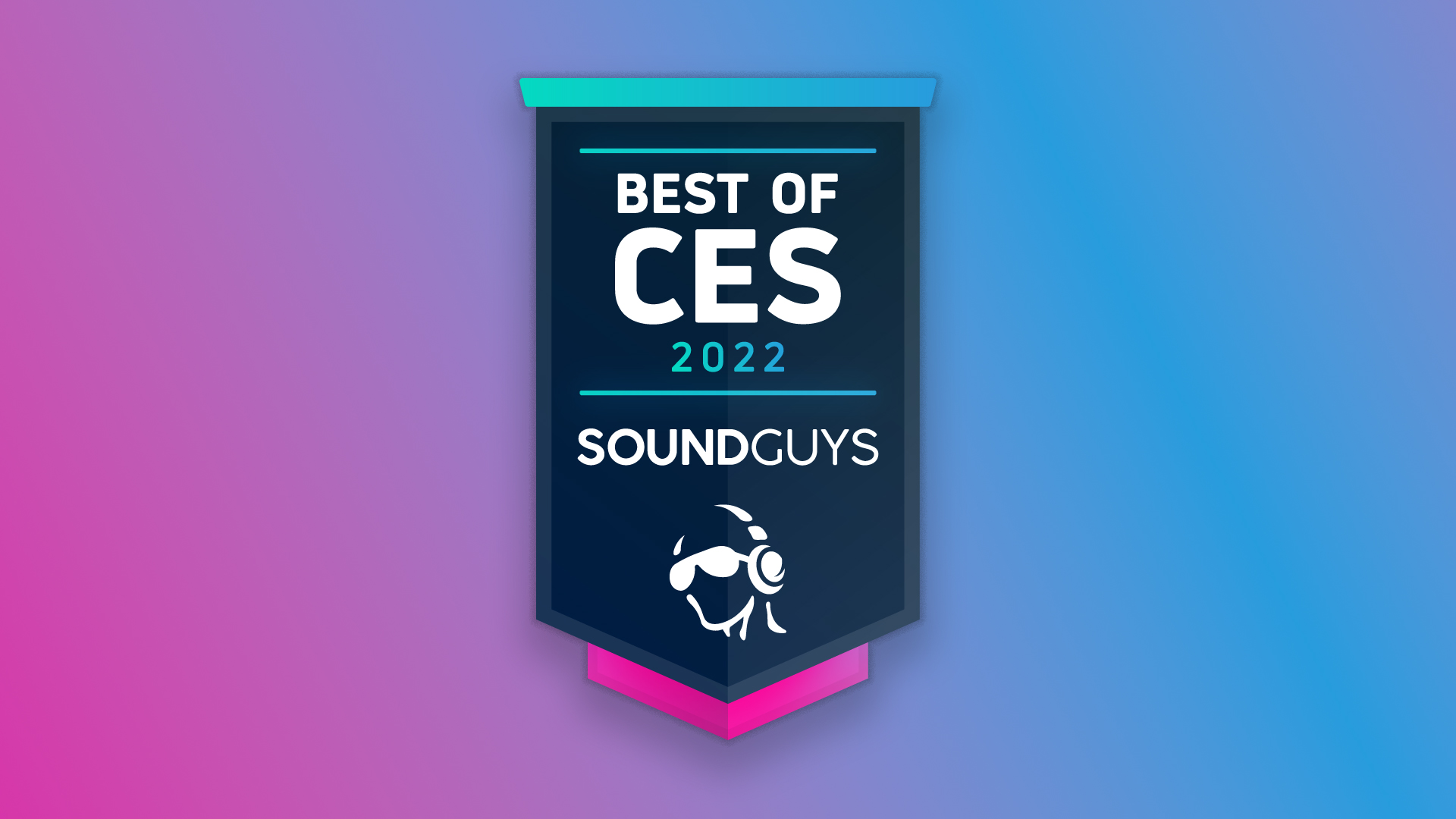 Every year, we take the plunge to sift through thousands of products and exhibitors at CES in hopes of finding a few gems that our audience will enjoy. After all, getting early access to these things isn't all that helpful if we can't share, right? After hashing out over 50 entries (winnowed down from a few hundred products) into our CES 2022 awards queue, our staff has whittled the pile down to five standouts worthy of your attention.
JBL Quantum TWS
This design rivals the Razer Hammerhead True Wireless Pro.
When you think "gaming" and "Bluetooth" the first word that follows is usually "lag." However, JBL's first true wireless entry into the Quantum gaming headset line uses a USB dongle and 2.4GHz RF to sidestep this issue almost completely. That's a clever way to avoid headaches with audio delay, and a welcome shakeup to the landscape of gaming-oriented headsets. Many people with long or curly hair (or just a lot of it) can get their locks stuck in the bands of over-ears pretty easily. Avoiding that problem with the JBL Quantum TWS is very feasible.
HyperX Cloud Alpha Wireless
Ever have your gaming headset stop holding a charge or have its USB port break from plugging it in too much? Well, one of our favorite gaming headsets is getting a wireless version, but with a (comparatively) massive battery projected to last a whopping 300 hours of use. Normally, gaming headsets last between 24-48 hours in our tests, so a sixfold increase in battery life per charge is going to pay huge dividends in your battery's longevity. Additionally, charging your headset less often will reduce cumulative strain on the USB-C port, preserving the most delicate part of your cans.
Of course, it remains to be seen if that 300-hour figure is reasonable or just marketing, but even if it's only half as good as its claim: that's still three times as good as the next best headset. At $199 USD, that's excellent value over what appears to be a long life.
Roland AeroCaster
As many of us here at SoundGuys are ourselves former sound guys, when we see a relatively frustration-free way to collate four video streams and two XLR mics on one device, we take notice—especially when there aren't cables everywhere. Roland's AeroCaster platform is centered around the VRC-01 deck, which can take video from up to four smartphones or tablets, and give a user excellent control over the streams for Twitch, YouTube, or even just on-the-fly recording with a quick editing turnaround. There are several physical controls, toggles, and sliders on the front that allow you to nail your levels across several recording devices. On the back are two USB-C ports, two combination XLR and TS inputs, and an RCA input. As with any deck worth its salt, it also has a headphone passthrough for monitoring.
At a hair under $300 USD, this is a pretty decent value when you consider what it's capable of. We fully expect to see the AeroCaster in rotation among early content creators, churches, and school performances—whenever those start again.
TCL Alto 9 soundbar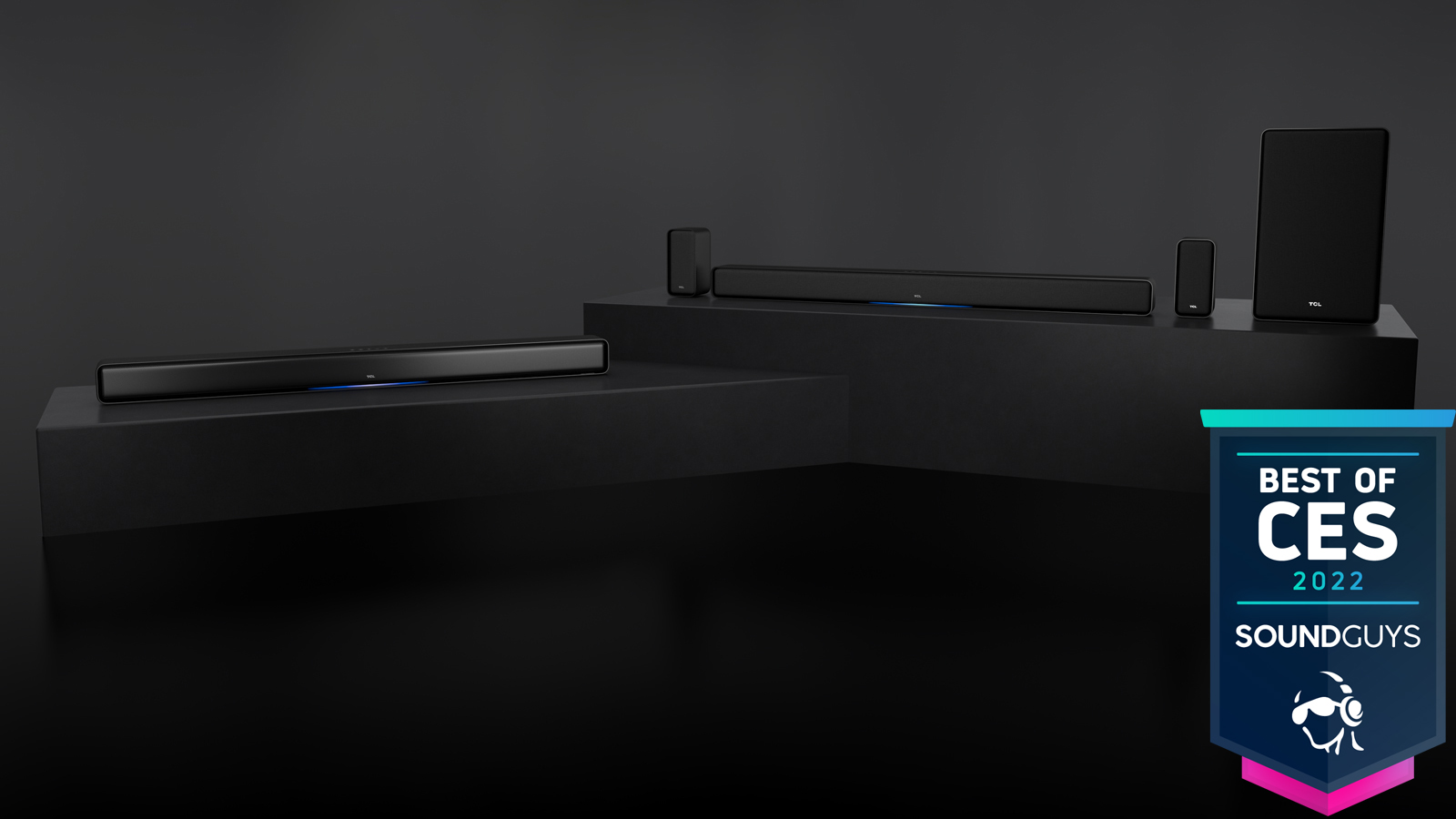 For those of you just starting out in a new place, a sound system to replace your TV's tiny, tinny speakers is usually one of the first big-ticket items that empty your wallet. However, TCL's modus operandi is to make the most affordable products people will actually, you know, like. When we saw the manufacturing giant release new soundbars that support Dolby Atmos and a number of other features not found at their price point, our interest was piqued.
See also: The best soundbars
The new soundbar has a 7.1.4 channel configuration, with support for Google Assistant, Amazon Alexa, and in-app integrations like those from Spotify. Though this is the highest-end soundbar TCL has ever released, we don't expect the price to be too crazy.
Jabra Elite 4 Active
Continuing the trend of offering more affordable options this year is Jabra, bringing forth the Elite 4 Active true wireless earphones. This slots in nicely behind the Elite 7 Active, and boast an IP57 rating for gym rats—or the especially moist. It's atypical to get a set of earphones at $120 USD that offer active noise canceling as well as ingress protection as good as that found here, so Jabra was an easy pick.
Stuff we found interesting, but not award-worthy at CES 2022
We're not going to sugarcoat it, CES is a big show. There's lots going on, and due to all that's been going on, there's only so much you can see from a computer many miles away.
Shure AONIC 40 noise canceling headphones
Man, if this headset was released at CES 2022 and not merely at the same time, this would be an easy winner. Following up the AONIC 50 with a more affordable option, Shure is taking great pains to meet a broader audience with this headset. Like its linemate, the AONIC 40 supports aptX, aptX HD, AAC and SBC listening, as well as employs active noise canceling and voice assistant support. It's tough to tell where—if anywhere—corners were cut to clip the price here, but on paper the Shure AONIC 40 looks much like its older brother. We'll be looking forward to testing this one out, and its very fleshed-out EQ.
JBL 4305P Studio Monitor
Bookshelf speakers are great additions to any living space, but their generally simple designs mean they can be behind the times a bit without some extra help. The JBL 4305P doesn't have that problem—instead of making passive speakers without any computing power, these active speakers can stream audio over ethernet, built-in Chromecast, AirPlay, and Bluetooth.
You can also connect via asynchronous USB, good old 3.5mm male-to-male cables, and an optical input as well. To handle decoding of digital signals, there's an onboard 24bit/192KHz DAC. Internal class-D amplifiers ensure that the whole setup has enough juice sent to each channel. While this is all very compelling, it missed our CES 2022 awards via the price tag of $2,200 USD. It may absolutely be worth the money and then some, but that price is going to be tough to swallow for many.
JBL Wind 3
If you bike a lot, or get around on a scooter, JBL is releasing a weatherproof, handlebar-mounted Bluetooth speaker/radio at CES 2022. The hope here is that people will be able to use their audio system hands-free, all while surviving the rigors of outdoor biking. The speaker itself is small, but boasts an IP67 weatherproof rating, microSD card slot, 3.5mm input, FM radio, and Bluetooth connectivity.
We aren't terribly crazy about making our roads noisier, but the rigors of long bike trips and trail riding could be a better fit for something like this. It may not be for us, but it definitely addresses the desires of some.
Monster DNA Fit
Among the first earphones to come to market supporting aptX Lossless, Monster's DNA Fit true wireless earphones come with 12 different pairs of ear sleeves, and an earhook design that makes these a good fit for workouts.
While we haven't tested a Monster product in a long time, the presence of the latest Qualcomm silicon inside tells us there's enough here to keep these in consumers' minds for a while.