All products featured are independently chosen by us. However, SoundGuys may receive a commission on orders placed through its retail links. See our ethics statement.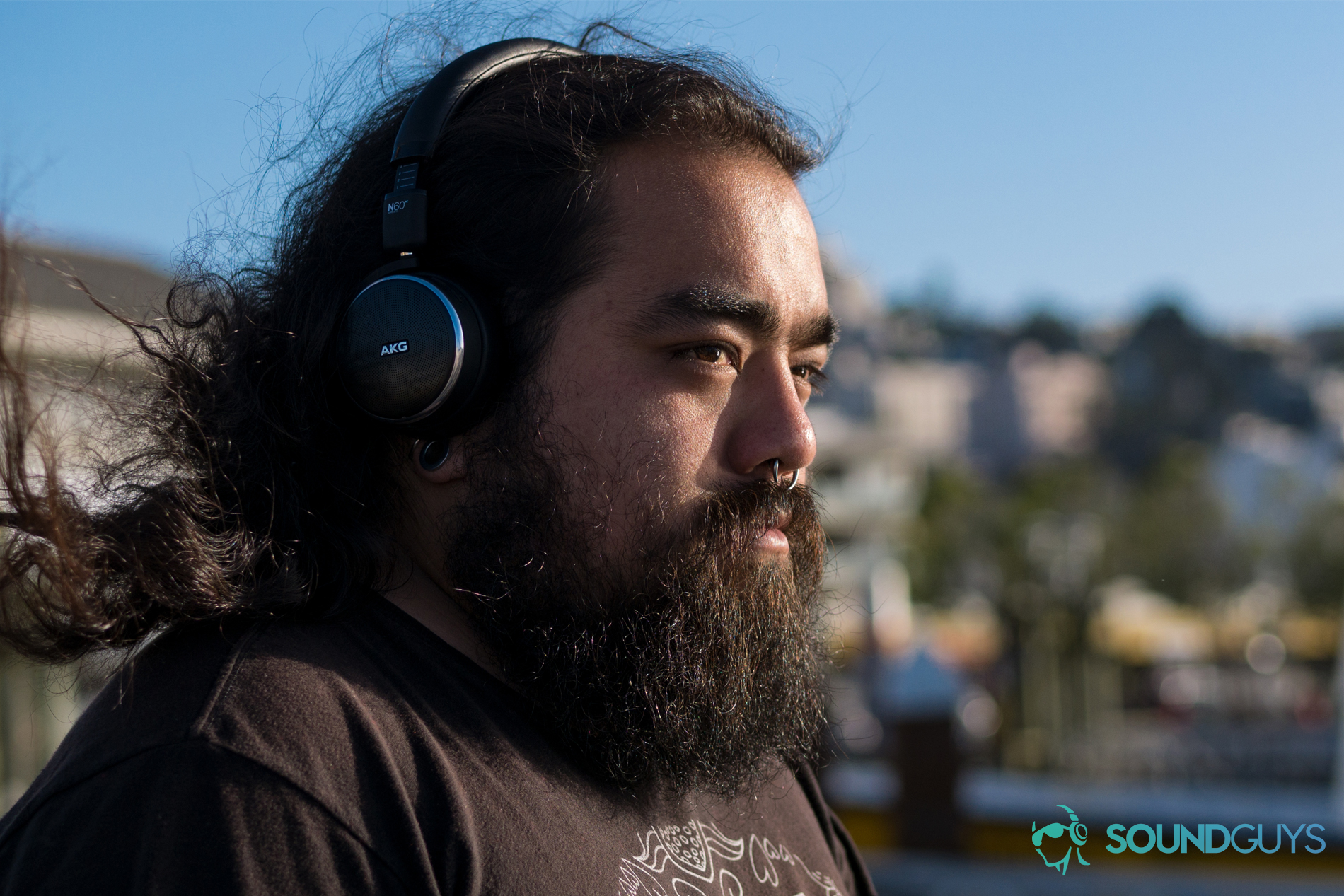 The bottom line
If you're looking for a set of budget active noise-canceling headphones that are actually up to the task, AKG's N60 NC Wireless will get you where you need to go.
N60NC
If you're looking for a set of budget active noise-canceling headphones that are actually up to the task, AKG's N60 NC Wireless will get you where you need to go.
What we like
Noise canceling
Lightweight
Portable
Price
What we don't like
Battery
Sound quality
Rating Metric
Sound Quality
8.0
Durability / Build Quality
8.1
Value
9.2
Design
8.0
Microphone
6.9
Portability
8.3
Battery Life
8.2
It's been a while since I've voluntarily used a set of noise-canceling headphones in my private life, but I've quite enjoyed the AKG N60NC Wireless headset. Sure, it goes against everything I stand for in headphone tech, but in some cases (like flying on planes) my personal cans just don't cut it. Not only does the N60NC Wireless offer a respectable level of noise cancellation, but it does so while not making too many sacrifices along the way.
Editor's note: this AKG N60NC review was updated on January 9, 2023, to reflect the product's end of life.
The AKG N60NC Wireless might be a good fit if you want a cheap pair of on-ear headphones with noise canceling, but it's pretty old these days—you might be better off looking at something more current.
What's it like to use the AKG N60NC?
The AKG N60NC Wireless looks fairly nondescript. It's made of mostly plastic and won't make you stick out in a crowd. While there's definitely a segment of headphone buyers that want to make a statement, not everyone does, and these would be at home in business class. I suppose it only makes sense that Lufthansa chose the N60NC Wireless for use on their flights when these were first released, and good on AKG for providing a model that works as well as this.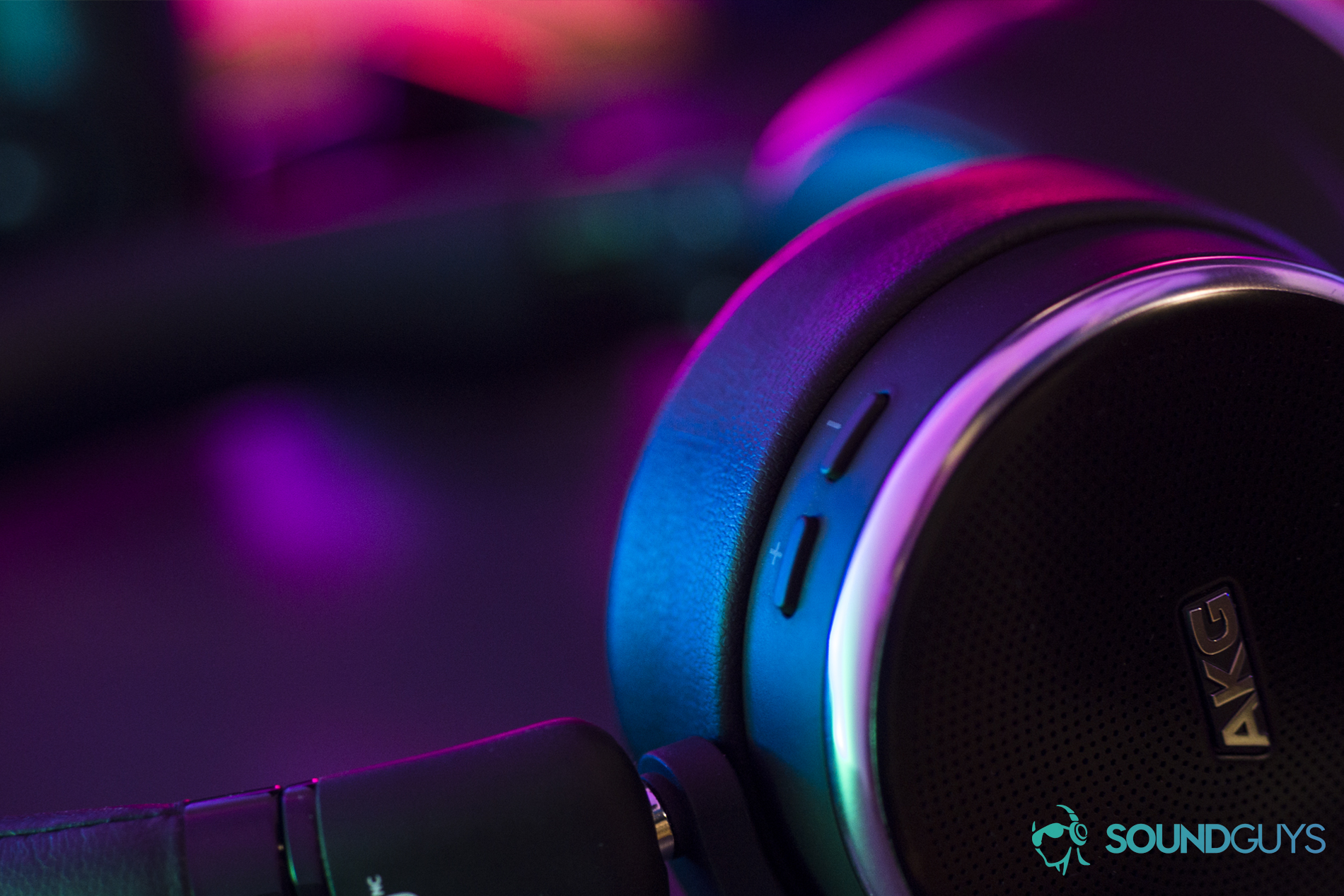 Volume buttons are convenient, but create wild swings in loudness when you use them.
Bluetooth headphones are a dime a dozen nowadays, but Bluetooth headphones that sound decent are a little more scarce. It's even more rare that a set of decent Bluetooth headphones is also good at canceling noise. Which is why I enjoyed using the N60NC Wireless in my travels: they are perfect airline buddies. They do everything they set out to do well, and without the hassle of cables or short battery life. While I'm not sure that the 30 hour battery life listed in the specs is accurate, I can tell you that these headphones will easily last you a cross-continental flight because I did exactly that—twice.
Controls live on the right ear cup—from the power switch, to the volume, to the track controls.
I'd hazard a guess that you're probably not going to be listening to them for the whole flight though, as that band can dig into your skull a bit if you have short hair like mine. Even though the ear pads are super deep and wrapped in a soft leatherette, over time these headphones become quite uncomfortable if you don't have the band adjusted to be a bit loose on your head.
Controls are simple and the unit is fairly easy to pair when using the power slider. On the right ear cup is the volume, track, and power controls, while the left ear cup has the USB power port, and the 3.5mm female socket for the detachable cable. AKG includes a standard 3.5mm male-to-male cable, a microUSB cable, a neoprene carrying case, and the headphones.
How is the connection strength?
I appreciate any set of Bluetooth headphones that give you the option of using a detachable cable, but I'm a little mystified at the choice to use a microUSB port for charging. Not only is it slower to juice up, but more and more people are using USB-C chargers nowadays; why not use a more modern connection? It's not a horrible decision, just a strange one. On the upside, you could use a phone charger you'd otherwise throw out to live with your new cans.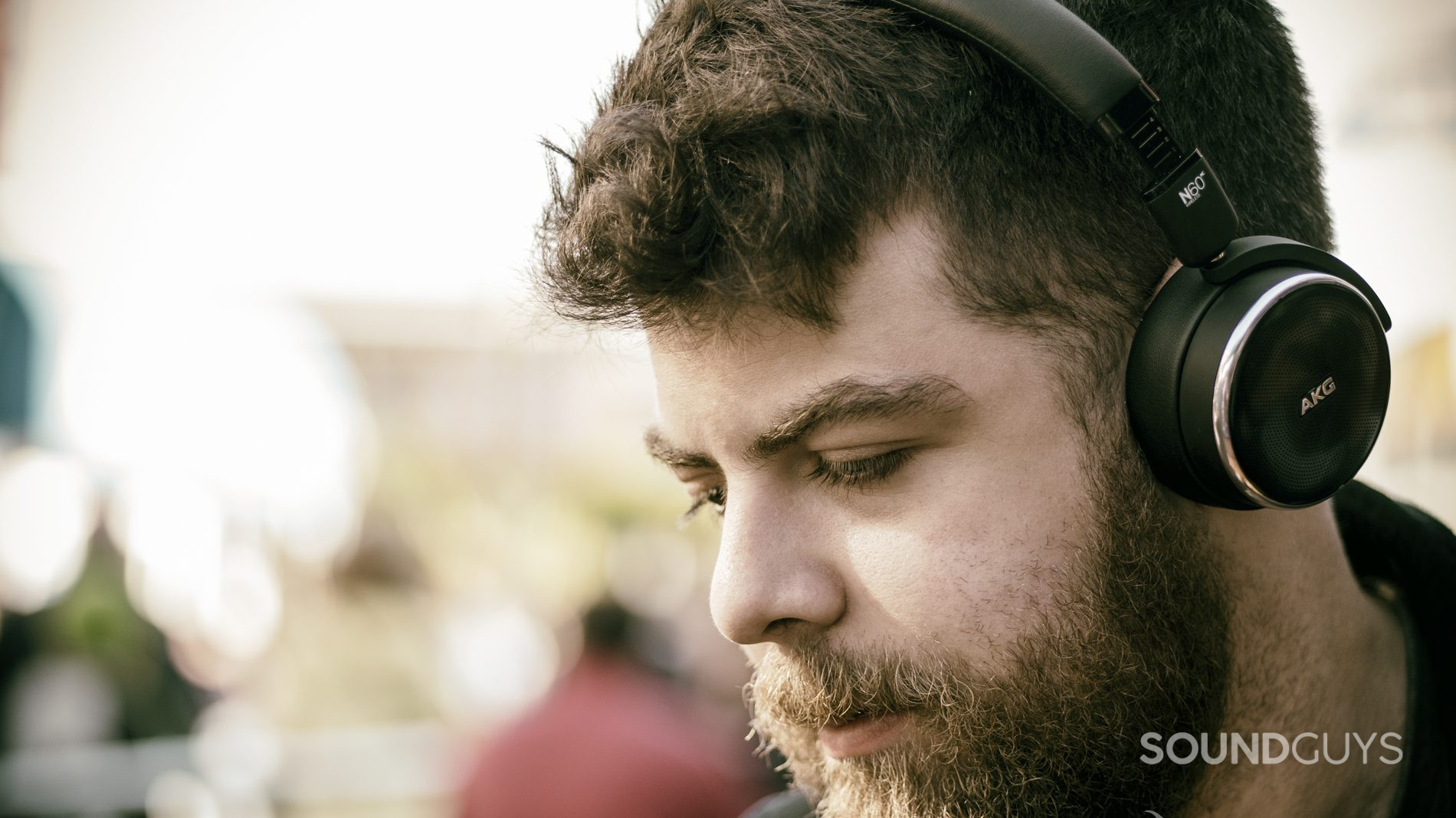 Decent Bluetooth performance with a good battery life means the freedom to listen all day without futzing with cables.
When you want to go wireless, the AKG N60NC Wireless relies on a Bluetooth radio capable of using AAC or aptX codecs. Even if you're limited to using an SBC profile with an older phone, the N60NC Wireless is capable of supporting a decently ample bitrate in my experience with a few of the phones we have laying around at the office. However, I did notice that the cans have trouble preventing skipping if you've been listening to them for a long period of time. After having used them for about nine hours straight, they started to stutter on the walk from the BART station to the office—and my phone was only in my pocket.
How do these headphones sound?
I'm a big fan of these headphones. Not because they're going to make audiophiles squeal with joy or that they'll win over the toughest critics, but because they allow you to listen to your music at a super low volume. I recently made a post about this, but the long and short of it is: outside noise makes your music sound bad, and most people crank their tunes to drown out noise. If you can listen to your music without cranking it up to 11, it'll sound better (while preventing hearing damage long-term.) So if you have a stellar set of cans that block out a ton of noise, they'll sound a ton better in more environments than even high-end headphones will; even if they don't sound amazing.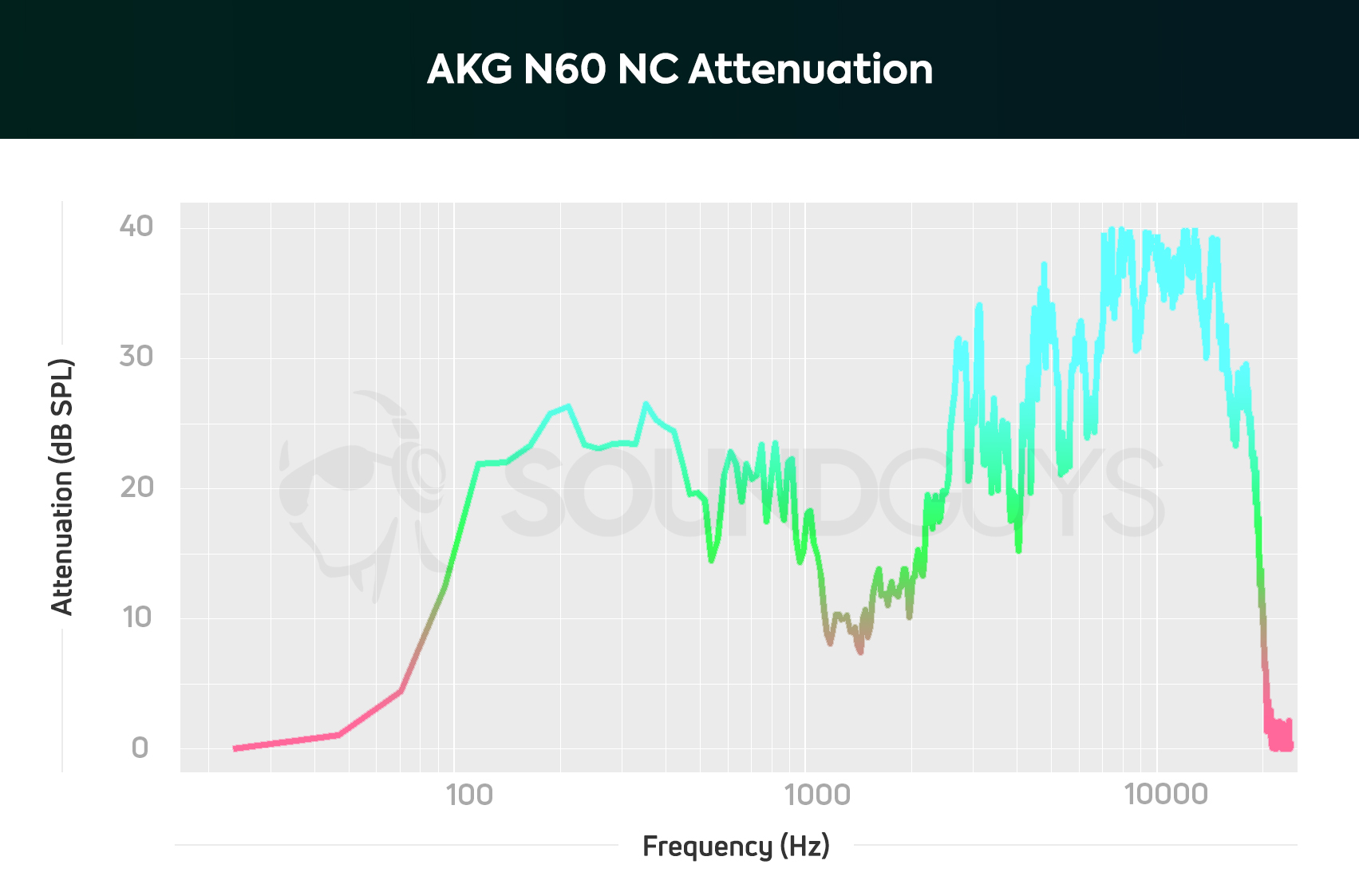 The AKG N60NC noise canceling performance is stellar.
That's pretty much where the N60NC Wireless stand. They sound perfectly fine enough with a consumer-friendly sound, but they definitely won't make me forget the HiFiMan Edition S or anything. Because their isolation is so good, there's no reason to grab anything else for a flight or commute. I wish you could turn off the ANC to save battery, but c'est la vie.
The bass is a bit boomy.
If you're a younger user, you may notice a bit of distortion in the lows and mids due to the ANC unit, but it's not terrible. Just something to be aware of. The bass is a bit boomy but otherwise not over-emphasized to a silly degree. There's a little bit of echo due to the closed-back nature of the headphones, but if you're a fan of bass these are a great option simply because the isolation is so good in that range. You won't be missing the low synths in Panama Wedding's Easy Lover.
Mids and vocals are treated fairly well, with minimal distortion due to the ANC unit. As the note emphasis tends to follow a normal consumer-friendly emphasis with a little bump in the upper-mids, and a little bit of a dip in the low-mids. Not much to gripe about, it sounds quite alright. If you're a young'n, you may notice a bit of a rolloff in the highest of the high notes. But the advantage here is that there isn't a harsh peak to make your listening experience a tough one to endure. Many people don't like the normal jump in emphasis of high harmonics, so if you find headphones tend to have a shrill quality these are cans that might solve that problem for you.
Is the microphone any good?
The microphone isn't good. I got a lot of complaints from my usual Overwatch buddies about the sound quality, and that's saying a lot for a simple client like Discord. You've probably not going to be making a lot of phone calls while you're in the air, but keep in mind that mic could use an improvement. At first I thought it was due to my old wireless/Bluetooth card, but even after I replaced it with a brand new card—the quality was still bad.
Should you buy the AKG N60NC in 2023?
A lot of people will like the AKG N60NC Wireless, especially since they keep popping up on sale for extreme discounts. However, a product priced to move typically means it's going away—so it's not going to be around for long. The AKG N60NC Wireless was supplanted in AKG's lineup a long time ago, and it's hard to see much support for software updates, apps, or anything else really. This is a set of on-ears that are on their way out, and they justify their price through convenience and ANC mainly.
AKG N60NC Wireless
AKG N60NC Wireless
Noise canceling • Lightweight • Portable
These have dropped significantly in price, making them among the ANC headphones available.
If you're looking for a set of budget active noise-canceling headphones that are actually up to the task, AKG's N60 NC Wireless will get you where you need to go.
Even a stodgy jerk like me can appreciate the convenience they provide, and performance-wise they're not half bad. They isolate very well for a set of on-ears (a design that typically struggles), which helps the N60NC Wireless shine in noisy environments like a subway, flight, or noisy street. They're not the greatest performers, so audiophiles may want to spring for a pair of in-ear monitors for air travel instead—but the advantages of an aptX-supporting on-ear model are clear. They're more comfortable than earphones, and easier to use for long periods of time.
The N60NC Wireless isn't made to go toe to toe with high-end cans: they're made to be used where other headphones fail. Those who can't stand in-ears for long won't find a better bang for the buck for air travel. Nowadays, you can find these headphones for around $120 USD, making them an absolute bargain, and a steal compared to the Shure, Bose, and Sony NC headsets; but the competition offers greater isolation in the low end. If money's tight, you may want to save yourself the extra money you'd drop on the Bose set and just grab the AKGs.
Frequently asked questions about the AKG N60NC
Most likely not, but it's never a bad idea to top off your battery before the first use. It'll help you get a good handle on how long your battery should actually last given a full charge.