All products featured are independently chosen by us. However, SoundGuys may receive a commission on orders placed through its retail links. See our ethics statement.
The bottom line
For $250, this is one of the better options out there for audiophiles looking for a set of portable headphones. Just don't expect it to block out a lot of noise.
For $250, this is one of the better options out there for audiophiles looking for a set of portable headphones. Just don't expect it to block out a lot of noise.
What we like
Sound quality
Price
Versatility
Light weight
What we don't like
Leakage
Poor isolation
Rating Metric
Sound Quality
9.3
Bass
9.4
Midrange
9.5
Highs
9.0
Durability / Build Quality
8.4
Value
9.0
Design
9.0
Microphone
7.0
Portability
8.5
I had a lot of fun this week, and it's in no small way thanks to HiFiMan's Edition S headphones.
Having made their name in planar magnetic headphones, HiFiMan tried their hand at some headphones with dynamic speakers: and the results are really good. With the ability to swap between open and semi-open backs, the Edition S presents an interesting take on the portable audiophile headphone. While it's definitely not for everyone, there's a lot to like about HiFiMan's first foray into dynamic headphones.
What's included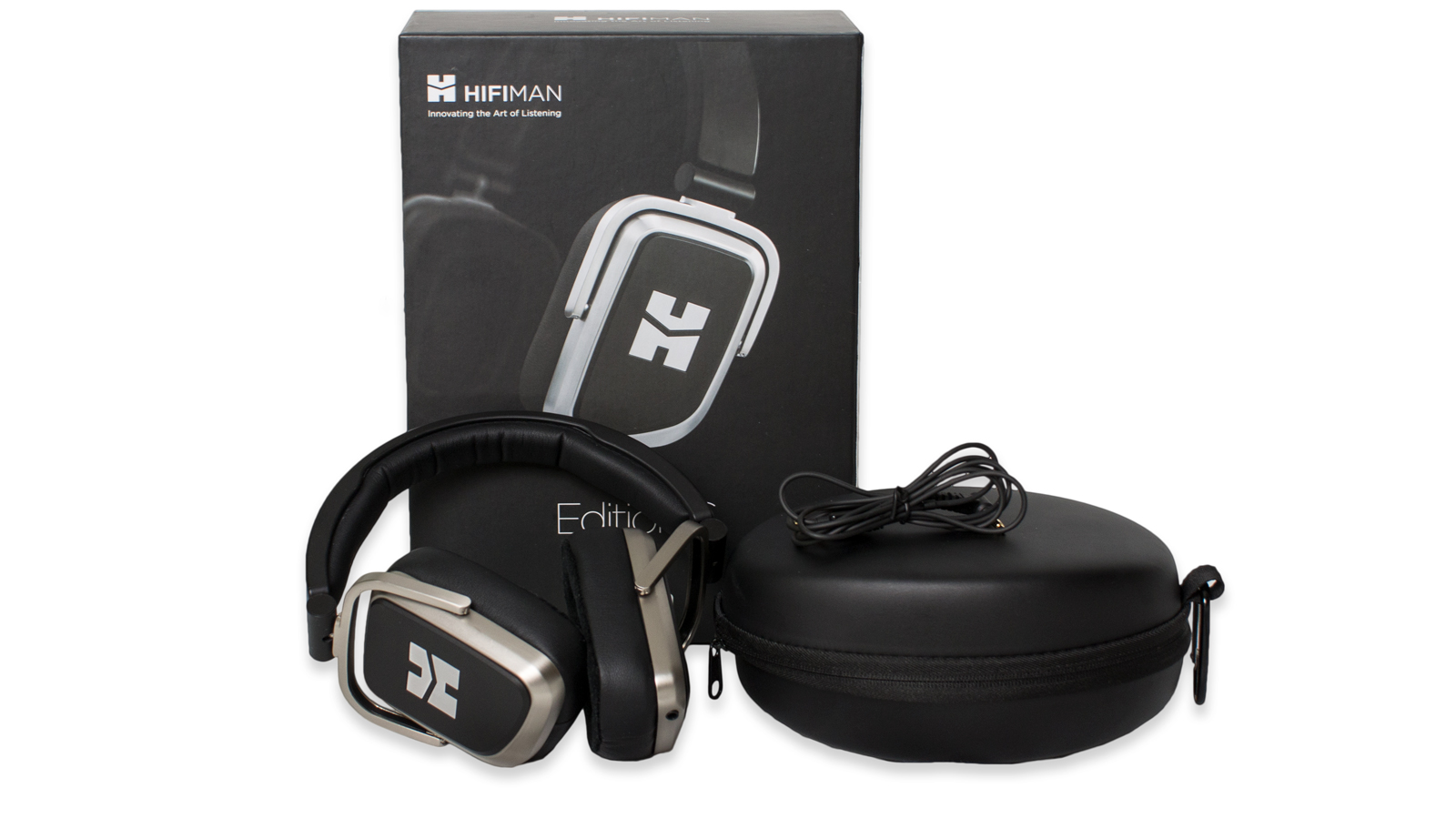 Inside the box, you'll find the Edition S headphones, a ~4foot cable with inline remote, an airplane adapter, and a 1/4″ adapter. When you're not listening to the Edition S, you can fold them up to stow in the included carrying case, which in turn can be stuffed into a bag.
Build & Design
When you first take the Edition S out of the box, you'll have a bit of a mixed first impression. They're made mostly of plastic, the cable is quite thin, and there are very few outward signs that you're in for a good time. And if nobody told you why the backs come off, you'd probably think something was broken. Really, the most premium-looking part of these headphones seems to be the super-soft and deep leatherette ear pads.
Leatherette ear pads with velour make for insanely comfortable cans.
However, most negative impressions go right out the window once you start using the Edition S. The guts of the Edition S are quite impressive for the price point. Efficient 50mm drivers that can run easily off of any mobile device are the stars of the show: they work great, and you do not need an amp or extra equipment to use them to their full potential. They also bear the single most important durability feature for headphones—a removable/replaceable cable—but the unsealed ear cups mean foreign object damage is something you should worry about. For most people, this simply means "don't use your Edition S in the rain."
Its light weight (just under 250 grams) and ultra-plush pads means you can listen for hours without getting too uncomfortable. You'll forget you're wearing headphones at all if you have the band adjusted correctly. I find this to be a lot more forgiving on eyeglasses as well, unlike the Bowers & Wilkins P9 Signature. The angular ear cups may be billed as "on-ear," but I find that they fit most people as over-ears.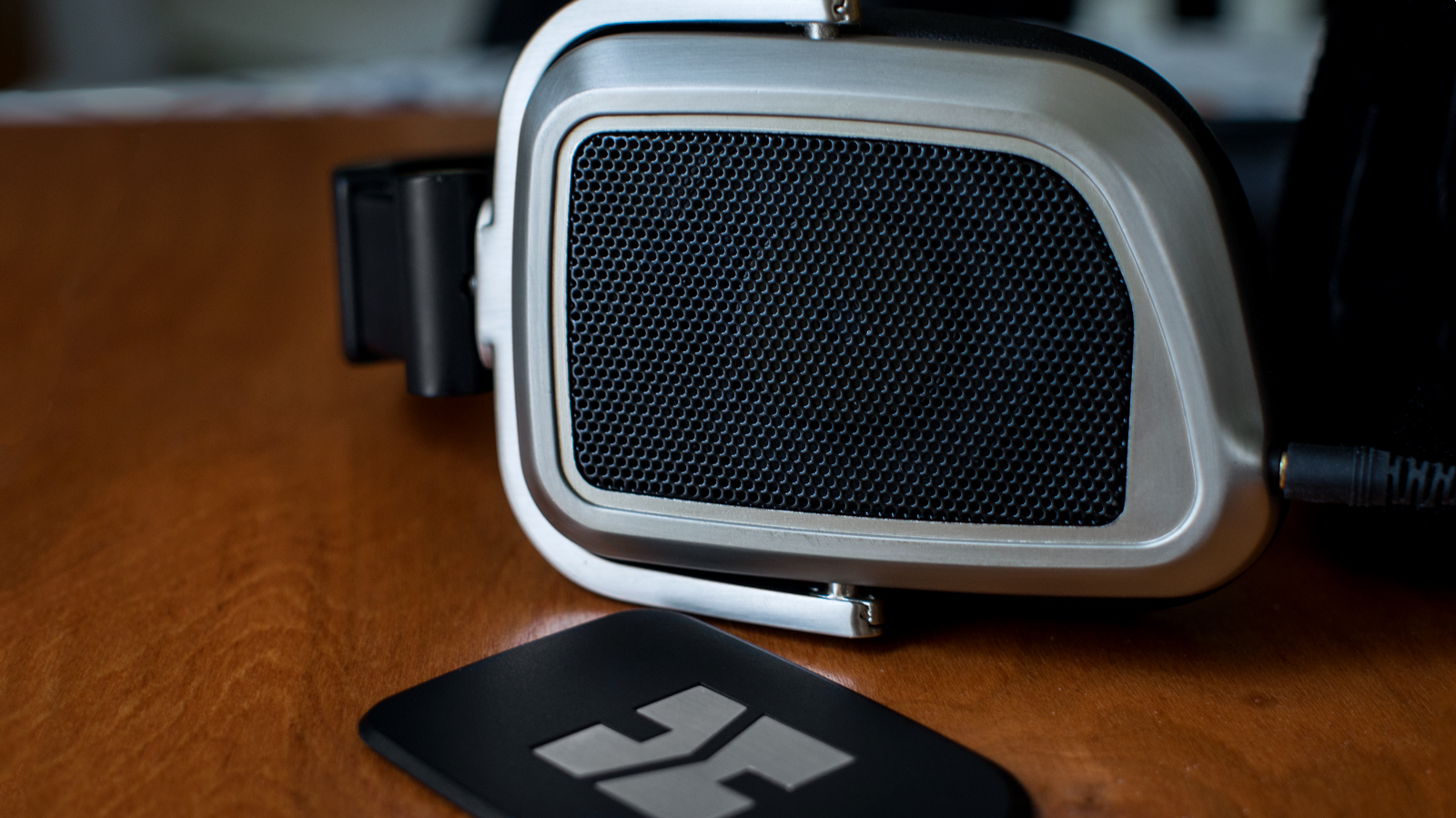 In low-noise environments, take the backs off the Edition S for the sound to blow you away.
But the most interesting aspect of these headphones is easily the convertible nature of these headphones. When you're in a fairly noise-free environment, pop the branded backings off of the ear cups to transform your Edition S into open-backed headphones. If you want to head out into the world, the speaker assembly's strong magnet will deftly hold the backings in place. Though the lack of a properly sealed chamber makes them more "semi-open" backed than "closed," it's better than nothing at all standing between your ears and outside noise.
Connection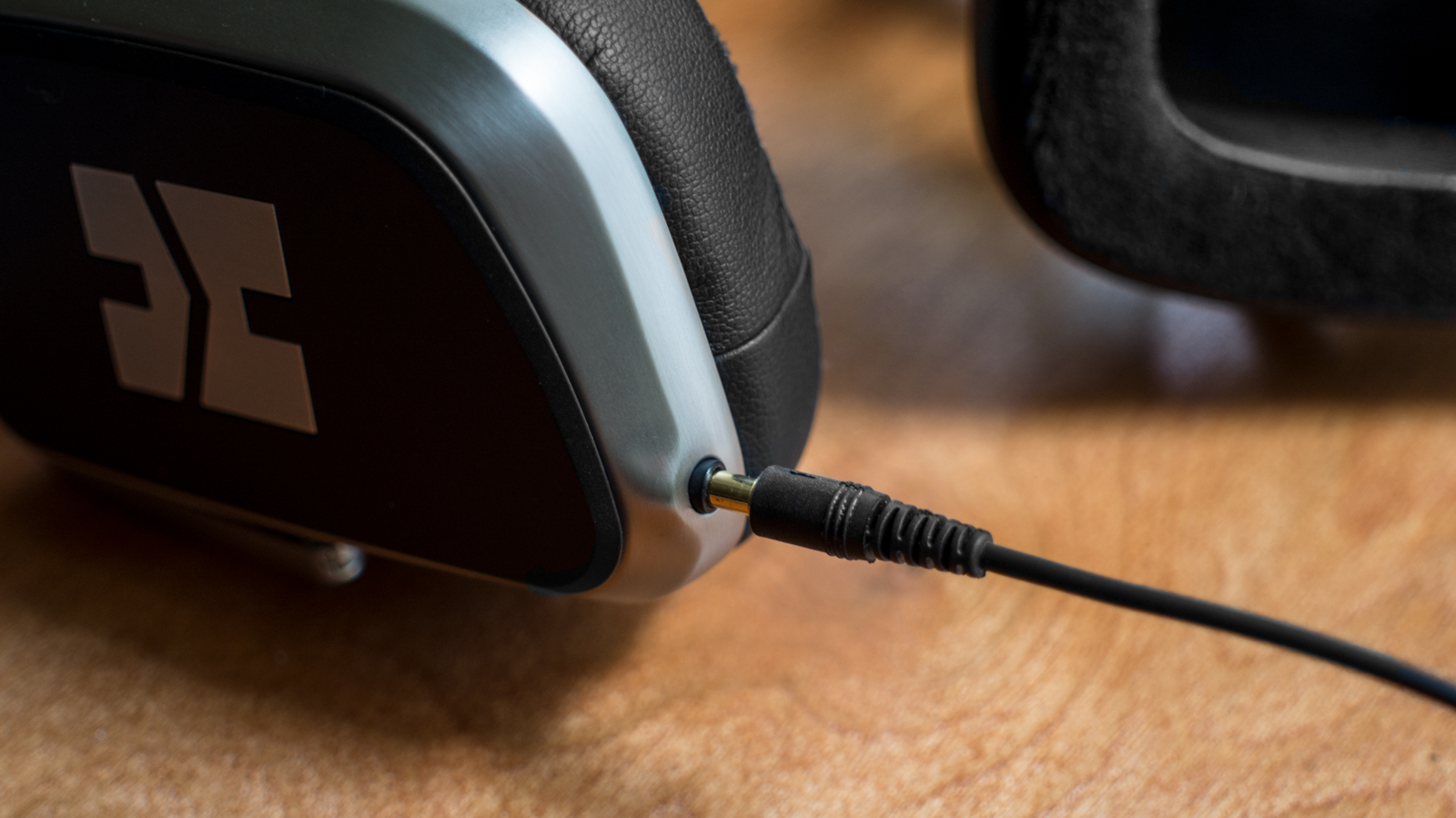 The Edition S uses a standard 3.5mm to 3.5mm cable.
The Edition S rocks a very standard 3.5mm connection, which works with just about every media player on the planet. If you want to use the Edition S with a home setup with a 1/4″ connection, HiFiMan has you covered with an adapter.
How does the HiFiMan Edition S Sound?
Given their audiophile roots, HiFiMan had a lot to live up to with their Edition S. And they delivered.
As more consumer-oriented headphones, they're probably not going to tick all the boxes that HiFiMan's legendary planar magnetic cans do for audiophiles—but at $250 they definitely punch out of their class against the competition from Beats and Bose. The Edition S seems to have a tuning that's far more consumer-friendly, with emphasized bass, gently nudged mids, and a peak in the highs. It's a tasteful note emphasis, and that in combination with the large drivers' exceptional performance makes even cringey 90s jams somehow more fun to listen to.
That is of course, if isolation isn't a big concern for you. While open-backed headphones allow the drivers to move without much resistance, they do let in a bunch of outside noise (and leak it out). The option to "close" up the backs with the plates definitely helps block out a little bit of noise, but it doesn't make an actual seal. The upside: music clarity isn't affected much by this. The downside is, you'll never really get the level of isolation you might want for a subway or airplane. If you're around a lot of outside noise, you're going to notice auditory masking muting some of your music unless you really crank the volume (don't do that).
The sound is noticeably different from open to "closed" backs, so buckle in: this is gonna be a long one.
While playing Overwatch, I was taken aback by a surprisingly pronounced explosion before I remembered: oh yeah, that's what that actually sounds like. I'd gotten used to the muffled distant rumble that some of the more affordable cans reproduce. It's an anecdote that's fairly representative of the Edition S' performance in the bass ranges—low frequency notes don't suffer from echoes, audible distortion, or the most common problems presented by portable headphones in this price range. I'm quite impressed with how well bass and sub-bass is handled, and it's always interesting to me to be able to hear more of this range without it getting masked away by poor performance here. Well done, HiFiMan!
A running theme with this review is going to be: open great, closed less-so. Here the bass notes do tend to echo just a little bit, but not in any way that will ruin anything. They're still well reproduced, they still don't present much distortion. However, you'll probably hear a little bit of muffling in tunes where there's a mess of synths, bass, and drums going on in that range in songs like this:
When you get to higher vocals (think Scissor Sisters, Journey high), and instruments in that range, you'll find that there's really nothing to fault the Edition S with. Sounds are very well reproduced as they were intended to be, and there isn't much coloration to them either. There's a small bit of emphasis in the vocal ranges, but really: that's a good thing when there's a sort of dynamic response. It's especially welcome with songs like Salt-N-Pepa's Push it where the vocals can be a little tough to make out in the presence of the synths and higher notes.
If you leave the backs closed, you may notice that the mids aren't really affected all that much. However, it's the other notes that echo and dominate the track. Comparatively, they'll suffer if you leave the backs on, but that's not to say that they're bad, just that the sound is much better when the backs are open.
If you're sensitive to really high-pitched notes, you're going to like the Edition S with the backs off more than you will with the closed backs, as they tend to make the treble end of things a little louder. If you have a tough time hearing highs, you may prefer the closed backs—but otherwise, the Edition S will likely sound better to you when you're at home and can pop those bad boys off. Again, the differences are very minor at worst—sounds like the cymbal splashes in songs like The Seed (2.0) are never going to be too harsh with the Edition S.
Conclusion
I know that HiFiMan isn't exactly a household name, but they're a company you should be considering if you're serious about audio quality. I'm stoked that they have such a good portable option in the Edition S, and while they do struggle to keep noise out: they're damn good headphones for the money. They're unique in their design, but that's not a bad thing.
I'd posit that Grado SR80e fans who want a middle ground between good audio quality and better isolation might want to give the Edition S a whirl. These are fun headphones, and though they're not clinically accurate: they're surprisingly clear and provide a lot of bang for your buck. Sure, they're not going to make you forget HiFiMan's more serious planar magnetic headphones like the HE1000, but you're not exactly going to be taking those out on the subway are you?
Obviously, the tradeoffs are there; but if you want audio quality over durability or isolation: the Edition S is your best bet. If you need durability or isolation, at this price point you could get a set of cans like the near-indestructible V-Moda Crossfade Wireless 2, or the active noise-canceling Bose QC35 instead. But if you're primarily listening in an office environment, you'll appreciate the sound quality more than isolation or durability, I'd wager.