All products featured are independently chosen by us. However, SoundGuys may receive a commission on orders placed through its retail links. See our ethics statement.
The bottom line
There are plenty of reasons not to get these headphones, but they're still really good.
There are plenty of reasons not to get these headphones, but they're still really good.
What we like
Comfortable
Excellent ANC
Strong connection
What we don't like
Price
Sound Quality is ok, especially in the lows
Rating Metric
Sound Quality
8.4
Bass
7.6
Midrange
9.0
Highs
8.5
Durability / Build Quality
8.8
Value
7.3
Design
9.3
Microphone
9.0
Portability
8.2
Battery Life
8.7
UPDATE [February 2022]: This headphone has been superseded by the Bose QuietComfort 35 II and the Bose QuietComfort 45. However, it's still a great pair of headphones, especially if you can find it at a good price point.
For a long time, the QC25 headphones by Bose were the standard when it came to active noise canceling. Now there are plenty of other great ANC headphones to choose from and some, like the Sennheiser Momentum Wireless and the Parrot Zik's had one thing that the QC25s didn't: Bluetooth. So now Bose has ditched the wires and the new QC35s can finally join the Bluetooth club, but is it too late?
What's Inside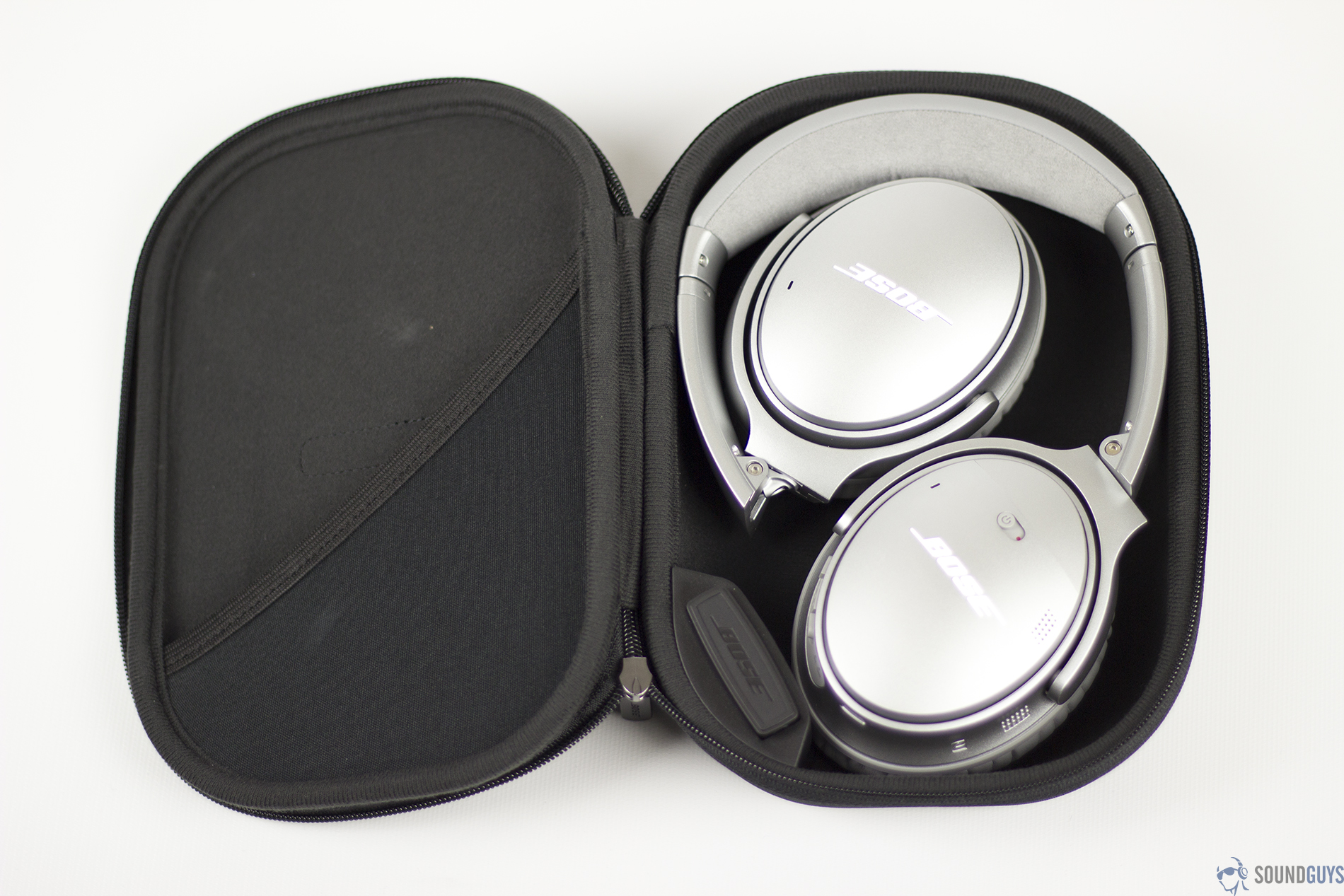 In the box you'll get a hard shell carrying case, the headphones, a 3.5mm audio cable, a micro USB charging cable, airplane adapter, and the instruction booklet.
Build & Design
If you're familiar with Bose products, you'll immediately recognize the new QC35s. They have the same design that we've all grown familiar with from the padded oval-ish ear cups to the top of the headband, Bose didn't make any drastic design changes. That said, the new QC35s aren't exactly the same as the previous model. They are definitely bigger. At first it's kind of hard to tell, but if you hold them next to the QC25s you'll immediately see the difference. The headband is slightly thicker, the ear cups are slightly bigger, and the headphones overall are slightly heavier. Of course this is to be expected considering these new headphones have basically all of the components built-in, unlike the QC25's which siphoned off some of the responsibility to the audio cable.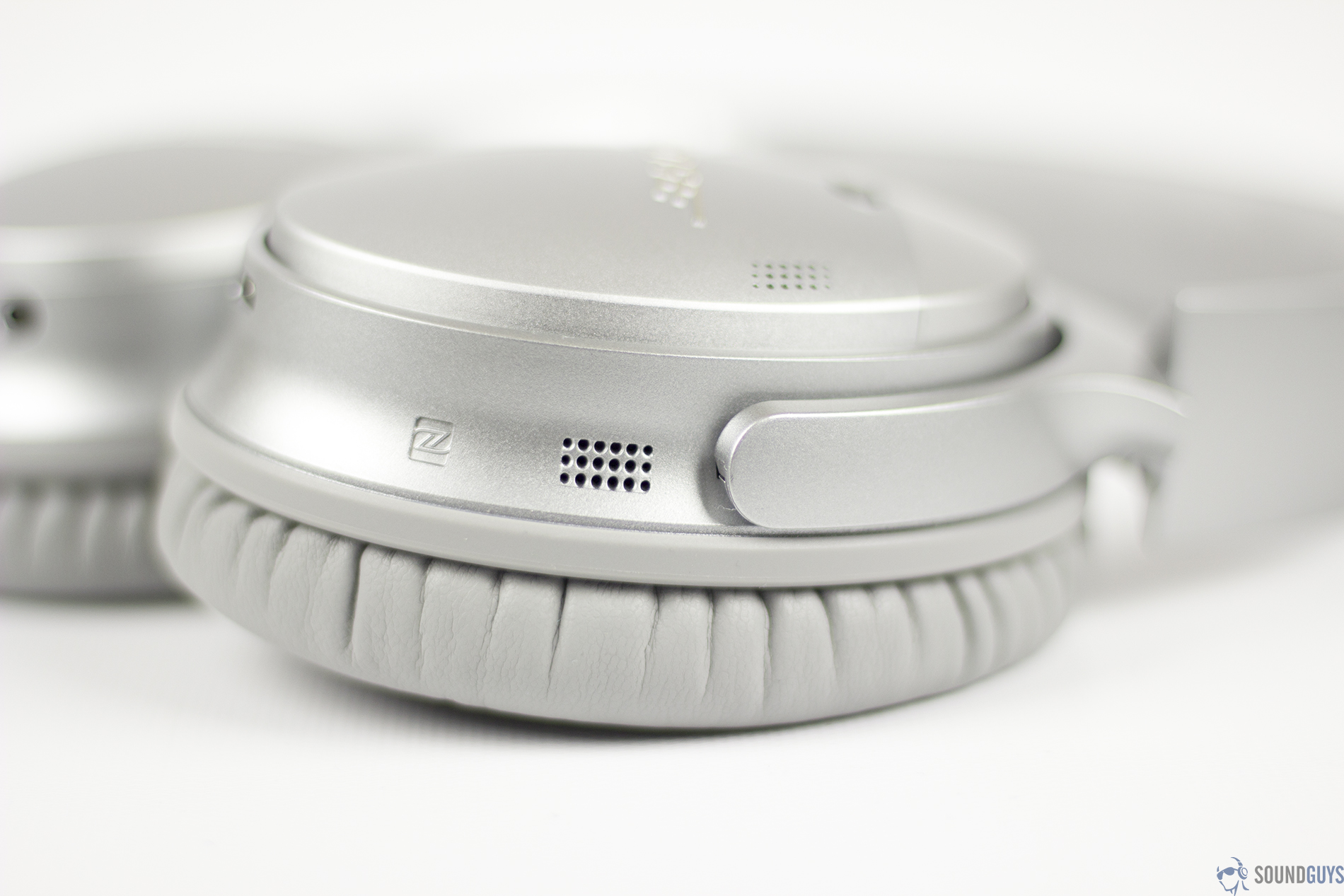 This time around the microphone and playback controls are now incorporated into the headphones instead. Bose also decided to ditch the AAA battery required for the QC25s in favor of a rechargeable lithium-ion battery that's built into the headphones. This is good since you won't have to worry about finding another AAA battery when it dies, but bad if your headphones die mid-flight since you'll have no choice but to find a way to recharge them if you want ANC. All that, plus the active noise canceling components makes the light weight of these headphones pretty impressive. Sure they're heavier now, but only just. Maybe it's the extra padding on the headband or something like a placebo effect, but these still feel very light and not heavy on the head at all.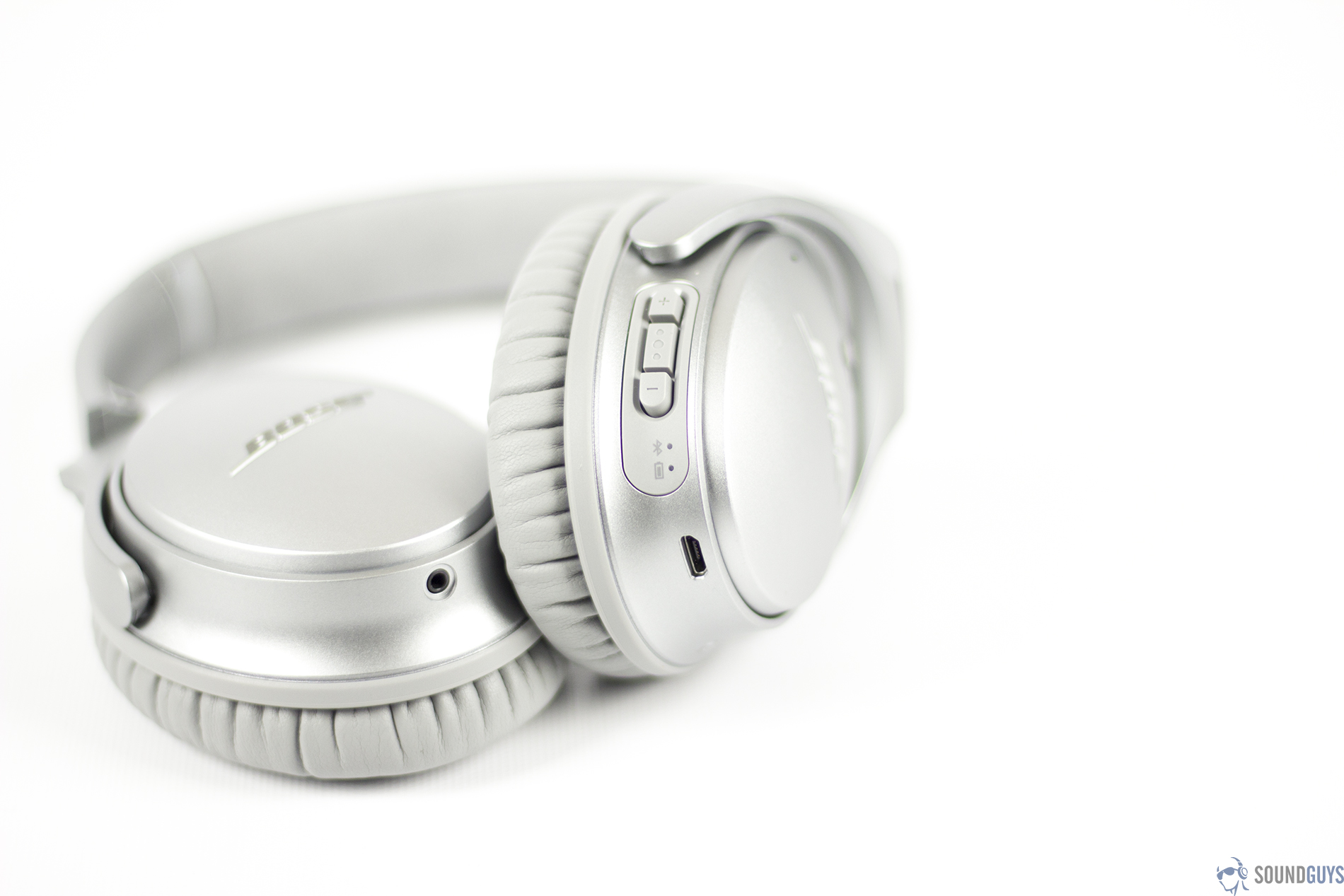 The headband is still very flexible and the headphones can fold down even smaller thanks to the ear cups being able to rotate 90-degrees and the headband folding at the hinges. The left ear cup still has an audio input for those times when the battery dies, but besides a tiny little microphone that's all you'll find. The right ear cup is where the magic happens. On the side there's the power/Bluetooth pairing switch and two small grills where the microphones are. On the bottom of the ear cup are small indicator lights and the playback controls. One little thing that I appreciate is that the volume buttons are slightly raised above the multifunction button in the middle which helps to easily locate them while wearing them.
Connection
Bose doesn't really like to take too many risks with their products, and the connection is a great example of this. It does't have any crazy 100 foot range like we've seen in some Bluetooth speakers, but within the standard 33 foot range the connection works great. There wasn't any skipping unless I was at the fringes of that 30 feet with a wall or two in the way. For regular usage, these should work just fine. You can control volume, skip between tracks, answer/end phone calls, and pause or play music just with a simple taps and clicks. There's also a new app to go along with these but honestly I'm not sure why. There isn't much extra functionality you get out of the app and it kind of seems like a waste to me. The only useful feature as far as I can tell is the ability to set a timer for the headphones to automatically turn off so that you can save battery. It also tells you how much battery is left and lets you rename the headphones, but was an app really necessary to do that?
Battery Life
Since you no longer need triple AAA batteries, you'll have to rely completely on the built-in battery. Bose claims that while you're connected via Bluetooth and have ANC turned on, the QC35s will give you a solid 20 hours of constant playback and in hour testing that was pretty spot on, though we got slightly less about 18 or 19 hours. If you're going to be taking an obscenely long flight where you'll need more than that, you can always plug in the included audio cable and only use ANC, which will double the battery life to about 40 hours.
Sound Quality
As one would expect, the ANC on these is great. Even without music playing a good amount of outside noise disappears the moment these touch your ears. We did most of our testing with ANC turned on, but we also did some testing with it turned off just to see if it affected sound quality and though soundstage does seem a little more constricted with ANC, it wasn't anything too drastic.
Bose isn't known for having the biggest bass, and the QC35s are no exception. But if happen to throw too much bass at them while they're on max volume (like in the song "Unnecessary" by Childish Gambino), they do seem to have a weird rattle that wasn't present in the previous version. That said you probably shouldn't be blasting music into your ears at that volume anyway, but it's just something to take note of. If you listen to your music on regular volumes you won't have an issue.
As you may have guessed these are great in the mid-range, but Bose products usually are. Instruments that live in the mids like strings and even vocals have a good amount of detail and just sound gorgeous. A good example is in "La Valse d'Amelie " by Yann Tiersen where nothing gets lost in the mix and there isn't any muddiness at all.
Highs sound good but mainly because there isn't harshness at all, even at max volume. Of course, this could be (and probably is) because of how Bose tends to cut off highs leaving less detail, but that's a price I'm willing to pay to not deal with piercing any piercing sounds. Overall, these provide a comfortably pleasant listening experience.
Small side note: call quality was really good on these as well. When you answer a call the ANC is turned off and the microphones in the headphones let you hear what's going on around you too which is a nice touch.
Conclusion
Bose products are so hard to hate, and it's never been so apparent to me than with the QC35s. Don't let anyone tell you different, these are a really good pair of headphones. With the exception of one or two things, they're basically perfect. Of course this is assuming you don't mind the tweaks to the sound (which a lot of people seem to). But it's still so hard to justify the $350 price tag. Sure these are super comfortable, and the ANC is great, but I've heard headphones that are literally a third of the price with 80% of the functionality. That said, if you tend to like Bose products chances are you'll like these too.
Frequently asked questions about