If you can breathe, you probably like music and since you're reading this it's a safe bet that you enjoy headphones of the in-ear variety. We've already taken a look at the best earbuds under $50, and there were definitely some winners there, but now it's time to kick it up a notch. Earbuds are by far the most portable form of headphones available and for good reason. Even the best studio headphones money can buy can't be wrapped into a ball small enough to be stuffed in your pocket.
There are plenty of other reasons to invest in a good pair of 'buds as well. Maybe you find over-ears uncomfortable, or maybe you have great hair and don't want over-ear headphones to mess it up (not the case with me). Whatever the reason, it's probably time for you to stop using the cheap pair that came with your phone and pick up a pair that will give your music that extra layer of detail you've been missing out on. After all, isn't that the goal?
There are a lot of headphones out there and though it's impossible to make a list with all of them we did our homework, tried some out for ourselves, and made this list for the best earbuds under $100.
You might also like: Best Earbuds under $50 / Best Noise Canceling Earbuds / Best headphones under $100
Thinksound Rain2
by Thinksound – ($89.99) Amazon.com
Assuming you enjoy living on Earth (who doesn't), you'll probably like what Thinksound has to offer. Not only do they make quality audio products but they do it in an eco-friendly way. Even the box that it comes in is made of cardboard and is completely recyclable. Send in your old headphones to be recycled and you can get 25% off a new pair. Saving the world is a night time job, but during the day the folks at Thinksound have one goal for their products: great sound quality. They make it very clear what their priorities are and in our full review of these, CEO Aaron Fournier commented saying that their "Engineering and quality is not that of a lifestyle brand. We are a hifi company concentrating on audiophile products." If you get a chance to give these a listen, you won't doubt his statement.
The Rain2 in-ears are the second iteration of the highly successful Rain in-ears and were sonically improved enough to earn the number "2" at the end of the name.
The sound quality is top-notch and the all wooden housing allows for a more flatter response so if you're looking for accuracy these are for you. The acoustically enhanced 8mm drivers is the cherry on top and is the culprit behind the 18Hz – 20kHz frequency range. Besides the housing the Rain2 in-ears have a 4 foot long kevlar reinforced, tangle-free audio cable that ends in a 45-degree audio plug. This makes it slightly longer than the average cable (about 3.3 feet long) and that extra wire gives you a little more maneuverability. Throw in the fact that they're sweat resistant as well and these aren't a bad option for the gym.
It's worth mentioning that the Rain2 earbuds are meant solely for enjoying music, so you won't find any microphones or playback controls on these. That said unless you absolutely need to have a microphone for whatever reason, that shouldn't be enough of a deterrent to stop you from giving these a shot. They come with an eco-friendly carrying pouch made entirely of cotton and four silicone ear insets of varying sizes (s,m,l,xl), so finding the right pair to make these work for you shouldn't be too hard. Don't skimp out on trying out the different sizes either because a good fit can significantly decrease the ambient noise as these are naturally noise-isolating.
Overall, if you're looking for a flat and accurate sound these are the way to go. They have received 3.9 out of 5 stars on Amazon and score an impressive 9 in our full review. Besides, it feels good to save the world by listening to music.
Buy from Amazon ($89)
---
Shure SE215
by Shure – ($99.00) Amazon.com
Many audiophile have heard of Shure, they've been in the audio game since 1925 and have had a lot of practice when it comes to what makes great sound and what doesn't. Though their products are mainly aimed at the higher end of the audio world, they occasionally take that expertise and bring it down to the consumer level with great results every time. The Shure SE215 in-ears are a prime example of that. Their pedigree can be traced back to professional grade in-ear monitors that are used for live performances, so you would expect them to sound great and you wouldn't be wrong.
They feature an enhanced bass dynamic micro driver that provides a full sound with a more detailed low-end. This makes sense if you consider the fact that musicians performing live have a tougher time hearing the lows while on stage, so the in-ear monitors they use has to make up for that. It's also a good thing simply if you enjoy bass heavy music. Another design feature of the SE215's borrowed from their high end cousins is their over-ear style. This design choice keeps the wires from getting in the way of anything you do. These could be a good choice for anyone who works with their hands and would prefer to have the audio cable behind them instead of dangling in front of their chest where it can easily be snagged.
Luckily the cable is made of a Kevlar reinforced cable so even if they do get snagged on something they won't rip.
If you're the unlucky person that they do break on, or you just wear them down, you can always simply replace the wires as they are completely detachable. Shure included a gold plated MMCX connector with a lock-snap mechanism so that you can disconnect them from the 'buds if they ever need replacement, saving you $65 since the replacement cable is only $35. That's something to keep in mind if you're hard on your headphones and don't feel like dishing out $100 for a new pair every time you damage the wire.
These can go up to 107 dB and has a frequency range of 22Hz – 17.5kHz. These come in two colors: a transparent black with solid black cables or clear. Personally I would go with the clear ones just to feel like an android when I wear them but hey, everyone is different. Again, these are lacking a microphone so if you make or take a lot of phone calls that's something to keep in mind. With over 1,900 customer reviews on Amazon these have a rating of 4.1 out of 5 stars. 55% of those reviews resulted in 5 stars, so it's safe to say these earned their spot on this list.
Buy from Amazon ($99)
---
Bose Soundtrue
by Bose – ($99.99) Amazon.com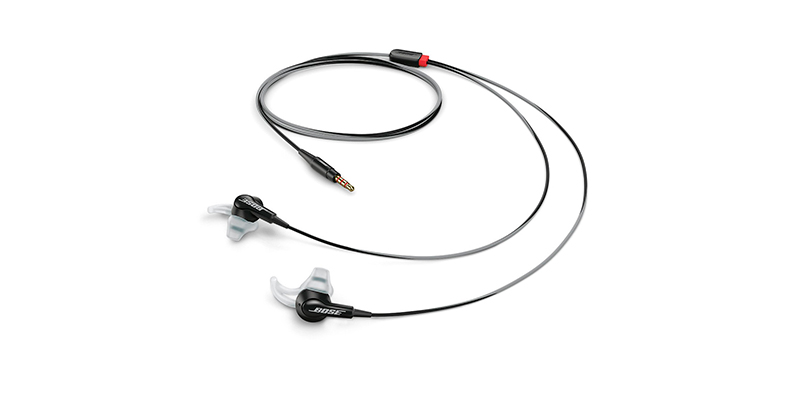 Bose is one of those companies that people seem to have a lot of opinions about. Partly because they are one of the most well-known brands in consumer audio, but also because many consider their products to be overpriced. Though that may be true in some cases, it's certainly not the case with the Bose Soundtrue in-ears. This model in particular is made for audio only and desn't come with an in-line mic or playback controls. If you can't live without either of those then be prepared to dish out another $30 for those options, but if you can live without it these should get the job done and then some.
The StayHear tips make sure that these won't be going anywhere by fitting comfortably in your ear.
They feature the signature StayHear tips that Bose is so well known for with light gray letters on the side spelling out the brand name. On top of that, the drivers are oriented so that sound is spilled straight into your ear with little interference. The headphones comes with 3 sizes of tips so you can find the one that's most comfortable to you. Though they're not deemed water-proof or even water-resistant, I did throw mine in the wash twice accidentally and they came out in perfect working condition. I'm sure that won't be the case for everyone but it is a testament to the build quality and durability of the Soundtrues.
Bose uses their exclusive TriPort technology to help get the best out of the sound. The lows aren't emphasized at all, but they're not exactly what you would consider "flat" or neutral. They meet somewhere in the middle which makes them very enjoyable for the average consumer. Vocals are clear and harshness towards the high end is minimized, even at high volumes. Overall they're a solid pair of in-ears and the sub-$100 price point makes them a great option for music fans.
Where these excel over the other 'buds on this list are the color options. They come in black, white, cranberry red, indigo, and ice blue and even come with a colored carrying case to match. They've received an overall score of 4.7 out of 5 stars on Amazon. Not a bad deal for the price.
Buy from Amazon ($99)
---
Klipsch R6
by Klipsch – ($79.00) Amazon.com
Another pair of 'buds well worth the price tag are the R6 in-ears by Klipsch. The company had huge success with the S4 series and the R6 in-ears build upon that reputation. If you're the type of person that has trouble getting earbuds to fit, you're not alone. It's a common occurrence among in-ears which is why Klipsch made these with contoured ear tips to securely fit in your ears. On top of that are silicone ear tips which help to get that perfect seal that's so important for earbuds.
The R6's are made of a durable lightweight aluminum and have a tangle free cable which makes these perfect for anyone who's a bit rougher on headphones than the average person. The housing is a bit smaller than previous versions and that's to allow a higher level of comfort level. they manage this by using 6.5mm dual-magnet drivers in each 'bud. Though they're slightly smaller they still have a frequency range of 10Hz – 19kHz, so if you're looking for some low-end that you can enjoy without ruining any of the upper frequencies these aren't a bad option at all.
Depending on what your intended usage is going to be, there are three different models that you can choose from.
The standard R6 in-ears are the bare bones model intended solely for enjoying music. If you need a little more functionality and have an iDevice then you can opt for the R6i version which comes with a 3-button remote and mic for playback controls and phone calls. If you're rocking a phone that isn't an iPhone, then you might better off going with the R6m as they have a single button remote that is compatible with basically everything else, even PS4 and Xbox One.
Klipsch seems to have their build quality down to a science and judging by the 3.6 out of 5 star rating on Amazon, they seem to have the sound quality down as well making these a great pick for under $100.
Buy from Amazon ($79)
---
The market for in-ears is one of those that doesn't seem to be slowing down any time soon. Name a company that dabbles in portable electronics and they most likely have a pair of earbuds on the market. With new companies arising everyday and phone manufacturers taking the included earbuds a little more seriously, we're sure that this list won't stay stagnant for very long.
That said we'll keep it updated so you can feel confident that these are the best of the best whenever you happen to be reading this. If you have any suggestions let us know in the comments below and we'll be sure to check them out. Happy listening.
Didn't find what you were looking for? Checkout these related best lists:
This post may contain affiliate links. See our disclosure policy for more details.