All products featured are independently chosen by us. However, SoundGuys may receive a commission on orders placed through its retail links. See our ethics statement.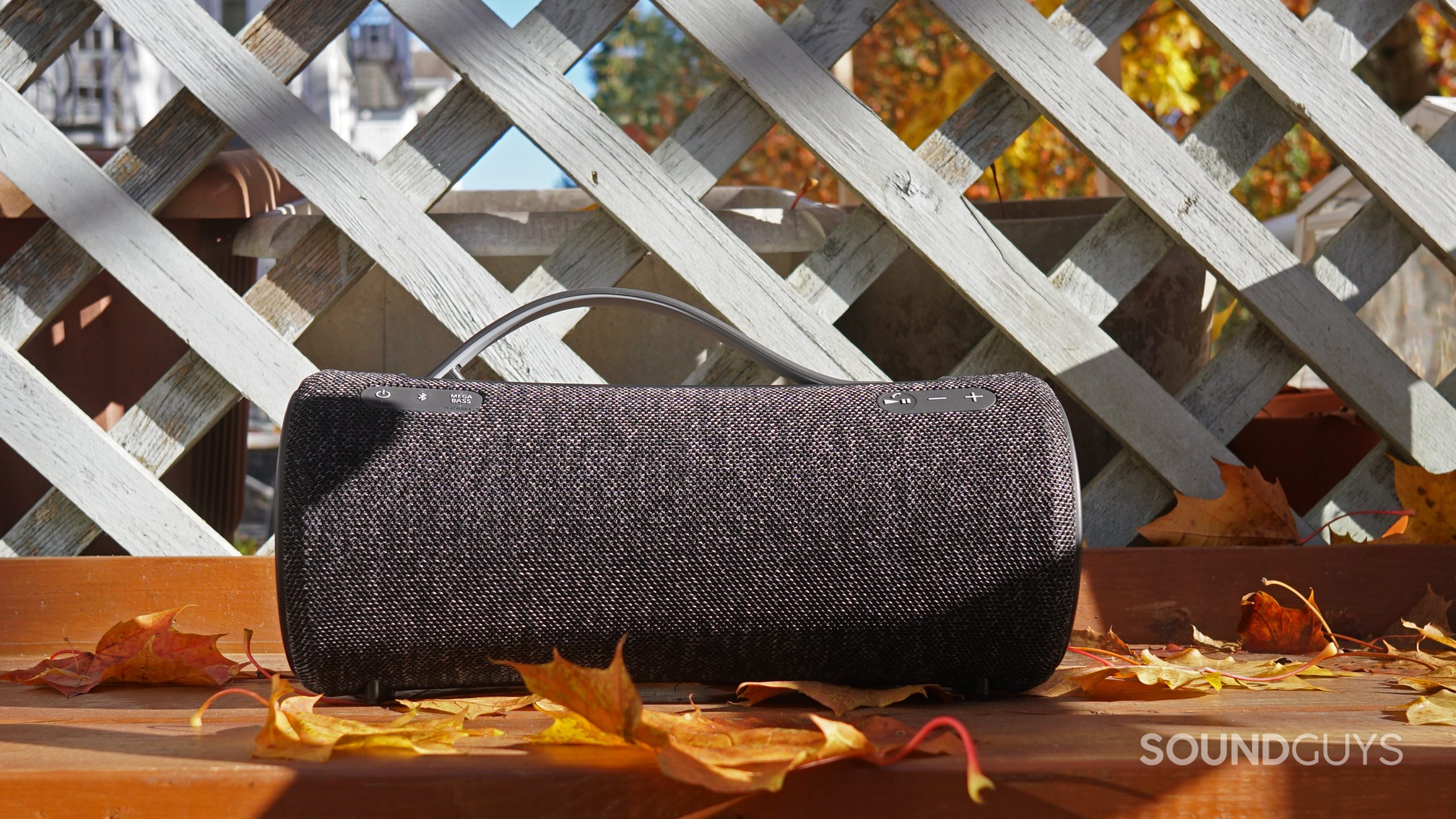 The bottom line
The Sony SRS-XG300 is an expensive but very capable Bluetooth speaker. While the handle makes it pretty portable, the weight keeps it from being the lightweight speaker to bring on a trip you may be looking for.
Sony SRS-XG300
The Sony SRS-XG300 is an expensive but very capable Bluetooth speaker. While the handle makes it pretty portable, the weight keeps it from being the lightweight speaker to bring on a trip you may be looking for.
What we like
Loud
Connection options
Handle
IP67 rating
What we don't like
Expensive
Heavy
The Sony SRS-XG300 is the company's latest attempt to capture the outdoor speaker market. This is the largest (and most expensive) of Sony's recent Bluetooth speaker releases, and it's clearly aiming to be the life of the party, rather than your next hiking buddy. It's heavy and were it not for the top handle, it'd be pretty clumsy. Is this loud enough to DJ your next outdoor dance party, or is it just another pricey option with all the same features as the competition?
About this Sony SRS-XG300 review: We tested the Sony SRS-XG300 over a period of a week. It ran firmware version 2900, and the Music Center app ran version 6.7.1. The company provided the unit for this review.
What you need to know about the Sony SRS-XG300
The speaker is waterproof, and the fabric covering doesn't seem to get waterlogged very easily.
Sony SRS-XG300: $348 USD /€249
Billed as the top-of-the-line model in Sony's recent X-series speakers, the SRS-XG300 is meant to fill whatever space you take it to with sound. This Bluetooth speaker features a cylindrical design, and it's meant to lay on its side, as indicated by the rubberized feet on the bottom. There's a passive radiator on each end of the cylinder, ringed with colored LED lights that will pulse to the beat of your music. The speaker also features two woofers and two tweeters at the front, so this is not an omnidirectional product.
Much like the SRS-XE300, this speaker is IP67 rated, which means it's dust- and water-resistant—you can even submerge it fully in water. The onboard controls are all rubberized, and the spot at the back with the charging, input jack, and USB power output is covered by a panel with a gasket to keep water out. If you have this by the pool and you can't be bothered to swim over and press a button, there are hands-free controls too.
The XG300 uses Bluetooth 5.2 and supports the SBC, AAC, and LDAC codecs, which means you'll have a high-quality option for iOS and Android devices, though to call LDAC hi-res is an overstatement. Speaking of sound options, this has lots—the speaker uses the Sony Music Center app (Android/iOS) for changing EQ presets, and linking your different streaming music libraries on YouTube Music and Spotify together with your local files.
When you're listening to music, there are a handful of onboard features to change or improve your experience, depending on your environment. The speaker features a Mega Bass button you can turn on to really ratchet up the low-end output, and it definitely does that—even a deeper voice on a podcast will sound especially boomy. Holding that button will also turn on the "stamina" setting, which turns down the bass output, seemingly to preserve battery life.
What's good about the Sony SRS-XG300?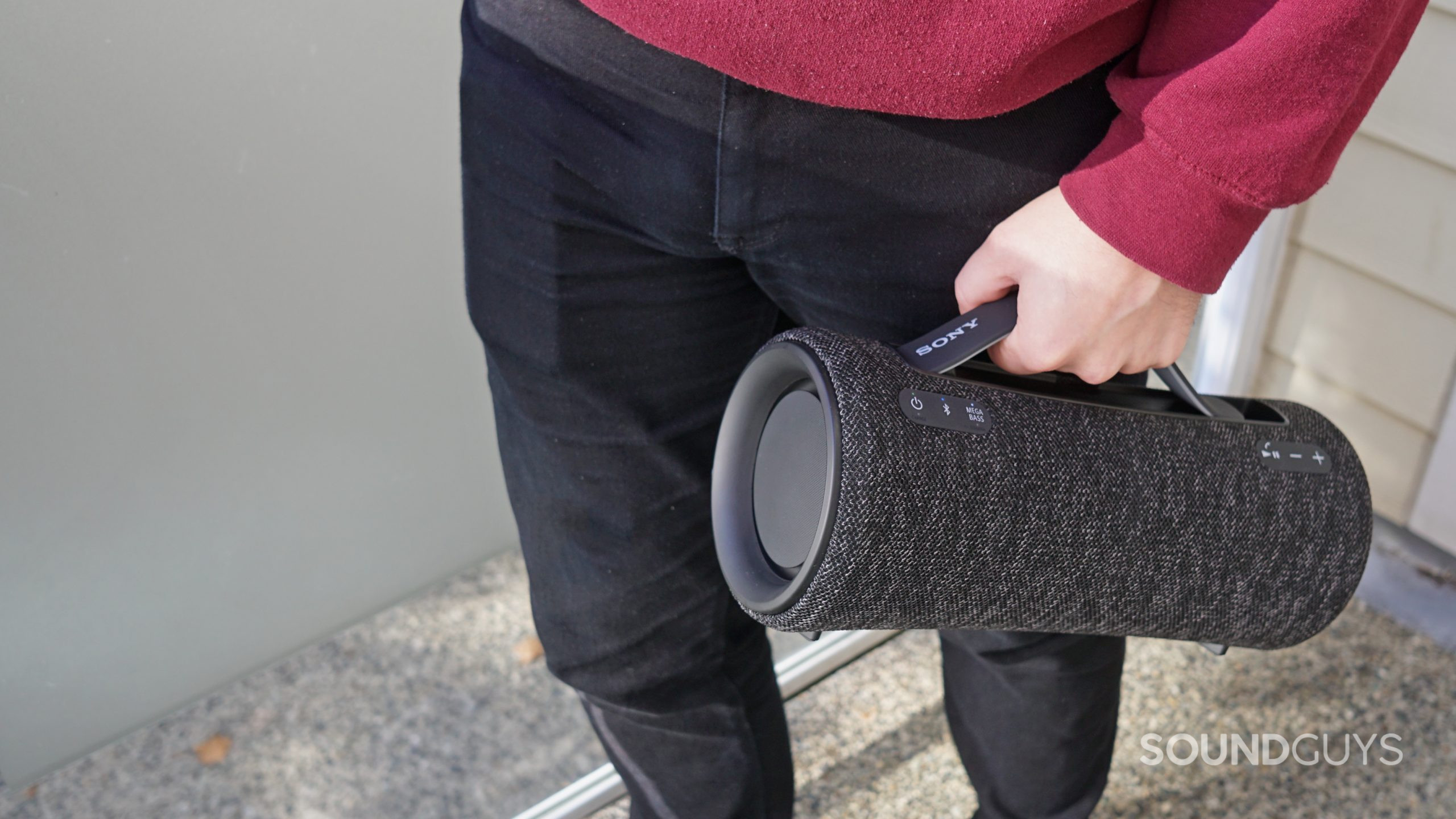 The handle is pretty useful.
There's a lot to like about using the Sony SRS-XG300. For starters, the collapsible handle feels really nice and works well, which is important, given the speaker weighs just over 3kg (6.6lbs). This isn't quite your next hiking companion, but if you're looking for something loud that you can easily walk around carrying, or transport from location to location, the XG300 will work.
This speaker is also loud enough to serve as a fine home speaker. Sony provides a wall charger, so you can easily set the SRS-XG300 on a shelf plugged in and let it live there. If you want to take this to the beach or out on a picnic, the handle and IP67 rating mean the SRS-XG300 is very capable in that area too.
The Mega Bass mode adds a frankly unpleasant amount of bass in most indoor situations, but it can come in handy outside, where bass dissipates freely. When the setting is turned off, things actually sound pretty good. Listening to New Lands by Justice, the bass is still there, but it doesn't run roughshod over the vocals or the synthy strings.
Music Center is also pretty easy to use, though it is a little barebones. You can update the firmware (and there was an update waiting when I first connected the XG300), and it's easy to swap between Mega Bass, Live Sound (I didn't notice much difference between that and the default profile), and a custom EQ you can set. Accessing your local music library, in addition to what you have saved in Spotify or YouTube Music, is similarly quick, though navigating to individual apps is hardly a chore most of the time.
The connectivity options are also really nice. The XG300 supports Bluetooth multipoint, and switching between audio coming from my phone or my laptop works pretty well. There's a little delay when both devices play audio in rapid succession, though. You can also pair the speaker with other Sony speakers using the Music Center app—you can either pair two XG300s for stereo mode or a larger group of SRS speakers for Party Connect.
What's not so good about the Sony SRS-XG300?
The LED lights ringing the passive radiators are barely visible, even in low light, unless you're looking directly at them.
A few things stick in my craw while using the Sony SRS-XG300. This is a wireless, dust- and water-resistant speaker, but its weight and shape mean it isn't quite right for many activities where you'd want water or dust resistance. You're not going to take a speaker that weighs more than some dumbbells on a hike. Additionally, while the fabric that covers most of the speaker is nice, there's only so much moisture wicking it will be able to take—give this a dunk in the pool, and it's going to get waterlogged, which will change how it sounds.
I'm also a little unclear about why there are colored LEDs on here. The lights pulse to the beat of the music, but they're so dim that even in a darker environment, they don't exactly throw much light around if you're looking for a visual aid on the dance floor. Speaking of pointless things, the XG300 also uses the Fiestable app, which lets you add sound effects like record scratches and air horns to whatever audio you're playing, and that's it.
Battery life is also a concern. Sony claims the XG300 can last 25 hours on a single charge, but in our testing, it doesn't even make it to 14 hours. It's normal for a product to not land right on the mark regarding battery life—sometimes it overshoots, and sometimes it's a little under. However, this much of a shortfall is pretty significant. If you listen at low volumes and make sure to keep the stamina mode on, you may get better results. Regardless, you probably shouldn't expect to make it a day with this speaker.
Sony SRS-XG300 specs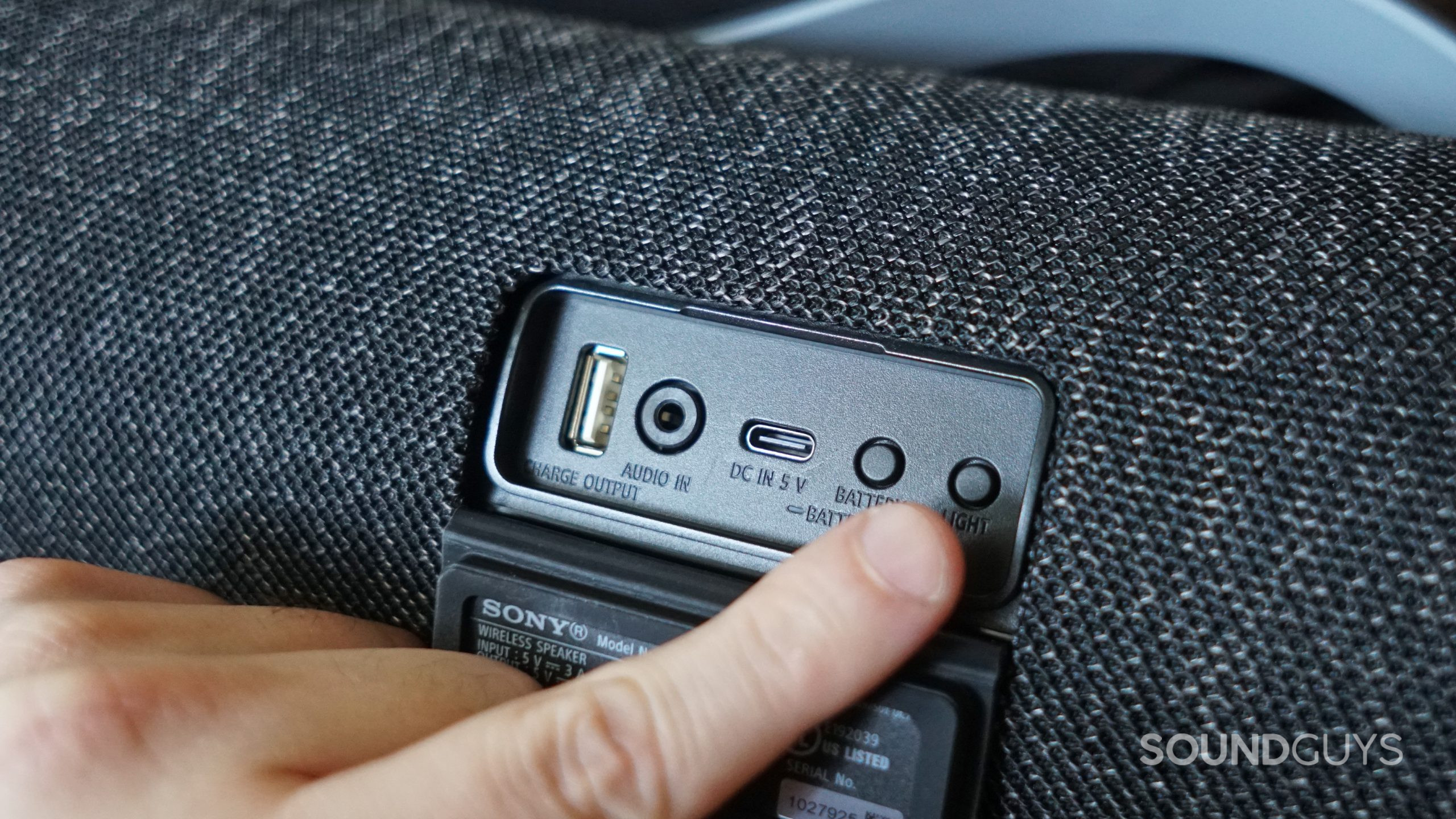 It's nice that this speaker has wired input option.
There's a lot going on with the Sony SRS-XG300 on paper, so here's a list of all the important specifications you may care about.
Sony SRS-XG300

Size


318 x 138 x 136 mm


Weight


3kg


Audio specs


L/R tweeters
L/R woofers
2x passive bass radiators


Audio inputs


3.5mm TRS


Wireless audio connection


Bluetooth 5.2 (SBC, AAC, LDAC)


App


Music Center app (iOS/Android)


Controls


Speaker: Buttons
App/phone: playback, volume


Price


$348 USD

Sony SRS-XG300 review: Should you buy it?
If you've got a lot of cash to burn, this is a way to do it.
On paper, the Sony SRS-XG300 has a lot going for it: Bluetooth 5.2 and LDAC, multipoint, an IP67 rating, a handy handle, and big boomy speakers, to name a few. All that stuff is true in practice too, but it doesn't change the fact that this is expensive, and it doesn't feel meaningfully better than its smaller sibling, the XE300. Obviously, the XG300 is louder, but a volume increase is probably not enough to justify a $150 USD price increase if you're on a tight budget.
There are a lot of great Bluetooth speakers out there, and most of them don't cost nearly as much money as the XG300. If you're a big hiker, something more compact like the JBL Flip 6 might be more your speed—it won't get as loud, but how loud does it need to be strapped to your backpack? Similarly, if you're looking for a shower speaker, you'll want something small enough to sit on a shelf or hang on a stall—we've got a whole list of great options to check out.
Sony SRS-XG300
Sony SRS-XG300
Retractable handle • Built-in light show • IP67 waterproof
This medium-sized Bluetooth speaker brings the party with you
The SRS-XG300 is a fairly large Bluetooth speaker with big bass, a light show, and a retractable handle, making it perfect for partiers on the go. It's also IP67-rated, so it's ready for a day at the beach.
Frequently asked questions about the Sony SRS-XG300
Yes! Like the XE300, the XG300 is available in black and light gray.
The back panel of the Sony SRS-XG300 features a functional 3.5mm aux input, so anything you want to plug into that should work just fine.