All products featured are independently chosen by us. However, SoundGuys may receive a commission on orders placed through its retail links. See our ethics statement.
The bottom line
The Sonos One (Gen 1) is compatible with Alexa, Airplay, and Google Assistant. It also can be added to any Alexa group with other Sonos smart speakers or Amazon Echo devices. Though the Sonos One (Gen 2) is now available instead of the original, they can be paired together if you already have one of the originals.
Sonos One (Gen 1)
The Sonos One (Gen 1) is compatible with Alexa, Airplay, and Google Assistant. It also can be added to any Alexa group with other Sonos smart speakers or Amazon Echo devices. Though the Sonos One (Gen 2) is now available instead of the original, they can be paired together if you already have one of the originals.
What we like
Sound quality
Microphones pick up voice reliably
Spotify voice support
What we don't like
Convoluted setup process
Treble notes are hard to hear
Sonos One (Gen 2) is the same price with improvements
Smart speakers are the latest craze, and there's a whole battle going on that you may or may not have realized you're already a part of smart assistants. What began as a cool new feature on your phone is quickly blossoming into an entirely new ecosystem of products. And if you don't pay attention, you might end up dividing your life in annoying ways. One company that doesn't need you to choose is Sonos. Whichever assistant you end up letting run your life, your Sonos will work with it; starting with the Sonos One (Gen 1) speaker that has Alexa, AirPlay, and Google Assistant built in.
Editor's note: this Sonos One (Gen 1) review was updated on April 26, 2022, to address the Sonos One (Gen 2).
The Sonos One (Gen 2) replaces the One (Gen 1) and you can really only find the Sonos One (Gen 1) secondhand or renewed.
The Sonos One (Gen 2) has a faster processor to register and respond to your commands with greater haste. It also has Bluetooth Low Energy for a faster initial setup. Neither Sonos One speaker supports Bluetooth streaming and neither has an aux input but both have ethernet ports.
(Click the image to expand.)
---
How is the Sonos One (Gen 1) built?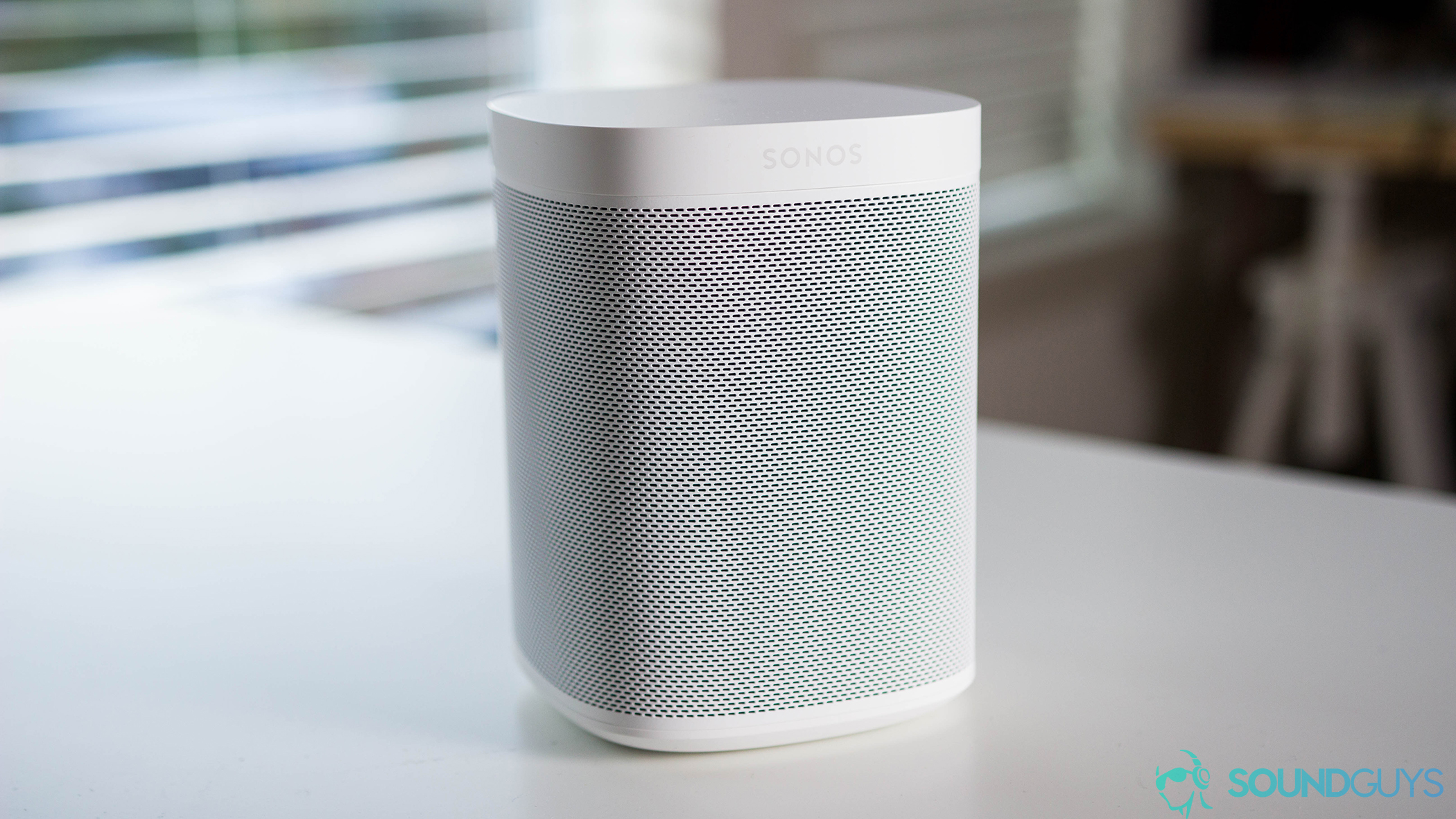 The Sonos One has an unobtrusive design that will look nice in any room.
The Sonos One (Gen 1) is a little over 15 centimeters tall and has a far-field microphone array that quickly registers voices. The speaker is surrounded by a matte white grill (also available in matte black) save for a plastic stripe down along the back which has the ethernet input (if you'd prefer to hardwire it over using Wi-Fi). Up top is where you'll find all of the touch-sensitive controls that allow you to control volume, and turn the microphone off and on—handy if you or someone you know doesn't want the speaker listening for a hotword for whatever reason.
Overall, the plastic finish doesn't feel cheap and it's smooth to the touch. Even though this isn't a waterproof Bluetooth speaker, it's humidity resistant; so as long as you have a safe power outlet to plug into, you can keep one of these in your bathroom. Because yes, you will have to plug it in. This is a Wi-Fi home speaker—not a portable one. It sticks to the minimal design that most Sonos products have, so whether you keep this on your bookshelf, kitchen counter, or in your bathroom: it blends in perfectly and doesn't stand out. It's there to play music for you, and it does it well. But more on that later, first let's get into the most interesting part of this speaker which is the connection and Alexa features.
What's it like to use the Sonos app?
Touch controls on top of the Sonos One let you control your music if you don't want to use your voice.
The Sonos app is part of what makes the Sonos One (Gen 1) a great smart speaker. It is surprisingly smooth and easy to navigate. Whether or not you use it is up to you, but I've been pleasantly surprised by it. Now, this is the only Sonos speaker in my apartment, but if you're already in the Sonos ecosystem then you'll definitely want to use this app as you can group other Sonos or Amazon Echo speakers together and control what plays where. A single Play One is more than enough to resonate through my apartment, but a second one in my bathroom would be golden. Plus the microphones on top do a great job picking up my voice even with music playing at a decently loud level.
How do you connect the Sonos One (Gen 1)?
First things first: setup is both super easy and weirdly convoluted. After plugging it in, the Sonos One automatically found my Wi-Fi, and I was able to select the One on the device controls in Spotify. But what was a confusing mess of screens, permissions, and apps was the process of connecting. You have to download the Sonos app, which then makes you download the Alexa app, which then needs to be connected, which then needs permissions. It's not necessarily difficult but it was definitely confusing. A streamlined process would be a little nicer for the average person.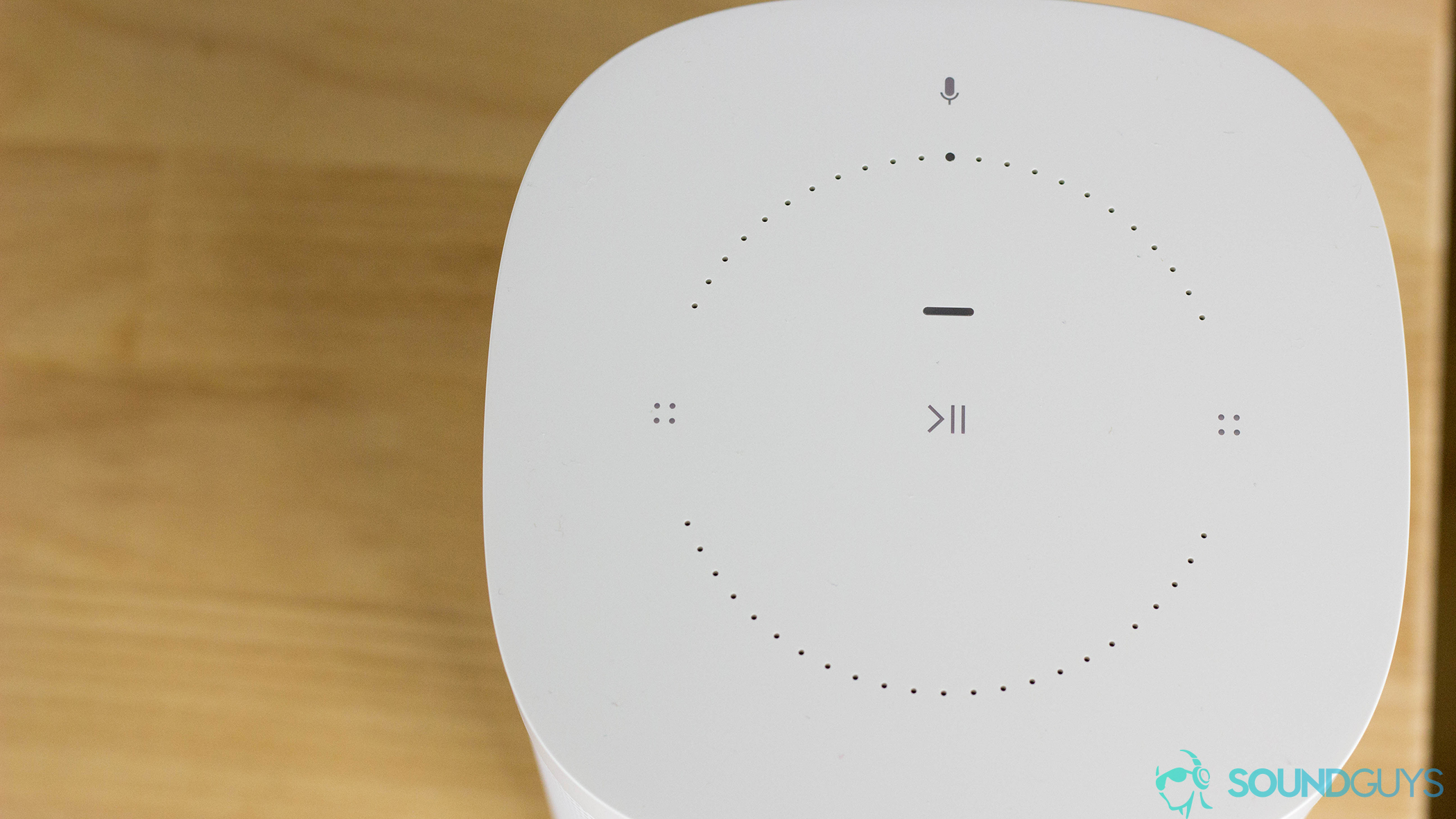 The Sonos One has touch-sensitive controls on its top in lieu of buttons.
Though the only streaming service Sonos One used to allow for voice-controlled playback was Amazon Music, it now works with Spotify too. Unfortunately, it does not work with Apple Music, and it doesn't seem like Sonos plans to add this functionality anytime soon. In addition, while the Sonos One originally only supported Alexa, it now supports AirPlay and Google Assistant.
How does the Sonos One (Gen 1) sound?
The Sonos One has a loud response thanks to its two Class-D digital amps.
The Sonos One gets loud. Keeping it on 50% is more than enough to enjoy music from anywhere in my apartment. For an entry-level speaker, the Sonos One (Gen 1) sounds very good.
Lows, mids, and highs
The lows in the speaker get deep thanks to a dedicated mid-woofer, and though it's definitely a little too much for my taste, it's not bad at all. Bass notes come through clearly without masking the mids. If you decide to hook this up with other speakers for surround sound while watching a movie, lows will handle Michael Bay explosions just fine. Mids sound great too and make it easy to hear detail from guitar strums and vocals like the intro of The Strokes' song Someday.
Besides a slight weakness in the high frequencies, the Sonos One produces very good sound.
Normally when the vocals come in you can hear a slight dip in the quality of the guitar as it dips into the background, but the Sonos One does a nice job handling the transition. If there's one area of sound that I'm not a fan of it's how the speaker handles cymbals and hi-hats. The louder mids mask treble reproduction, making it hard to hear cymbals during the song Step by Vampire Weekend.
Hold up! Something's missing:
This section is typically where we display a frequency response chart to show you exactly where the audio output shines and where its deficiencies lie. We're still ironing out our standardized speaker tests with the appropriate support equipment to update our testing and data collection. It will take a bit to get everything fleshed out, but we will update this review (and many others!) once we're able with improved sound quality measurements and performance plots. These will be made obvious by a new chart aesthetic.
Thank you for bearing with us, and we hope to see you again once we've sorted everything out.
Should you buy the Sonos One (Gen 1)?
Though the Sonos One (Gen 2) is available now for the same price, the original Sonos One (Gen 1) isn't bad at all if you can get it refurbished or on sale, but that's a big "if." If you want the flexibility of choosing whatever assistants you want without needing to buy brand new hardware, the Sonos way might speak to you. Considering that some other speakers are just as expensive, don't sound nearly as good, and don't have smart assistants make the Sonos One (Gen 1) that much more appealing to me.
Especially now that the Sonos One supports Spotify voice control and is compatible with AirPlay and Google Assistant, it's still a great option for a smart speaker. And, if you have multiple Alexa-enabled devices, you can group them with the Sonos One (Gen 1) so long as they are either Amazon Echo or Sonos devices. Whether you're already neck-deep in the Sonos ecosystem or are making your first Sonos purchase I don't think you can go wrong with this little guy.
What should you get instead of the Sonos One?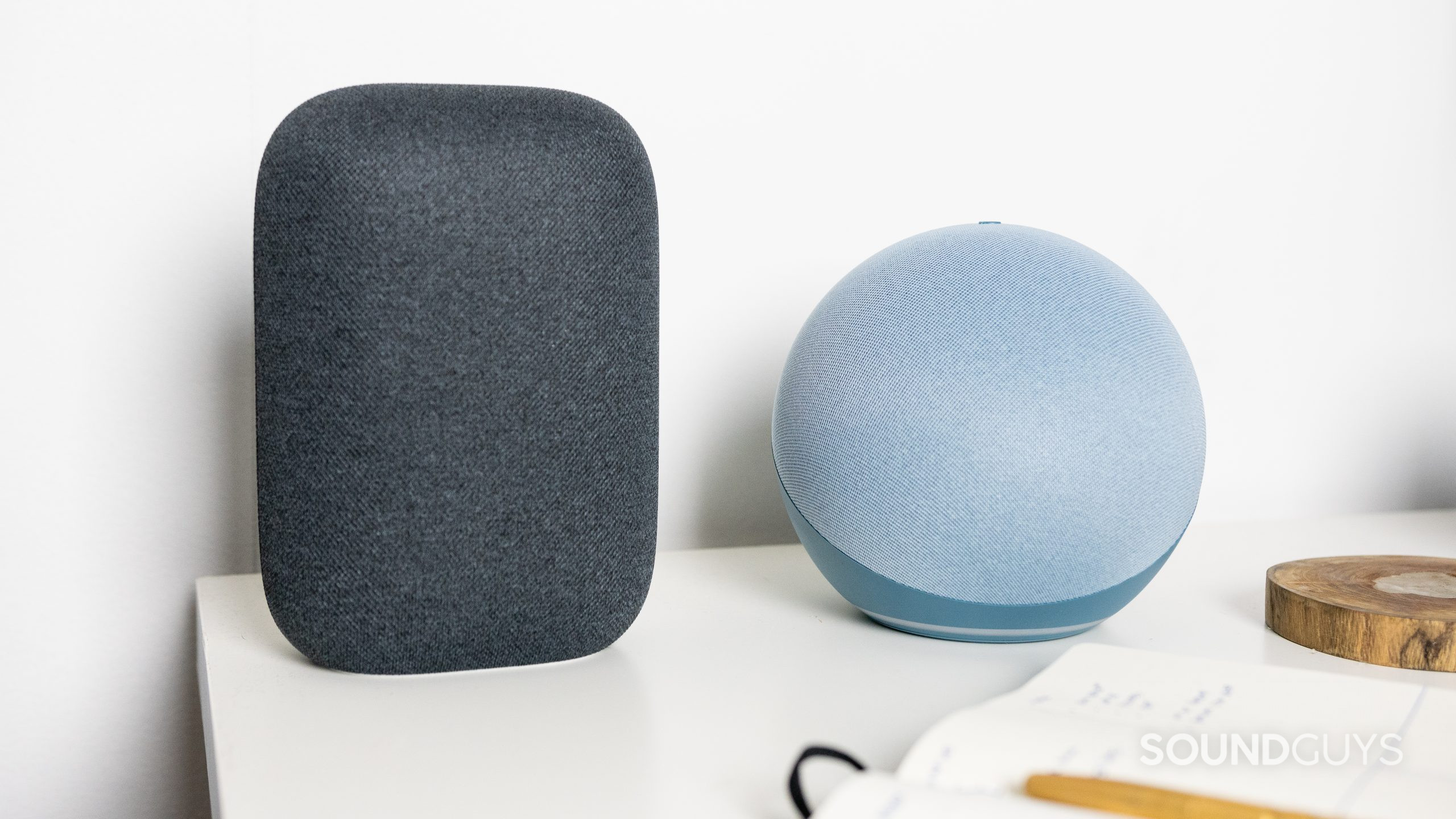 The Nest Audio (right) is taller than the Amazon Echo (4th Gen) (left), and it lacks a 3.5mm input for wired playback.
There are a few obvious alternatives to the Sonos One: the Google Nest Audio, Amazon Echo (4th Gen), and Apple Homepod mini. Each smart speaker supports direct voice access to its respective assistant, and the best option for you is whatever ecosystem you're already embedded in. If you're starting from scratch, the Echo (4th Gen) often goes on promotion, so you can usually snag it for a good deal. You can read all about how the Echo (4th Gen) compares to the Nest Audio.
Anyone who owns an iPhone, Mac, iPad, and any other Apple hardware should invest in the Homepod mini. It has plenty of Apple software-specific tricks that you can only take advantage of if you have multiple Apple devices.
Frequently asked questions about the Sonos One (Gen 1)