All products featured are independently chosen by us. However, SoundGuys may receive a commission on orders placed through its retail links. See our ethics statement.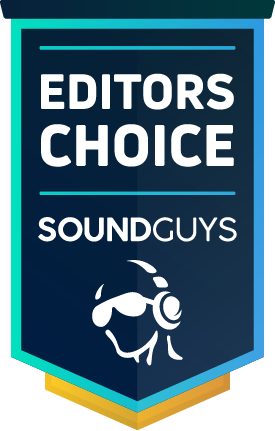 The bottom line
The Shure 55SH Series II microphone is built to endure. Whether you're a touring musician or apartment-dwelling podcaster, this unidyne microphone does the job and does it well. A shock-mount cartridge reduces minor vibration noise, and the cardioid recording pattern greatly reduces background noise. There's a reason this is a go-to classic.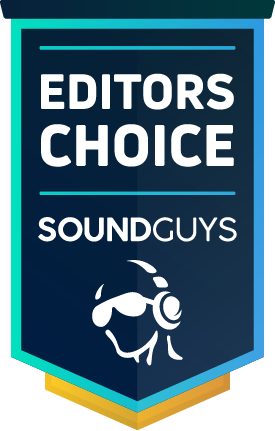 Shure 55SH Series II
The Shure 55SH Series II microphone is built to endure. Whether you're a touring musician or apartment-dwelling podcaster, this unidyne microphone does the job and does it well. A shock-mount cartridge reduces minor vibration noise, and the cardioid recording pattern greatly reduces background noise. There's a reason this is a go-to classic.
What we like
No phantom power required
Clear vocal reproduction
Effective off-axis rejection
Durable die-cast build
Swivel mount with 125° range of motion
Rating Metric
Sound Quality
9.0
Bass
9.0
Midrange
9.2
Highs
8.6
Durability / Build Quality
9.0
Value
8.5
Design
9.5
Portability
8.0
It's been a while since Elvis was in the building, but the Shure 55SH Series II, or Elvis microphone, lives on. This die-cast metal microphone marries old school rock and roll with modern mic technology. It's great for live and studio performances alike. If you want a mic that will rock your socks off, this one is worth buying.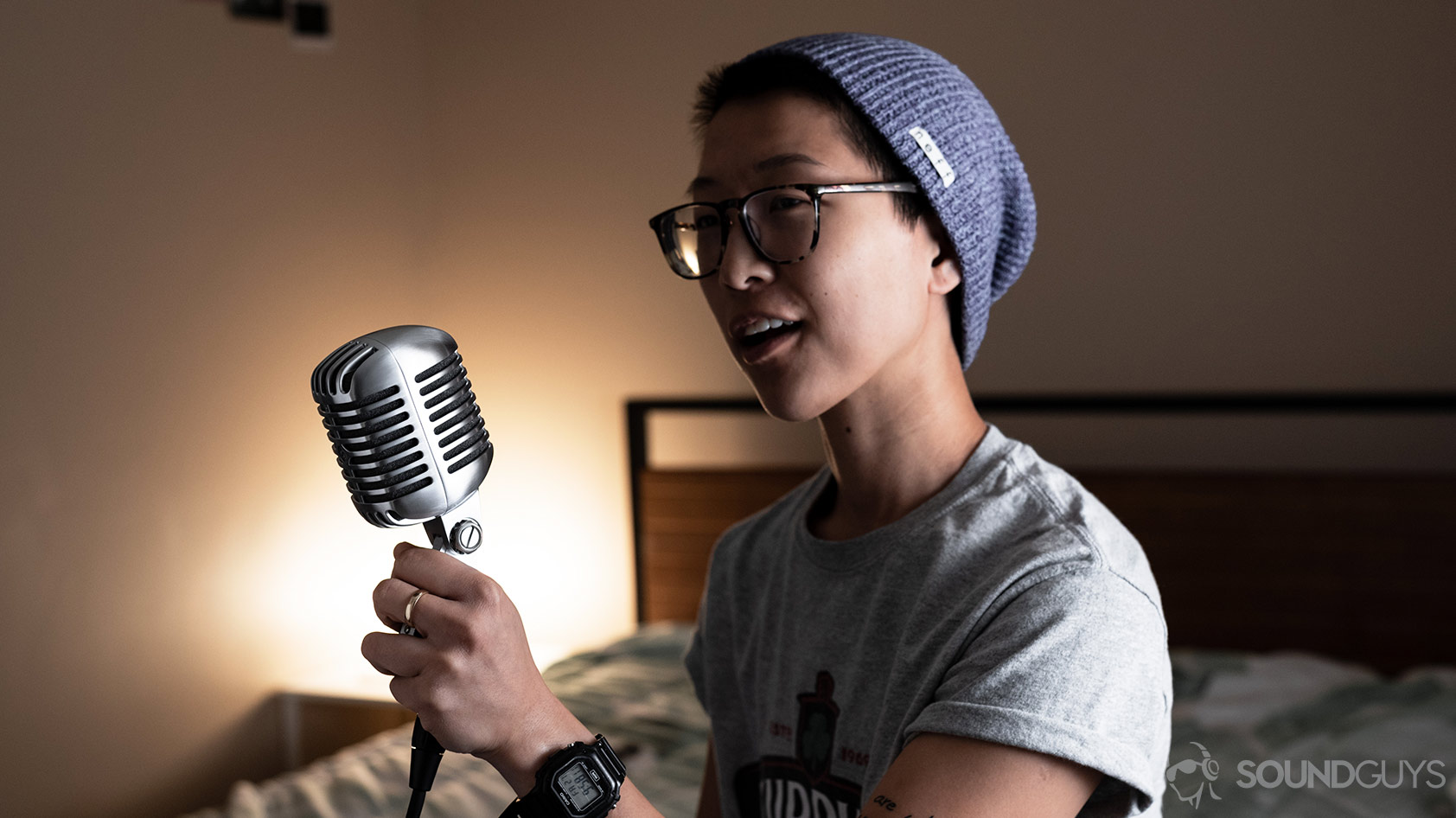 The microphone is great for musicians, interviewers, and podcasters.
Musicians should get this microphone. Not only will it earn you style points on stage and in the studio, but it's specifically tuned to emphasize vocal frequencies, making them more intelligible during live performances.
Podcasters may also consider the 55SH Series II mic, again, for its crisp vocal reproduction. Additionally, the cardioid recording pattern effectively shunts off-axis noises, which is great if you work from a less-than-optimal environment like your home studio.
Editor's note: This review was updated on August 10, 2022, to update formatting and address FAQs.
What is the Shure 55SH Series II like?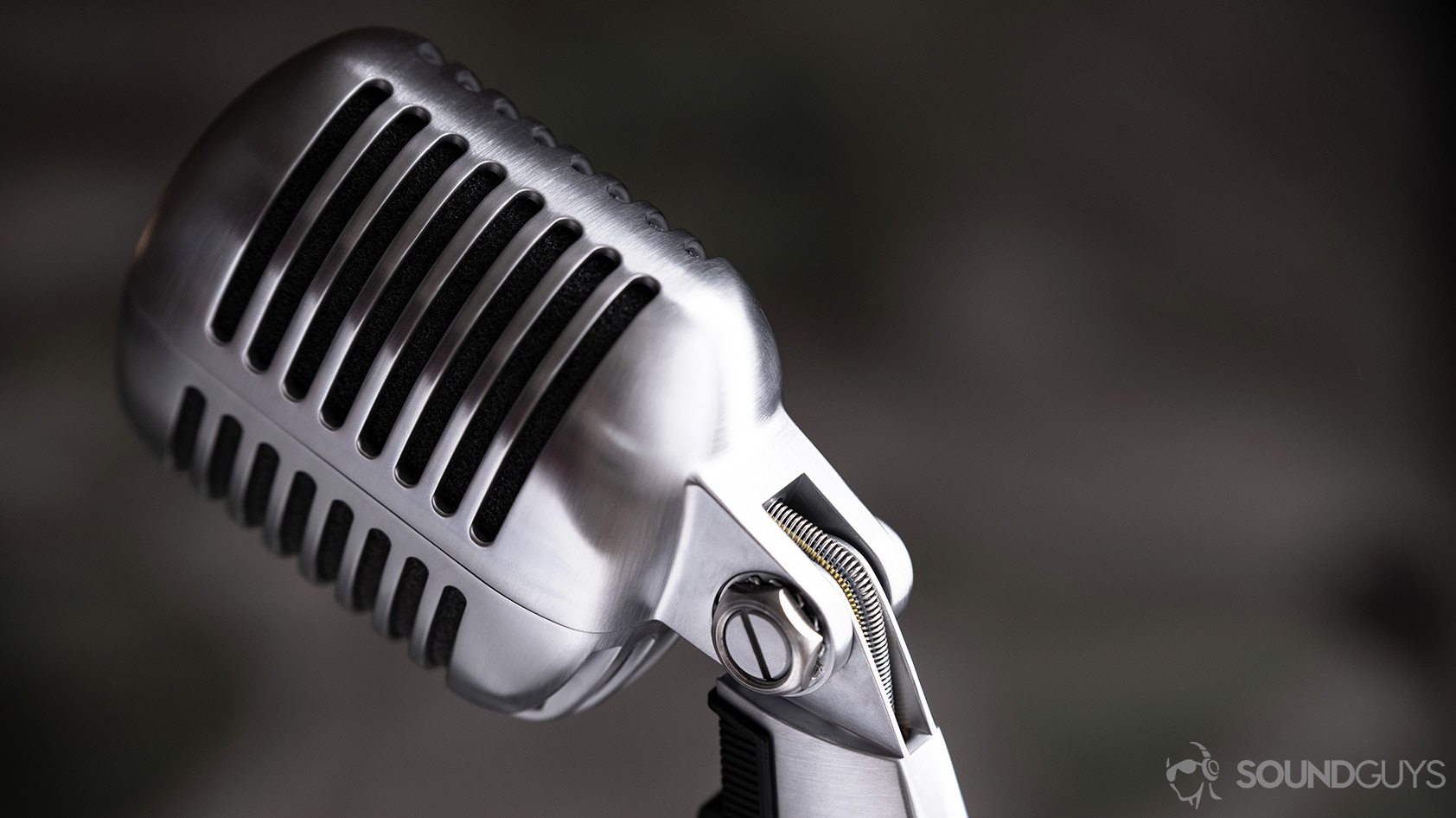 A tension loaded spring gives the 55SH Series II 135° of movement.
The Art Deco-inspired body hearkens back to automobile grille designs from the 1930s. Its archetype was originally named the Unidyne and took the world by storm with its unique design and grade-A vocal reproduction. This mic looks fabulous and weighs a hefty 626 grams.
There's just one toggle for powering the 55SH on and off, located on the front of the microphone handle. A tension swivel mechanism bonds the handle to the microphone's body. This permits 125° of motion, 45° forward and 80° backward. The movement isn't completely smooth as it's easier to turn the mic toward me than away, but the tension may loosen over time. Shure includes a ⅝" to ⅜" thread adapter in case your stand doesn't accommodate a ⅝" thread.
The die-cast metal is durable but may weigh down your bag.
A foam filter rests beneath the metal grille and mitigates issues with plosives and fricatives. If you want to ensure their absence, an external pop filter may help. That said, unless you get closer than six inches to the microphone, pops and hisses rarely present themselves. There's an internal shock-mounted cartridge to reduce vibration noise from the mic stand, which is a huge help.
A dynamic mic with a cardioid pickup pattern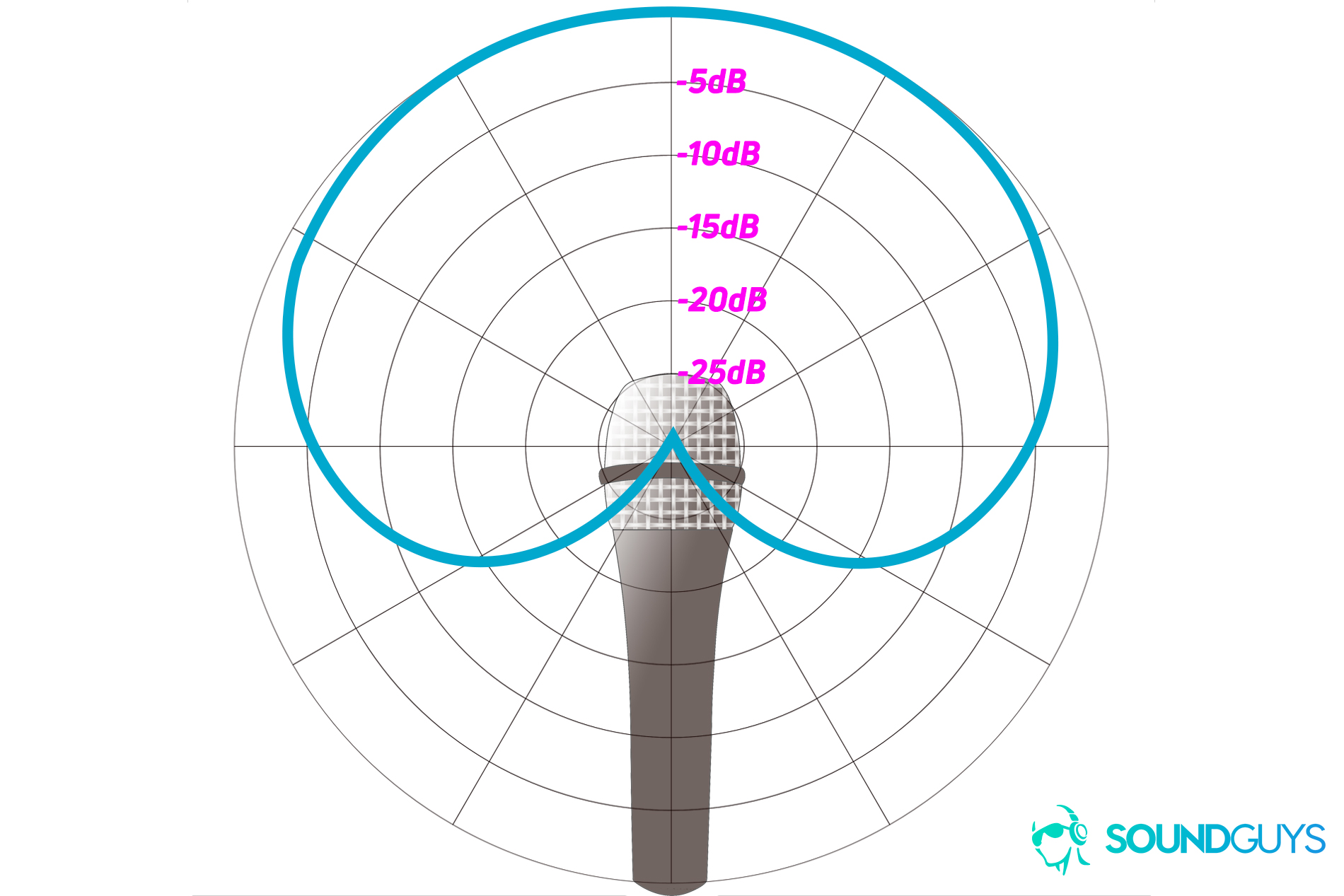 A cardioid pickup pattern can record sound from the front and sides of the unit.
Dynamic microphones are sturdier than the condenser alternative. They're also generally less sensitive than condenser mics, meaning they can withstand plenty of sound pressure before any noticeable signal distortion. If you're putting on a live show, it's hard to keep a constantly appropriate distance from the mic. Additionally, you're bound to brush against it or speak louder than you intend to. However, since it's a dynamic microphone, the distracting effect of accidental noises is lessened.
The Shure 55SH Series II doesn't require phantom power, making it a great plug-and-play pick.
Unlike some microphones, the Shure 55SH has a single polar pickup pattern: cardioid. Sounds directly in front of the microphone are registered the most, while there's some pickup from the sides and nearly none from the back. As you may expect, this results in a heart-shaped recording pattern. A huge benefit of cardioid microphones is their forgiving nature with regards to placement. You don't have to be precise about where you're standing relative to the mic. Its cardioid polar pattern also helps it to be used near loudspeakers without feedback issues, another reason it's a great choice for live gigs.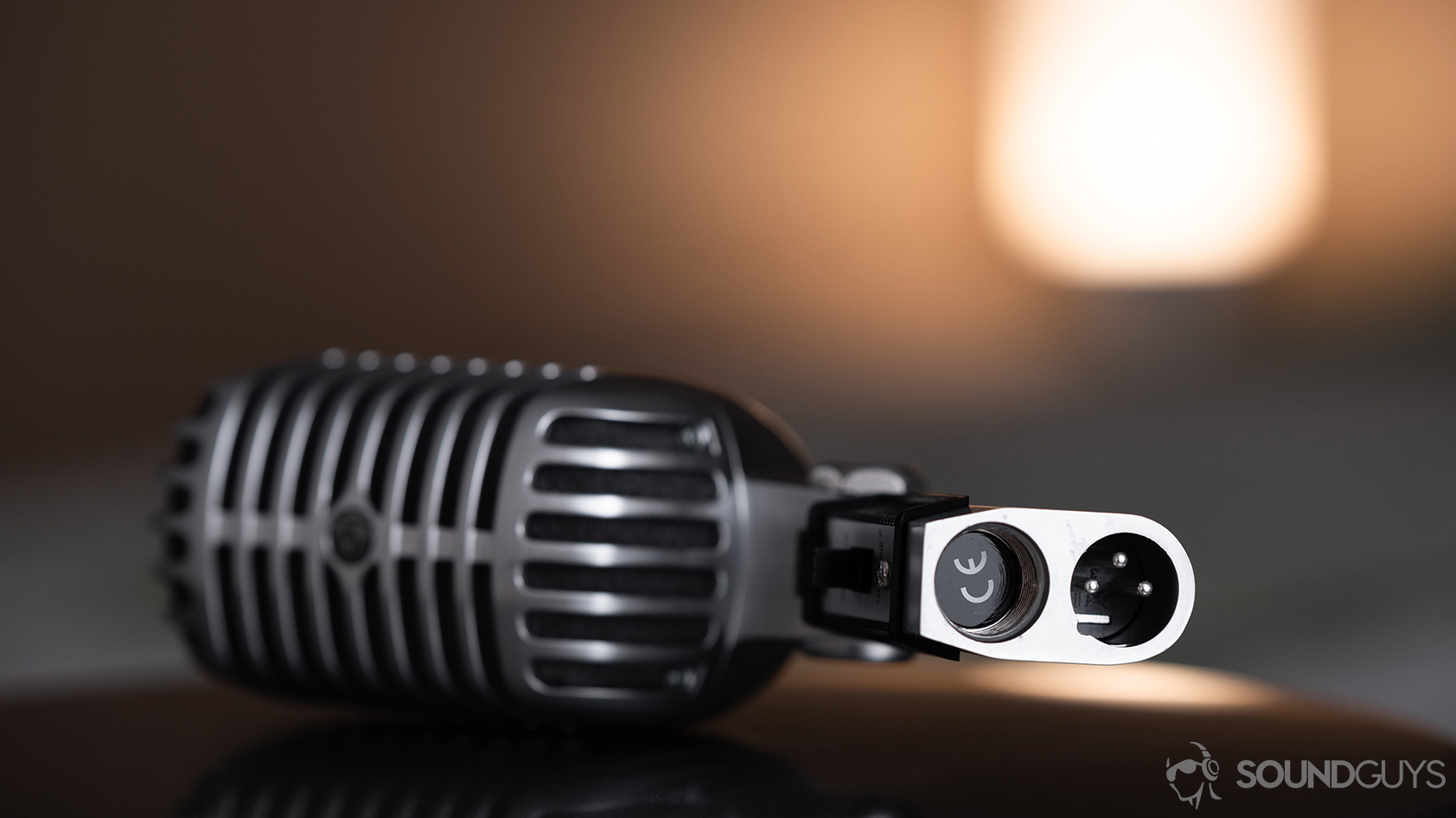 The XLR output is placed closely to the screw mount which can be problematic with certain mic stands.
If you plan to bring the mic onstage, you'll need a proper mic stand. For those working from a desktop, you may be better off with a mounted boom arm.
The 55SH is an XLR microphone, so regardless of where you use it, you'll need an XLR cable.
This dynamic microphone doesn't require external or phantom power.
However, you will need something to amplify the signal like an amp or USB interface.
How does the Shure 55SH Series II sound?
The Shure 55SH Series II is renowned for its clear vocal reproduction. Midrange frequencies receive more emphasis than their low-end counterparts. This serves two purposes: vocals are clearly audible, and the proximity effect is less prevalent. If you aren't formally familiar with the proximity effect, this is when bass notes increase in loudness the closer you get to a directional microphone.
The power switch is easy to find and toggle.
In the recording below, I'm speaking from my desk in an untreated room. There's no post-processing with the audio; it's as raw as it gets. As you can hear, my voice sounds indubitably clear. To help you understand the effectiveness of its cardioid polar pattern: I was in the center of my kitchen which has hardwood floors and many auditory reflective surfaces. Yet, there's very little reverberation of my voice in the recording.
Limiting the frequency response to the voice band means the 55SH Series II renders vocals clearly. No matter how high or low your voice is, your songs will sound true to life with this microphone. As much as you may want to hold the back of the microphone like Elvis when performing, try and avoid that for the sake of sound quality. Placing hands near the mic while in use can affect its directional characteristics.
Shure 55SH Series II demo:
How does the microphone sound to you?
549 votes
As of August 10, 2022, 45% of responders responded that the above microphone demo sounds "Good", and 34% responded that it sounds "Perfect". For a professional studio microphone, this just what you want.
Should you buy the Shure 55SH Series II?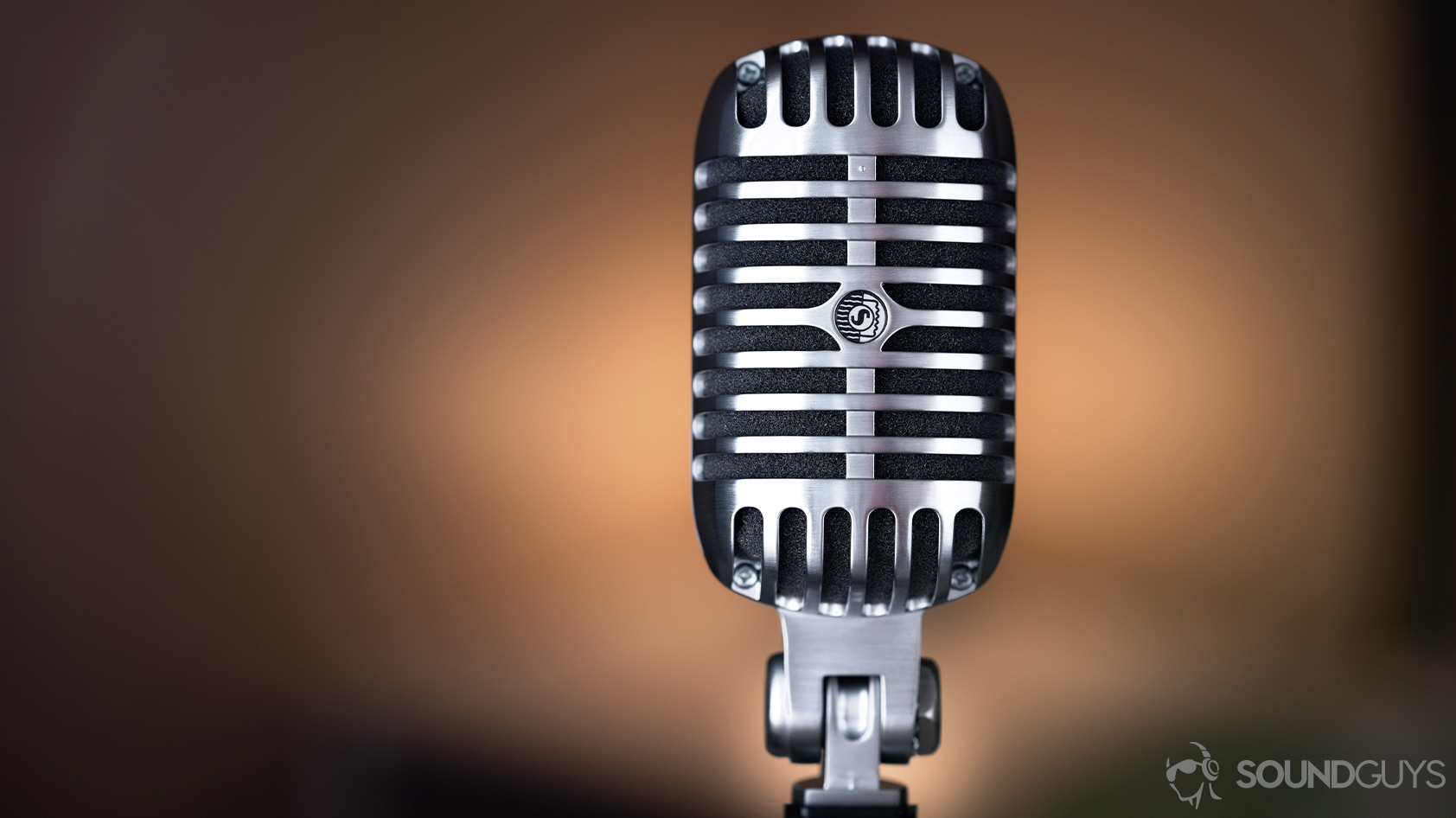 The microphone's design is heavily influenced by 1930s automobiles.
Yes, this dense microphone has merited its legendary status. Not only is it a globally recognized design, but it also has the audio quality chops to justify the $179 price. Of course, it doesn't excel in every single situation. If you're looking for a TV or movie set microphone, you'll need a shotgun, lavalier, or boom mic. Otherwise, the Shure 55SH Series II is a stunner.
Looking for something a little more versatile? Try the Shure MV7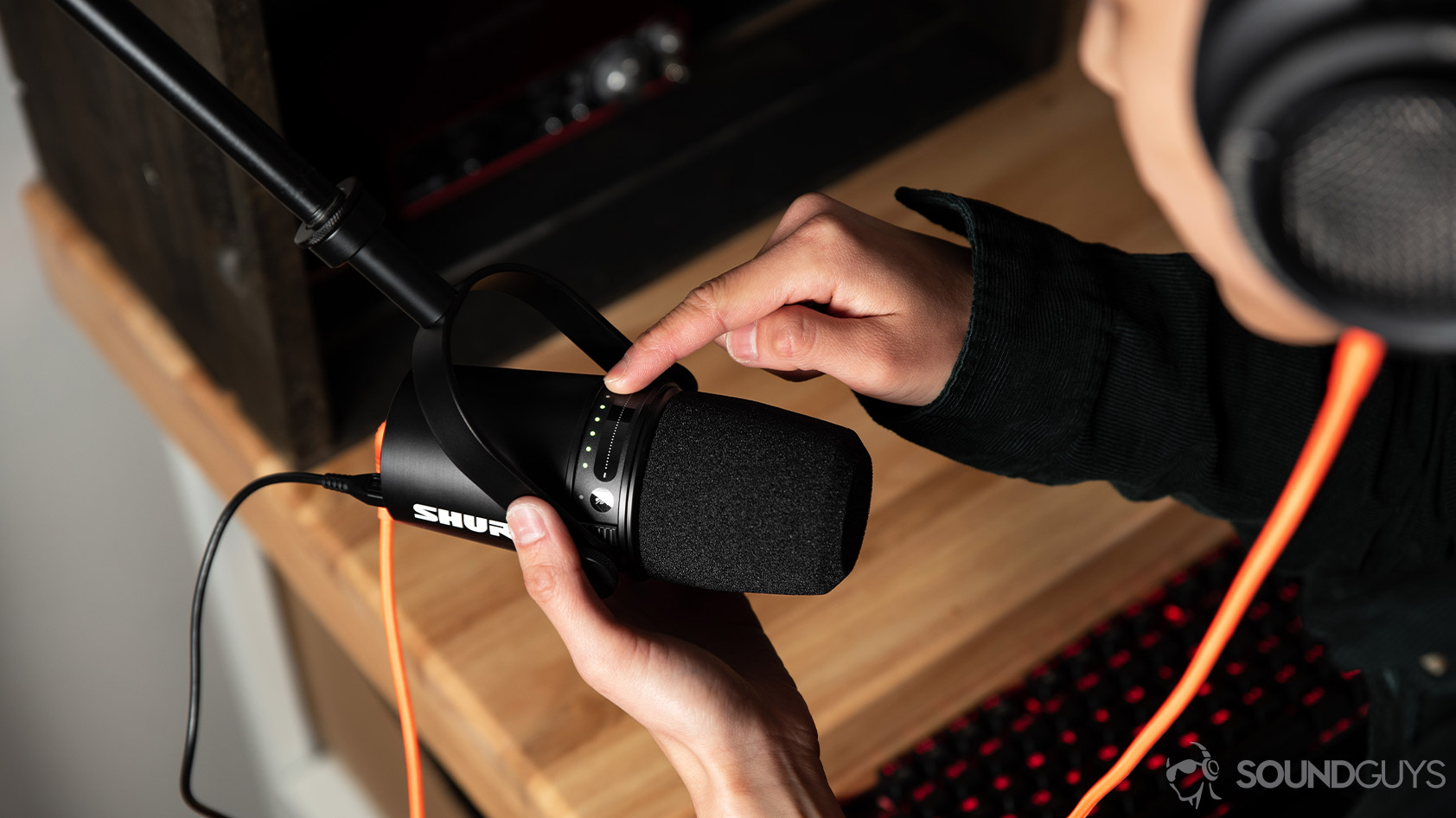 The housing is devoid of any actual buttons. Instead Shure installed a touch panel to control gain or mute the mic.
The Shure 55SH Series II is a great vocal microphone but doesn't come with a lot of extra features. The Shure MV7, on the other hand, is absolutely teeming with features. It has both an XLR and USB input which makes it easy to create backup files. When you download the ShurePlus MOTIV app, you can adjust things such as the monitor mix, the mic's tone, can optimize the settings based on your proximity to the mic, and more. Though it only offers a cardioid polar pattern, it's still a super versatile mic that reproduces vocals very well.
Frequently asked questions about the Shure 55SH Series II
We wouldn't recommend removing the Shure 55SH Series II from its stand while using it. It doesn't have a convenient shape for this type of usage. When using the 55SH Series II in live performance, you could hold the microphone stand and tilt it like Elvis, but it might produce unwanted handling noise. When using the mic to record in a studio, we definitely don't recommend touching it at all in order to prevent handling noise.
The Shure SM58 is a much more utilitarian take on dynamic microphones, with a convenient design for handheld use. If you're in it for the aesthetics, the Shure 55SH Series II is arguably more attractive, but if you're looking for function over form and feel like saving some cash, the Shure SM58 might be the mic for you. Like the 55SH Series II, the Shure SM58 can be used for live performance and studio use.