All products featured are independently chosen by us. However, SoundGuys may receive a commission on orders placed through its retail links. See our ethics statement.
Sennheiser MOMENTUM Wireless Review
The Sennheiser MOMENTUM Wireless adds Bluetooth connectivity to a great pair of headphones and gets even better in the process.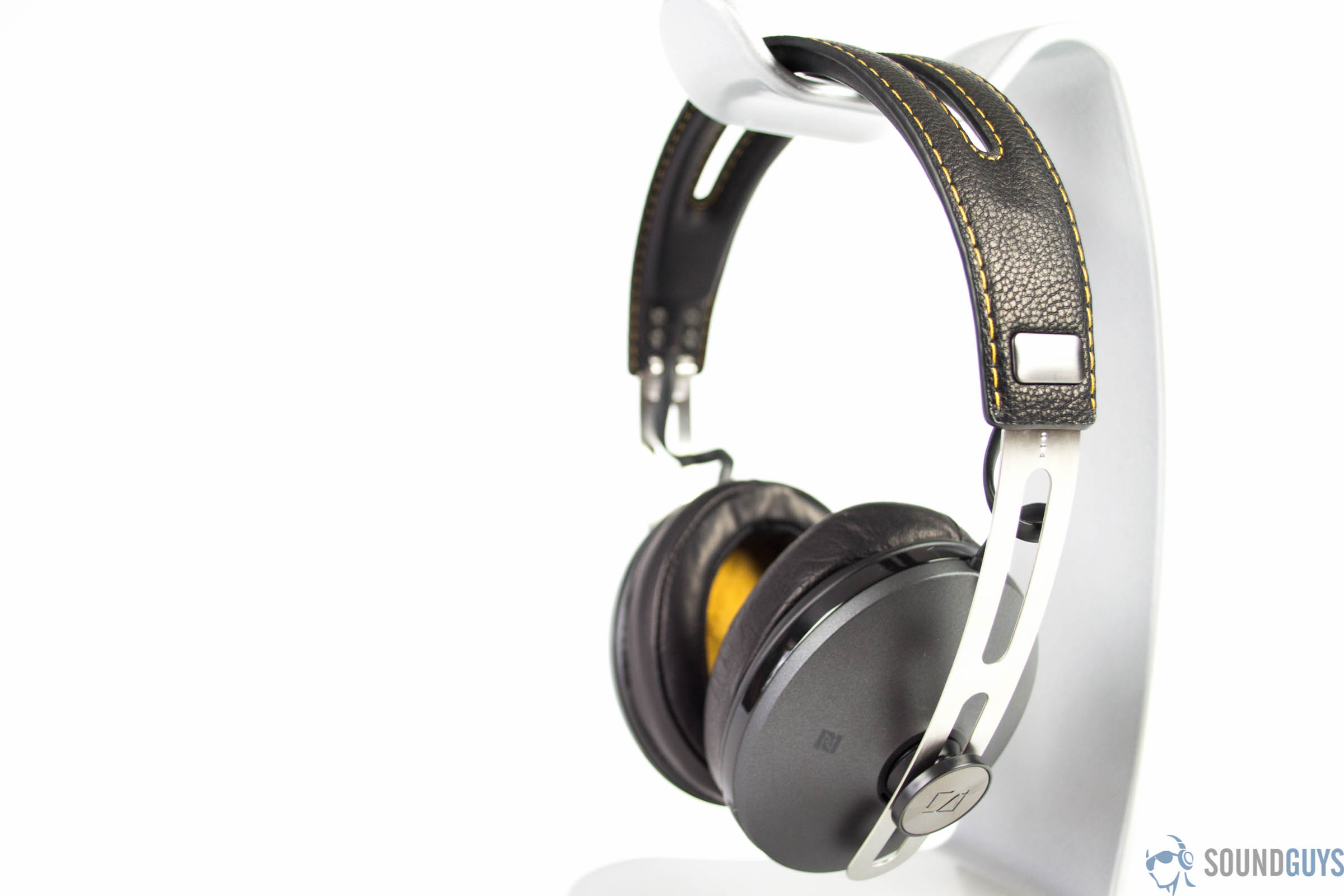 Sennheiser's MOMENTUM headphones are held in high regard among both audiophiles and normal folk alike, so the only thing surprising about a wireless version is how long it's taken for them to appear. Initially announced at this year's CES, the Sennheiser MOMENTUM Wireless had us excited as soon as we were made aware of their existence.
Active noise cancellation is a commonplace term these days, but it's far from easy to do. Throw in Bluetooth connectivity and it's generally going to be fairly pricey. Indeed, these headphones retail for $499 – that's $100 more than the Momentum 2.0.
Editor's note: the Sennhesier MOMENTUM Wireless has been discontinued. This review was updated on February 12, 2021, to include information regarding premium alternatives.
What's In The Box?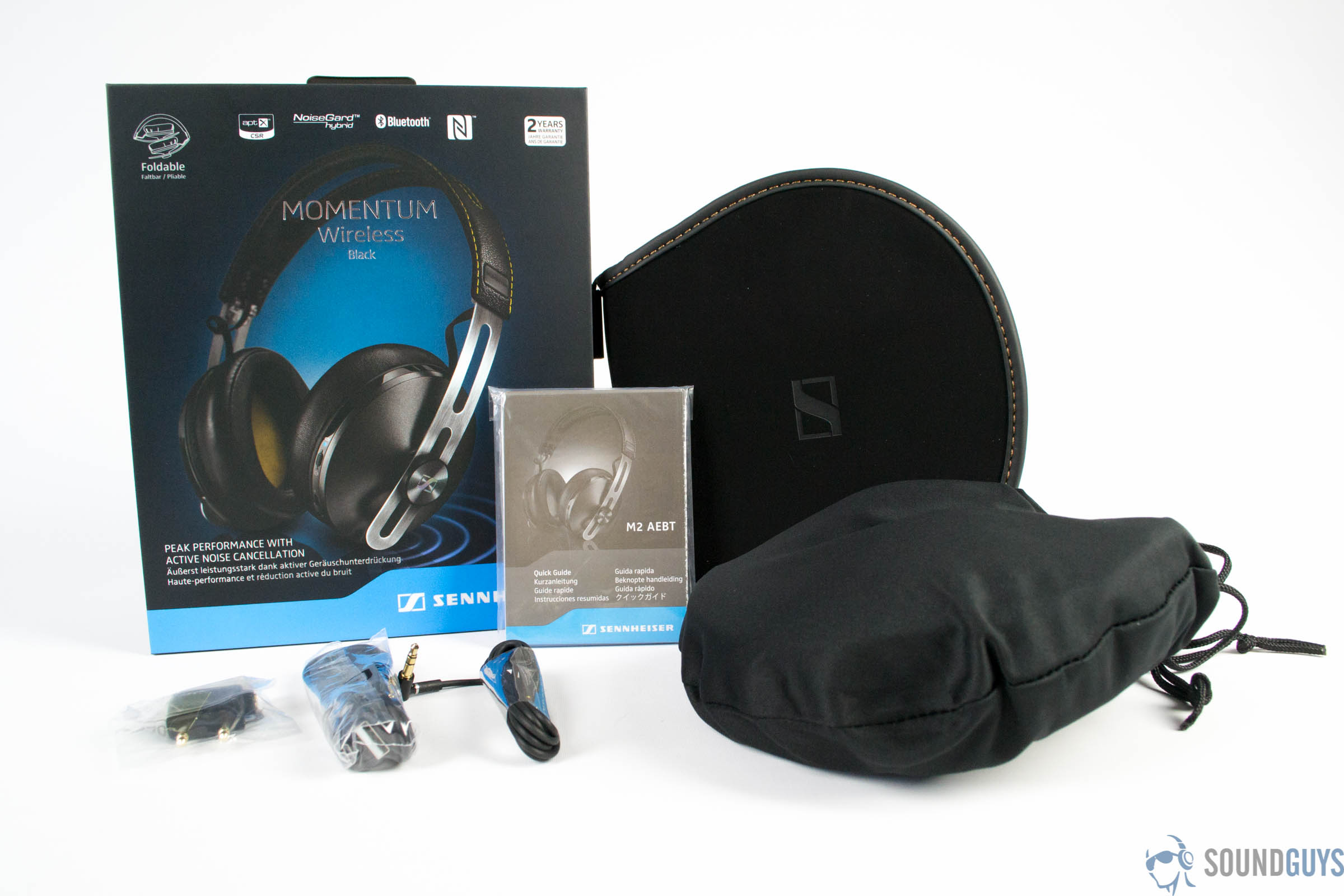 Opening up the box you'll find the semi-hardshell case and the manual underneath. Everything else is packed inside the case. The headphones themselves are inside a cloth bag, presumable for extra protecting, while the USB cable, 3.5 mm audio cable and inflight adapter are all tucked into a mesh pocket inside the case.
Build & Design
The Sennheiser MOMENTUM Wireless are available in two colors – black and ivory – though at the time of this writing only the black model seems to actually be for sale on Sennheiser's website. Both models look great, with the ivory having a slightly more modern look and the the black sporting the more classic pro look. The combination of exposed metal and stitched leather in the headband and ear cups makes for an elegant look that should look good on everyone.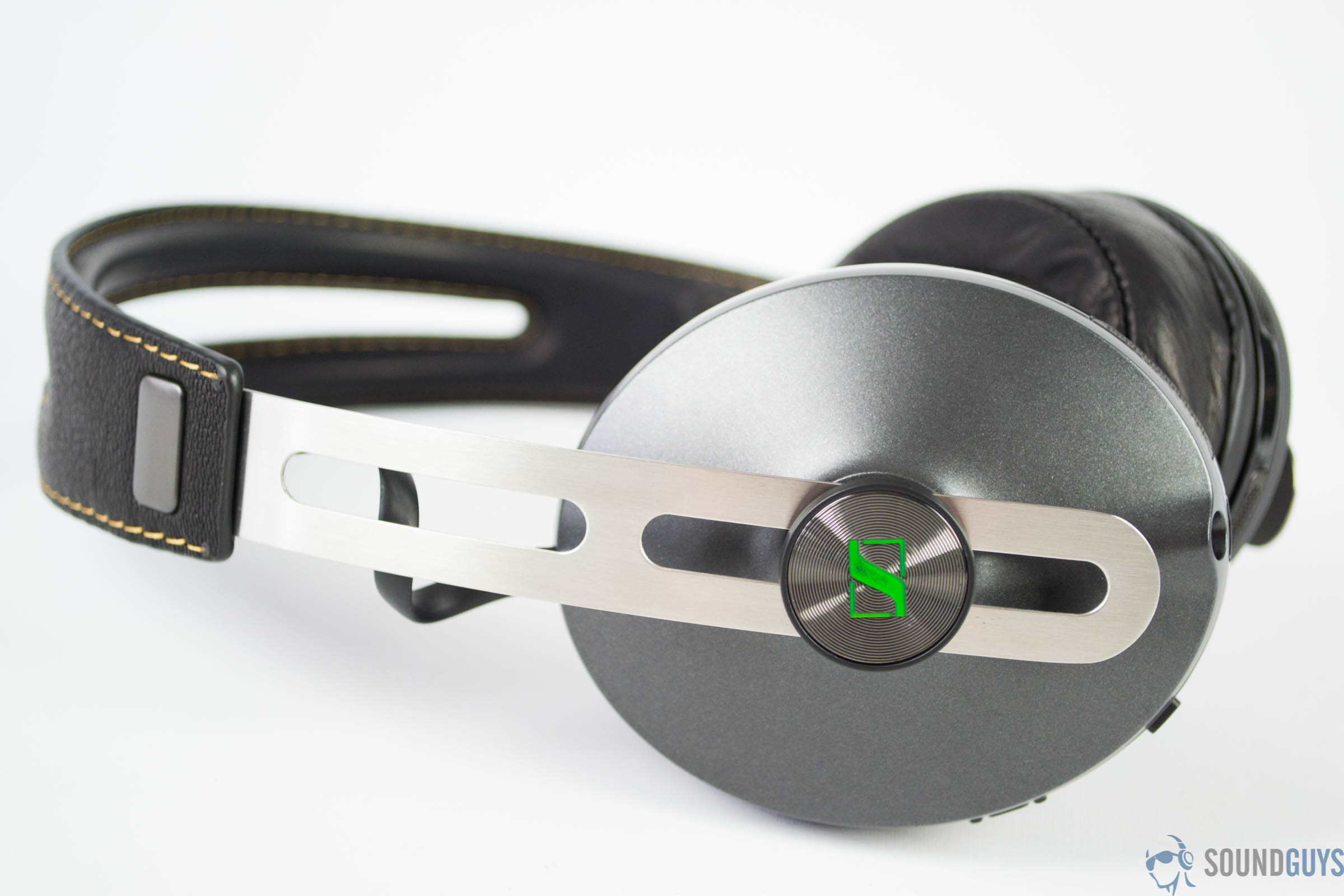 The materials should have been a hint, but the build feels very solid. That might lead you to assume that this is a heavy pair of headphones, but they actually feel quite light, whether you're holding them or wearing them. The headphones fold for portability, and the carrying case that is included is very high quality. Often an afterthought in other headphones, the case is nice enough that I could see it being sold as a third-party case, though I suspect that Sennheiser would prefer to keep it exclusive to their headphones.
Connectivity
Simplicity seems to be a primary focus for the Sennheiser MOMENTUM Wireless, and that's clear from the moment you turn them on. There is no dedicated Bluetooth button here, just turn the headphones on and they enter pairing mode. Then either pair from your device's Bluetooth menu or tap your NFC-enable device on the NFC icon.
Recommended reading: Understanding Bluetooth codecs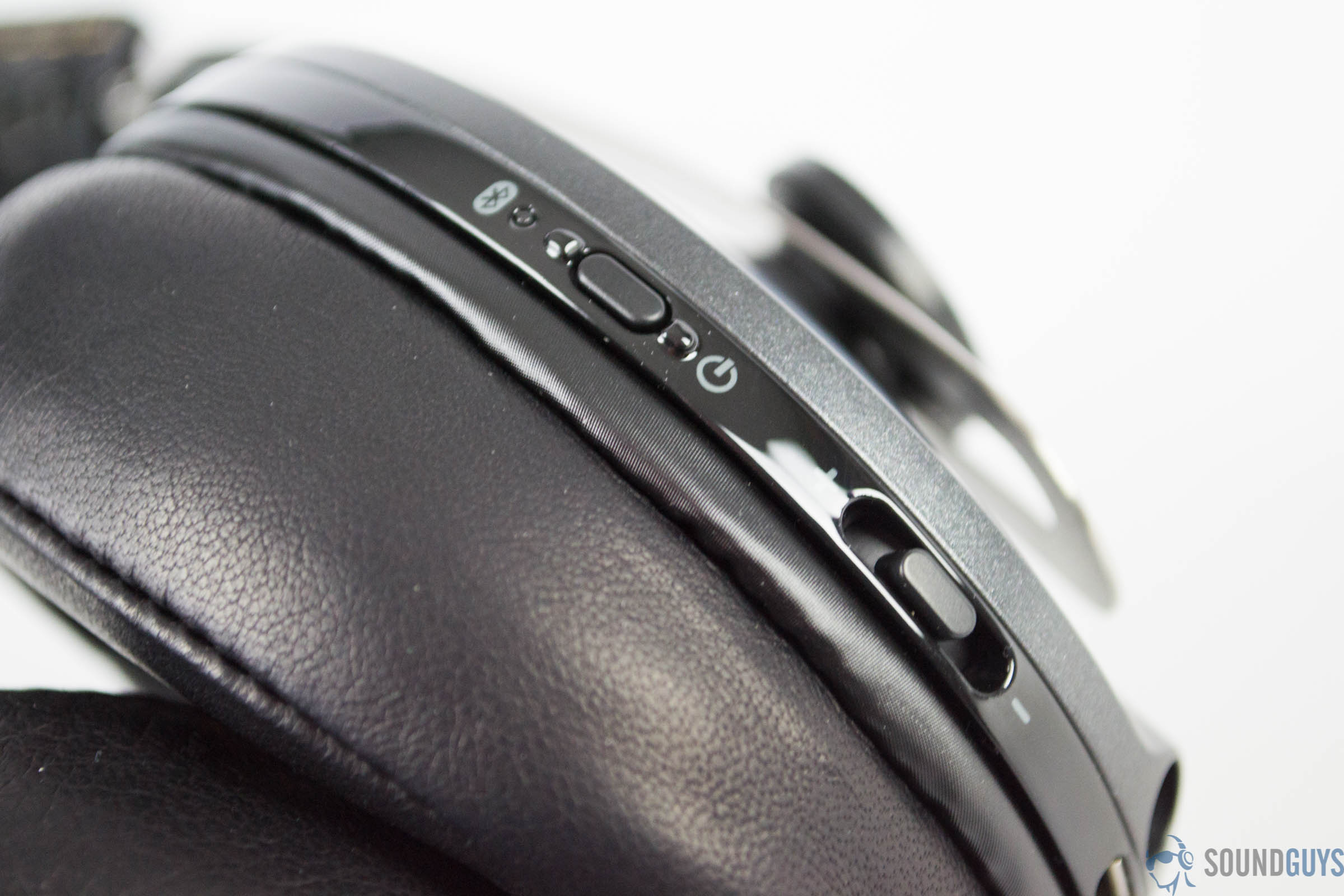 If you'd rather connect the old fashioned way, a 3.5 mm cable is included, and these headphones can even be used in passive mode – that is, with the power off. Obviously you won't get active noise cancellation, and the frequency range is somewhat diminished, but it's nice to know that, unlike many Bluetooth headphones, these will keep you in music even after the battery runs out.
You may also like: Why I'm sticking to wired headphones
Unlike the last pair of headphones we looked at, the controls are minimal in keeping with the general minimalist aesthetic of the Sennheiser MOMENTUM Wireless. There is a power / multifunction button, and the + / – slider for controlling volume and that's it.
Battery Life
It isn't clear which scientists have been pulled off of major world problems in order to improve battery life in Bluetooth headphones, but we're glad for the decision nonetheless. Sennheiser claims 22 hours of play time for the Momentum Wireless, and that's including ANC. We found those claims to be true during testing as well, measuring just over 21.5 hours.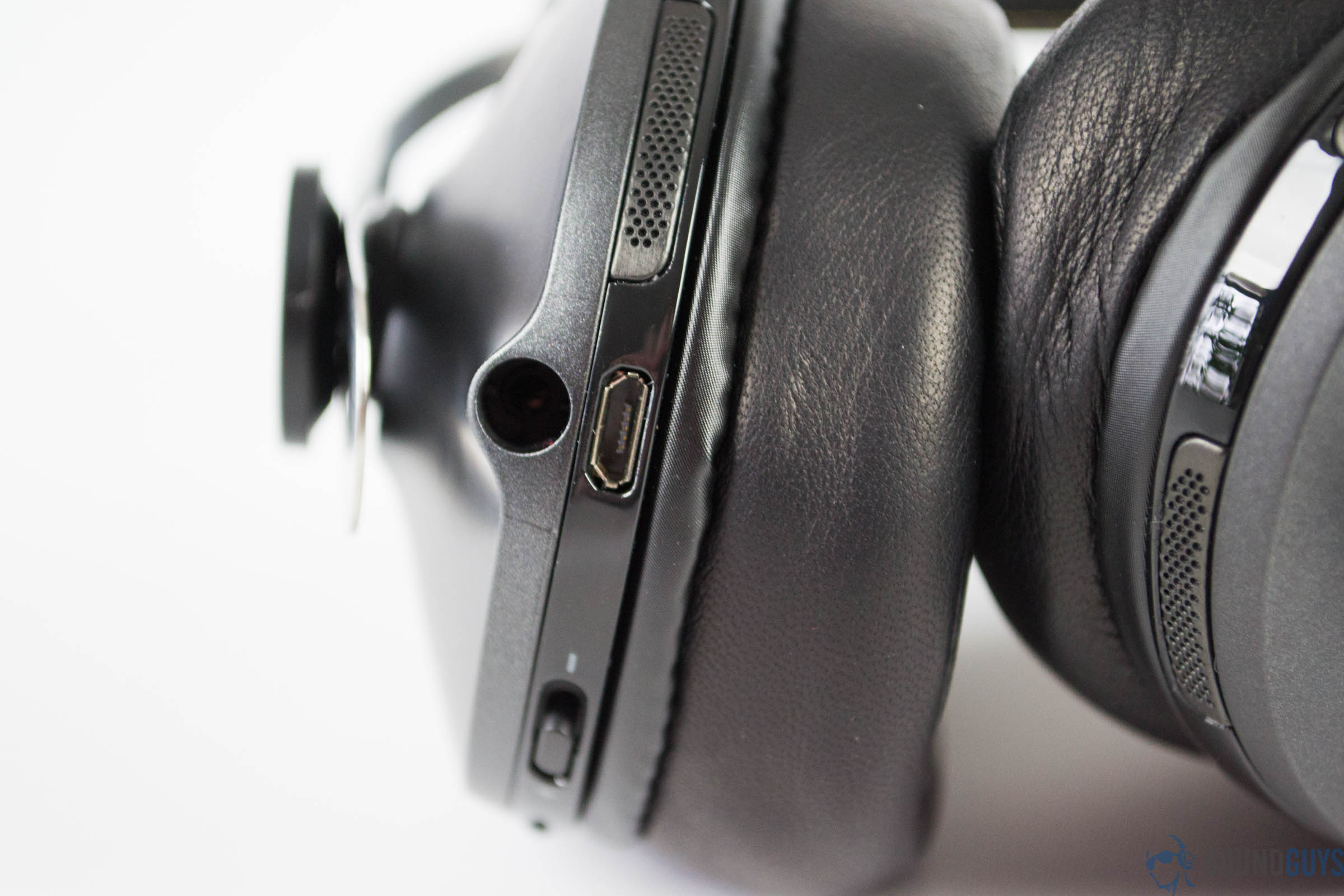 Charge time is claimed as 3 hours and using a standard multi-port USB charger, it took just a hair over that time. As Sennheiser doesn't include a wall charger, the charge time will vary depending on the charger you have on hand.
Sound Quality
The box that contains the Momentum Wireless boasts of the headphones' NoiseGard technology, which uses 4 microphones for its active noise cancellation. Whatever it is, it works well, as noise cancellation was very effective. Unlike some other headphones which would "lose track" of the noise they were supposed to cancel as I moved around, these kept the noise out steadfastly.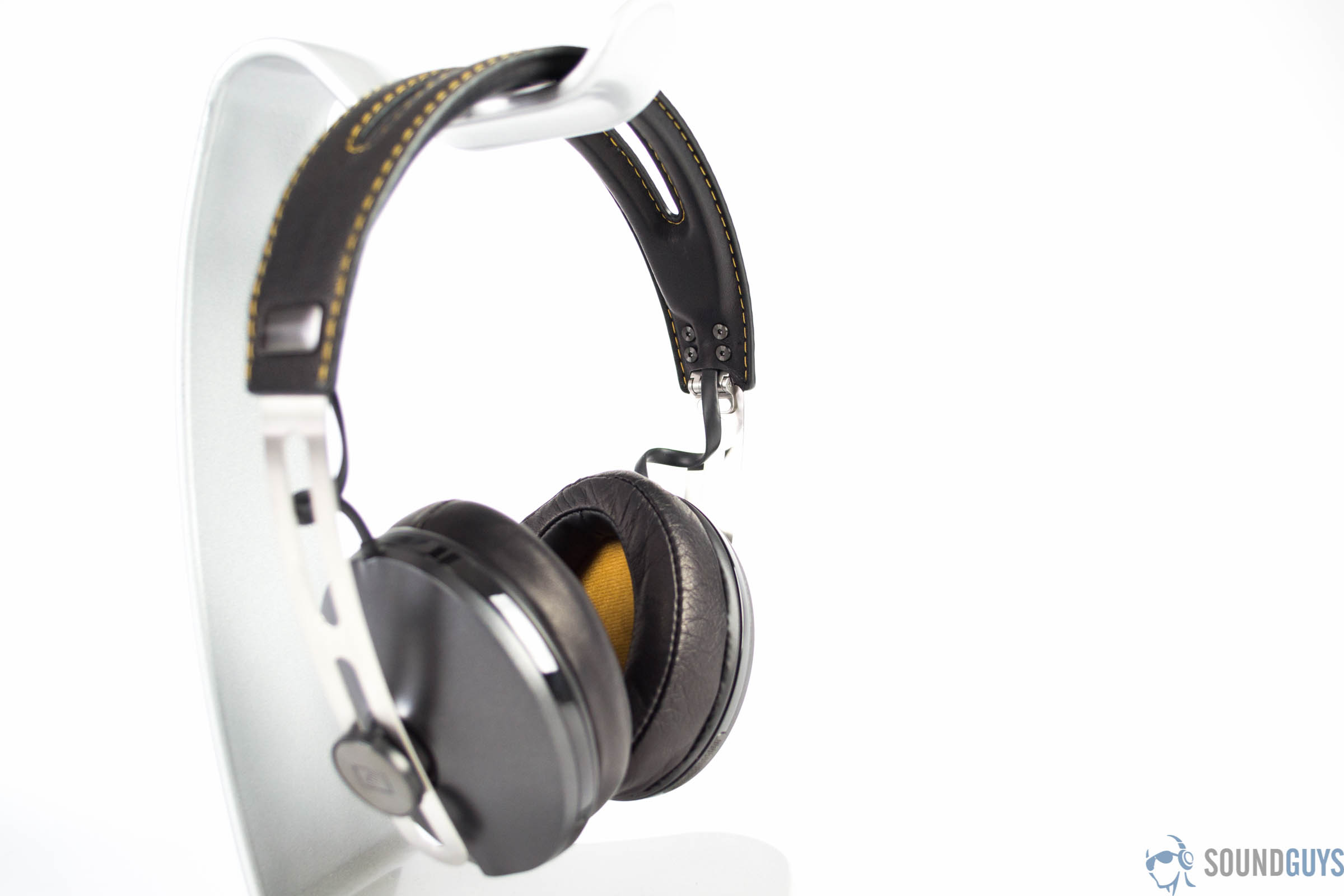 Lows
The lows here reach very deep, with powerful sub bass that you can truly feel. While the bass is well represented, it never sounds overly boomy or steps out of its place to walk all over other frequencies, and even on songs with fast moving bass notes, the low end never tended towards muddy.
Mids
The mids sound somewhat forward, though the 4 kHz bark that is present in some mid-forward headphones is thankfully not present here. Vocals come through loud and clear and electric guitars get all the bite and snarl that they deserve.
Highs
The highs provide nice detail without harshness. Tambourine that is all but silent on less detailed headphones came through clearly here, and there was plenty of room around cymbals. The sound of fingertips sliding on strings is preserved without becoming cringe-worthy.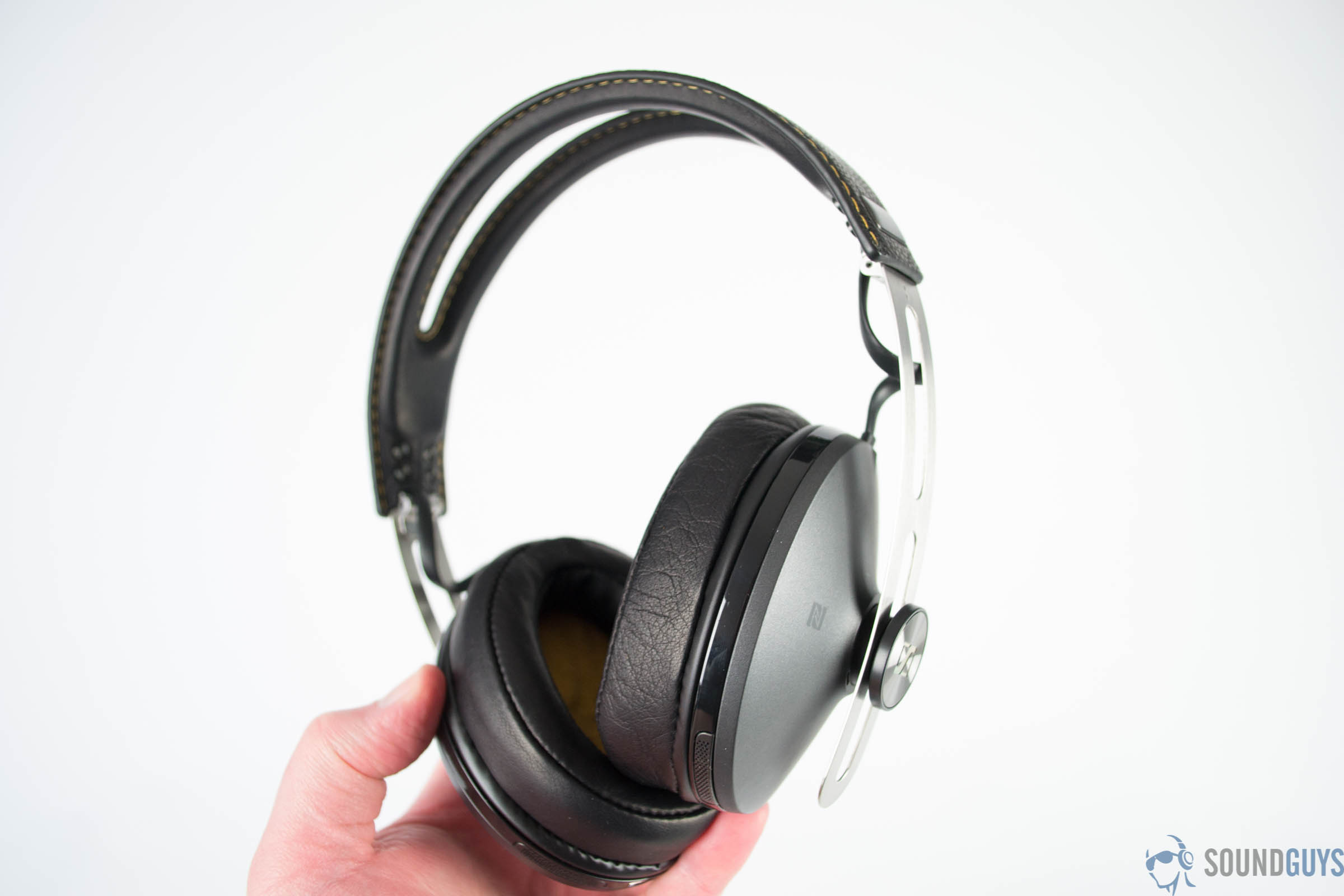 After testing so many, I've come not to expect much in terms of soundstage in wireless headphones, but here it is very nice, whether you're plugged in or not. Simply put, these headphones are just a joy to listen to in every way.
How about the Sennheiser Momentum Wireless 3?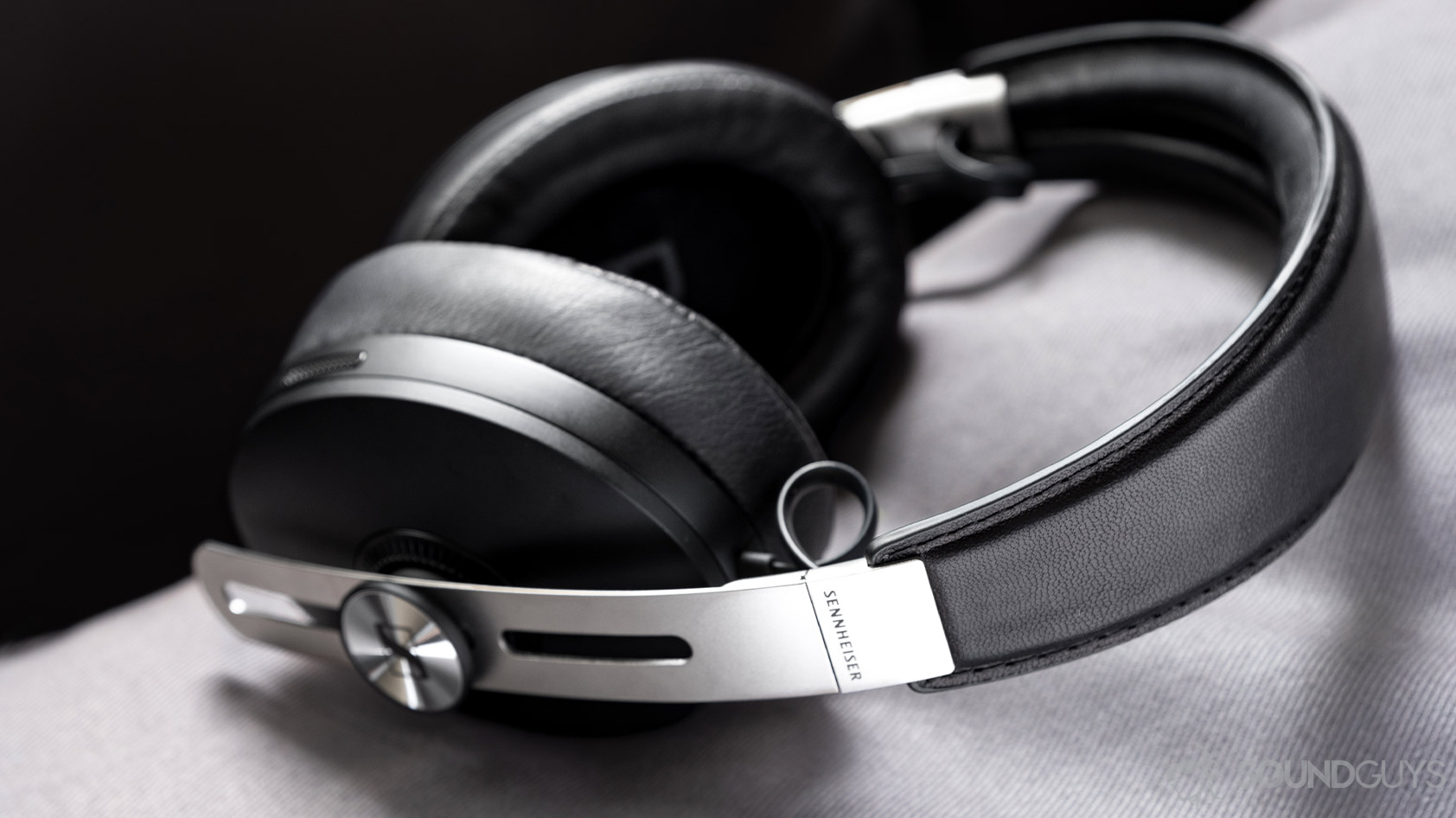 The attention to detail is phenomenal as seen in the fine stitching along the headband.
With the Sennheiser Momentum Wireless 3, the company took a few cues from its predecessor. For example, the Momentum Wireless 3 features a similar build to the original, albeit with an improved leather head band and matte finish on the ear cups. In terms of sound quality, the new headphones sport the same consumer-friendly sound signature that people have come to expect from Sennheiser: an emphasized low-end with balanced mids—all without sacrificing treble clarity.
You can snag the Sennheiser Momentum 3 Wireless for just under $280 USD this holiday season. If you're in the market for some high-end headphones, now is the perfect time to hit checkout!
Should I buy the Sennhesier MOMENTUM Wireless in 2020?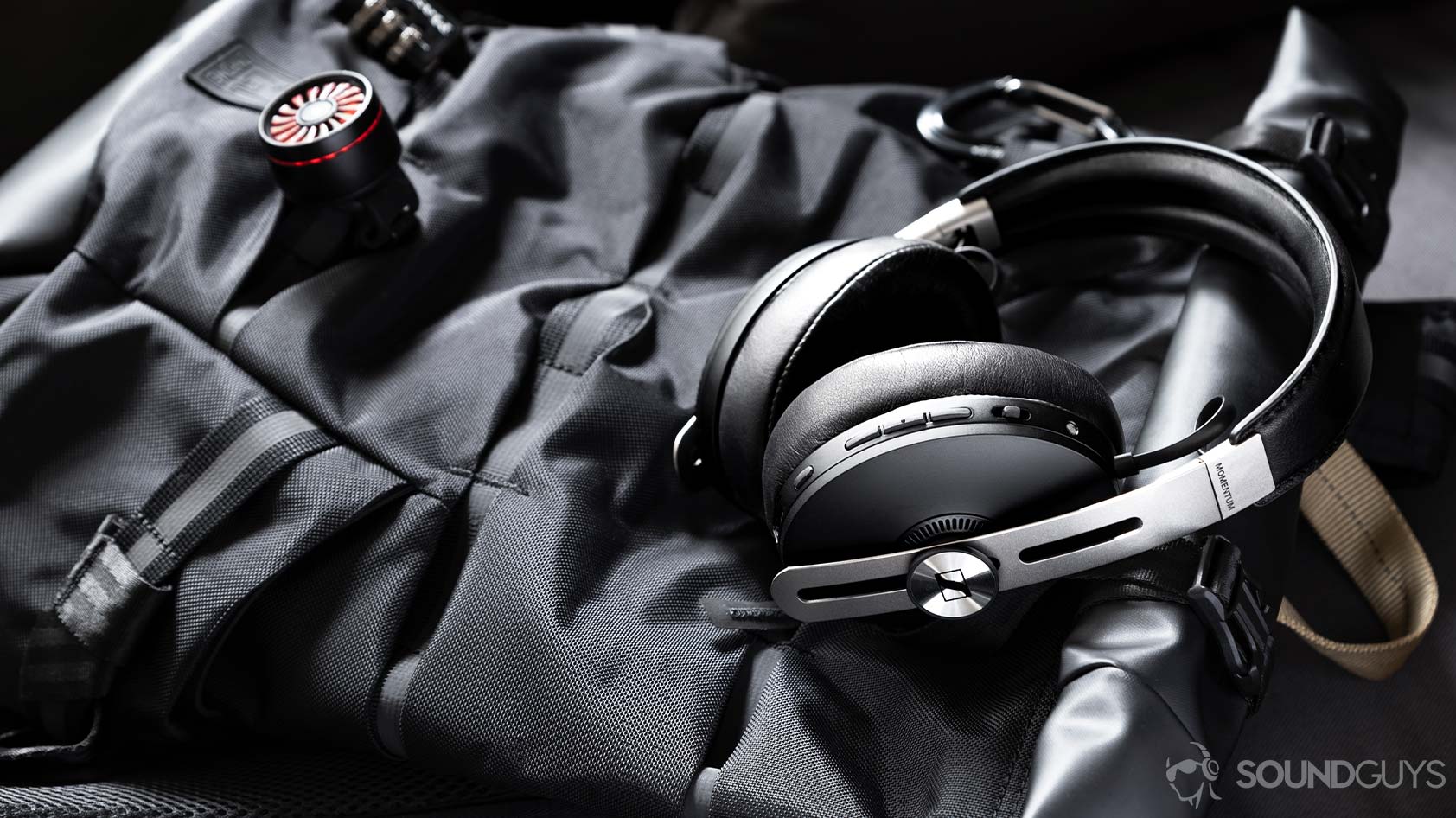 The new Sennheiser Momentum Wireless headphones are chic and durable.
Back in 2015, these headphones were among the best of the best when it came to wireless over-ears. Today, however, there are plenty of other options to choose from which feature updated specs. If you're still thinking of buying these headphones in 2020, it's definitely worth taking a look at the Sennheiser Momentum Wireless 3. If you want to save a little cash, the Sennheiser Momentum Wireless 2 is still available for $179, and costs about half the price of the newer model.
Another option for audiophiles would be the company's latest offering: the Sennheiser PXC 550-II. These headphones feature active noise canceling, support for aptX and aptX Low Latency, and an excellent sound signature with a balanced frequency response. The best part? It's priced at just shy of $200—less expensive than other ANC headphones like the Sony WH-1000XM3.
For people with a more active, on-the-go lifestyle, Sennheiser has a pair of earbuds in the Momentum product line called the Sennhesier Momentum True Wireless, which audiophiles have praised for providing high-end sound in a compact form factor. If money is no object to you, the Sennheiser Momentum True Wireless 2 includes active noise canceling, allowing you to really immerse yourself in your content. For budget-conscious listeners, the Sennheiser CX 400BT offers comparable sound quality to Sennheiser's higher end true wireless earbuds, though at a more modest price tag of just under $200.
There are plenty of other premium headphones out there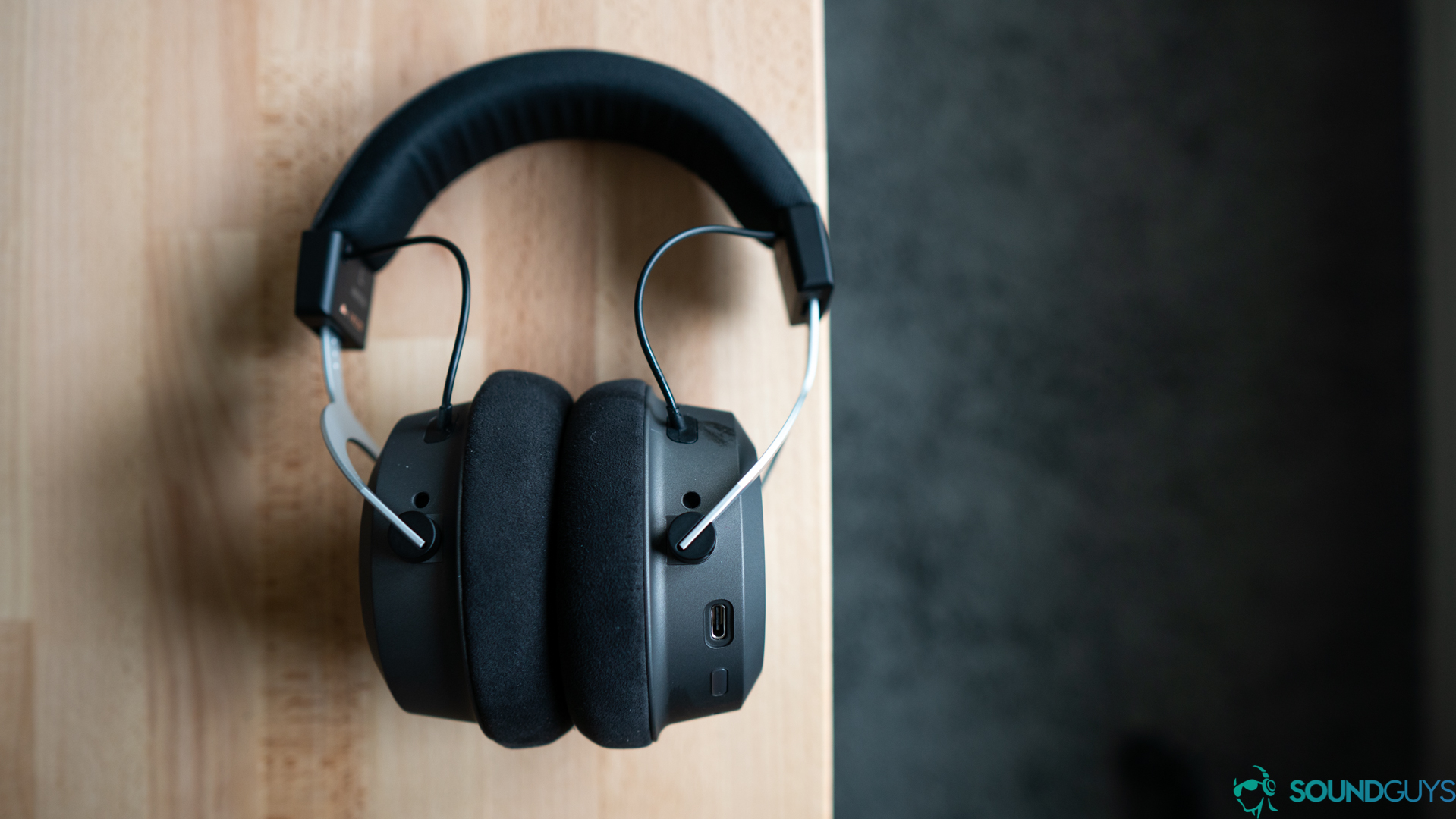 The Beyerdynamic Amiron Wireless is one of the best wireless headphones you can buy for under $1,000.
If you were eyeing the original Sennheiser MOMENTUM Wireless, you're probably in the market for a higher-end pair of over-ear headphones. Fortunately, there's a lot of options out there that we have outlined in some of our best lists. For example, our pick for best wireless headphones under $1,000 is the Beyerdynamic Amiron Wireless. It boasts a sturdy, premium-feeling build quality, impressive isolation performance, great sound quality, and support for high quality codecs—including aptX, aptX HD, aptX Low Latency, and AAC.
The Apple AirPods Max is another great option, especially for people who are knee-deep into Apple's ecosystem. Its active noise cancellation is among the best we've tested—better than our long-time favorite: the Sony WH-1000XM4. The headphones also come with iOS-exclusive features, including seamless connectivity via the W1 chip, spatial audio, audio sharing, and automatic device switching.