Affiliate links on SoundGuys may earn us a commission. Learn more.
The bottom line
The Sennheiser CX 400BT is a really solid mid-range set of TWS earphones, but bargain hunters may want to find something else if ANC is important to them. Still, having high-end audio hardware at a mid-range price point is a good bargain in our opinion.
Sennheiser CX 400BT
The Sennheiser CX 400BT is a really solid mid-range set of TWS earphones, but bargain hunters may want to find something else if ANC is important to them. Still, having high-end audio hardware at a mid-range price point is a good bargain in our opinion.
What we like
Sound quality
In-app equalizer
Small case
USB-C charging
SBC, AAC, and aptX support
What we don't like
Cost
No ANC
Large earbuds
Rating Metric
Sound Quality
8.4
Bass
8.8
Midrange
9.8
Highs
6.5
Isolation / Attenuation
5.1
Durability / Build Quality
6.9
Value
7.8
Design
8.0
Connectivity
7.0
Microphone
6.2
Portability
9.0
Battery Life
5.7
Feature
7.0
Comfort
7.0
Audio brands are struggling to meet the demand for true wireless earphones, and even the old stalwart manufacturers are joining the arms race. The Sennheiser CX 400BT is a set of true wireless earphones that bring some serious audio firepower to bear. That's no surprise, given they pack the same drivers as the mega-expensive Sennheiser MOMENTUM True Wireless 2.0. But are the more affordable CX 400BT worth the money? Let's take a look.
Editor's note: this article was updated on March 8, 2022, to include new measurements against our current target curve for our consumer audio gear.
Who is the Sennheiser CX 400BT True Wireless for?
Because the Sennheiser CX 400BT True Wireless is a set of earphones that don't offer ANC or a low price point, the range of potential buyers are going to be somewhat narrow. However, they would make a really solid purchase for the following people.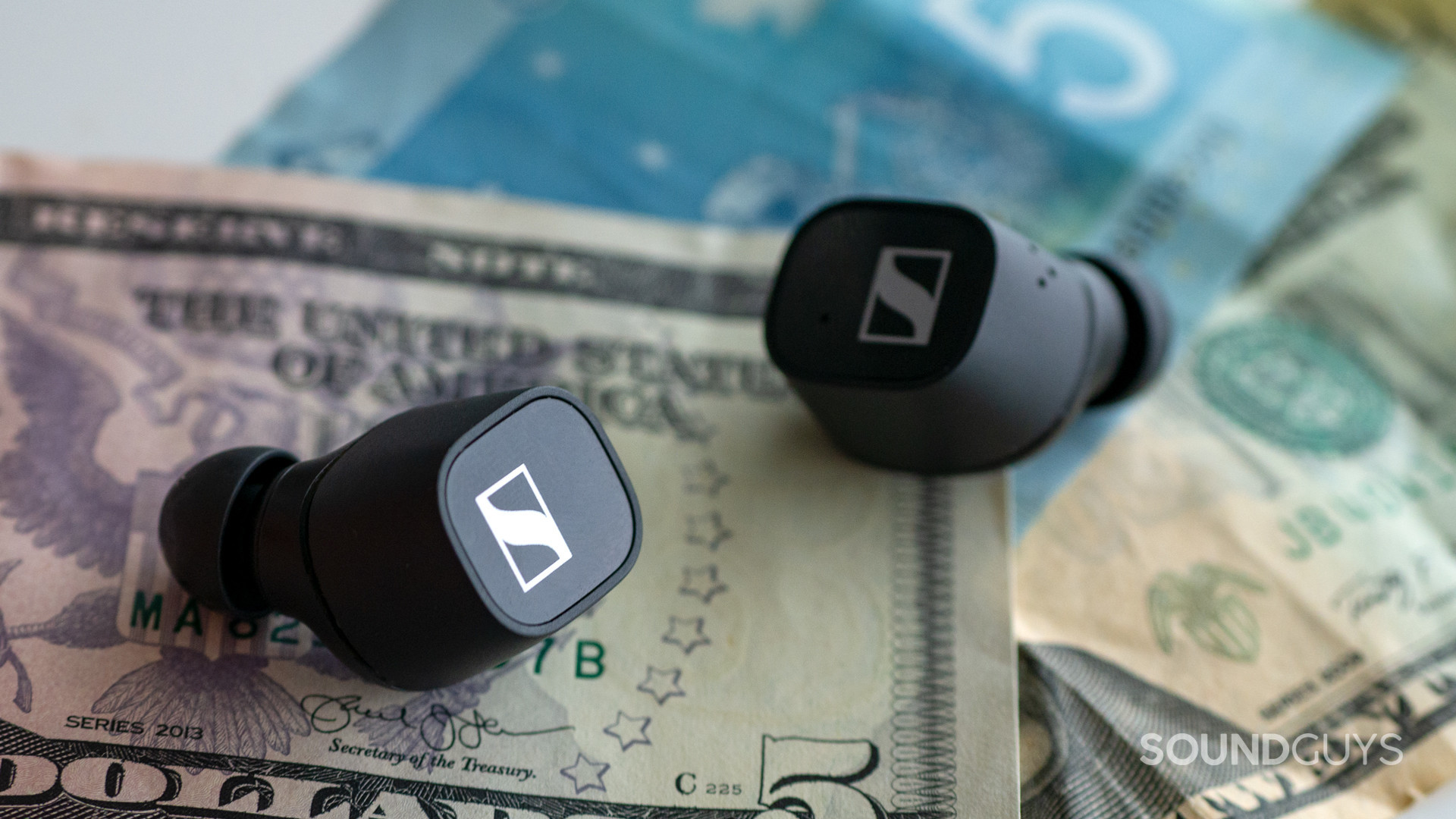 Young professionals looking to grab their first set of "more grown up" earphones will be served well by the Sennheiser CX 400BT True Wireless because the sound quality, passthrough, and equalization features are a step above what you'd get at the under-$100 price point.
Anyone looking for an upgrade over AirPods will find that the seal created by the Sennheiser CX 400BT True Wireless offers better isolation than an open ear canal, though the AirPods Pro offer this plus ANC.
Android users looking for an AirPods Pro competitor will appreciate the aptX support, as it's generally better than AAC on Android devices.
What is the Sennheiser CX 400BT True Wireless like?
The CX 400BT True Wireless are among Sennheiser's second generation of true wireless earphones, offering a somewhat large 7mm driver in each earbud, and make their claim to your hard earned cash by offering a sort of "middle ground" between cheaper alternatives and the Sennheiser MOMENTUM True Wireless 2.0. What the CX 400BT lack in polish, they don't sacrifice in quality. Sure, they may not look as slick as their bigger brothers—but they aren't really deficient in any way. Just bulky.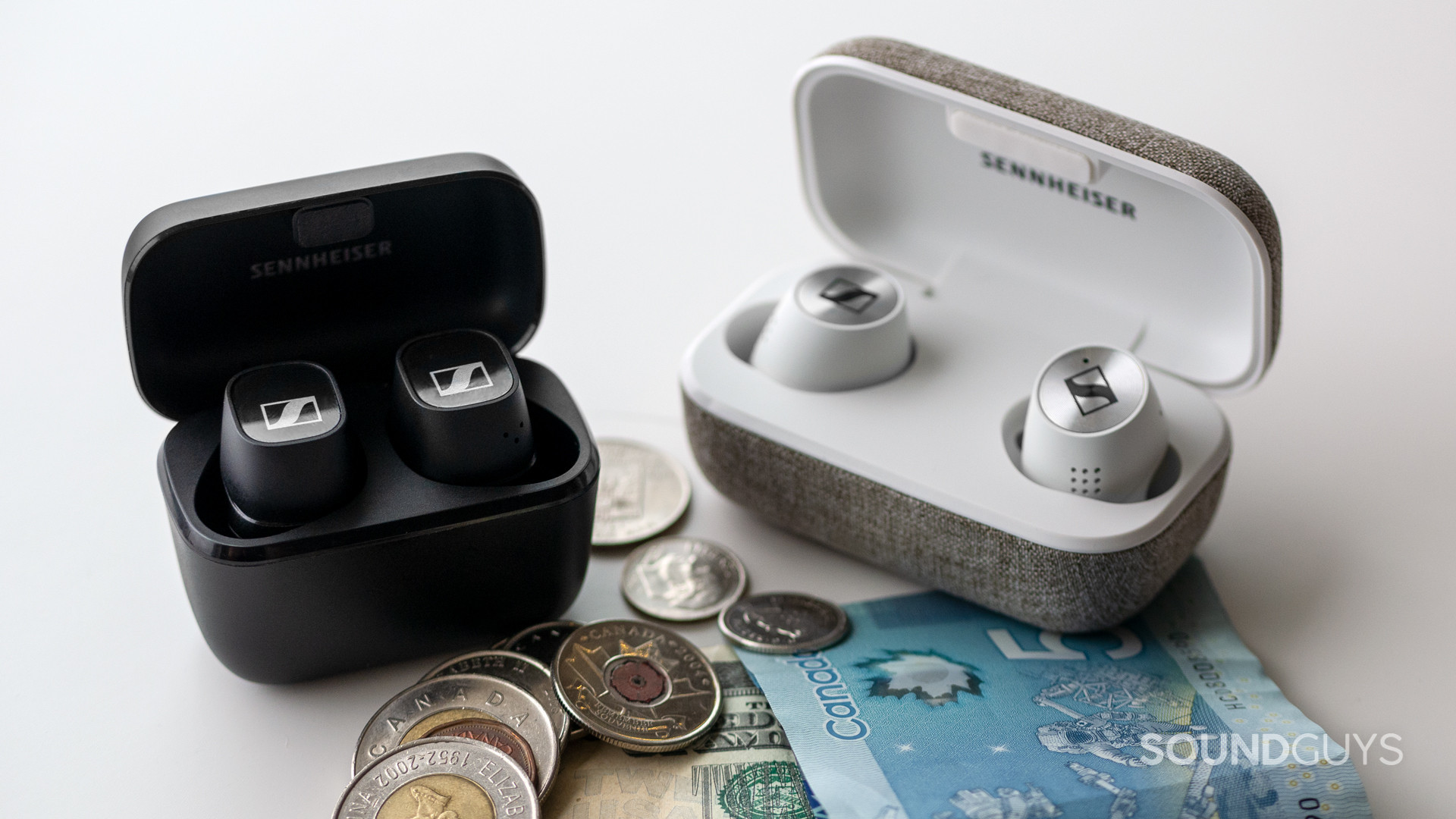 The Sennheiser CX400BT and Momentum True Wireless 2.0 sound identical.
Hard plastic makes up the bulk of the construction, which for in-ears this big is the right choice. Weight becomes a very difficult issue when you have earphones that use only your ear canal for stability, and lighter plastic earbuds are much easier to fit comfortably in this product type.
On the backs of the earphones are the touch controls, which prevent you from having to fish your phone out of your pockets every time you want to change tracks, or answer a call. However, the controls are split up between each side, and each earbud can be used to operate different things. To make things a little simpler, we've broken this down by side:
Action
Left side
Right side

Action

One tap


Left side

Play/pause


Right side

Voice assistant


Action

Two taps


Left side

Previous track


Right side

Next track


Action

Hold


Left side

Volume down


Right side

Volume up

Even if these can be a little confusing, you'll get the hang of it in short order. Just be sure to be gentle and you'll be okay. You can also customize them to a degree, but only if you install the app.
Should you get the Sennheiser Smart Control app?
If you want to take a little more control over your earphones, you should consider using the Sennheiser Smart Control App. The app grants you the ability to tinker with the sound of your earphones, and a few other creature comforts like ease of access to firmware updates).  While the app isn't well-liked on Google Play, it serves a necessary function for anyone using the true wireless earphones, so we recommend using it.
Being able to equalize your earphones is an excellent feature that probably isn't as well-understood as it should be, but essentially it gives you the option of being able to tailor your sound to your preferences based on note emphasis. Have a tough time hearing vocals in music? Turn down the bass a bit. Cymbals a little painful to listen to? Drop the 5-6kHz band a little. We recommend following presets that aren't based on genres of music (don't get me started on that hogwash), and making changes very slowly.
How do you connect the Sennheiser CX 400BT True Wireless to your phone?
Pairing the CX 400BT to your phone is as straightforward as it is with any other Bluetooth peripheral. Open the case to reveal the earbuds. Once you remove the earbuds from the case, they'll automatically start searching for a device to pair to. Open the Bluetooth settings panel on your phone, and locate the "Sennheiser CX 400BT" in the dropdown list, and follow the normal pairing procedure.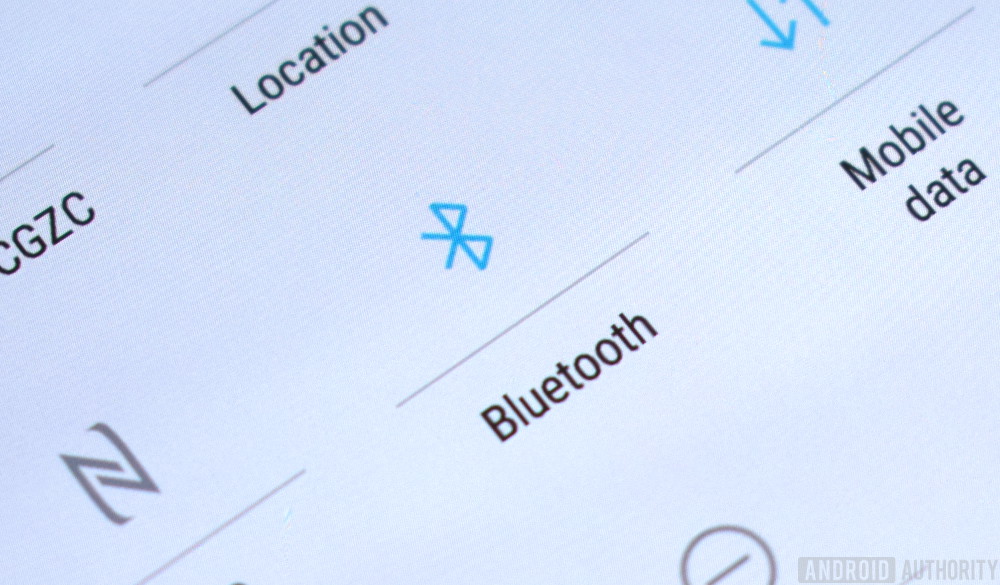 Enabling the Bluetooth toggle isn't enough- you need to also install the app.
After this is done, every time your earphones are taken out of their case they'll automatically pair to the same source—assuming the Bluetooth radio is on.
How long does the battery last?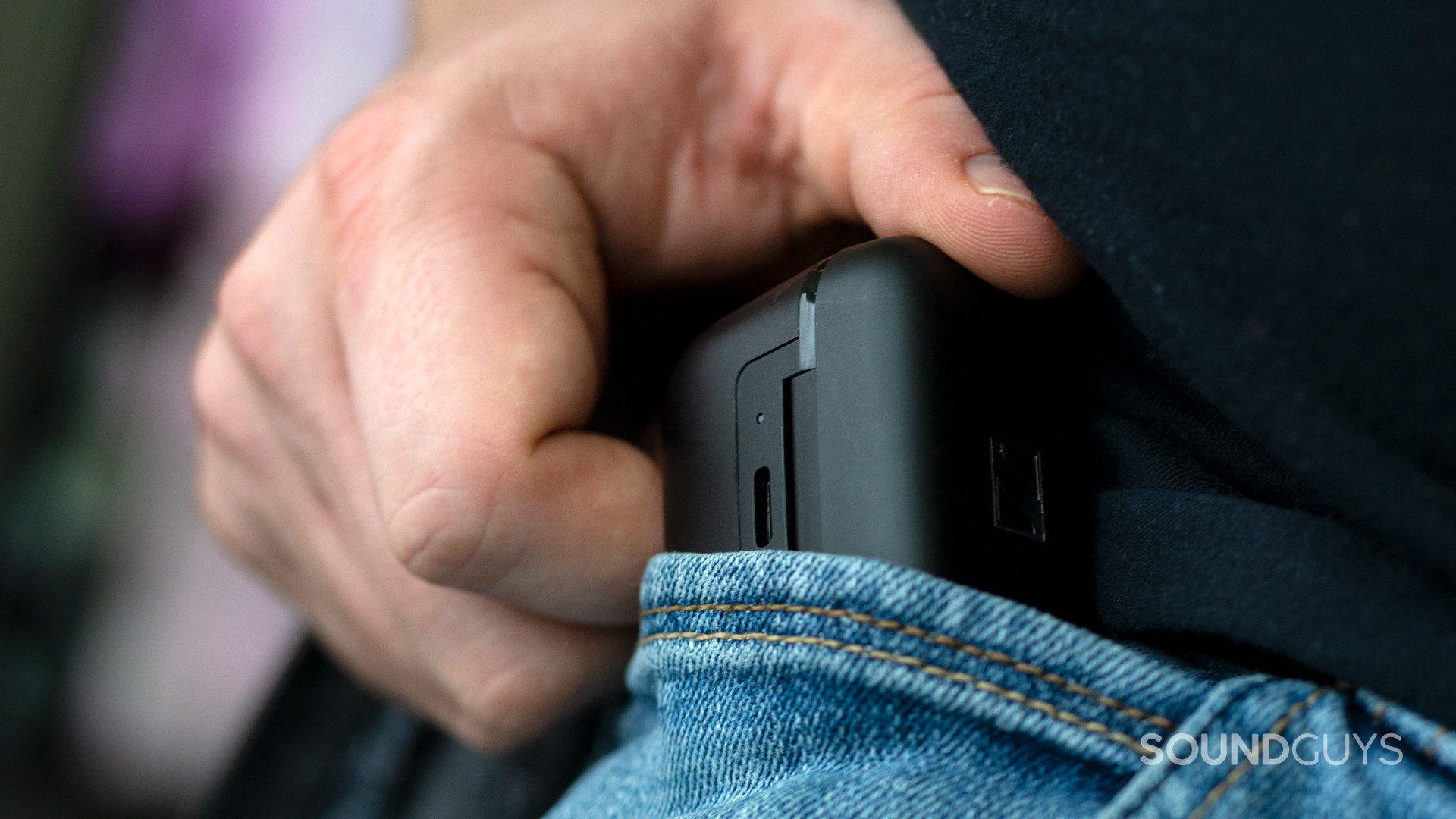 A tiny case means more pocketability.
At 75dB, the Sennheiser CX 400BT offers 5 hours and 14 minutes of playback on a single charge. By not needing to power additional features like ANC, you get a lot more battery life, and it shows in our tests. Obviously, your mileage may vary based on how loudly you listen to tunes.
Does the Sennheiser CX 400BT block noise well?
The Sennheiser CX 400BT does a pretty decent job at isolating you from the outside world, although our measurements may have something to do with the fact that we had to torque the earbuds in a bit to get them to fit.
These earbuds will block out a good amount of ambient noise.
Of course, your experience will vary a bit because isolation is very dependent on the fit you get. So be sure to experiment with the ear tips and fit to make sure you're getting the most out of your earphones.
How do the Sennheiser CX 400BT True Wireless sound?
The bud may be bulky, but the light plastic and wide nozzle means sensible distribution of pressure on your ear canal.
As far as true wireless earphones go, the Sennheiser CX 400BT True Wireless sound great. That's due in some part to the fact that these earphones use nearly-identical hardware as the Sennheiser MOMENTUM True Wireless 2.0, just with a few of the nicer features trimmed off. Both earphones use SBC, AAC, or aptX to connect, and both earphones use the same 7mm drivers and nozzle design.
Ever since debuting the MOMENTUM True Wireless, Sennheiser has enjoyed a rather unique position amongst audio companies in the true wireless space with some of the best-sounding options out there. However, there's a few quirks to address before you pull the trigger on buying these buds.
Restrained bass and a dip in the highs are fairly common for Sennheiser earphones.
The Sennheiser CX 400BT underemphasizes bass notes under 100Hz relative to our house curve. This may come as a disappointment to avid bassheads, but you can always adjust it within the Sennheiser app. While this does make it a little tougher to drown out surrounding noise when you're on a commute, the audio quality will seem largely more "clear" than it will with more bass-heavy earphones. The only "odd" thing here is that dip in the highs, but this is a feature common to Sennheiser products—we saw it on the Sennheiser MOMENTUM True Wireless too, and the sound of the CX 400BT is extremely similar to that model.
Bass
A fairly flat response in bass notes means that most of your music below middle C will sound exactly as it's supposed to—no crazy-powerful basslines drowning everything else out. Even if it's not what you're used to, many appreciate this kind of sound because it means that basslines aren't going to mess up your listening experience. However, the downside is that older songs may be a little more difficult to pick out bass instruments. For example, the bass in Barry White's song You're the first, the last, my everything tends to sound a bit quieter than it should. In general though, instances like that with older mixes shouldn't be all that noticeable.
Mids and highs
While the bass response is somewhat subdued, the mids and highs are much more consumer-friendly in terms of emphasis. That little bump in emphasis makes vocals and low strings easier to pick out, as it makes their harmonics easier to hear. You can hear this in songs like Baby I'm yours by Breakbot. On crappier headphones and earbuds, you can sometimes have issues picking out the right consonants in the lyrics, making them tough to discern.
However, the drop in emphasis from 3-6kHz can mean that some high harmonics won't be as clear, and that can put a damper on things like cymbal shimmer. If you find these sounds to be annoying on other headphones, you'll welcome the relative relief the CX 400BT offer.
What Bluetooth codec should you use?
Superusers on Android will be able to toggle SBC, AAC, or aptX with the Sennheiser CX 400BT True Wireless, but we suggest sticking with aptX for the audio quality unless you start getting audio lag when watching videos. In that case, definitely swap over to AAC for its lower latency.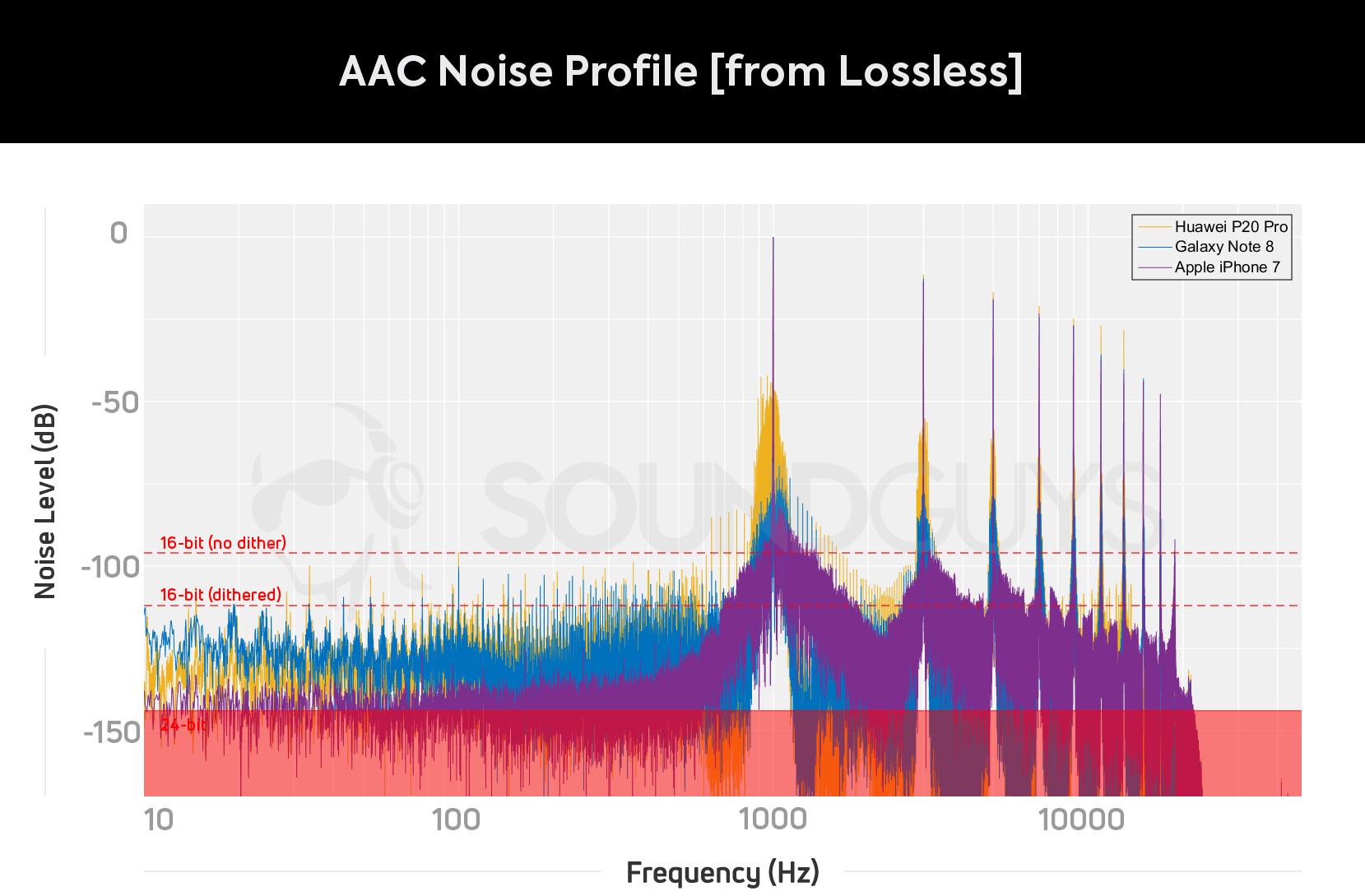 If all of this is gobbledygook to you, don't worry about it. This is merely a suggestion for enthusiasts to squeeze every last drop of performance out of their earphones—nothing more.
How good is the microphone of the Sennheiser CX 400BT True Wireless?
This is a question that should be answered by you. Below we've included a sample clip of Chris talking through the Sennheiser CX 400BT's microphone.
How does the sample sound to you?
2988 votes
As of March 23, 2021, 1125 readers have rated the above mic sample as somewhere between "okay" and "good." This is a pretty typical result for true wireless earphones, and at the upper end of what you should expect to get out of any products of this type.
Which is better, the Sennheiser MOMENTUM True Wireless 2 or the CX 400BT?
Long story short: these are very similar true wireless earphones, mostly because they share a lot of parts. However, there are some key differences that you should be aware of. These differences are mainly relegated to their creature comforts, or what we lovingly call the "nice-to-haves."
They look different, but the guts are the same.
For example, the CX 400BT don't have any IP rating, nor do they have active noise canceling. While that may not sound like a big deal, I'd be remiss if I didn't point out that ANC is probably one of the best features you can have on a commute. Missing that on expensive earphones can sting a little bit, but you may not need it when you're sitting at home, or at the gym.
At the end of the day, the reason you'd buy the CX 400BT over the Sennheiser MOMENTUM True Wireless 2.0 is mostly an economic one because the audio quality is so similar. I mean, they have the same drivers after all. If you have the extra cash and already like the CX 400BT: the MOMENTUM True Wireless 2.0 are a no-brainer.
Should you buy the Sennheiser CX 400BT True Wireless?
We think the Sennheiser CX 400BT is well worth the money—though it's worth noting that the high price tag and the lack of ANC is going to rub people the wrong way, even if the features aren't the reason to get this set of true wireless earphones. The truth of the matter is that they're going to be a much better companion for audiophiles than something like the AirPods Pro.
The CX 400BT has very similar audio quality to the higher-end Sennheiser MOMENTUM True Wireless 2.0 at a much lower price, but $200 might be out of your price range for earphones. On sale, though, these are a steal. At this price point, there's lots of available earphones that you may enjoy, though the CX 400BT are tough to argue with given their raw performance.
Sennheiser CX 400BT True Wireless
All prices listed in USD unless otherwise specified. Prices may change over time, and vary by region. Unfortunately, we cannot list Amazon prices on the site, as they vary greatly by currency.
In that light, those looking to snag something in the "under $100" flavor will have to make some sacrifices in the audio quality department. However, that's not really the worst thing in the world. Most true wireless earphones aren't really the things you buy because you want perfection in your critical listening: you just want something to go with you on a commute, or another environment where there's likely to be noise.
What are some alternatives?
If you're looking at the Sennheiser CX 400BT True Wireless, there are plenty of competitors on the market. However, they mostly come with tradeoffs that you may or may not be willing to deal with. For example, the Apple AirPods (3rd generation) are unsealed—meaning little to no isolation at all—and the Apple AirPods Pro may not support the features you're looking for if you don't have an iPhone to listen to them with.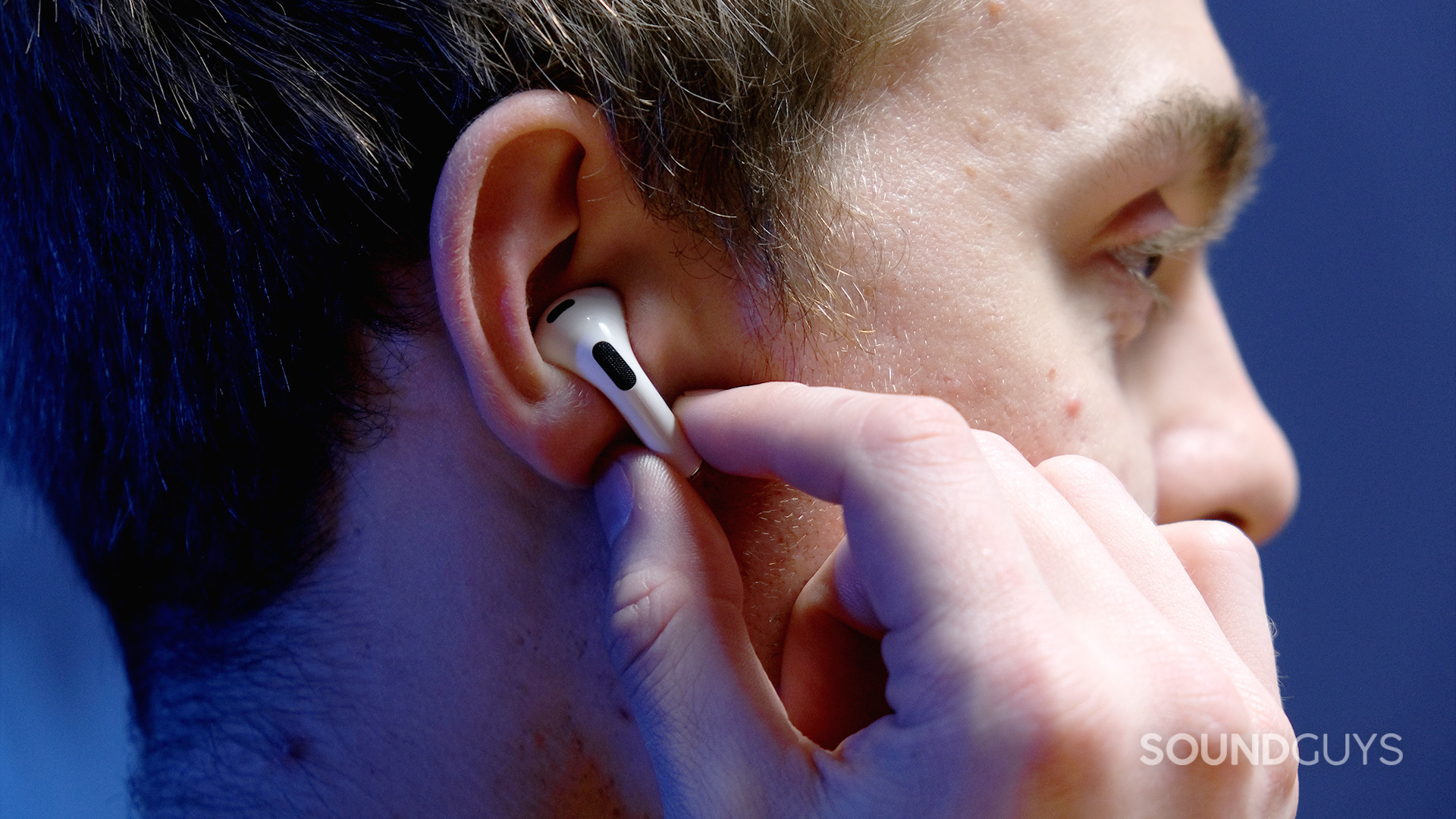 No seal means AirPods will be a poorer commuting companion than the Sennheiser CX 400BT True Wireless.
For bargain-hunters, you may want to grab the Sennheiser CX True Wireless which features an IPX4 rating and improved battery life. This headset hit the market this past July, and is quite close to the CX 400BT in terms of value. You may also be able to find other Sennheiser true wireless earphones at a deep discount now that their true wireless offerings are a little "older" than what many outlets consider "new." So, keep your eyes peeled!