All products featured are independently chosen by us. However, SoundGuys may receive a commission on orders placed through its retail links. See our ethics statement.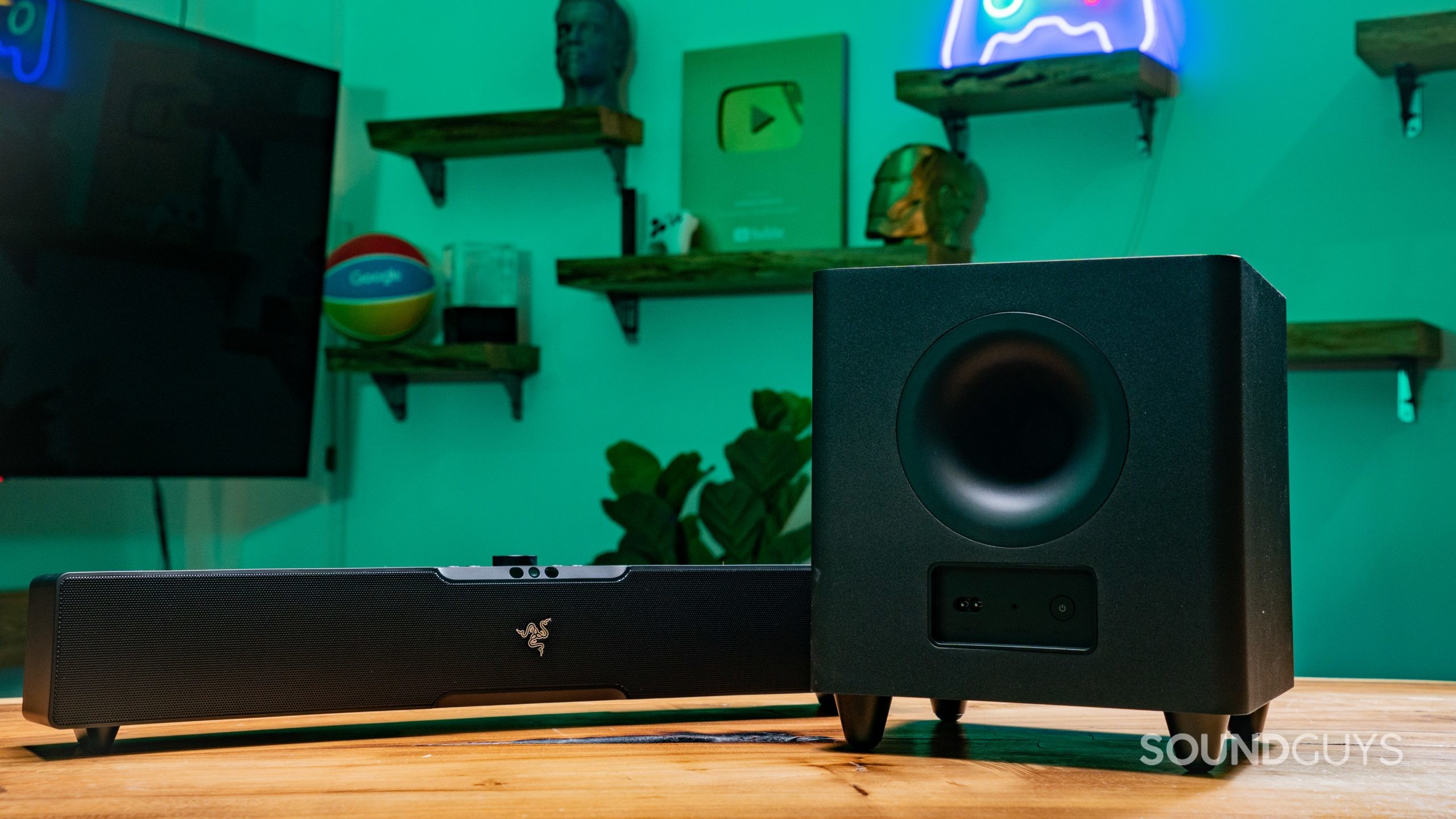 The bottom line
It's not as versatile as it could be, but the Razer Leviathan V2 Pro offers a very enjoyable gaming audio experience. There's a lot of software features, but ultimately what will dictate if it's worth the price is how much you want head tracking.
Razer Leviathan V2 Pro
It's not as versatile as it could be, but the Razer Leviathan V2 Pro offers a very enjoyable gaming audio experience. There's a lot of software features, but ultimately what will dictate if it's worth the price is how much you want head tracking.
Dimensions
600 x 114 x 90mm (Soundbar)
260 x 295 x 260mm (Subwoofer)
Weight
2.27kg (Soundbar)
5kg (Subwoofer)
What we like
Head tracking works
Good sound
Easy to use
What we don't like
Subwoofer can be a bit distracting
No microphone
A lot more expensive than its predecessor
Razer's been quietly putting out dedicated desktop soundbars for some time, and while the Leviathan line of products has always seemed decent enough, it's never lit the world on fire. Now, the Razer Leviathan V2 Pro comes with a new speaker array and built-in cameras for head tracking, so the headset-free virtual surround sound will stay functional as you shift around at your desk. Is that enough to justify the increased price?
About this Razer Leviathan V2 Pro review: We tested the Razer Leviathan V2 Pro over a period of a week. It was running firmware version 1.1.1.0, and the Razer Synapse app ran version 3.8.209.20311. The company provided the unit for this review.
What you need to know about the Razer Leviathan V2 Pro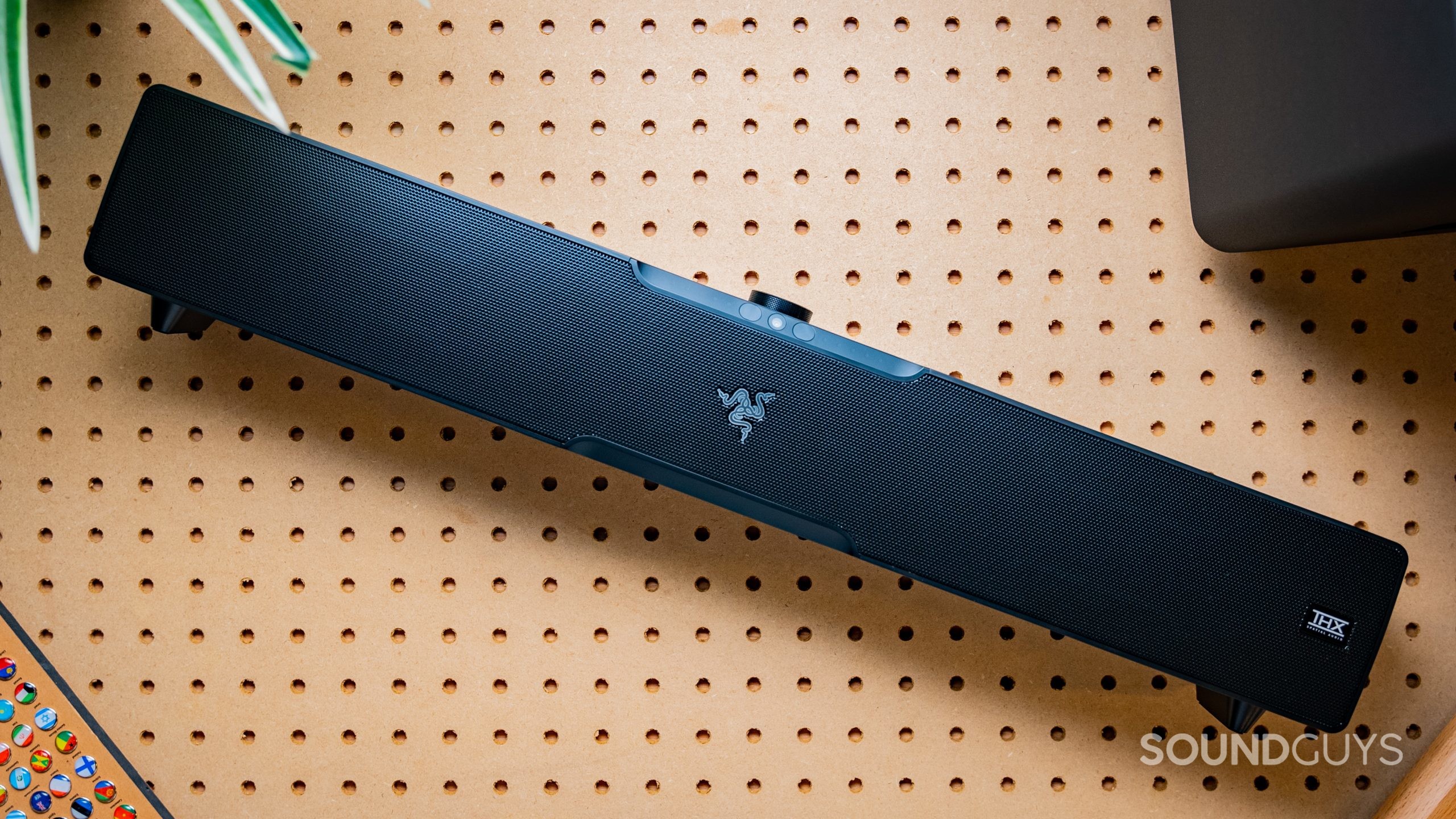 The Leviathan V2 Pro looks like a pretty average soundbar, with a black rectangular design and a plastic build—same deal with the subwoofer.
Razer Leviathan V2 Pro: $399.99 USD / £399.99 / €489.99 / $549.99 CAD
The Leviathan V2 Pro is Razer's newest desktop PC soundbar, iterating on the features of its predecessors. The soundbar and its included bottom-firing subwoofer are both a little larger than the previous Leviathan V2— The soundbar itself is a few inches longer, and the subwoofer is a couple inches taller. That might not seem like a big deal, but if your desk is a cluttered hellscape like mine, carving out a few extra inches of space can be challenging.
A lot of the specs between the Leviathan V2 Pro and the regular V2 model are the same—It can still connect to your PC using a USB connection, to your headphones via 3.5mm jack, and to additional devices using Bluetooth. It still features THX's headphone-free spatial audio. It still hooks up to Razer Synapse on your PC for access to a 10-band EQ, Razer Chroma control, and more.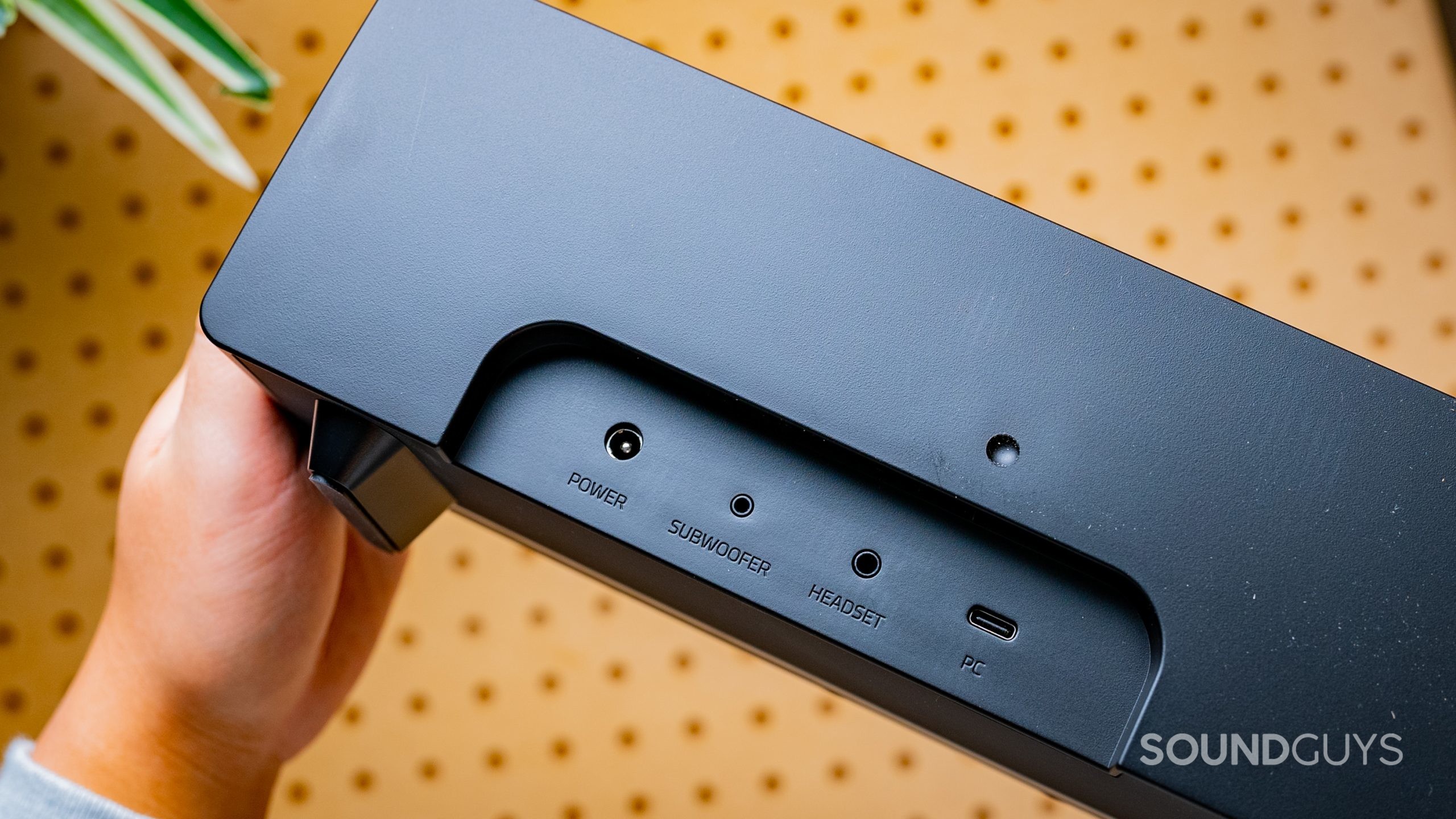 The headset jack is new, and nice to have. There's no 3.5mm input, though.
However, there are handful of very meaningful changes here, not the least of which is the price. The Razer Leviathan V2 launched for $250 USD, already a markup from its own predecessor, but the Leviathan V2 Pro costs a comparatively very high $400 USD. For that extra money, you get a completely rebuilt speaker system, with five 2-inch full range beamforming speakers that now use head tracking to keep your surround sound audio mix working as intended, even if you move around a little at your desk. The soundbar also has a new onboard control scheme, with fewer buttons and a big volume dial/power button, but the big draw is definitely the head tracking surround sound.
What's good about the Razer Leviathan V2 Pro?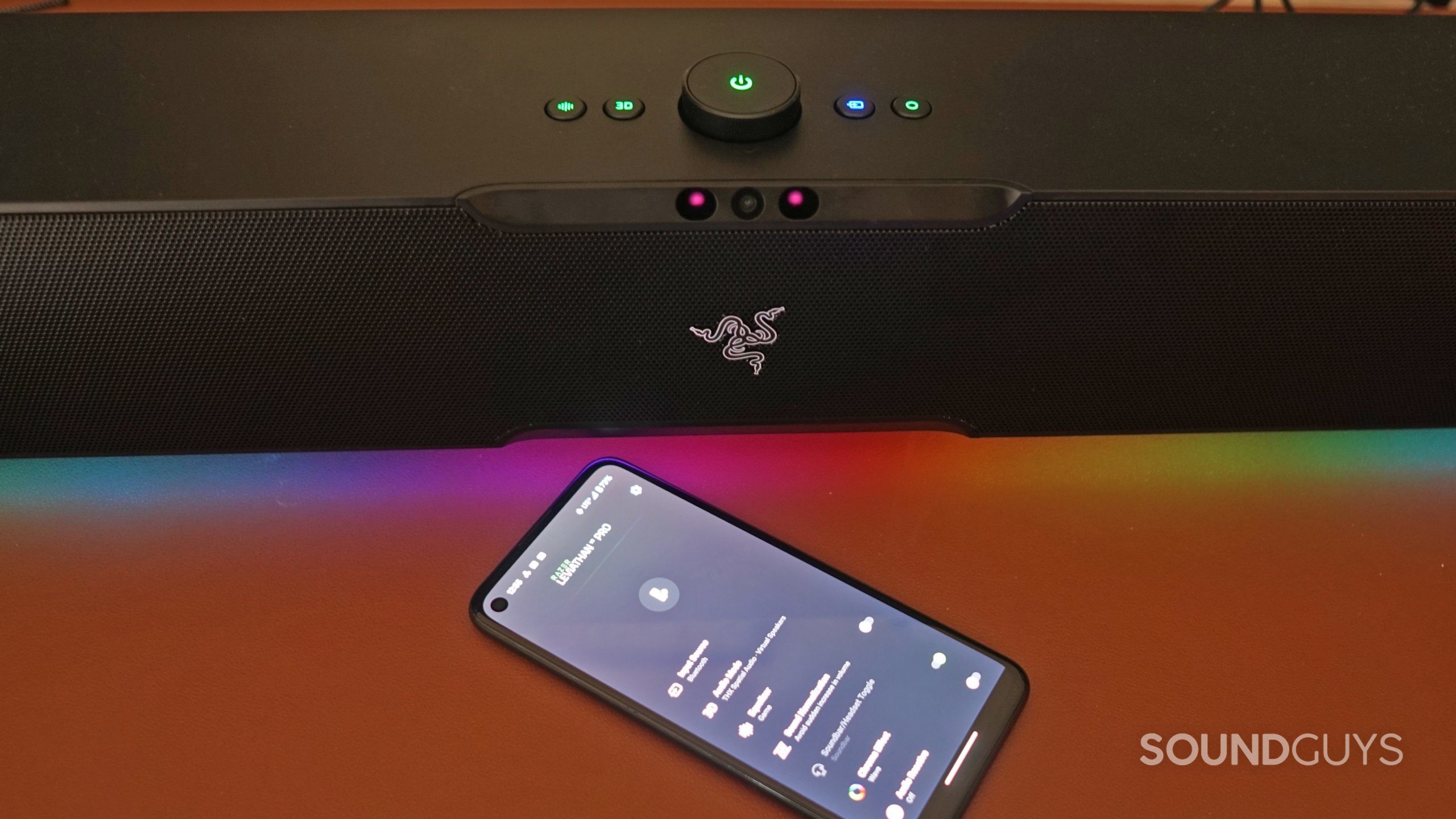 Those two glowing red dots are the IR sensors, it's how you know the soundbar is looking at you.
One of the best things about the Razer Leviathan V2 Pro is how easy it is to use. Once you've got it all plugged in and hooked it into Razer Synapse, having buttons for toggling between the different EQ presets, audio modes, and audio sources, and adjusting volume on the fly is a breeze. In a desktop setting, reaching up to switch between 3D audio modes and EQ presets, or adjusting the volume feels really natural.
The soundbar also sounds pretty good. It can get very loud, maybe too loud for a desktop speaker system—I tend to keep it around 10% volume, out of consideration for my neighbors, and because that's that plenty for gaming and listening to music. Assisted by the subwoofer, the sound profile is pretty bass-forward, which won't come as a shock to anyone familiar with Razer audio products. However, it's not overwhelmingly bass heavy. The rumble of the bottom firing subwoofer during intense moments of gameplay really adds to the experience of playing shooter games like Atomic Heart. 
The Razer Leviathan V2 Pro is larger than its predecessors, but it's not hard fit on the desk. The raised feet mean running a cord for your keyboard and mouse underneath is easy, so you can still maintain some semblance of tidiness. The Razer Synapse and Razer Audio apps are your options for gaining more granular control over the soundbar, and both are pretty comprehensive and responsive. In either app, you can control the Razer Chroma lighting, change the EQ, and switch to different audio modes, including the head-tracked 3D audio modes.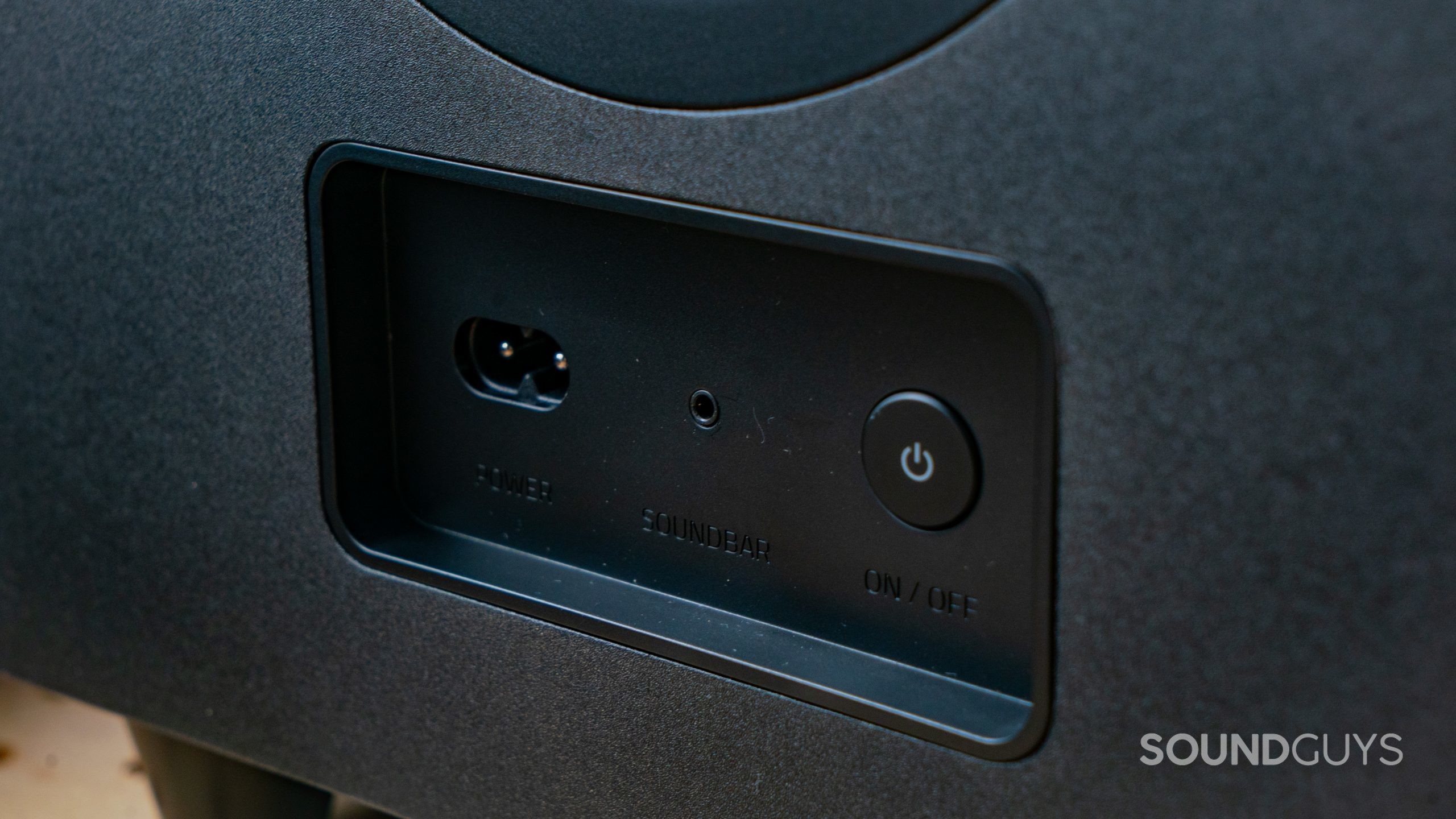 You can turn off the subwoofer through the software or via this convenient little button on the back.
Like its predecessor, the Leviathan V2 Pro boasts headphone-free 3D audio, and you can switch between a simulated surround sound speaker or headphone mode. However, this updated soundbar features infrared cameras that track your head, automatically adjusting the processing applied as you move around to maintain the surround sound effect. This feature works pretty well, in my experience. The spatial effect isn't as pronounced as, say, if you're using a gaming headset and you've set your ideal HRTF on a PlayStation 5, but it's definitely noticeable.
The camera embedded in the soundbar only turns on if you switch the audio setting to the "Virtual Headset" or "Virtual Speakers" mode. During that time, the camera is always on, but if you're concerned about privacy, don't worry too much. The embedded camera primary functions using infrared for depth measurements, and doesn't record a viewable image.
If you've used virtual surround sound features before, whether with a headset or speaker, and struggled to notice a difference between it and a stereo mix, this isn't going to change that. The head tracking adds a degree of consistency that was absent with the previous Leviathan soundbar, but it's not going to suddenly wake you up to the highs, lows, lefts, and rights of spatial audio. Nonetheless, it's very impressive.
What's not so good about the Razer Leviathan V2 Pro?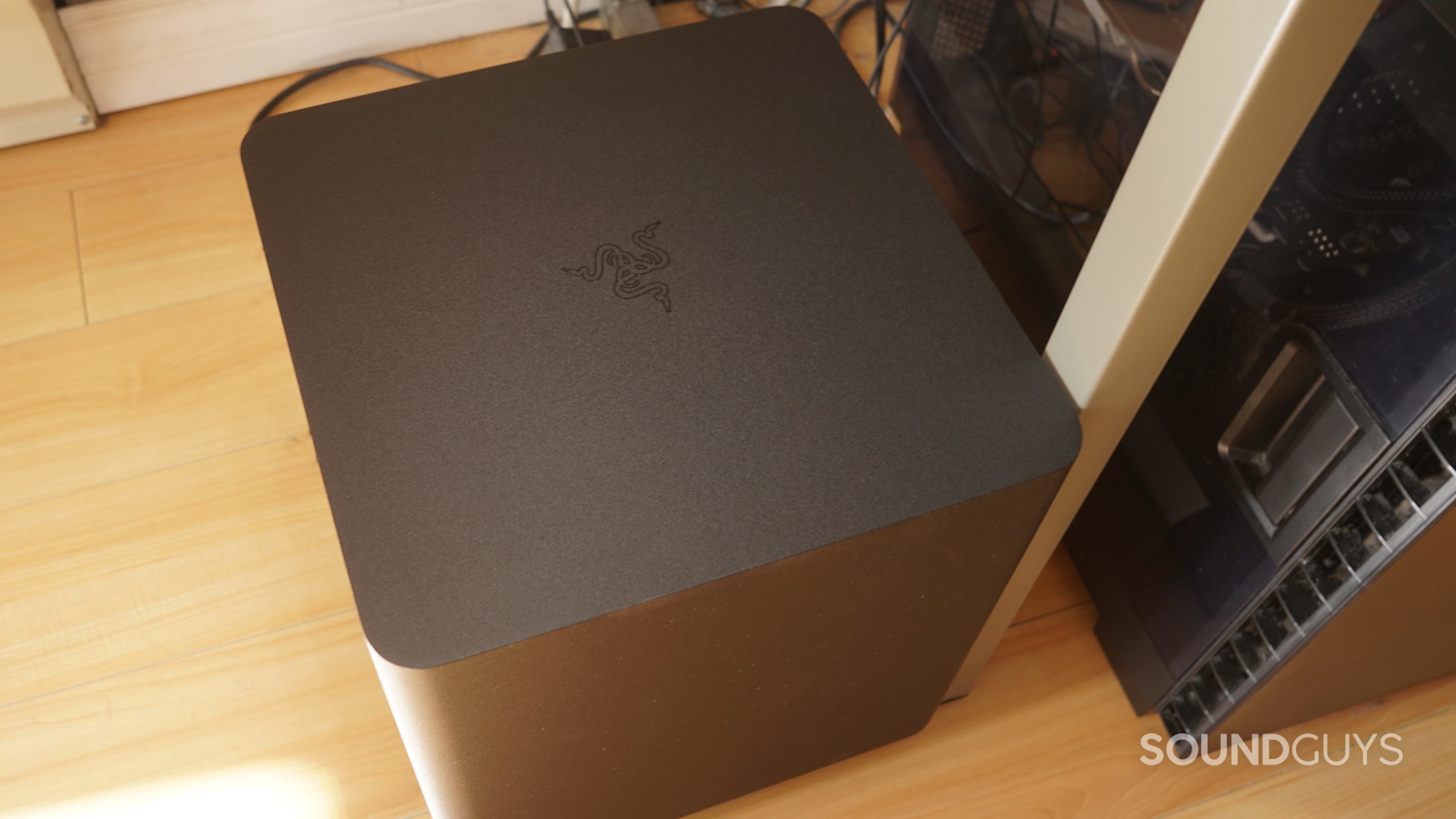 The woofer is definitely a little on the large side for stashing under a desk.
As easy to use as the Razer Leviathan V2 Pro is, it's definitely not a perfect product. The added subwoofer unit adds a usually very nice degree of rumble to the low end when you're playing games and listening to music, but it can be a little too noticeable—distracting, even—during youtube videos and quieter spoken word content. Hearing an extra little hum beneath your feet every time someone gets a little closer to their microphone can be disorienting, and it just doesn't sound very good when it happens. There's a subwoofer level slider in both apps, so you can fix this pretty easily, but it's still annoying if you don't want to horse around with different settings too much.
It's also worth discussing the connectivity of this device. The Razer Leviathan V2 Pro supports audio input via its USB-C port and over Bluetooth. There's no 3.5mm input for analog sources, though there is a headphone jack so you can plug in a gaming headset. The Bluetooth options are also pretty paltry. Pairing with a Bluetooth device is pretty straightforward, but there's only basic codec support—the box advertises AAC support, but for some reason it's not available on my Google Pixel 4a, so SBC is all you get. There's also no multipoint, though tapping the audio source button is pretty quick way to switch back and forth between your computer and your phone.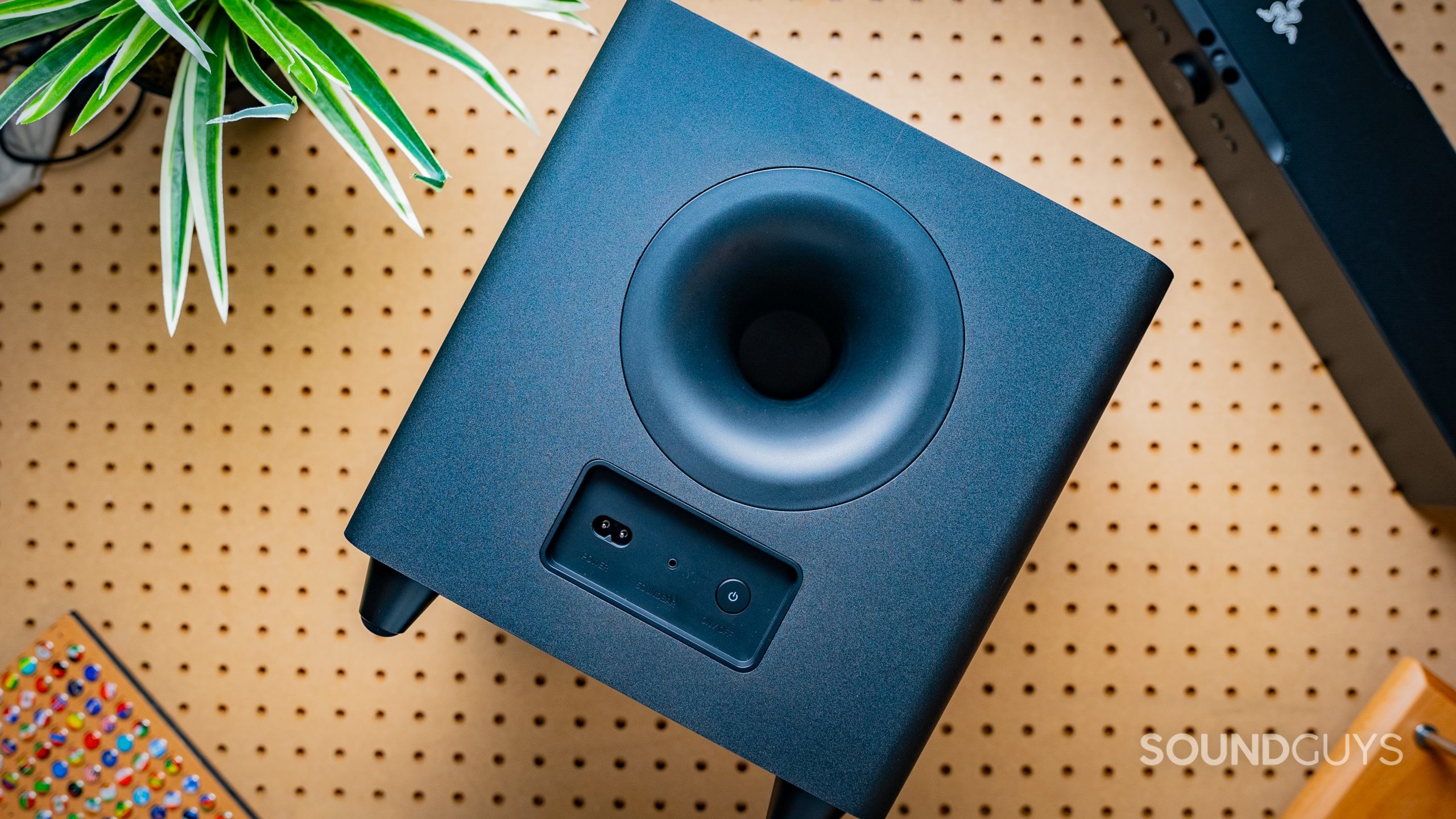 The port goes to the back, the driver is on the bottom.
The lack of any sort of remote is also kind of a bummer. This is a desktop soundbar, so the omission is understandable, but it's not an unreasonable expectation for the Leviathan V2 Pro to double up as a more versatile home audio speaker, and the lack of a remote control option is too bad—I suppose you could always just use your phone anyway.
The last thing to really harp on in the negatives is the price. The Leviathan V2 Pro rings in at $399.99 USD. That may not seem like a ton of money for a soundbar, but it's $150 USD more than the Leviathan V2, which is an extremely similar product. You're basically paying the extra cost just for the head tracking and the headphone jack. If you don't really care about virtual surround sound, that's probably a pretty steep markup, especially given the fact that you can probably find a decent pair of desktop speakers and a gaming headset for less money.
Razer Leviathan V2 Pro specs
The Razer Leviathan V2 Pro has a lot of features and a fairly complicated specs sheet. Here's a list of all the important specifications that you may care about:
Razer Leviathan V2 Pro

Size


600 x 114 x 90mm (Soundbar)
260 x 295 x 260mm (Subwoofer)


Weight


2.27 kg (Soundbar)
5 kg (Subwoofer)


Audio specs


5 x 2-inch full-range drivers
Down-firing subwoofer driver: 1 x 5.25"


Audio inputs


USB-C
Bluetooth


Wireless audio connection


Bluetooth 4.2


App


Razer Synapse (Windows)
Razer Audio app (iOS/Android)


Controls


Soundbar: Buttons


Price


$399.99 USD

Razer Leviathan V2 Pro: Should you buy it?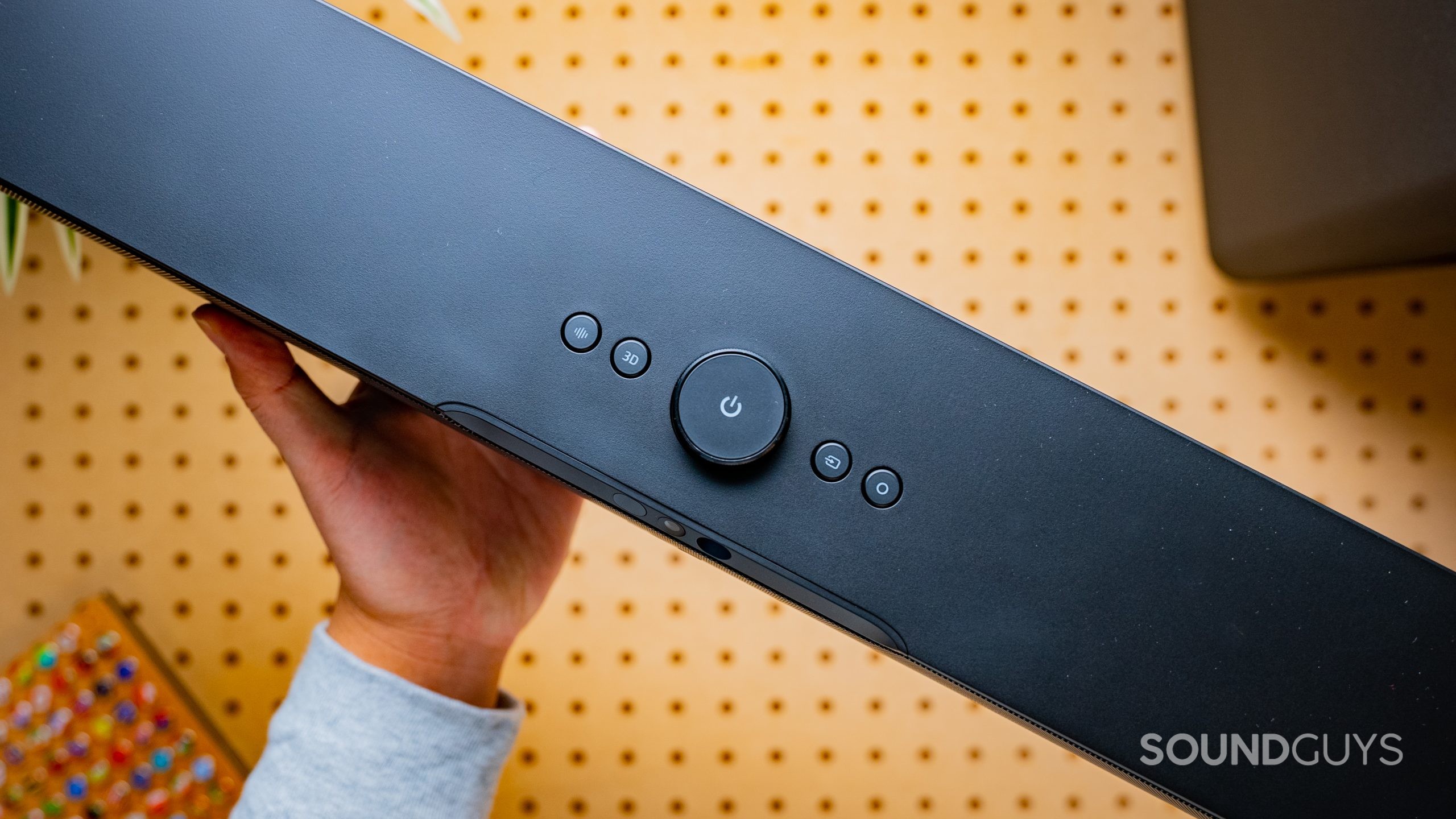 The controls are easy to reach out for, but there's not exactly a lot of onboard options.
If the head tracking surround sound is something you've got to have, you should consider buying the Razer Leviathan V2 Pro. The fact that it works is impressive in and of itself, but that it works this well makes it even more so.
If you're not sold on it, I'd steer clear. This is an expensive gaming audio solution, made even more expensive by the fact that it lacks a microphone—even if you do buy the Leviathan V2 Pro, you'll have to shell out more money to talk to your friends over voice chat. Paying $399.99 USD may not seem steep in the soundbar world, but this isn't a TV soundbar—gaming audio products and desktop speakers generally run a lot cheaper. You could get a pair of Bose Companion speakers and a gaming headset like the Razer BlackShark V2, and still come in more than a $100 USD lower, for example.
Basically, this isn't your one-stop shop for PC audio. It's a cool product, to be sure, but putting together a setup in a more piecemeal fashion isn't that hard, and it's a lot cheaper.
Razer Leviathan V2 Pro
Razer Leviathan V2 Pro
Headphone free surround sound • Easy device switching • Good sound
The Razer Leviathan V2 Pro improves on its surround sound feature with head tracking.
The Razer Leviathan V2 Pro brings infrared cameras and beamforming speakers to implement head tracking for it's headphone-free surround sound feature. On top of all that fancy tech, you get a good soundbar and woofer combo that's easy to use, and easy to fit on a desk.
Frequently asked questions about the Razer Leviathan V2 Pro
Currently, the soundbar only comes in black. However, it does have Razer Chroma support, so it can still add a dash of color to your setup.