All products featured are independently chosen by us. However, SoundGuys may receive a commission on orders placed through its retail links. See our ethics statement.
6.3
Razer Hammerhead true wireless earbuds
The bottom line
Unless you're really a fan of Razer there are much better options out there for the price. These aren't a bad pair of true wireless earbuds they just don't do enough to stand out from the pack.
Razer Hammerhead true wireless earbuds
Unless you're really a fan of Razer there are much better options out there for the price. These aren't a bad pair of true wireless earbuds they just don't do enough to stand out from the pack.
Weight
Earbuds: 4.5g per earbud
Case: 36g
What we like
Good connection strength
Touch-sensitive playback controls work well
They stay in the ear well enough
Charging case is small and portable
What we don't like
Build quality isn't great
No isolation from outside noises
Charging case is hard to get open with one hand
Gaming mode is barely noticeable as AAC is good enough for video already
Battery life is just 4 hours
Rating Metric
Sound Quality
6.2
Isolation / Attenuation
1.2
Durability / Build Quality
6.0
Value
6.0
Design
7.5
Connectivity
5.0
Microphone
6.7
Portability
9.5
Battery Life
5.0
Razer is a company that makes gaming peripherals and I doubt that's news to anyone—given just how many gaming headsets they have on the market. It has products in every category from keyboards to laptops, all of which tend to have a gaming angle to them. So how exactly does a pair of true wireless earbuds fit into that vision?
Who are the Razer Hammerhead True Wireless for?
People who game on mobile. Razer claims to have included a 60ms latency on mobile with the gaming mode, so if you're a hardcore mobile gamer where this matters it's something to consider.
Anyone that watches a lot of videos on their phone. While I can't attest to the minimal latency making me a better gamer it does make for a better video viewing experience since there's minimal lag.
People who have no problem wearing AirPods. Fair warning, these take a one-size-fits-most approach just like the AirPods do and while I surprisingly had no issues keeping these in my ears—I can't guarantee you'll have the same experience.
What's in the box?
Like most Razer products, the packaging housing the Razer Hammerhead True Wireless is the company's signature black and green. Once you open it up you'll get the charging case, earbuds, a nice braided USB-A to USB-C charging cable, a wrist strap, silicone ear sleeves, and the warranty information and instruction booklet.
What is it like to use the Razer Hammerhead True Wireless?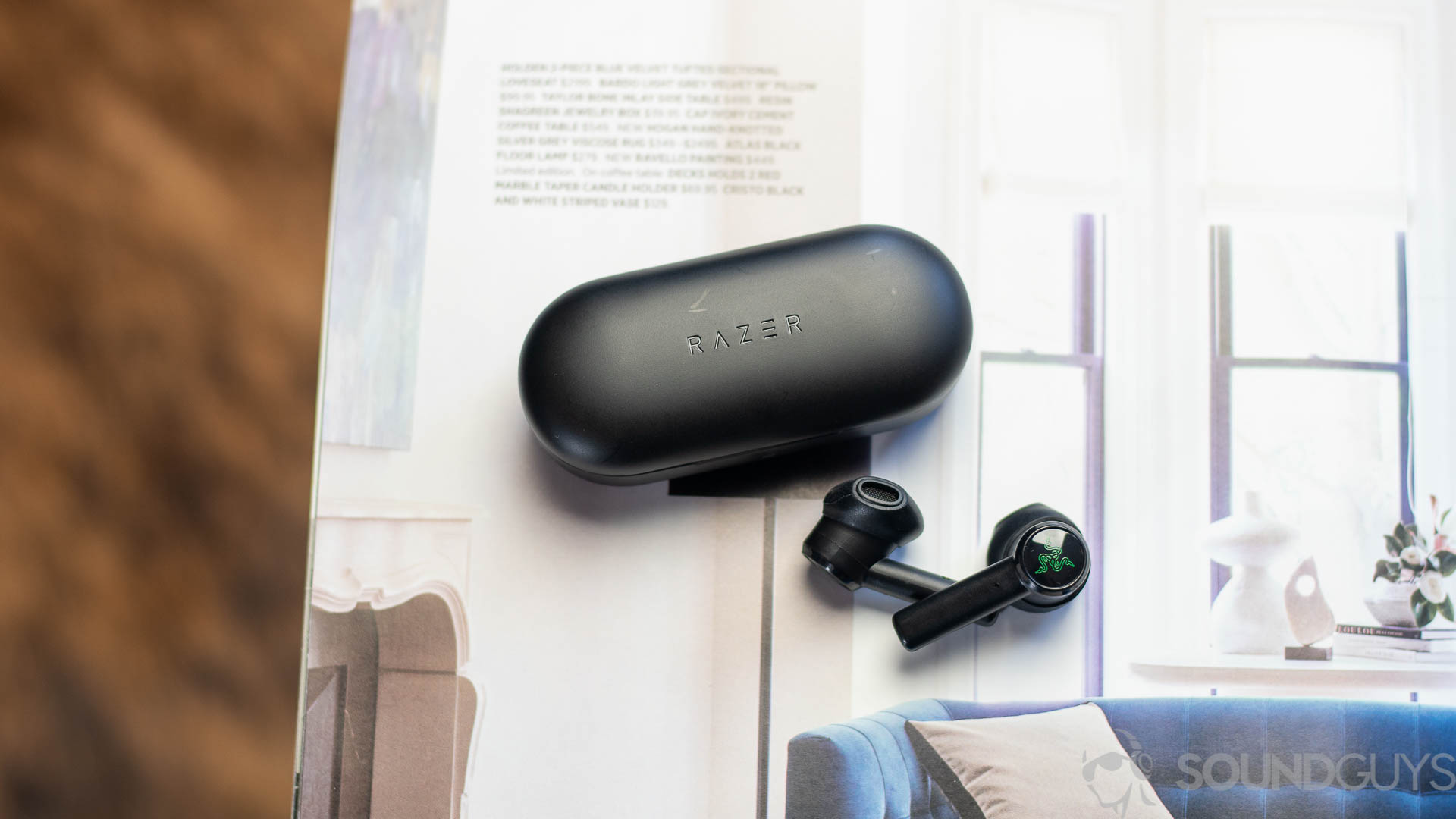 The Razer Hammerhead True Wireless earbuds have a pill-shaped charging case with earbuds that came a stem.
A good case can make or break your experience, and the Razer Hammerhead charging case is just… bad. It's made of a cheap-feeling plastic that easily picks up scuffs and smudges. The pill-shaped case fits easily in my pocket which is a good thing but it can be tough to figure out which side you need to open by feel alone.
I accidentally fumbled the case on a few occasions trying to open it.
The small indentation that's supposed to let you know where to pry it open is not as easily distinguishable at it seems, especially in low light. And because of the smooth finish on the case I accidentally fumbled the case on a few occasions trying to open it. We're not fans of the case. It's small and portable, sure, but it's not as seamless as I think it should be if it wants to compete with other earbuds in this price range.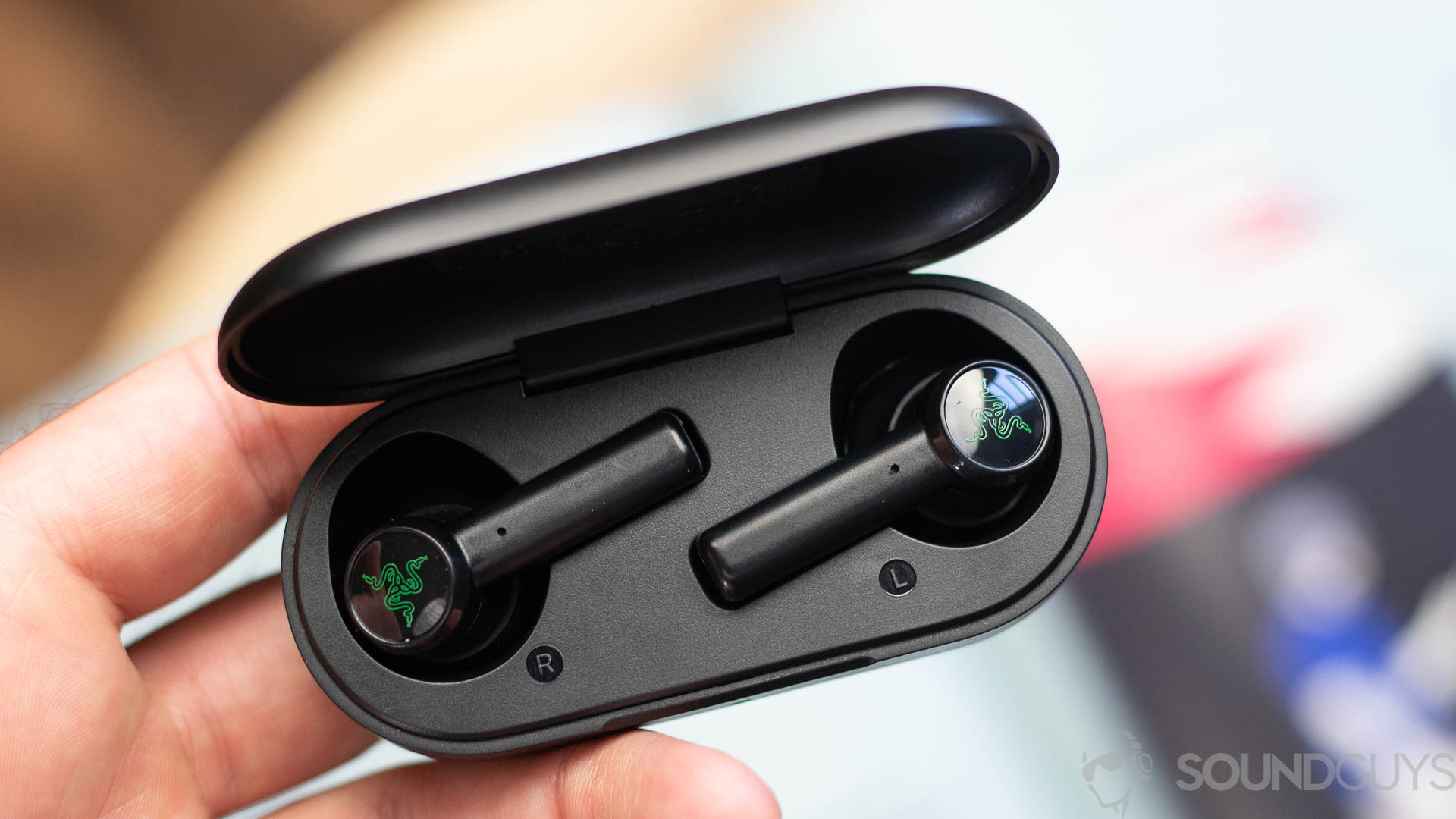 The charging case is a little confusing in that the left earbud goes into the right slot for some reason, and vice versa.
When you open up the case, you're greeted with the earbuds themselves which are for some reason on opposite sides. The right earbud is located on the left, and vice-versa. It's not intuitive, and I found myself putting the earbuds in wrong constantly. Thankfully there are magnets to help the earbuds snap into place, so at least they won't fall out too easily. Once the Razer Hammerhead True Wireless earbuds got in my ear however, my experience changed significantly. These are are really easy to use. They take the same approach to fit as the original AirPods with a one-size-fits-all design, but these come with a thin silicone ear tip to give the buds a little more grip. While these still feel very loose in my ear and isolation is all but non-existent, I have to give kudos where they're due because not once have the earbuds accidentally fallen out of my ears. While testing the AirPods I was unable to even tie my shoe without one of them sliding out of my ear.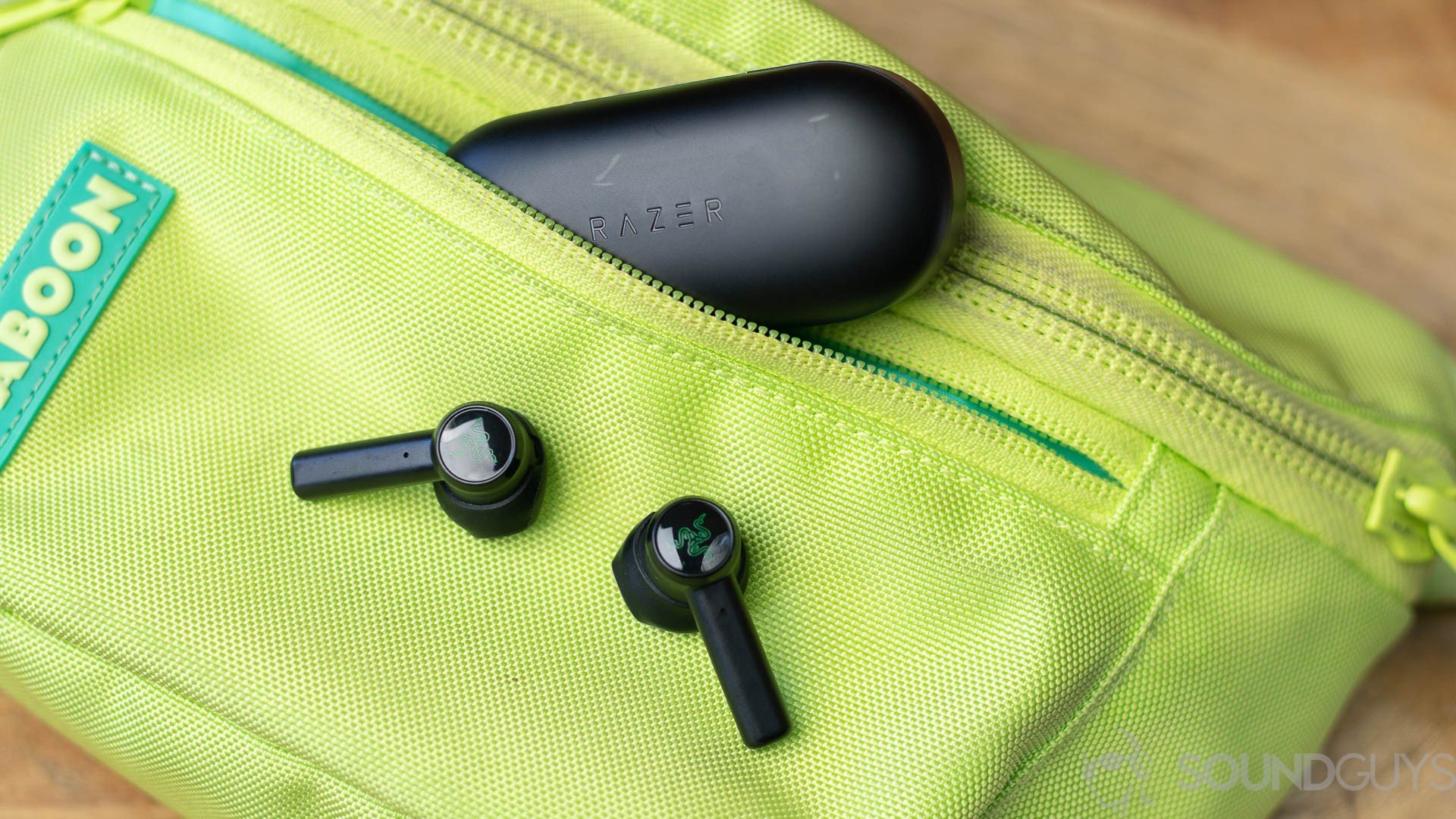 The Razer Hammerhead earbuds and its case are both small enough to keep in your pocket or bag.
Thankfully that isn't the case with the Razer Hammerhead True Wireless earphones. The combination of the fit and the IPX4 sweat-resistant build meant that I had no qualms about doing a few jumping jacks and push-ups with these during my workouts. They held up well enough, but I still didn't feel confident enough in the fit to use these outside on a run.
The design of the earbuds matches up with the case: it's not what I would consider "premium" feeling. The case is also made of a lightweight plastic that doesn't have any real weight to it. One thing worth mentioning is that these are lacking any auto-pause functionality, so removing one or both earbuds from your ears won't have any effect on your music. Even snapping the earbuds back in the charging case won't stop the music from playing. Only when you close the lid shut will it cut off the connection from your source device and stop playing music.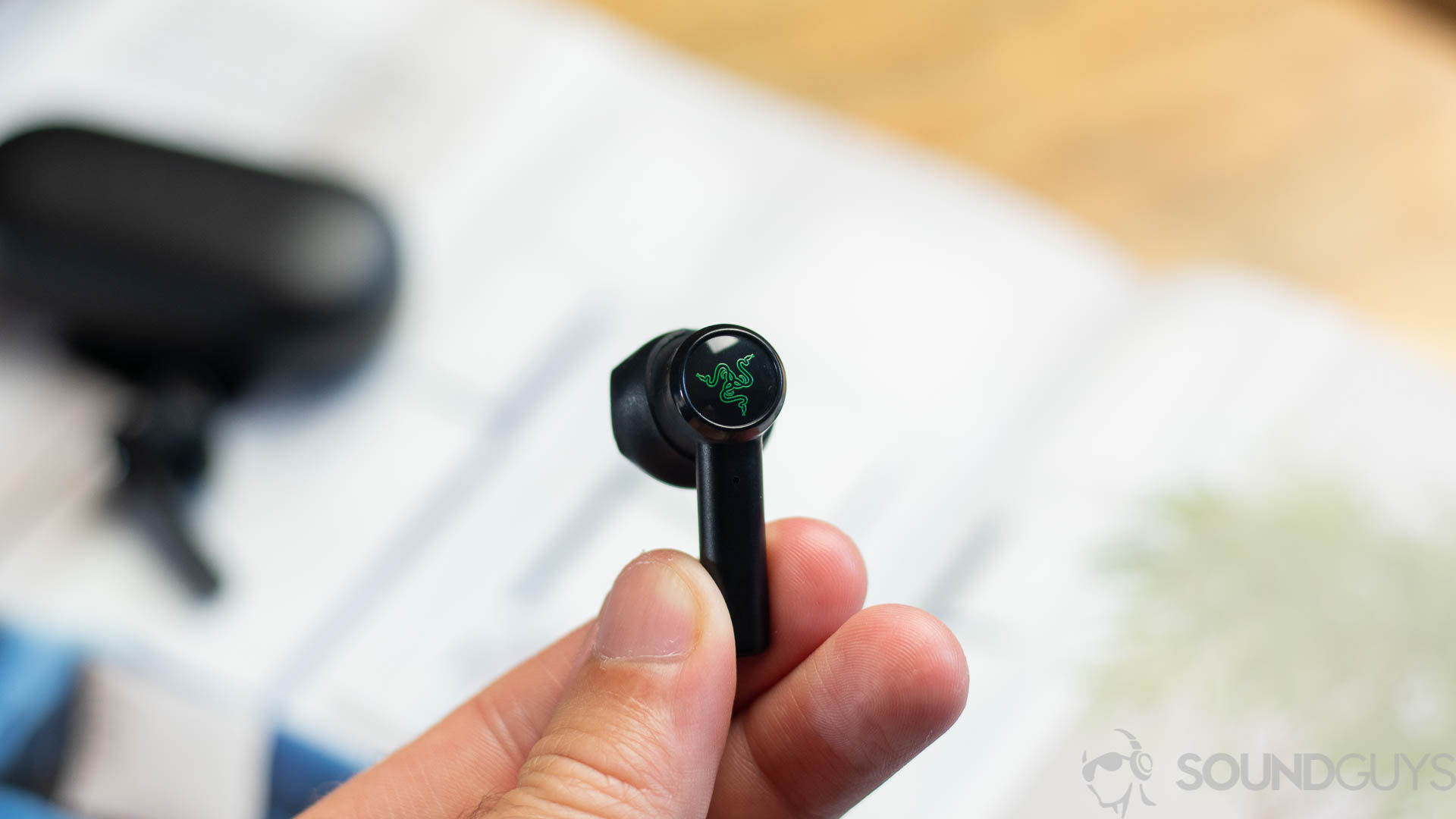 Like most of the other earbuds from Razer, these have the famous green logo on the side which also doubles as the touch-sensitive part.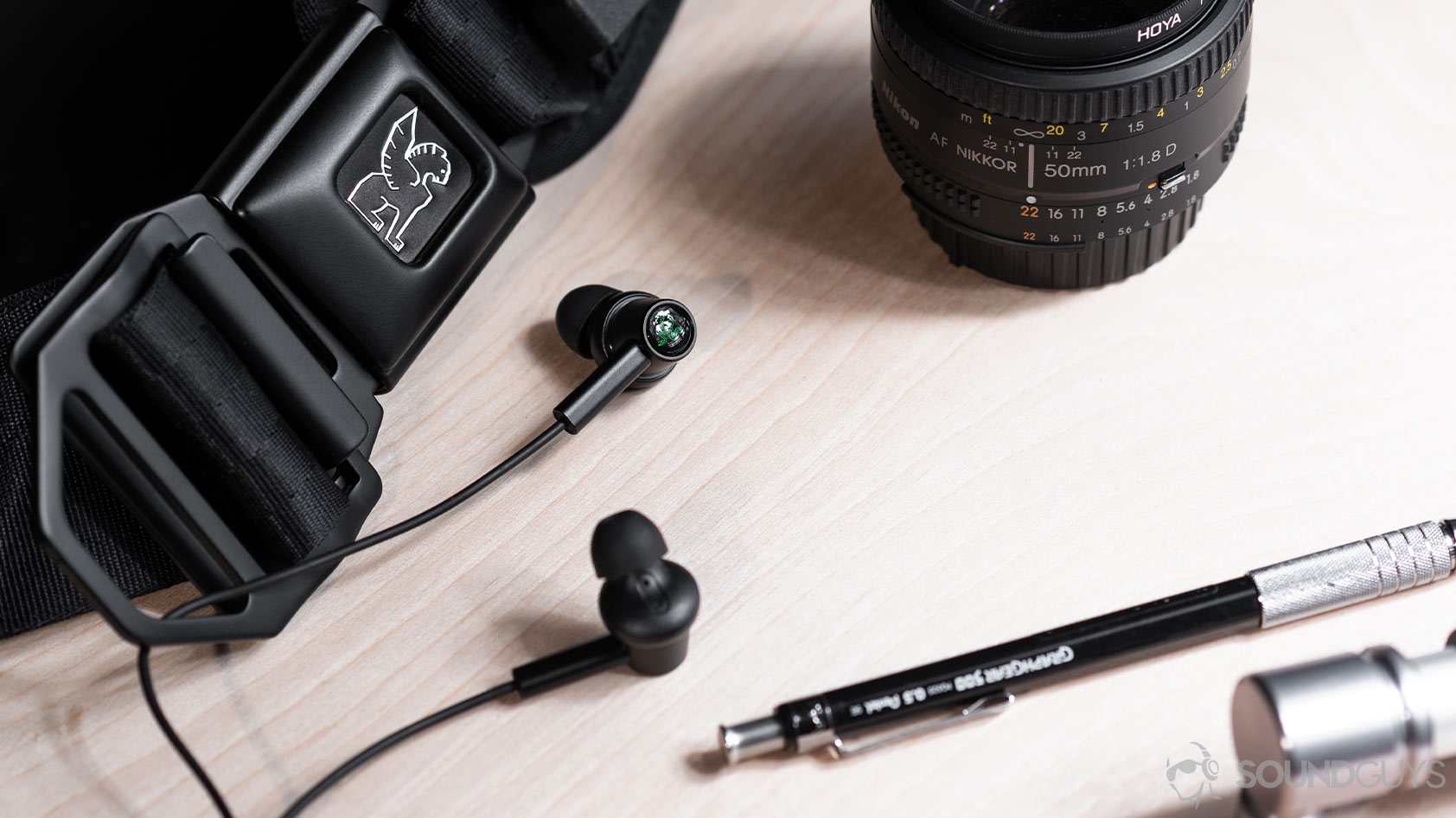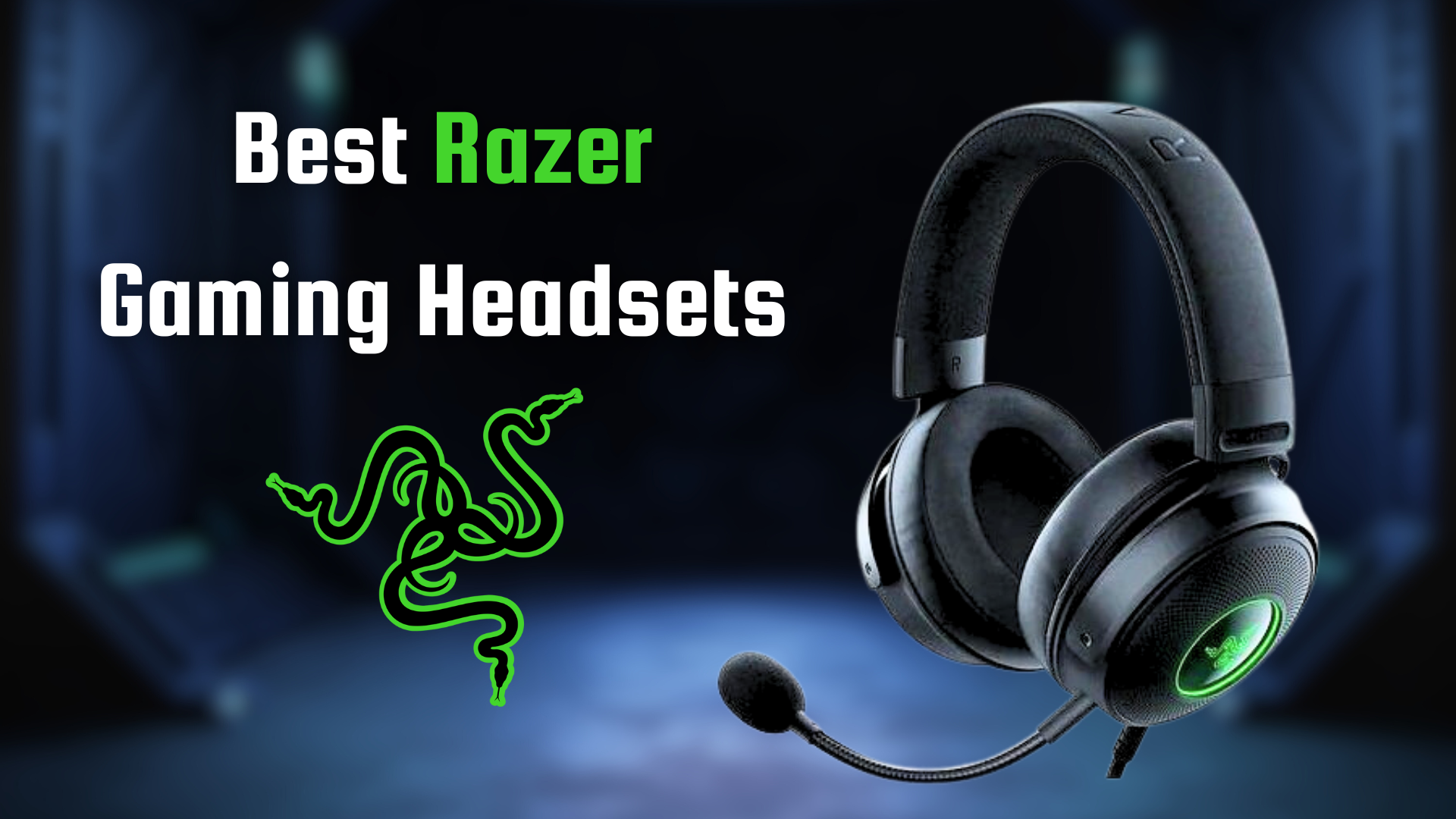 You won't get any buttons on these, and that's because the logo doubles as a touch-sensitive pad for controlling playback. Playback controls also work fine, but there is a slight learning curve. For most touch-sensitive controls I'm used to tapping on the earbud to pause or play music, but Razer took a different approach which I like a lot more. Instead of a single tap pausing music you'll need to actually hold your finger to the earbud for about half a second in order to pause music. While this obviously introduces a slight delay to how quickly you can pause your music, I find it basically eliminates the problem of annoying accidental touches that always happen with touch-sensitive controls. As someone who is constantly pausing music accidentally I find that's a fair trade to make. The rest of the playback controls are fairly similar in that they're not super intuitive but they work perfectly fine:
| Gesture | Action |
| --- | --- |
| Press and hold for ½ second | Answer call, end call, Play/pause media |
| Press and hold for 2 seconds | Power on the earbud, reject incoming call, activate virtual assistant |
| Press and hold for 6 seconds | Activate pairing mode for that particular earbud |
| Double tap | Accept incoming call or switch calls, Skip to the next track |
| Triple tap | Return to the previous track |
| Triple tap then hold the last tap for 2 seconds | Enable/disable gaming mode, (While in pairing mode) clear paired devices |
What is the gaming mode on the Razer Hammerhead?
If you read that table closely you may have noticed that there is something called "gaming mode" that you can toggle on or off. This is where Razer's gaming expertise comes into play, because the company claims that by activating gaming mode the Razer Hammerhead True Wireless earbuds will have a super-impressive latency of 60ms. Seeing as these earbuds use AAC for its connection to your phone, it's not terribly surprising. Now full disclosure: I'm not a hardcore gamer, but I have a hard time noticing any practical latency playing games on mobile devices. I did find that with the gaming mode turned on I had no audio-visual lag while watching videos, but that could also just be because AAC usually handles lag well enough all on its own.
How do you pair to the Razer Hammerhead?
The Razer Hammerhead True Wireless earbuds enter pairing mode automatically as soon as you open the lid on the case. With the lid open and without removing the earbuds you can navigate to the Bluetooth settings of your source device in order to pair to them. If you want to pair to a second device you'll have to manually enter pairing mode. To do this you need to hold your finger to the touch-sensitive Razer logo for six seconds while the earbuds are still in the case. This will for the buds to enter pairing mode so that you can pair to a second device.
Do the Razer Hammerhead have Bluetooth multipoint?
The case itself is small and easy to slip into your pocket.
Unfortunately, the Razer Hammerhead True Wireless earbuds do not have Bluetooth multipoint functionality. So if you're paired to two devices you won't be able to seamlessly switch between them in the same way that the AirPods do with Apple devices or the Surface Headphones 2 do. Instead, you'll need to go into Bluetooth settings on both devices, manually disconnecting from one and then reconnecting on the other. So while you can have more than one device paired to these, switching between them isn't seamless.
How do you factory reset the Razer Hammerhead True Wireless earbuds?
If you find yourself wanting to clear all devices from the memory of the earbuds for any reason, you can do so relatively easily. All you need to do is open the lid of the charging case and enter pairing mode by holding down the Razer logo for six seconds. Once in pairing mode then you need to triple tap the logo, holding down the last tap for two seconds. This will clear the memory of the earbuds allowing you to pair it to new devices.
What's the connection strength like?
The Razer Hammerhead True Wireless buds are rocking Bluetooth 5.0 and have a solid connection in my testing. I've been using them with my Huawei Matebook X Pro, iPhone 11 Pro, and Pixel 3 and have been getting a fairly consistent experience. Range is maxed out at about 10m, less if there are a wall or two in the way, and I actually didn't experience any skips or stutters while connected to a mobile device. However, that wasn't the case when connected to my laptop. For some reason I experienced glitches and skipping on my laptop but not on my phone. As I mentioned earlier these don't have any high quality Bluetooth codecs, instead opting for AAC.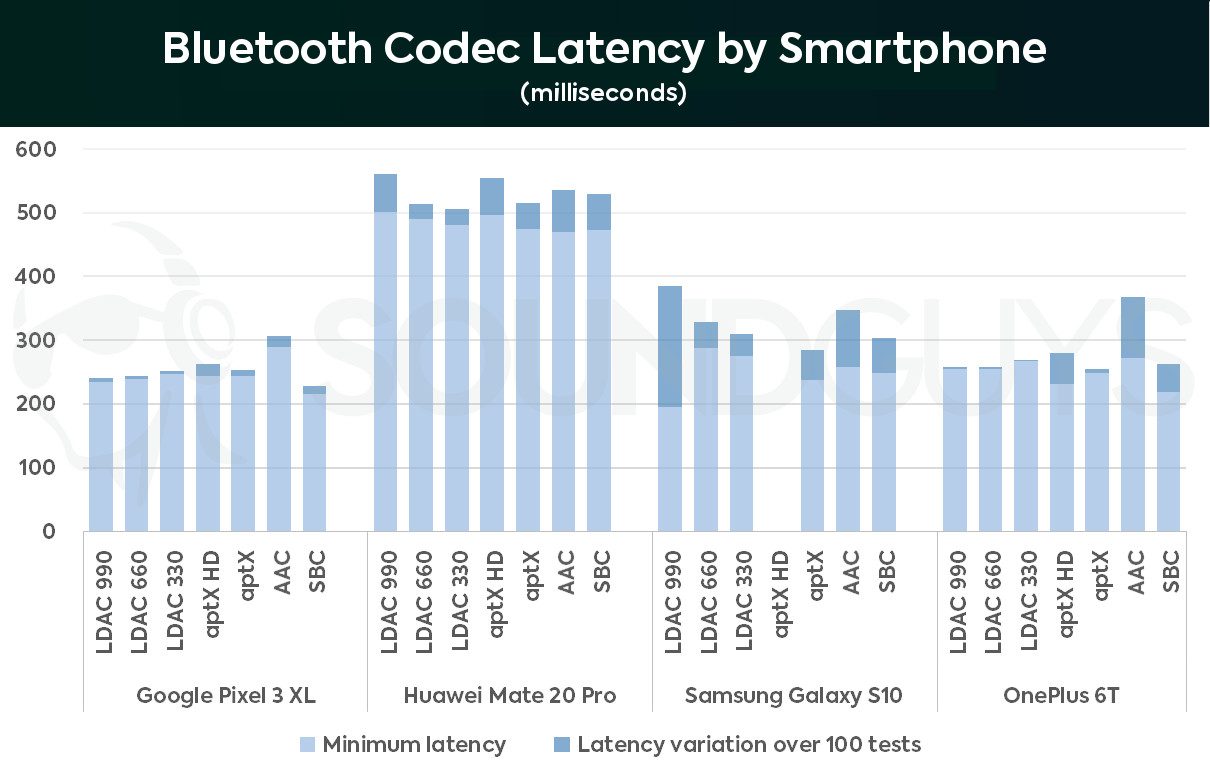 Android's Bluetooth latency is all over the map.
I find AAC to be fine for most usage anyway but it's something to keep in mind if you use a service like Tidal, Deezer, or Amazon Music HD that all support high quality streaming. To be fair, you likely won't be able to hear the difference anyway. Then there's the Razer Hammerhead app which isn't essential to use the headphones, but I recommend downloading it anyway.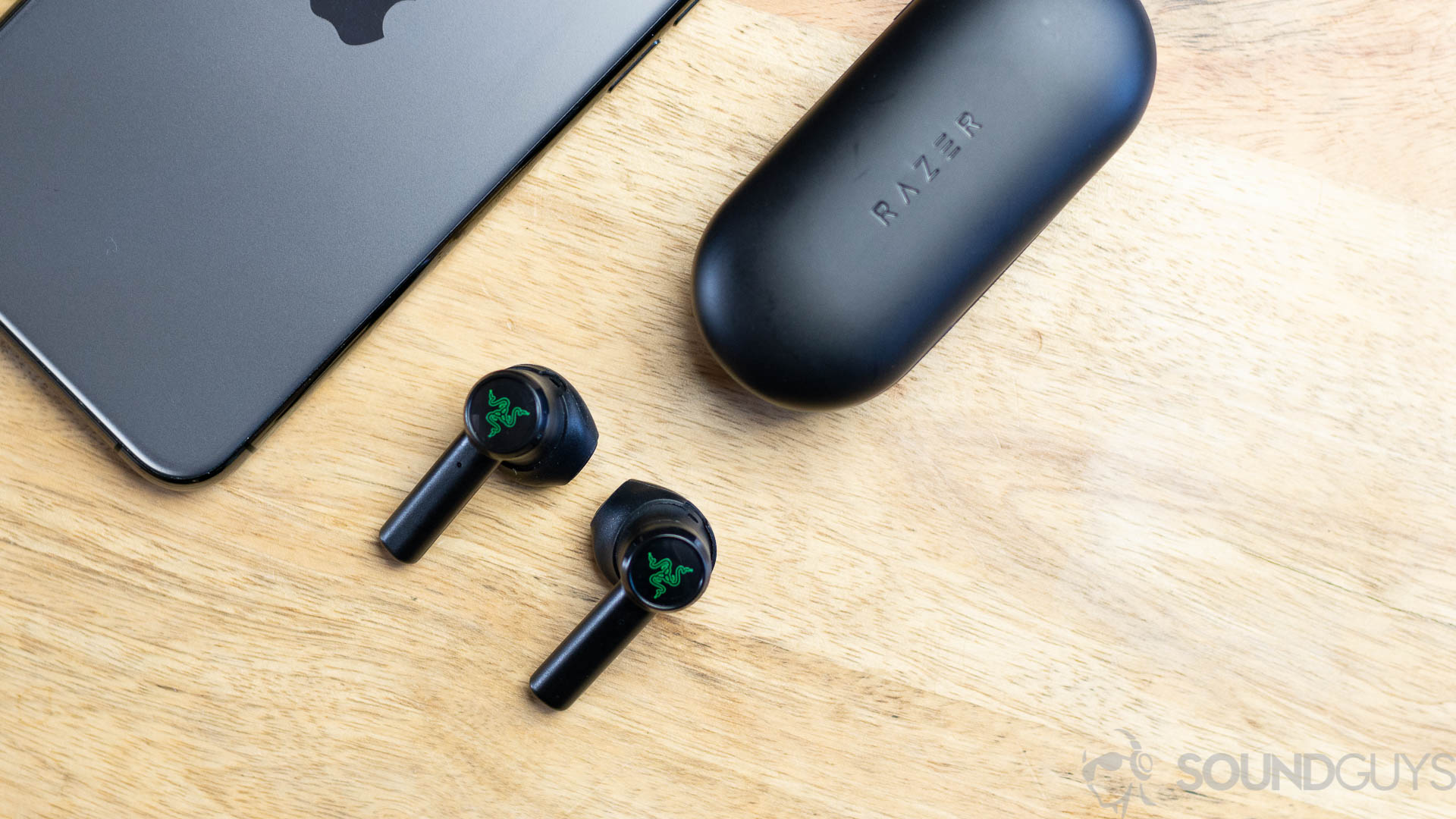 The headphones use AAC which works with both iOS and Android.
The app lets you remap the touch controls to whatever you want, so you can customize them to your liking, but it also lets you choose between three EQ presets (Default, Bass Boost, Treble Boost) as well as makes it easy to update the firmware. If you're having issues with your earbuds downloading the app and making sure your earbuds are up to date is the easiest way to ensure that you have a genuine problem. Sometimes glitches can be known by the company and fixed via software update, but if you never update the software then you're always going to have the issue.
Do the Razer Hammerhead True Wireless earbuds have a microphone?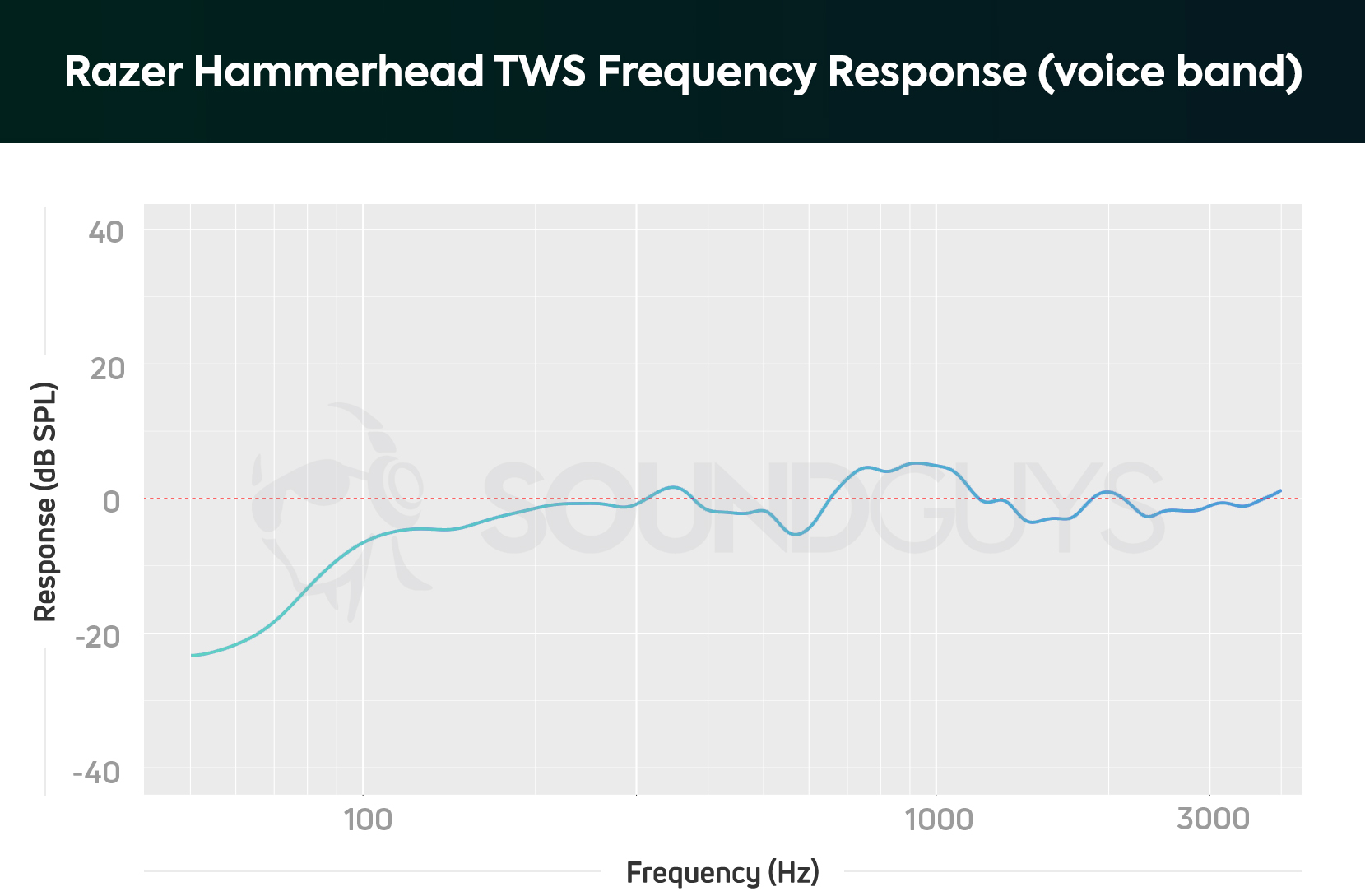 The mic here sounds good enough for phone calls but has no wind cancellation if you're outdoors.
Considering most people will likely be using these with their smartphone it's good that they have built-in microphones for taking calls. Unfortunately, it's not a great microphone. It should be good enough to get by but the consistent drop under 300Hz means that even the fundamental notes in some people's voices won't come across as loud as the higher pitches in the 1000Hz range. These also don't have any wind canceling microphones so if there's a strong wind it's going to be hard to hear you as you can hear in the demo below.
Razer Hammerhead True Wireless earbuds mic demo:
How does the microphone sample sound to you?
970 votes
How long is the battery for the Razer Hammerhead?
Razer doesn't specify the battery life of the earbuds themselves, but they do say that with the charging case you should get a total of 16 hours of constant playback. To test battery life objectively we make sure that the headphones are at a constant output of 75dB and then play music on a loop until the earbuds die. In this case I managed to get exactly 4 hours and 2 minutes of constant playback before needing to throw the earbuds back in the charging case. Four hours is fine if you're only going to be listening to them in short spurts but compared with the other options on the market now it just isn't good enough. They don't even have a quick charging feature to offset the time it takes to use them.
Do the Razer Hammerhead True Wireless sound any good?
While the Razer Hammerhead True Wireless don't sound bad, I would not say that they sound good. Even the original AirPods put more of an emphasis on the lower frequencies to make bass notes sound louder and combat the lack of a true seal. The Razer Hammerhead don't do that and instead don't even try to offset the terrible isolation. In practice, this means you'll have a hard time hearing the bass notes as they're not going to be as loud as some other parts of your favorite songs.
The bassline that slowly enters the song at the beginning of Girls by Slow Magic is almost imperceptible. I feel like I need to really push both earbuds into my ears to fully hear it, and even then most of what I hear is the AC. I haven't taken the subway in a few months due to quarantine but I can already tell that when the train pulls up I'll just end up missing a few seconds of whatever song or podcast I'm listening to. Speaking of podcasts, that's mainly what I used these earbuds for. I was able to listen to music with these obviously, but it wasn't satisfying.
It has enough clarity that listening to the most recent episode of Dan Carlin's Hardcore History was easy to do, though again, any passing bus or train is going to make me miss something and force me to rewind a few seconds. As far as highs are concerned these go a little overboard here. In the attempt to make higher frequencies more audible they're given plenty of emphasis and this results in me needing to constantly adjust my volume just to hear things correctly. For example, going back to the song Girls I'm able to make out the bassline if I'm on max volume, but doing so makes the lead vocal synth way too loud and borderline painful. In short, while these work in playing sounds I wouldn't call it a pleasant experience.
Should you buy the Razer Hammerhead True Wireless?
Unlike other one-size-fits-all designs, Razer includes a small silicone ear tip.
If you don't really care about sound quality, don't mind a plastic build, and are only going to be using your earphones while walking around your silent apartment, then yes I think these are a solid affordable option. They have a great connection strength and the smart deployment of the playback controls really shows that some thought was put into how people are actually going to use these. That said, I feel like these miss the mark for most people. There are better sounding, better built options with better battery life at this price range.
There are better options.
While the low latency is cool, I don't see too many people really taking advantage of this when playing mobile games that don't require quick reflexes. And when watching YouTube videos (something that people do far more often on their smartphones) the AAC codec is just fine all on its own. If you're a huge fan of Razer and really want that green logo on your earbuds then these are fine, but for everyone else there are far better options available.
What are some alternatives?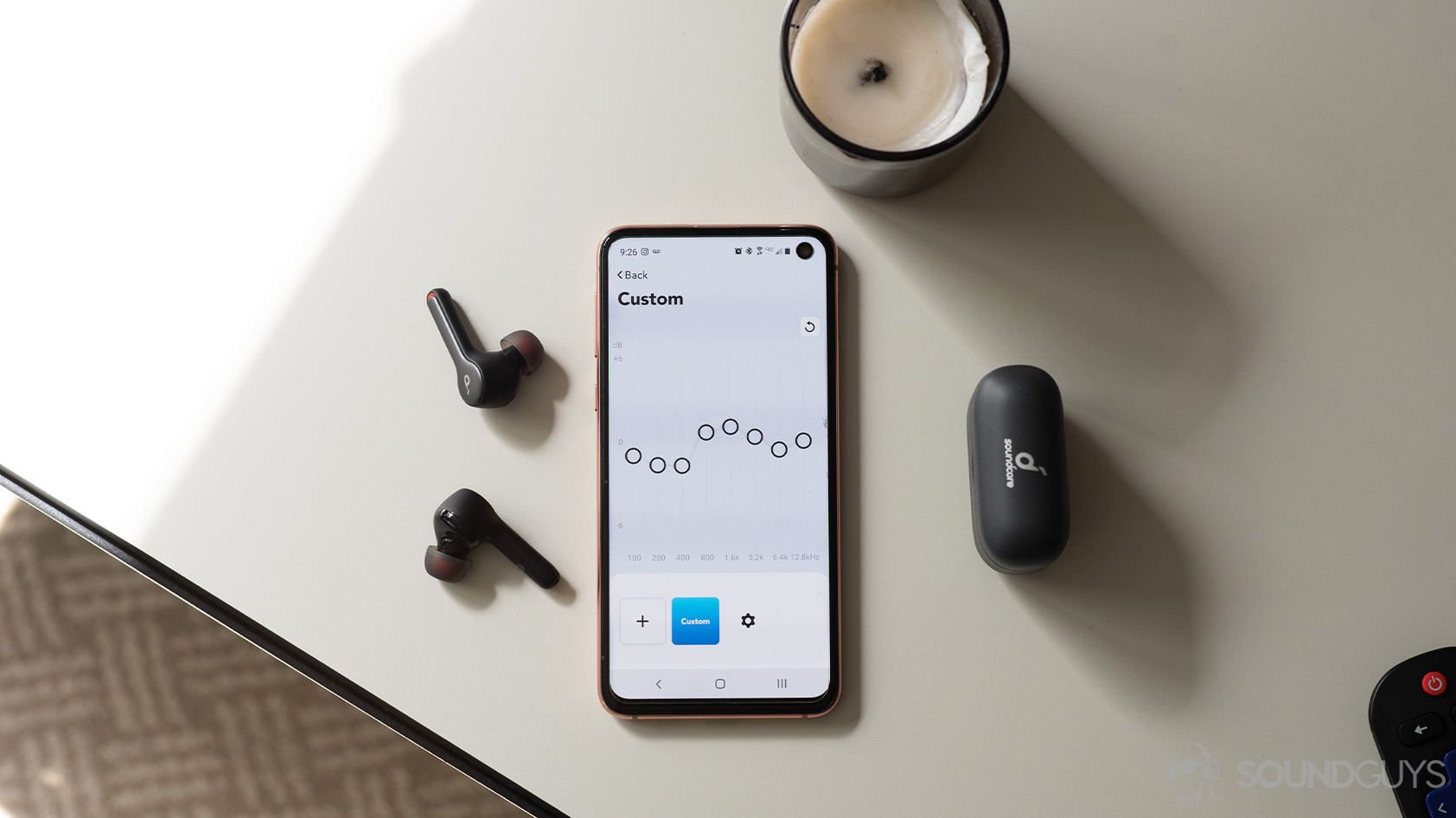 For those of you who are still looking for a decent pair of true wireless earbuds without breaking the bank I'd definitely recommend checking out what companies like Anker and JLab have to offer. Take the Anker Soundcore Liberty Air 2 for example, which are better in almost every way. They have a similar plastic build but offer better sound, a better fit, a better app to customize that sound, better battery life, a better water-resistance rating (IPX5), and even have a charging case that you can charge wirelessly. Plus, they offer aptX as well as AAC and cost about $20 USD less which is the cherry on top.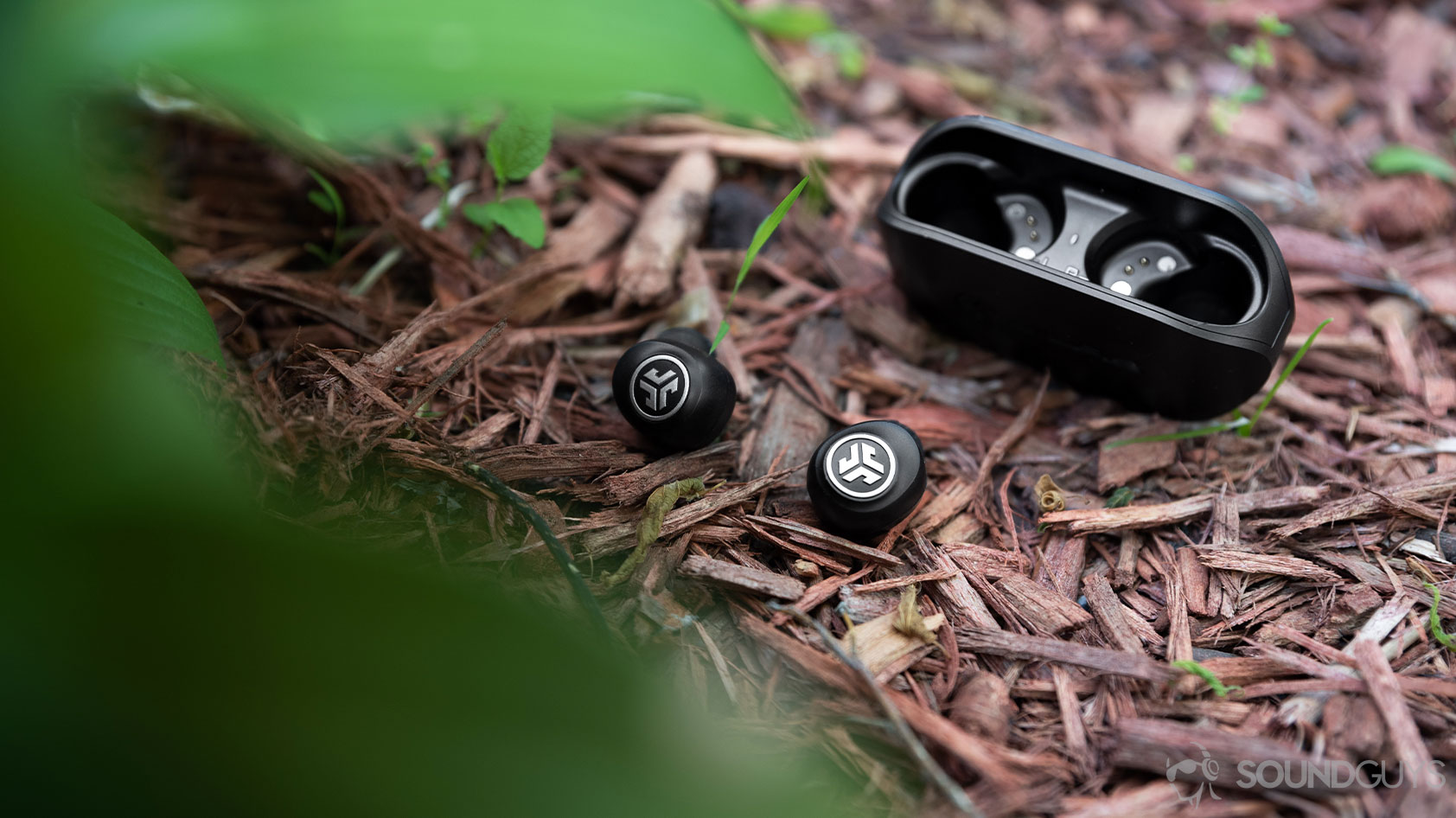 The IP44-rating means the earbuds can resist both dust and water to varying degrees.
If you don't want to even spend more than $30 you can go with the JLab GO Air which don't have any fancy features but still get the job done. There are plenty of affordable options to choose from in the true wireless market now and I just don't think Razer put its best foot forward with the Hammerhead True Wireless.