All products featured are independently chosen by us. However, SoundGuys may receive a commission on orders placed through its retail links. See our ethics statement.
The bottom line
If you can snag these on sale and are looking for a pair of gym 'buds, then these might be worth your money. However, the poor isolation combined with how easy it is to press the button accidentally makes these a hard sell if you're looking for an everyday pair of true wireless earbuds.
Optoma BE Free6
If you can snag these on sale and are looking for a pair of gym 'buds, then these might be worth your money. However, the poor isolation combined with how easy it is to press the button accidentally makes these a hard sell if you're looking for an everyday pair of true wireless earbuds.
What we like
Good sound<br>
Small size and nice portable case<br>
Charges via USB-C<br>
AAC codec compatibility<br>
Auto-connect works perfectly<br>
What we don't like
Battery life is just average<br>
Experienced some connectivity issues<br>
Buttons on the side are too easy to press accidentally<br>
Poor isolation<br>
Rating Metric
Sound Quality
9.1
Bass
9.1
Midrange
8.9
Highs
9.4
Isolation / Attenuation
2.7
Durability / Build Quality
8.0
Value
8.0
Design
6.5
Microphone
9.0
Portability
9.0
Battery Life
5.3
Comfort
6.5
True wireless earbuds are small and easy to lose, they don't sound as good as wired earbuds, and the batteries don't last long at all. But damn, they're convenient. This boom in the popularity of true wireless earbuds has led to me seeing more people on the street wearing AirPods than I can count, but there are other options. Some of them suck, but others are actually really good.
One of the companies pumping out earbuds is Optoma Nuforce. Its Be Free6 has Bluetooth 5.0, an IPX5 rating, and a few other features that are pretty impressive considering the sub-$100 price point. So how do they hold up? Are they worth the money or are you better off getting something else?
Editor's note: This review was updated on January 24, 2021, to match formatting with SoundGuys' current style.
Who's the Optoma Nuforce Be Free6 for?
Gym rats. While they aren't too great for everyday use, I found these were more than fine for the gym thanks to their IPX5 rating and pocketable charging case.
Anyone who doesn't want to spend more than $100. While there are other great options available in the sub-$100 category, these aren't bad either.
How's the build of the Optoma Nuforce Be Free6?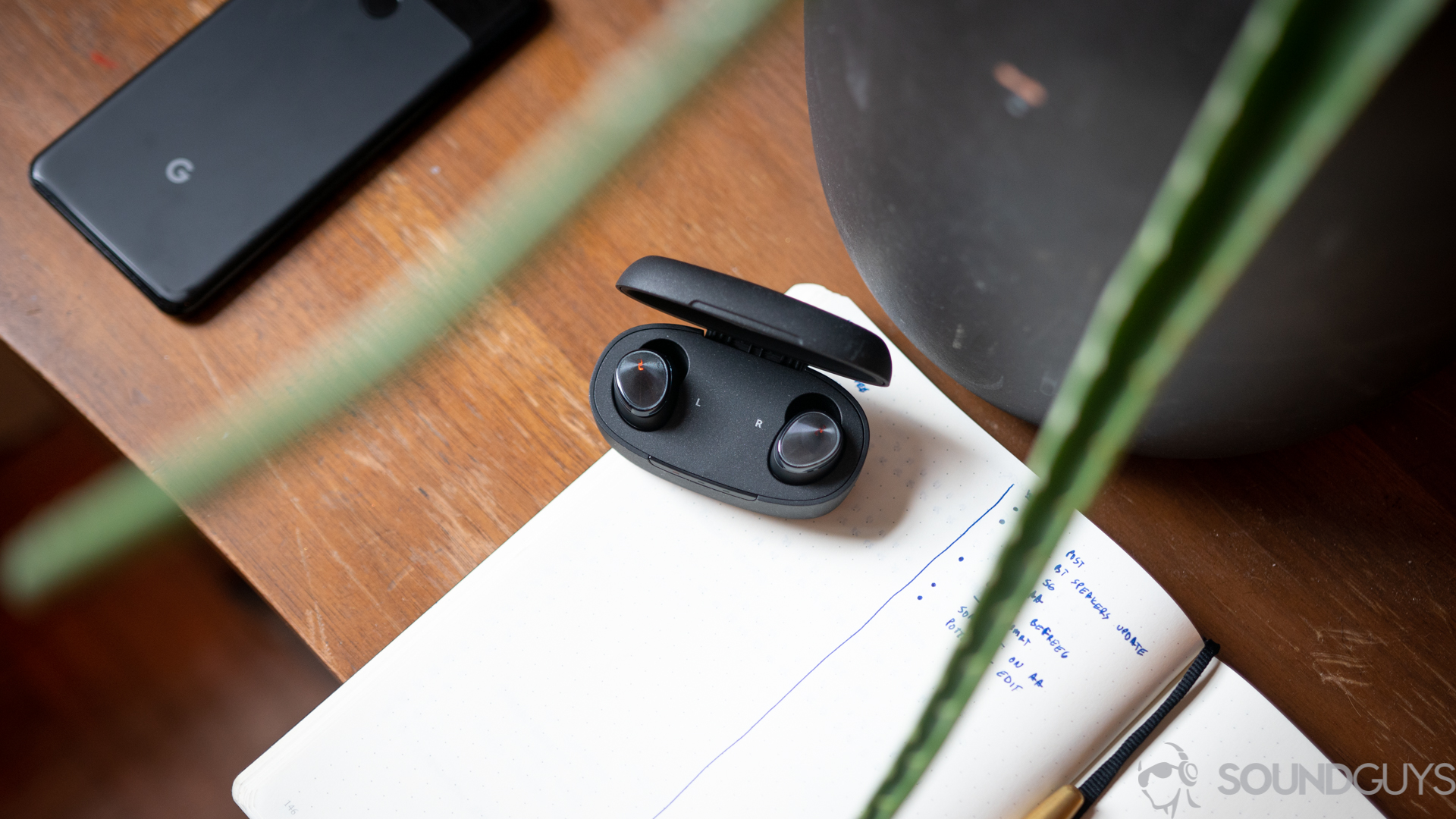 The case is easy to pocket and carry around with you in your pocket.
When you open the box you're greeted by just the charging case, with the other accessories like the charging cable and ear tips tucked away neatly underneath. The case took me by surprise because instead of using a smooth plastic, Optoma went with a textured finish that gives it a much better grip. It's still easy enough to take out of your pocket without getting caught on anything, but it also makes it just a little easier to hold in the hand which is helpful when you're walking mid-commute or have your hands full. It is slightly bulky which makes it annoying to carry around, though the rounded edges do help with the comfort level of having these in your pockets.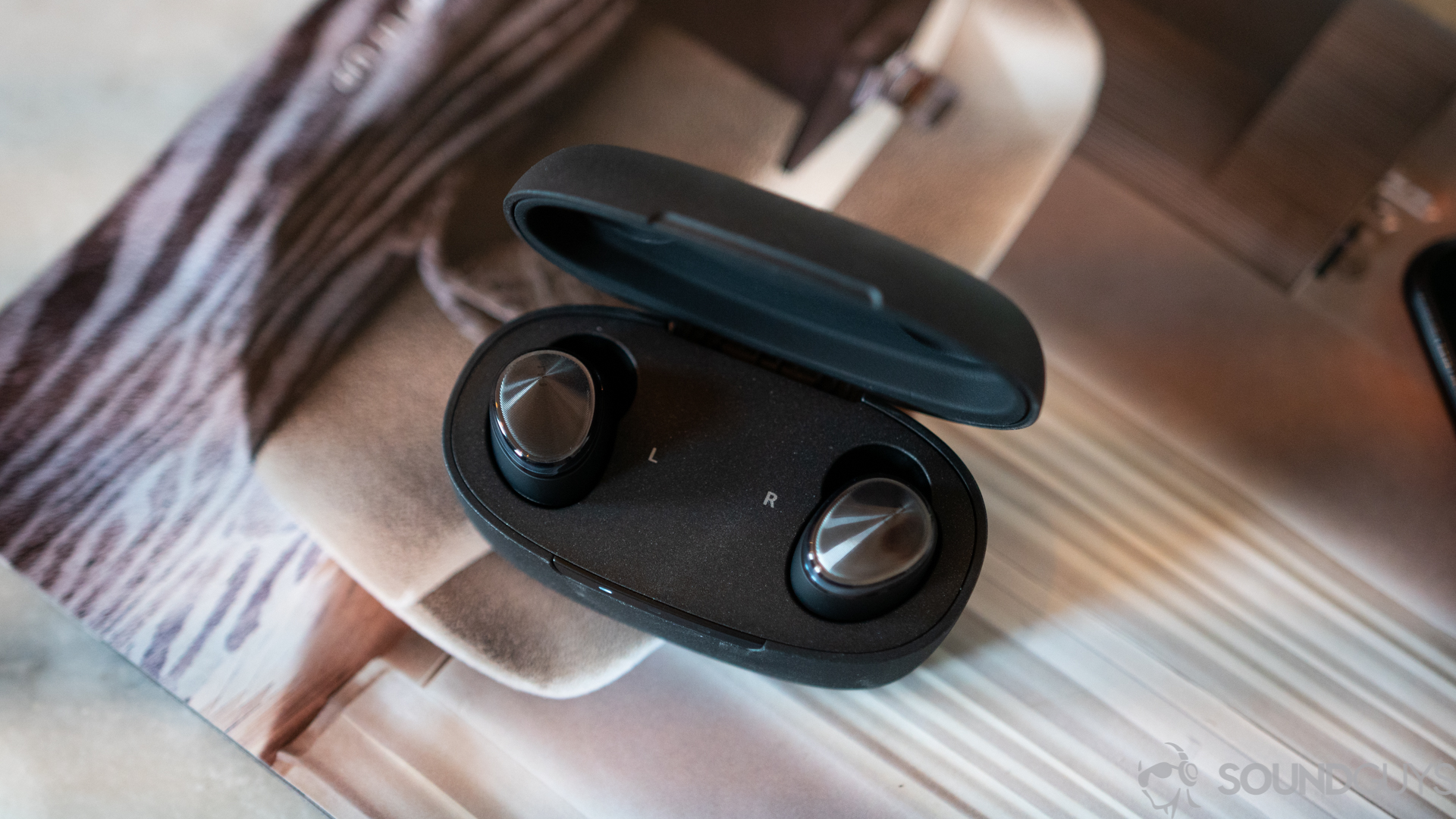 The 'buds come in a nice textured case that's grippy and easy to open.
When you open the case you'll see the earbuds, which have a similar overall shape to the NuForce Be Free8 that we reviewed in the past. The biggest difference here is the button on the outside of the Free6. It's not a small button in the center of the earbud either, the entire outside of the earbud is a button. This is both good and bad, but in my testing, it definitely leaned more towards bad.
True wireless earbuds are small, and their buttons are usually even smaller. This means that I'm usually feeling around looking for where the button is instead of pressing it. That isn't the case here which is good, but it takes the complete opposite approach, which is equally problematic. There's no feeling around for the button since the entire side is clickable. I ended up accidentally clicking the button and pausing my music constantly, whether I was commuting on the train and resting my head against my hand, or just trying to adjust how the earbuds fit in my ear.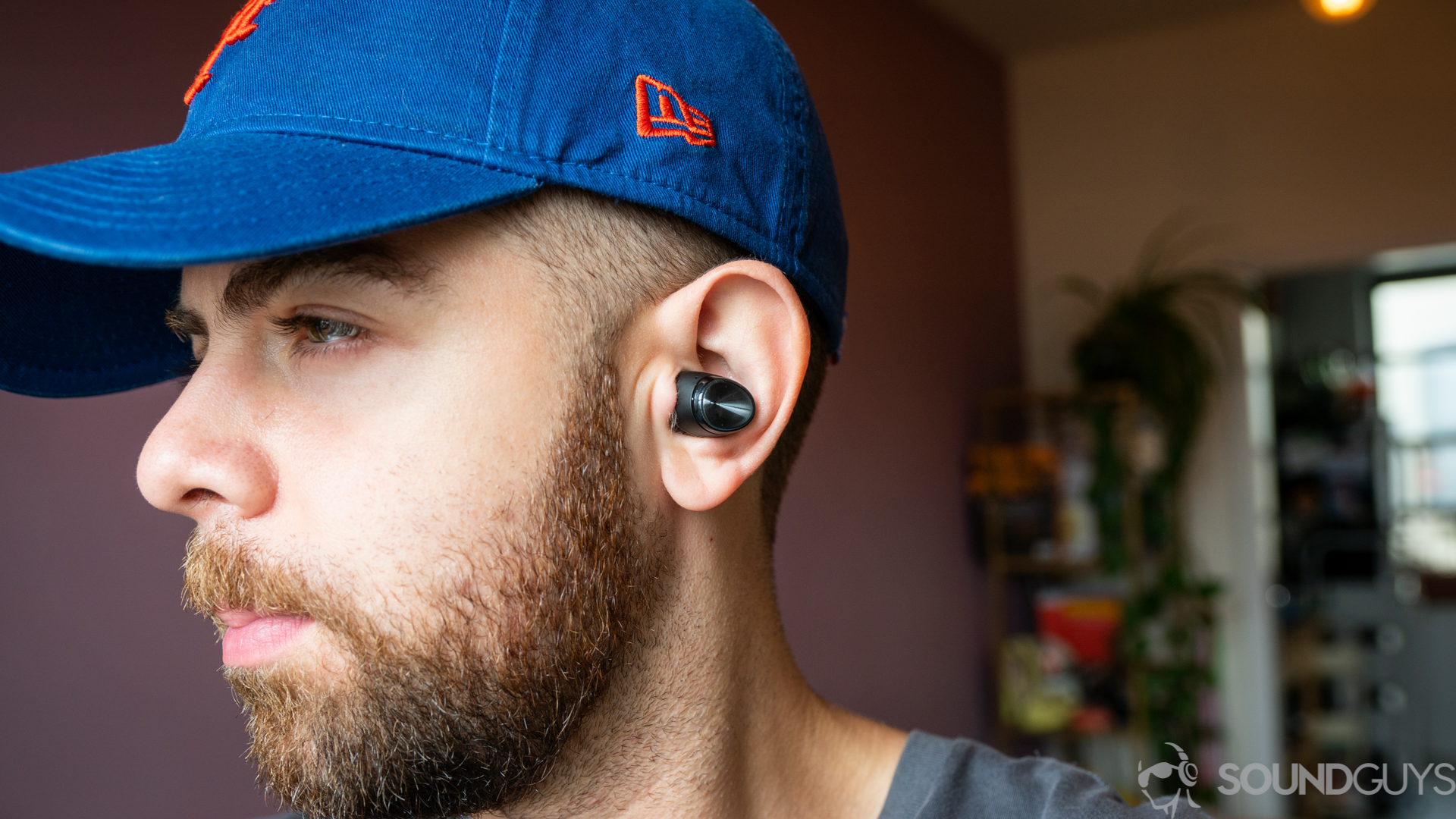 The earbuds fit a little awkwardly, but I had no problem using them for commuting or even at the gym.
The earbuds also fit weirdly in my ears, jutting out a bit more than I would like. Thankfully, they stay in nicely and even on my run I had no problems with them falling out. Though as I mentioned before, accidentally pausing the music while trying to adjust the fit did get annoying. On the bright side, you can use these for exercise if you want thanks to the IPX5 certification.
One other issue that I have is that every time I clicked the button, the suction creates a fairly uncomfortable experience in my ear, Almost like a plunger being pushed down into it. This isn't a problem for earbuds with touch-sensitive controls or smaller buttons around the side. It isn't painful, but it isn't comfortable either.
What about connectivity?
The Optoma Be Free6 true wireless earbuds are rocking Bluetooth 5.0, and thankfully they don't just rely on that. These also make use of the AAC codec, which has its problems with Android, but is still better than nothing. The latency when watching YouTube videos is still there, but only if you're really looking for it. Had I not been acutely aware of lip movements from the person talking in the video, I probably wouldn't have noticed them so if you watch a lot of video on your phone you don't have anything to worry about here.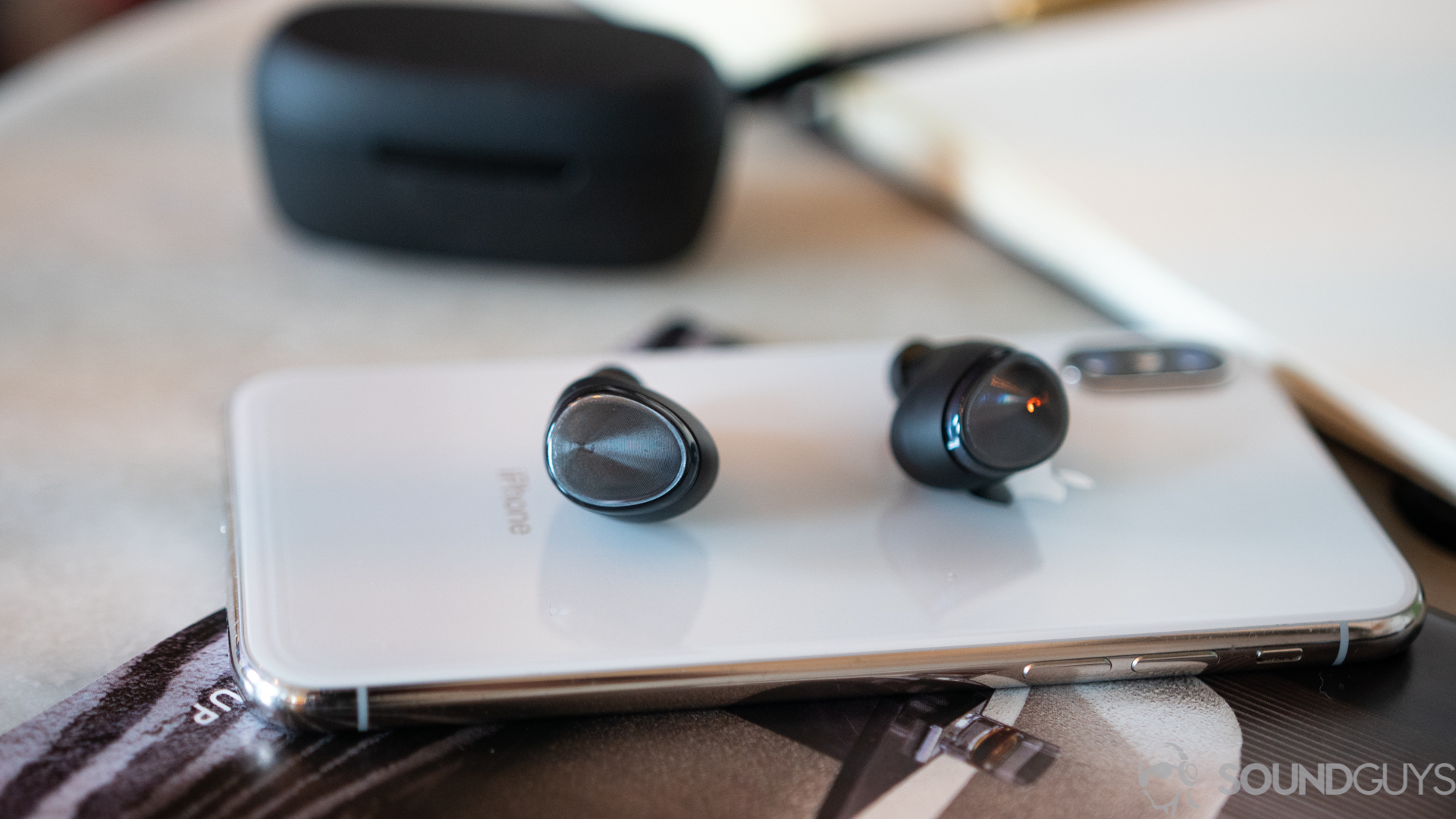 The earbuds are easy to find in the Bluetooth settings of both Android and iOS devices.
On top of that, these support the option to connect each earbud to a different device. So you can have your left earbud connected to your computer and your right earbud connected to your phone. I'm not sure why you'd want to do this, but at least you know you can.
More important is the auto-connect feature that these excel at. Pairing wasn't anything special, but once you get these hooked up to your source device they'll automatically connect by the time you get them out of the case and into your ears. Similarly, placing them back in the case automatically disconnects them perfectly and I didn't have any problems with them staying connected in the case the way that I do with the Google Pixel Buds.
The earbud fits well, but pressing on the side for playback controls causes mild suction in the ear.
Overall, connectivity was pretty good with the Be Free6 earbuds, but a few issues dampened the experience. In about a week of testing, the earbuds completely freaked out three times, with a crazy amount of stuttering and annoying lag. The only way I found to fix this was to basically start over and put them back in the case to auto-disconnect. Only after doing this was the issue fixed. Luckily, all three times it happened to me were while I was sitting at my desk, so fixing it wasn't a big issue. Had it happened during a run though this would probably be a much harsher review, so if you plan on using these for exercise that's something you should keep in mind.
On top of that, while pausing or playing music and skipping between songs worked fine, I could not for the life of me figure out how to adjust volume. The Optoma manual says that you just need to hold down the button for 2 seconds, but this consistently either activated the Google Assistant or entered pairing mode.
Let's talk battery life
Thankfully, these charge via USB-C which future proofs these when it comes to charging.
Optoma claims that these will get you a total of six hours of constant playback, but we got less than that in our testing. After calibrating the output to a constant 75db (which is where most people should listen anyway), we only managed to a total of 4 hours and 31 minutes. This is fairly average of earbuds in this price point and of this design.
Of course, the charging case does offer an extra four charges so you can make them last a little longer. They also have quick charging so just 15 minutes in the case should give you another hour of playback time. Best of all, these charge via USB-C so if you've purchased a new phone recently these will charge via the same cable (unless that new phone was an iPhone).
Do the Optoma Nuforce Be Free6 sound good?
If you stopped reading here, you might come away with the impression that the Optoma Be Free6 are just another pair of true wireless earbuds. The battery life isn't great, the connection is fine but not perfect, and the build is bulky but durable. Thankfully, these are earbuds and you're probably going to be using them to listen to music. This is where the Be Free6 shine, with a fairly flat frequency response given their small size. That means that most notes will be given equal emphasis throughout the range, so some parts of your music won't sound quiet compared to others. Don't get me wrong, these aren't going to replace your favorite over-ears, but considering what they are they do sound really good. Despite them not isolating well against outside noise, they do have a fairly high output which helps overcome that in most situations.
I found the thumping bass kicks of Haul by Christian Loffler to be practically perfect. Notes were slightly underemphasized once you got down to around 50Hz, but that worked out in most cases as it never pushed its way into the vocals and instruments in the lower mids.
For cheap true wireless earbuds, these have surprisingly good sound quality.
Vocals sounded fine when listening to the Be Free6, but they were clearly not designed for any kind of critical listening. Most of what makes these sound good to me is that low-end presence that gets my head nodding whether I'm running or sitting at my desk.
Highs also dropped off in the higher frequencies which means that while cymbals and hi-hats never sound too loud, they're also lacking in clarity. I noticed this mainly in the song Don't Lie by Vampire Weekend where the hi-hats almost sounded like they were under a blanket at times.
Should you buy the Optoma Nuforce Be Free6?
So are the Optoma Nuforce Be Free6 true wireless headphones worth it? If you care about a good sound experience and want something you can bring with you on a run, then you might enjoy these. Especially since the low end sounds so good and vocals sound good enough to get by, but the cons seem to outweigh the pros for me. I don't feel like the good sound quality makes up for the average battery life, poor isolation, and connectivity issues. A similarly priced option that does a better job with these things is the Anker Soundcore Liberty Air 2. If you can snag the Optoma Nuforce Be Free6 on sale then they're worth the money, especially since they charge via USB-C and have the auto-connect feature down, but at the retail price of $99 you're probably better off going with something else.
Read next: Best true wireless earbuds under $100