All products featured are independently chosen by us. However, SoundGuys may receive a commission on orders placed through its retail links. See our ethics statement.
7.5
Optoma NuForce Be Free8
The bottom line
Megan Trainor move aside: "All About That Bass" was written for Optoma NuForce. While these wireless earbuds are certainly no slouch, mids suffer at the hands of a strong low end. However, creature comforts more than make up for it.
Optoma NuForce Be Free8
Megan Trainor move aside: "All About That Bass" was written for Optoma NuForce. While these wireless earbuds are certainly no slouch, mids suffer at the hands of a strong low end. However, creature comforts more than make up for it.
Dimensions
Earpieces: 26.5x19 x 23.5 mm; charging case: 70 x 60 x 31 mm
Weight
Earpieces: 5.5g each
Case: 44g
What we like
IPX5
Comfortable
AAC and aptX support
Charging case
What we don't like
Connection strength
No volume control
Rating Metric
Sound Quality
8.4
Bass
7.7
Midrange
7.2
Highs
7.5
Durability / Build Quality
8.0
Value
8.1
Design
8.0
Microphone
7.0
Portability
9.0
Battery Life
4.2
Optoma was founded after that wild Y2K scare and originally focused on optical projectors, but the real magic happened almost a decade and a half later when Optoma and NuForce integrated to focus on audio-visual entertainment. Fast forward to 2017, and the partnership has produced the BE Free8: a functional, pleasing set of truly wireless earbuds that offer subwoofer-like bass from units the size of a tack.
But are they worth the $99 asking price? Let's dig deeper.
What's inside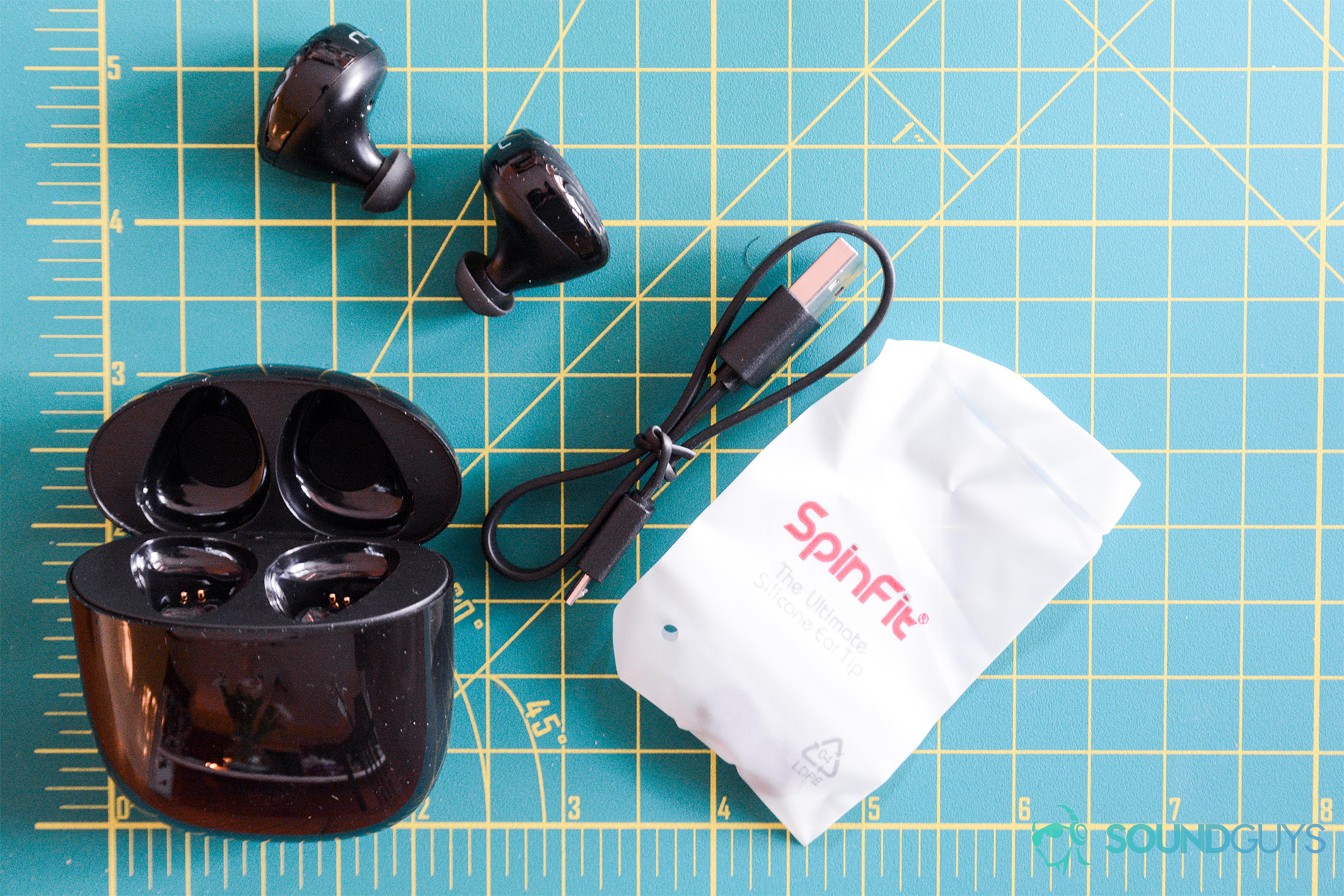 Charging/carrying case, earbuds, micro USB charging cable and SpinFit silicone ear tips.
The NuForce BE Free8 includes the two wireless earbuds, an extra pair of ear gels, a charging cable and the carrying case which doubles as a charging dock. The packaging is simple and no-fuss. This is excellent, considering I hate fumbling around with twist ties; it makes me feel like I've lost all motor-skill function.
Build & Design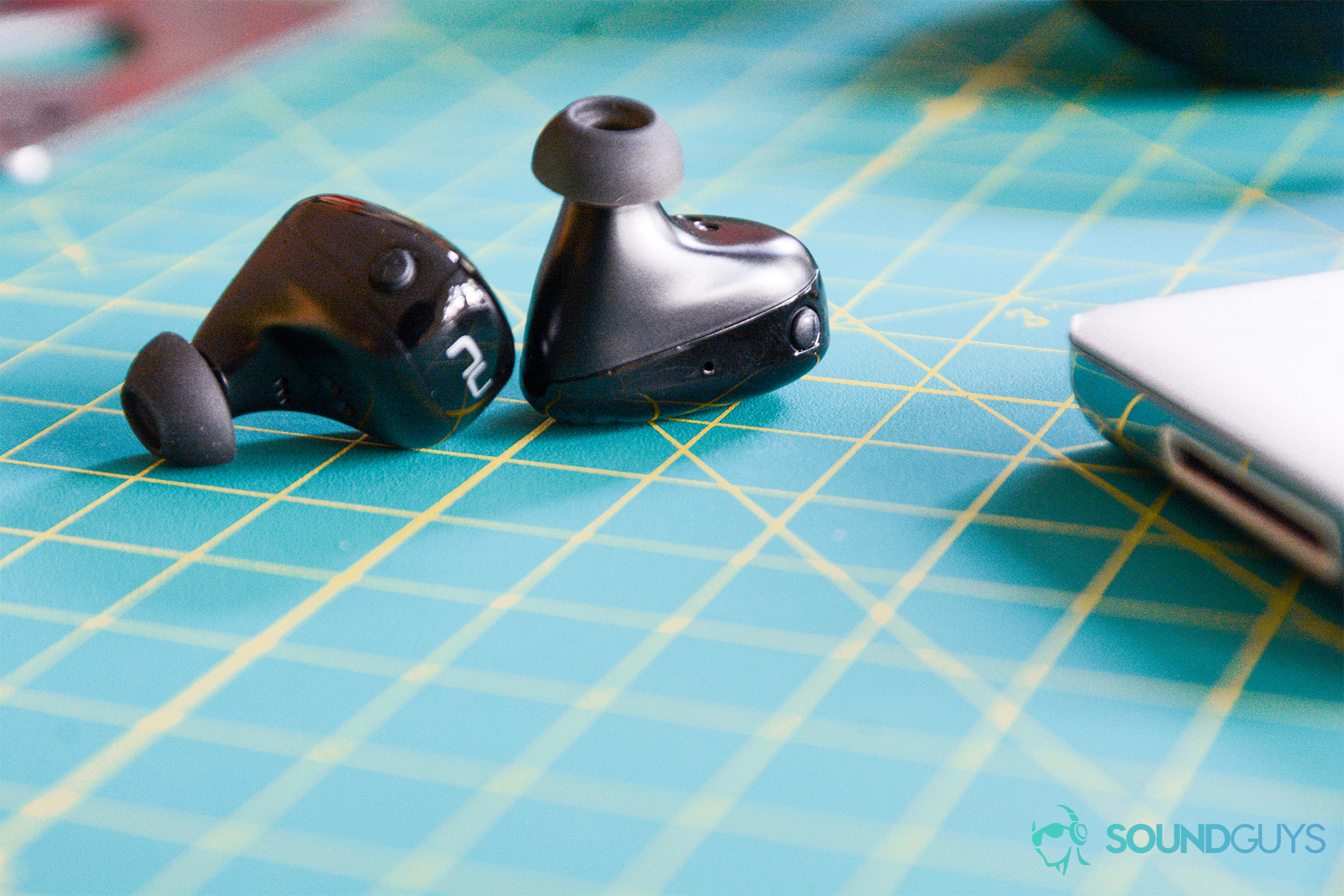 The plastic housing and angled ear tips provide maximum comfort.
The earbuds and case are entirely plastic, making them durable, lightweight, and cost-effective. Scratches have yet to appear on the case or 'buds themselves. The case's lid is magnetized, ridding the user of any worries that it may inadvertently pop open in a bag.
Modestly finished, the earbuds sport diagonally embossed lines racing down the veneer. These lines allow for a white LED indicator to shine through when the buds are activated through pause, play, skipping a track, etc. There's only one button to be found on each earbud, and that powers each earbud on in the pre-production unit (the final model allows for synchronized powering on/off of the earbuds.)
Slightly angled for maximum comfort, the earbuds rest snugly in the ear without causing any pain or irritation. The included sleeves work wonderfully with this angled design, and create a gentle seal to block out most ambient noise; allowing for optimal sound quality. The earbuds balance nicely while evenly distributing their weight across the ear canal, concha, and antitragus, making these the most comfortable Bluetooth earbuds I've used to date—even if they stick out a bit for my liking.
Connectivity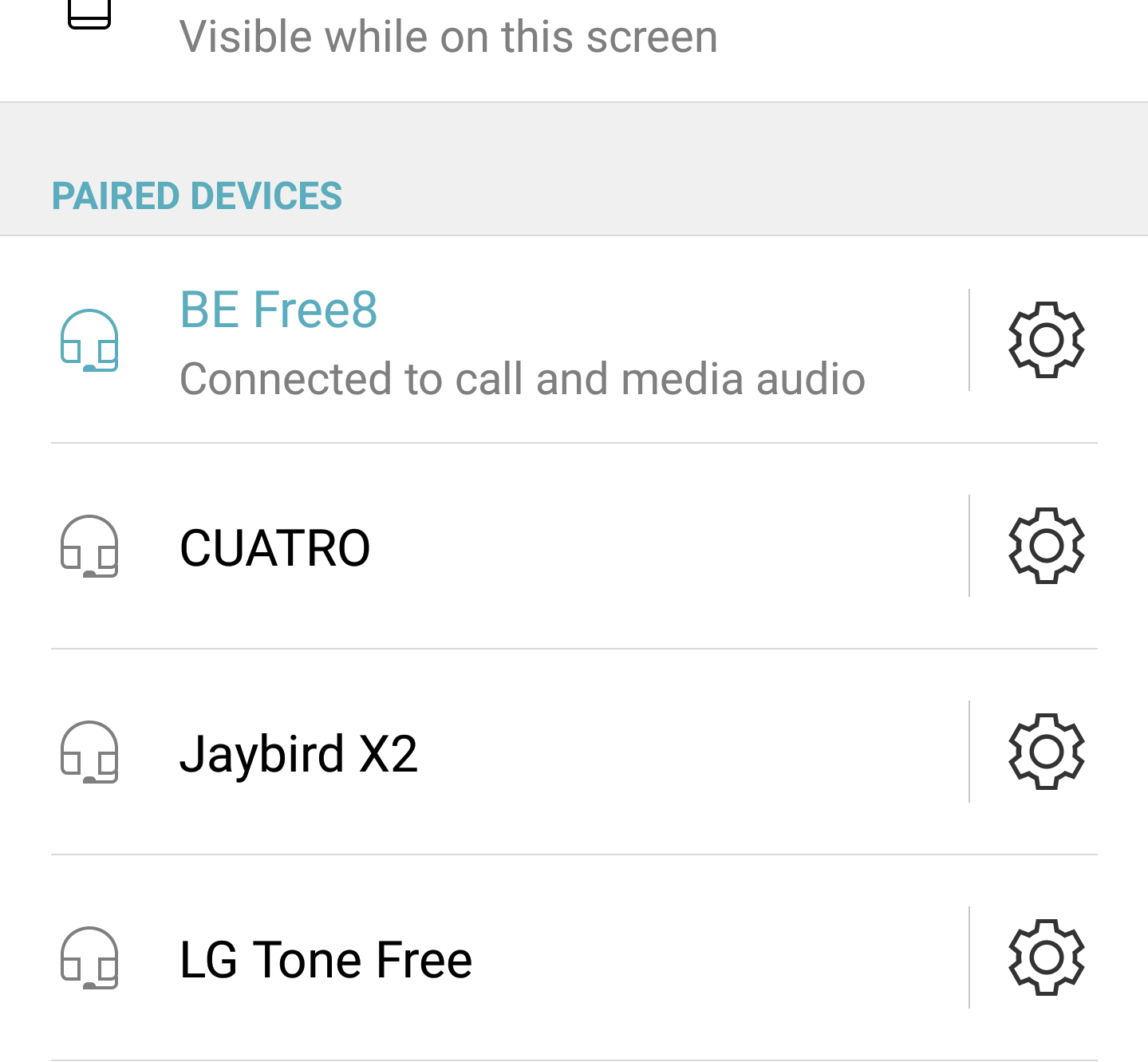 I could always rely on a swift connection when pairing with my phone. Keeping that connection, though, was another story.
It should be reiterated here that my model of the BE Free8 is a pre-production unit. Feel free to take my opinion on the connectivity with a grain of salt.
I must say though, the BE Free8 connected immediately with my LG G6, iPad and 2012 Macbook Pro; an antique by today's standards. Unfortunately, the Bluetooth and NFMI technology—in this pre-production unit, anyway—had trouble maintaining a reliable connection. They also had a static-y background noise that constantly underscored my media playback, which shouldn't be an issue with earbuds that are aptX-compatible. Often, the song I was listening to would go out for a second or two before coming back. It wasn't too annoying since it only happened a few times a day; and I listened to these all day at work.
According to people I was talking with, the mic was just fine. It sounded a little muffled to me, but that's likely a result of the placement on the left earbud. The microphone will suffice for general calls and video chats though. On my end, the other person came in exceptionally clear because of the BE Free8's ability to passively block out ambient noise.
Battery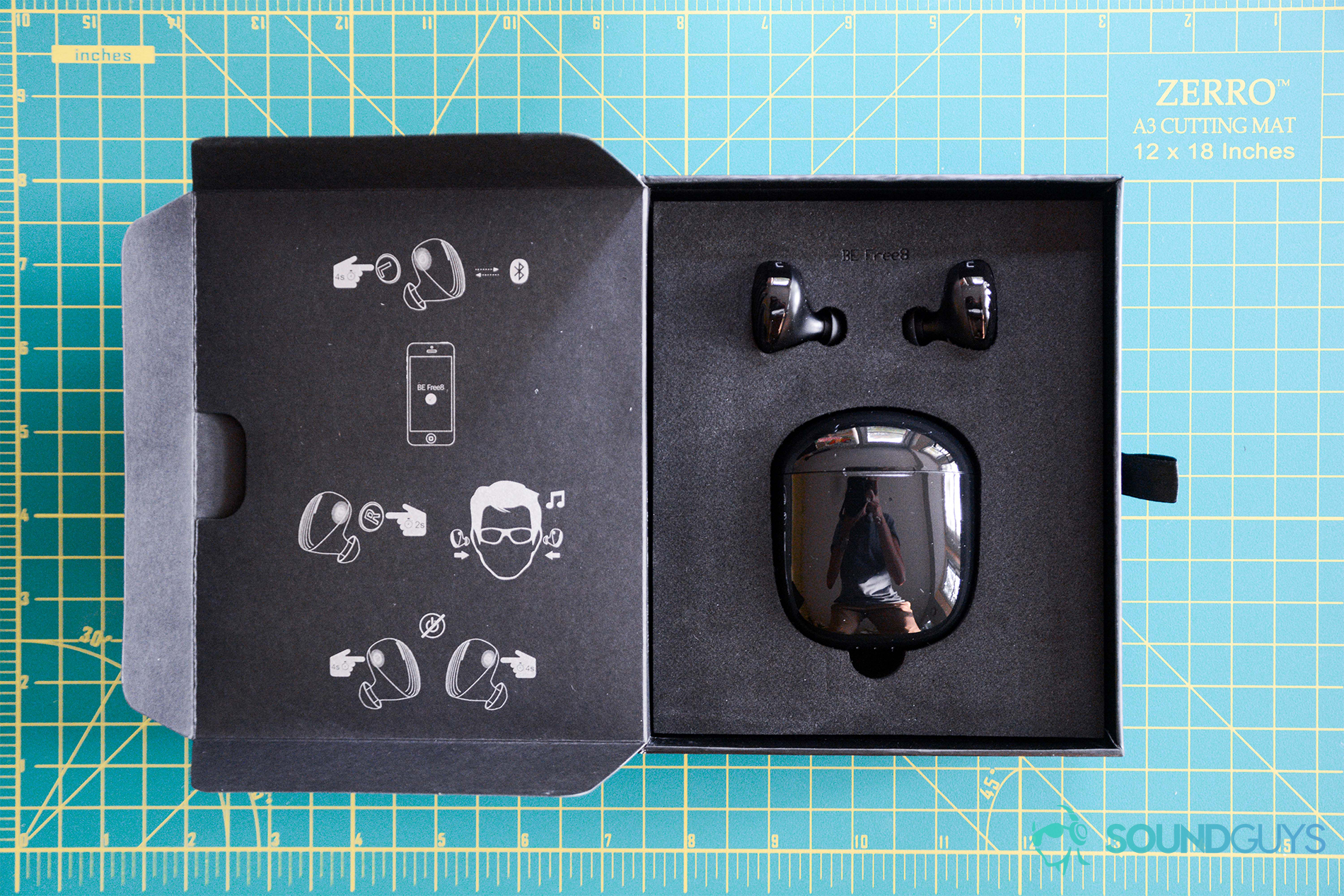 The charging case help give the BE Free8 an extra boost to keep my ears entertained all day long.
The battery life had the stamina of a marathon runner and lasts the reported time of four hours. Additionally, the charging case adds an extra 12 hours of battery life. Moreover, the BE Free8 enables battery display on your phone's notification bar, so listeners can time their anxious hunt for the charging case appropriately.
Though, said charging case is reminiscent of the alien pod that landed to communicate with Amy Adams in The Arrival,  fortunately for us: the similarities end there. I applaud understated design of the charging case. Adorned with a total of five LEDs, it's informative and minimal. The top two lights are informed directly by the earbuds. If both are holstered, both lights activate, and if only one is holstered, well, then only one earbud is docked. The other is likely with all of your or your girlfriend's bobby pins, never to be found again. The three LEDs located at the bottom correspond with the number of full charges are left in the charging case.
The only downside to the charging case is that it's fingerprint-prone and a bit slippery. However, the inside panel has rubberized grippies (technical term, I know) to keep the buds stable when you remove them.
Sound Quality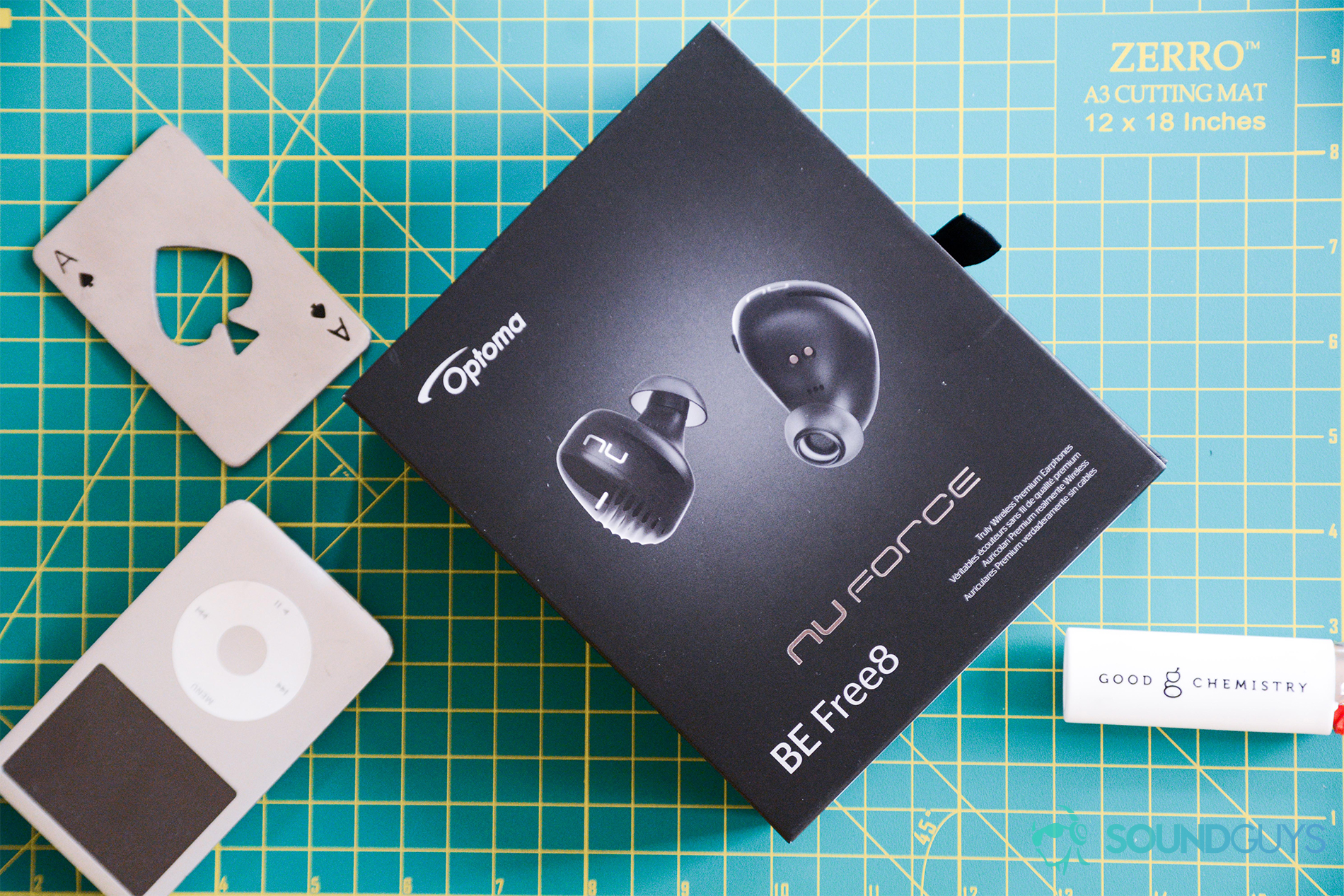 Despite a small profile, the design work that went into the BE Free8 is evident.
The BE Free8's overall signature was definitely "V" shaped: definitively emphasized bass and boosted highs steal the show away from comparatively forsaken mids. While that's quite common with headphones, that has a couple notable consequences. Namely, the illusion of realism can be a bit lacking, and instrumental separation isn't quite there due to the muddled, befuddled mid range.  
Lows
NuForce knows how to handle bass. After having been disappointed by the LG Tone Free and Studio bass reproduction, I was particularly impressed with how It's Strange by Louis the Child sounded, while knowing that it was being driven by such a compact device. The Be Free8 have a clean response that doesn't bleed into the mids.
Mids
Mediocre mids. The best thing about them is that they allow for fun alliteration, I suppose. It's apparent that they aren't the highlight of these earbuds, since they feel a bit distant at times and lack the dynamic response given to the bass. This is particularly apparent in She Said by Sundara Karma. Generally speaking: I love the vocals in this song; however, the BE Free8 lack midrange emphasis, which cuts Oscar Lulu vocals.

Furthermore, Lulu and Ally Batty's guitar riffs came off unclear. It reminded me of pouring too much milk into the cereal bowl. I can't eat it quickly enough, leaving me with mushy, unsatisfying cheerios. Yeah, the mids are kind of like that.
Highs
The piano in Twenty One Pilot's Pantaloon is a good test for these earbuds. The high-end of the scale is pronounced but without any sibilance issues. While the reproduction of the high-hats is up-front, they don't overpower other notes. The strikes are controlled, without being overly boosted to the point of eardrum pain. I'm relieved to see that NuForce didn't design a sound to induce pain  when engineering the higher frequency response.
Conclusion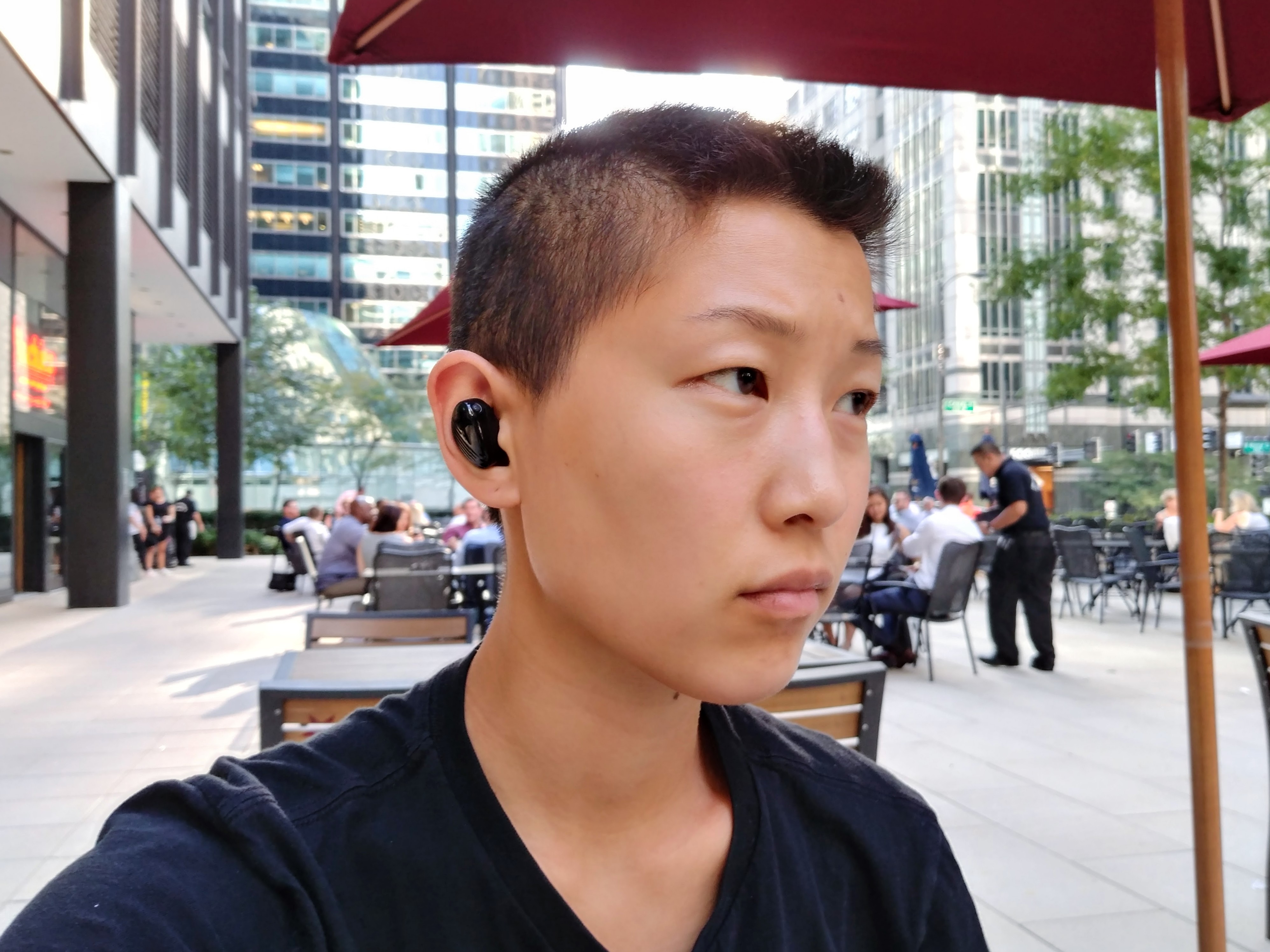 The earbuds do protrude a bit, but their ergonomic design mitigates much of the ear fatigue.
Despite a few hiccups related to having a pre-production unit, the Optoma NuForce BE Free8 are a very rewarding Bluetooth experience. I'm still in shock by its bass response but aptX low latency tech really did provide a massive step-up in performance from older Bluetooth devices. It's also nice to know that you can use these without any lag or delay with a new TV that supports the codec.
The design and features of these were outstanding. I can't recommend these enough. The only problem that some consumers may come across is with the physical design, and while it may be a bit plain for some—I call it refined.