All products featured are independently chosen by us. However, SoundGuys may receive a commission on orders placed through its retail links. See our ethics statement.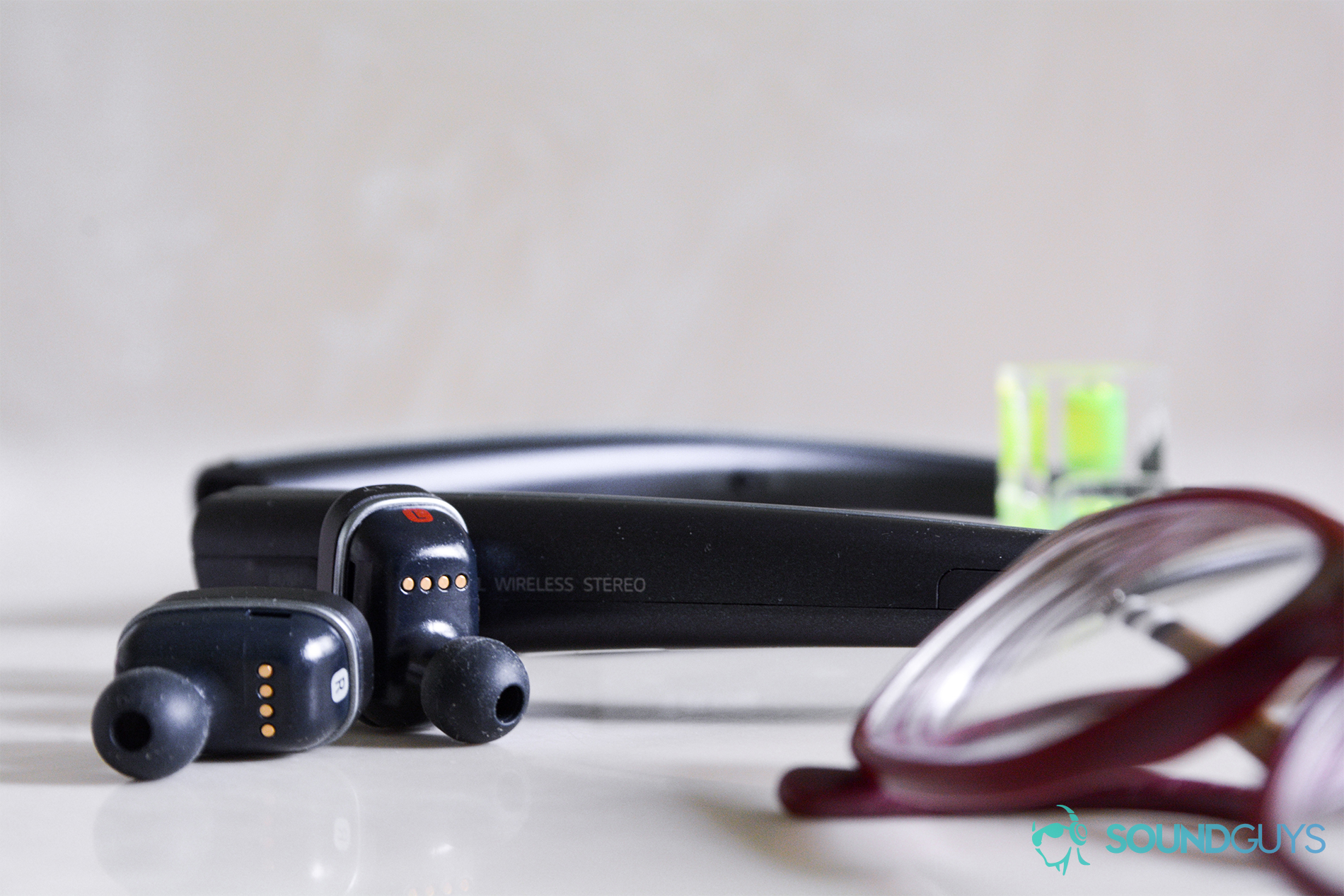 The bottom line
Although the Tone Free may make life feel good, there are other wireless options to make it feel great. They're a Jack of all Trades, and an Ace of none.
LG Tone Free
Although the Tone Free may make life feel good, there are other wireless options to make it feel great. They're a Jack of all Trades, and an Ace of none.
Dimensions
Neckband: 6.90 "(W) X 6.30" (L) X 1.12" (H)
Earbuds: 1.03" (W) X 0.66" (L) X 1.09" (H)
Weight
0.20 oz. each, Neckband 1.62 oz.
What we like
Portability
Durability
Neckband doubles as holster/charger for earbuds
What we don't like
Muffled sound quality
Poor battery life
Disappointing bass and highs
Rating Metric
Sound Quality
7.0
Bass
6.0
Midrange
8.0
Highs
6.0
Durability / Build Quality
8.0
Value
7.0
Design
9.0
Microphone
6.0
Portability
9.7
Battery Life
7.0
As a globally respected brand, I'd expect LG to produce an impressive Bluetooth product given all of their resources. After all, they manufactured the G6 (my phone of choice) and I couldn't be happier with it! LG knows when they've got a hit on their hands, and it's looking to forge ahead with a truly wireless iteration of their Bluetooth earbuds bearing the Tone mantle. Even though they have years of experience in the tech industry, the Tone Free wireless earbuds just go to show that we can always improve upon ourselves, and, LG, based on the Tone Free, you've got quite a bit of self-improvement ahead of you.
What's in the box?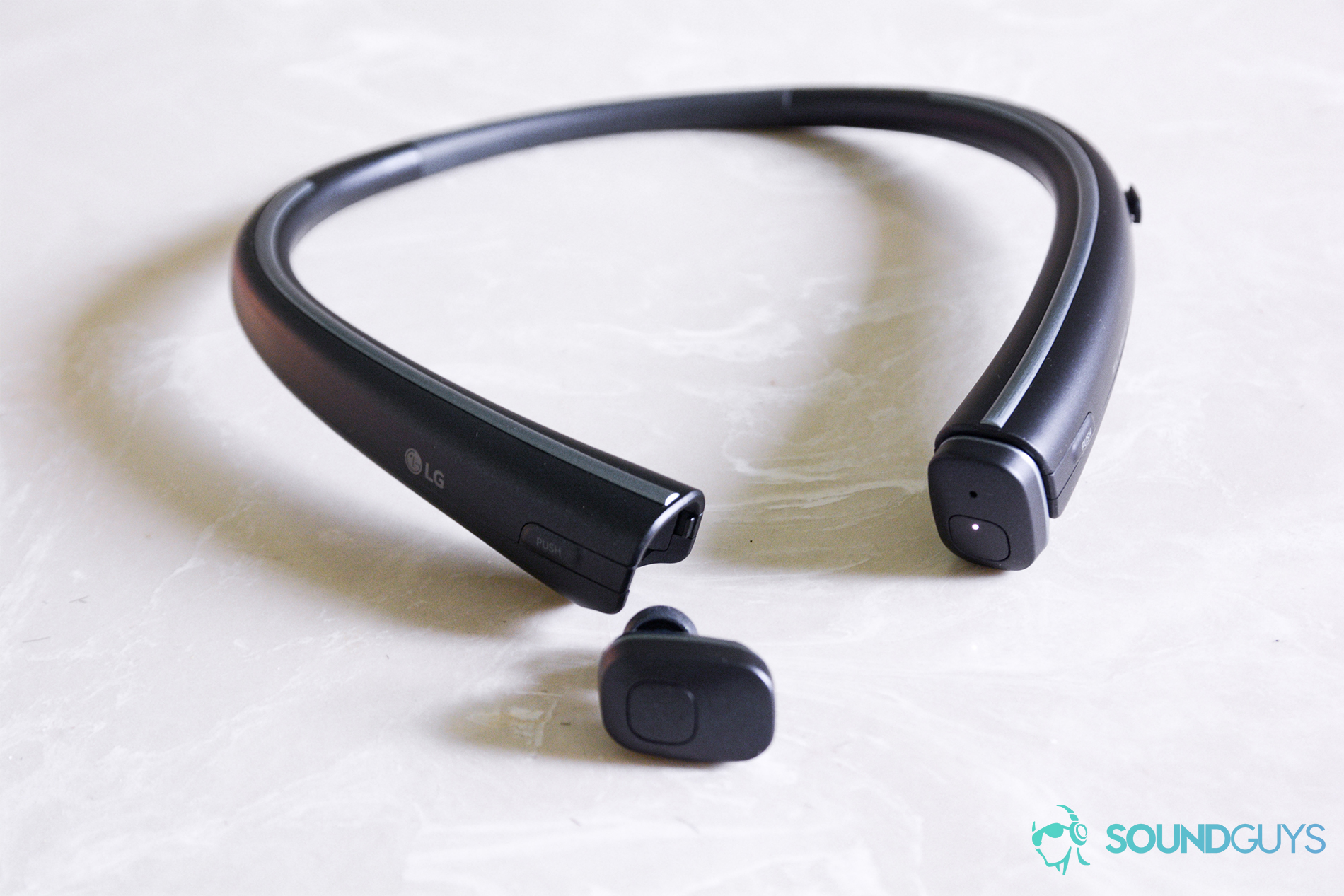 The neckband and earbuds are lightweight and are easy to transport.—
The LG Tone Free, much like their big brother the Tone Studio, include a charging cable, extra pair of ear gels (size small), neckband and wireless earbuds.
Build & Design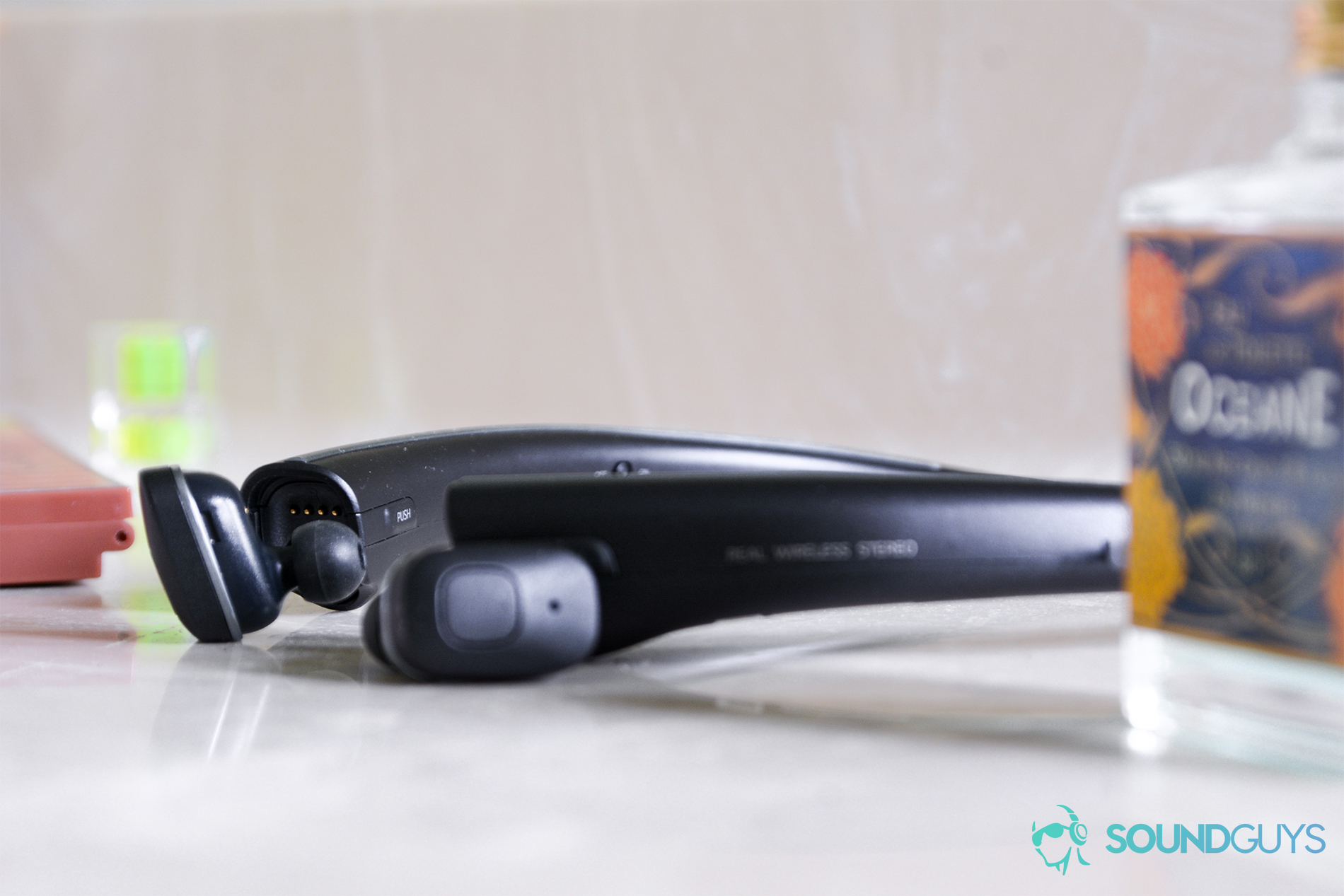 The plastic housing of the neckband and earbuds is durable, and phenomenally light. The neckband's ability to flex—something my biceps should learn to do—gave me confidence that I could toss it into my Mary Poppins bag without worrying that they'd snap. Additionally, the simplicity of the Tone Free was much appreciated: I never found myself over thinking about the toggles. With that in mind, some kind of volume control on the neckband would have been much appreciated.
Sure, the Tone Free doesn't exude the oft sought-after premium feel, but the clever design makes up for its shortcomings. The neckband isn't just some futuristic fashion accessory that didn't quite make the cut for Disney's Xenon—no, no, no, my dear! It functions as the main housing for the earbuds which can click in and out when convenient. What I found to be the coolest feature was how it simultaneously keeps hold of the buds while also charging them. All the user has to do to enable this feature is switch the band on and click the buds into their holsters–viola.
These guys—yes, I'm anthropomorphizing the Tone Free by gendering it—aren't the most comfortable. While wearing them, I could tell there was a foreign object damming up my ear canals. Not to mention that they stuck out like bulbous antennae. On the upside, they never fell out when I was sprinting across the street or on my bike. Although, I do advise against using them during vigorous rides or runs. Even though they made my ears a bit sore after an hour or two, I truly enjoyed the convenience of using them in tandem with the neckband and can dig deep to forgive LG for that aspect of the design.
Connectivity
The on/off toggle is on the right side of the neckband and enables on-the-go charging.
The Tone Free supports Bluetooth 4.2 and it shows. During my two-week testing period, the buds seamlessly connected to my earphones all but two or three times. LG seems to pride the Tone Free on its Tone & Talk™ and SMS Reader, Name Alert™ technology. I found this to be great from a marketing perspective, oh look – differentiating features! In actuality, I never used these (save for testing and making sure that they functioned properly), because after it reads the SMS to you, replying still takes the act of drawing your phone from your pocket and to text back. To me, it seemed like a moot feature that the earbuds would act as a caller ID, but some may find it more functional than I did.  
An odd quirk was that the left earbud could only be used for calls. Yes, the mic is placed on the left side but when talking with someone, the right earbud didn't relay any sound and I've found this is an issue that others have experienced as well.
Battery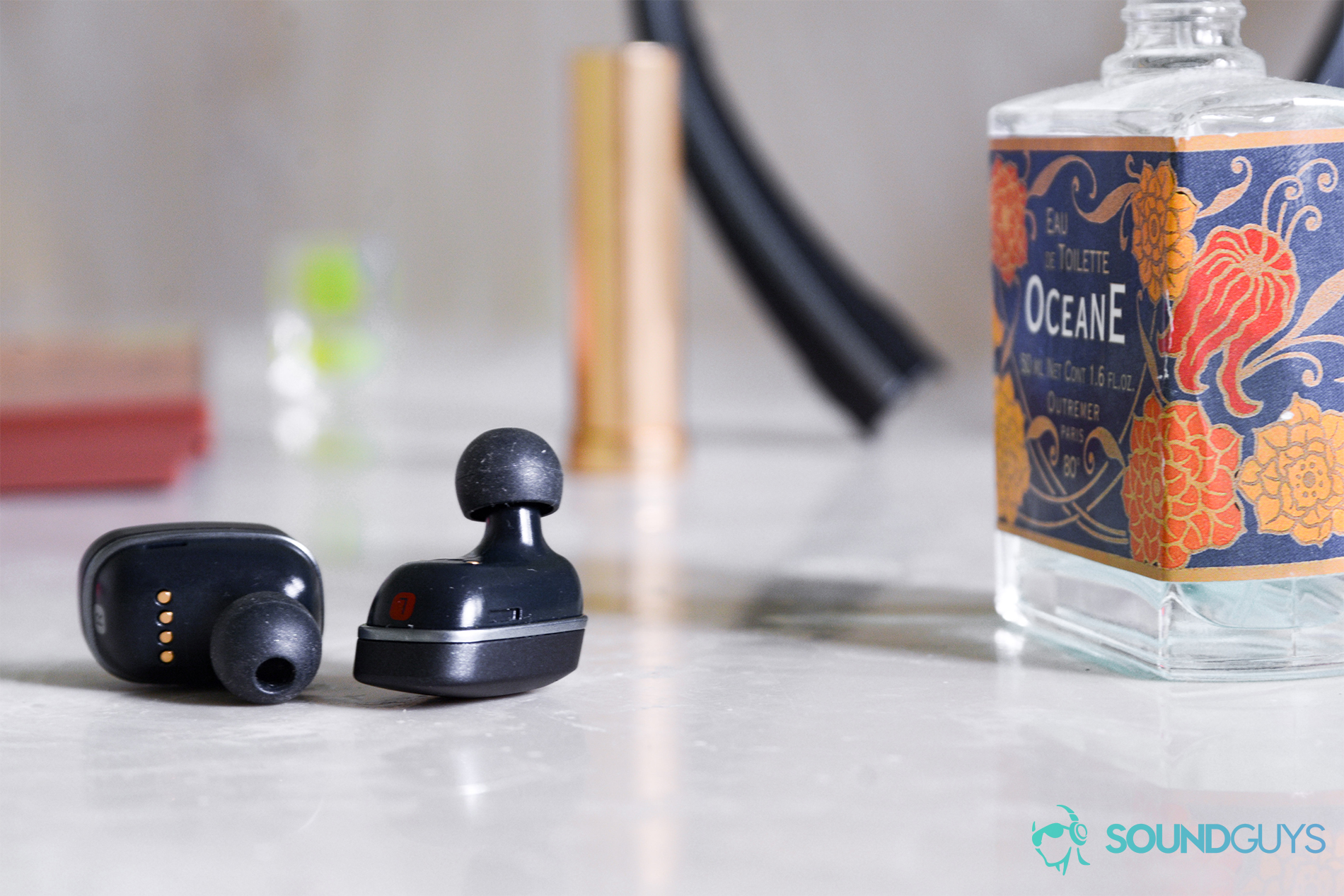 Battery life averaged 2-2.5 hours.
Battery life on these earbuds was as you'd expect for a device this size–just okay. LG claims about three hours on a charge with an extra four from the neckband but I've found it to be less on both counts by about an hour for each. If you want, the earbuds can also charge while the neckband is tethered to a USB cable so they top-up simultaneously.
Interestingly enough, if you want to charge one earbud in the neckband you can! This was one of those small features that might be ignored at first but ended up being a great, inadvertent safety feature. I work in Chicago and felt safe walking around while listening to a podcast with one ear and the streets with the other. However neat this was, I would've liked to see a bit more stamina coming from somewhat large earbuds.
Sound Quality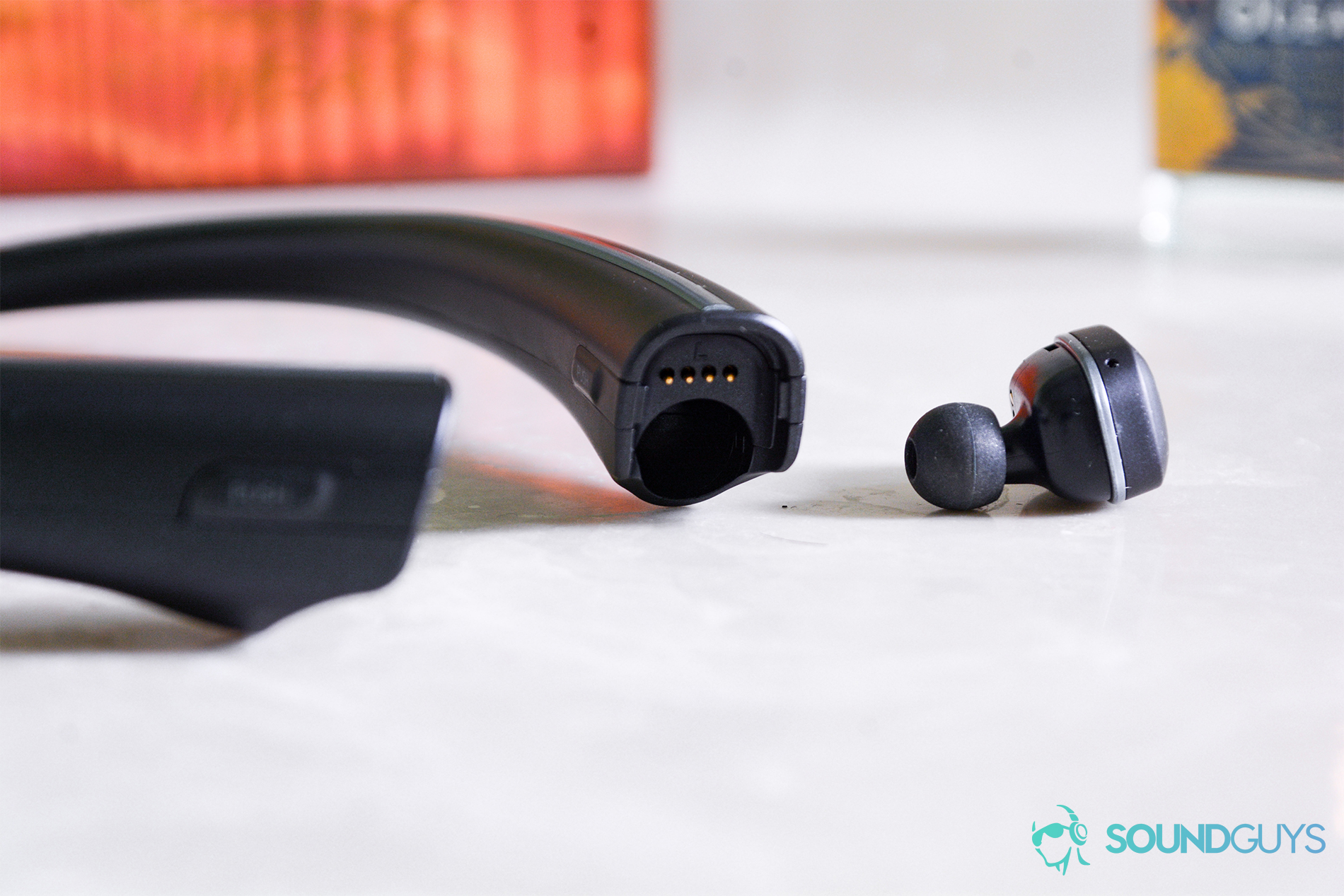 The earphones may sit in the neckband as a docking station.
As our global culture homogenizes, so too does the concept behind smartphones and headphones. Okay, okay, that might be a stretch but I mean, c'mon! All my parents say is that they want their phone to be able to be a phone, and I want my headphones to be headphones! Just like my partner, I want a pair of headphones that's reliable, supportive and comfortable. Looks fade, but hi-fidelity is forever. Sadly, that's not the case with the Tone Free. Their overall signature sounded like a faded Instagram filter, and I'm unashamedly team #nofilter.
Bass, what bass? By no means am I a basshead, but I do enjoy a little thump in my music—especially when it's supposed to be there. Fader by The Temper Trap was hardly audible during the verses, and ended up detracting from the song. After reviewing the LG Tone Studio, I was hoping to see more impressive lows in the Free, but was saddened to realize that wasn't the case. 
Like the Tone Free's big brother, the mids are the strongest aspect of the sound. Again though, that's not saying all that much. However, when I was listening to Trip by Vacationer, Kenny Vasoli's tonality was well-defined and certainly clear even through the faded augmentation of the song's overall vibe. I also found the instrumental moments to sound quite pleasing as the synthesis came through the buds rather well.
This particular track is great to address the soundstage, since Vacationer has forest-like noises drifting in and out of the song as the listener drifts in and out of consciousness with Vasoli's voice. That being said, the Tone Free doesn't give you the illusion of space all that well. I'd imagine it's difficult to engineer quality soundstage in Bluetooth earbuds and acknowledge that, though.
The highs were about as disappointing as the lows; they were unclear and even a bit staticy at times. To be fair, it could be contributed to Bluetooth interference, but either way: it's flawed. The pluck of the high-e string in Dresses' Sun Shy (Acoustic) was completely, inexplicably dulled out. If a moderate hangover had a sound, this is it, friends.
Conclusion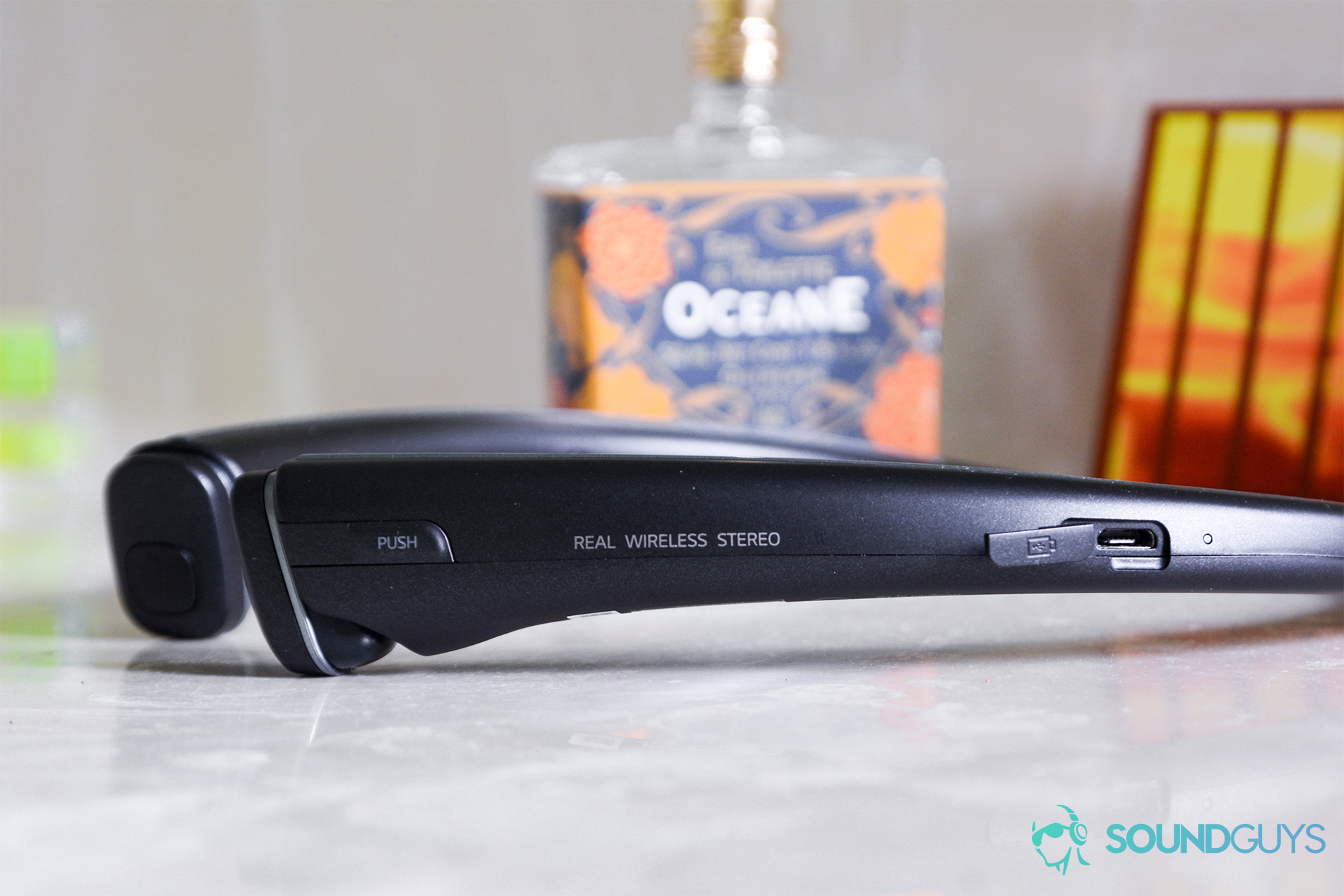 The micro USB charging port can be found on the left side of the neckband.
LG definitely understands what's appealing to consumers and applies it to this model of headphone, and it's on the right track with the Tone Free. Unfortunately, they just didn't quite execute it as best they could. Between the discomfort, lacking battery, and passable sound quality, these wouldn't be my first recommendation to a friend. However, I think someone who's only looking to listen to music or podcasts on their walk from the train to the office will find these to fit them quite nicely. But for the rest of us out there: keep looking.